Your mornings just got a "hole" lot tastier with this Egg in the Bagel Hole Sandwich. It's the savory breakfast sandwich you didn't know you needed...until now!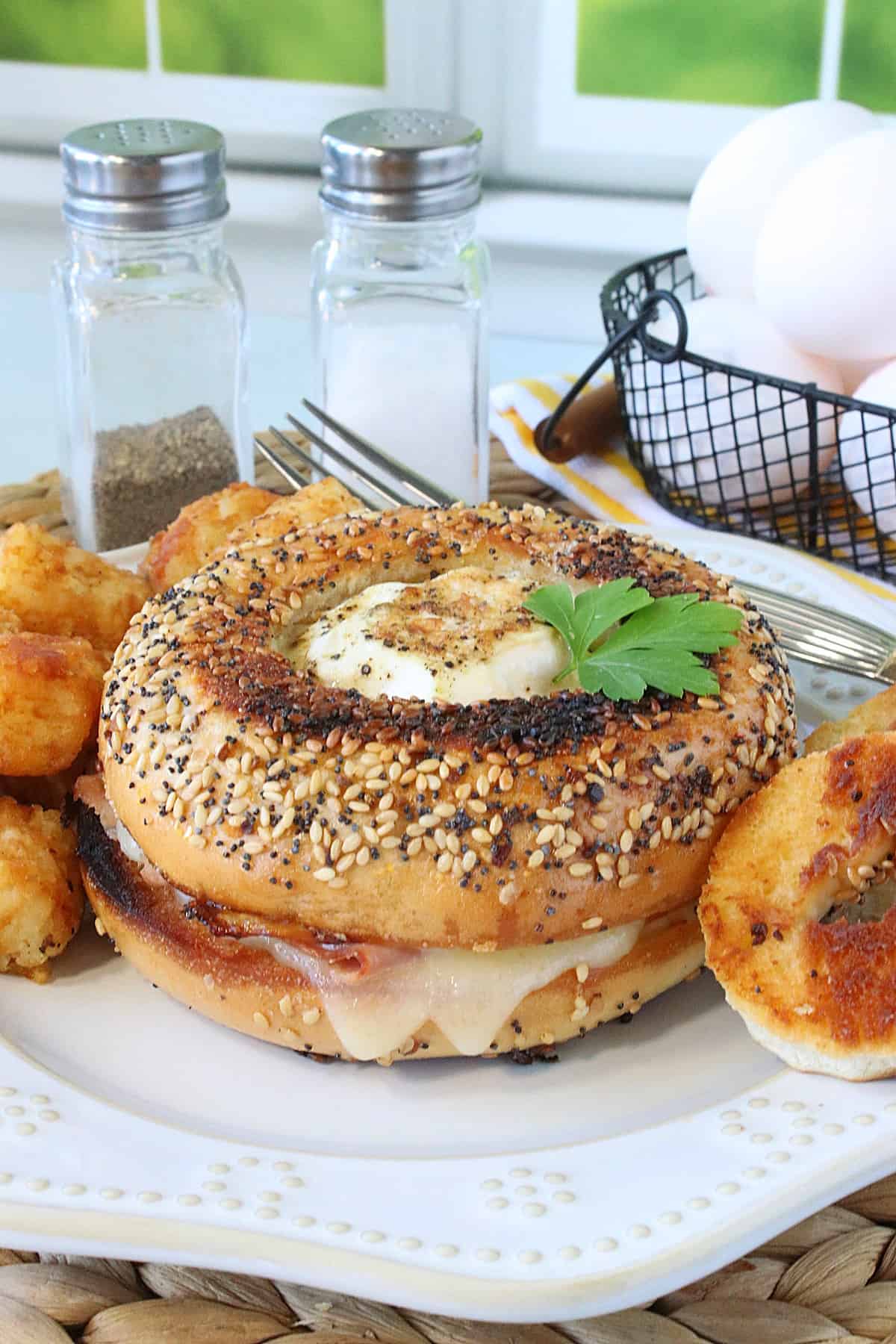 This savory egg and bagel sandwich scores a "bullseye" with everyone whose tried it and I trust you'll hole-heartedly agree. lol. Sorry. Not sorry.
This recipe post and its contents may include affiliate links for your consideration. I may earn a commission from qualifying purchases, but your prices are never increased as a result. Thank you.
Jump to:
The ingredients:
*Please note that the exact measurements along with a new "shop the recipe" feature from Instacart is available in the printable recipe card.

Ingredient information:
EGGS - I chose to use two eggs per sandwich, but of course, one egg will also be equally delicious.
BAGELS - Everything bagels are always my bagel of choice, but feel free to use your favorite bagel flavor. Oh, and after you enlarge the hole of the bagel to make room for the egg, make sure to fry that with some butter, too! You want to take advantage of that tasty treat!
SWISS CHEESE - I love the nutty, complex flavor that the Swiss cheese provides. Plus, it melts well, which is perfect for a savory breakfast sandwich.
DELI HAM - I love ham and Swiss, so I used a few thin slices of deli ham, but leftover sliced ham will also work. If you prefer to omit this ingredient, it's perfectly fine.
GHEE SPRAY - Ghee is clarified butter. I like to have it on hand in my cabinet when a quick and convenient flavor spray is necessary. Olive oil spray may also be used.
SALT AND PEPPER - I always use kosher salt and freshly cracked black pepper.
Kitchen tools and equipment needed:
You won't need much.
A non-stick skillet with low sides will work best for the easiest flipping of these egg and bagel breakfast sandwiches (I used my crepe pan), but if you plan on making many sandwiches at a time, then I suggest using a two-burner griddle pan.
A small round biscuit cutter makes quick work of cutting the bagel hole larger to accommodate the egg, but a paring knife will also work.
You'll also notice that I used some ghee (clarified butter) spray before I flipped the bagels and eggs, but you can also use a pastry brush and some melted butter if you'd like.
Substitution and add-in suggestions:
Feel free to omit or change the Swiss cheese slices to whatever sliced cheese you have in the refrigerator. Grated cheeses will also work.
The same goes for the deli ham. Sliced turkey, chicken, prosciutto, or even roast beef would be delicious in this egg and bagel breakfast sandwich.
I recommend adding cooked bacon, avocado, and even tomato if you're feeling it. YUMMY!!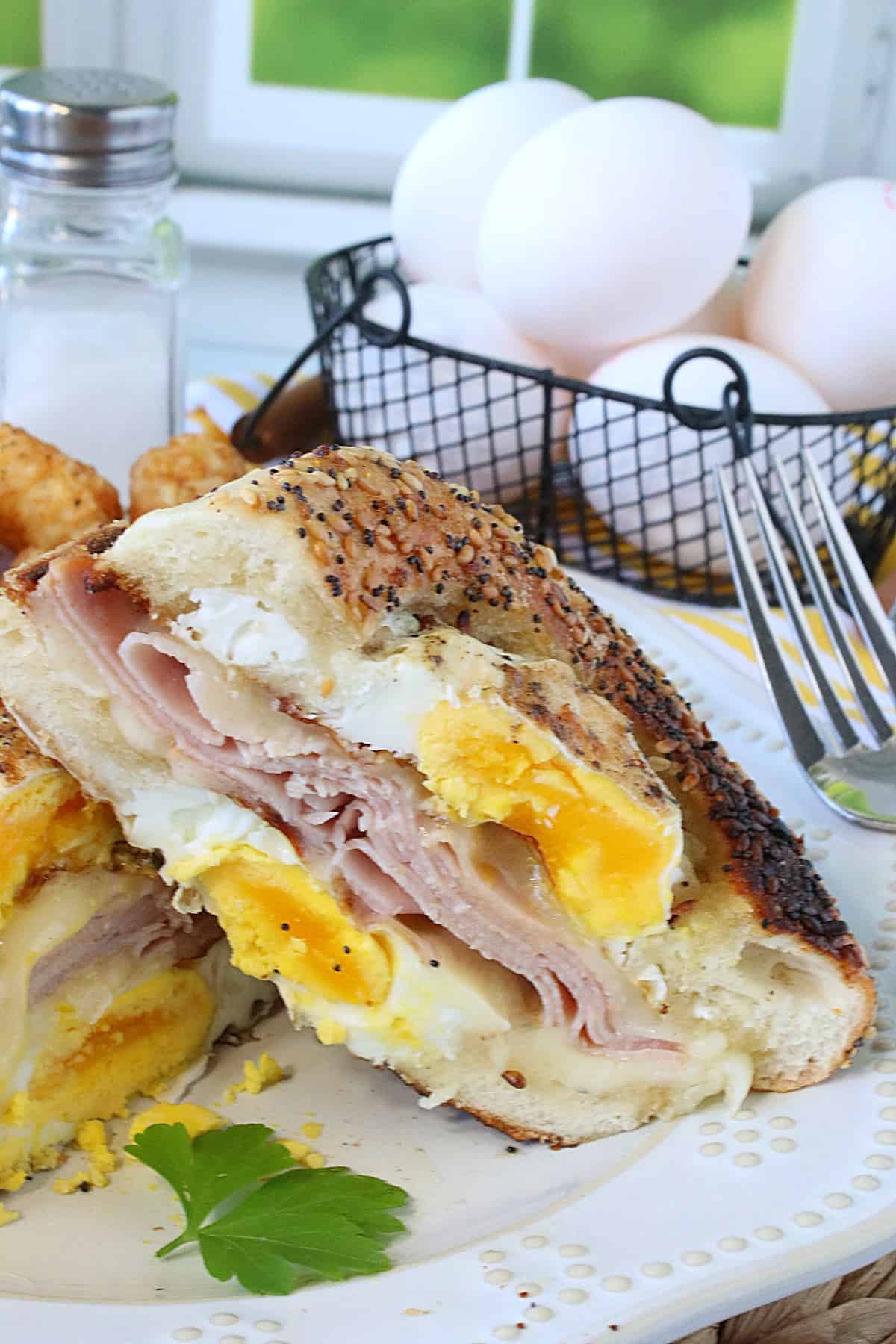 Can this bagel and egg sandwich be frozen?
Yes! Wrap them well in parchment paper and store them in airtight freezer containers or zip-top bags. They can be frozen for up to 2 months.
When reheating, loosely unwrap the sandwich from the parchment paper and microwave on 75% power until hot.
You can also reheat after thawing (uncovered) in the oven or air fryer at 350 degrees until hot.
Is the ghee spray necessary?
Not necessarily. If you want, you can brush melted butter over the top of the bagel once it's been flipped in the skillet (or omit the butter altogether).
Since I had the ghee spray in my cabinet (something I recommend for extra flavor and crunch), I decided to use it.
How many servings does this recipe make?
As written, this recipe makes two hearty egg and bagel sandwiches with two eggs and one bagel per sandwich.
That said, you can also make a one-egg-in-the-hole bagel sandwich with one egg and one bagel per sandwich.
Do these savory breakfast sandwiches travel well?
They do!
While still warm, wrap them in several layers of aluminum foil and keep them warm in an insulated lunch tote. The sandwiches should stay relatively warm for several hours, so when it's time to eat, unwrap and enjoy!
How to reheat after freezing:
If reheating in a microwave, wrap each sandwich in a paper towel and microwave at 75% power until hot (each microwave will vary).
If reheating in an oven or air fryer, thaw first.
Oven baking - 350 degrees - uncovered for 10 minutes or until hot.
Air fryer baking - 325 degrees - uncovered for 5 minutes or until hot.
Additional breakfast sandwich recipes:
A basic egg sandwich gets an egg-stra special upgrade when it's turned into this family favorite Egg Sandwich Breakfast Casserole. Serve it for breakfast, brunch, or even dinner. Winner, winner, egg sandwich, breakfast casserole for dinner!
Skip the drive-through and make your own Copycat Egg McMuffin at home in your air fryer (or skillet). You'll be glad you did!
Avocado toast gets an upgrade with the addition of bacon, egg, and hot sauce for an extra kick of flavor. Avocado Toast with Bacon and Egg is the perfect sandwich for any time of day!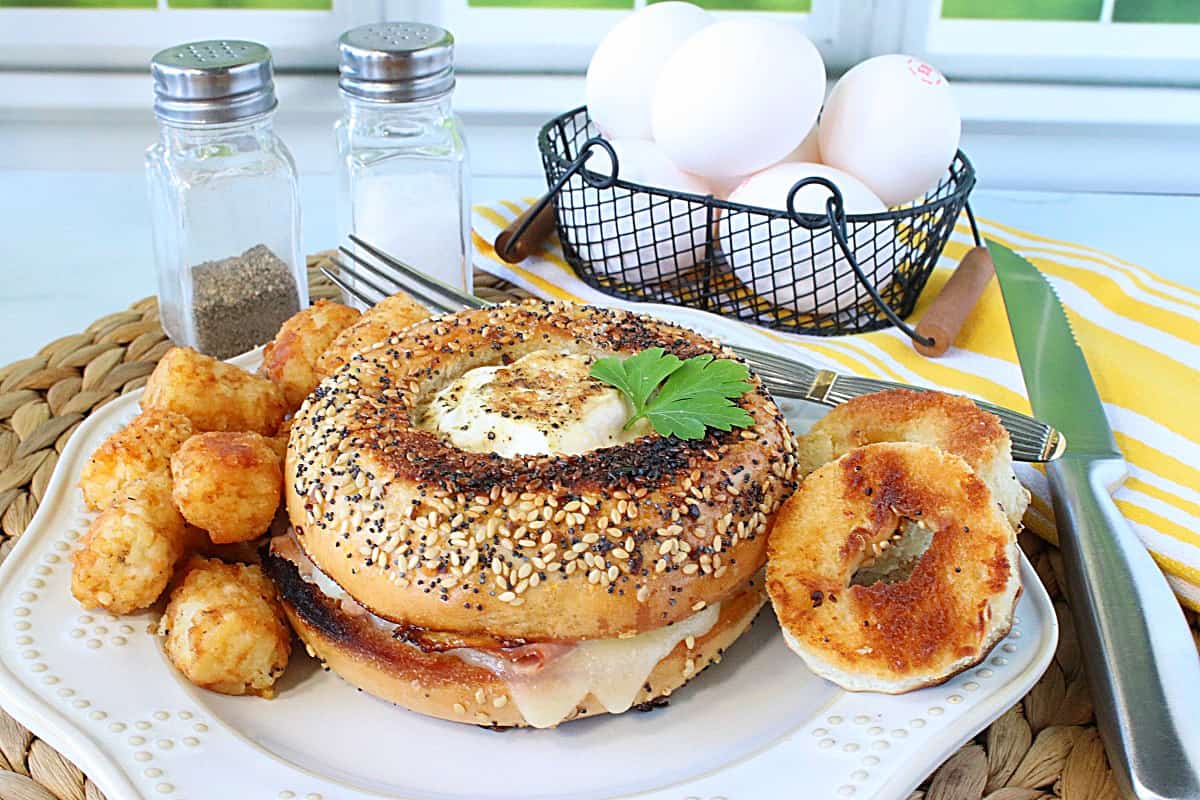 When you make this recipe, and I hope you do, I'd appreciate it if you'd take a moment to leave a star rating on the recipe card and briefly comment on why you rated it as you did. FYI - Google appreciates recipe ratings and, in turn, will share my recipes with more people. Thank you so much!!
Printable Recipe Card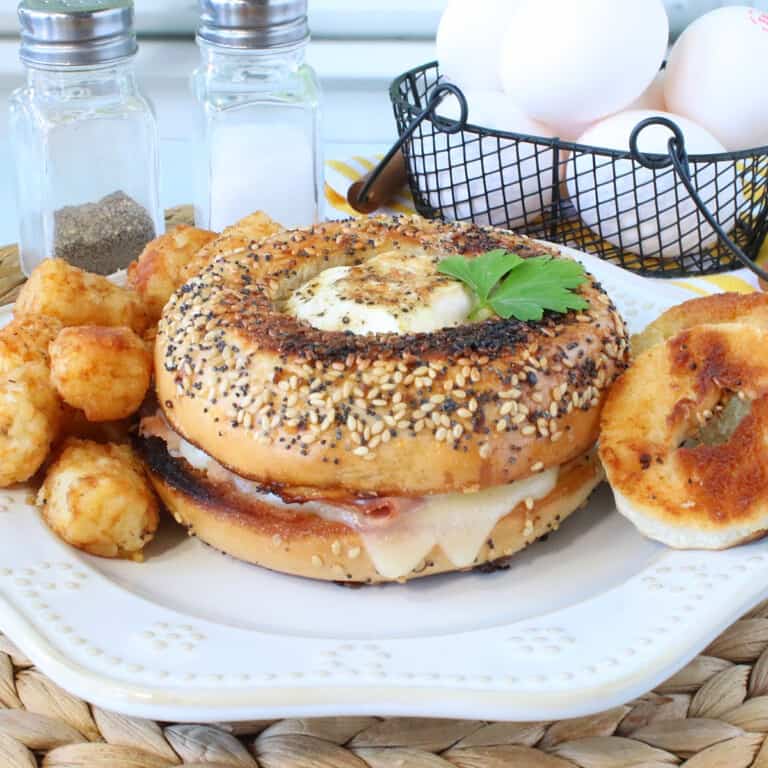 Egg in the Bagel Hole Sandwich
Your mornings just got a "hole" lot tastier with this Egg in the Bagel Hole Sandwich. It's the savory breakfast sandwich you didn't know you needed. Until now!
Ingredients
4

tablespoons

butter, salted

2

everything

bagels

or your favorite flavor

4

large

eggs

4

slices

Swiss cheese

4

slices

Deli ham

2

teaspoon

salt, divided

1

teaspoon

black pepper, divided

spray ghee

optional
Instructions
To make one sandwich at a time:
Divide the bagel in half. Use a small round biscuit cutter (or paring knife) to enlarge the hole in the bagels to make room for the eggs, if needed. For a two-egg bagel sandwich enlarge the hole in both side of the bagel. If making a one-egg bagel sandwich, enlarge the hole in the top half of the bagel only. *Note - reserve the bagel hole cutout and fry with butter in the skillet if desired.

Spread butter on both of the cut halves of the bagel and place them cut side down onto the skillet heating over medium/high heat.

Crack one egg into each hole of the bagel and season with salt and pepper. Cook until the eggs start to set (approximately 2-3 minutes). Carefully flip each bagel/egg combo.

Spray each bagel with ghee cooking spray (optional) and continue cooking for 2-3 minutes until the yolk is mostly set.

Gently flip the fried bagels once again and layer the Swiss cheese and ham slices onto the cut side and place the second bagel, cut side down on top of the ham and cheese.

Cook the sandwich for an additional 1-2 minutes, or until the cheese has melted.

Remove and keep warm and continue the same process with the second sandwich.
Video
Notes
Sandwiches may be kept in the refrigerator in an airtight container for 2-3 days.
Sandwiches may be individually frozen in zip top freezer bags for up to 2 months.
Best to reheat uncovered, in an oven or air fryer or wrap the sandwich in a paper towel and microwave on 75% power until hot.
Nutrition
Serving:
1
serving
Calories:
201
kcal
Carbohydrates:
0.01
g
Protein:
0.2
g
Fat:
23
g
Saturated Fat:
14
g
Polyunsaturated Fat:
1
g
Monounsaturated Fat:
6
g
Trans Fat:
1
g
Cholesterol:
60
mg
Sodium:
180
mg
Potassium:
7
mg
Sugar:
0.01
g
Vitamin A:
700
IU
Calcium:
7
mg
Iron:
0.01
mg
I sincerely hope you've enjoyed this delicious egg, cheese, and bagel breakfast sandwich as much as I've enjoyed bringing it to you!
Follow me across my social media platforms and join in on the conversation: FACEBOOK, INSTAGRAM, PINTEREST, TIKTOK, AND YOUTUBE.
Thank you so much for visiting me today in my Kudos Kitchen. I hope you found something you'll love and that you'll come back and visit me often. There is always room for you around my table!
Should you have any questions or comments regarding anything you've seen here on my blog, please don't hesitate to reach out to me. It is always my distinct pleasure to respond to you just as soon as I possibly can.
Until we eat again, I hope you have a delicious day!!