Tzatziki Chicken Salad is the Greek-inspired homemade chicken salad recipe you've been waiting for, and it can be ready in no time flat with the use of store-bought rotisserie chicken! Make some today and enjoy it for lunch, dinner, or anytime snacking.
I'm a lover of all things containing tzatziki sauce so naturally chicken salad had to come into play at some point. I've been making my own homemade tzatziki sauce for many years, but using a good store-bought sauce is always completely acceptable.
Jump to:
The ingredients
*Please note that the exact measurements along with a new "shop the recipe" feature from Instacart is available in the printable recipe card.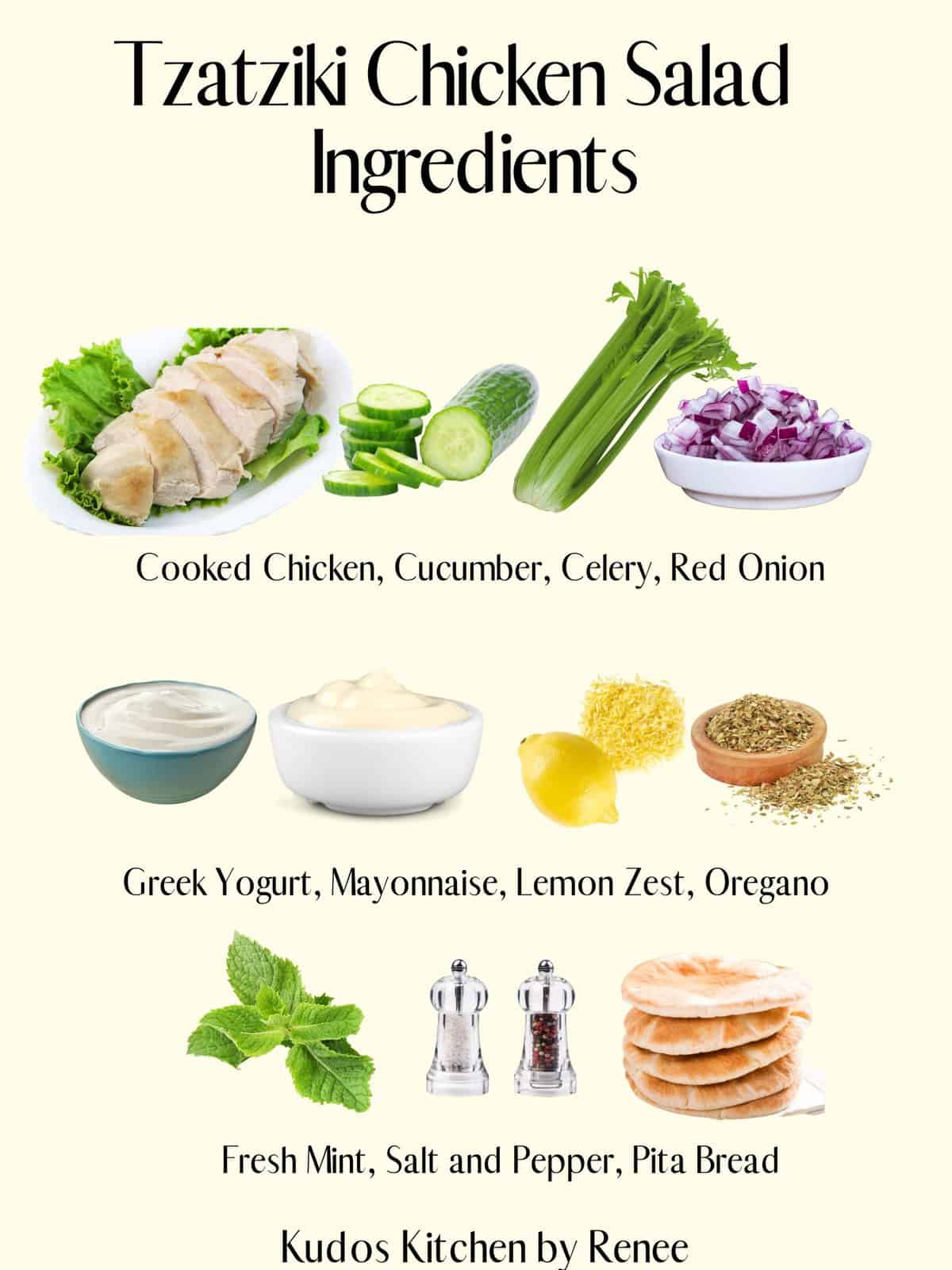 Ingredient information and substitution suggestions:
COOKED CHICKEN - I used store-bought rotisserie chicken in this recipe but feel free to use cooked leftover chicken if you have it. You'll need approximately 6 cups. That's the amount this recipe was based on. If you'd like to cut this recipe in half, feel free to do so.
For this Greek chicken salad, you can use a mixture of light and dark meat (what I did), all dark meat, or all white meat. The choice is yours.
DICED CUCUMBER - I used an English cucumber for this recipe, but you can also use an American slicing cucumber if you prefer. See below.
DICED CELERY - What self-respecting chicken salad doesn't include celery? Of course, if you're not a fan, please leave it out.
However, if you don't like it because of the strings, please check out the video down below for a few fast and easy ways to remove celery stings.
Or, if you like the taste of celery but not the texture, feel free to chop some of the leaves and add them to your salad. Either way, you'll be glad you kept this ingredient in the recipe.
DICED RED ONION - This is another ingredient I hope you'll keep in the recipe, but if the bite of raw red onion is too strong for you, I have a simple hack listed below that will make for a milder red onion flavor.
PLAIN GREEK YOGURT - Thick and tangy. That's what you want in this Greek chicken salad! Plain (not flavored) Greek yogurt marries well with the mayonnaise and perfectly elevates the flavor of this chicken salad, mimicking an authentic tzatziki sauce. Whether you'd like to use full-fat, half-fat, or fat-free is up to you. *Note - This recipe and its calorie information are based on using full-fat ingredients.
Sour cream may be substituted for the Greek yogurt in this recipe.
MAYONNAISE - Use your favorite variety. The creamy, rich mayonnaise flavor is the base for all good chicken salads (IMHO). This recipe is no exception. Feel free to play with the amounts called for in this recipe if you prefer a creamier chicken salad or one that is lightly dressed.
FRESH LEMON ZEST - Please, please, please keep this ingredient in the recipe. The fresh lemon zest brings a zip and zing to the finished dish. It's not a flavor you'll readily pick up on (unless you have an impeccable palette), but it's an ingredient flavor you'll find yourself missing if not there...even if you don't know what that flavor should be.
DRIED OREGANO - Lemon, mint, and oregano. What other ingredients could be more Greek than those? I love using dried oregano, and I have a tip for you: pinch it between your fingers to crush the flakes before adding it to the salad. The pinching releases the oils and brings out a lot more flavor.
If using fresh oregano, use more than what is called for in the recipe. See below for more information on fresh vs dried herbs.
SALT AND PEPPER - Feel free to adjust these two ingredients to your tastes and preferences. I like to use coarse kosher salt and fresh cracked black pepper.
FRESH MINT - I've never seen dried mint in the store, but then again, I've never looked for it. In this instance, fresh is definitely best, and using fresh mint will be the finishing (piece de resistance, if you will) touch to this delicious Greek Tzatziki Chicken Salad!
There's not a lot of fresh mint called for in this recipe, so if you purchase it, be sure to use the extra for steeping in hot tea or muddle some into your mojitos!
PITA BREAD - I used pita bread to make this chicken salad into sandwiches for my mom when she visited me one day. My mom loves chicken salad, which is why I created this recipe. I wanted to serve her something different for lunch that I knew she would enjoy. She did!
The pita bread is perfect for serving this salad, but feel free to use whatever you like. A croissant is always an excellent choice, as is an English muffin (toasted, of course), or why not spread some on your favorite crackers for an afternoon snack?
The differences between English cucumbers and American cucumbers
The difference between an English cucumber and an American cucumber is that with an English cucumber, you can easily eat the peel and seeds without potential digestion issues. English cucumbers are longer and thinner than their American counterparts. Their skin is thinner, making their skin more a "peeling" *wink* to eat. English cucumbers are typically found individually plastic wrapped for protection in the market.
When using an American cucumber, peeling, removing seeds, and some of the cucumber's additional water is highly recommended. See below. American cucumbers are shorter and broader than English cucumbers. Their skin is thicker (hence the need for peeling), and they retain more water (hence the need to take additional steps to remove it).
The flavors of the two cucumbers are similar, but the English cucumber has a milder flavor than the American cucumber. However, the two are entirely interchangeable in recipes. The choice is yours!
How to remove water from cucumbers
Add the prepared (peeled, seeded, and diced) cucumbers to a colander or strainer. Sprinkle over 1½ teaspoons of salt and toss.
Allow the cucumbers to sit in the strainer (over a bowl) for at least 20 minutes, and they'll have released some excess water. Discard the water removed from the cucumbers (or drink it, it's good for you), and continue with the recipe as written.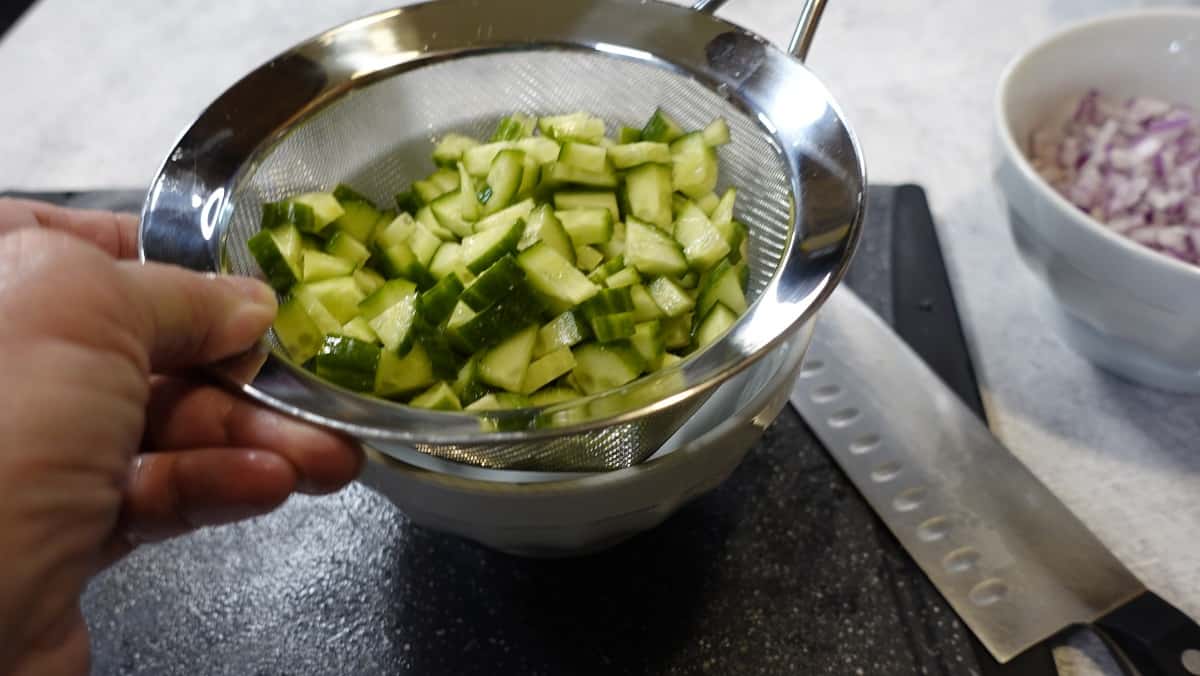 Why should the peel and seeds be removed from American slicing cucumbers?
Many people find that the seeds and peel from American cucumbers can lead to a gassy stomach. Who wants that? Not me.
The water from the cucumbers should be removed (see above method) so that once made, the consistency of the completed chicken salad won't become runny and wet.
Is the taste of red onion too strong for you?
Did you know you can take some of the harsh bite out of a red onion (if desired) by soaking the chopped onion in ice-cold water for 20 minutes? After 20 minutes, remove the onions from the water (discarding the water) and dry them thoroughly.
Now you can use the prepared (milder) red onions according to any recipe's instructions. Viola!
Can fresh oregano be used in place of dried oregano?
Yes, of course, but remember that the flavors of fresh herbs are never as strong and potent as dried herbs, so you may want to use more fresh oregano than what is called for in this recipe for a bigger hit of oregano flavor.
As always, taste as you go until you find your personal preference, and also know that the flavors will intensify as the chicken salad has a chance to sit in the refrigerator and chill before serving.
How to store this chicken salad
Store this chicken salad in an airtight container in the refrigerator for 5-7 days. Stir before serving.
How to get rid of those pesky celery strings
Can tzatziki chicken salad be frozen?
Yes, it's ok to freeze this chicken salad but I recommend freezing it for no more than 1 or 2 months. Always freeze it in an airtight freezer container or freezer bag with as much of the air removed as possible.
Date the container and thaw in the refrigerator overnight before serving.
What makes this a Greek chicken salad?
Well, I take my own liberties with that, however, with the addition of the (tzatziki) cucumber sauce, Greek yogurt, oregano, lemon, and fresh mint I really had no other choice. LOL
I love Greek flavors and I trust you do too or else you wouldn't be looking at a recipe called Tzatziki Chicken Salad. *wink*
Additional add-in suggestions
pitted, chopped olives (your favorite kind)
chopped artichoke hearts
anchovies
crumbled feta cheese
diced tomatoes
diced bell peppers
fresh (or dried) rosemary
fresh (or dried) dill
How to dry herbs at home
(Please ignore the goofy thumbnail photo I chose for the video below)
Make it a complete meal:
If you're looking for a coleslaw recipe you can make in advance that tastes amazing and can remain outdoors without running for cover during summer's hottest weather, look no further. No Mayo Sweet Sour Coleslaw will be your backyard BBQ's best friend!!
Roasted Baby Potatoes with Garlic and Herbs are creamy in the center, and golden brown and crispy on the outside. Pair all that deliciousness with a dipping sauce made of mustard, horseradish, and mayonnaise and you have the perfect side dish or even a fun and unusual party appetizer!! YUM!!
Soft, plump, and tender, these White Chocolate Banana Walnut Cookies taste like a slice of fresh banana bread, only better!
Additional chicken salad recipes:
Treat yourself to a taste of the tropics with this Hawaiian Chicken Salad. It's quick to make and completely delicious with plenty of meaty chicken, dried pineapple, chopped macadamia nuts, and toasted coconut flakes. Serve it for a special occasion or just because you deserve it!
Orange Cashew Chicken Salad uses rotisserie chicken, roasted cashews, and pecans, along with a touch of orange zest and juice. It's simply the best chicken salad...ever!
Avocado Chicken Salad is a wonderful and easy filling for tortilla wraps. Store-bought rotisserie chicken makes it the perfect choice for a quick and tasty grab-and-go lunch or dinner.
When you make this recipe, and I hope you do, I'd appreciate it if you'd take a moment to leave a star rating on the recipe card and briefly comment on why you rated it as you did. FYI - Google appreciates recipe ratings and, in turn, will share my recipes with more people. Thank you so much!!
Printable Recipe Card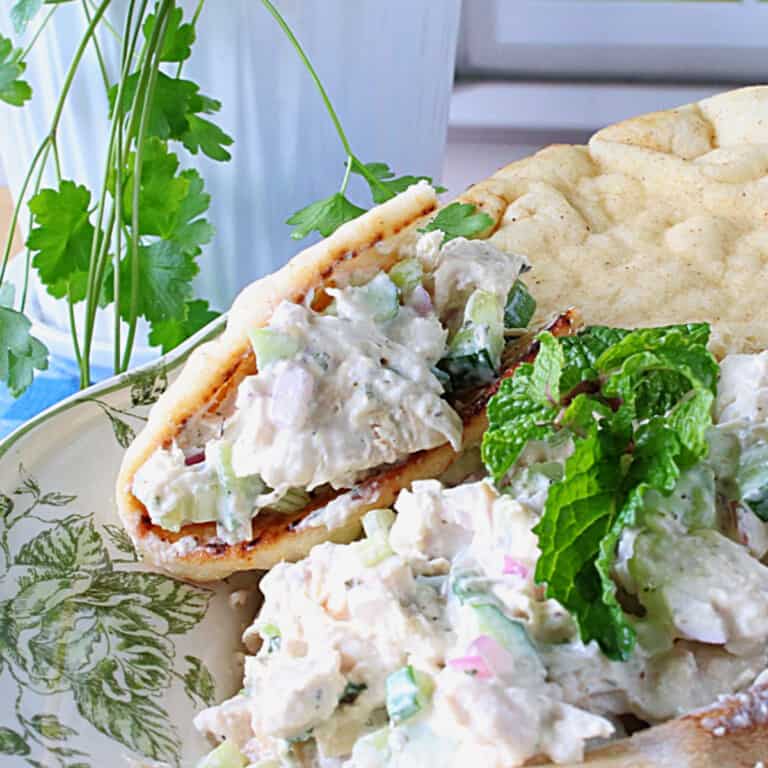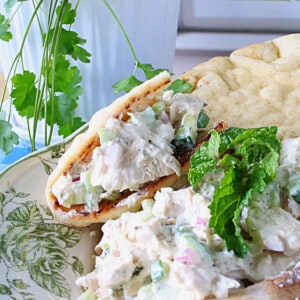 Tzatziki Chicken Salad
Tzatziki Chicken Salad is the homemade chicken salad recipe you've been waiting for, and it can be ready in no time flat with store-bought rotisserie chicken!
Ingredients
4

cups

cooked chicken, cut into bite sized pieces

rotisserie chicken works great for this recipe

1

cup (approximately 1 medium cucumber)

diced cucumbers

peeled, seeded, salted, and drained (as needed)

½

cup

diced celery

½

cup

diced red onion

1

tablespoon (1 lemon)

fresh lemon zest

1

teaspoon

dried oregano

or to taste

2

teaspoons

garlic powder

1

tablespoon

fresh mint

plus, additional for garnish (optional)

¾

cup

mayonnaise

¼

cup

plain Greek yogurt

1

teaspoon

kosher salt

½

teaspoon

black pepper

8

pita bread

for serving (optional)
Instructions
Place the first 12 ingredients into a large mixing bowl and stir well to combine.

Cover and refrigerate for at least 4 hours.

Spoon the chicken salad onto half of a pita bread, fold, and enjoy.
Video
Notes
1 serving = ½ cup
Serving suggestions: Spoon onto your favorite bread or toast. Spread on crackers.
May be frozen in an airtight container for up to two months.
Keep covered in the refrigerator for up to 7 days.
Nutrition
Serving:
1
serving
Calories:
428
kcal
Carbohydrates:
34
g
Protein:
24
g
Fat:
21
g
Saturated Fat:
4
g
Polyunsaturated Fat:
11
g
Monounsaturated Fat:
5
g
Trans Fat:
0.04
g
Cholesterol:
62
mg
Sodium:
785
mg
Potassium:
323
mg
Fiber:
2
g
Sugar:
1
g
Vitamin A:
125
IU
Vitamin C:
4
mg
Calcium:
83
mg
Iron:
2
mg
I sincerely hope you've enjoyed today's delicious Greek-inspired homemade chicken salad as much as I've enjoyed bringing it to you!
Follow me across my social media platforms and join in on the conversation: FACEBOOK, INSTAGRAM, PINTEREST, TIKTOK, AND YOUTUBE.
Thank you so much for visiting me today in my Kudos Kitchen. I hope you found something you'll love and that you'll come back and visit me often. There is always room for you around my table!
Should you have any questions or comments regarding anything you've seen here on my blog, please don't hesitate to reach out to me. It is always my distinct pleasure to respond to you just as soon as I possibly can.
Until we eat again, I hope you have a delicious day!!