Cutting calories, but not flavor? Then this turkey breakfast sausage recipe is just what you need. Make it in an air fryer or oven. Your call.
I love breakfast sausage but not necessarily all the calories that go with it.
This turkey breakfast sausage is still packed with tons of good sausage flavor (thanks to the seasonings), but at a fraction of the calories as traditional pork breakfast sausage.
**Please Note - The printable recipe card with detailed instructions, complete ingredient measurements, and nutritional information for making Turkey Breakfast Sausage is available at the end of this post. OR you can hit the "jump to recipe" button (found above) to be taken directly to the recipe.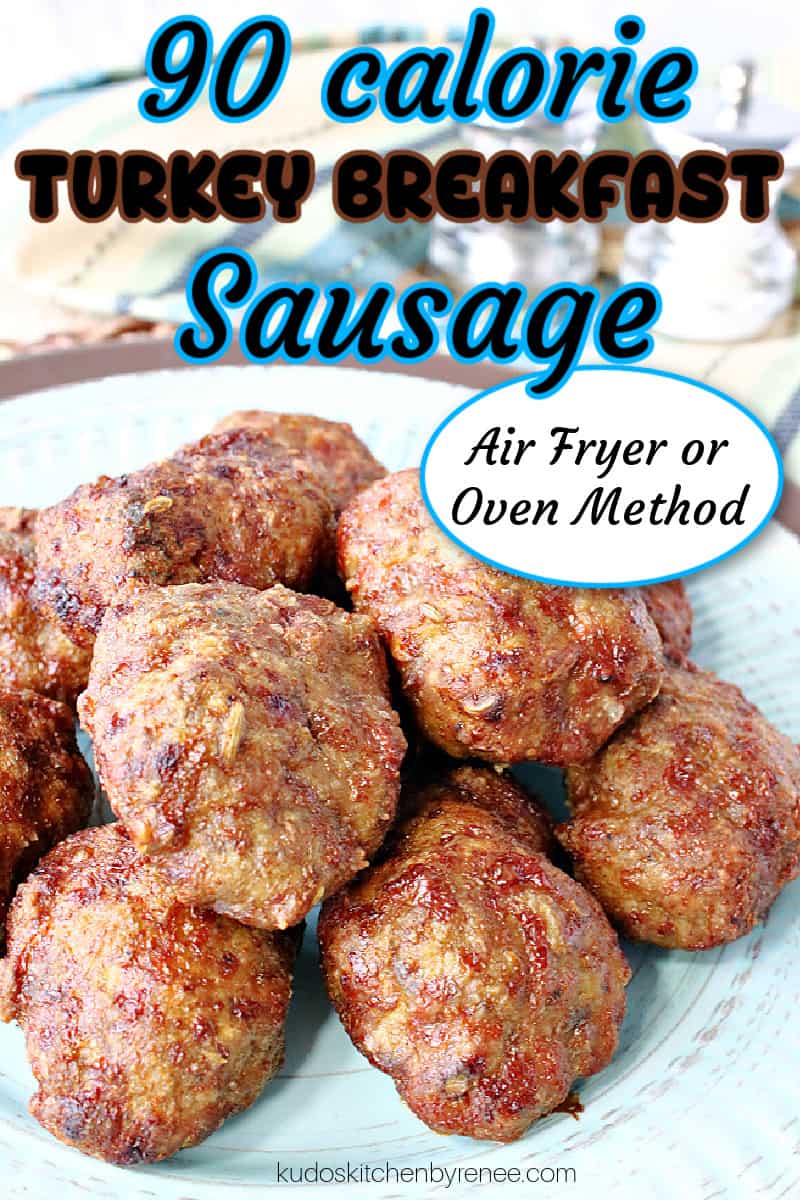 The ingredient list:
**Note - The following lists of ingredients plus kitchen tools and equipment contain affiliate links (highlighted in blue) for your consideration and shopping convenience. #CommissionsEarned
Kitchen tools and equipment needed:
How to make turkey breakfast sausage in the oven:
The instructions are just the same as listed in the recipe card, only the cooking time will be longer.
What is the proper internal temperature for ground turkey?
165-degrees Fahrenheit.
To check the doneness of these turkey sausages (whether done in an air fryer OR oven), stick an instant-read thermometer into the center of one of the sausages.
If the internal temperature does not read 165-degrees, or the juices do not run clear, put the sausages back in to cook for an additional few minutes.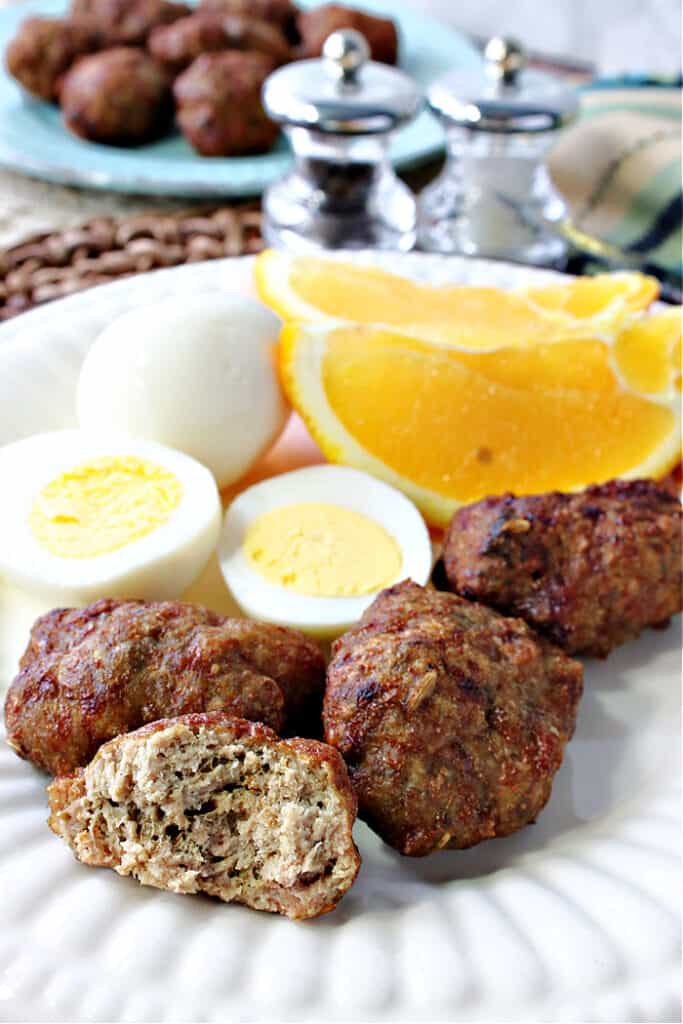 How long will these turkey breakfast sausages keep in the refrigerator?
Once cooked, store the sausages in an air-tight container and they'll keep well for 5 - 6 days.
Can turkey breakfast sausages be frozen?
After cooking, yes!
Wrap the sausages well in freezer paper and then in a freezer zip-top bag or an air-tight freezer container.
Turkey breakfast sausages can be frozen up to 2 - 3 months.
Can this recipe be doubled for more sausages?
Yes, easily.
Just double the ingredients and you're good to go.
You can also make the sausages bigger than what you see here in the photos. Just be aware that with bigger sausage patties the cooking times will increase as well.
As long as you use an instant-read thermometer you'll know how long to cook your larger sausages until done in the center.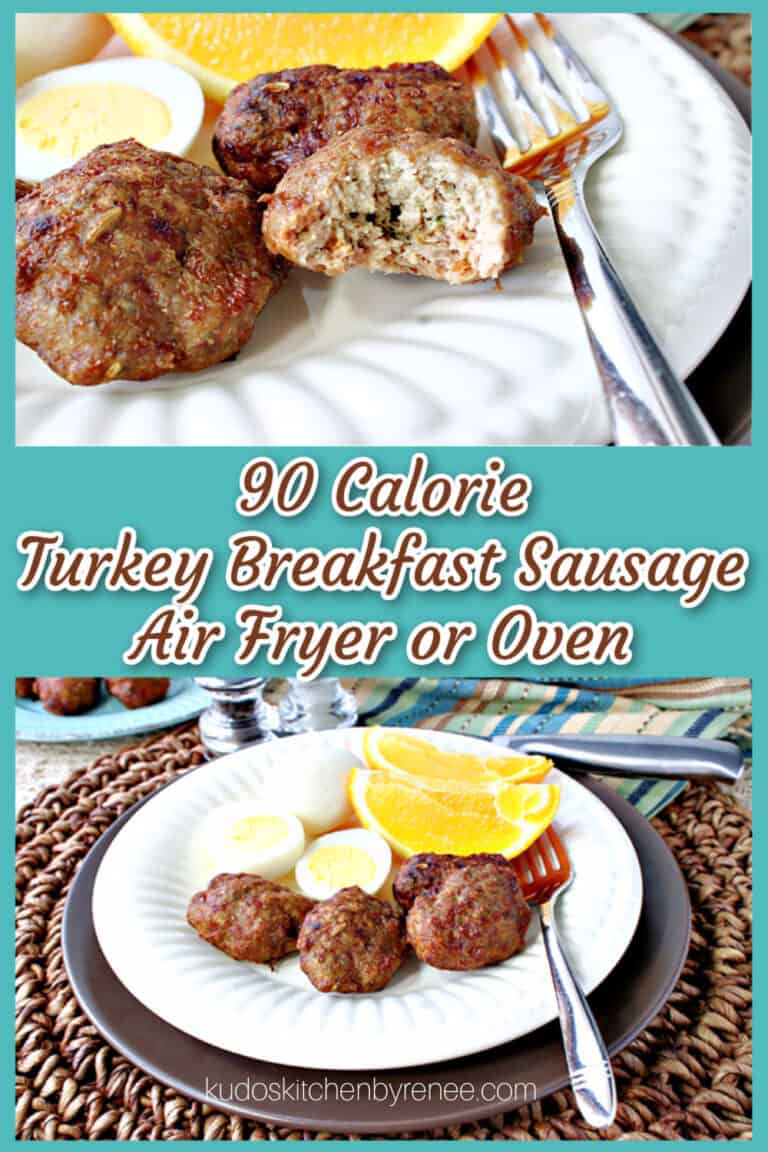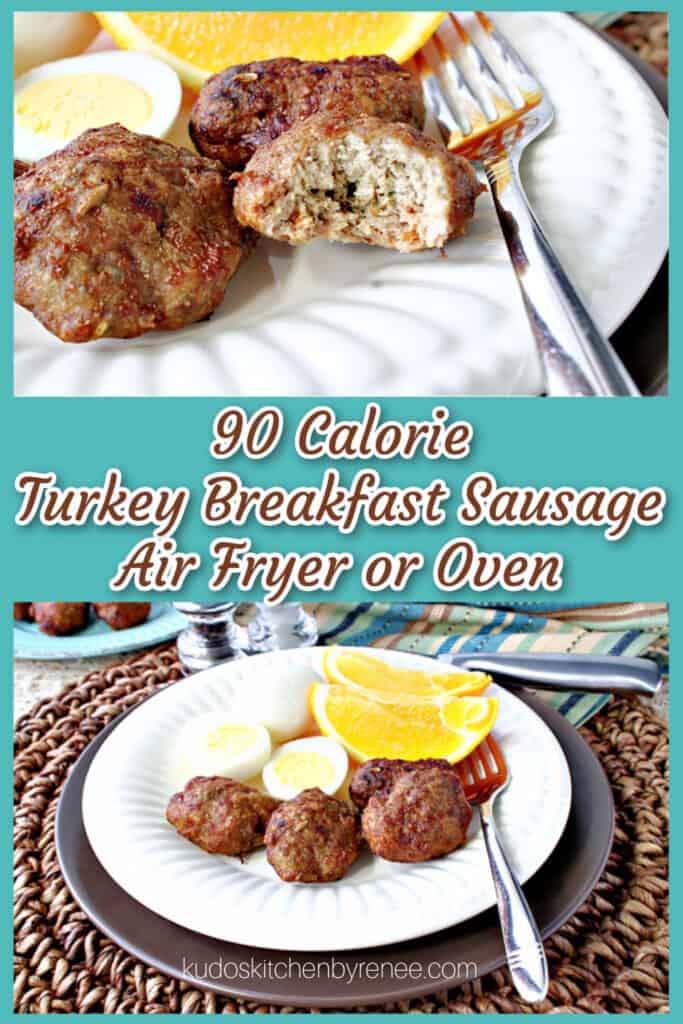 How to keep the ground turkey from sticking to your hands?
Using water on your hands will help keep the turkey from sticking to your fingers and make it much easier to form the sausages.
How to make turkey breakfast sausages (in an air fryer):
Place the ground turkey in a bowl and add the salt, pepper, fennel seed, ground sage, smoked paprika, garlic powder, and red pepper flakes.
Mix until all the ingredients are incorporated.
Using water on your hands, the ground turkey into small patties (approximately 1½ tablespoon per patty) and place onto an air-fryer baking sheet.
Set the temperature to 350-degrees and cook for 12-13 minutes, or until an instant-read thermometer reaches 165-degrees Fahrenheit.
Additional air-fryer recipes:
[mv_create key="232" type="list" title="Air Fryer Recipes Collection" thumbnail="https://www.kudoskitchenbyrenee.com/wp-content/uploads/2020/03/Air-Fryer-soft-boiled-eggs-34.jpg" layout="circles"]
*Air Fryer Turkey Breakfast Sausages (shown below) THIS IS THE PLACE!!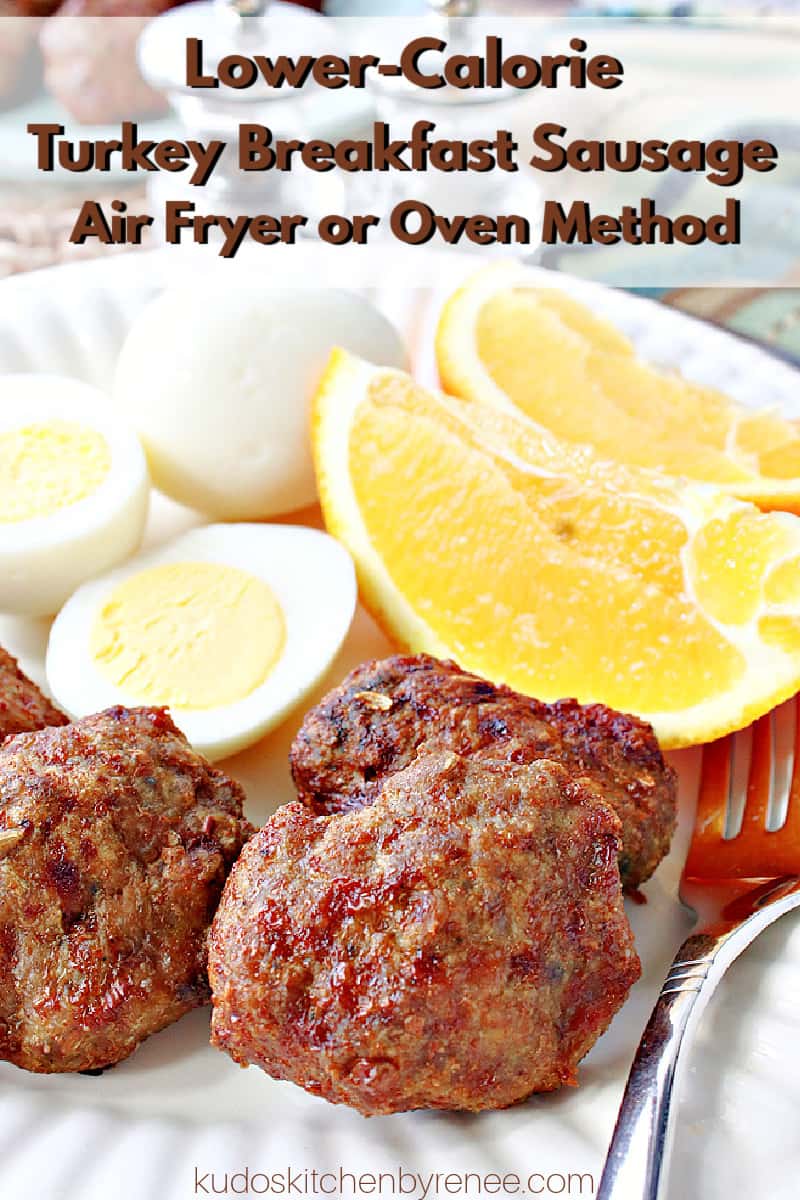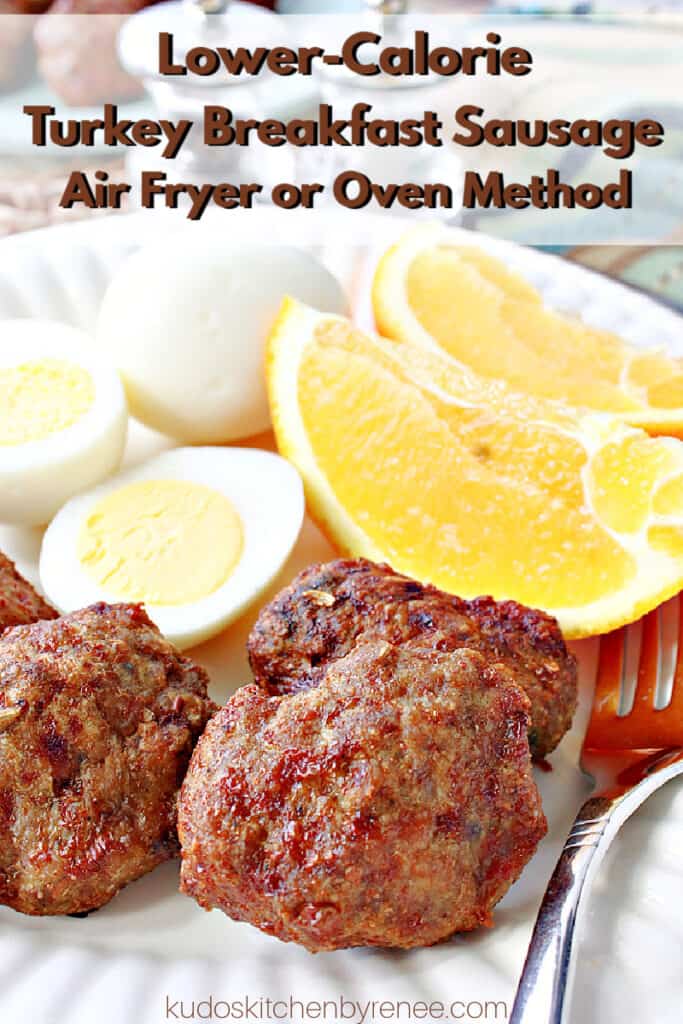 Below is the printable recipe card along with the exact ingredient measurements and nutritional information for making today's lower-calorie Turkey Breakfast Sausage for an air fryer or oven.
⭐If you've made this recipe, or are excited to make this recipe, I'd appreciate it if you'd take a moment to leave it a star rating on the recipe card, along with a comment if you're so inclined. Thank you. 🙂
I sincerely hope you've enjoyed today's healthy and fit, lower-calorie recipe for Turkey Breakfast Sausage (made in an air fryer or oven) as much as I've enjoyed bringing it to you!
Thank you so much for visiting me today in my Kudos Kitchen. I hope you found something you'll love and that you'll come back and visit me often. There is always room for you around my table!
Should you have any questions or comments regarding anything you've seen here on my blog, please don't hesitate to reach out to me. It is always my distinct pleasure to respond to you just as soon as I possibly can.