When you see mushrooms on sale and want to grab the deal but aren't sure when you'll use them, Sautéing Mushrooms for Freezing is a method that's an effective way to save money while still retaining flavor!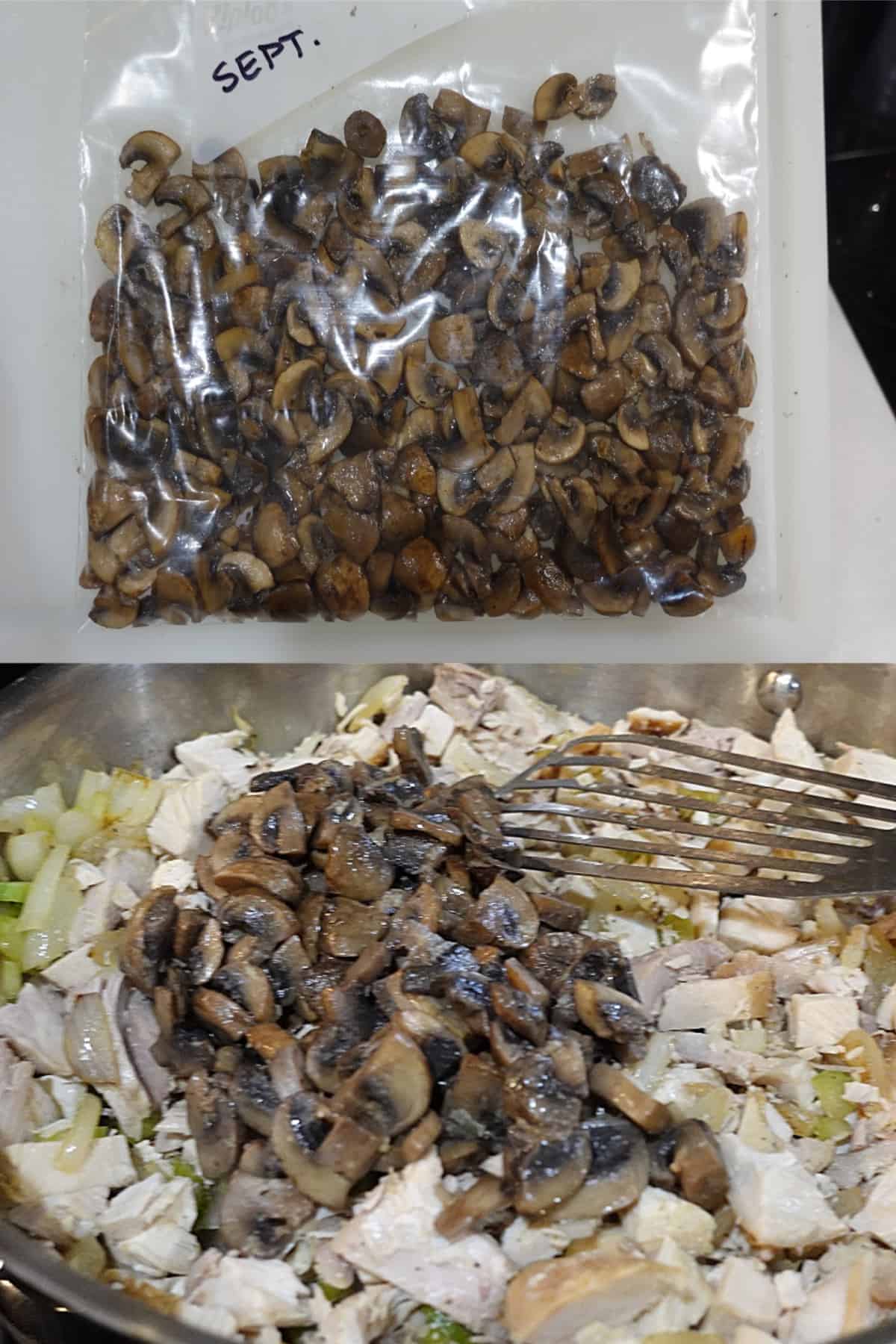 And that's exactly what happened to me when I knew I wanted to make Turkey Tetrazzini (recipe coming soon) at a later date, but the mushrooms were on sale before I was ready to use them. Freezing them after sautéing was the perfect solution.
Jump to:
The ingredient list:
*Please note that the exact measurements along with a new "shop the recipe" feature from Instacart is available in the printable recipe card.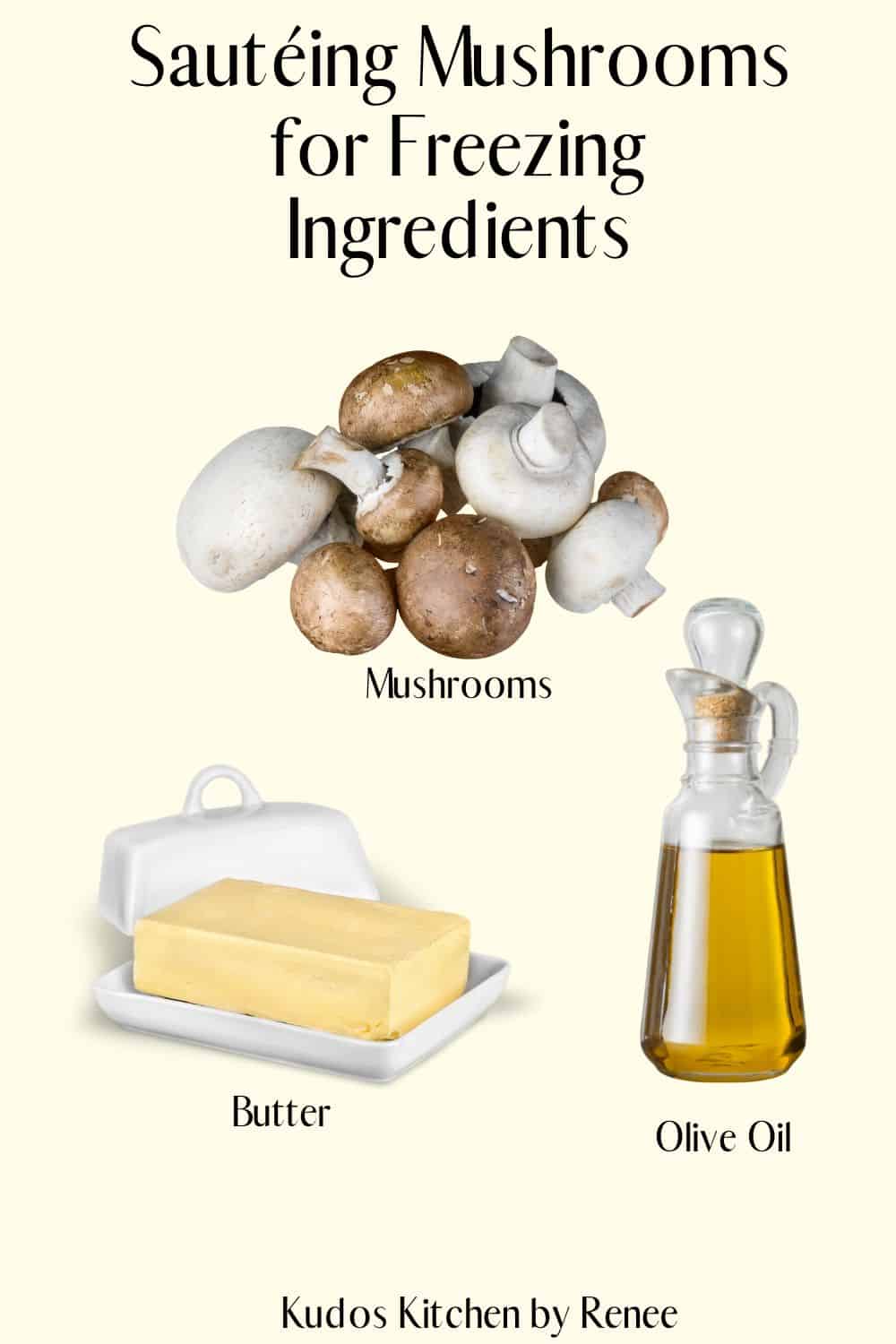 The easy instructions:
Prepare the fresh mushrooms by cleaning and slicing.
Heat a large skillet over medium/high hear. Add the butter and olive oil.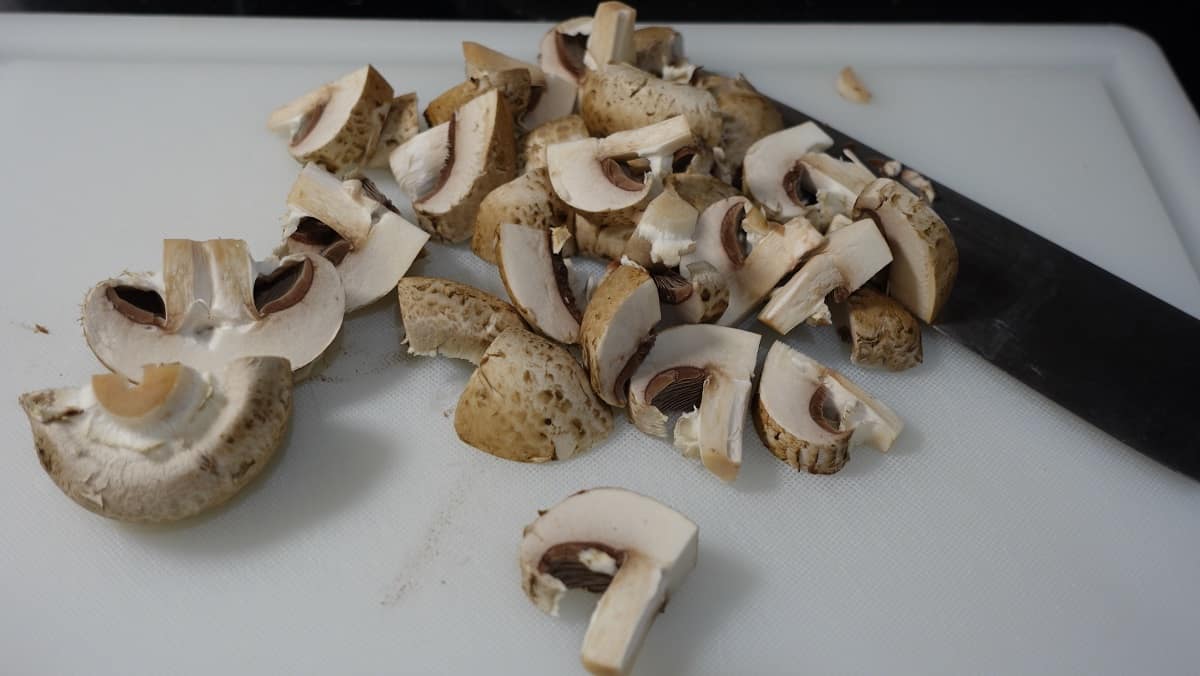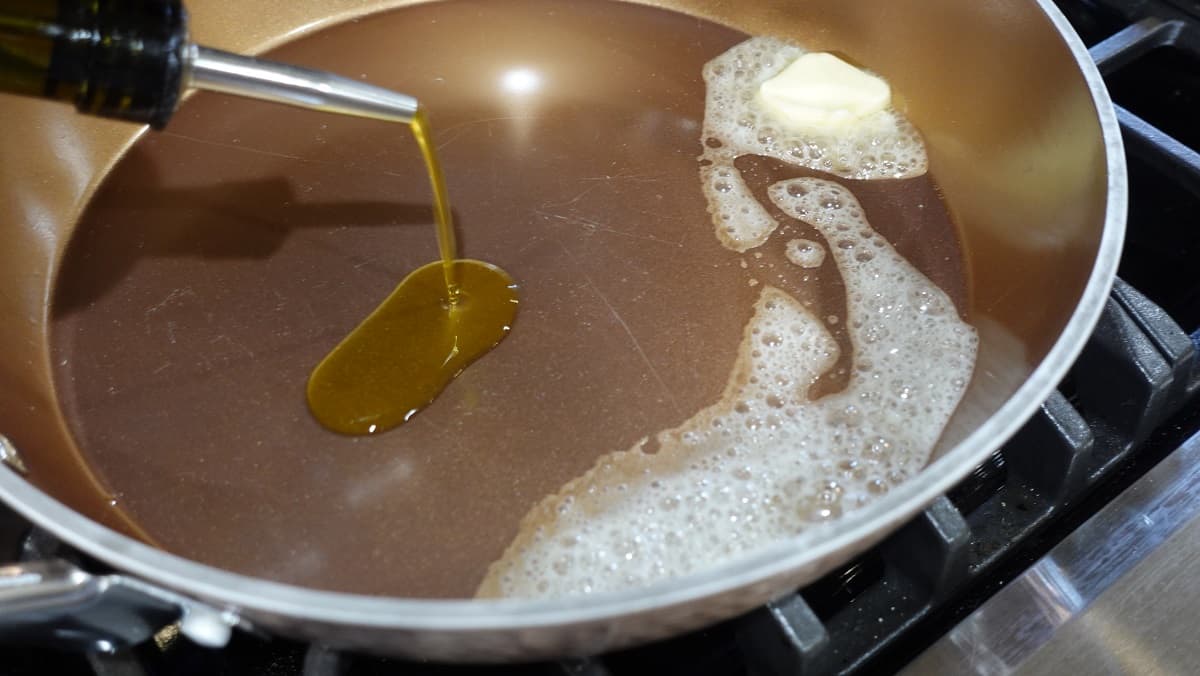 Add the mushrooms to the skillet in an even layer. Leave them alone for 4-5 minutes without stirring. Do not add salt.
After 4-5 minutes stir the mushrooms and continue cooking for an additional 3-4 minutes until brown. Seasoning may now be added, if desired.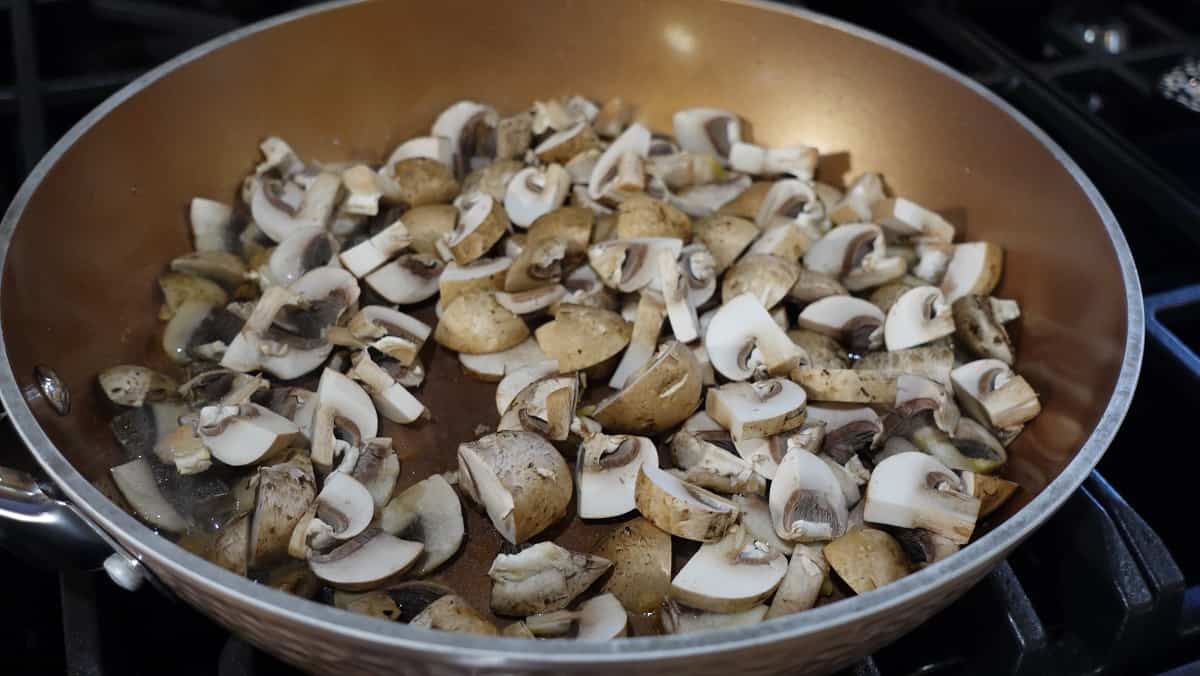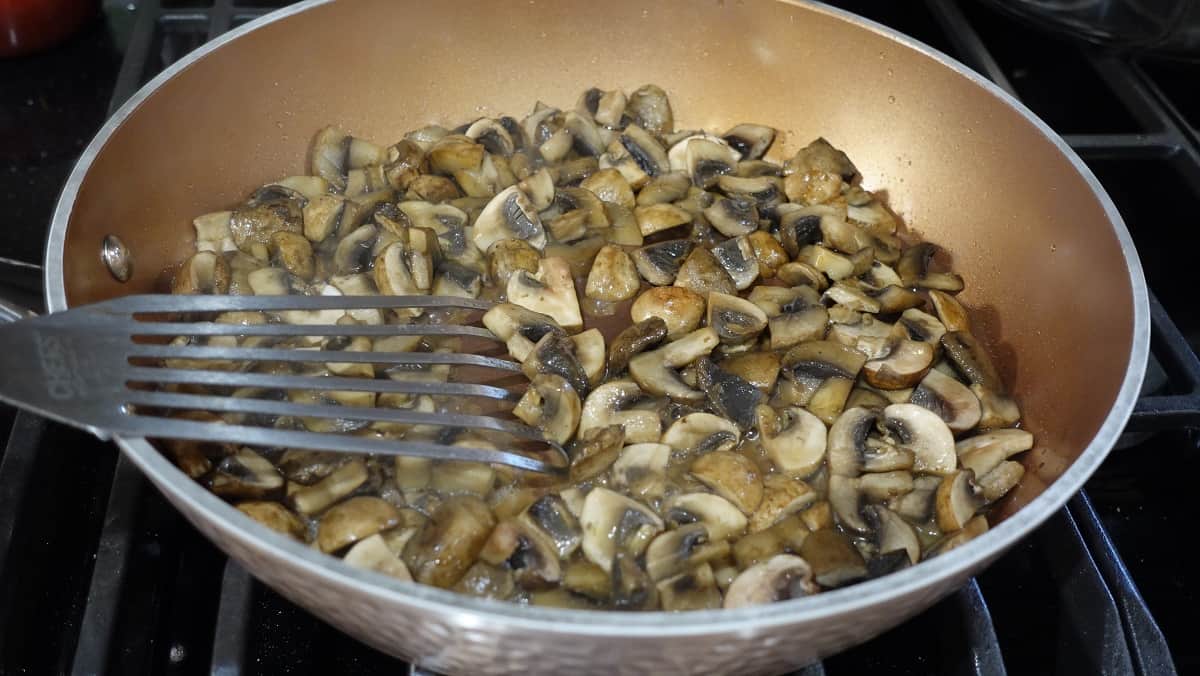 Remove the sautéed mushrooms to a paper towel lined surface and allow them to cool completely.
Once completely cool, place the mushrooms in a freezer bag or vacuum sealed bag, and flatten the mushrooms into an even layer to remove as much air as possible.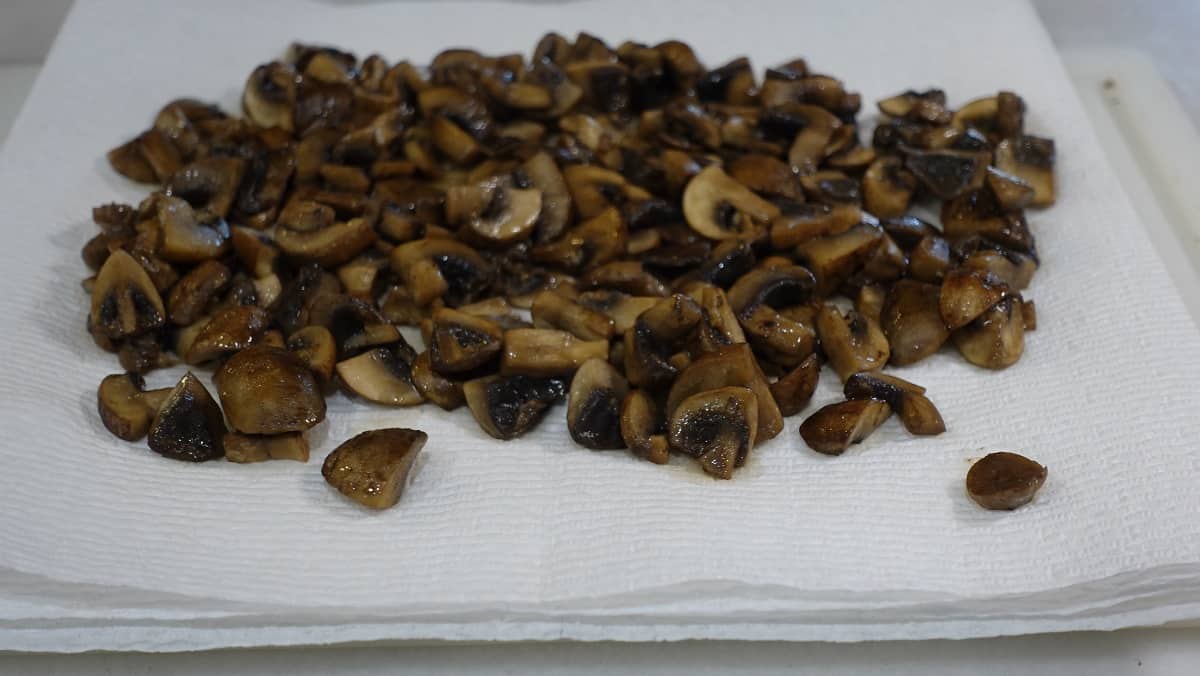 Date the bag and freeze the mushrooms for up to 6 months. Thaw the mushrooms slightly before adding them to cooked dishes.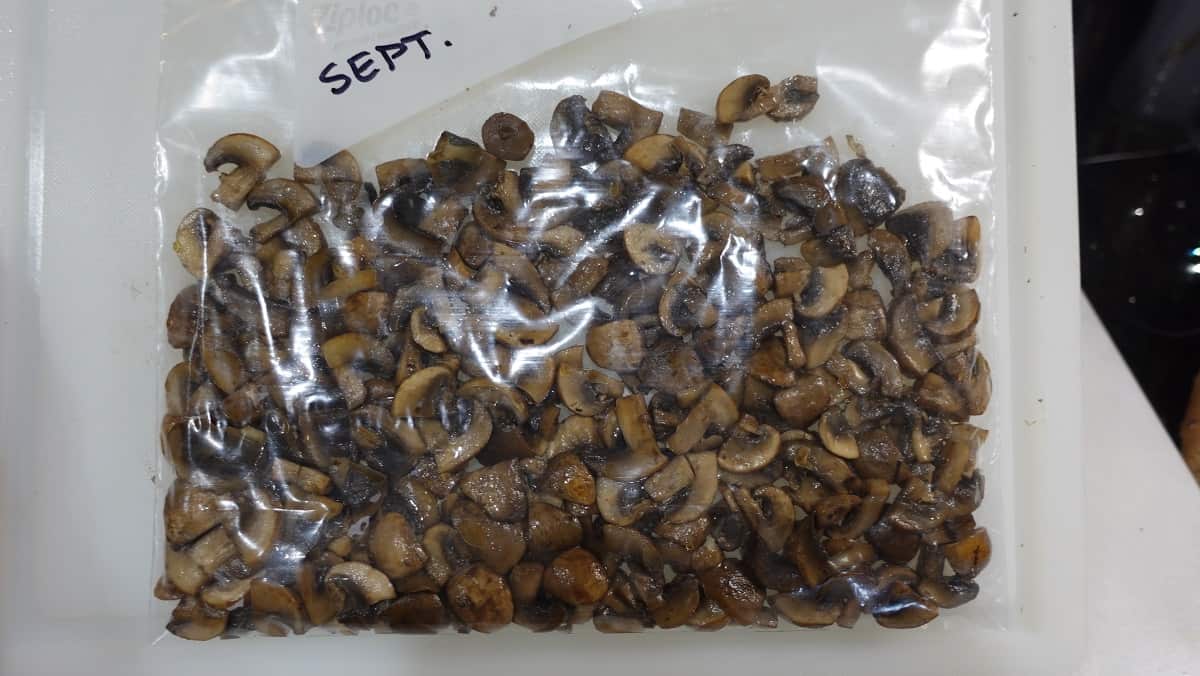 What are the health benefits of mushrooms?
Mushrooms are a low calorie food that have numerous benefits when it comes to good health. They're rich in potassium which can potentially aid in lowering blood pressure.
They can boost the body's immune systems making you less susceptible to serious illness.
Mushrooms are a great source of fiber, protein, and antioxidants and they may lessen the risk of Alzheimer's disease, cancer, heart disease, and diabetes.
Does this method of sautéing and freezing work for any type of mushroom?
Yes. The mushrooms you'll see in the post are cremini mushrooms (baby bellas) but this method will work with all mushrooms.
How long will these last in the freezer?
As long as they're stored in an zip top freezer bag or a vacuum sealed food storage bags with all the air removed you can keep them in the freezer for up to 6 months.
Can these be used in salads after thawing?
No, they wouldn't be my choice.
They're perfect for using in cooked dishes, but for uncooked fresh foods like salads...not so much.
Should mushrooms be washed with water before sautéing?
NO! Never use water to wash mushrooms. Because mushrooms are porous they will soak up the water like a sponge.
How to clean mushrooms before cooking?
I like to use a damp paper towel to wipe off all the visible dirt before slicing and cooking mushrooms.
You can also use a mushroom brush with very soft bristles to gently brush away all the visible dirt.
Should mushrooms be salted while sautéing?
Nope!
Salt will draw the moisture from the mushrooms making them steam in their own juices, and not brown properly.
IF you're going to season sauté mushrooms, do so lightly AFTER they've already browned.
However, for this method of sautéing for freezing, there is no reason to season the mushrooms at all.
Recipe suggestions for using frozen sautéed mushrooms:
Chicken Orzo Casserole with Mushrooms is a hearty and delicious comfort food dish with great flavor and consistency. It's a real family pleaser!
My love of German flavors and ingredients was the original inspiration for this dish of hearty German Meatballs with Caraway Mushroom Cream Sauce. It's a delicious comfort-food recipe, with a German twist.
This thick and hearty Beef Barley Mushroom Stew is as good tasting as it is good for you. It's comfort food at its finest.
Are there other ways to freeze mushrooms?
Yes, but this method is my favorite.
Feel free to leave me your favorite method (if you have one) in the comment section.
Avoid these mushroom cooking mistakes
When you make this recipe, and I hope you do, I'd appreciate it if you'd take a moment to leave a star rating on the recipe card and briefly comment on why you rated it as you did. FYI - Google appreciates recipe ratings and, in turn, will share my recipes with more people. Thank you so much!!
Printable Recipe Card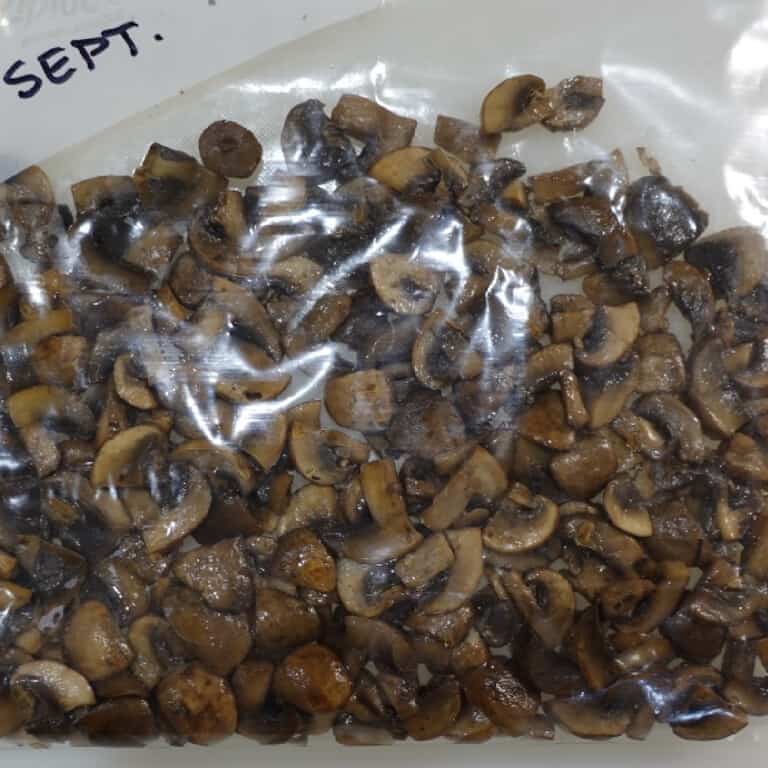 Sautéing Mushrooms for Freezing
Sautéing Mushrooms for Freezing is a method that's an effective way to potentially save money while retaining flavor!
Ingredients
2

pints

cremini mushrooms

quartered, halved, or sliced

1

tablespoon

olive oil

2

tablespoons

butter
Instructions
Heat the butter and oil in a large skillet over medium/high heat.

Add the prepared mushrooms in an even layer to the skillet. Allow the mushrooms to cook and brown (without stirring) for 4-5 minutes. Do not add salt.

Stir the mushrooms and return them to a single layer. Cook for an additional 3-4 minutes.

Remove the mushrooms to a paper towel lined surface to cool completely.

Once fully cooled add the mushrooms to a zip top bag or a vacuum sealed bag and press them into a single layer. Seal the bag to remove the air.

Date the bag and freeze for up to 6 months.

When ready to use, thaw the mushrooms and add to your favorite cooked dish.
Notes
Can be frozen for up to 6 months.
Any type of mushroom can be sautéed and frozen with this method.
Do not season the mushrooms during sautéing or they will steam and not brown.
Nutrition
Serving:
2
cups
Calories:
266
kcal
Carbohydrates:
20
g
Protein:
12
g
Fat:
19
g
Saturated Fat:
8
g
Polyunsaturated Fat:
1
g
Monounsaturated Fat:
8
g
Trans Fat:
0.5
g
Cholesterol:
30
mg
Sodium:
119
mg
Potassium:
2123
mg
Fiber:
3
g
Sugar:
8
g
Vitamin A:
350
IU
Calcium:
89
mg
Iron:
2
mg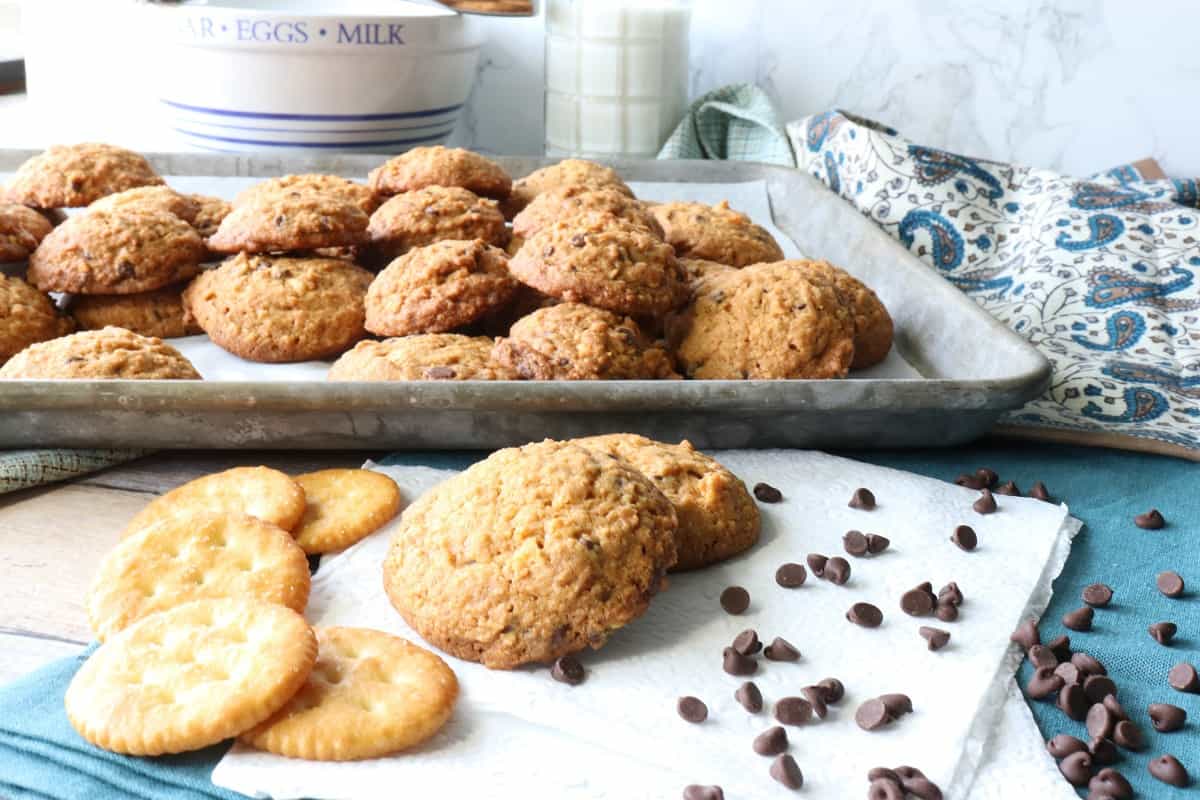 Follow me across my social media platforms and join in on the conversation: FACEBOOK, INSTAGRAM, PINTEREST, TIKTOK, AND YOUTUBE.
Thank you so much for visiting me today in my Kudos Kitchen. I hope you found something you'll love and that you'll come back and visit me often. There is always room for you around my table!
Should you have any questions or comments regarding anything you've seen here on my blog, please don't hesitate to reach out to me. It is always my distinct pleasure to respond to you just as soon as I possibly can.
Until we eat again, I hope you have a delicious day!!