When it comes to making a juicy beef burger even better, why not top it with a few fat slices of roasted pork belly? Mmmm-mmmm. It doesn't get much better than a Pork Belly Burger.
For this recipe of Pork Belly Burgers, there are very few ingredients (three to be exact) because I wanted the taste of the beef and the oven roasted pork belly to the be stars of this show. Just like these pork belly burgers will be the star of your next backyard BBQ.
I don't typically see pork belly in the stores I shop at, so when I spotted it at my local Costco, I quickly added it to my cart. When I arrived home, I divided the package into serving sizes and wrapped them carefully for the freezer until I decided how I wanted to use them. This Pork Belly Burger is the first way I've chosen to use it since it's finally BBQ weather here in the Midwest!
In case you're wondering what pork belly is, it's the boneless cut of fatty meat from the belly of a pig. Pretty simple. It's basically bacon, but it's uncured, unsmoked, and usually comes in slab form. However, mine came sliced so I utilized it just as I would bacon. If you don't have pork belly, please feel free to substitute bacon in this recipe.
To cook the pork belly, I layered it on a baking sheet fit with a rack and roasted it in the oven for 40 minutes at 425 degrees. You can also cook the pork belly in a skillet if desired, but the cleanup is less if you cook it in the oven. I also like to line my baking sheet with aluminum foil because, well, I'm lazy 🙂
I'm also all about shallots lately, and I add them where ever and whenever I can. This recipe calls for two medium shallots. One is minced, and one is grated and then they're added to two pounds of ground beef.
Mix the shallots and beef together, but don't over mix as it will make the burgers tough. Shape the meat into six equal sized patties. Roast the sliced pork belly in a 425 degree oven for 40 minutes, or until your desired doneness.
Once the patties are formed, make an indentation in the center of each patty with your thumb. This will keep the burgers from puffing up while they cook, and will help them hold their shape. Place the patties on a preheated grill and cook until your desired doneness. Top each burger with a slice of Gouda cheese, and serve once the cheese has melted.
Pork Belly Burger
Pork Belly Burgers are kept juicy by adding grated shallots into the ground beef. They're then grilled to perfection, topped with Gouda cheese and two thick slices of roasted pork belly! Oh, happy day!
Ingredients
1

pound

thick cut pork belly

2

pounds

ground beef

I use an 80/20 blend

2

medium shallots

i minced, I grated

salt and pepper to taste

6

sliced Gouda cheese

toppings of your choice

lettuce, tomato, pickle, ketchup, mustard, etc.
Tools and Equipment
baking sheet

aluminum foil

optional

rack for the baking sheet

optional

large bowl

microplane grater

chefs knife

spatula
Instructions
Preheat oven to 425 degrees

Line a baking sheet with a baking rack.

Place the pork belly in an even layer on the rack and roast in a preheated oven for 40 minutes (or until your desired doneness). Set aside.

Place the ground beef in a large bowl and add the minced and grated shallots.

Mix the beef and shallot mixture, but don't over mix.

Shape the ground beef into six evenly sized patties.

Season the patties liberally with salt and pepper.

Cook the burgers on a preheated grill until your desired doneness.

Add the cheese and allow to melt.

Serve.
Hungry for more burgers? I know I am. Here are a few other recipes I've shared over the past few years that I think you might also enjoy…Just click on the recipe title and you'll be taken to the recipe.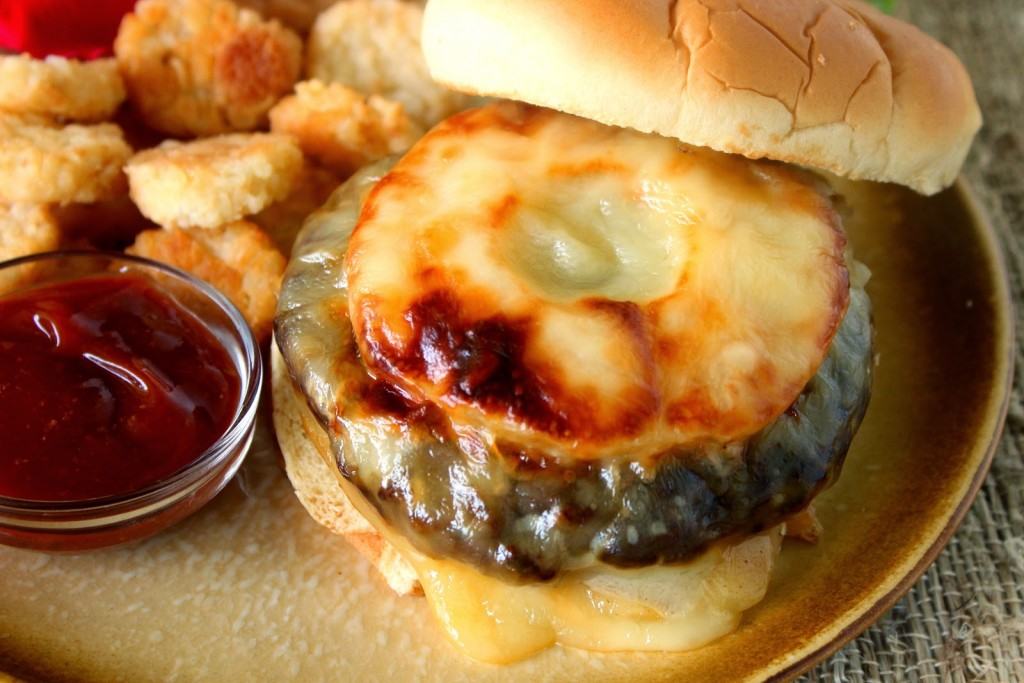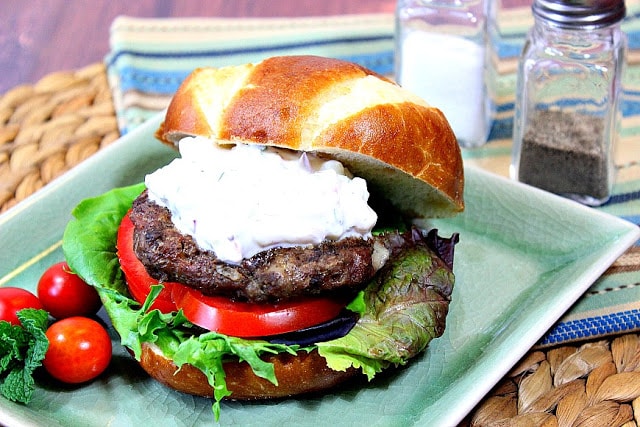 If you're also a beer fan, then you know it pairs wonderfully well with burgers of all kinds. The following glasses were a customer's special request that I painted a few years back. I'd never heard of Green Man beer before (I'm not typically a beer drinker), but I'm really happy with how the glasses turned out, and to this day they're still some of my favorites and I think they're a fun item to coordinate with the Pork Belly Burger 🙂
Kudos Kitchen by Renée ~ Where food, art, and fun collide each and every day!
Until we eat again, I hope you have a delicious day!