Winter is all about weekend comfort foods that make the house smell great as they're cooking away. This Best Ever Dutch Oven Braised Pot Roast Dinner with Potatoes & Carrots is a family favorite that doesn't disappoint on flavor OR aroma!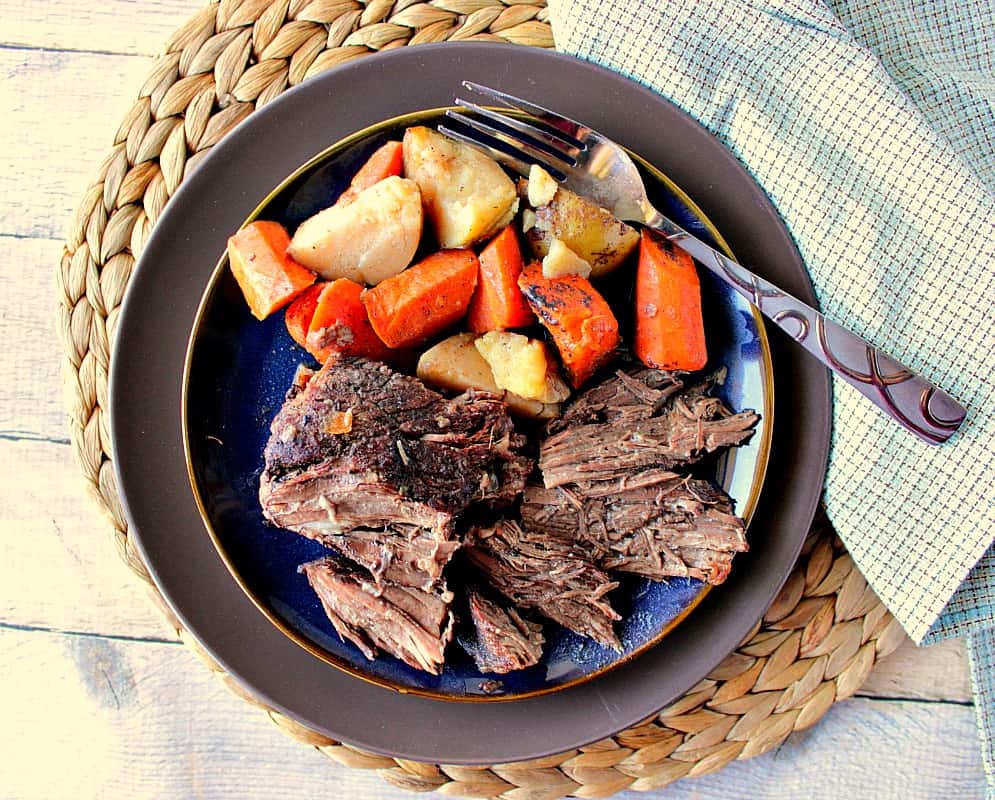 There is nothing quite like bringing the family around the #SundaySupper dinner table with something comforting and delicious. With only a few minutes of preparation, you can enjoy the wonderfully tempting aroma of this Best Ever Dutch Oven Braised Pot Roast for hours as it cooks in the oven with minimal ingredients. For me, that's one of the best parts of an oven braised meal! The anticipation!!
The ingredients you'll need to make this Dutch Oven Braised Pot Roast are, one (3 pound) boneless chuck eye pot roast, light colored oil (I used grapeseed), salt, pepper, one onion, one green bell pepper, 2-3 bay leaves, one and a half cups red wine, one cup beef stock, one and a half pounds of small Yukon gold potatoes, and four to five medium/large carrots. *Please find the exact measurements along with the printable recipe card below.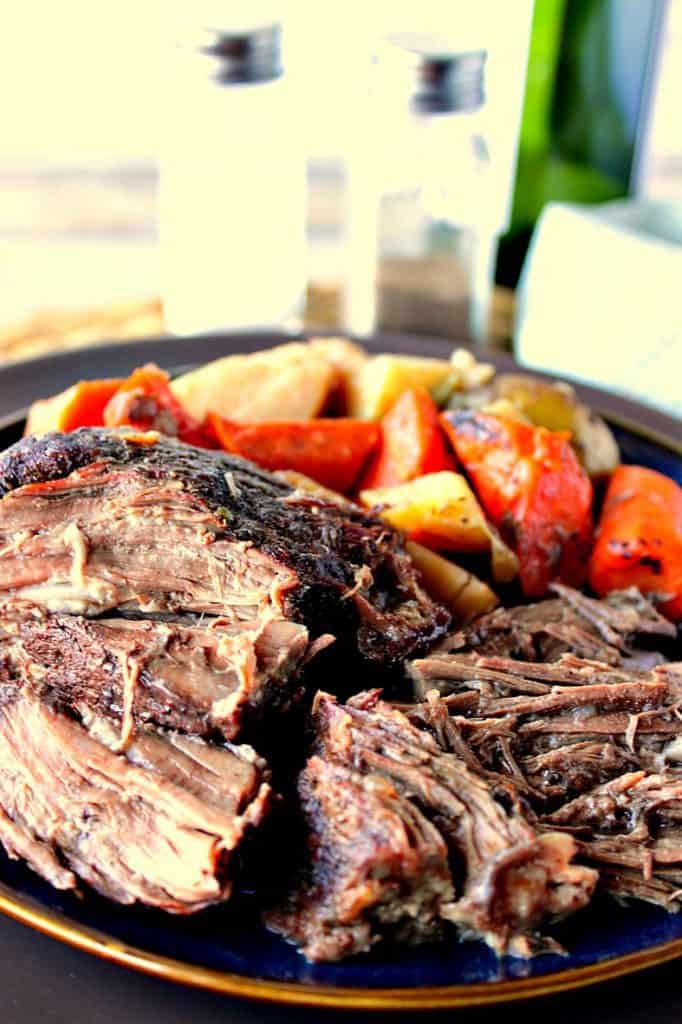 Braising an inexpensive cut of meat like a chuck roast low and slow will turn your family's #SundaySupper into a meal fit for royalty! Since this Oven Braised Pot Roast cooks in a low 300-degree oven for four to five hours (the longer, the better), the meat will be incredibly fork tender and will melt like butter in your mouth.
The anticipation of a family #SundaySupper begins with the preparation. Making Oven Braised Pot Roast couldn't be easier. Let's get cooking!
In a large Dutch oven, sear the roast on both sides in grapeseed oil over medium/high heat. Season both sides with salt and pepper. Remove the meat to a plate. In the drippings in the pan, add a chopped onion and bay leaves.

Add a chopped bell pepper to the pot along with red wine and chicken or beef stock.

Add the seared beef back into the pot and cover. Place the Dutch oven in a preheated 300-degree oven for 3½ – 4 hours. Remove the pan from the oven.

Add 1½ pound of baby gold Yukon potatoes that have been halved and quartered, and 4 -5 peeled and roughly chopped carrots to the pot along with additional salt and pepper. Return the lid to the pot and place the Dutch oven back into the oven for an additional 60 minutes.

To serve, scoop the meat potatoes and carrots into a bowl and scoop the pot roast out onto a large serving platter, and spoon the beef juice over top. Put away the knife, and enjoy!!

If you're new to cooking and are wondering what exactly a Dutch oven is, it's merely a large, heavy pot with a lid. You can find many forms of Dutch ovens in the marketplace, and some are quite expensive.
I received my Dutch oven as a gift from my eldest son for my birthday years ago. I love, love, love using it, and would challenge those much higher priced swanky French brand named pieces (I think you know the ones), to beat it. Below are a few Amazon.com affiliate links for Dutch ovens (featuring many different price ranges) for you to consider if you're looking to add one to your kitchen arsenal of pots and pans. By clicking on the images below you'll be taken directly to Amazon.com to view the items for your consideration.
Best Ever Dutch Oven Braised Pot Roast Dinner #SundaySupper
This Best Ever Dutch Oven Braised Pot Roast Dinner with Potatoes & Carrots is a family favorite that doesn't disappoint on flavor OR aroma!
Cuisine:
American Comfort Food
Ingredients
1 - 3

pound

boneless chuck roast

2

tablespoons

grapeseed oil

or other light colored oil

salt and pepper to taste

1

medium onion

chopped

1

green bell pepper

seeded and chopped

1½

cups

red wine

1

cup

beef or chicken stock

2-3

bay leaves

1½

pounds

small Yukon gold potatoes

halved or quartered

4-5

medium/large carrots

peeled and rough chopped into 2" pieces
Instructions
Preheat oven to 300-degrees.

Heat the oil in a large Dutch oven over medium/high heat.

Season the chuck roast with salt and pepper and sear it well on both sides.

Remove the roast to a plate.

Reduce the heat under the Dutch oven to medium-low.

Add the onion, green pepper, bay leaves, wine and stock to the pan.

Return the chuck roast to the pan. Cover the pan and place in a preheated oven for 3½ - 4 hours.

Remove the pan from the oven and add the potatoes and carrots. Season with additional salt and pepper to taste.

Place the lid back on the pot and return to the oven for an additional 60 minutes, or until the potatoes and carrots are fork tender.
Recipe Notes
Tools and equipment:
Dutch oven
chefs knife
measuring cup
cutting board
slotted spoon
For a few of my other delicious suppers that will help gather your family around the #SundaySupper table, please click on the recipe titles for:
Lemon Oregano Spatchcock Chicken
Slow Cooker Brisket with Beer BBQ Sauce
I hope you've enjoyed this recipe for Dutch Oven Braised Pot Roast for #SundaySupper as much as I've enjoyed bringing it to you. Should you have any questions regarding this recipe, or anything else you see on my site, please don't hesitate to contact me directly or leave me a comment in the comment section below. It is always my distinct pleasure to get with to you with a reply just as soon as I possibly can.
Eating with the family gathered around the dinner table is one of my greatest joys. If it's yours too, and you're committed to carrying on the tradition for years to come, please head over to the #SundaySupper website and take the #SundaySupper pledge HERE, along with me.
To visit all the other #SundaySupper recipes for this week, please click on the titles below to be taken directly to all the recipes, and food blogger's sites you're interested in.
Sunday Supper Recipes
Super Sunday Entrees
Sweet Sunday Desserts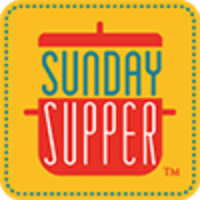 The Sunday Supper Movement is committed to bringing our readers delicious recipes that encourage them to gather and eat together around the family table. Search for your favorite ingredients on our Sunday Supper website. Also check out the Sunday Supper Pinterest boards for plenty more ideas and inspiration.
For additional information regarding my Kudos Kitchen recipes, and/or my hand painted glassware or fabric items, please visit me:
FACEBOOK, PINTEREST, INSTAGRAM, TWITTER, YOUTUBE and MY PAINT SHOP
Kudos Kitchen by Renée ~ Where food, art, and fun collide each and every day!
Until we eat again, I hope you have a delicious day!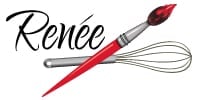 The post above includes affiliate links. When I find a great product or service, I like to share it with my readers. Sometimes I use affiliate links so I can earn a small commission for my recommendations.  As always, I thank you for your support!