This Braised Pot Roast made in Dutch Oven is a family favorite that doesn't disappoint on flavor OR aroma!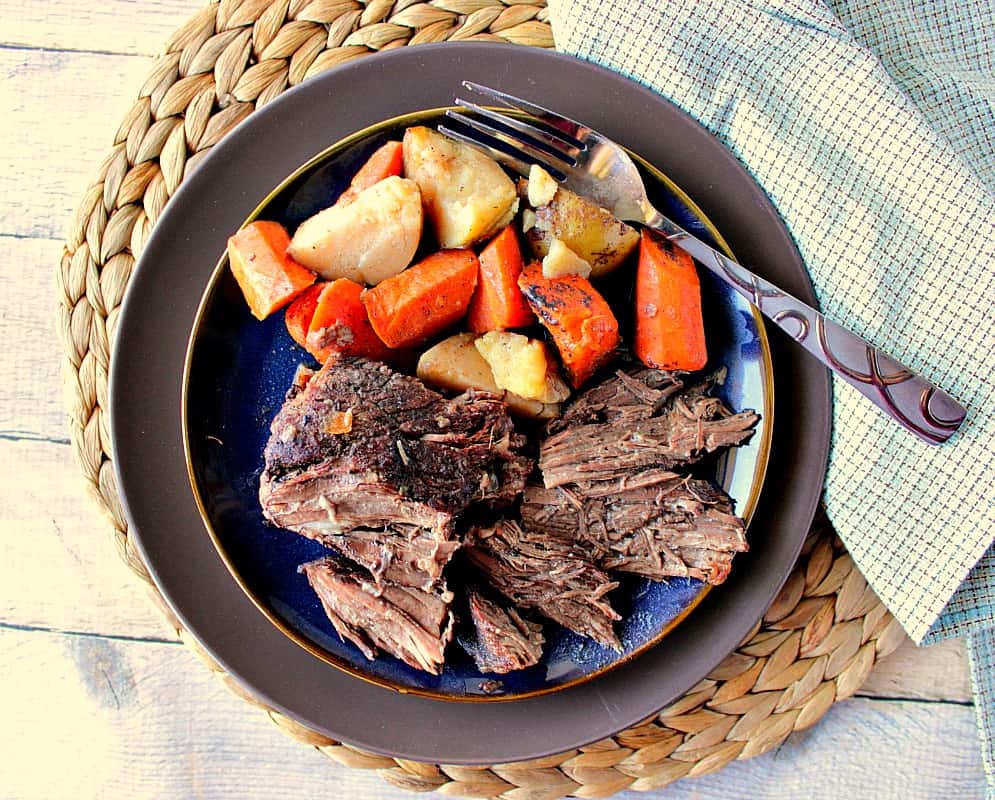 There is nothing quite like bringing the family around the dinner table with something comforting and delicious.
With only a few minutes of preparation, you can enjoy the wonderfully tempting aroma of this Dutch Oven Braised Pot Roast for hours as it cooks in the oven with minimal ingredients. For me, that's (almost) one of the best parts of an oven braised meal…the anticipation!!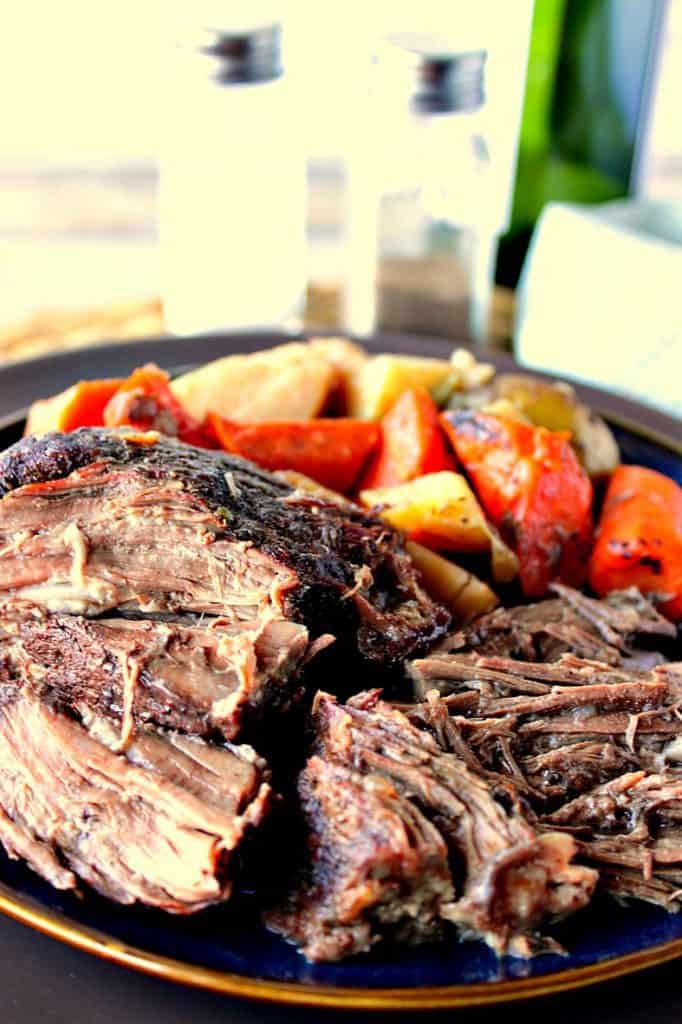 The ingredient list:
Boneless Chuck Eye Pot Roast

Light Colored Oil (I used grapeseed)

Salt and Pepper

Onion

Green Bell Pepper

Bay Leaves

Red Wine

Beef Stock or Broth

Yukon Gold Potatoes

Carrots
What is the benefit of braising meat?
Braising an inexpensive cut of protein like a chuck roast will turn even the toughest cut of meat moist and tender! Since this Oven Braised Pot Roast cooks in a low 300-degree oven for four to five hours (the longer, the better), the meat will be incredibly fork tender and will melt like butter in your mouth.
What exactly is a Dutch oven?
A Dutch oven is, it's merely a large, heavy pot with a lid. You can find many forms of Dutch ovens in the marketplace. Some are quite expensive but there are also many very reasonably priced options that fit every budget.
The easy instructions for braising a pot roast:
Season both sides of the meat with salt and pepper.

In a large Dutch oven, sear the roast on both sides in the oil over medium/high heat.

Remove the meat to a plate.

In the drippings in the pan, add a chopped onion and bay leaves.

Add the chopped bell pepper to the pot along with red wine and the beef stock or broth.

Add the seared beef back into the pot and cover.

Place the Dutch oven in a preheated 300-degree oven for 3½ – 4 hours.

Remove the pot from the oven.

Add 1½ pound of baby gold Yukon potatoes that have been halved and quartered, and 4 -5 peeled and roughly chopped carrots to the pot along with additional salt and pepper.

Return the lid to the pot and place the Dutch oven back into the oven for an additional 60 minutes.

To serve, scoop the potatoes and carrots into a bowl using a slotted spoon.

Transfer the pot roast out onto a large serving platter.

Spoon the beef juice over the top of the meat.

Put away the knife and enjoy!!

I received my Dutch oven as a gift from my eldest son for my birthday several years ago.
I love, love, love using it, and would challenge those much higher priced, swanky French brand named pieces (I think you know the ones), to beat it.
Additional family-favorite dinners:
Below is the printable recipe card along with the nutritional information for today's Braised Pot Roast.
Dutch Oven Braised Pot Roast Dinner
This Best Ever Dutch Oven Braised Pot Roast Dinner with Potatoes & Carrots is a family favorite that doesn't disappoint on flavor OR aroma!
Ingredients
1

(3 pound)

boneless chuck roast

2

tablespoons

light colored oil

3

teaspoons

salt

divided

1½

teaspoon

pepper

divided

1

medium

onion

chopped

1

green bell pepper

seeded and chopped

1½

cups

red wine

1

cup

beef or chicken stock

2-3

bay leaves

1½

pounds

small Yukon gold potatoes

halved or quartered

5

large

carrots

peeled and rough chopped into 2″ pieces
Instructions
Preheat oven to 300-degrees.

Heat the oil in a large Dutch oven over medium/high heat.

Season the chuck roast with 1½ teaspoon salt and ½ teaspoon pepper and sear it well on both sides.

Remove the roast to a plate.

Reduce the heat under the Dutch oven to medium-low.

Add the onion, green pepper, bay leaves, wine, and beef stock or broth to the pot.

Return the chuck roast to the pot. Cover the Dutch oven and place in a preheated oven for 3½ – 4 hours.

Remove the pot from the oven, and add the potatoes and carrots. Season with remaining salt and pepper.

Place the lid back on the pot and return to the oven for an additional 60 minutes, or until the potatoes and carrots are fork tender.

Use a slotted spoon to place the meat and vegetables on a serving platter. Spoon the pan juices over top of the pot roast and vegetables, and serve hot.
Notes
Tools and equipment:
Dutch oven (large, heavy pot with a lid), chef's knife, measuring cups, cutting board, slotted spoon
Nutrition
Serving:
1
Calories:
200
kcal
Carbohydrates:
24
g
Protein:
4
g
Fat:
5
g
Saturated Fat:
0
g
Cholesterol:
0
mg
Sodium:
1298
mg
Potassium:
878
mg
Fiber:
5
g
Sugar:
4
g
Vitamin A:
10095
IU
Vitamin C:
33.7
mg
Calcium:
70
mg
Iron:
4.4
mg
Thank you so much for visiting me here today in my Kudos Kitchen!
Should you have any questions or comments regarding this recipe or anything else you've seen on my site, please don't hesitate to reach out to me. It is always my distinct pleasure to get back with a reply just as soon as I possibly can!
For more Kudos Kitchen recipe information, please follow me on my social medial channels (listed below), and don't forget to TAG me @kudoskitchen with photos so I can view all your delicious recipe creations! It's exciting for me when you share them, so don't be shy!
Instagram, Pinterest, Facebook, and YouTube
Instagram, Pinterest, Facebook, and YouTube
Kudos Kitchen by Renee – BRINGING YOU EASY, ECONOMICAL, AND DELICIOUS DISHES TO FEED YOUR LOVED ONES!
Until we eat again, I hope you have a delicious day!