Homemade Marzipan Candy Carrots are some of the easiest homemade candies in the world to make. Once the marzipan is made, the possibilities of what you're able to craft with the pliable almond flavored candy are endless, and so much fun!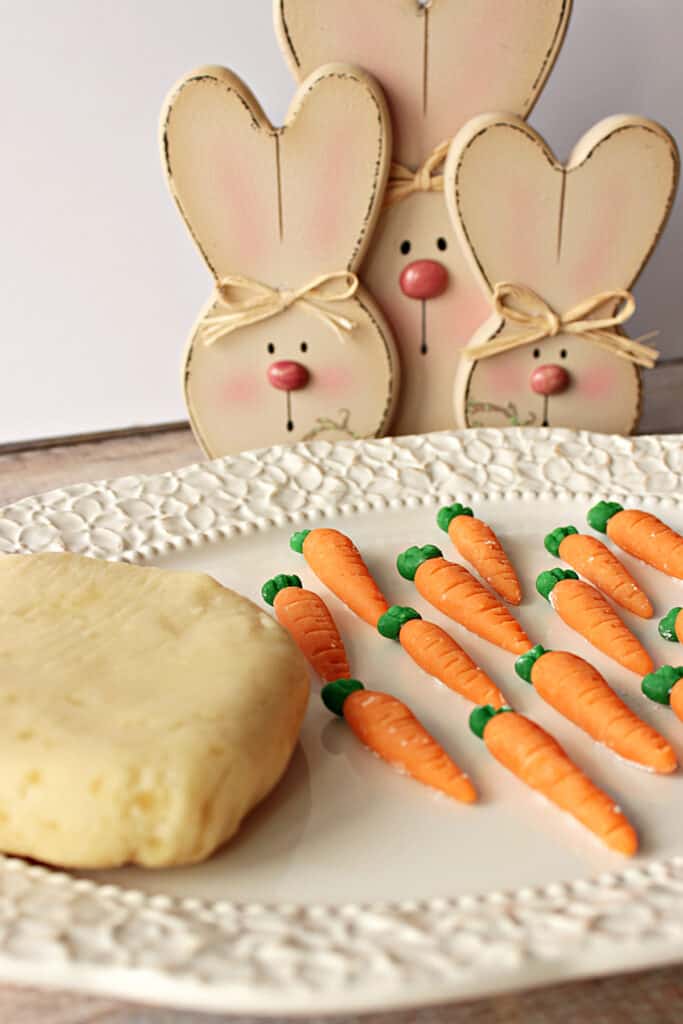 Jump to: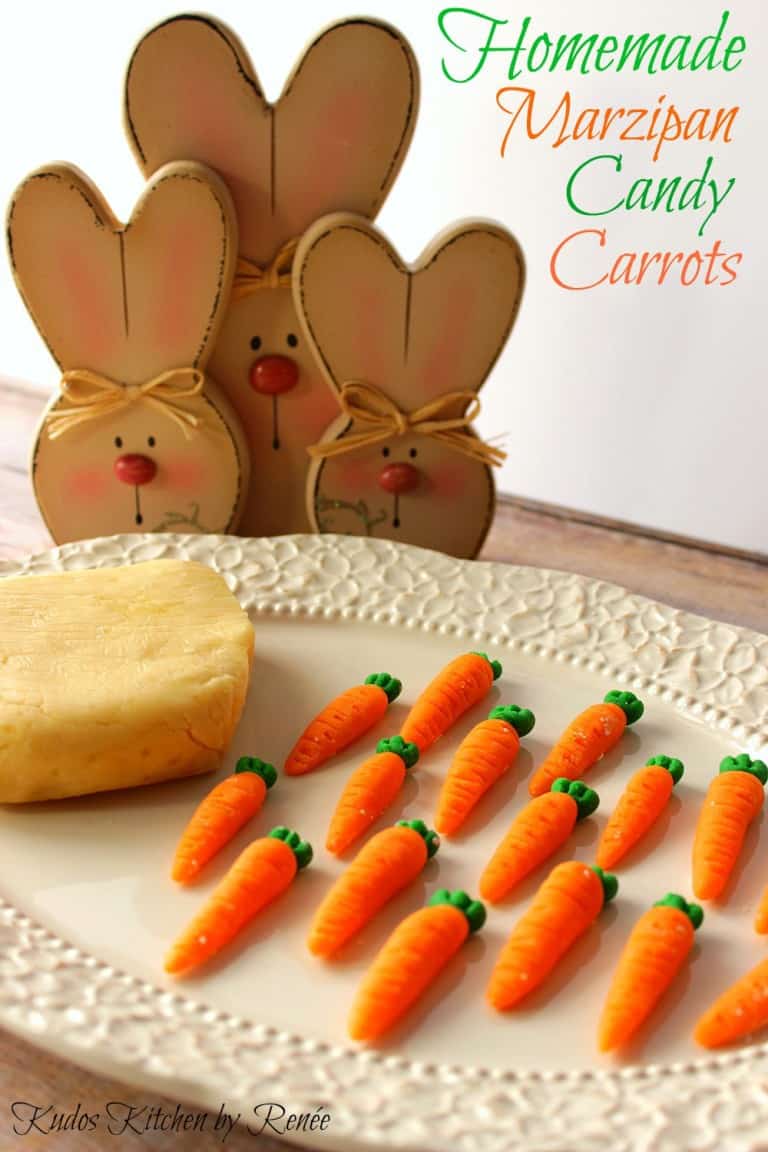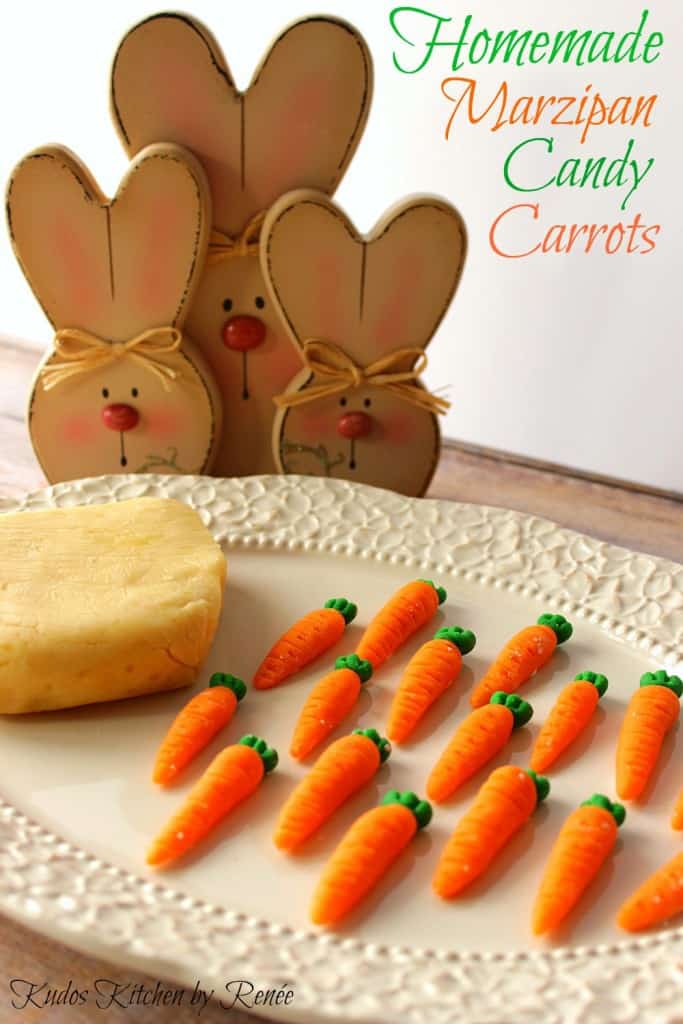 The ingredient list:
**Note - The following lists of ingredients plus kitchen tools and equipment contain affiliate links (highlighted in blue) for your consideration and shopping convenience. #CommissionsEarned
Kitchen tools and equipment needed:
How this recipe came to be:
Making marzipan has been on my list of things I've wanted to make for years and years.
Why it took me so long to make it, I'll never know.
But what I do know is now that I finally have, I'm excited to have the block of homemade marzipan wrapped and stored in my fridge to mold, sculpt, and play with whenever the whim strikes.
How long does it take to make marzipan?
Only moments.
The food processor basically does all the work so in 5 - 10 minutes' time you can have homemade marzipan ready and waiting for your creativity to take over.
Can store-bought marzipan be used to make these candy carrots?
Yes, sure.
However, making homemade marzipan takes only a handful of ingredients. One of them being almond flour/meal.
What is almond flour, and can it be made at home?
These days, almond flour is super simple to find in almost every grocery store's baking aisle.
That said, making almond flour/meal is super simple to make at home by placing whole, skinless, blanched almonds in a food processor, and processing until a soft, coarse flour is achieved.
For this post and recipe, I used store-bought almond flour because I already had in my pantry.
How to store marzipan?
Wrap it well in plastic wrap and store in the refrigerator for up to 2 weeks, OR store it in the freezer for up to two months.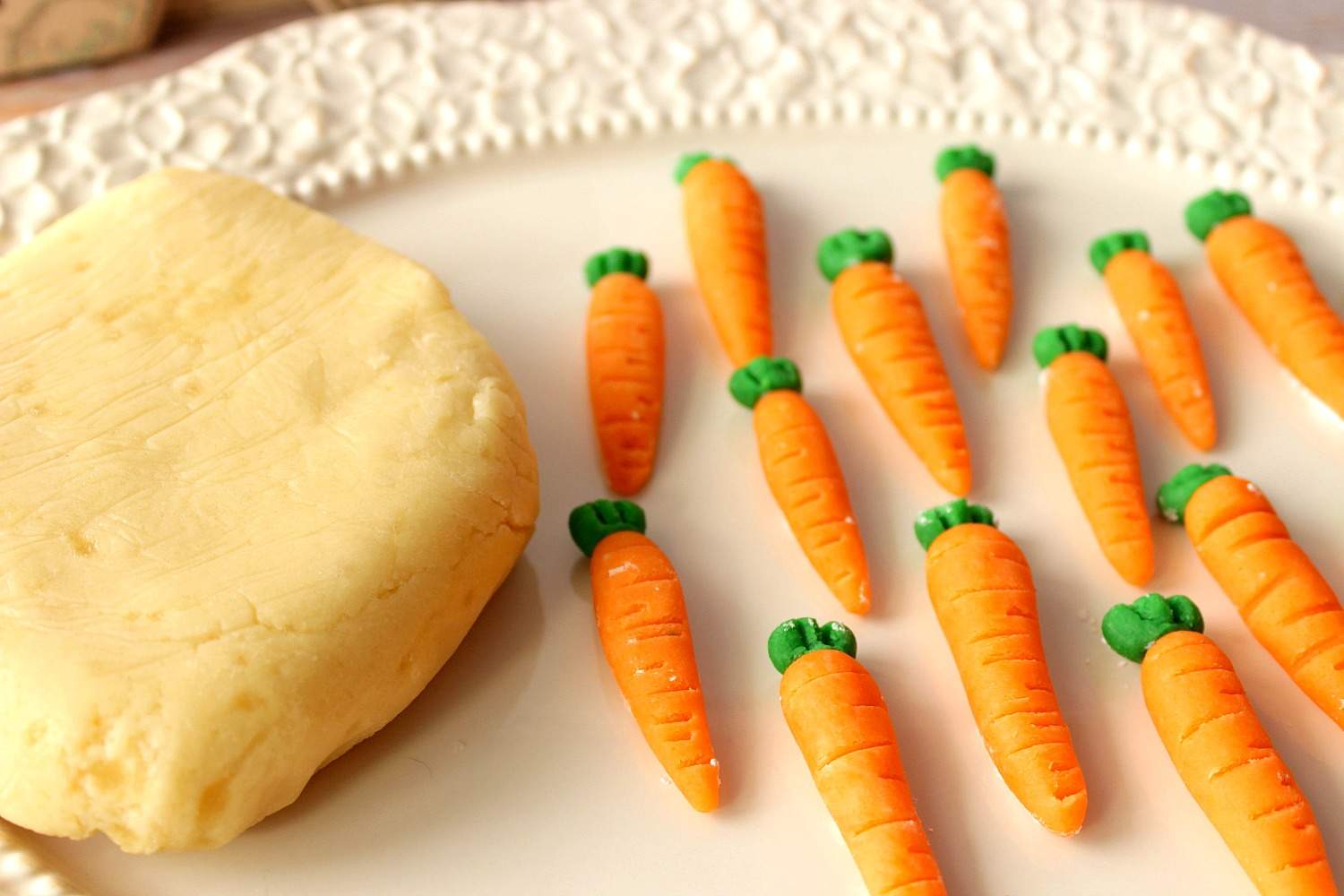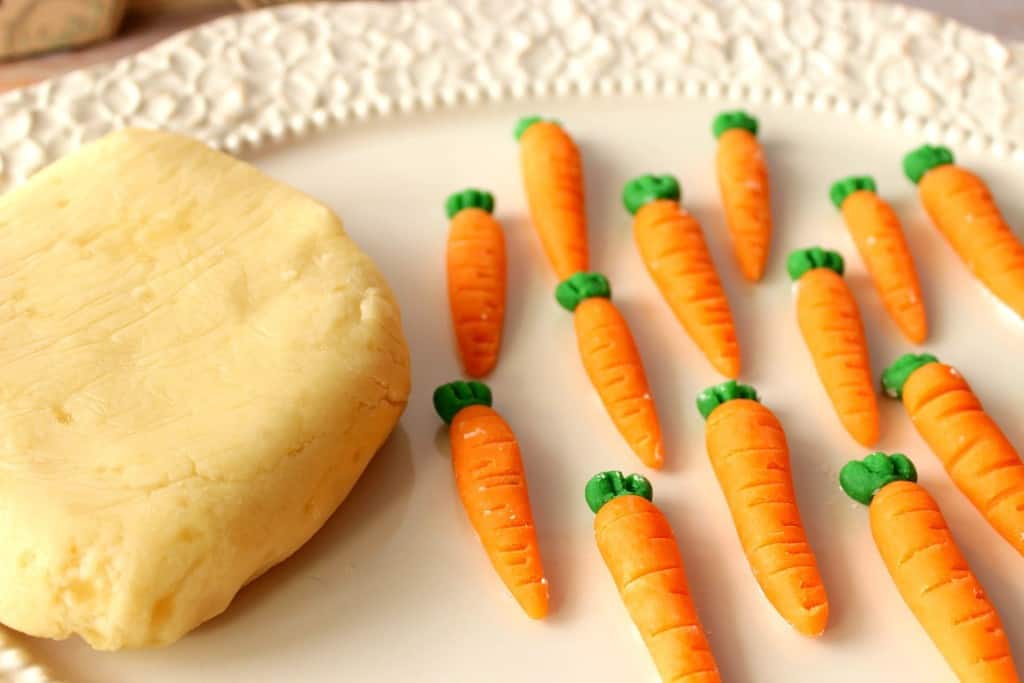 The step-by-step instructions for making marzipan at home:
Place the almond flour/meal in a food processor along with an equal portion of confectioners sugar.

Pulse until blended.

Add salt and blend.

Add an egg white and almond extract in a small bowl.

Add the egg and extract mixture to the food processor and pulse all the ingredients until the dough forms a ball.
Wrap the prepared marzipan in plastic wrap and chill in the refrigerator until ready to color and shape.

Food coloring may be kneaded into the marzipan depending on your design needs.

For the carrots, orange and green gel food colors were used.
Once the marzipan is made, you're now ready to color and shape the carrots

(see the featured how-to video for instructions)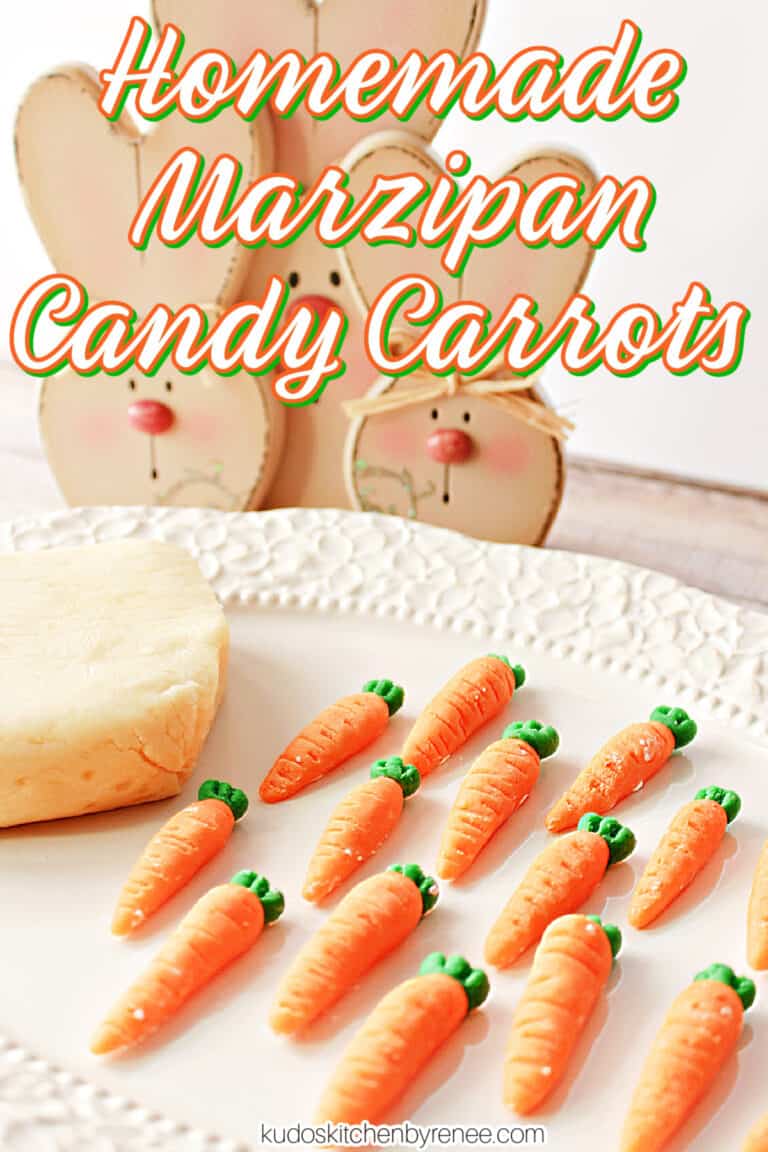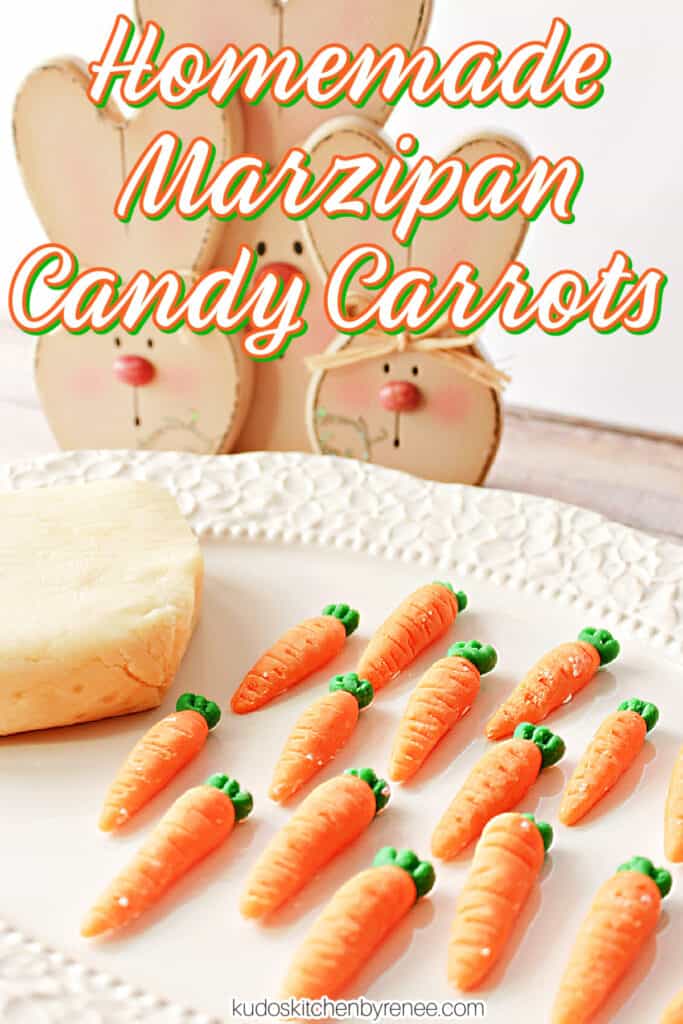 When and where can homemade marzipan candy carrots be used?
Anywhere your imagination takes you.
Of course, the first thing that pops into mind is on top of a carrot cake or cupcakes. But get your creative juices flowing, and I'm certain you'll be surprised with the ideas you'll come up with.
Here are more fun marzipan candy ideas that you'll have fun with -
Additional homemade candy recipes you'll also enjoy:
*Homemade Almond Joy Candy (shown below)
Homemade Almond Joy Candy is better than the original because of more nuts and more chocolate! JOY never tasted so good!!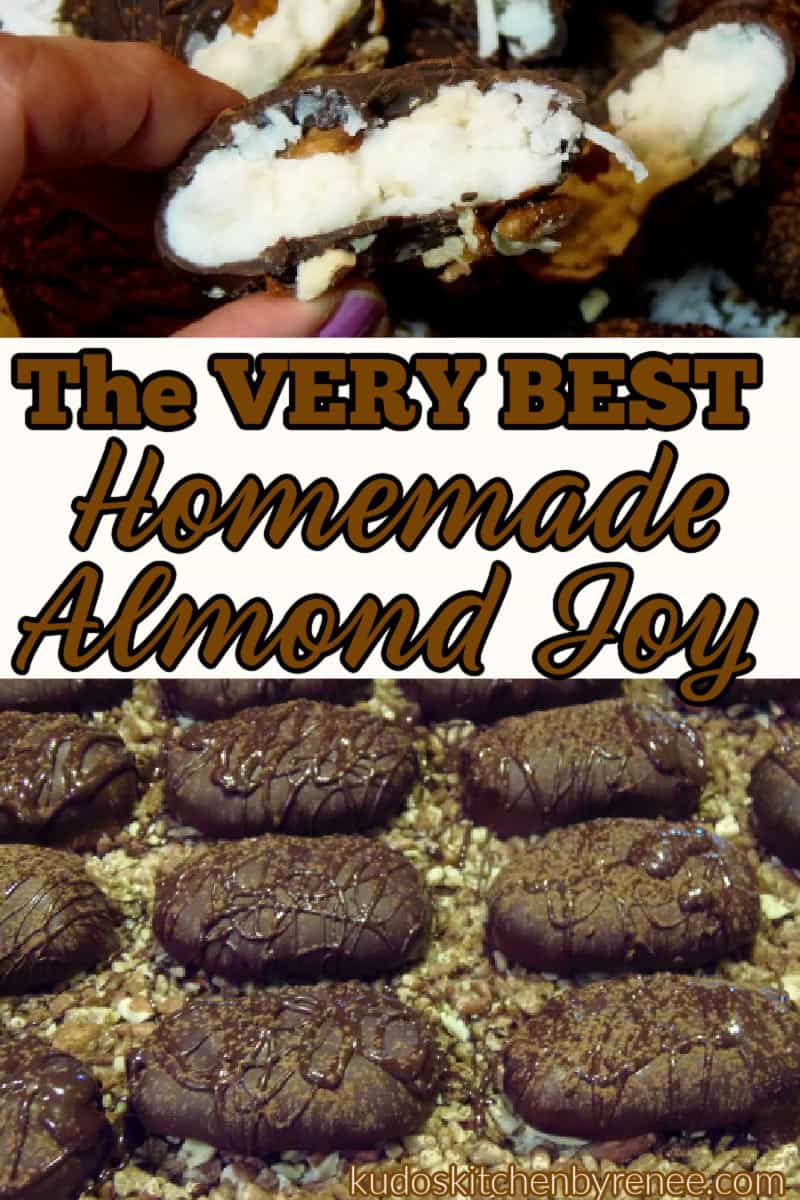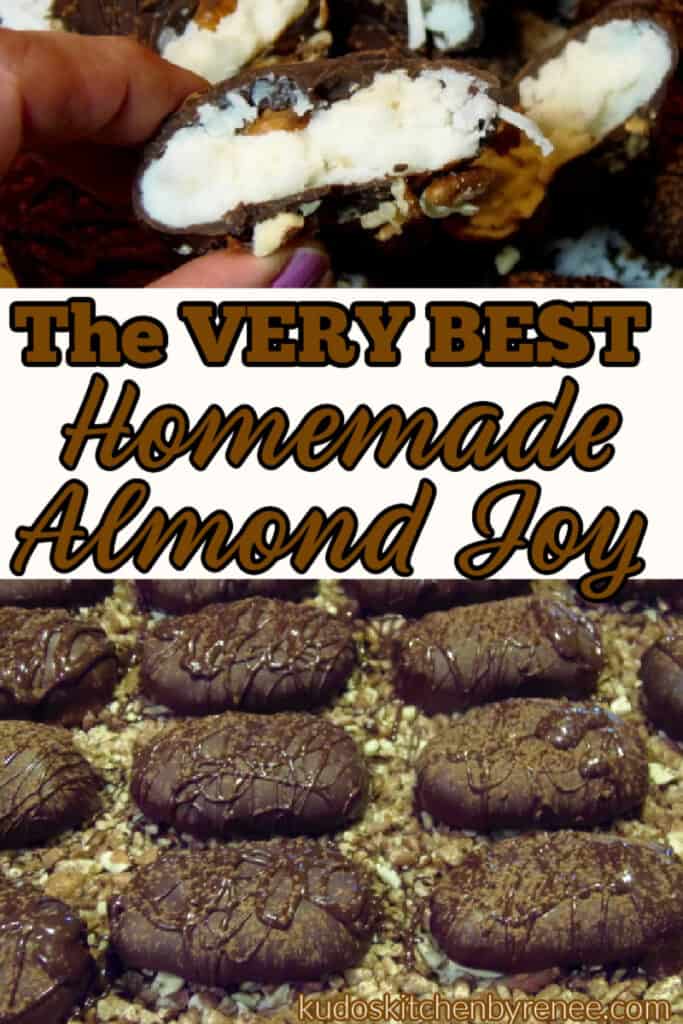 *Tropical White Chocolate Candy Bites (not shown)
These easy-to-make Tropical White Chocolate Candy Bites are the perfect thing to make and gift to someone who loves to indulge in a sweet little treat from time to time.
*Copycat Payday Candy Bars (shown below)
If you're a fan of Payday candy bars then you'll go NUTS for this fast and easy Copycat Payday Candy Bars recipe. After all, who doesn't love payday?!!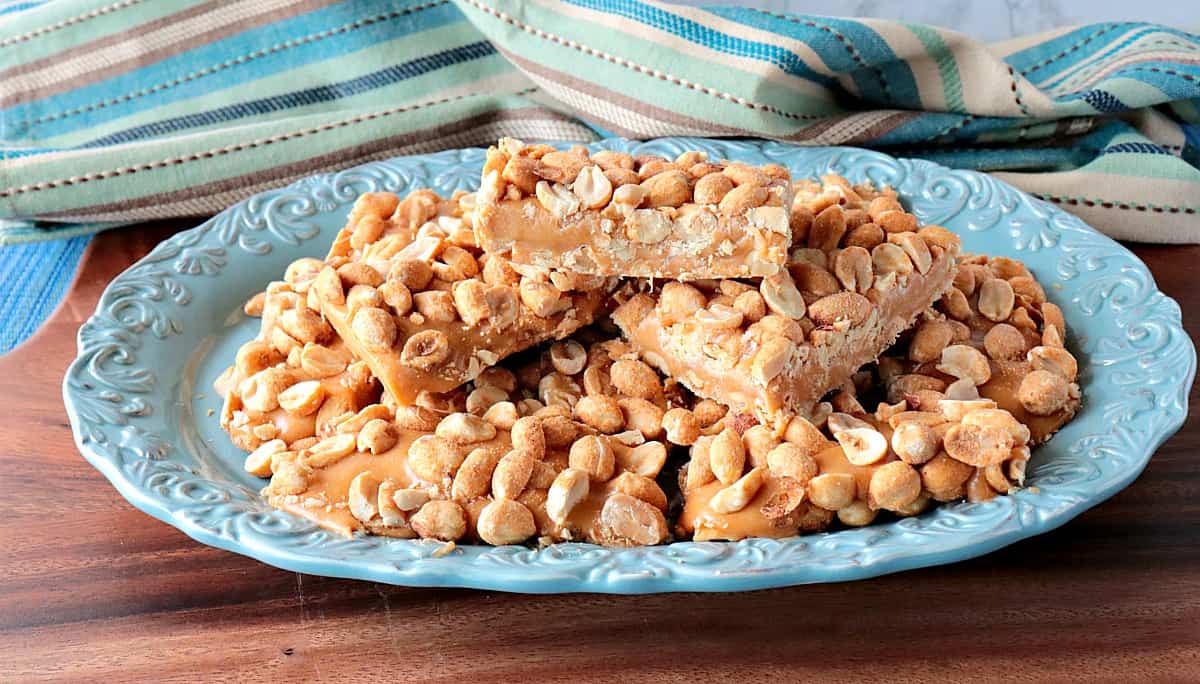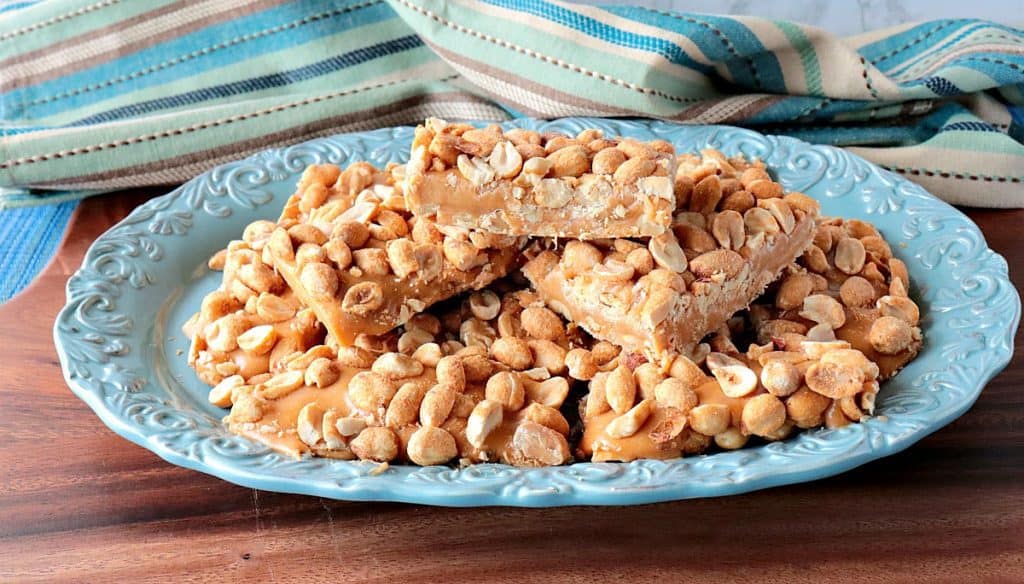 *Coconut Pecan Praline Candy (not shown)
You can either thank me for this recipe of coconut pecan praline candy or curse me out! They're so good and so addicting you may eat them all by yourself! Sorry. Not sorry!
*Homemade Marzipan Candy Carrots (shown below) THIS IS THE PLACE!!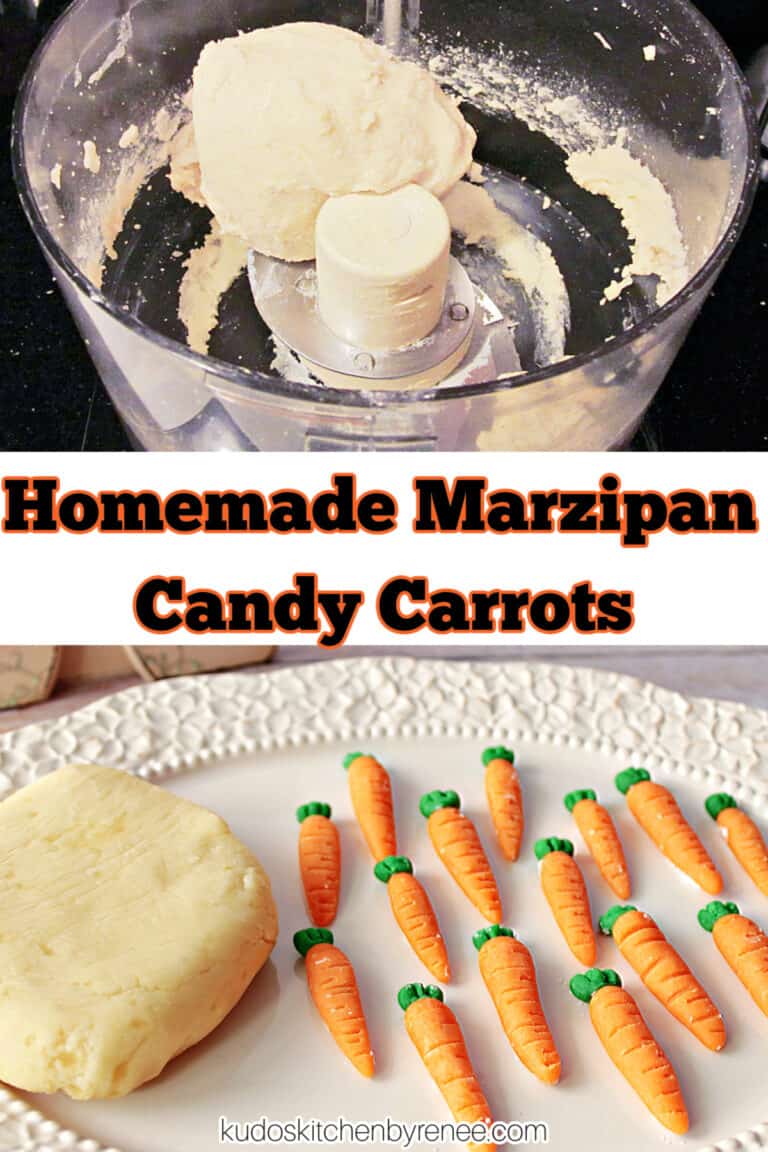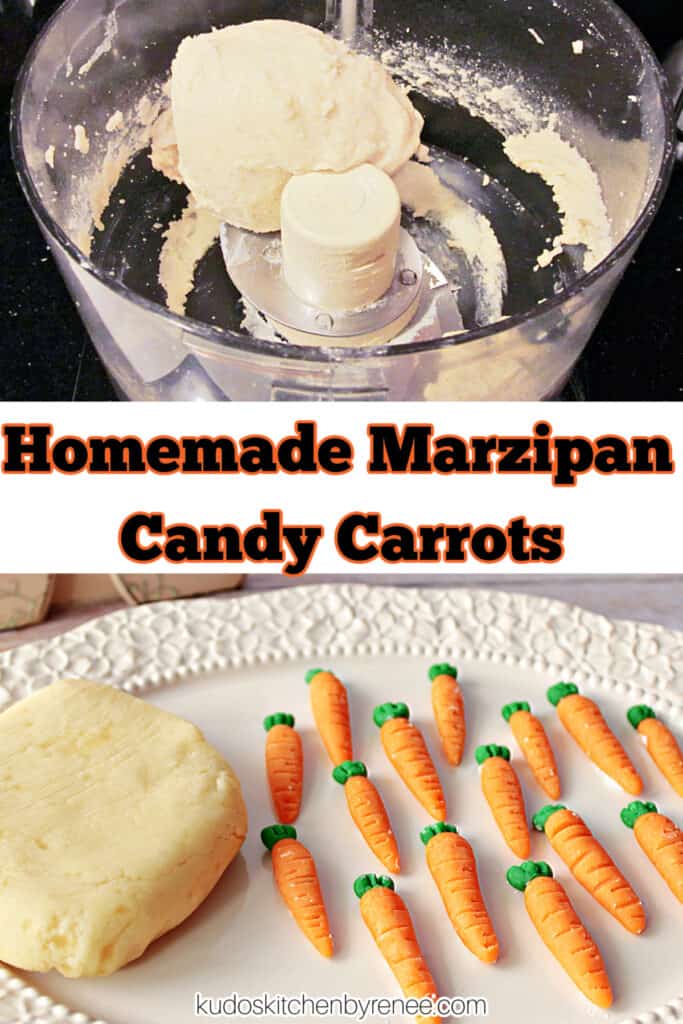 ⭐If you've made this recipe, or are excited to make this recipe, I'd appreciate it if you'd take a moment to leave it a star rating on the recipe card, along with a comment if you're so inclined. Thank you. 🙂
Printable Recipe Card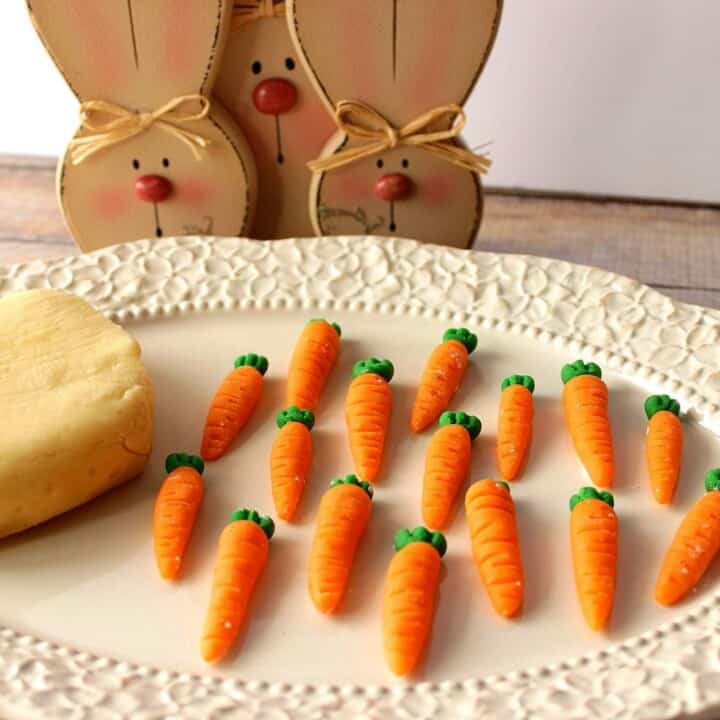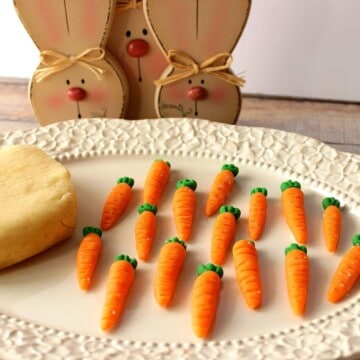 Homemade Marzipan Candy Carrots
Fast and easy homemade marzipan can be colored and shaped into whatever your heart desires.
Ingredients
1½

cups

almond flour/meal

homemade or store-bought

1½

cups

confectioners sugar

small pinch

salt

1½

teaspoons

pure almond extract

1

egg white

food processor

plastic wrap

orange and green food color

for making carrots

corn syrup for attaching pieces
Instructions
Place the almond flour, confectioners sugar, and salt in a food processor and pulse until blended.

Stir the egg white and almond extract together in a small bowl.

Add the egg white mixture into the food processor and pulse until a dough ball forms.

Remove the ball from the processor and wrap tightly in the plastic wrap.

Refrigerate at least 3 hours, or until you're ready to color and shape.
Notes
Keep the marzipan tightly wrapped in the refrigerator for up to 2 weeks.
When kneading food coloring into the marzipan, wearing disposable latex gloves will help keep the color off your hands.
Marzipan can be colored and shaped into whatever your heart desires.
Corn syrup is useful for attaching pieces of marzipan together, as in the carrots and the carrot tops.
Nutrition
Serving:
1
cup
Calories:
581
kcal
Carbohydrates:
77
g
Protein:
12
g
Fat:
27
g
Saturated Fat:
1
g
Cholesterol:
0
mg
Sodium:
22
mg
Potassium:
16
mg
Fiber:
5
g
Sugar:
66
g
Calcium:
118
mg
Iron:
2.1
mg
Follow me across my social media platforms and join in on the conversation: FACEBOOK, INSTAGRAM, PINTEREST, TIKTOK, AND YOUTUBE.
I sincerely hope you've enjoyed today's recipe for homemade almond paste candy as much as I've enjoyed bringing it to you!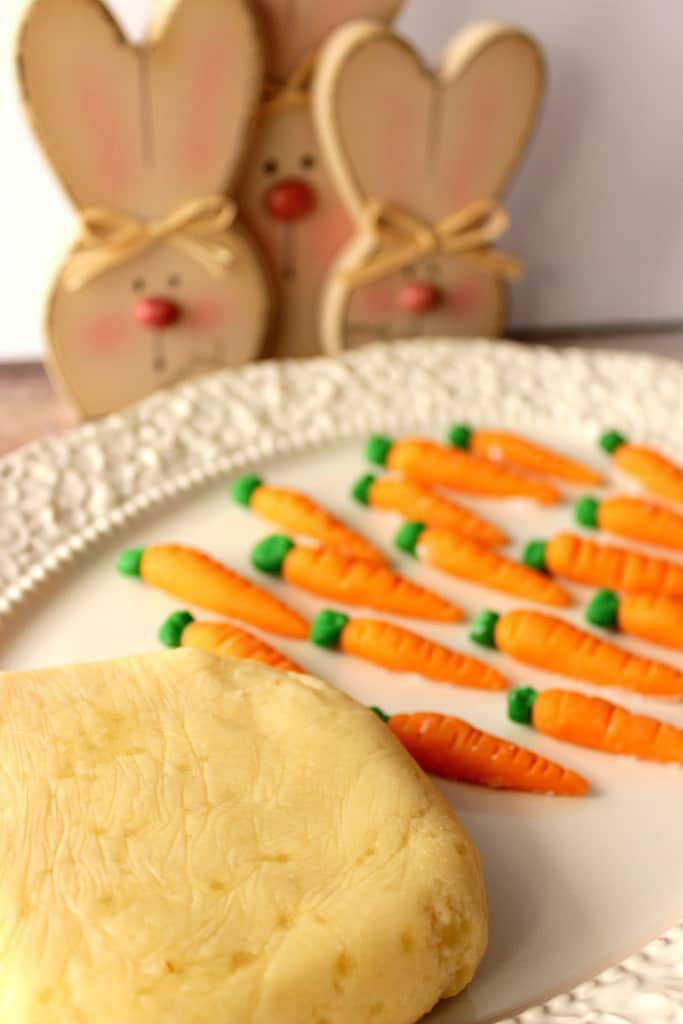 Thank you so much for visiting me today in my Kudos Kitchen. I hope you found something you'll love and that you'll come back and visit me often. There is always room for you around my table!
Should you have any questions or comments regarding anything you've seen here on my blog, please don't hesitate to reach out to me. It is always my distinct pleasure to respond to you just as soon as I possibly can.