Shrimp Rangoon Garlic Toasts are the perfect easy appetizer that everyone loves. Whether you're entertaining for a fancy or casual occasion, these delicious seafood appetizer toasts will fit right in.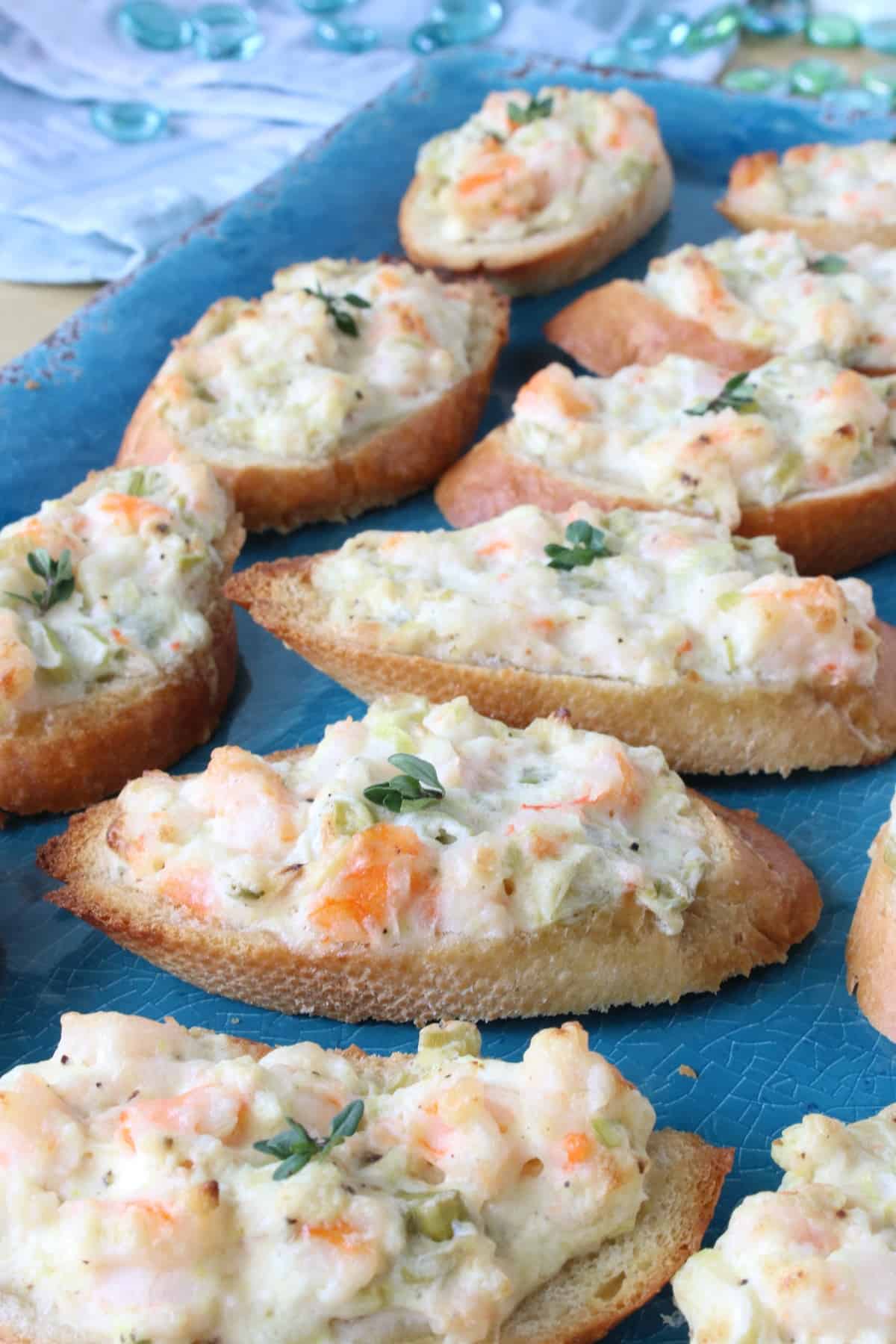 If you're a fan of crab Rangoon, then I'm confident you'll enjoy these Shrimp Rangoon Garlic Toasts. They're cream cheesy, crunchy, and pack a nice little punch of garlic and shrimp flavor!
This recipe post and its contents may include affiliate links for your consideration. I may earn a commission from qualifying purchases, but your prices are never increased as a result. Thank you.
Jump to:
The ingredient list:
*Please note that the exact measurements along with a new "shop the recipe" feature from Instacart is available in the printable recipe card.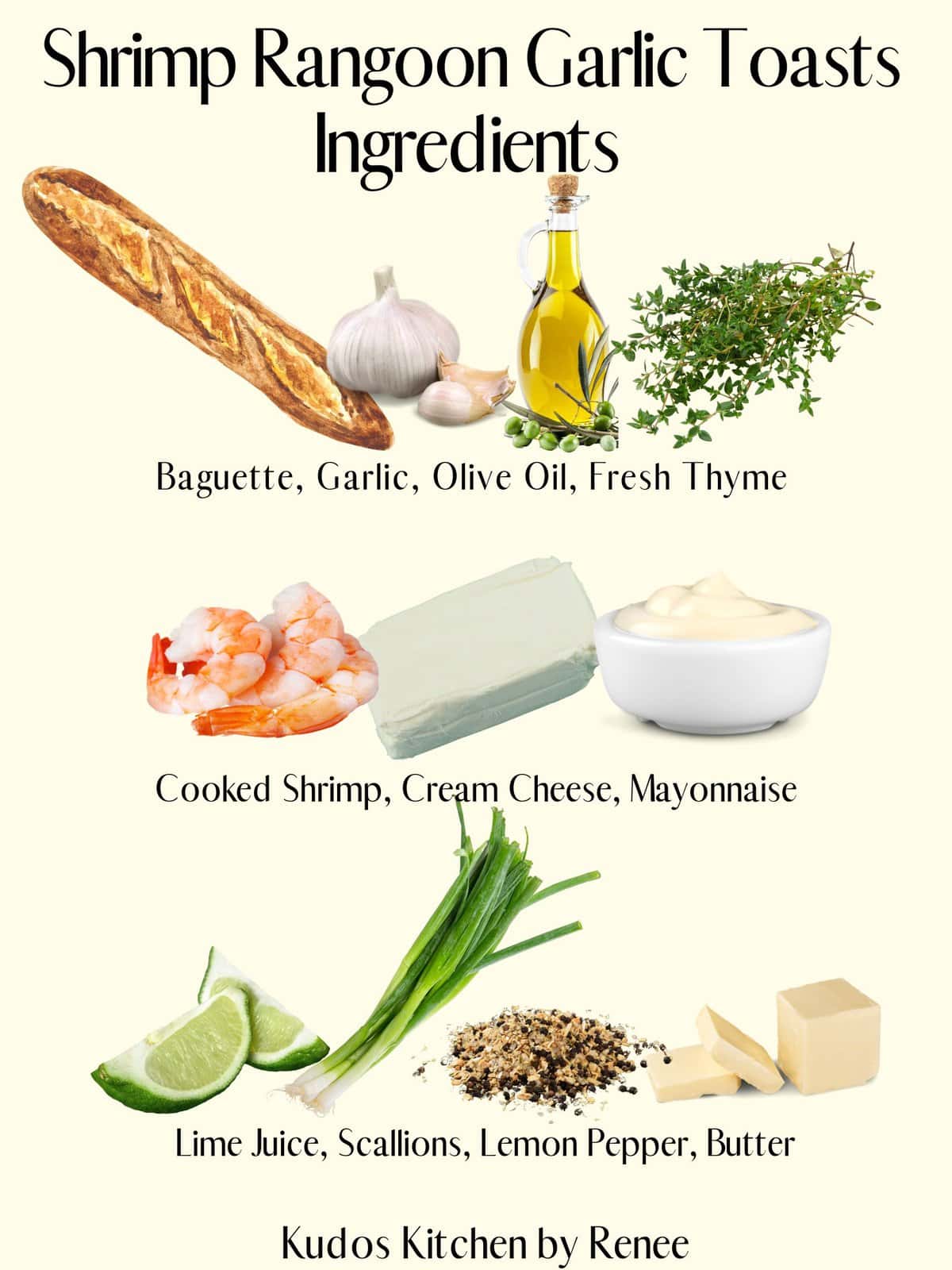 Ingredient information:
FRENCH BAGUETTE - I love the texture of a toasted baguette with all those nooks, crannies, and crunch. Those fabulous craters are an excellent place for the garlic and thyme-infused olive oil to sink into for maximum flavor.
PEELED AND DEVEINED COOKED SHRIMP - Feel free to use whatever size shrimp you want (or that are on sale). Frozen and thawed precooked shrimp work great for this recipe; just ensure they're thoroughly dried and remove their tails.
GARLIC CLOVES - I like plenty of garlic, so I used 4-5 (roughly chopped) large cloves for the infused oil. You can cut back (or increase) the amount to suit your preference.
OLIVE OIL - I used extra virgin olive oil because I wasn't cooking it at a high enough temperature to bring it beyond its smoke point. A second press olive oil will also work if that's what you have.
FRESH THYME - If you've been with me before, you know how much I love my fresh thyme. I use it in a lot of my cooking, and this recipe is no different. If you don't have fresh thyme, you can easily use dried thyme leaves, but cut back on the amount called for in this recipe by half because dried herbs have a more intense flavor than their fresh counterparts.
CREAM CHEESE - I used a full-fat cream cheese, but using Neufchatel, which has a similar flavor but less fat, is perfectly fine.
MAYONNAISE - I added the mayonnaise as a blending agent to help the cream cheese come together into a creamier mixture. Leave this ingredient out if you prefer, but I found it helpful with mixing, and I enjoy the flavor.
LIME JUICE - The lime juice cuts through some of the richness of the cream cheese and balances out the flavors. Two teaspoons are called for, and that's roughly 1 - 2 limes, depending on how juicy they are. Lemons may be used in place of limes.
SCALLIONS - What self-respecting Rangoon would omit scallions in the list of ingredients? I like using white and green parts (not the roots) because both have delicious oniony flavor.
LEMON PEPPER - This isn't an ingredient I use often in my cooking, but thought it would be a tasty addition. If you have it in your cabinet, great! If not, I don't recommend you go out and buy it specifically for this recipe. Use black pepper instead, and add a touch of lime zest.
BUTTER - I always use salted butter. Always. The butter gives this seafood crostini a buttery richness and mouthfeel that will leave you craving more! Everything's better with butter!!
Ingredient swap and substitution suggestions:
Want to swap cooked (or imitation) crab meat for the cooked shrimp? Go for it!!
Don't have a French baguette handy? No problem. Spread this cream cheese Rangoon mixture onto cocktail party bread or even a well-toasted hot dog or hamburger bun. The toasted bun will give structure and stability to hold all that cream cheesy goodness. And remember that using a toasted bagel or English muffin instead of the baguette would also work in a pinch. It's all good.
Don't want to make the infused olive oil? That's OK. No worries. Use store-bought garlic bread from the freezer section. Bake it halfway, top with the shrimp Rangoon mixture, and bake again until golden.
As mentioned above, using a lower-fat Neufchatel cheese instead of whole-fat cream cheese is an excellent way to save a few calories but not sacrifice flavor.
Lemon is always a good choice when adding citrus to cut the richness of any dish. Don't have lime or lemon? Try using a tiny splash (1 teaspoon) of vinegar (white, apple cider, or champagne) to help balance and round out flavors.
Not a fan of mayonnaise? What about swapping it with tahini (sesame seed paste)? The flavors of the scallions and shrimp would pair exceptionally well with tahini and give these seafood appetizers even more of an Asian flair. Oh, Yum! I will have to try that (note to self).
And lastly, but certainly not least, shallots may be used in place of the scallions in an extreme emergency, but I suggest grabbing your car keys and heading off to the store for scallions instead. While there is absolutely nothing wrong with shallots, these Shrimp Rangoon Garlic Toasts simply wouldn't be the same without the scallions. I implore you - get the scallions!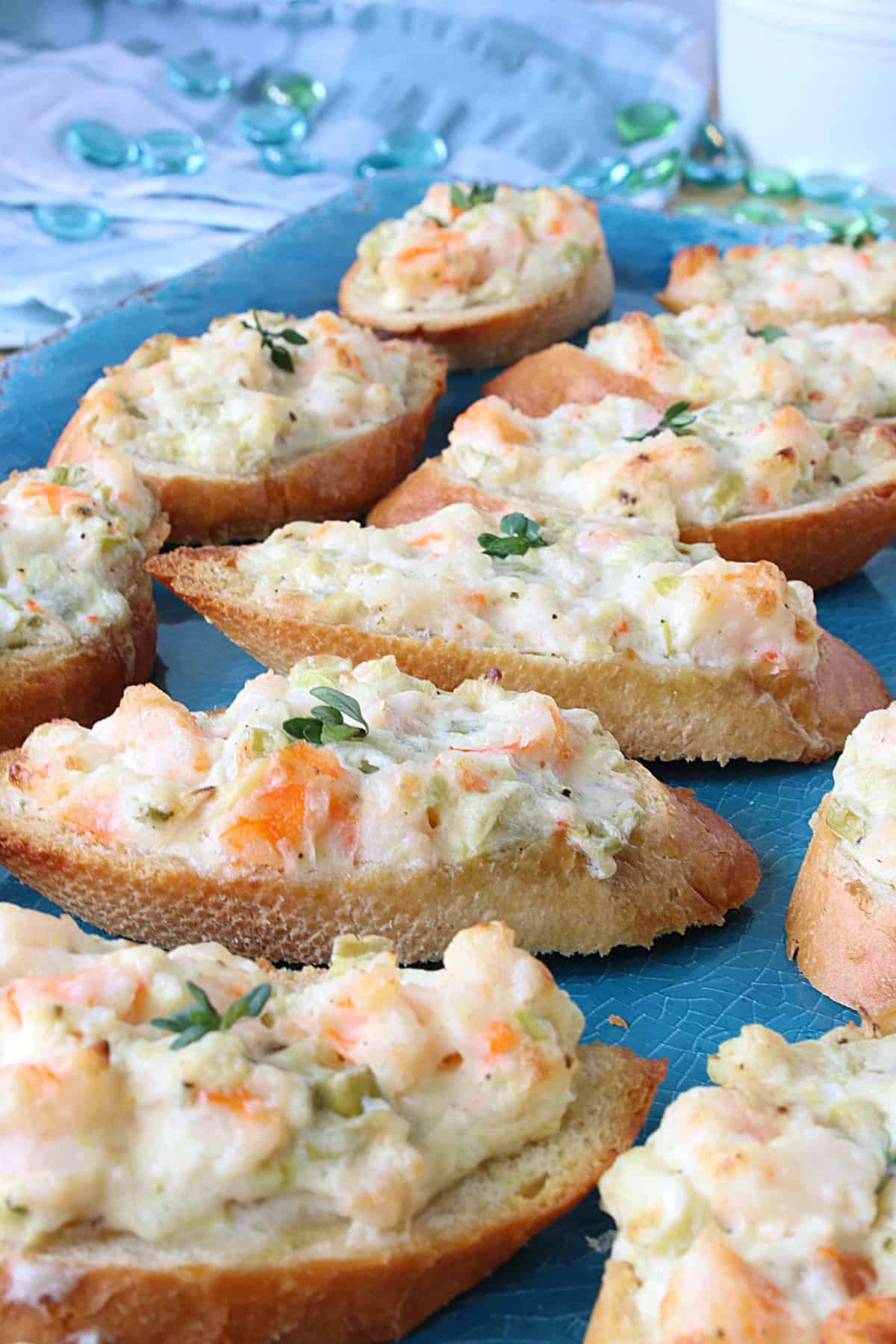 Can these shrimp toasts be made in advance?
Yes, but I suggest making them only one day prior to serving and to keep them in the refrigerator (covered) until ready to bake and serve.
However, you can mix up the cream cheese and shrimp Rangoon topping and keep that in an airtight container in the refrigerator up to 3 days before using.
The garlic and thyme infused olive oil can also be made in advance and kept in an airtight container out of direct sunlight for up to 7 days.
How many appetizers does this recipe make?
As written this recipe makes 15 shrimp toast appetizers. Making additional shrimp toast appetizers is easy by using the handy ingredient multiplier found in the recipe card.
Renee's top tips for success:
When slicing the baguette, do so on an extreme angle so there is plenty of surface area for all that amazing garlic oil and shrimp and cream cheese spread.
Don't rush the garlic oil infusing process. The longer the oil simmers on the stovetop with the garlic and thyme, the more flavor it will have.
Before starting, make sure the cream cheese is nice and soft so it will combine easily with the shrimp and the other topping ingredients without having to use a hand mixer or stand mixer.
What to do with leftover garlic thyme oil?
Any leftover oil can be stored in an airtight container at room temperature for up to 7 days.
Use it for brushing on corn on the cob (or vegetables of your choosing) before roasting, drizzle it on baked or roasted potatoes, or even use the infused oil to sear steak, pork chops, or even chicken in a large skillet the stovetop.
The possibilities are endless, I'd even fry an egg in it.
Additional hot appetizer recipes you'll enjoy:
If you want a copycat version of the original Big Mac only in slider form, you've come to the right place. Big Mac Sliders taste just like their namesake burger, and everyone loves them!
Easy Bratwurst Appetizer Bites are just the thing to serve during a party or for game day. They're also super simple to make and everybody loves them! SCORE!
Parmesan Onion Squares are an easy-to-make appetizer with a light oniony flavor, a crisp yet creamy texture, and a tiny and unexpected touch of sweetness.
Everything you love about French onion soup is in these French Onion Crostini...except for the spoon.
When you make this recipe, and I hope you do, I'd appreciate it if you'd take a moment to leave a star rating on the recipe card and briefly comment on why you rated it as you did. FYI - Google appreciates recipe ratings and, in turn, will share my recipes with more people. Thank you so much!!
Printable Recipe Card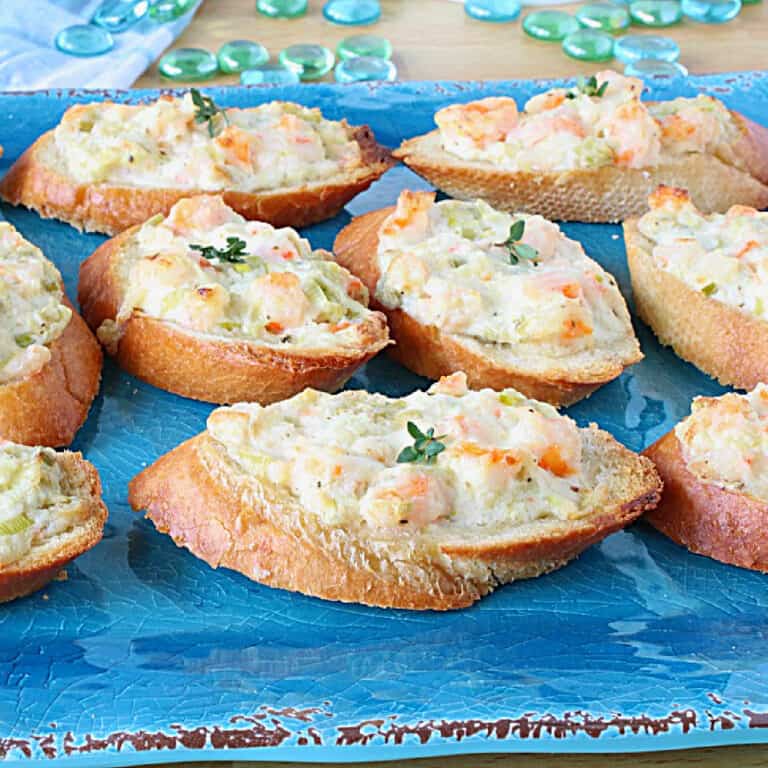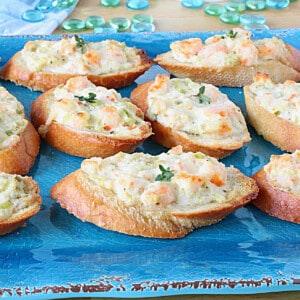 Shrimp Rangoon Garlic Toasts
These delicious appetizers are crunchy, creamy, and loaded with garlic and shrimp flavor. They're easy to make and the cream cheese and shrimp topping can be made in advance if needed.
Ingredients
For the garlic toasts:
5

cloves

garlic

roughly chopped

½

cup

extra virgin olive oil

avocado or grapeseed oil may be used

2

sprigs

fresh thyme

1

crusty

baguette

sliced into ½" slices, on an angle.
For the shrimp topping:
1

cup

finely chopped cooked shrimp

6

ounces

cream cheese

softened

2

tablespoons

mayonnaise

2

teaspoons

fresh lime juice

lemon juice may be substituted

¾

cup

chopped scallions

white and green parts

½

teaspoon

lemon pepper

4

tablespoons

butter

melted
Instructions
Preheat the oven to 425-degrees Fahrenheit (220 degrees Celsius).
To make the garlic toast:
Simmer the olive oil, garlic, and fresh time to a small saucepan over medium heat for 15 minutes, stirring occasionally.

Meanwhile, use a serrated knife to slice the baguette into ½" thick slices on an angle to produce more cut surface space. Place the sliced bread onto parchment lined baking sheets.

After the oil has infused with the garlic and thyme, use a pastry brush to liberally apply the garlic oil to one side of each of the prepared sliced baguettes.

Place the garlic toasts into the preheated oven and roast for 5-6 minutes being careful to keep an eye on them so they don't get too dark. Remove and cool.

While the garlic toast is in the oven prepare the shrimp topping by placing the shrimp, cream cheese, mayo, lime juice scallions, lemon pepper, and melted butter into a large bowl. Use a spatula or wooden spoon to thoroughly combine the ingredients into a creamy well incorporated mixture.

Spoon approximately 1 tablespoon of the shrimp Rangoon mixture onto each garlic toast and spread it evenly to cover the entire slice.

Place the shrimp Rangoon garlic toasts back into the oven to cook for an additional 5-7 minutes or until the shrimp toast appetizers are lightly golden brown.

Serve warm with an additional small sprig of thyme on each slice, if desired.
Notes
The shrimp Rangoon topping can be made in advance and kept in an airtight container in the refrigerator for 2 days.
Store any leftover shrimp Rangoon garlic toasts in an airtight container in the refrigerator for up to 3 days.
Reheat any leftovers in an oven or air fryer at 350 degrees (uncovered) until hot.
Freezing leftovers is not recommended.
Nutrition
Serving:
1
serving
Calories:
132
kcal
Carbohydrates:
2
g
Protein:
5
g
Fat:
12
g
Saturated Fat:
3
g
Polyunsaturated Fat:
2
g
Monounsaturated Fat:
6
g
Trans Fat:
0.1
g
Cholesterol:
36
mg
Sodium:
136
mg
Potassium:
95
mg
Fiber:
0.2
g
Sugar:
1
g
Vitamin A:
157
IU
Vitamin C:
2
mg
Calcium:
57
mg
Iron:
0.3
mg
I sincerely hope you've enjoyed today's hot seafood appetizer featuring cooked shrimp as much as I've enjoyed bringing it to you!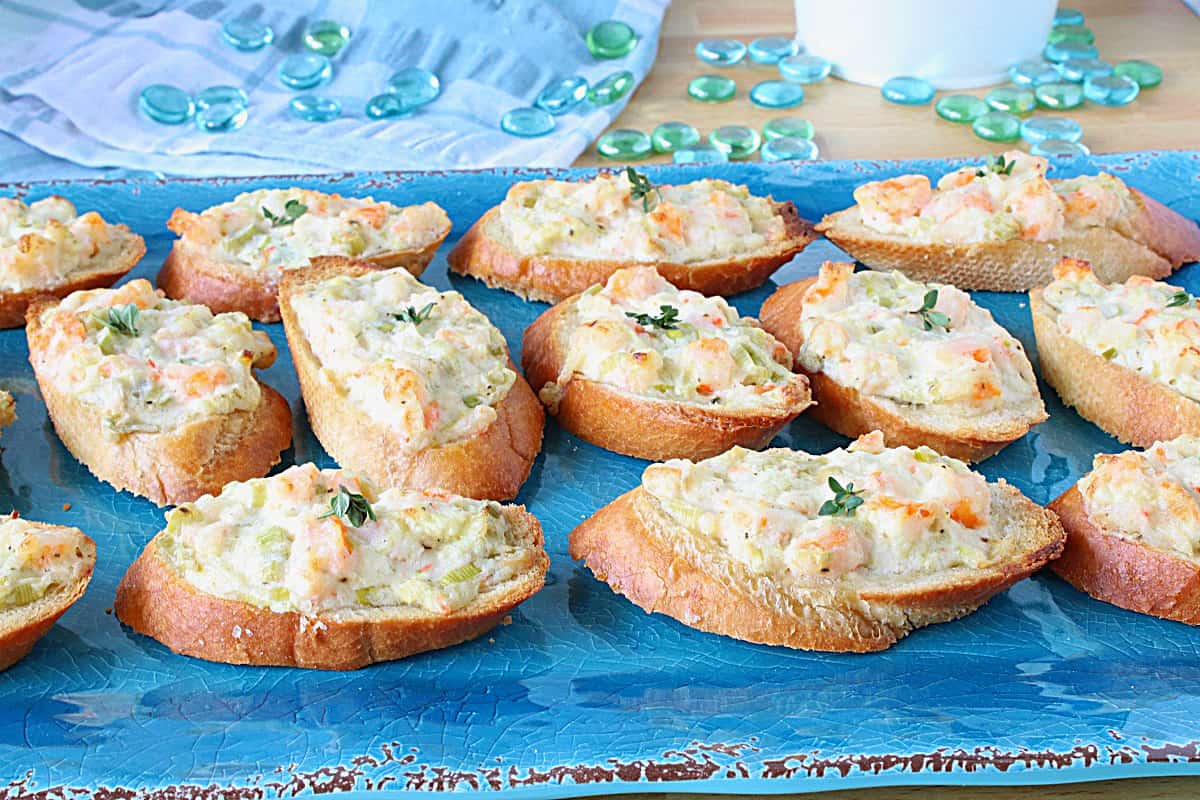 Follow me across my social media platforms and join in on the conversation: FACEBOOK, INSTAGRAM, PINTEREST, TIKTOK, AND YOUTUBE.
Thank you so much for visiting me today in my Kudos Kitchen. I hope you found something you'll love and that you'll come back and visit me often. There is always room for you around my table!
Should you have any questions or comments regarding anything you've seen here on my blog, please don't hesitate to reach out to me. It is always my distinct pleasure to respond to you just as soon as I possibly can.
Until we eat again, I hope you have a delicious day!!