These Frozen Pineapple Pops dipped in chocolate and coconut are the perfect way to cool down on a hot summer day! Make some today and stick them in the freezer to have on hand all throughout the summer!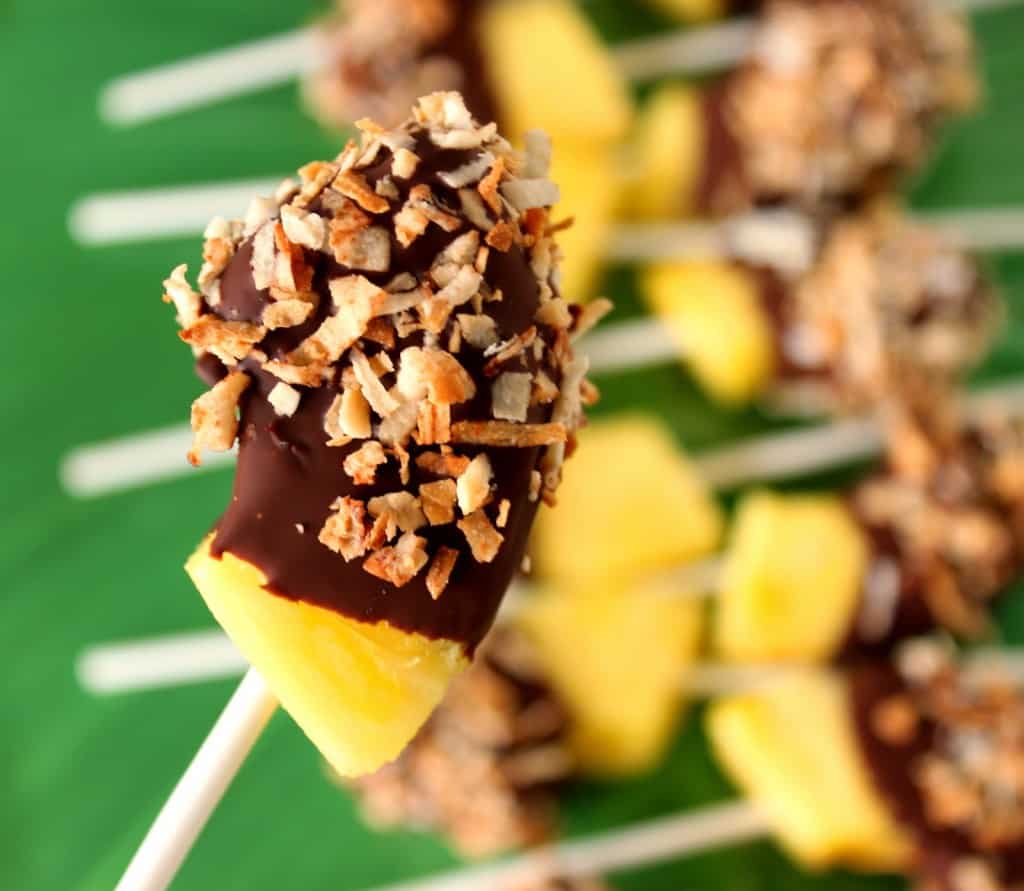 Frozen pineapple pops are a fun fruit treat, and a great way to beat the summer heat.
They're a little bit healthy, a little bit decadent, and a whole lot of tasty!!
**Please Note - The printable recipe card with detailed instructions, complete ingredient measurements, and nutritional information for making frozen pineapple pops is available at the end of this post. OR you can hit the "jump to recipe" button (found above) to be taken directly to the recipe.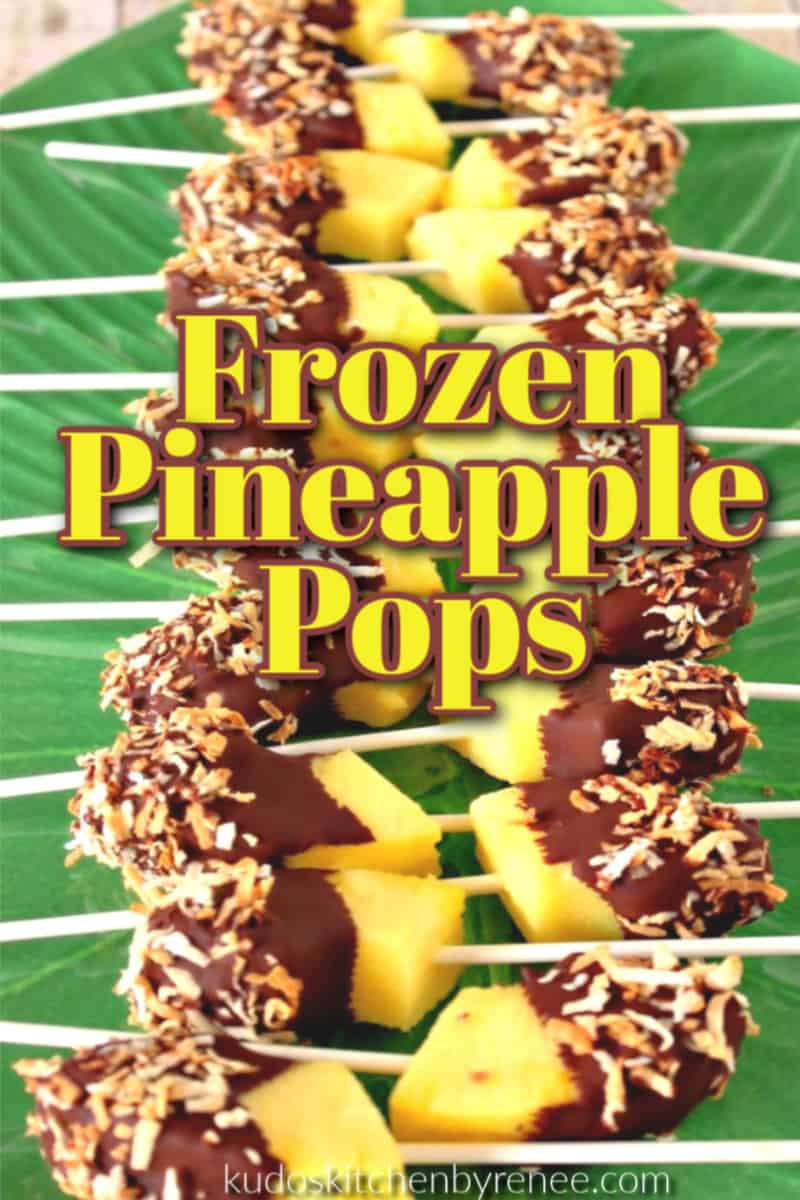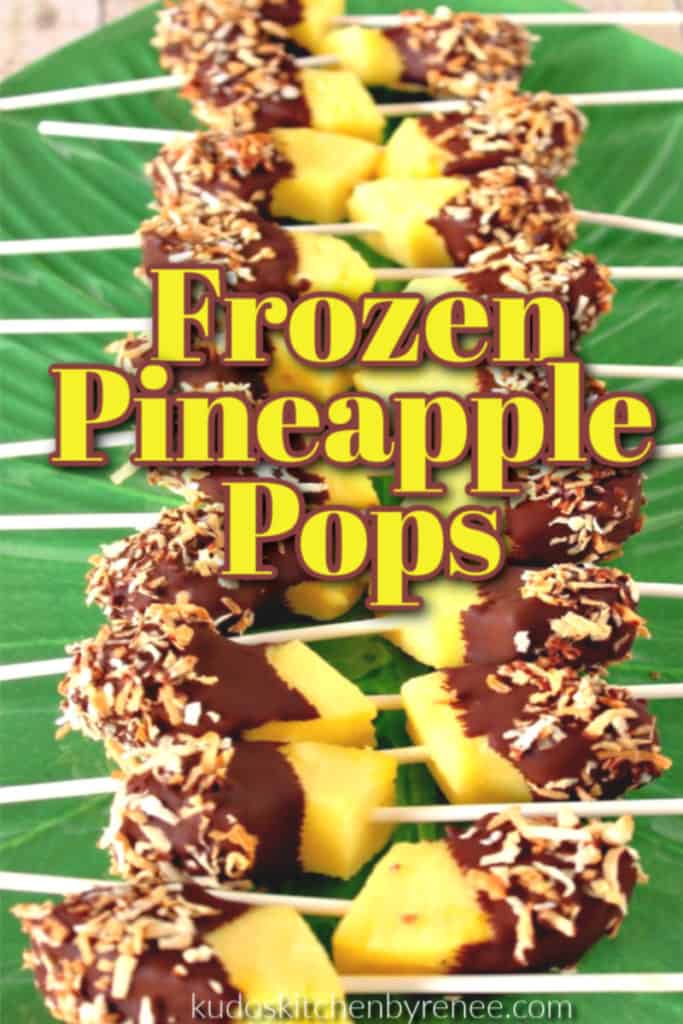 The ingredient list:
**Note - The following lists of ingredients plus kitchen tools and equipment contain affiliate links (highlighted in blue) for your consideration and shopping convenience. #CommissionsEarned
pineapple slices, fresh or canned
semi-sweet chocolate chips
sweetened coconut (unsweetened will also work)
coconut oil
sucker sticks
Kitchen tools and equipment needed:
How this recipe came to be:
Out of the corner of my eye, I spotted something in the frozen foods case at Costco that instantly made my head spin with inspiration and excitement!
The next thing I knew I was happily whipping up these Frozen Pineapple Pops at home, and I'm totally anxious to share them with you today!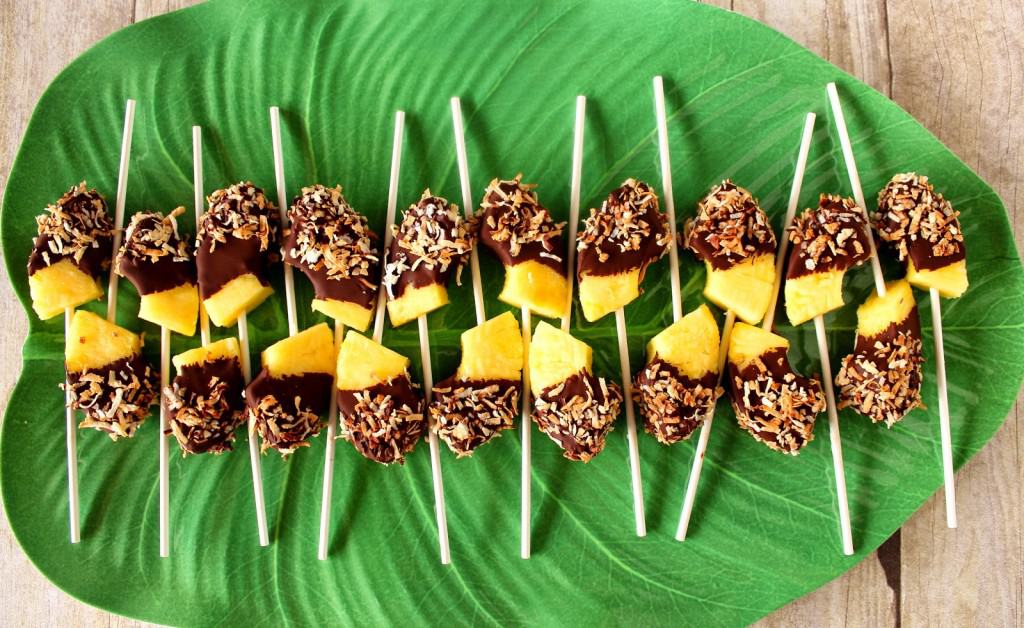 The perfect luau party food!
Hey, Gang! if you're planning on throwing a Hawaiian luau this summer, keep these frozen fruit treats on hand to serve to your party guests!
Everyone will love them, which will make you the hostess (or host), with the mostess (or most)!
Aloha!
Looking for even more Hawaiian-themed party foods?
Can the coconut be left out of this recipe?
Sure thing. If you're not a coconut fan by all means leave it out!
Can chopped nuts be added to frozen pineapple pops?
Of course!!
I suggest toasting them lightly first (in a dry skillet) to get the most flavor, but that's optional.
My (chopped) nut suggestions are salted peanuts, honey roasted peanuts, pecans, almonds, hazelnuts, macadamia nuts, and cashews.
How long does this recipe take from start to finish?
Not long at all. Approximately 30 minutes until the pineapple pops are ready for the freezer.
Freeze them at least 3 hours and they're ready to serve.
FAQ:
Q - So I dipped my frozen pineapple popsicle in the chocolate and it did not stick! What did I do wrong? Did I have the popsicles out too long or was my chocolate microwaved too long?
A - If the pineapple is wet, the chocolate will not stick. If frozen and left out long enough for them to slightly melt, this will cause the problem.
You have to work quickly before they have a chance to thaw. If they do thaw slightly, blot any excess moisture with a paper towel before dipping.
How to make frozen pineapple pops dipped in chocolate and coconut:
Cut pineapple slices into 2" - 3" pieces (canned or fresh pineapple works equally well for this).

Insert a sucker stick or popsicle stick into each pineapple piece and lay them on a baking sheet.

Dry each pineapple piece with paper towels and then freeze them for at least 20 minutes.

Meanwhile, melt the chocolate chips and coconut oil in a microwave-safe bowl until smooth and creamy.

Toast the coconut in a dry pan, stirring frequently until the coconut is golden brown.

Dip the frozen pineapple pops into the melted chocolate and then into the toasted coconut.

Freeze again (for at least 3 hours).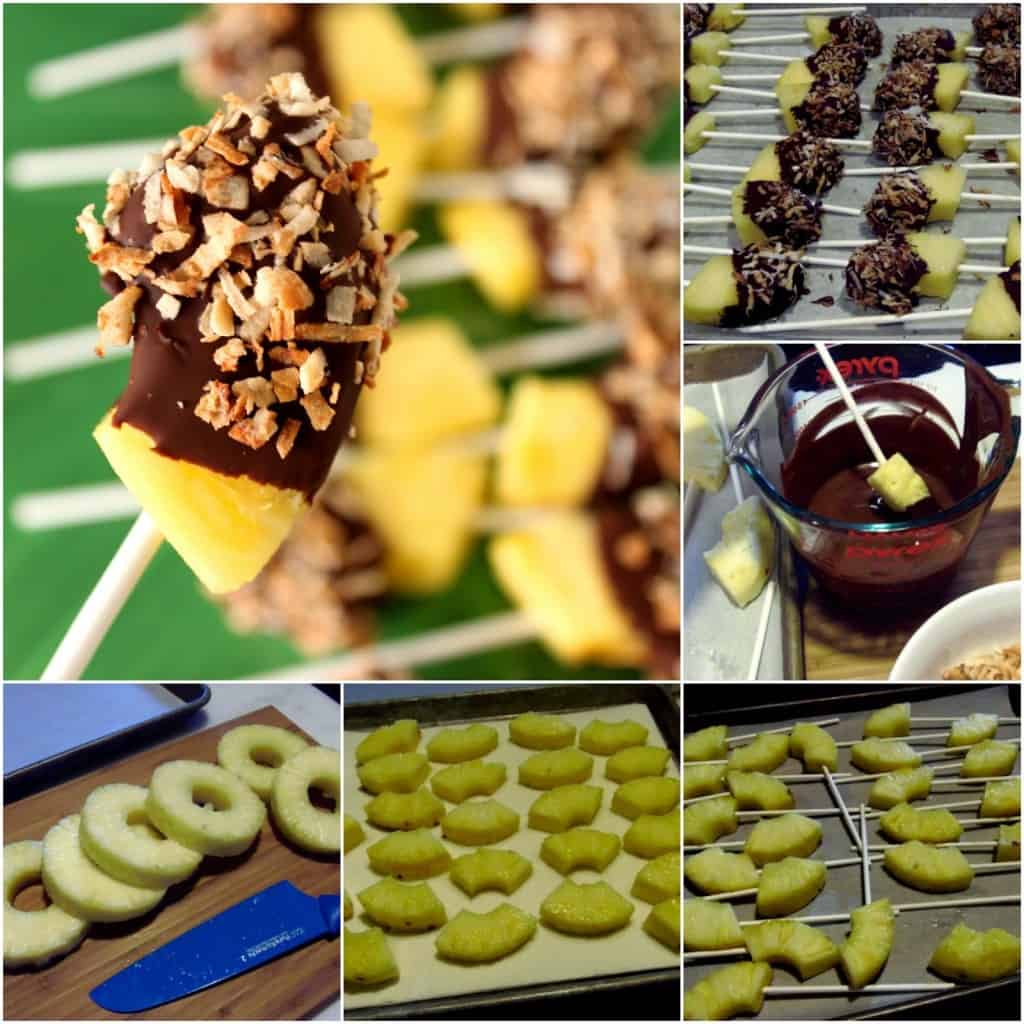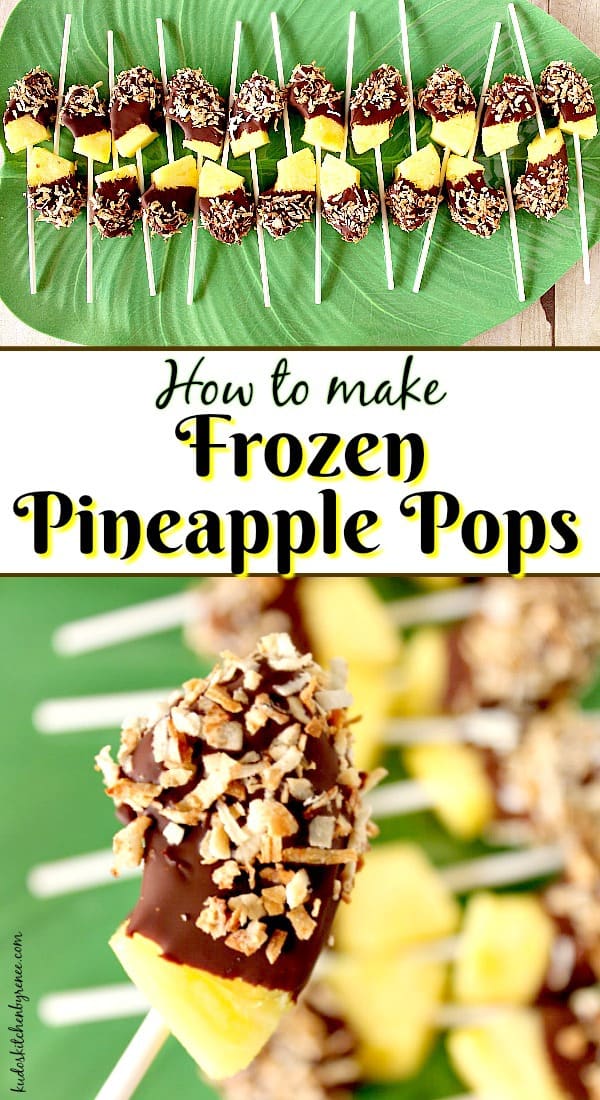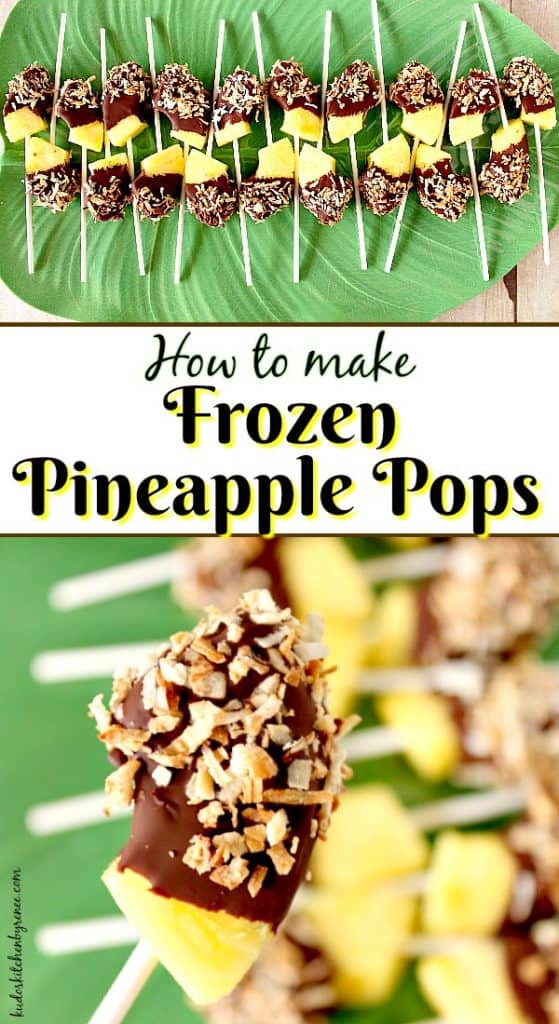 Below is the printable recipe card along with the nutritional information for today's Frozen Chocolate Dipped Pineapple Pops with Toasted Coconut.
⭐If you've made this recipe, or are excited to make this recipe, I'd appreciate it if you'd take a moment to leave it a star rating on the recipe card, along with a comment of why you rated as you did.
Google loves ratings and will show my recipes to more people if they have them. Thank you. 🙂
Printable Recipe Card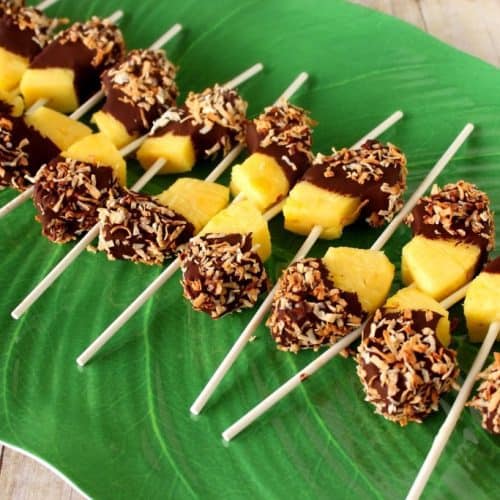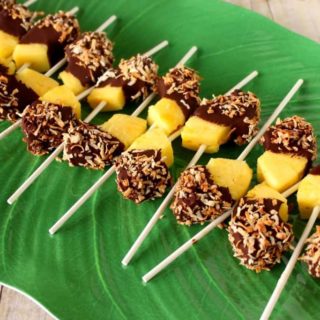 Frozen Pineapple Pops Dipped in Chocolate and Toasted Coconut
These Frozen Chocolate Dipped Pineapple Pops are the perfect way to cool down on a hot summer day! Make some today and stick them in the freezer to have on hand all summer long!
Ingredients
24

2" - 3"

pineapple slices

fresh or canned

1½

cups

semi-sweet chocolate chips

1

tablespoon

coconut oil

1

cup

sweetened coconut

24

sucker sticks or popsicle sticks
Instructions
Insert the sticks into the cut pineapple slices. Dry each slice of pineapple with a paper towel. Place onto a baking sheet and freeze for at least 20 minutes.

In a medium-size, microwave-safe bowl, melt the chocolate chips and coconut oil on medium/low power (stirring frequently and checking often) until they're melted and smooth.

In a dry skillet, toast the coconut until golden brown, stirring frequently. **Note- This happens quickly so be sure to keep an eye on it and don't walk away while toasting.

Dip the frozen pineapple pops into the melted chocolate and then into the toasted coconut. Freeze again until ready to serve.
Notes
These can be bagged individually and kept in the freezer for up to 6 weeks.
Tools and equipment;
medium-size microwave-safe bowl, baking sheet, parchment paper or wax paper, popsicle sticks or sucker sticks, measuring spoons, measuring cup, paring knife or chef's knife, cutting board, medium skillet, wooden spoons, shallow bowls for dipping.
Nutrition
Serving:
1
Calories:
86
kcal
Carbohydrates:
7
g
Protein:
0
g
Fat:
5
g
Saturated Fat:
3
g
Cholesterol:
0
mg
Sodium:
11
mg
Potassium:
76
mg
Fiber:
1
g
Sugar:
5
g
Vitamin A:
5
IU
Vitamin C:
0.1
mg
Calcium:
7
mg
Iron:
0.8
mg
I sincerely hope you've enjoyed this frozen pineapple dessert recipe as much as I've enjoyed bringing it to you!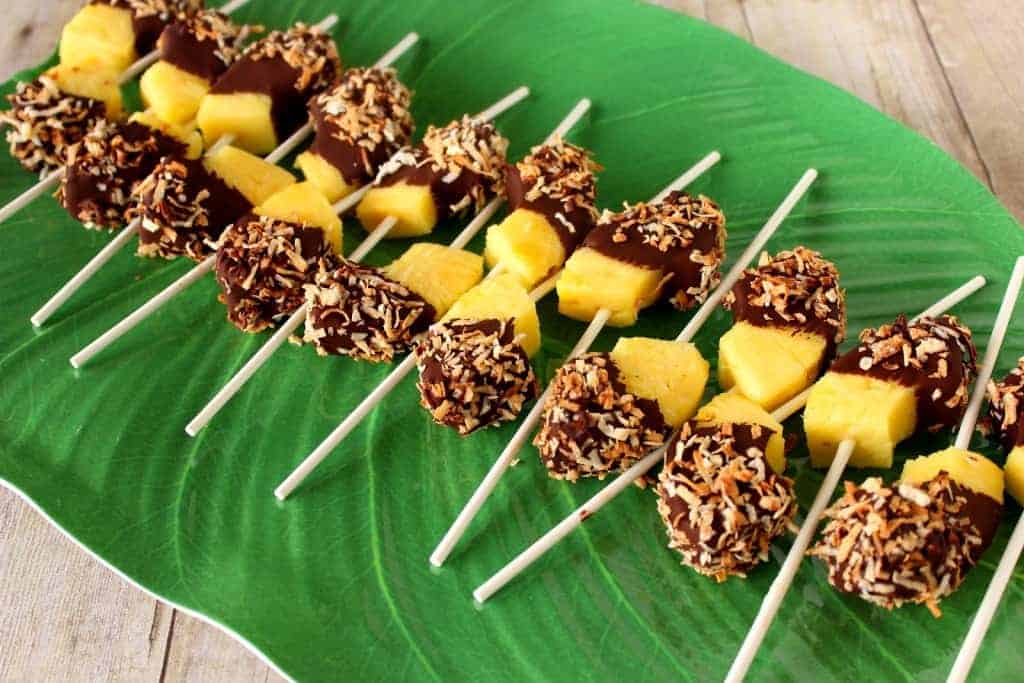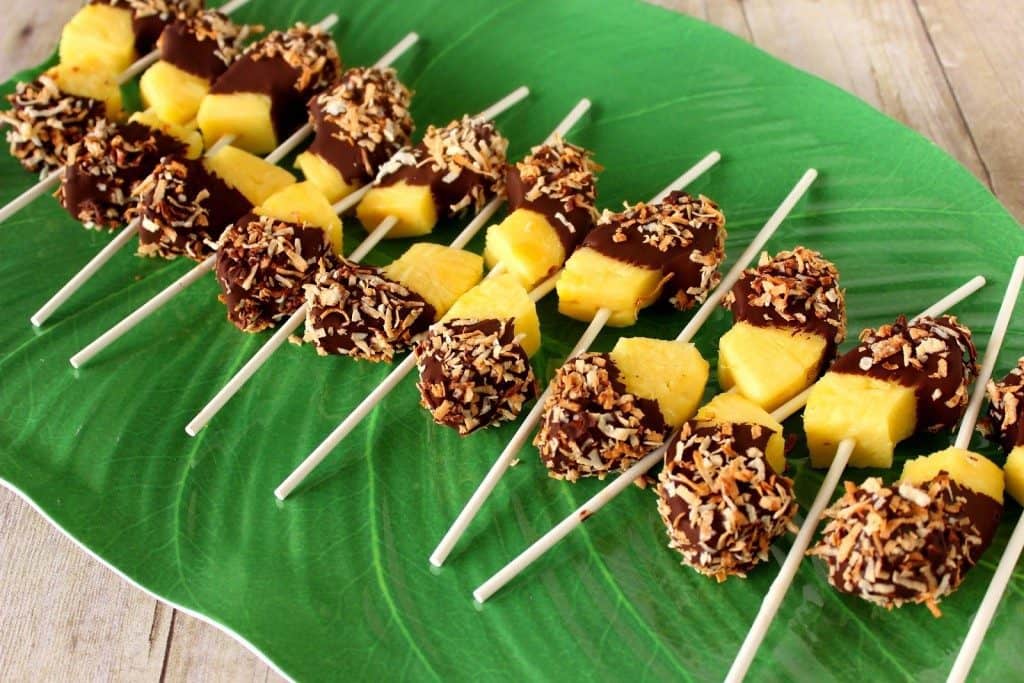 Thank you so much for visiting me today in my Kudos Kitchen. I hope you found something you'll love and that you'll come back and visit me often. There is always room for you around my table!
Should you have any questions or comments regarding anything you've seen here on my blog, please don't hesitate to reach out to me. It is always my distinct pleasure to respond to you just as soon as I possibly can.