I took my inspiration for this dish of French Onion Chicken from everyone's favorite soup, and these results are out of this world delicious!!!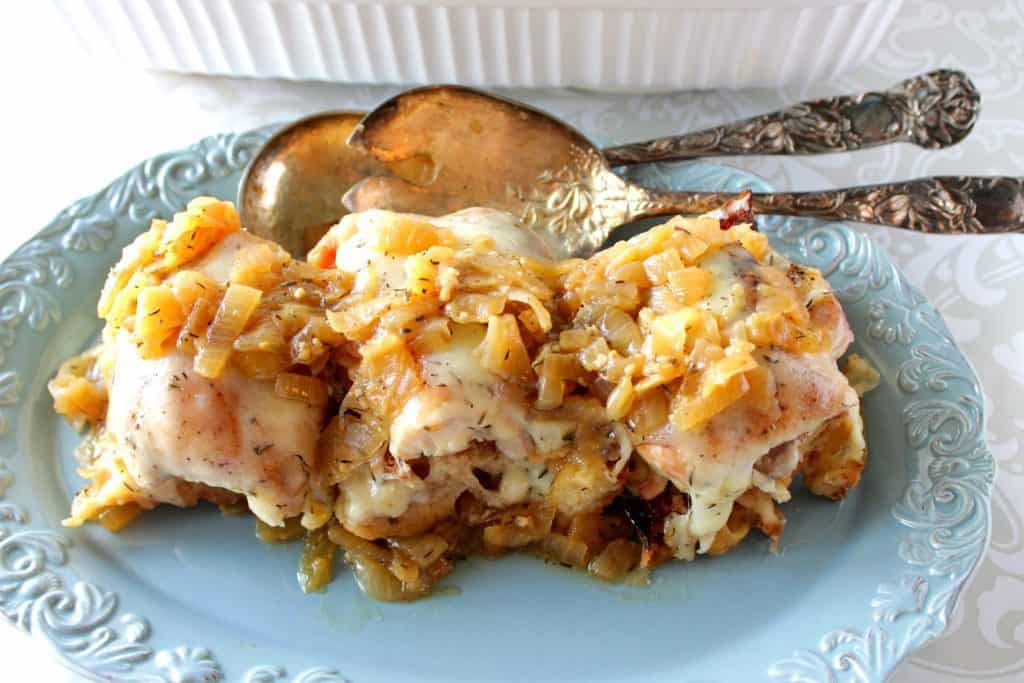 Even though my husband and I are "empty-nesters" I still can't seem to cook for only two people. Call me crazy, but I like to have plenty of leftovers so during the week I won't have to cook as often, and because my husband likes to take the leftovers to work the next day for lunch.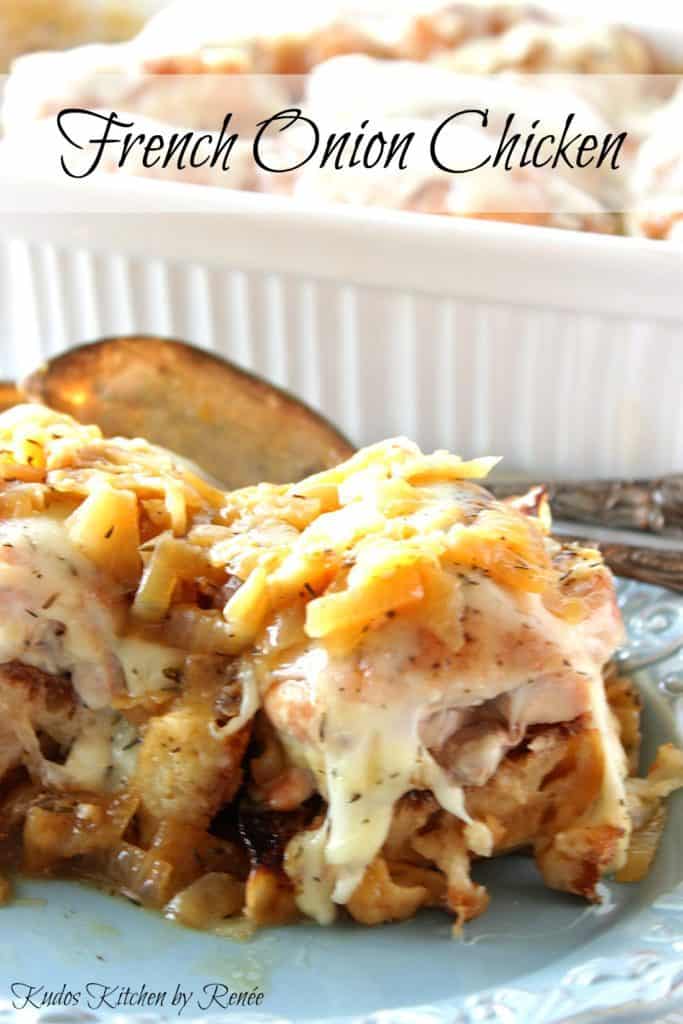 The day M took the French Onion Chicken leftovers to work, he called me from the office to tell me how much he enjoyed his French Onion Chicken, and that it was even better than what he'd remembered from the night before.
I'm also very lucky that our two sons come over relatively often to see what's in the fridge. I'm happy and thrilled to report that they both enjoyed this dish as much as we did the very night I made it and that it garnered a full two thumbs up from the entire family. Winner, winner, French Onion Chicken for dinner!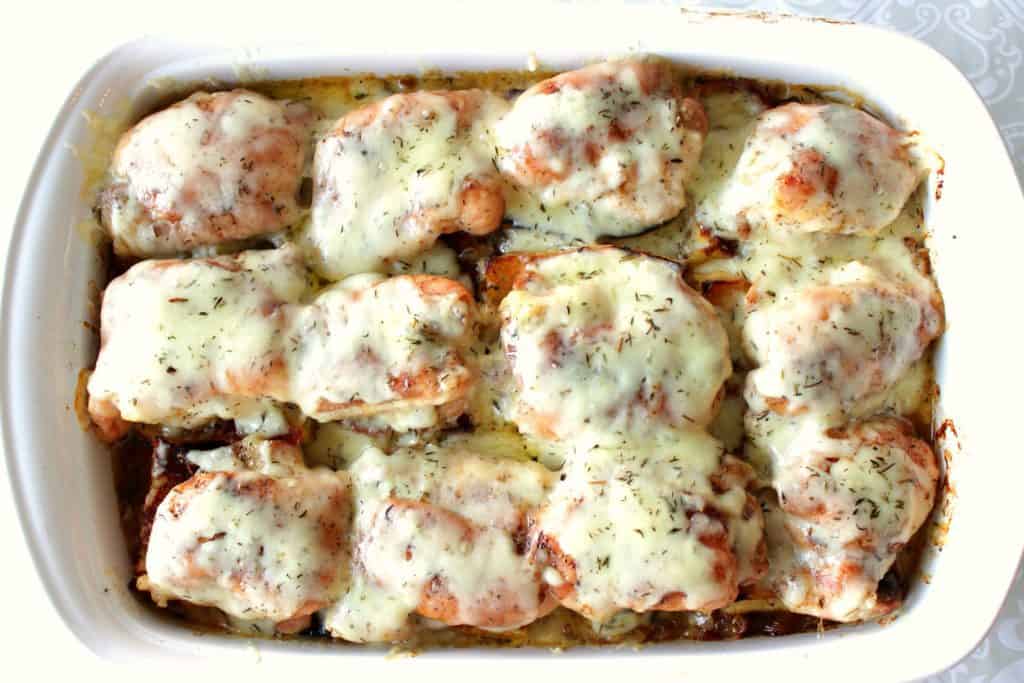 When it comes to French Onion soup, I can't decide what my favorite part about the soup is. Whether it's the deep rich broth, the abundance of sweet caramelized onions, the hearty slice of bread crouton that's soaked in the broth and floats the perfectly browned and melted cheese.
Since I love every part of the soup, I've incorporated every part into my recipe of French Onion Chicken, including the bread crouton that sits atop the abundance of sweet caramelized onions, and acts as a platform for the moist and meaty chicken thigh and the melted cheese! Be still my heart!!!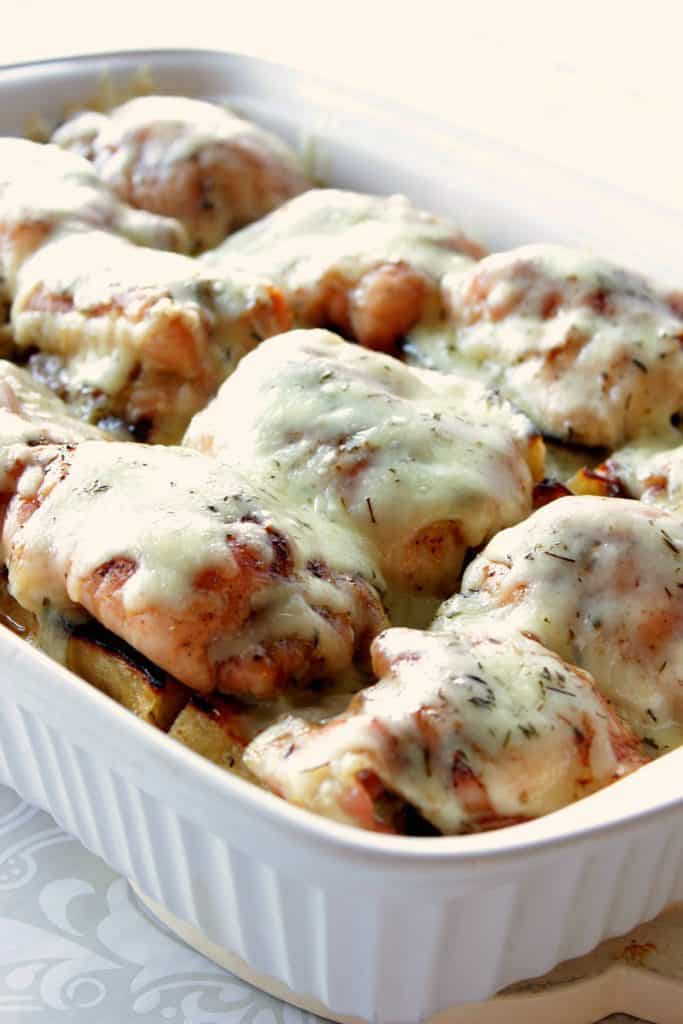 And, if I'm totally honest, the highest viewed recipe on my blog is this one for French Onion Pork Chops, so I figured I'd be smart to give some of that same love the to the chicken. After all, why should only the pork chop stand alone when it comes to all that French Onion deliciousness?
Making French Onion Chicken is easy, and the only thing that requires time is the caramelizing of the onions. From there the assembling of the other ingredients is quick. The cook time is 35-40 minutes so you can rest and have a glass of wine, or help the kids with their homework while the oven does the remainder of the work.
Slice the onions and place them in a large skillet with butter, salt, pepper and dried thyme. Cook, stirring occasionally over medium heat until they turn semi-translucent and start to brown. Add minced garlic.

Continue cooking the onions until they develop a deep golden color. Add chicken broth and white wine and continue cooking and stirring occasionally until the liquid evaporates.
Spoon the caramelized onions evenly into a 9″ x 13″ casserole dish. Wipe the skillet clean with a paper towel. Slice a heart bread (such as a baguette or French loaf), into 3″ pieces.

Toast the bread, cut side down, in the skillet until browned. Place the bread, cut side up, on top of the caramelized onion in the casserole dish. Place a boneless, skinless chicken thigh atop each slice of bread. Season each chicken thigh with salt and pepper.

Bake the in a preheated 350 degree oven for 35 minutes. Remove the dish from the oven and brush the chicken lightly with balsamic vinegar. Top each chicken breast with shredded Swiss cheese and sprinkle with dried thyme. Return the dish to the oven for an additional 10 minutes to melt the cheese. To serve, make sure to spoon some of the caramelized onions with each portion of bread and chicken.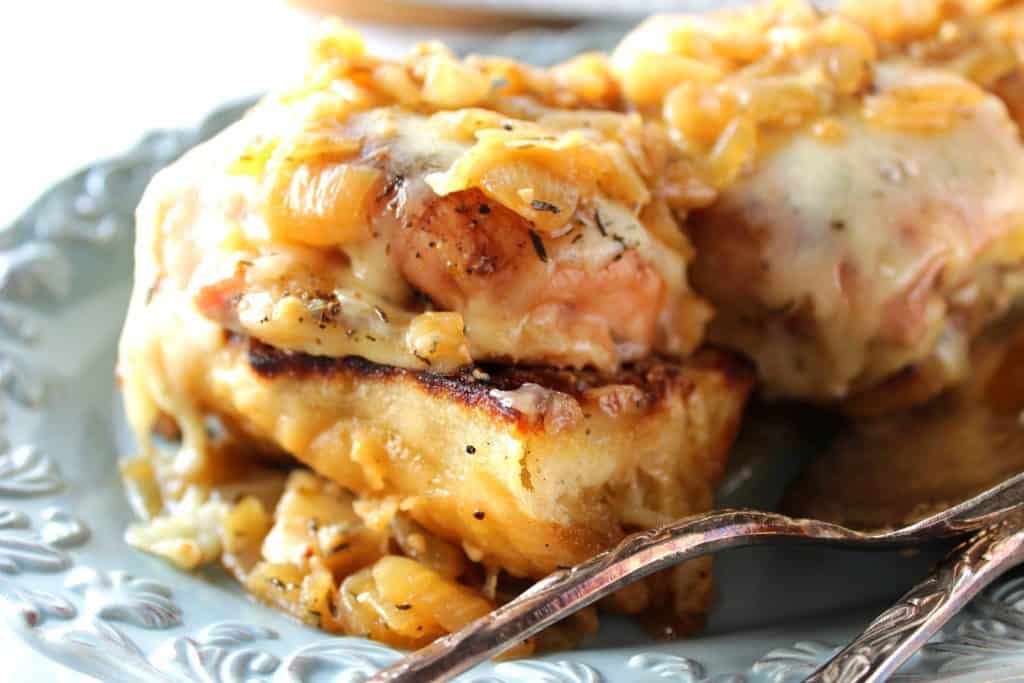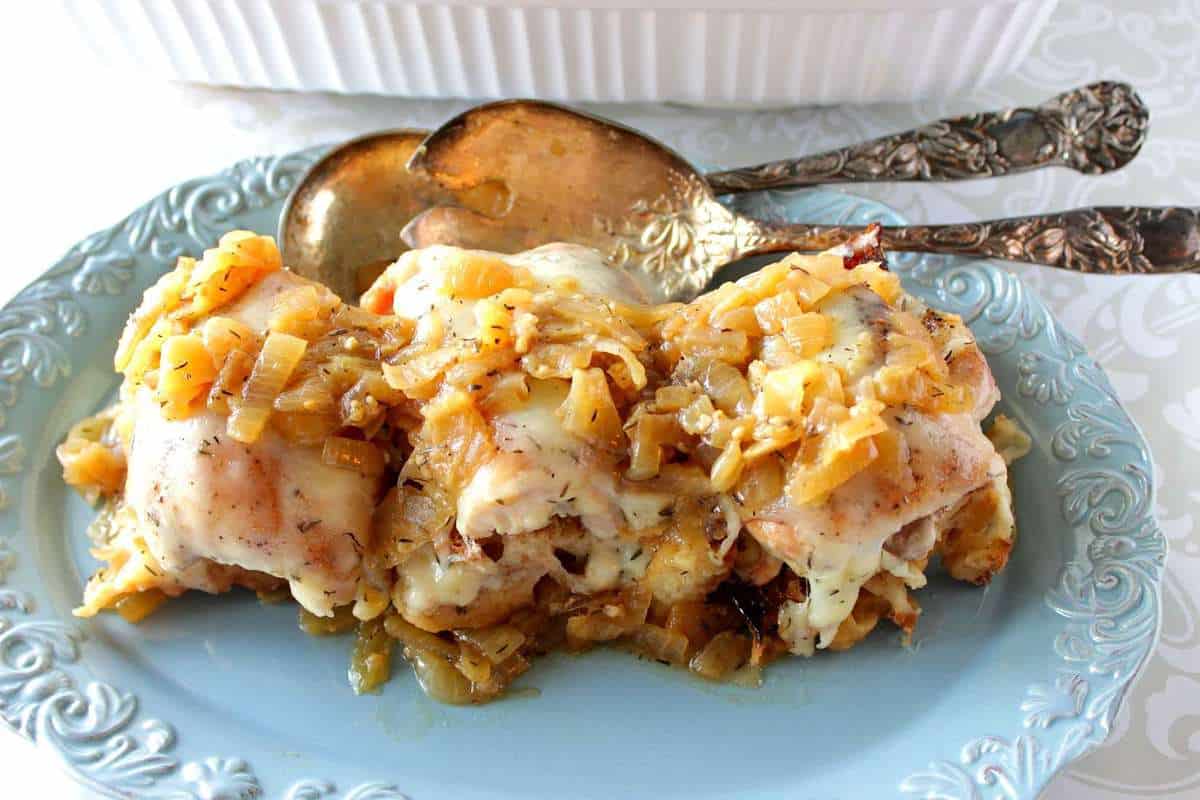 French Onion Chicken
Ingredients
3

pounds

12 thighs boneless, skiness chicken thighs

2

tablespoons

butter

4

large

sweet onions

2

teaspoon

salt

divided

½

teaspoon

pepper

divided

1½

teaspoon

dried thyme

divided

2

cloves

garlic

minced

½

cup

beef broth

¼

cup

white wine

3

tablespoons

canola oil

12

slices

French bread

cut into 3" pieces

1½

tablespoon

balsamic vinegar

1½

cups

shredded Swiss of Gruyere cheese
Tools and equipment
large skillet

wooden spoon

9

" x 13" casserole dish

cooking spray

serrated knife

pastry brush

box grater

paper towels

tongs
Instructions
Preheat oven to 350 degrees.

Season the chicken thighs with 1 teaspoon salt and ¼ teaspoon pepper. Set aside.

Melt the butter in a large skillet over medium heat. Add the sliced onions and increase the heat to medium/high, stirring occasionally.

Add the remaining salt, pepper and 1 teaspoon dried thyme. Continue to cook and stir the onions until they develop a deep golden color.

Add the garlic, beef broth, and white wine. Continue to cook until the onions thicken and the liquid evaporates.

Spoon the onions evenly into a 9" x 13" casserole dish that has been sprayed with cooking spray.

Carefully wipe the skillet with paper towels.

Heat the oil in the skillet to medium and add the bread, sliced side down. Cook the bread in the skillet until crisp and browned, being careful to keep an eye on them as they can burn quickly.

Remove the browned bread from the skillet using tongs and place the browned bread, cut side up on the caramelized onions.

Place one chicken thigh on top of each slice of bread.

Bake in a preheated oven for 35 minutes.

Remove the casserole dish from the oven and brush each thigh with the balsamic vinegar.

Place the shredded cheese evenly over each chicken thigh and sprinkle the top of each thigh with the remaining dried thyme.

Return the chicken back into the oven for an additional 10 minutes to melt and brown the cheese.

To serve, make sure to spoon some of the onions along with each piece of bread and chicken thigh.

Enjoy!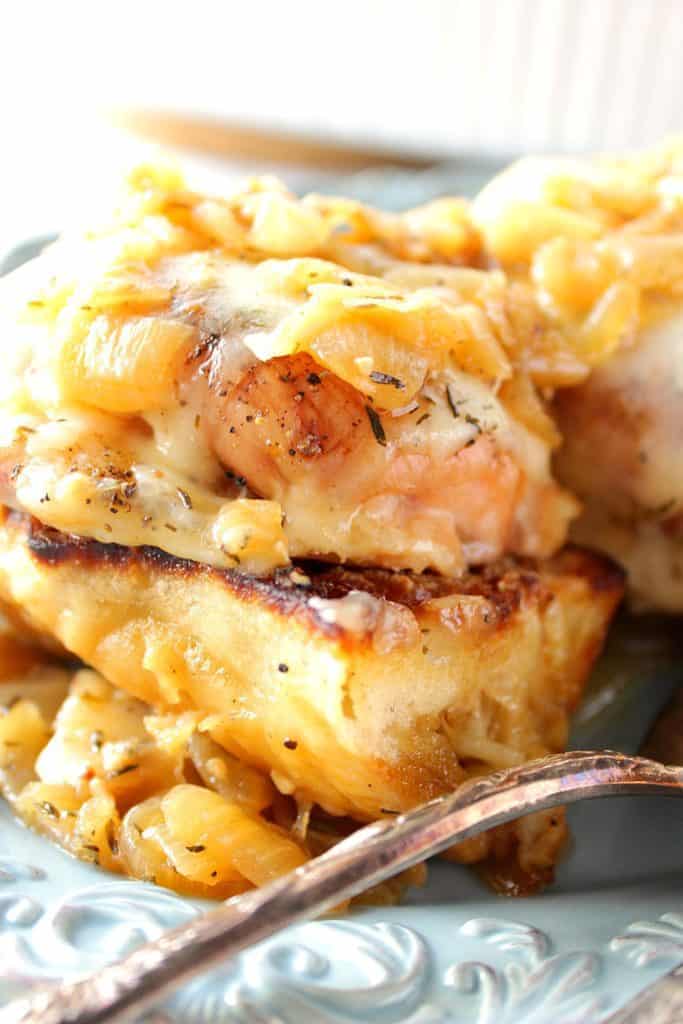 *Note – If you like this recipe but would like to know how to make it in a smaller quantity, please contact me and I'll be happy to supply you with an updated measurement and ingredient list 🙂
Naturally a recipe for French Onion Chicken needs to be coordinated with an apron inspired by the French chef herself, Julia Child.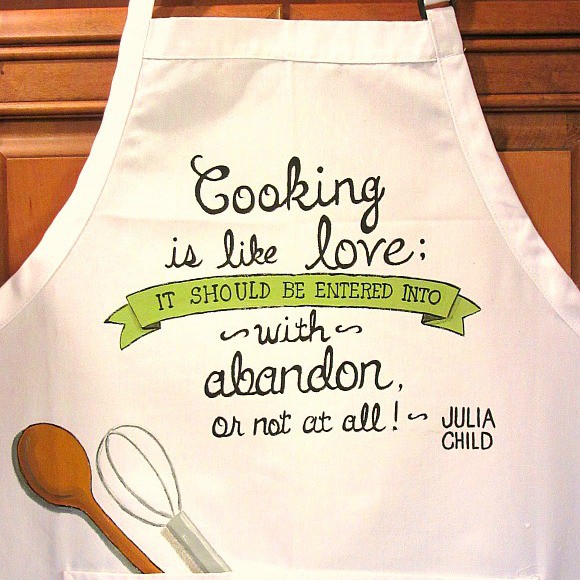 From fabrics to glassware, each and every item I ship are painted to order an unique. If there is ever anything I can paint for you, please don't hesitate to contact me or to visit me in one of my on-line shops: Etsy, Wazala, and Kudos Kitchen Paints. All of my painted fabrics are totally machine washable (no fabric softener, please), and my hand painted glassware items are dishwasher and microwave safe, as well as being non-toxic. Special requests are always welcome, and I will happily paint and design from any photo, idea or description you send my way.
Kudos Kitchen by Renée ~ Where food, art, and fun collide each and every day!
Until we eat again, I hope you have a delicious day!