By simply adding canned pumpkin puree to Yukon gold mashed potatoes you'll be amazed by the beautiful fall color, and delicious taste, of these Fall Festival Pumpkin Mashed Potatoes!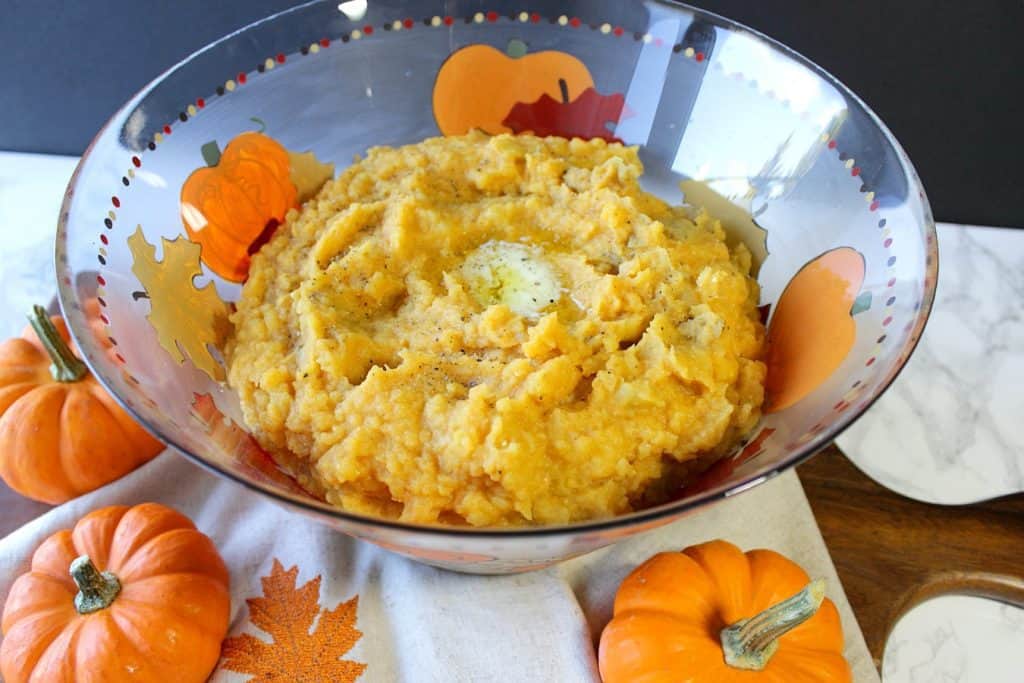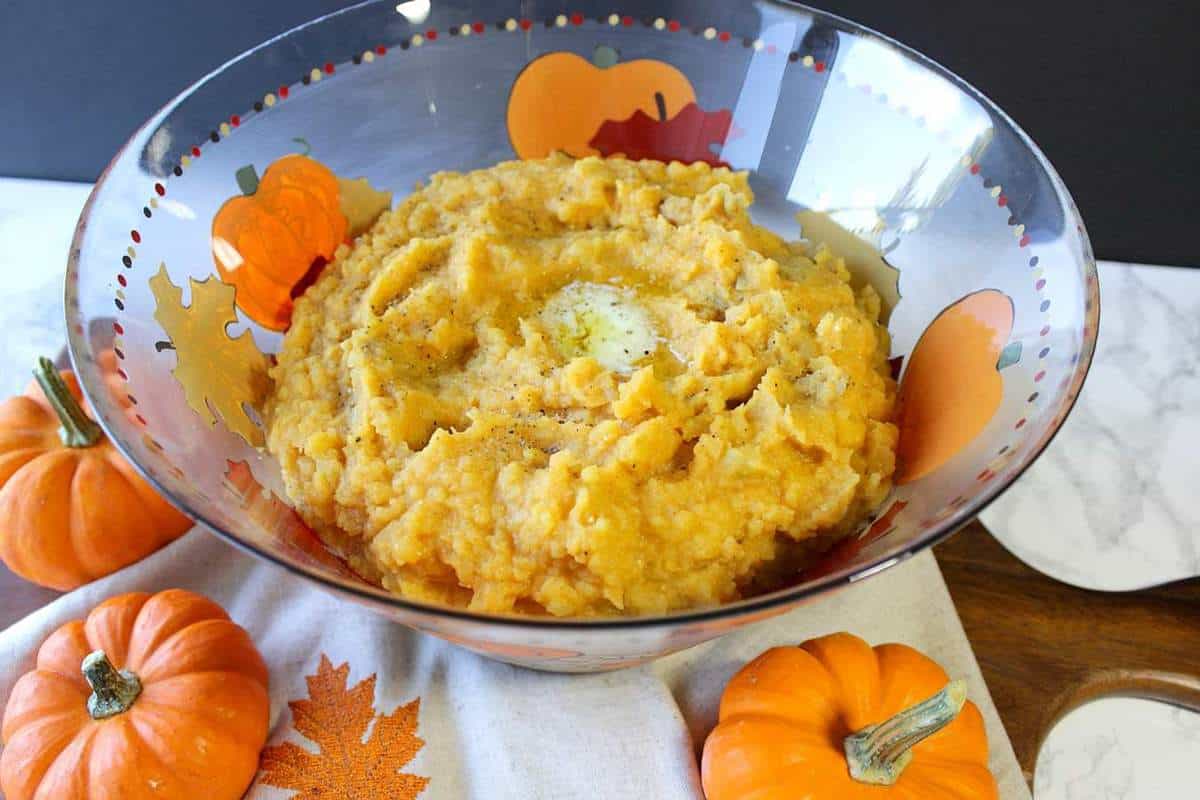 Move over plain old mashed potatoes! These Fall Festival Pumpkin Mashed Potatoes are sure to become a new family favorite. Plus they're a perfect pairing for #PumpkinWeek2016
Treating your family and friends to something new this fall season couldn't be easier. By adding a can of 100% pure pumpkin to Yukon gold mashed potatoes, along with a little butter, sour cream and milk you'll wonder why you haven't been doing this all along. Trust me. You're going to love this new twist on an old classic!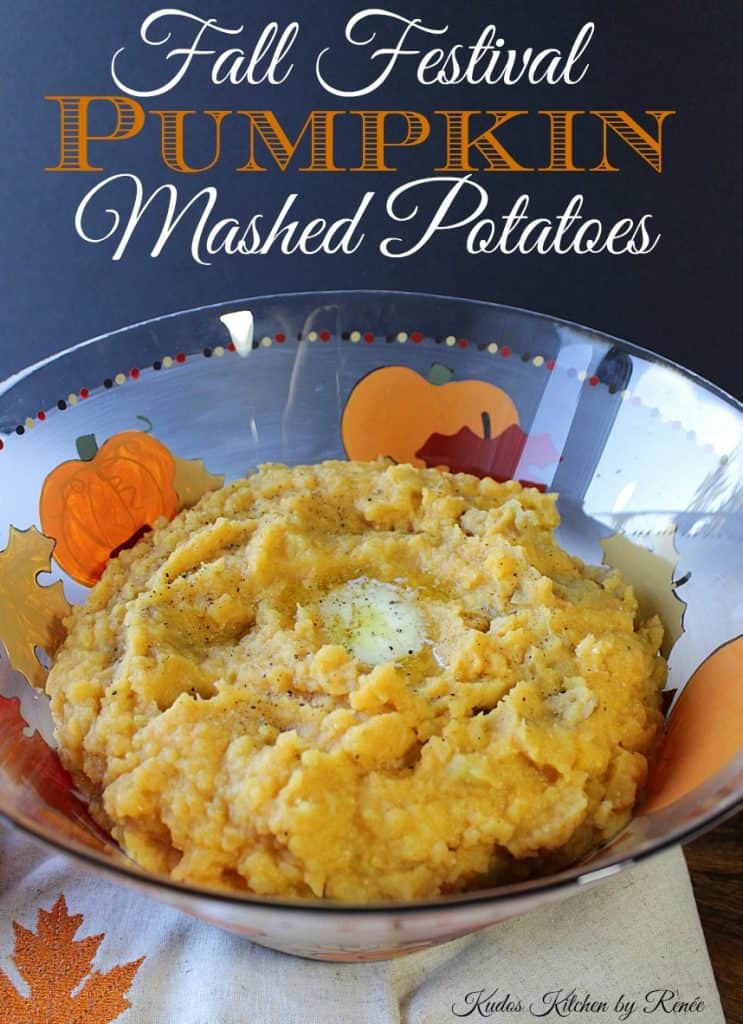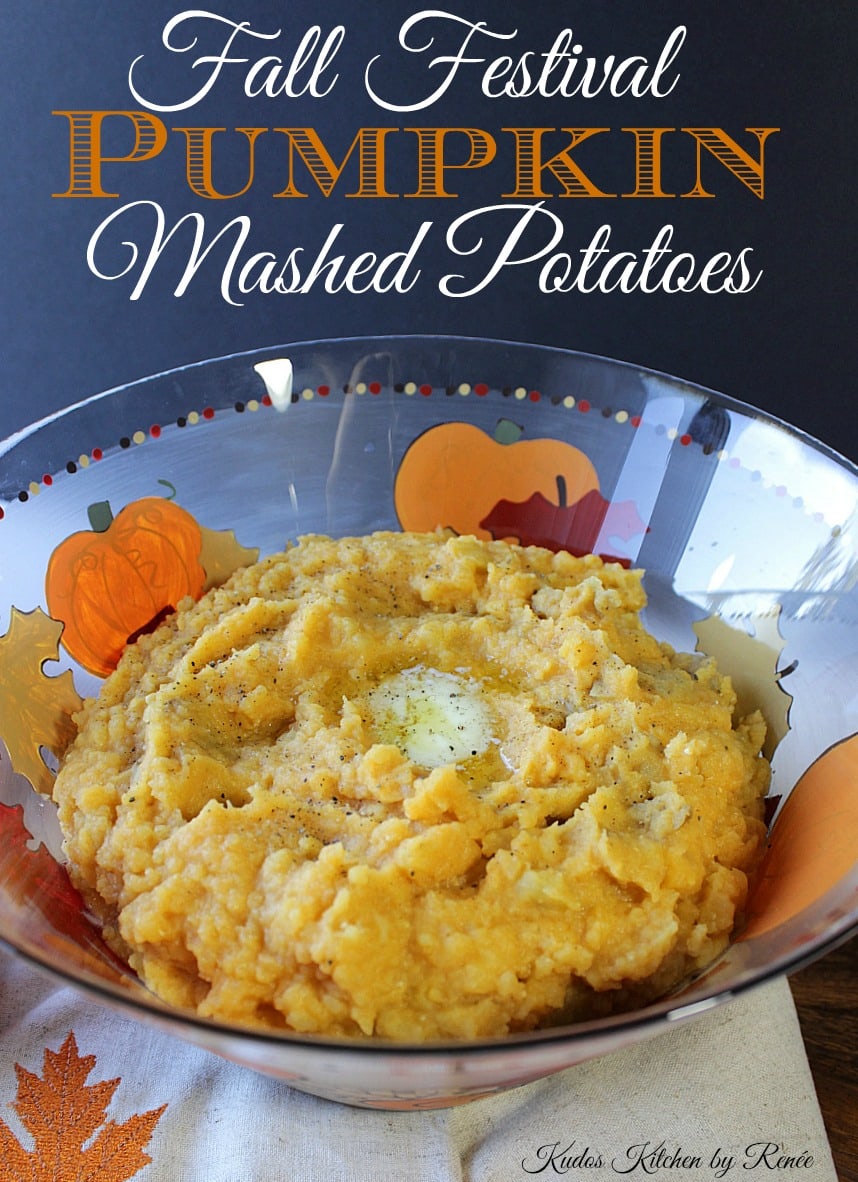 Ready to make Fall Festival Pumpkin Mashed Potatoes? Let's begin!
Wash and chop 3 pound of Yukon gold mashed potatoes into 3″ chunks. Add the potatoes to a large pot and cover with cold water. Add salt and cook the potatoes over medium heat until fork tender (approximately 15 minutes). Drain the water from the potatoes and lightly mash them.

Add butter, canned pumpkin, sour cream, milk and pepper. Mash to your desired consistency. Spoon the pumpkin mashed potatoes into a really cute hand painted autumn leave and pumpkin bowl (optional. LOL), and top with a pat of butter and additional black pepper (if desired) before serving.

To kick up the pumpkin flavor, why not add additional canned pumpkin to your turkey or beef gravy? I didn't do that because I didn't think of it until just this moment…but why not? It sounds good, don't you think?
The following Amazon.com items are some suggested products I've chosen that will aid you in the making (and serving) of this recipe for Fall Festival Pumpkin Mashed Potatoes, if needed. By clicking on the item, you'll be taken directly to Amazon.com, and if you're interested in purchasing any of these products. You are in no way required to do so, and you will not be charged in any way unless you decide to purchase a product through Amazon.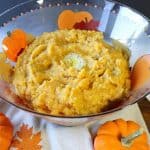 Fall Festival Pumpkin Mashed Potatoes
By simply adding canned pumpkin puree to Yukon gold mashed potatoes you'll be amazed by the color, and taste, of these Fall Festival Pumpkin Mashed Potatoes!
Ingredients
3

pounds

Yukon gold potatoes

washed and cut into 3" pieces

water to cover potatoes

2

tablespoons

salt

4

tablespoons

butter

plus additional for topping

1

can

15.5 ounces 100% pure pumpkin puree

½

cup

sour cream or Greek yogurt

½

cup

milk

or more if you like creamier potatoes

¼

teaspoon

black pepper
Instructions
Place the potatoes in a 5 quart pot and add cold water to cover. Add the salt.

Cover the pot and cook the potatoes to fork tender (approximately 15 minutes).

Drain the potatoes and return them to the hot pot and mash lightly.

Add the remaining ingredients and mash to your desired consistency. *Note - if you like creamier potatoes, add more milk a little at a time.

Serve with additional butter and a light sprinkling of black pepper (if desired).
Recipe Notes
Tools and equipment:
5 quart stockpot with lid
colander
potato masher
cutting board
chef's knife
measuring cup
serving bowl

And now, how about we share some #PumpkinWeek love for all the bloggers who participated in bringing you all pumpkin recipes your heart desires, along with a very special THANK YOU to Terri from Love and Confections for hosting, and coordinating this entire week of pumpkin LOVE!
Chocolate Chip and Pumpkin Empanadas from Caroline's Cooking
Gluten Free Pumpkin Crepe Cake from Gluten Free Crumbley
Kabak Tatlisi from Culinary Adventures with Camilla
Mexican Braised Pumpkin with Pork from A Day in the Life on the Farm
Pumpkin Bread Pudding from A Kitchen Hoor's Adventures
Pumpkin Cheesecake Cream Puffs from Cooking With Carlee
Pumpkin Churros from The Redhead Baker
Pumpkin Chocolate Chip Cookies from Rants From My Crazy Kitchen
Gluten Free Pumpkin Cornbread from Feeding Big
Pumpkin Hummus from The Freshman Cook
Pumpkin Madeleines from Family Around The Table
Pumpkin Pierogies with Brown Butter Sauce from Palatable Pastime
Slow Cooker Pumpkin Spice Latte with Rum Chata from Hezzi-D's Books and Cooks
Whipped Cinnamon Pumpkin Honey Butter from Making Miracles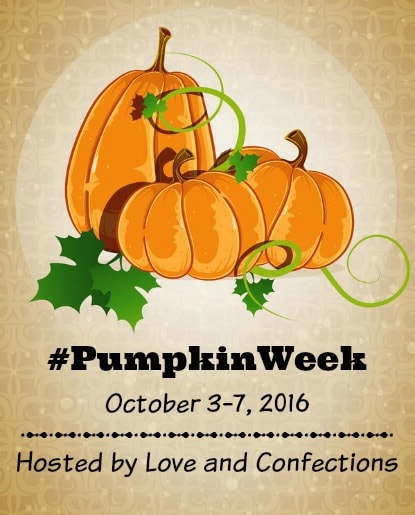 You'll notice that I used one of my very own hand painted bowls (Autumn Leaves and Pumpkins) to serve my Fall Festival Pumpkin Mashed Potatoes. It's rare that I actually have one of my own items in my possession, but as I've mentioned before, pumpkins and autumn colored leaves are my absolute favorite things in all the world. Naturally, this is one of the very few pieces of my own hand painted glassware items that I use every year, and treasure. It's one of my very favorites, and just makes me happy!
If there is ever anything I can paint for you, from glassware items to fabrics (aprons, tea towels and more), please don't hesitate to contact me (email: rgoerger@prodigy.net) or visit one of my shops: Etsy and Wazala. Custom orders are always welcome, and I will happily work with to to create a one of a kind item you won't find anywhere else. Most all of my glassware items come in their own gift boxes and all pieces are dishwasher and microwave safe as well as being non-toxic.
Kudos Kitchen by Renée ~ Where food, art, and fun collide each and every day!
The post above includes affiliate links. When I find a great product or service, I like to share it with my readers. Sometimes I use affiliate links so I can earn commission for my recommendations. As always, I thank you for your support!
Until we eat again, I hope you have a delicious day!