It seems like everyone's favorite side dish is always mashed potatoes. Not that traditional mashed potatoes needed help in the favorites category, but then again why not give them a little update? These Zippy Pimento Cheese Mashed Potatoes are everything!
I'm not usually one to follow traditions when it comes to food and food holidays like Thanksgiving. What can I say? I get bored easily, and I like to try new things. It's not always something that my family appreciates, but if I'm the one doing the cooking, then I'm the one who gets to decide what's on the menu. *insert evil laughter here*Having said that, nobody argues or complains when it comes to having these Zippy Pimento Cheese Mashed Potatoes on the table. They're traditional… with a twist and zip!


This recipe came about when I was watching a video of my food blogger friend, Jenni of Jenni Field's Pastry Chef Online making pimento cheese. You can watch Jenni's Facebook video HERE. Since making pimento cheese was something I've always wanted to do but never have, I figured that now was the time with Jenni's encouragement. And, since I'd be making my very own pimento cheese, why wouldn't I go a step further and add it to mashed potatoes? Because. Mashed potatoes, people!
Making Zippy Pimento Cheese Mashed Potatoes is as easy as 1-2-3. Follow my step-by-step photos to make them tonight for your family:
Shred 2 pounds sharp cheddar cheese. Add the cheese to a large bowl along with drained pimentos, mayonnaise, 1 tablespoon prepared horseradish and black pepper. Mix well to combine.

Mash russet potatoes along with softened butter, milk, pepper, and pimento cheese. Serve immediately, or place in a large serving dish and reheat as needed.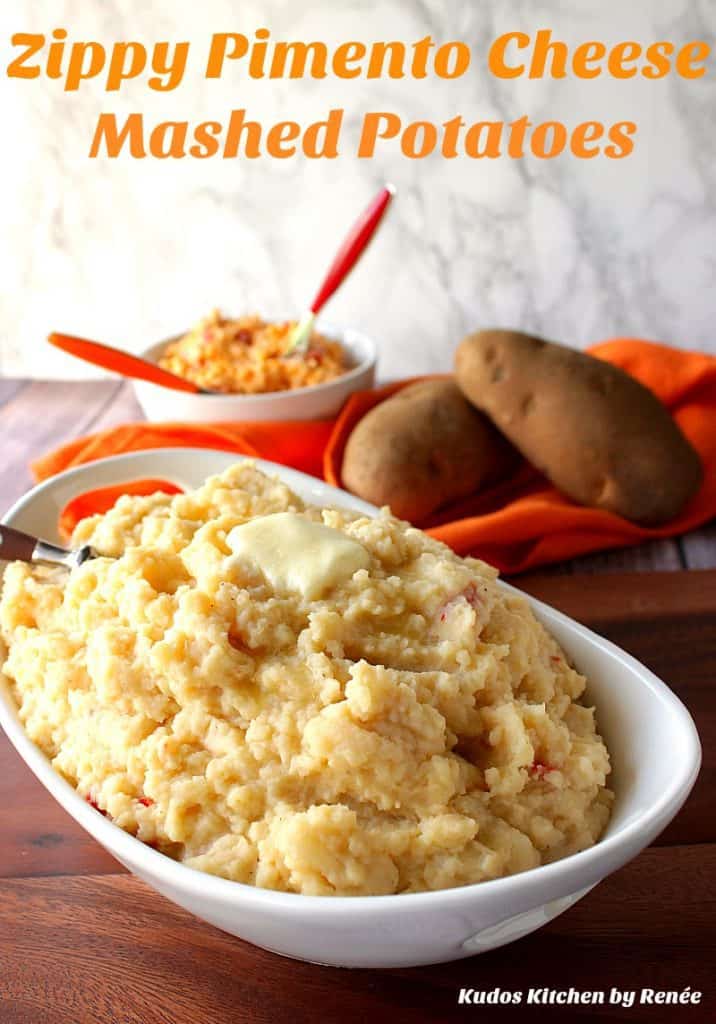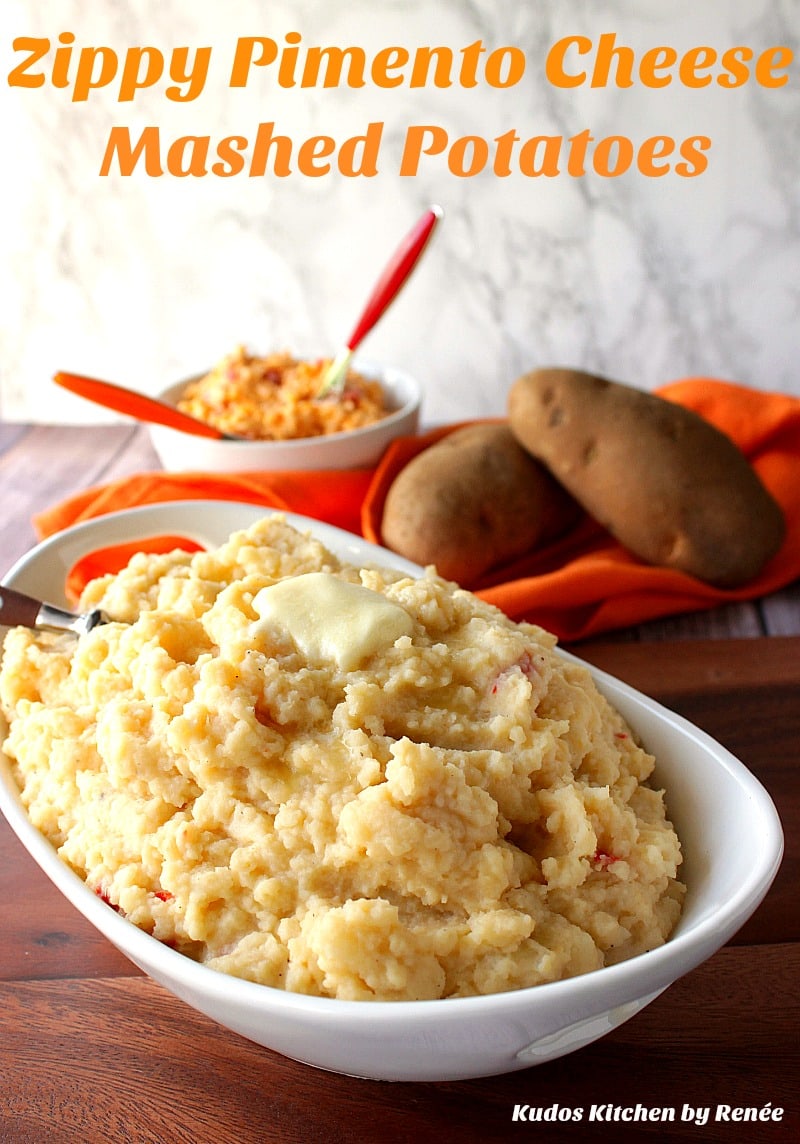 The following Amazon.com items are some suggested products I've chosen that will aid you in the making of this recipe. By clicking on the photos, you'll be taken directly to Amazon.com website if you're interested in purchasing any of these products. You are in no way required to do so, and you will not be charged in any way unless you decide to purchase a product.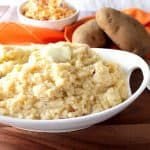 Zippy Pimento Cheese Mashed Potatoes
Ingredients
For the Pimento Cheese:

2

pounds

sharp cheddar cheese

grated

3/4

cup

mayonnaise

4

ounces

diced pimentos

drained

1

tablespoon

prepared horseradish

1

teaspoon

black pepper

For the Mashed Potatoes:

5½

quarts

water

1½

tablespoons

salt

5

pounds

russet potatoes

peeled and cut into 3" chunks

1

cup

warmed milk

plus additional if desired

1

teaspoon

black pepper

6

tablespoons

butter

softened

1

cup

pimento cheese
Instructions
Place all the ingredients for the pimento cheese in a large bowl and stir well to combine.

Meanwhile boil the potatoes until fork tender. Drain.

Add 1 cup of the pimento cheese, butter, warmed milk and black pepper to the boiled potatoes.

Use a potato masher to mash to your desired consistency (adding more warm milk if desired).

Serve warm or place the potatoes in a baking dish and refrigerate.

To reheat, bake covered at 350 until heated through.

Refrigerate remaining pimento cheese and use as a spread for crackers, sandwiches, or vegetables
Recipe Notes
Refrigerate remaining pimento cheese and use as a spread for crackers, sandwiches and vegetables.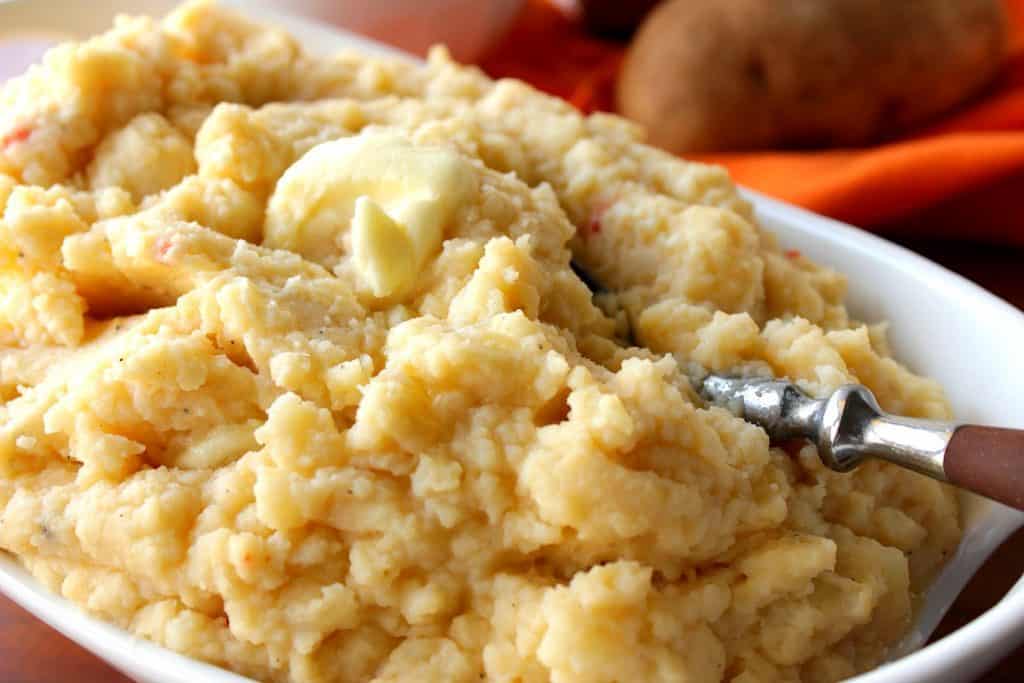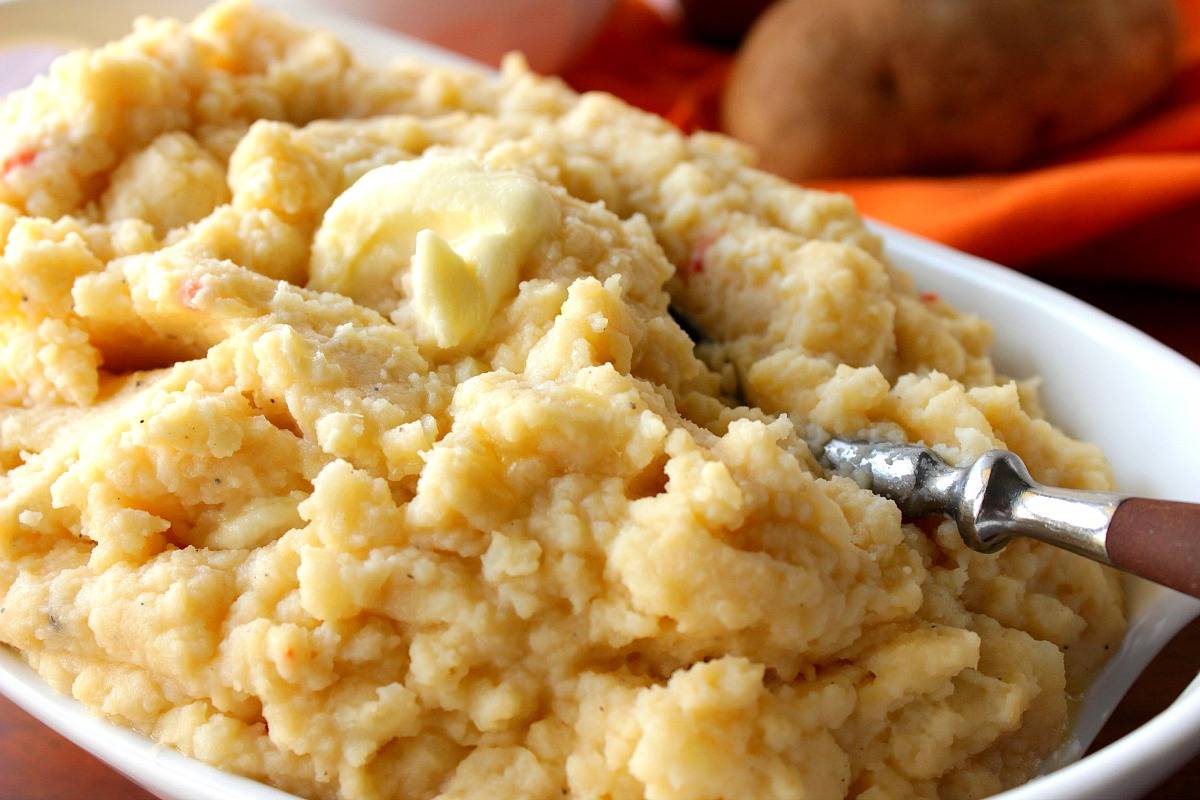 Remember earlier when I was telling you about my friend Jenni, her blog, and how she inspired me in making this recipe for Zippy Pimento Cheese Mashed Potatoes? Well, awhile back I also painted her her food blog design on a wine glass and a custom apron. I happen to know she uses her wine glass all the time because I see her sipping from it when she does her FB live cooking and baking productions of Cook the Book with Denise and Jenni. Please check it out if you're looking for an entertaining time cooking and baking along with Jenni and some of her fabulous cookbook author friends.
If there is ever anything I can paint for you, from fabrics (aprons, book bags and tea towels) to glassware items, please don't hesitate to email me: info@kudoskitchenbyrenee.com or visit one of my shops: Etsy and Wazala. Custom orders (like the food blogger products shown above) are always welcome. I will happily paint and design from any photo, idea or description you send my way. All of my hand painted glassware items are completely dishwasher safe as well as being non-toxic, and each and every hand painted fabric item is machine washable and dryable (no fabric softener please).
Kudos Kitchen by Renée – Where food, art, and fun collide each and every day!
The post above includes affiliate links. When I find a great product or service, I like to share it with my readers. Sometimes I use affiliate links so I can earn commission for my recommendations. As always, I thank you for your support!
Until we eat again, I hope you have a delicious day!