Travel all the way to Ireland without ever leaving home with the taste of this Dubliner Cheesy Potato Tart.
Every year for St. Patrick's day I make corned beef and cabbage. It's something I've been doing since my husband and I first got married more than 30 years ago, and it's something my mom did every year while I was growing up. Making corned beef and cabbage was alone the extent of how we celebrated St. Patrick's Day over the years. Yeah, we got pretty wild and crazy around here, but over the past few years things got amped up a bit.

Since I first started my food blog (well over six years ago), I've branched out when it comes Irish recipes. Because, let's face it, if I were bringing you the same old recipe for corned beef and cabbage year after year it would probably be pretty boring by now, right?
That said, today must be your lucky day, because I'm bringing you my recipe for Dubliner Cheesy Potato Tart, and boy is it delicious!
Making this tart was the first time I've ever worked (or tasted) Dubliner cheese so I didn't quite know what to expect. Dubliner cheese is an aged cow's milk cheese, and can be purchased in the specialty/International cheese area of most grocery stores. It will come encased in a wax coating which needs to be removed before preparation, or eating. Dubliner cheese has a strong, nutty, and sharp flavor. For example: If you imagine Swiss and an aged sharp cheddar coming together and marrying to become one, that's how I would describe Dubliner cheese's diverse yet enticing flavor.
I'm not going to fool you here. Making this Irish cheese and potato tart does take a bit of time, and a bit of effort from start to finish. It's not hard to do, but fitting the crust into the tart shell does take a small bit of finesse. That said, if you'd like to skip making your own pie crust and use the store-bought frozen pie dough, and if you'd like to make this in a pie pan rather than a tart shell… by all means, go for it. I'll never tell! Just roll out one circle of thawed store-bought pie dough (to 2″ larger than the pan you're using), and follow my recipe where it picks up after placing the dough in the pan. From there everything else goes according to the recipe.
I've made you a video to aid you in the making of this recipe. I hope it helps to answer any questions you may have regarding the preparation of this tart. I do hope you'll enjoy the snappy Irish jig that I've paired with the pictures, and I double dog dare you not to tap your toes while you watch 🙂 Please subscribe to my Youtube Kudos Kitchen channel HERE.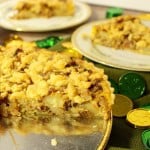 Dubliner Cheese and Potato Tart
Nutty and tangy Dubliner cheese tops this tart that's loaded with potatoes and bacon.
Ingredients
For the Crust
3/4

cups

all-purpose flour

plus additional for rolling

½

teaspoon

salt

6

tablespoons

Kerrygold Irish butter

cut into small pieces, divided

3

tablespoons

ice water
For the filling
½

pound

bacon

cut into 1" pieces

2

medium Idaho potatoes

microwaved and cooled

1

small onion

chopped

2

cloves

garlic

minced

3

eggs

beaten

1

cup

milk

1

heaping tablespoon wholegrain mustard

7

ounces

Dubliner cheese

crumbled
Tools
food processor or pastry blender

plastic wrap

9

" tart pan or pie pan

large skillet

baking spray

rolling pin

pie weights

optional

parchment paper

optional

baking sheet

small bowl
Instructions
To make the crust
In the food processor, pulse the all-purpose flour and salt to combine.

Add the cold butter cubes and continue pulsing until coarse crumbs form.

Add the ice cold water and continue pulsing until a dough ball forms.

Flatten the dough ball into a disc and wrap in plastic wrap. Chill at least 30 minutes.

When the dough has chilled, roll it out onto a lightly floured surface until it's approximately 2" larger in circumference than the tart pan.

Lightly roll the dough around the rolling pin and carefully transfer it to a tart pan that has been liberally sprayed with baking spray.

Gently unroll the dough from the rolling pin over the tart pan.

Carefully press the dough into the corners of the pan, and up the sides.

Use light pressure to press the rolling pin over the top of the tart pan to trim off the excess dough.

Place the tart pan on a parchment paper (optional) baking sheet and chill for approximately 20 minutes.

Once chilled, dock the bottom of the pie crust with the tines of a fork, or line the inside of the tart dough with parchment paper and pie weights (this will prevent the crust from bubbling).

Bake in a preheated 400 degree oven for 10 minutes. Remove the pie weights (if using) and continue baking for an additional 5-7 minutes.
To make the filling
Pierce and microwave the potatoes until cooked through. Set the cooked potatoes aside to cool.

In a large skillet, cook the cut bacon until nearly crisp. Drain the fat if desired.

Cut the cooled potatoes into chunks and add them, along with the chopped onion and 1 tablespoon butter, into the skillet with the bacon.

Continue cooking, stirring occasionally, over medium heat until the onions are translucent (approximately 5 minutes).

Season the potato/bacon mixture with salt and pepper to taste.
To fill the tart
Add the potato and bacon mixture evenly into the par-baked tart shell.

In a small bowl, whisk together the eggs, milk, mustard, ½ teaspoon salt and ¼ teaspoon pepper.

Pour the egg mixture evenly into the tart pan and top the entire tart evenly with the crumbled Dubliner cheese.

Bake the tart in a preheated 375 degree oven for 50-60 minutes until filling is set and firm to the touch.

Cool on a cooling rack for 15 minutes and then remove the outer ring from the tart pan (if using), and allow the tart to cool for an additional 10 minutes before cutting into wedges and serving.
Recipe Notes
A large bowl and a pastry blender (or two forks) can be used in place of a food processor to prepare the tart dough.
A pie plate can be used in place of a tart pan if desired.
Store-bought frozen pie dough can be used in place of the homemade tart dough if needed.
Lads and lassies, this one's for you! See? I told you it was your lucky day!
Hopefully I've whet your Irish whistle for even more St. Patrick's Day inspired recipes. If so, please enjoy some of the other Irish inspired recipes I've shared in the past. Such as…
Traditional Irish Shortbread:
Original Irish Coffee:
Stuffed Corned Beef Boxty:
Irish Sourdough Rye Bread:
Thanks so much for checking out today's recipe. If you have any questions or comments, I'd love to know what they are so, please don't be shy about leaving them for me. I promise I'll get back to you with the answers to your questions just as soon as I can.
In the meantime, this Julia Child quote inspired apron is one of the favorite items that I've ever painted. It embodies how I feel about cooking, and I'll bet you do too. If you're interested in purchasing your own (available in black or white), please click HERE.
If there is ever anything I can paint for you, from fabrics (aprons and tea towels) to glassware items, please don't hesitate to contact me by clicking on the little envelope icon located at the top of my site, or by visiting my shop on Etsy or Wazala. Custom and personalized items are always welcomed, and always encouraged. I will also happily paint and design from any photo or description you send my way. All fabrics are completely machine washable, and all glassware items are dishwasher and microwave safe, as well as being completely non-toxic.
Kudos Kitchen by Renée ~ Where food, art, and fun collide each and every day!
Until we eat again, I hope you have a delicious day!