Slow Cooker Corned Beef and Carrots is a super simple way to celebrate St. Patrick's day (or any day for that matter) with great flavor and ease of preparation.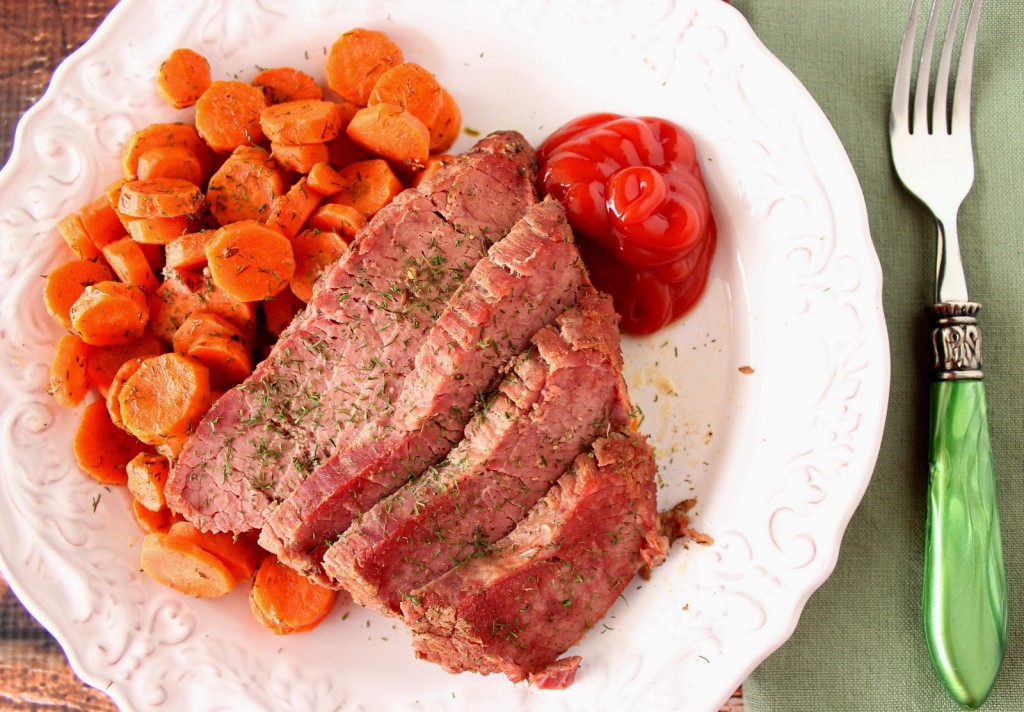 *Disclaimer - This recipe was originally published in 2014. I'm working hard to update all my older recipes with recipe cards, new photos, and additional recipe information. But, getting to all of them will take time. Please bear with me. In the meantime let me assure you that this recipe is still a winner and one I'm sure you'll be well pleased with when you make it at home.
I've been making corned beef and cabbage every year for St. Patrick's day since my kids were little (25+ years now).
This year I opted out of making the cabbage and I replaced it with carrots. The reason you ask? This year was the first time I've ever made it in my slow cooker, and I just didn't have the room to stuff the cabbage in with the meat. The carrots were a much better fit.
Everyone in my family truly loves corned beef and looks forward to having it every year. St. Patrick's Day is actually the only time of the year that I cook corned beef, so it's a true treat for my family when March finally rolls around.
Luckily for me, every year I get to laugh at the memory I have of my then young son Adam saying one night while eating his corned beef "This is the best chicken I've ever eaten!" and every year since we get to laugh at that story all over again!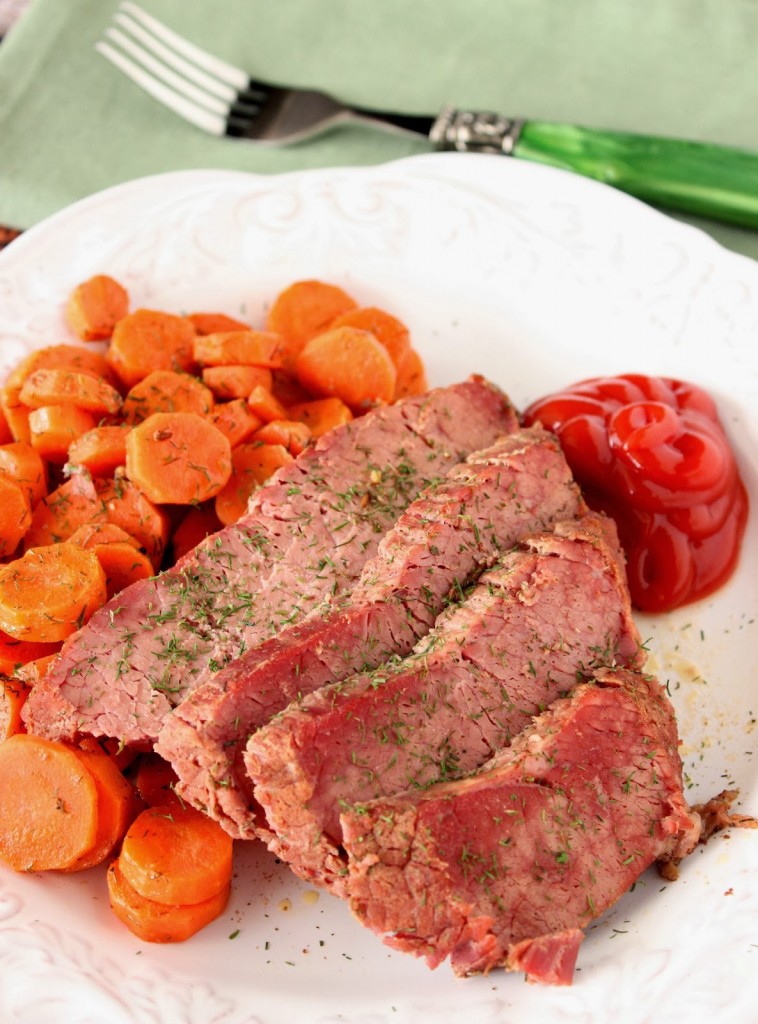 SLOW COOKER CORNED BEEF AND CARROTS
Serves: 4-6 Prep Time: 5 minutes Cook Time: 7 to 8 hours on low, 5 to 6 hours on high

1 4-5 pound corned beef, with pickling packet
2 cups beef stock or broth
1 cup water
2 tablespoons cider vinegar
2 teaspoons dill weed
2 teaspoons caraway seed
2 teaspoons allspice
2 bay leaves
4 cups peeled and sliced carrots
-Place all the ingredients in the slow cooker (except the carrots) and set it to either low or high depending on how much time you have. Cover.
-Place the carrots in the cooker 1 and a half to 2 hours prior to the end of the cooking time. Cover.
-To serve, slice the corned beef across the grain and remove the carrots with a slotted spoon.
Our boys always enjoy their corned beef with ketchup, which is why I added it into the photo... in case you were wondering. Moist, tender, and packed with flavor, I promise, this will be the best chicken you've ever eaten... 😉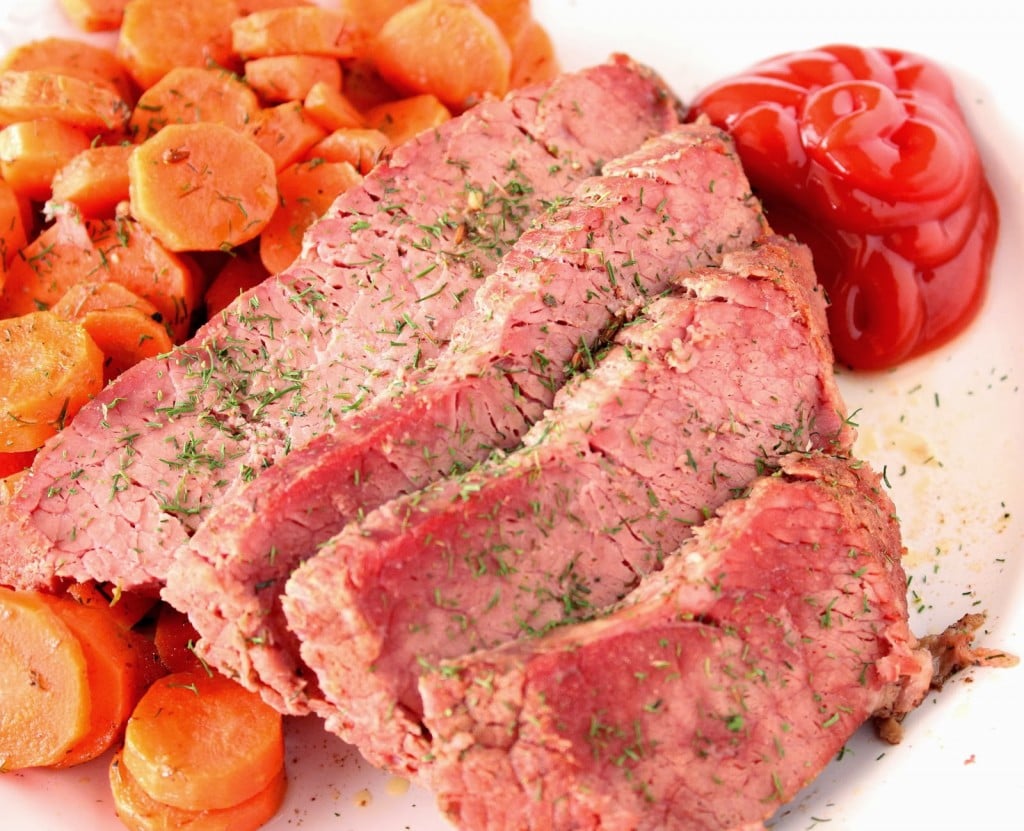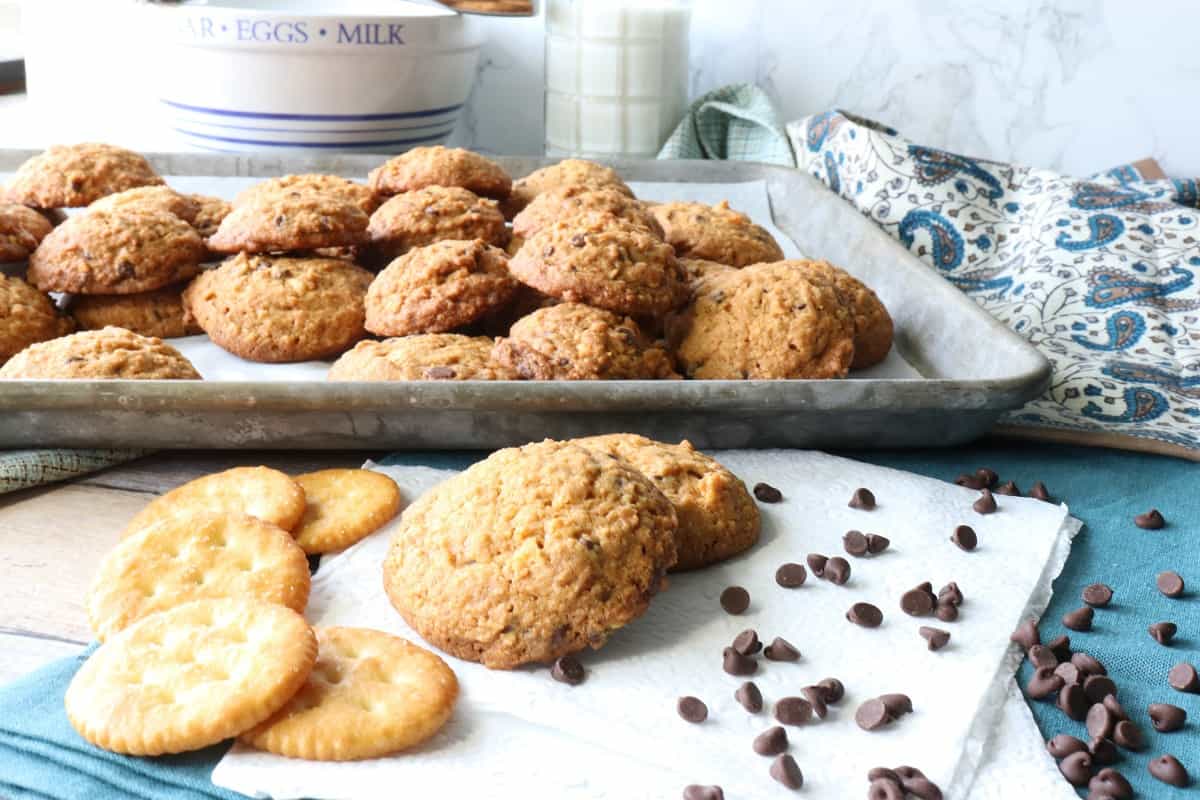 Follow me across my social media platforms and join in on the conversation: FACEBOOK, INSTAGRAM, PINTEREST, TIKTOK, AND YOUTUBE.
Thank you so much for visiting me today in my Kudos Kitchen. I hope you found something you'll love and that you'll come back and visit me often. There is always room for you around my table!
Should you have any questions or comments regarding anything you've seen here on my blog, please don't hesitate to reach out to me. It is always my distinct pleasure to respond to you just as soon as I possibly can.
Until we eat again, I hope you have a delicious day!!