When you have a taste for corned beef hash, but also a wonderfully eggy frittata, why not make this unexpected yet delicious Corned Beef Hash Frittata?
It will satisfy everyone at the breakfast, lunch, and even dinner table.
Making a corned beef hash with a few fried eggs on top had been on my mind for weeks and weeks.
Which is why, naturally…(NOT), my completed dish turned out nothing like what I originally had in mind. Enter my Corned Beef Hash Frittata.
**Please Note – The printable recipe card with detailed instructions, complete ingredient measurements, and nutritional information for making Corned Beef Hash Frittata is available near the end of this post. OR click on the "jump to recipe" button (found above) to be taken directly to the recipe.
CLICK ON THIS BOX TO LIKE AND SUBSCRIBE TO MY KUDOS KITCHEN YOUTUBE CHANNEL. SEE YOU THERE! 🙂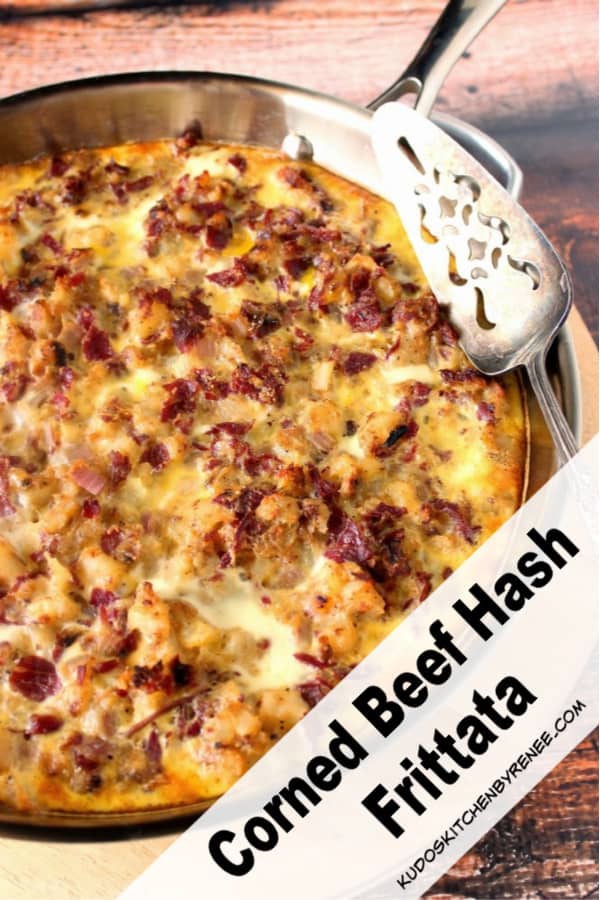 The ingredient list:
Corned beef (leftovers are ideal)

Eggs

Hash Brown Potatoes

Milk

Olive Oil

Butter

Onion

Dried Thyme

Garlic Powder

Dry Mustard

Cayenne Pepper

Salt and Pepper
What makes this recipe so easy and convenient?
Corned Beef Hash Frittata is super easy to make because it takes advantage of frozen hash brown potatoes and deli counter corned beef, or even better…leftover corned beef (if you're lucky enough to have any)!
Once it assembled all you need to do is pop it in the oven (using the exact same skillet), and then go about your business until the eggs are cooked through, nicely browned, and the house smells amazing!
Serving suggestions:
You can serve this Corned Beef Hash Frittata for breakfast, brunch, lunch or dinner.
If you're having it for dinner, serve it alongside this Healthy Berry Salad or maybe a delicious Heirloom Tomato Salad.
Variations for this recipe:
If you want to make this Corned Beef Hash Frittata more of a complete meal, feel free to add some of your favorite veggies into the mix before you add the eggs.
You can either use fresh or frozen but if you use frozen make sure to thaw them first, just as you did the potatoes.
If you like cheese (and who doesn't), bake the frittata for 50 minutes, remove it from the oven, top with your favorite grated cheese and then continue baking for the last 10 minutes to melt, and brown the cheese.
This Corned Beef Hash Frittata was a big hit at my house, and with my husband especially! How do I know? Because he kept saying, "Tastes great, babe."
Seems that that is his highest compliment…and, of course, he ate several slices! 😉
Additional Corned Beef Recipes:
Corned Beef and Swiss Cheese Quesadillas
Below is the printable recipe card along with the nutritional information for today's Corned Beef Hash Frittata.
Yield: 8 slices
Corned Beef Hash Frittata for Breakfast, Lunch or Dinner
When you have a taste for corned beef hash, but also a wonderfully eggy frittata, why not make this unexpected yet delicious Corned Beef Hash Frittata? It will satisfy everyone at the breakfast, lunch, and even dinner table.
Total Time
1 hour
10 minutes
Ingredients
2 tablespoons butter
1 large red onion, chopped
2 tablespoons olive oil
1 bag, 32 ounces Southern-style frozen hash brown potatoes, thawed
1½ pounds deli corned beef, roughly chopped
1½ teaspoon salt, divided
3/4 teaspoons pepper, divided
3/4 teaspoons ground thyme
1 teaspoon garlic powder
2 teaspoons dry mustard
pinch cayenne
6 eggs
2 cups milk
Instructions
Preheat oven to 350 degrees.
In a large, oven-safe skillet, saute the onion in the butter for approximately 3-5 minutes, stirring occasionally.
Add the olive oil to the skillet along with the hash brown potatoes. Cook, stirring only occasionally until the potatoes have browned.
Stir in the corned beef, 1 teaspoon salt, ½ teaspoon pepper, thyme, garlic powder, dry mustard, and cayenne.
Meanwhile, in a large bowl, whisk the eggs, milk, the remaining salt, and pepper.
Pour the egg mixture over the corned beef hash.
Carefully slide the skillet into the preheated oven and cook for 60 minutes, or until the eggs are set in the middle and the frittata is golden brown.
Remove. Cool slightly. Cut into wedges, and serve.
Notes
tools and equipment:
large oven-safe skillet, cutting board, chef's knife, measuring cups, measuring spoons, wooden spoon or spatula, whisk, large bowl
Nutrition Information
Yield
8
Serving Size
1 slice
Amount Per Serving
Calories

347
Total Fat

23g
Saturated Fat

8g
Unsaturated Fat

0g
Cholesterol

180mg
Sodium

1641mg
Carbohydrates

12g
Sugar

3g
Protein

20g
Thank you so much for visiting me here today in my Kudos Kitchen!
I hope you've enjoyed this recipe for my Corned Beef Hash Frittata as much as I've enjoyed bringing it to you.
Should you have any questions regarding this, or anything else you see on my site, please don't hesitate to contact me directly, or leave me a comment in the comment section below. It is always my distinct pleasure to get back to you with a reply just as soon as I possibly can!
For more Kudos Kitchen recipe information, please follow me on my social medial channels (listed below), and don't forget to TAG me @kudoskitchen with photos so I can view all your delicious recipe creations! It's exciting for me when you share them, so don't be shy!
Instagram, Pinterest, Facebook, and YouTube
Kudos Kitchen by Renee – BRINGING YOU EASY, ECONOMICAL, AND DELICIOUS DISHES TO FEED YOUR LOVED ONES!
Until we eat again, I hope you have a delicious day!