This Chocolate Velvet Cake is a real showstopper! If you're a chocolate lover then you'll love the deep, rich chocolate flavor of this outstanding cake!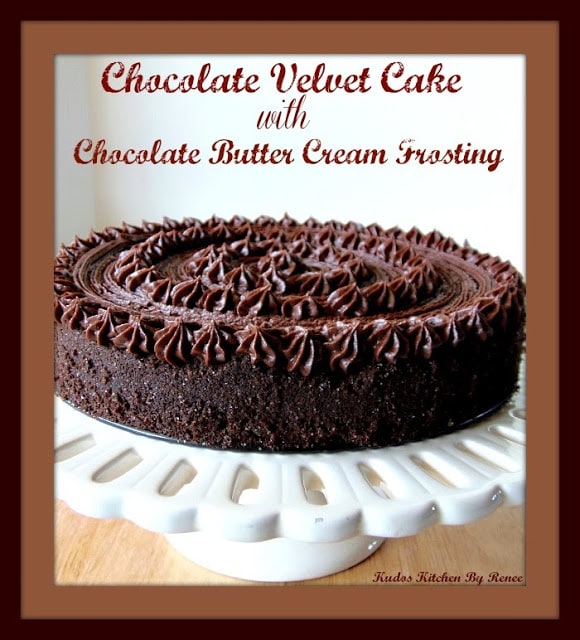 *Disclaimer - This recipe was originally published in 2013. I'm working hard to update all my older recipes with recipe cards, new photos, and additional recipe information. But, getting to all of them will take time. Please bear with me. In the meantime let me assure you that this recipe is still a winner and one I'm sure you'll be well pleased with when you make it at home.
I made this Chocolate Velvet Cake With Chocolate Butter Cream Frosting for one reason and one reason alone. Well, let's actually make that two reasons. Two reasons and two reasons alone...Looks and taste!
The original recipe for Chocolate Velvet Cake With Chocolate Butter Cream Frosting can be found on page 378 of the cookbook called Taste of Home - Recipes Across America.
However, in the book they actually call the recipe Chocolate Velvet Dessert. After making, and of course, adapting it ever so slightly (not enough to alter the flavor), I decided on a different name. One that really speaks to the dark, sinful loveliness this cake possesses.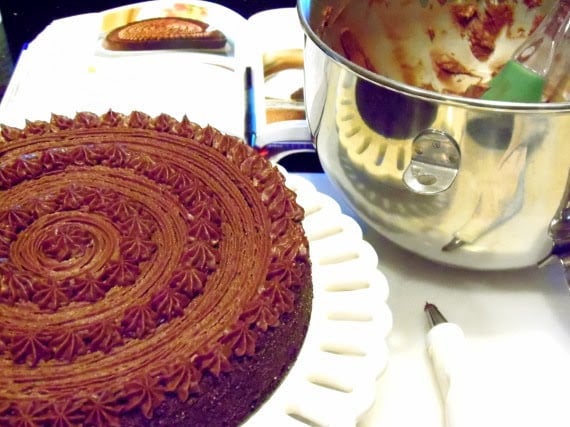 CHOCOLATE VELVET CAKE WITH CHOCOLATE BUTTERCREAM FROSTING
Serves: 16 Prep time: 20 minutes Bake time: 20 minutes + chilling


For the cake:
2 sleeves of chocolate graham crackers
2 tablespoons granulated sugar
6 tablespoons butter, melted
2 cups semisweet chocolate chips
6 egg yolks
1 ¾ cups heavy whipping cream
1 teaspoon pure vanilla extract
¼ teaspoon salt
For the frosting:
½ cup butter, softened
3 cups confectioners' sugar
3 tablespoons baking cocoa
3-4 tablespoons of milk
-Preheat the oven to 350 degrees.
-Spray a 9" springform pan with baking spray. Set aside.
-Using a food processor, pulse the graham crackers until they are finely ground crumbs.
-In a small bowl, combine the cookie crumbs, granulated sugar, and melted butter. Stir well until it becomes the consistency of damp sand.
-Add the crumbs into the prepared springform pan and press them firmly and evenly on the bottom and up the sides of the pan.
-Place the springform pan on a baking sheet and bake for 10 minutes. Remove and cool on a wire rack.
-Meanwhile, in a large microwave-safe bowl, melt the chocolate chips (check on them often and stir occasionally) until smooth.
-In a small bowl, whisk together the egg yolks, whipping cream, vanilla extract, and salt.
-Stir a small amount of the melted chocolate into the egg yolk mixture until blended; gradually add the remaining egg yolk mixture into the melted chocolate and whisk well, to combine.
-Pour the filling into the cooled graham cracker crust and place. Place the pan on a baking sheet and bake for 45-50 minutes or until the center is almost set (it will jiggle slightly).
-Cool on a wire rack for 10 minutes and then run a knife around the edge of the pan to loosen. Remove the collar of the pan.
-Carefully, using a knife or an offset spatula, remove any extra crumbs that are taller than the cake.
-Allow the cake to cool for at least an hour and then place it in the freezer for at least 1 ½ hours.
-In the bowl of a stand mixer or a large bowl with a hand mixer, combine the butter, confectioners' sugar, baking cocoa, and milk. Add additional milk by the tablespoon should you decide you want a thinner consistency.
-Fill a large piping bag, fit with a star tip, with the frosting and decorate the top of the cake with your favorite design.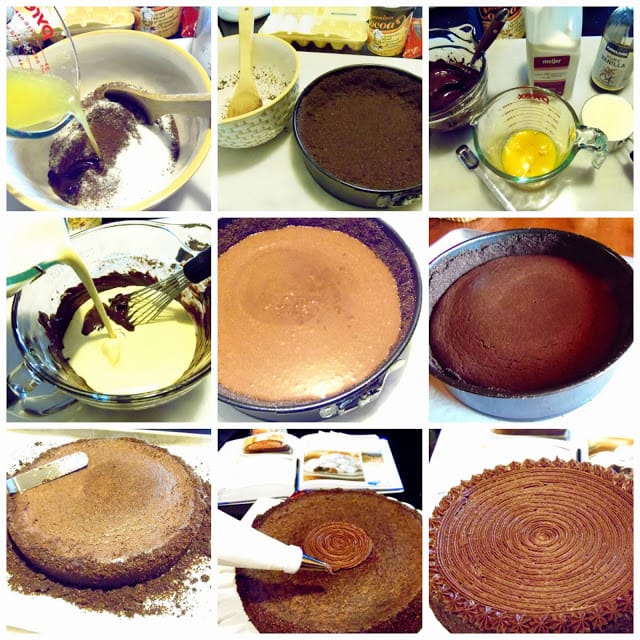 And here is the end result of my chocolate velvet cake! This is undoubtedly the best chocolate dessert I have ever made, and the chocolate buttercream frosting is to die for!!!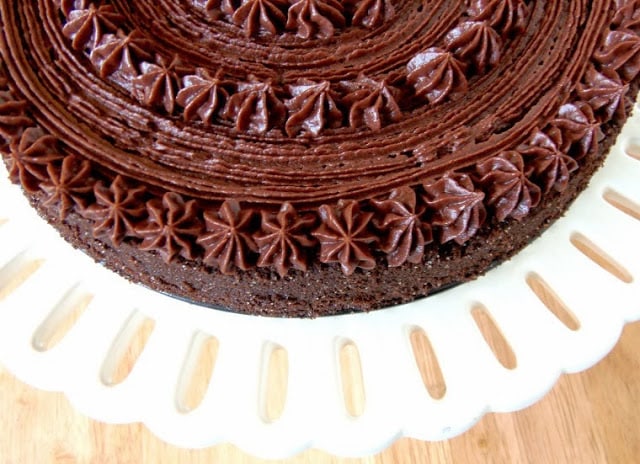 Thank you so much for visiting me today in my Kudos Kitchen. I hope you found something you'll love and that you'll come back and visit me often. There is always room for you around my table!
Should you have any questions or comments regarding anything you've seen here on my blog, please don't hesitate to reach out to me. It is always my distinct pleasure to respond to you just as soon as I possibly can.