In a matter of minutes and with only three ingredients, you can easily make these sweet, salty, and utterly addicting chocolate-covered shoestring haystacks that are completely hard to resist!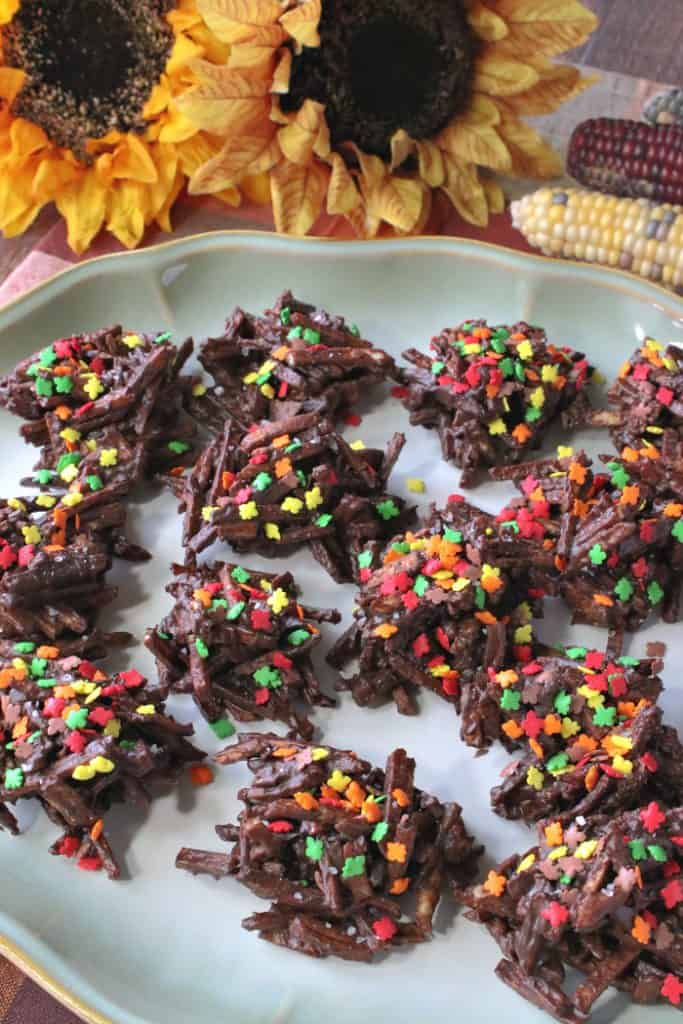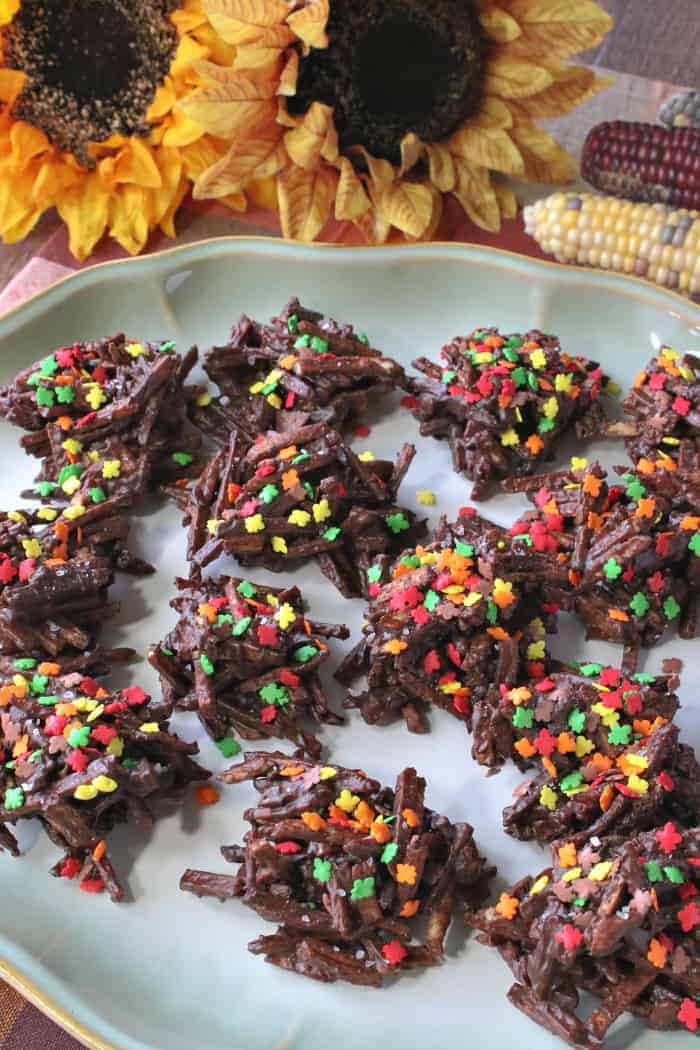 This easy homemade candy recipe can be tailored to any occasion or season just by what you choose to sprinkle on top.
I embellished my shoestring potato candy using colorful autumn leave sprinkles (shown above) but I also used toffee bits (pictured below) to demonstrate how versatile these sweet and salty snacks are for year-round enjoyment!
This easy tropical white chocolate candy recipe is one I think you'll also enjoy:
**Please Note - The printable recipe card with detailed instructions, complete ingredient measurements, and nutritional information for making Chocolate Shoestring Haystacks is available at the end of this post.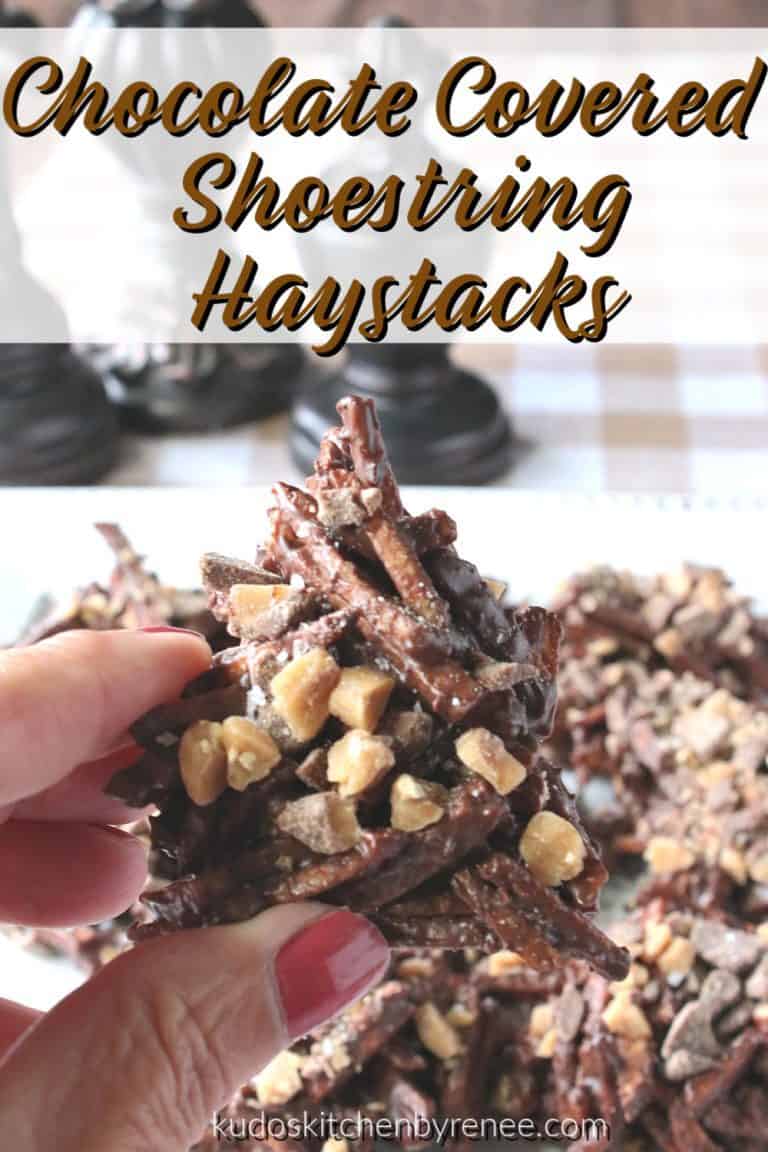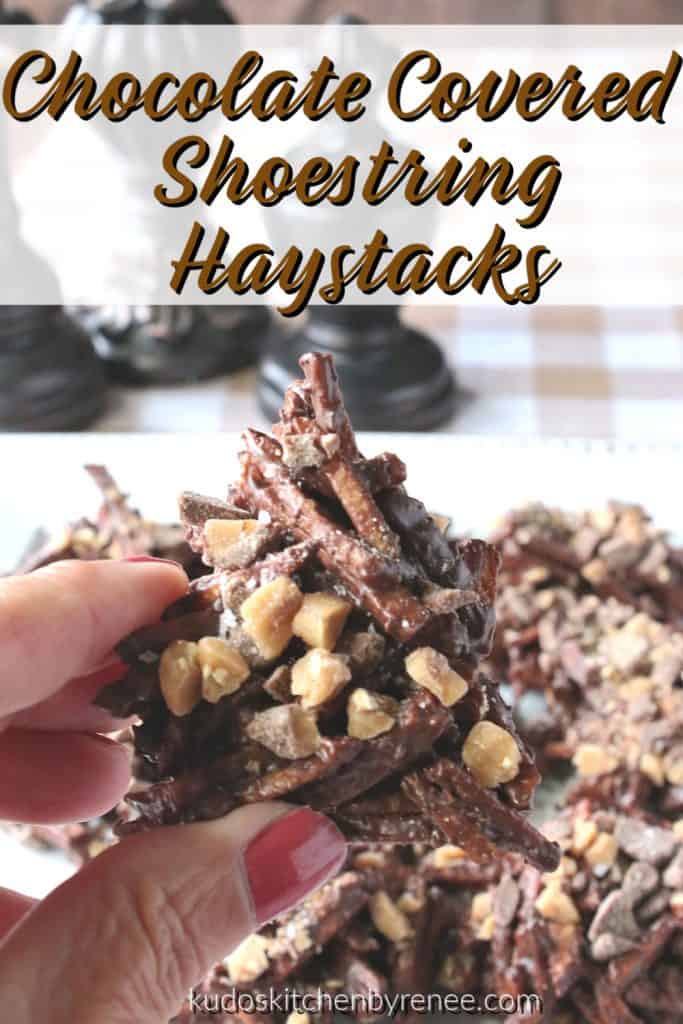 The ingredient list;
**Note - The following lists of ingredients plus kitchen tools and equipment contain affiliate links (highlighted in blue) for your consideration and shopping convenience.
Kitchen tools and equipment needed;
How long will it take to make this homemade candy from start to finish?
Basically as long as it takes you to melt the chocolate chips at a slow to moderate pace in a microwave.
It will take approximately 3 - 4 minutes to melt the chocolate, and another 5 or so minutes to stir and spoon the haystacks out onto a parchment-lined baking sheet.
So, under 10 minutes. How's that for fast and delicious?!!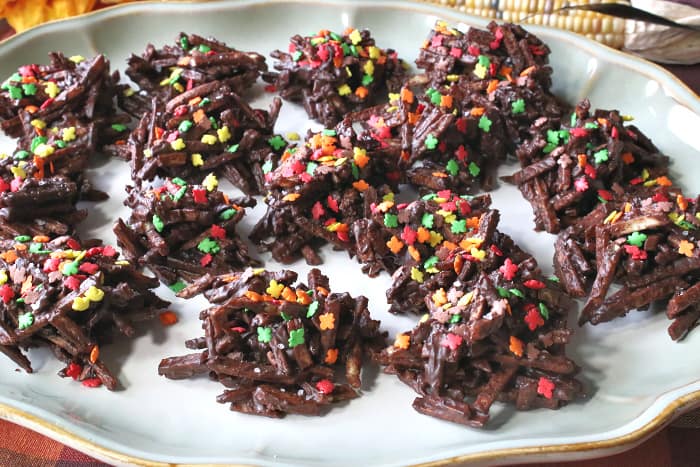 Don't rush the melting process!!
Trust me when I say "I've been there and done that" by trying to rush the process of melting chocolate in a microwave. It has ALWAYS ended in a disaster, and the price to pay just isn't worth it. Don't do it!!
Since every microwave is different, make sure to set the power level to medium-low and start the melting process by setting the timer in 40-second intervals.
After every 40 second interval, take the bowl out and give the chocolate a stir.
At first, the chocolate chips will look unchanged. Then, after a few more intervals, the chocolate will slowly begin to melt and become smooth, and glossy.
If you try and rush the process by melting the chocolate on too high a temperature, the chocolate will seize and become hard and gloppy. Once this happens there is no reversing its consistency, and the chocolate is no longer useable. Sad.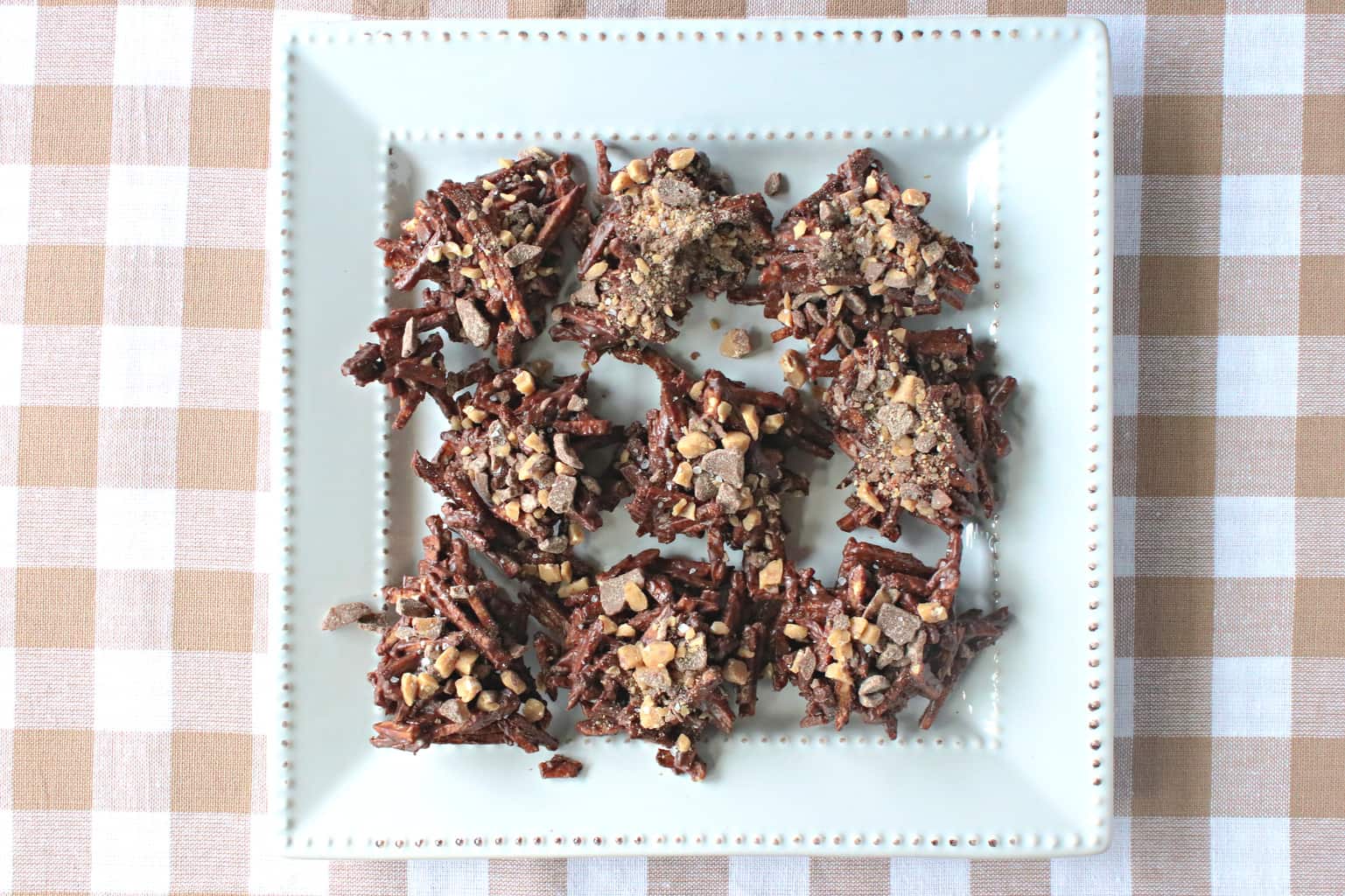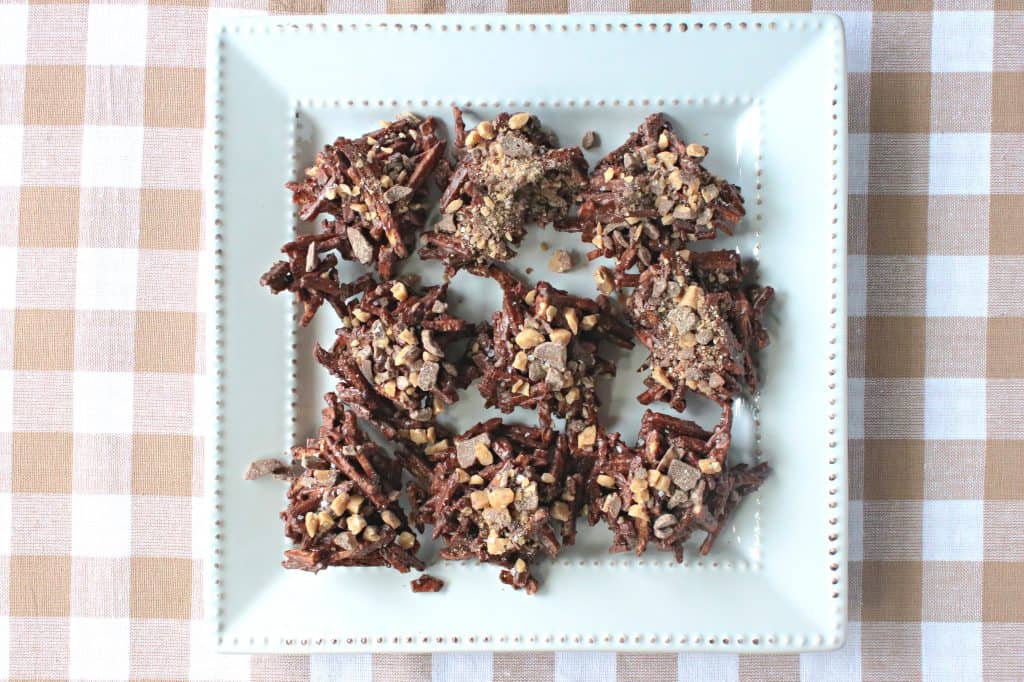 Can the chocolate be melted in a double-boiler instead?
Yes!!
Low and slow is still the key. Do not rush the process of melting chocolate!!
How to make chocolate-covered shoestring haystacks:
Add shoestring potatoes to a large bowl.
Pour in the melted chocolate and carefully stir until combined.
Drop the chocolate shoestring potatoes by heaping tablespoons onto a parchment-lined cookie sheet.
Sprinkle with your choice of topping (optional).
Allow the chocolate to set, and then serve or gift.
What are some additional add-ins or topping suggestions for shoestring potato candy?
Crushed Peppermint Candy
Crushed Pretzel Sticks
Peanut Butter
For other easy homemade candy recipes, please click on the following titles for;
*Tropical White Chocolate Candy Bites (pictured below) from (yours truly) Kudos Kitchen
"These easy to make Tropical White Chocolate Candy Bites are the perfect thing to make and gift to someone who loves to indulge in a sweet little treat from time to time."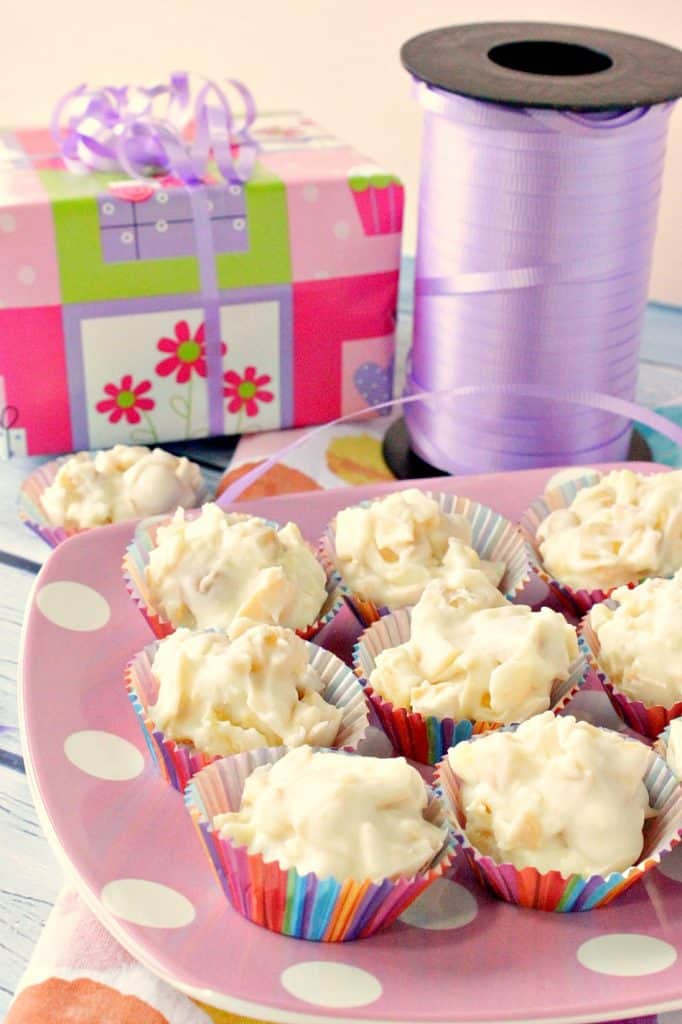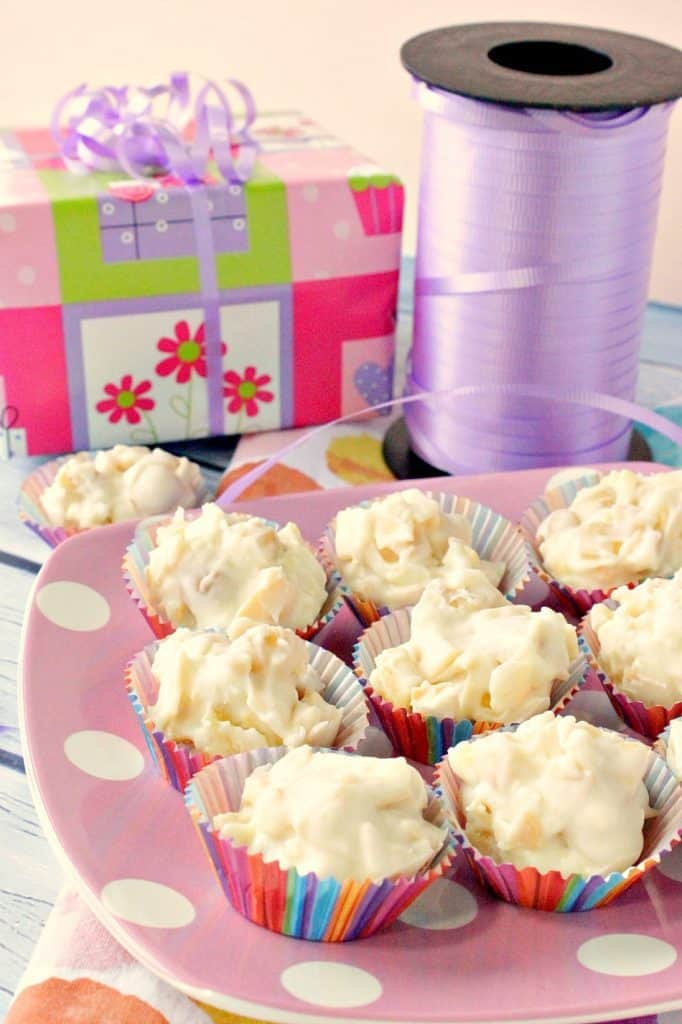 *Chocolate Coconut Peanut Butter Bliss Balls from Apple for CJ
*Peanut Butter and Chocolate Granola Jumbles (pictured below) from (yours truly) Kudos Kitchen
"This fast and easy recipe for No-Bake Peanut Butter & Chocolate Granola Jumbles will satisfy your sweet tooth and give you a boost of energy which will last you all through the afternoon."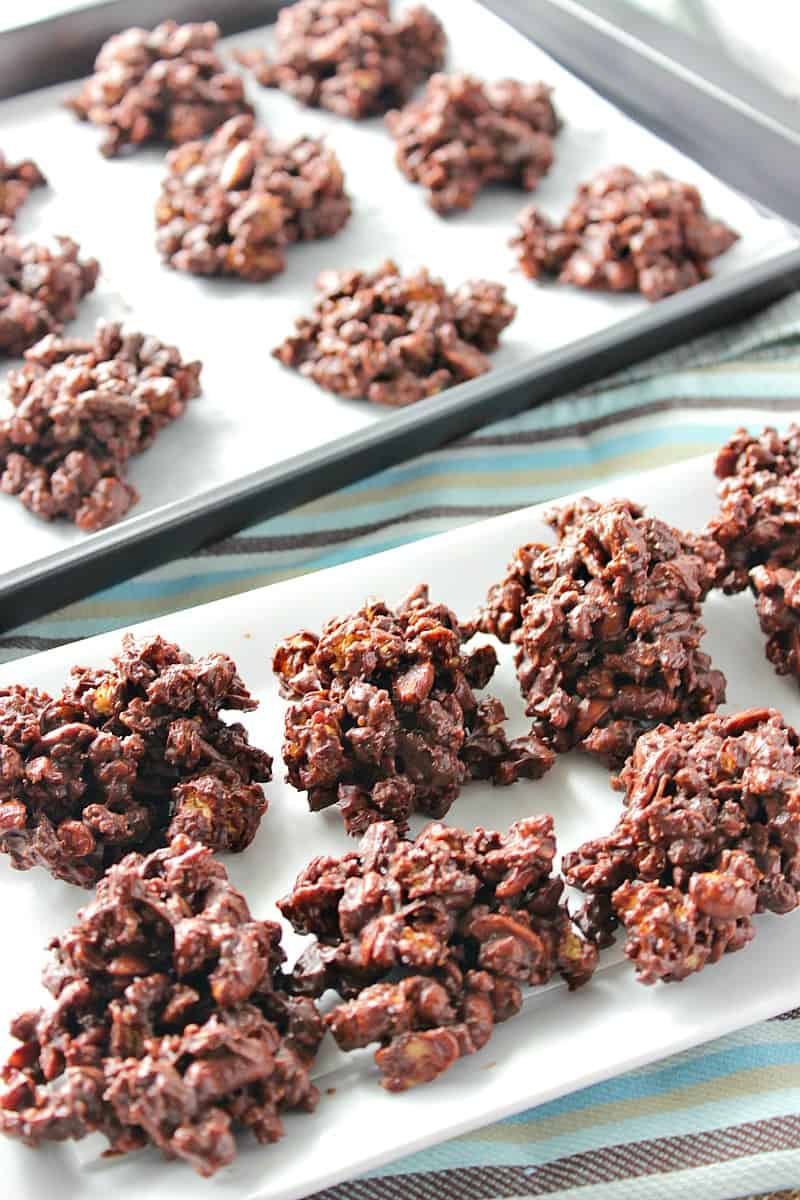 *Layered Chocolate Mint Bars from Drugstore Divas
*Chocolate-Covered Shoestring Haystacks (pictured below) This is the place!!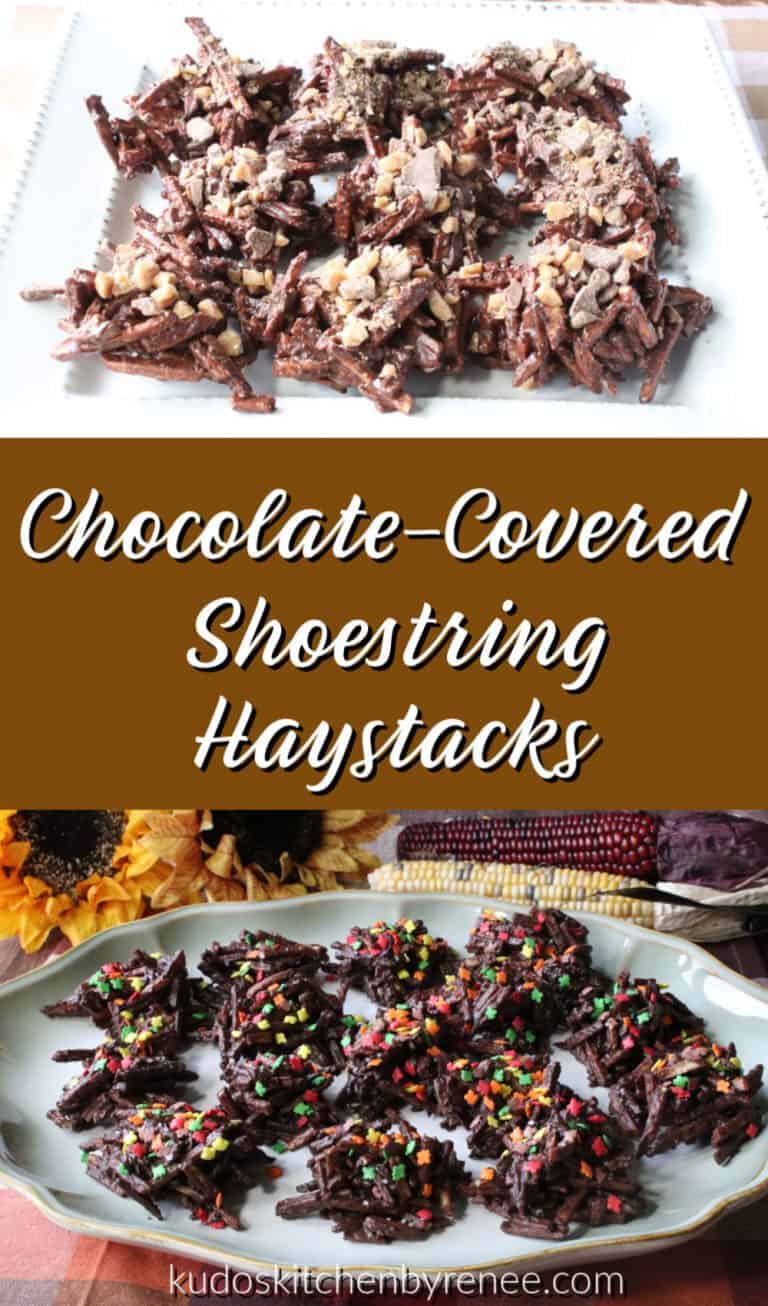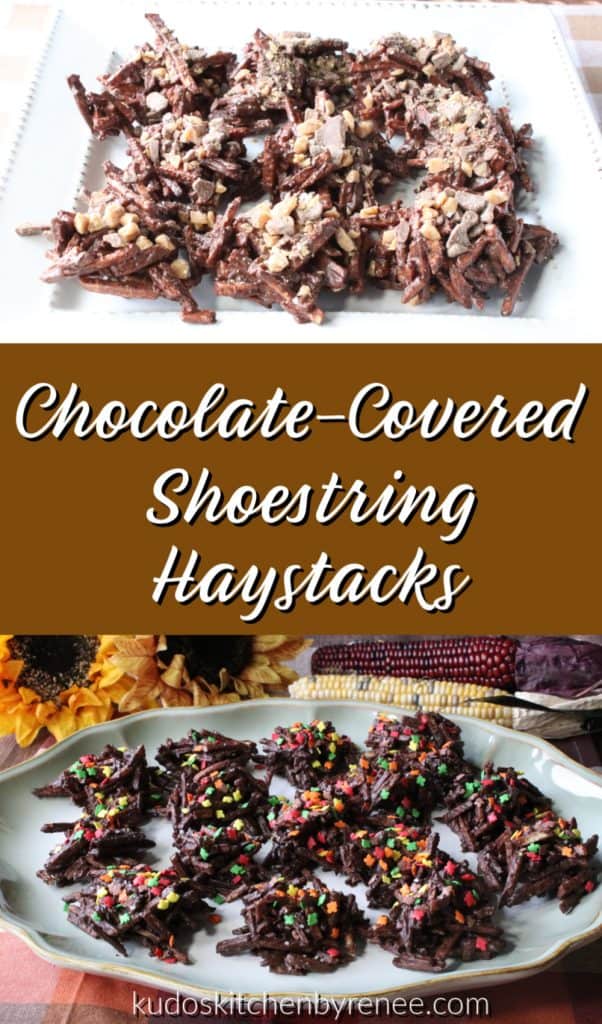 Below is the printable recipe card and instructions for making for today's Chocolate-Covered Shoestring Haystacks.
If you've enjoyed this recipe and look forward to making it (or have already made it), I'd appreciate if you'd take a moment to give it some feedback by way of stars near the comment section at the end of this post.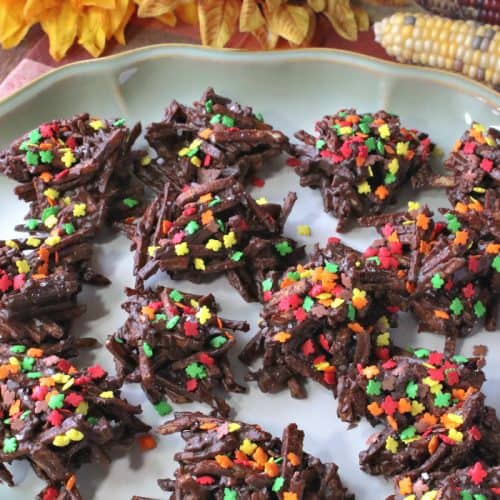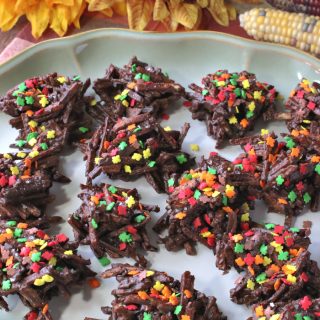 Chocolate Covered Shoestring Haystacks
A sweet and salty treat that is easy to make and hard to resist!
Ingredients
9

ounces

of shoestring potato sticks

1

bag

12 ounces of semi-sweet chocolate chips

Assorted Sprinkles OR Toffee Bits
Instructions
Melt the chocolate in a microwave-safe bowl at medium/low heat (stirring occasionally) until smooth and glossy.

Add the shoestring potato sticks to a large bowl and pour the melted chocolate over top.

Stir gently until completely combined.

Drop the chocolate-covered shoestring haystacks by heaping tablespoons onto a cookie sheet which has been lined with parchment paper.

Sprinkle candy bits or colored sprinkles on top of each haystack while the chocolate is wet.

Allow the chocolate to set and harden.

Serve, or gift.
Notes
Store these chocolate-covered shoestring haystacks. in an airtight container at room temperature.
Nutrition
I sincerely hope you've enjoyed today's easy homemade candy recipe for chocolate-covered shoestring haystacks as much as I've enjoyed bringing it to you!
**Note - The post above includes affiliate links. As always, I truly thank you for your support!
As an Amazon Associate, I earn from qualifying purchases. When I find a great product or service I like to share it with my readers. For additional information please view my privacy policy.