My easy Chicken Pad Thai combines two Thai noodle recipes I've seen recently and drooled over. This dish is sweet with a bit of heat and utterly delicious!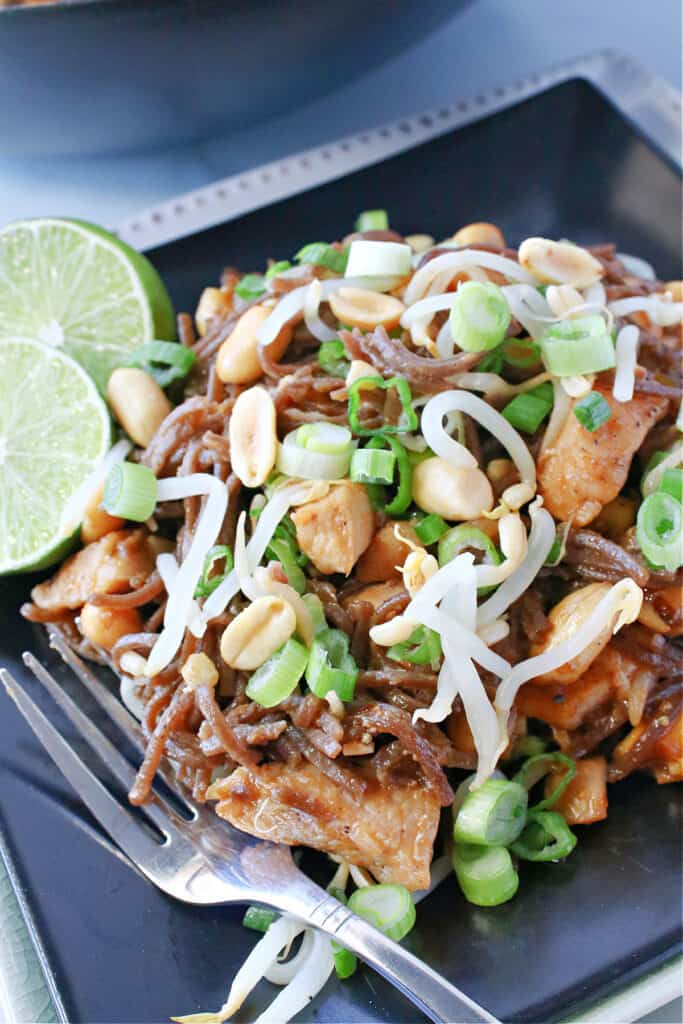 I originally shared this recipe in 2012. I've recently updated this post with additional information, including a recipe card complete with nutritional information, a video, and new photos, but the recipe itself has remained unchanged.
**Please Note - The printable recipe card with detailed instructions, complete ingredient measurements, and nutritional information for making my homemade version of Chicken Pad Thai is available at the end of this post. Or you can hit the "jump to recipe" button (found above) to be taken directly to the recipe.
The ingredient list:
**Note - The following lists of ingredients plus kitchen tools and equipment contain affiliate links (highlighted in blue) for your consideration and shopping convenience. #CommissionsEarned
chicken breast or chicken tenders
peanut oil
sesame oil
soba noodles (buckwheat noodles), or rice noodles
pad Thai sauce
oyster sauce
garlic
shallots
brown sugar
fresh lime juice
scallions
peanuts
bean sprouts
salt and pepper
red pepper flakes
egg
Kitchen tools and equipment needed:
wok or large skillet
spatula or Asian spatula
chef's knife
cutting board
measuring cups and spoons
How this recipe came to be, and what I wrote back in 2012:
I've always been one to play with recipes in my kitchen, and this one for chicken pad Thai is no exception.
I took my inspiration from two different places for this dish and married them into one amazing meal!
The first is from a cookbook I've had on my bookshelf for a long time (All You Can Eat Chinese and Thai Cooking), but I don't think I've ever actually cooked from it.
The second is a recipe from Chef Michael Symon of "The Chew." He recently demonstrated for Pad Thai on the show, and I immediately knew I'd soon be making it in my kitchen.
Is this pad Thai recipe authentic?
Nope, but it's tasty!
More about what I wrote about this recipe in 2012:
Before long, I was headed off to the grocery store to pick up my list of Asian ingredients. I was hopeful that the store would have everything I needed, but not so much.

I had to make some substitutions, and I wondered how they would affect the authentic taste of my own Pad Thai.

The store didn't have the specific rice noodles that both the cookbook and Chef Symon used. That's OK; I'll use the buckwheat soba noodles I already have in my pantry.

I couldn't find the fish sauce either, but fortunately, I did have some oyster sauce in my fridge that I hoped would work in a pinch.

Lastly, the store didn't have tamarind concentrate, but they did have some bottled Pad Thai sauce with tamarind in the list of ingredients, so this would have to suffice!

Armed with my cookbook, iPad (for Chef Symon's recipe), and available ingredients, I fired up my wok to get cooking.
Why this recipe works:
The sweetness from the sugar, heat from the red pepper flakes, the light bite from the green onion, and the tang from the lime juice and pad Thai sauce all came together perfectly! SOOOO good!
Be still my heart!!! This Asian-inspired noodle dish was simply THE most flavorful meal to come out of my wok in a long, long time.
Someone had better stop me before I eat the entire contents of the wok all by myself, and I think you'll feel the same way!
It turns out the replacement ingredients didn't hurt the dish's flavor at all. Not one bit!
Good to know for the next time I make this recipe, and you can bet I'll be doing so again soon!
My really bad attempt at humor back in 2012:

So the moral of this story here is - WOK, don't run to the store to purchase the ingredients you'll need to make this most flavorful of Asian dishes. You'll be glad you did!!! 🙂
How long will this homemade chicken pad Thai take to make from start to finish?
It's quicker than take-out. You're looking at approximately 30 minutes from start to dinner.
How many servings does this recipe make?
As written, this recipe makes 4 very large servings.
How long will pad Thai keep in the refrigerator?
You can store pad Thai in an air-tight container in the fridge for up to 3 days.
How to reheat homemade pad Thai:
Add it to a microwave-safe dish (partially covered) with a tiny bit of water and cook on medium power until hot, stirring once or twice as needed.
The step-by-step photos for making my version of Chicken Pad Thai at home:
Assemble the ingredients and preheat the wok (or large skillet) over medium/high heat.
Add peanut oil to the skillet and cook the cut up and seasoned chicken, along with shallots and garlic until no the chicken is no longer pink (approximately 5-6 minutes).
Remove the cooked chicken from the wok and keep warm.
Meanwhile, cook and drain the soba noodles acording to the package directions.
When the soba noodles are drained but still warm, drizzle with a ½ teaspoon of sesame oil and toss well to coat. Set aside and keep warm.
Add additional peanut oil to the hot wok and add the peanuts, pad Thai sauce, and oyster sauce. Stir well.
Add a beaten egg to the hot sauce, stirring constantly, and then add the cooked chicken back into the wok.
Squeeze fresh lime juice over the chicken and add chopped scallions and bean sprouts. Stir well.
To serve, top with additional peanuts, scallions, bean sprouts, and a fresh squeeze of lime juice.
Enjoy.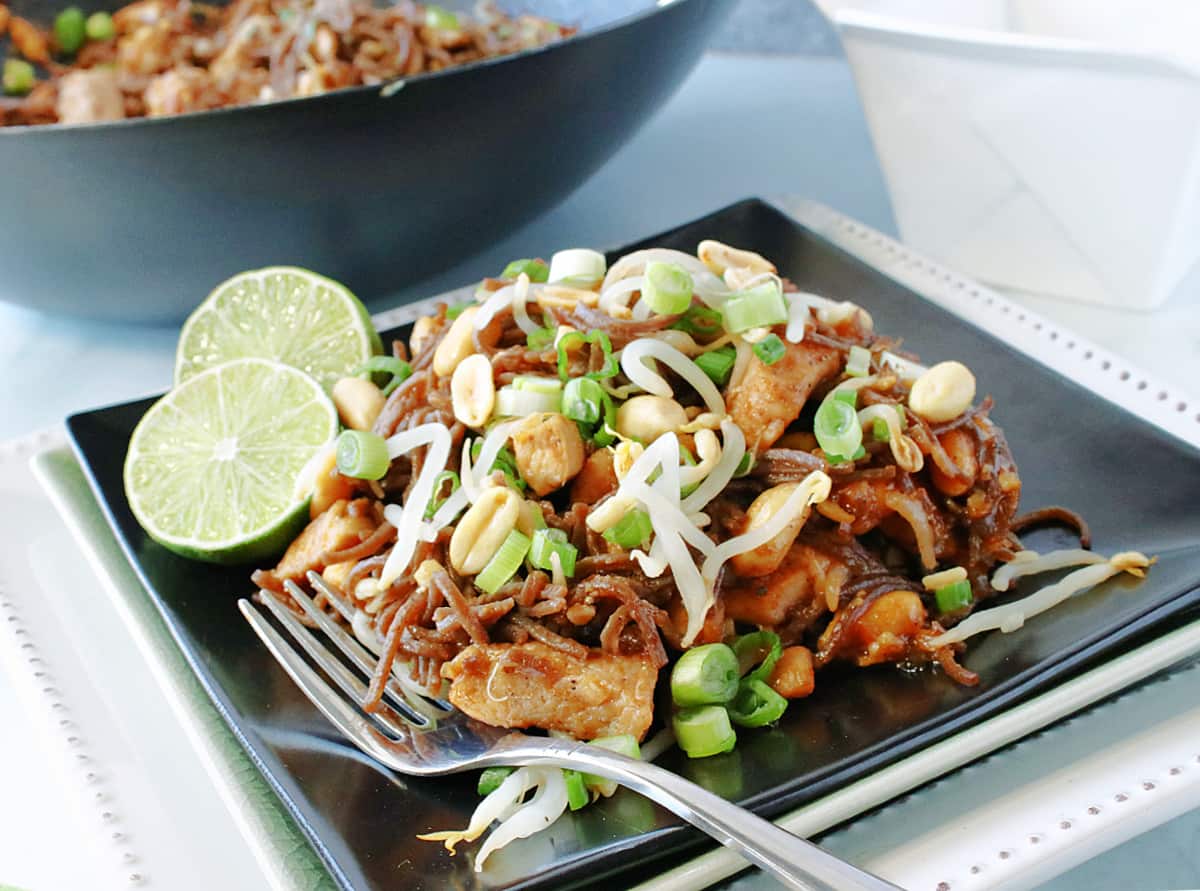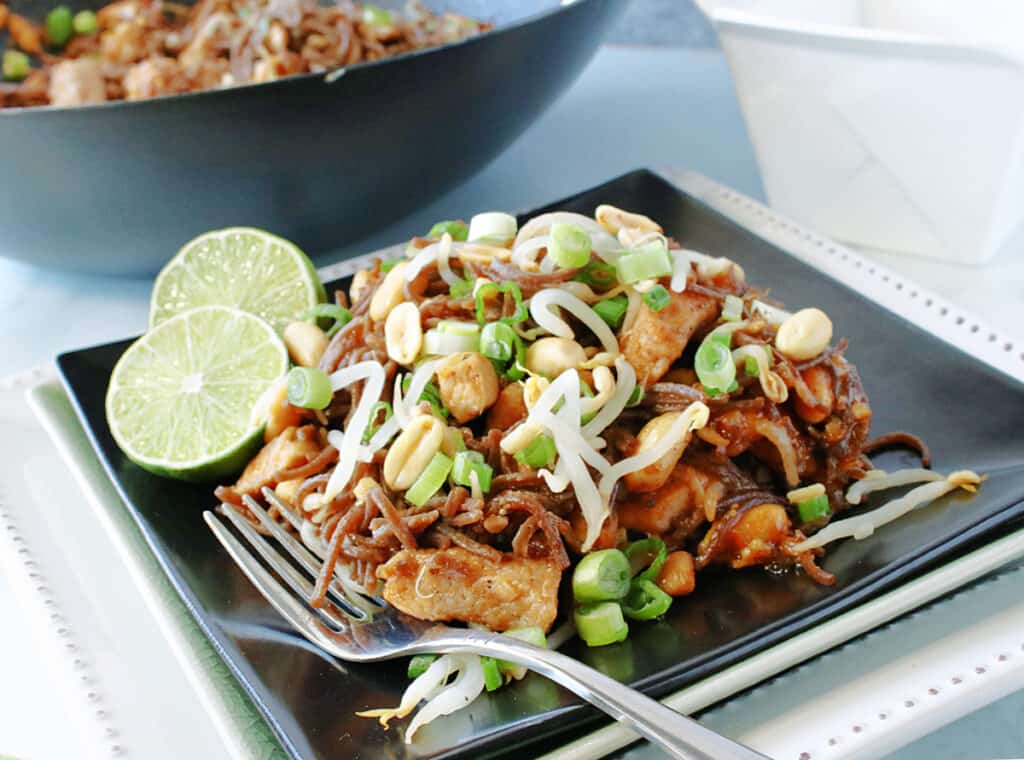 Additional Asian-Inspired recipes:
*Ground Pork Egg Roll Bowl (not shown)
This recipe for a Chinese Ground Pork Egg Roll Bowl is my take on a deconstructed egg roll. In place of the crispily fried eggroll wrapper, I've used chow mein noodles for crunch as a top garnish along with scallions, and chopped peanuts (which are entirely optional).
*Crispy Duck Patties over Asian Cabbage (shown below)
Savory and Sweet. These Crispy Duck Patties have a touch of crunch that surrounds their meaty interior. The tangy Asian Cabbage is the perfect complement to the rich duck meat, and the orange dipping sauce adds just the right amount of sweetness.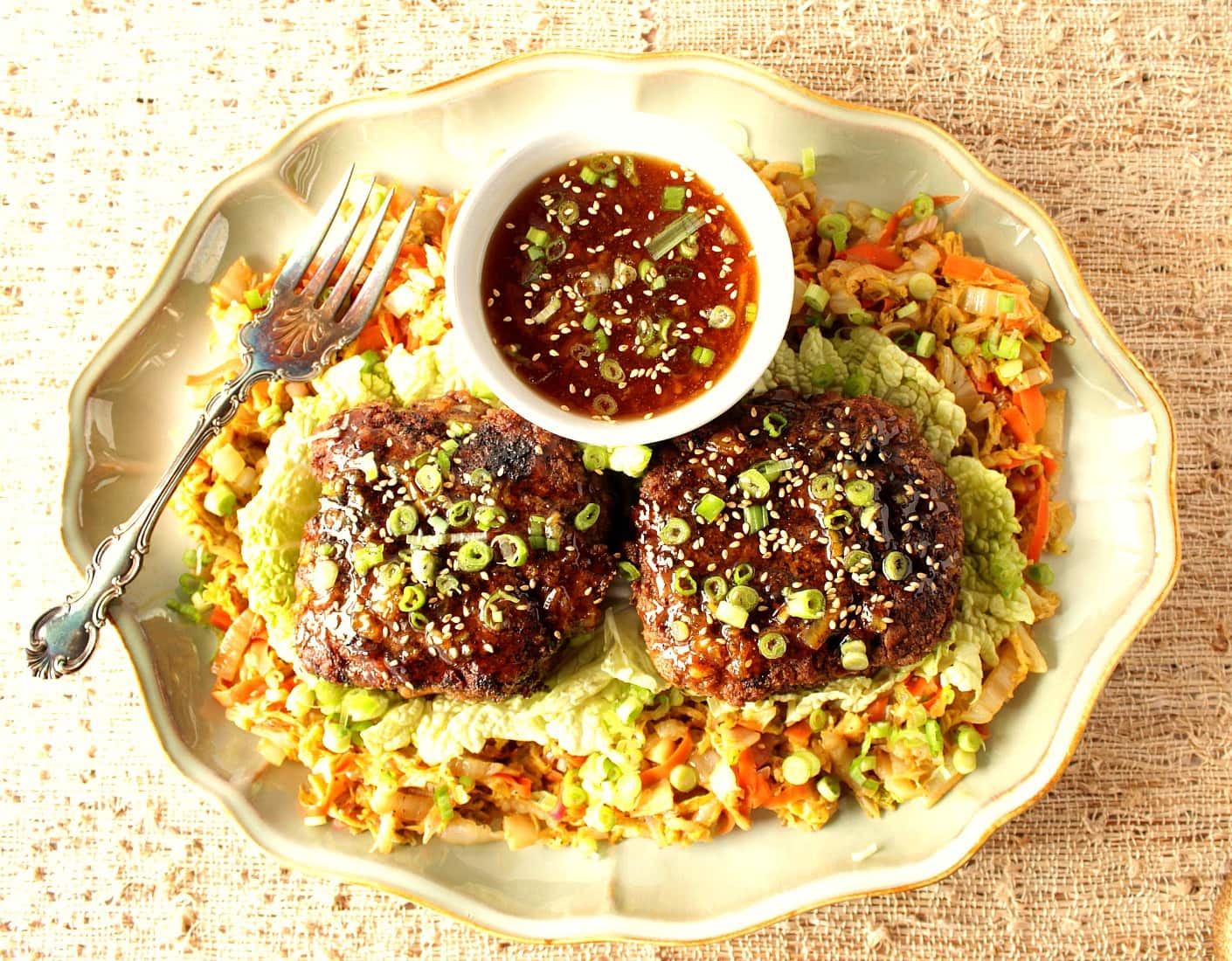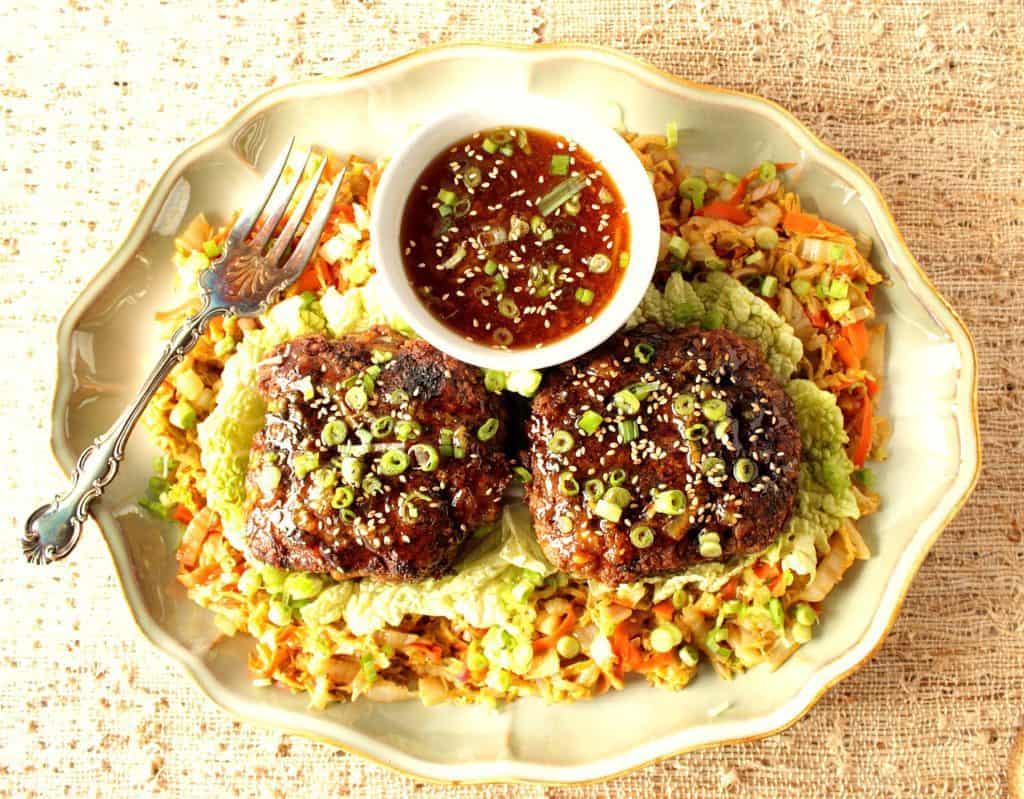 *Chinese Bing Bread (shown below)
Chinese Bing Bread is a yeasted sweet and savory flatbread that's filled with potato, bacon, green onion, and cheese. Topped with soy sauce and sesame seeds, bing bread is best when grilled in a cast-iron skillet for an amazing outer crust, and finished in the oven.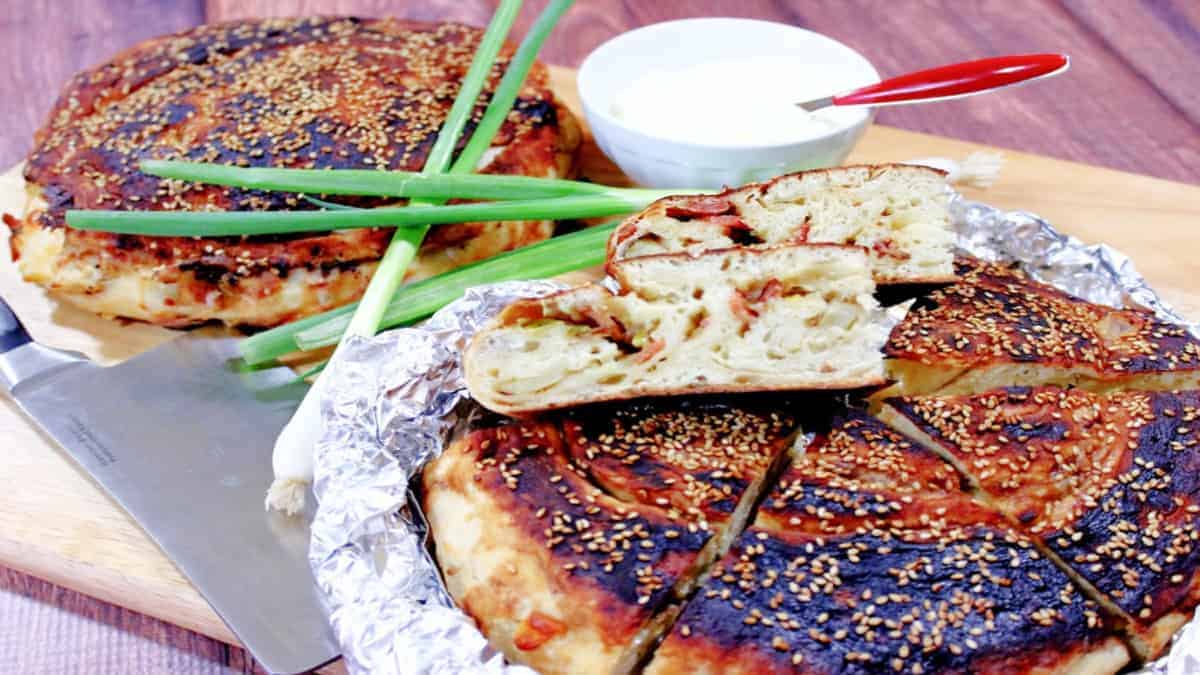 *Asian-Inspired Pork Meatballs (not shown)
These Asian-inspired pork meatballs are relatively light in flavor and texture. The mixture of the pork prepared ponzu sauce gives them a light citrusy flavor, and the teriyaki and ground ginger give them a wonderful mouthwatering bite and slightly spicy flavor.
*Chicken Pad Thai (shown below) THIS IS THE PLACE!!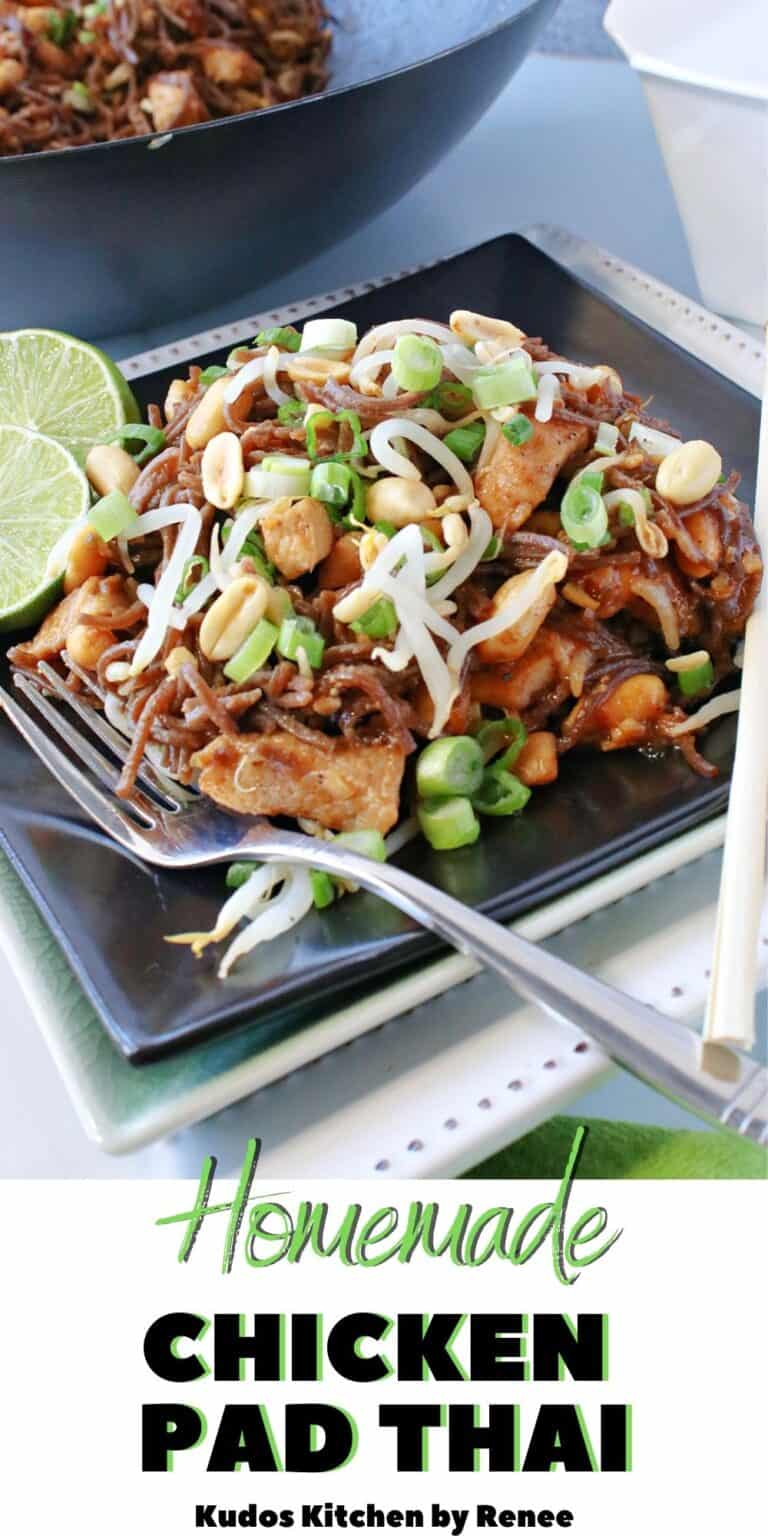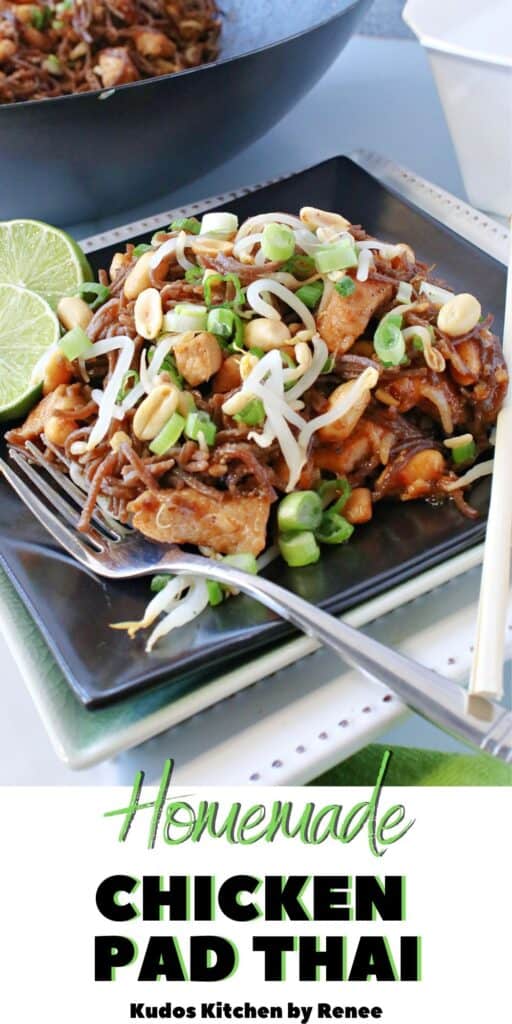 Below is the printable recipe card along with the exact ingredient measurements and nutritional information for making my Kudos Kitchen Style Chicken Pad Thai with soba noodles.
When you make this recipe, and I hope you do, I'd appreciate it if you'd take a moment to leave a star rating on the recipe card and briefly comment on why you rated it as you did. FYI - Google appreciates recipe ratings and, in turn, will share my recipes with more people. Thank you so much!!
Printable Recipe Card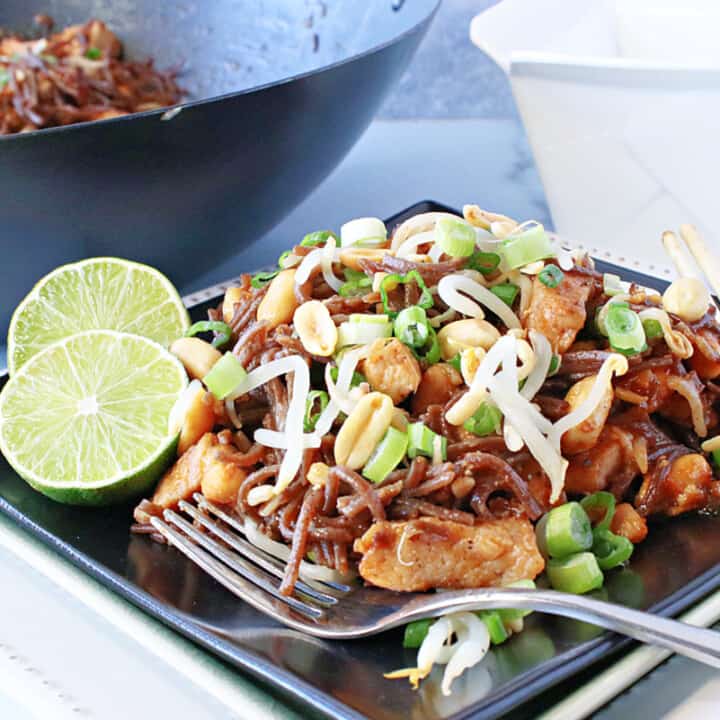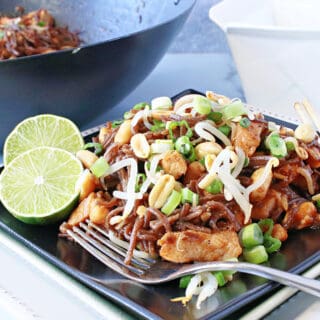 CHICKEN PAD THAI
This easy Chicken Pad Thai combines two Thai noodle recipes I've seen recently and drooled over. This dish is sweet with a bit of heat and utterly delicious!
Ingredients
1

pound

chicken breast or tenders

cut into bite-sized pieces

2

tablespoons

peanut oil

divided

2-3

ounces

soba

buckwheat noodles

5-6

cloves

garlic

minced

2

tablespoons

shallots

minced

½ - 1

cup

peanuts

¼

cup

brown sugar

¼

cup

oyster sauce

6-8

tablespoons

pad Thai sauce

1

teaspoon

red pepper flakes

or to taste

2-3

green onions

chopped

1

egg

beaten

2

limes

1

cup

bean sprouts

plus more for garnish
Instructions
-In a large wok (or skillet) over high heat, add 1 tablespoon of the peanut oil.

-Add the chicken tenders, garlic, shallots, and red pepper flakes, occasionally stirring until the chicken is no longer pink.

-Once cooked, remove the chicken from the wok and keep warm.

-In a large pot, cook and drain the soba noodles according to the package directions. Keep warm.

-Add the remaining peanut oil to the wok along with the peanuts and cook for a few moments, stirring occasionally.

-Add the sugar, oyster sauce, and pad Thai sauce and cook for another few minutes.

-Add the beaten egg to the sauce mixture and stir to thicken slightly.

-Add the chicken back into the wok and stir to combine. Heat thoroughly.

-Add the drained soba noodles and mix well (tongs work well here).

-Remove from the heat.

-Add the juice of 1-2 limes, the bean sprouts, and the green onion to complete. Stir.

-If desired, garnish with additional bean sprouts, peanuts, and green onion before serving.
Notes
Can be stored in the refrigerator for up to 3 days in an air-tight container.
Nutrition
Serving:
1
serving
Calories:
666
kcal
Carbohydrates:
43
g
Protein:
45
g
Fat:
39
g
Saturated Fat:
6
g
Polyunsaturated Fat:
12
g
Monounsaturated Fat:
17
g
Trans Fat:
1
g
Cholesterol:
113
mg
Sodium:
2804
mg
Potassium:
1113
mg
Fiber:
7
g
Sugar:
17
g
Vitamin A:
327
IU
Vitamin C:
17
mg
Calcium:
132
mg
Iron:
4
mg
I sincerely hope you've enjoyed my take on chicken pad Thai as much as I've enjoyed bringing it to you!!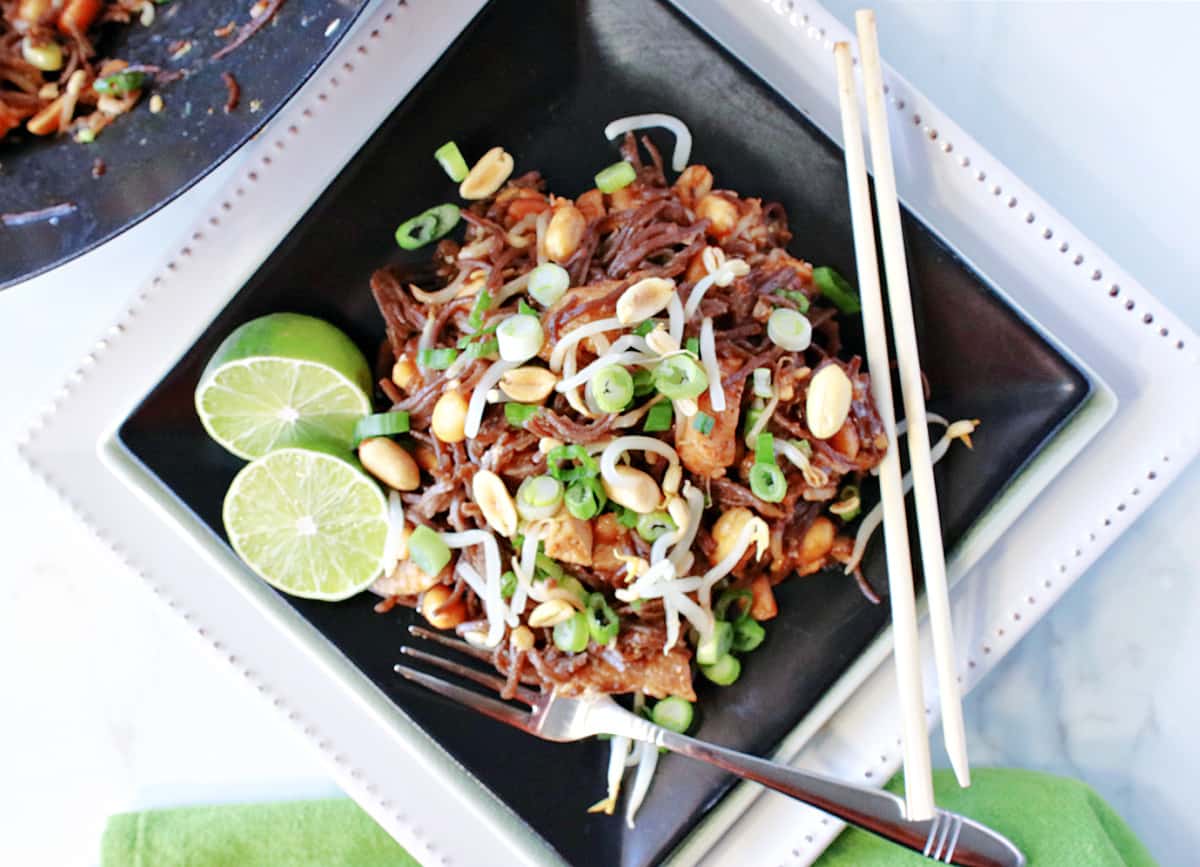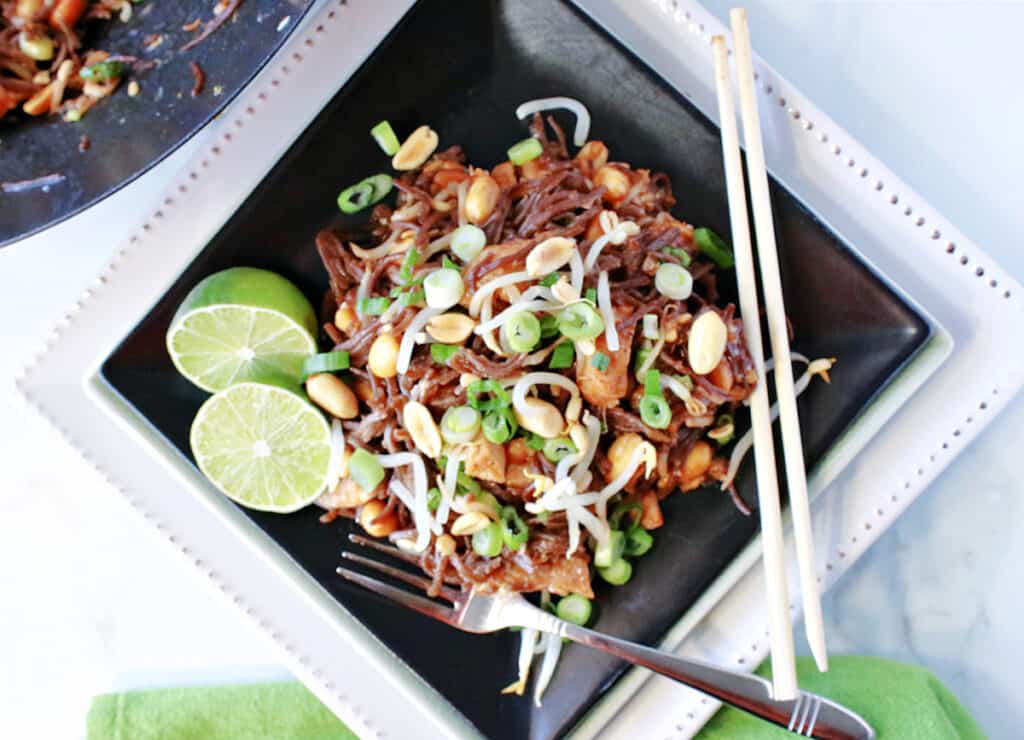 Kudos Kitchen by Renee – Where I joyously bring you easy, economical, and delicious comfort food dishes to feed the people you love!
Until we eat again, I hope you have a delicious day!