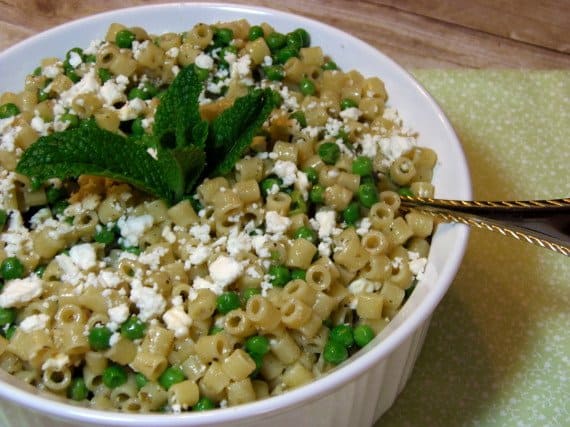 This salad is one of my favorites. What I love about it most (besides it's flavor) is that it can be made in advanced and served cold. It's especially good to serve for a backyard party or BBQ when you don't want a mayonnaise based pasta salad sitting out in the hot summer heat. This salad holds up to everything you can throw at it (or in it) and is always a popular item on the buffet table.
SUMMERTIME PASTA SALAD WITH FETA AND MINT {PRINT THIS RECIPE}
Serves 10-12 Prep time: approximately 15 minutes Chill: 5 hours or overnight


1 box ditalini pasta (or other small shaped pasta of your choosing)
2 cups frozen peas
1/4 – 1/2 cup extra virgin olive oil
3 cloves garlic, minced
2 lemons, zested and juiced (roughly 1 tablespoon zest and 2 tablespoons juice)
1 tablespoon honey
1 teaspoon dried oregano
3 ounces feta cheese, crumbles (I used reduced fat feta)
1 teaspoon salt
1/2 teaspoon pepper
2 – 3 tablespoons fresh mint, chopped (or to taste)
-In a large pot, prepare the pasta according to the package directions (in salted water) and drain.
-Return the drained, hot pasta back into the cooking pot.
-In a microwave safe dish, on medium power, heat the olive oil, garlic, lemon zest and honey until warm but not boiling. Allow the oil to sit for a few minutes to infuse all the flavors.
-Add the frozen peas into the cooked pasta along with the oregano, feta and lemon juice.
-Season with the salt and pepper.
-Add the warmed olive oil mixture into the pasta and stir gently to combine.
-Cover and refrigerate until ready to serve.
-Right before serving, add the chopped fresh mint and stir well to combine.
*Note – This pasta salad also tastes fantastic warm and can be reheated in a microwave before serving. It's important to let the flavors meld and marry so refrigerating it in advance of serving is very important.
Also, if you care to make this more of an entree and not just a side, add in some cooked shrimp and bump up the preparation time slightly to allow for a quick saute of the shrimp (or maybe even add in some canned tuna, if you're a fan).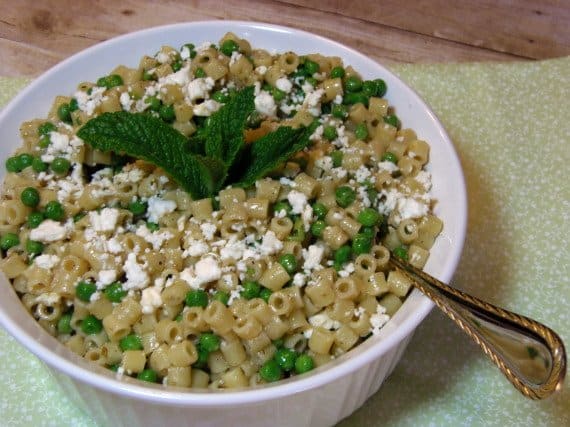 Dig in. I think you're going to love this one!!!
Until we eat again,
Have a lovely day!