Even a newbie to the world of baking can knock these Strawberry Cobbler Bars out of the park, and I'm here to show you how.
You're going to love the flavor of these Strawberry Cobbler Bars. The dough is sweet, but not overly sweet. And the strawberry filling is soft and tart, making it the perfect complement to the crunchy almond topping.
**Please Note – The printable recipe card with detailed instructions, complete ingredient measurements, and nutritional information for making easy strawberry cobbler bars is available at the end of this post. OR you can hit the "jump to recipe" text (below) to be taken directly to the printable recipe.
Jump to Recipe
WANT TO SEE MORE FOOD VIDEOS AND FUN THINGS FROM ME? YES? GREAT!! CLICK THIS BOX TO LIKE AND SUBSCRIBE TO MY KUDOS KITCHEN CHANNEL ON YOUTUBE! I'LL SEE YOU THERE.
The ingredient list:
all-purpose flour
granulated sugar
baking powder
salt
butter
egg
pure vanilla extract
strawberries
strawberry jam
almonds
Kitchen tools and equipment needed:
large bowls
wooden spoon
spatula
whisk
measuring cups and spoons
offset spatula
aluminum foil
8″ x 8″ baking pan
paring knife
cutting board
Why this recipe works?
Beyond the flavor of these bars, what you're really going to love is how fast and easy they are to assemble and bake.
There is no electric mixer required, and the ingredients are some basic refrigerator and pantry staples such as flour, sugar, butter, eggs, strawberry jam, and a handful of fresh strawberries.
These bars are so easy to make that even a novice baker can turn these out like a pro, and then stand back and take a big bow because you'll be hearing some applause.
An easy tip for pan removal and slicing:
A quick tip and trick I used in making these Strawberry Cobbler Bars easy to remove from the baking pan after baking is to line an 8″x 8″ baking dish with aluminum foil and liberally spray the pan (and foil) with baking spray.
Making sure to leave enough foil to overhang on two sides of the pan is the key to being able to grab the foil and gently lift the bars out of the dish and onto a flat surface for additional cooling before slicing the cobbler into bars.
When to serve strawberry cobbler bars?
These easy to make fruit bars would be perfect to serve a small gathering for breakfast, lunch, dinner, or even brunch.
They'd also be perfect to whip up for a Mother's Day celebration, or, with the addition of a few fresh blueberries, they'd make a delicious red, white, and blue patriotic dessert for Memorial Day or the Fourth of July. Can't you just picture it?
Below is the printable recipe card along with the exact ingredient measurements and nutritional information for making today's easy strawberry dessert bars.
Thank you so much for visiting me here today in my Kudos Kitchen!
I sincerely hope you've enjoyed today's easy strawberry cobbler bars recipe as much as I've enjoyed bringing it to you!
Kudos Kitchen by Renee – Bringing you easy, economical, and delicious dishes to feed the people you love!
Until we eat again, I hope you have a delicious day!!
Should you have any questions or comments regarding this recipe or anything else you've seen on my site, please don't hesitate to reach out to me. It is always my distinct pleasure to get back with a reply just as soon as I possibly can!
Kudos Kitchen by Renee – Bringing you easy, economical, and delicious dishes to feed the people you love!
Until we eat again, I hope you have a delicious day!!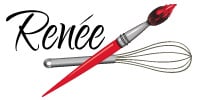 **Note – The post above includes affiliate links. As always, I truly thank you for your support!