Even a newbie to the world of baking can knock these Strawberry Cobbler Bars out of the park, and I'm here to show you how.
You're going to love the flavor and ease of these Strawberry Cobbler Bars. The dough is sweet, but not overly. And the strawberry filling is soft and tart, which is the perfect compliment to the crunchy almonds and sugar sprinkled topping that ever so lightly kisses these delicious dessert bars.
Beyond the flavor of these bars, what you're really going to love is how fast and easy they are to assemble and bake. There is no electric mixer required, and the ingredients are basic refrigerator and pantry staples such as flour, sugar, butter, eggs, strawberry jam and a handful of fresh strawberries. These bars are so easy to make that even a novice baker can turn these out like a pro, and then stand back and take a big bow because you'll be hearing some applause.
I made you a quick video to show you just how simple they are to make. I hope you enjoy it. Subscribe to my YouTube channel.
A quick tip and trick I used in making these Strawberry Cobbler Bars easy to remove from the baking pan after baking is to line an 8″x 8″ baking dish with aluminum foil, and liberally spray the pan (and foil) with baking spray. Making sure to leave enough foil overhang on two sides of the pan is the key to being able to grab the foil and gently lift the bars out of the dish and onto a flat surface for additional cooling before slicing into bars.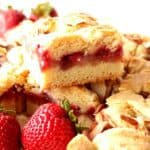 Strawberry Cobbler Bars
Ingredients
1

cup

all-purpose flour

½

teaspoon

baking powder

½

teaspoon

salt

½

cup

butter

1 stick softened butter

½

cup

granulated sugar

plus 1 tablespoon for topping

1

egg

1

teaspoon

pure vanilla extract

½

cup

strawberry jam or preserves

7-8

fresh strawberries

sliced

2

tablespoons

sliced almonds
Tools and equipment
8

x 8" baking dish

aluminum foil

baking spray

1

small bowl

1

large bowl

whisk

wooden spoon or spatula

off set spatula

optional
Instructions
Line the baking dish with the aluminum foil making sure to leave a few inches on two ends of the foil to grab and lift after the bars are fully baked.

Liberally spray the dish and the foil with baking spray. Set aside.

In a small bowl, whisk together the flour, baking powder, and salt.

In a large bowl, whisk together the butter, egg, and vanilla until combined. Add ½ cup of granulated sugar and whisk until smooth and creamy.

Switch to a wooden spoon or spatula and stir the flour mixture into the butter and sugar mixture until a smooth, soft dough forms.

Spoon half of the dough into the prepared baking dish and with a spoon or offset spatula, smooth the dough evenly over the bottom of the pan.

Place the strawberry jam over the crust layer of the bars, and use a spoon or offset spatula to evenly spread the jam over the dough.

Top the jam with an even layer of sliced strawberries.

Use the remaining dough to evenly dollop over the entire top of the strawberries.

Sprinkle the top of the dough with the sliced almonds and 1 tablespoon of granulated sugar.

Bake in a preheated oven for 40-45 minutes or until the dough is golden brown.

Remove from the oven and cool on a wire rack for 30 minutes.

Remove the cobbler bars from the semi-cooled pan by gently lifting, using the aluminum foil excess on the opposite sides of the pan.

Place the semi-cooled bars on a flat surface and allow to cool completely.

Slice, serve, and enjoy!
Recipe Notes
If you don't have an offset spatula, the back of a spoon will work equally as well.
To make these bars patriotic themed, add a few fresh blueberries along with the sliced strawberries and continue as written in the recipe.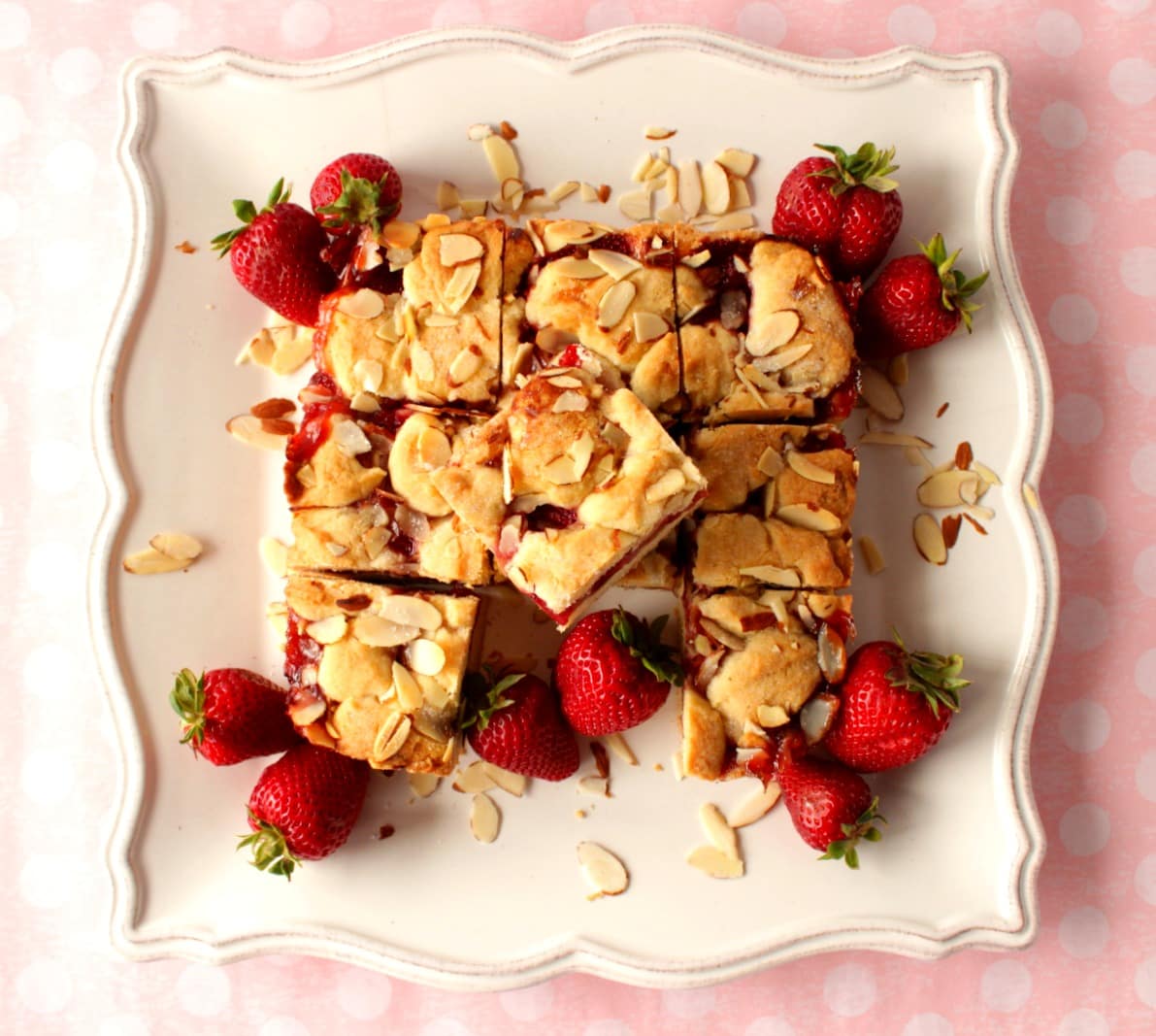 These easy to make Strawberry Cobbler Bars would be perfect to serve a small gathering for breakfast, lunch, dinner, or even brunch. They'd also be perfect to whip up for a Mother's Day celebration, or, with the addition of a few fresh blueberries, they'd make a delicious red, white, and blue patriotic dessert for Memorial Day or the Fourth of July. Can't you just picture it?
I've decided to coordinate today's recipe with this "I like to WINE when I bake!" hand painted wine glass because I think it's funny and appropriate (if you're over 21 of course). Each and every item I paint is completely painted to order and unique. Custom glassware is always available, and each and every glass I paint comes in its own gift box, making them perfect for gifting. Together, we give the gifts that people remember!
If there is ever anything I can paint for you, from glassware to fabrics, please don't hesitate to contact me or visit one of my shops. You can find me on Etsy, Wazala, and my new location: Kudos Kitchen Paints. Special, custom orders are always available, and I will happily paint and design from any photo, idea, or description you send my way.
Kudos Kitchen by Renée ~ Where food, art, and fun collide each and every day!
Until we eat again, I hope you have a delicious day!