Grab your spoon and get ready. This Root Beer Ice Cream tastes just like a root beer float, minus the straw and foam, which I know are a lot of fun, but this is serious business, people! We've got root beer-flavored ice cream to eat!!!
I wanted to come up with an ice cream flavor my dad would truly enjoy. I'm pleased to say that this root beer ice cream was a winner in his book. I hope you'll enjoy it as much as he did.
I originally shared this recipe in 2014. I've recently updated this post with additional information, including a recipe card (complete with nutritional information), but the recipe itself has remained unchanged.
Jump to:
The ingredients for making churn-style root beer ice cream:
*Please note that the exact measurements along with a new "shop the recipe" feature from Instacart is available in the printable recipe card.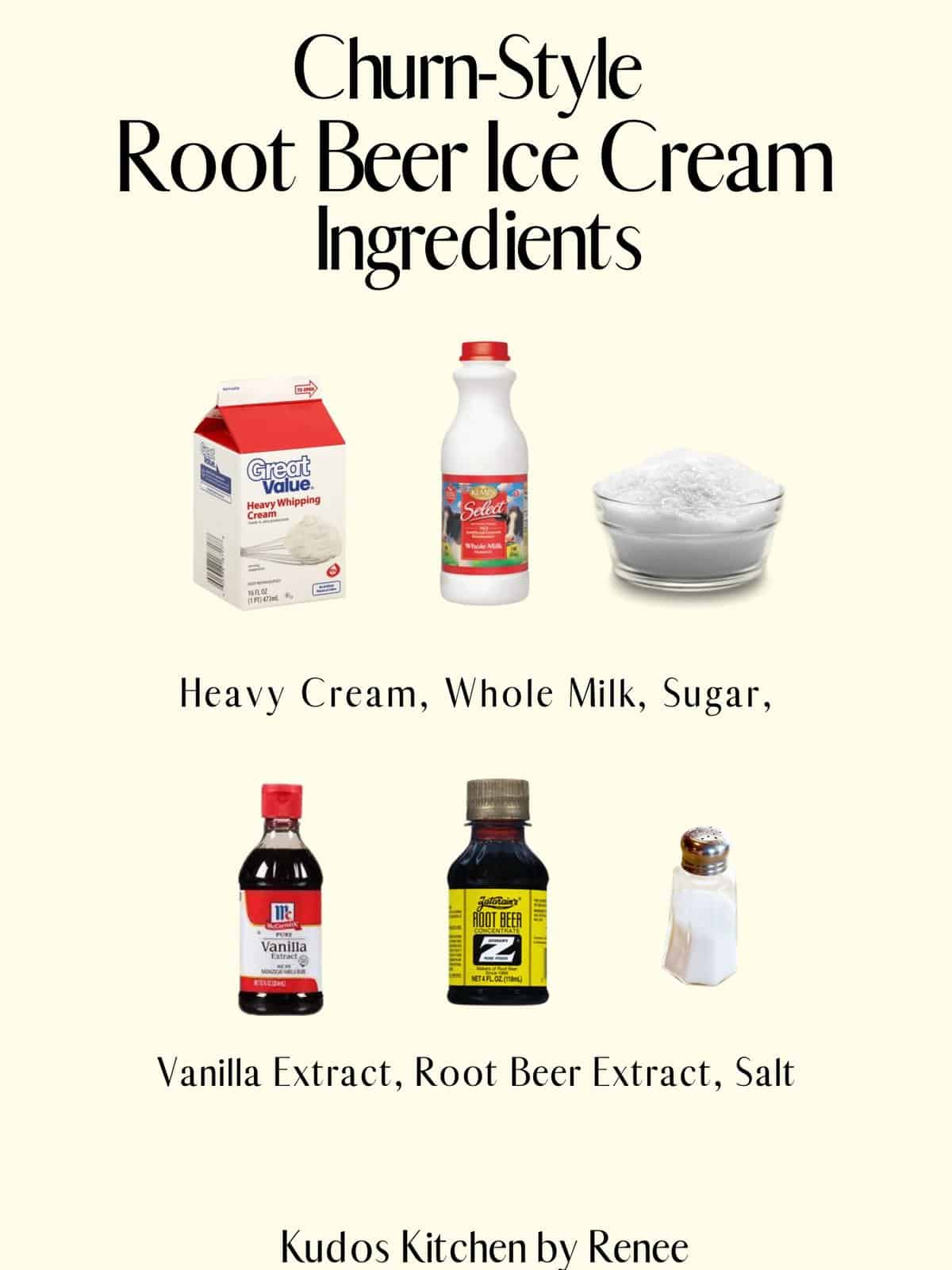 The ingredients for making no-churn root beer ice cream:
The above ingredient image was made using Canva Design. It's one of my very favorite design tools. You don't need to be a food blogger to use Canva. All you need to be is someone who loves designing graphics. Check them out if you're interested and a whole new world of artistic expression will be opened to you.
How this recipe came to be:
My dad was a major root beer lover!
Floats, pop, candy barrels, Popsicles, and this ice cream.
I created this recipe for him.
Can this ice cream be made without an ice cream churn?
It sure can! The key to this ice cream is the root beer extract. As long as you use that, the churn-style or no-churn method won't make much of a difference. The real question is, how long are you willing to wait for your ice cream? LOL
What is the difference between churn-style ice cream and no-churn ice cream?
Basically, it's the sugar and the amount of time required for each style of ice cream. Churn-style requires more time to make, and no-churn requires much less.
Churn-style ice cream uses granulated sugar, whipped (and dissolved) into whole milk, heavy cream, and specific other ingredients, depending on your flavor. Once the ice cream base is ready, it gets poured into the frozen drum of an ice cream maker, where it will spin, churn, and freeze for several hours. The ice cream can be eaten immediately or stored in an airtight container in the freezer until ready to serve.
A no-churn style ice cream is much quicker to make because it doesn't require an ice cream maker and because the sugar has already been added and dissolved (in the form of sweetened condensed milk). Once the heavy cream is whipped, the other ingredients get gently folded into the cream, and from there, the no-churn ice cream goes directly to the freezer.
How to make no-churn root beer ice cream
The ingredients and method are slightly different than making churn-style.
You'll need 2 cups of heavy cream, 1 can (15 ounces) of sweetened condensed milk, and ¼ cup (2 fluid ounces) of root beer extract (yes that does, in fact, say ¼ cup of root beer extract. It is not a typo).
Whip the heavy cream until voluminous and thick. Using a stand mixer with a whip or hand mixer on high speed is the quickest way to do this but whisking by hand using elbow-grease is a great cardio workout.
Once the cream is thick and whipped, gently fold in the sweetened condensed milk, root beer extract, and a pinch of salt until completely incorporated.
Pour the ice cream mixture into a freezer safe container, cover, and freeze for at least 4 hours (minimum) or until you reach your desired frozen consistency.
Additional churn, and no-churn, ice cream recipes:
Churn-Style Vanilla Malted Ice Cream is a wonderful combination of white chocolate, and a vanilla malted milkshake. The flavor is out of this world delicious!!
No-Churn Banana Walnut Ice Cream is a favorite for people who love bananas, toasted walnuts, caramel, and vanilla wafers. It's utterly delicious!!
Churn-Style Maple Pistachio Ice Cream is simply the best ice cream flavor there is! I promise that every spoonful will make you swoon with delight!
Smooth, creamy, and super flavorful! This No-Churn Cherry Chunk Amaretto Ice Cream will soon become your new favorite ice cream flavor! I guarantee it!
⭐If you've made this recipe, or are excited to make this recipe, I'd appreciate it if you'd take a moment to leave it a star rating on the recipe card, along with a comment of why you rated as you did.
Google loves ratings and will show my recipes to more people if they have them. Thank you. 🙂
Printable Recipe Card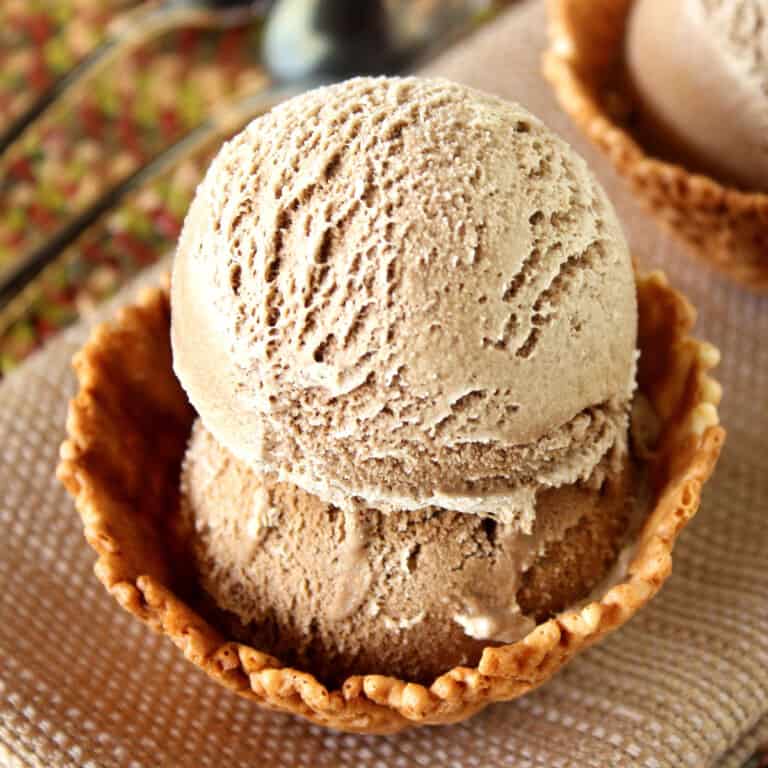 ROOT BEER ICE CREAM
Grab your spoon and get ready. This Root Beer Ice Cream tastes just like a root beer float, minus the straw and foam. This recipe can be made in an ice cream maker or no-churn style. See the notes for how to make no-churn root beer ice cream.
Ingredients
2

cups

heavy cream

3

cups

whole milk

¾

cup

granulated sugar

2

teaspoons

pure vanilla extract

¼

cup

root beer extract

I used Zatarain's

pinch

of salt
Instructions
-In a large bowl with a hand mixer, or the bowl of a stand mixer, whisk together the heavy cream and milk on low speed.

-Add in the remaining ingredients and gradually increase the speed to medium. Whisk about 3-5 minutes to make sure the sugar is dissolved.

-Pour the mixture into an ice cream maker and follow the manufactures instructions to freeze (at least 2 hours).

-Eat at once for soft serve or transfer to a covered container and freeze again to form firmer ice cream.
Notes
To make no-churn root beer ice cream (yield 4 cups):
2 cups heavy cream
1 can (15 ounces) sweetened condensed milk
1 teaspoon pure vanilla extract
¼ cup (2 ounces) root beer extract
pinch salt
In a large bowl, whip the heavy cream until thick and creamy. Fold in the sweetened milk, vanilla, root beer extracts, and salt until thoroughly combined. Pour into a freezer safe container, cover, and freeze for at least 4 hours.
Nutrition
Serving:
1
cup
Calories:
335
kcal
Carbohydrates:
26
g
Protein:
5
g
Fat:
24
g
Saturated Fat:
15
g
Polyunsaturated Fat:
1
g
Monounsaturated Fat:
6
g
Cholesterol:
78
mg
Sodium:
52
mg
Potassium:
196
mg
Sugar:
26
g
Vitamin A:
1023
IU
Vitamin C:
0.4
mg
Calcium:
152
mg
Iron:
0.1
mg
I hope you've enjoyed today's delicious root beer ice cream recipe as much as I've enjoyed bringing it to you!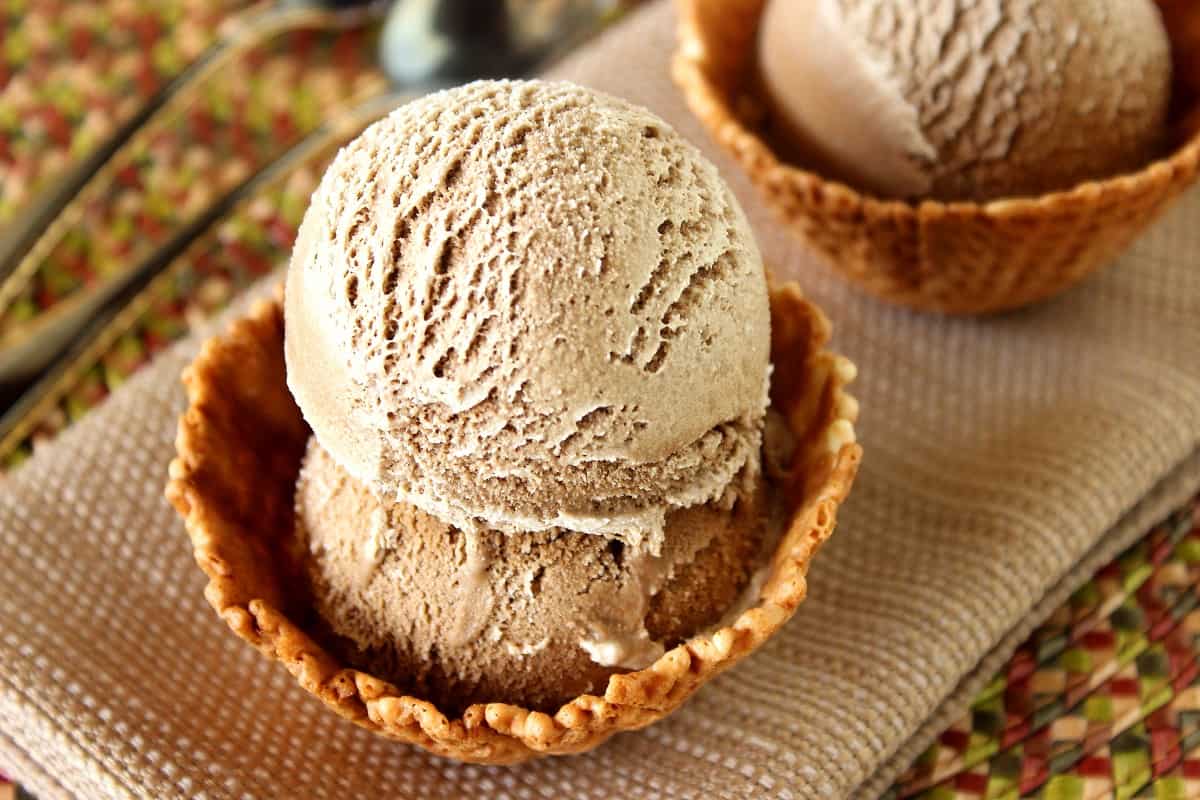 Follow me across my social media platforms and join in on the conversation: FACEBOOK, INSTAGRAM, PINTEREST, TIKTOK, AND YOUTUBE.
Thank you so much for visiting me today in my Kudos Kitchen. I hope you found something you'll love and that you'll come back and visit me often. There is always room for you around my table!
Should you have any questions or comments regarding anything you've seen here on my blog, please don't hesitate to reach out to me. It is always my distinct pleasure to respond to you just as soon as I possibly can.
Until we eat again, I hope you have a delicious day!!