OM Gosh! If you let another summer pass you by without making this Maple Pistachio Ice Cream..., what are you thinking?!! It's simply the best ice cream flavor there is! I promise every spoonful will make you swoon with delight!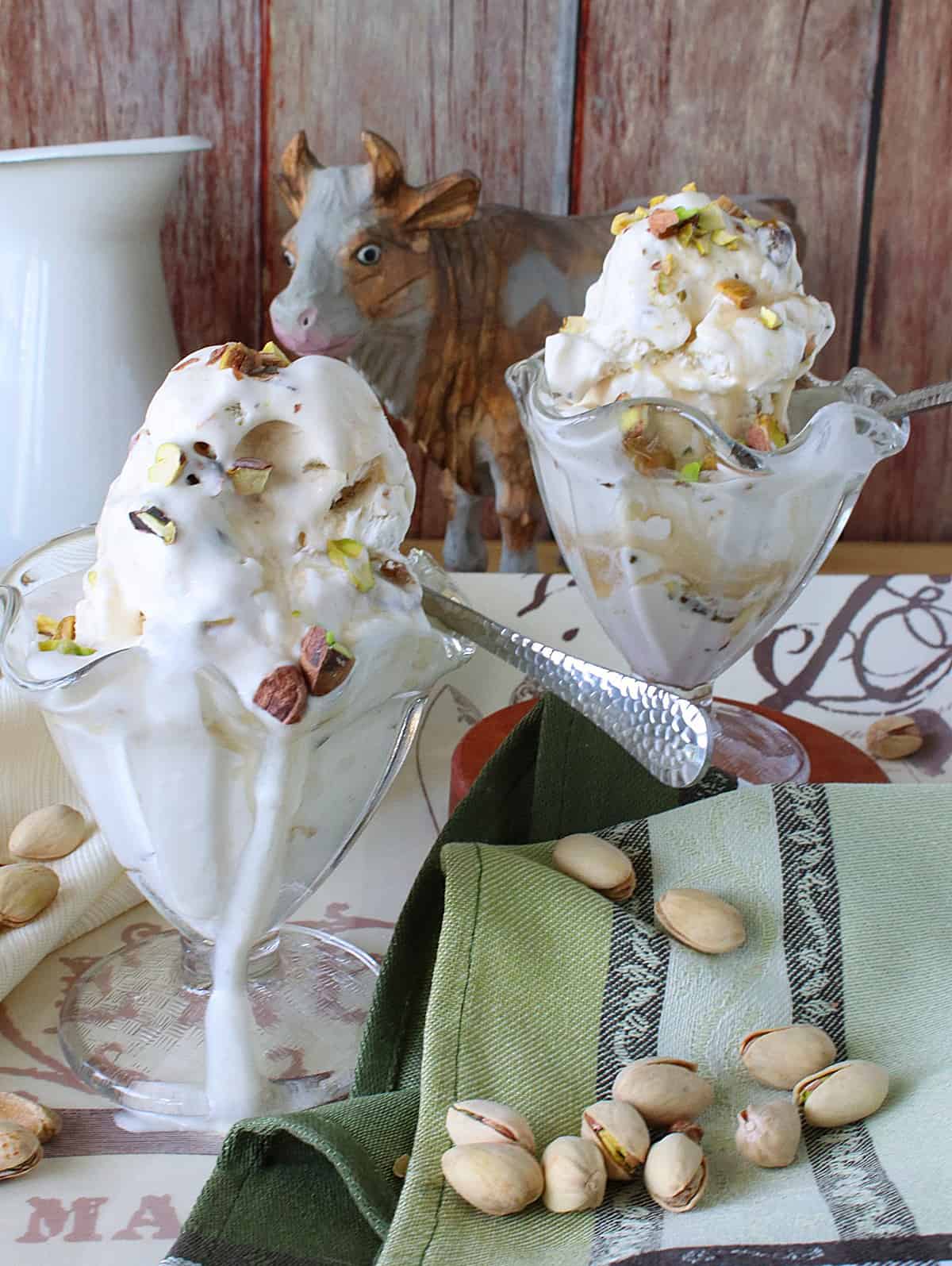 I originally shared this recipe back in 2012, but it high time I updated, refresh, and expand upon the way in which you can make this amazing ice cream.
I do hope you'll try this Maple Nut Ice Cream and let me know what you think. You have my word that this will be the best ice cream flavor you've ever made (or eaten) ... or your money back! LOL
Jump to:
The ingredient list
*Please note that the exact measurements along with a new "shop the recipe" feature from Instacart is available in the printable recipe card.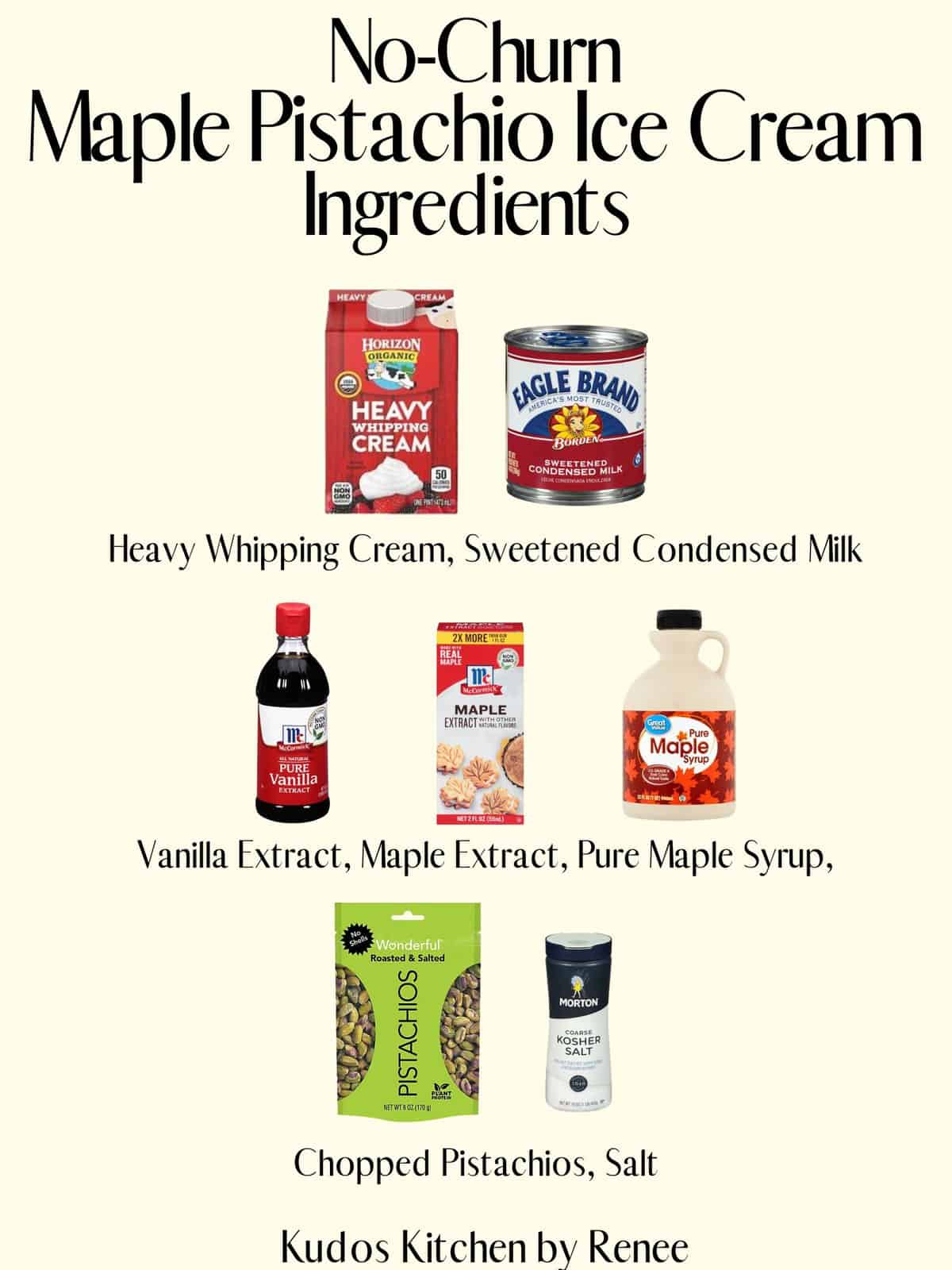 Ingredient information:
HEAVY WHIPPING CREAM - Don't skimp on the ingredients when it comes to creamy ice cream. Heavy whipping cream is essential to making ice cream, and trying to use half and half just won't cut it.
SWEETENED CONDENSED MILK - This is the ingredient that provides the sweetness as opposed to using granulated sugar. The sugar in sweetened condensed milk has already dissolved, so it quickly combines into the ice cream base.
PURE VANILLA EXTRACT - Use the best you can afford. A vanilla paste will also work in this recipe if you prefer.
MAPLE EXTRACT - Here's where all the maple flavor comes from. You can adjust the maple extract used in this recipe to meet your tastes. Start with what's called for in the recipe and taste. If you prefer a more significant hit of maple flavor, add more. The choice is yours.
CHOPPED PISTACHIOS - There is nothing like the flavor of pistachios. You can purchase them already shelled and chop them using a chef's knife and a cutting board or a nut chopper. I like my pistachios on the chunky side for this ice cream, so I did a very rough chop. Feel free to chop your nuts into smaller pieces if you prefer.
SALT - It may seem counterintuitive in a dessert, but salt helps balance sweetness and also intensify flavors. Ice cream without salt wouldn't be nearly as good. Please don't leave it out. It may be only a tiny amount, but its impact is immeasurable!
PURE MAPLE SYRUP - I used pure maple syrup to drizzle over the top of the ice cream base before it went into the freezer. I also drizzled it over the ice cream before serving to gild the lily. YUM!!
Pure maple syrup vs imitation maple syrup
You may be shocked to learn that imitation maple syrup (i.e., Log Cabin or Mrs. Butterworth's) is mainly corn syrup flavored with maple extract. It tends to be clawingly sweet and includes false additives.

Pure maple syrup comes straight from the sap of maple trees. Tapping maple trees to obtain and make pure maple syrup takes much time and effort, but the flavor is far superior to that of imitation syrup.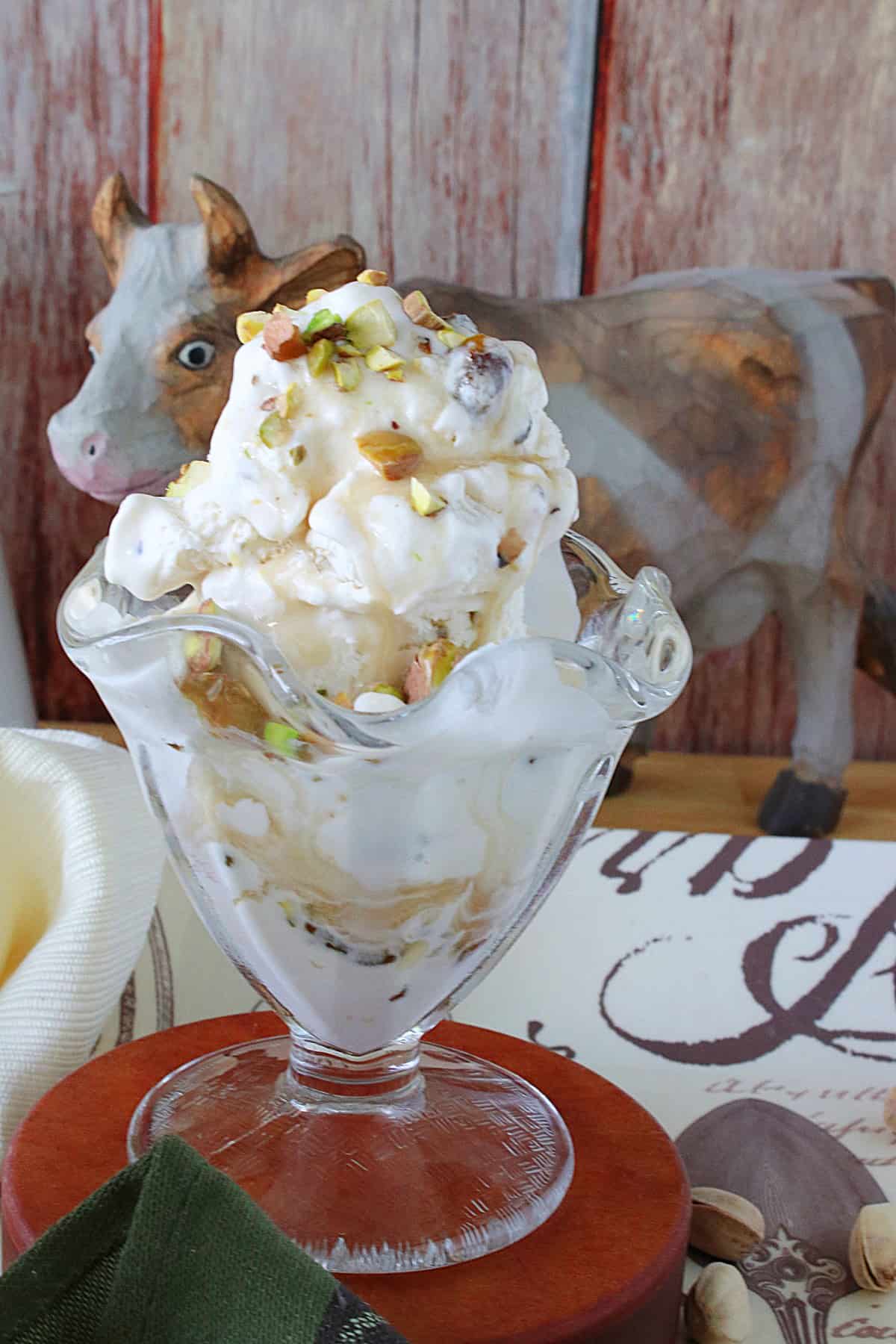 To churn or not to churn? That is the question.
There was a time not all that long ago when making ice cream at home required an ice cream maker (churn).
When I originally published this recipe back in 2012 no-churn ice creams had yet to make the scene, so I made this frozen dessert using a churn.
Now, thankfully, there has been a very large influx of no-churn ice cream recipes, which are all the rage. No longer do you need a loud, clunky machine running for hours and hours on your kitchen counter or in the backyard.
Today I'm re-sharing this ice cream recipe with both methods of preparing it because it's an ice cream flavor you simply HAVE to have in your life.
I apologize in advance that I can only use the recipe card feature for one of these two ice cream methods, or it will confuse Google. Since the No-Churn Maple Pistachio Ice Cream is the newer and updated recipe I've chosen that method to feature with the printable recipe card (find it below).
If you're interested in the churn method, you'll have to go old-school and copy, paste, and print. Or you can get out the old pencil and paper (which is still my preferred way of doing things). LOL
What I wrote about this recipe in 2012:
If you don't own an ice cream maker, run, don't walk, to purchase one right away so you can make this amazing maple pistachio ice cream!
I was truly amazed at how fast, easy, and fun making your own ice cream can be!
I can hardly wait to experiment with all sorts of flavor combinations. Ben and Jerry, you'd better watch your back!
The first flavor I christened my machine with was one that will make your eyes roll back in your head and give a little groan of delight.
(The following photo is one I took of Churn-Style Maple Pistachio Ice Cream back in 2012).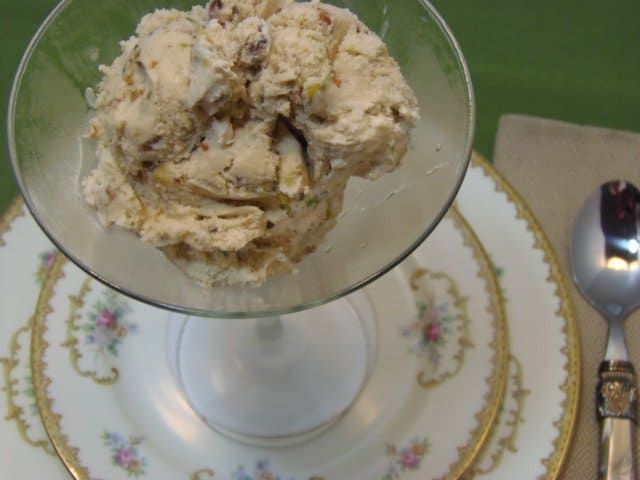 Churn-Style Maple Pistachio Ice Cream Recipe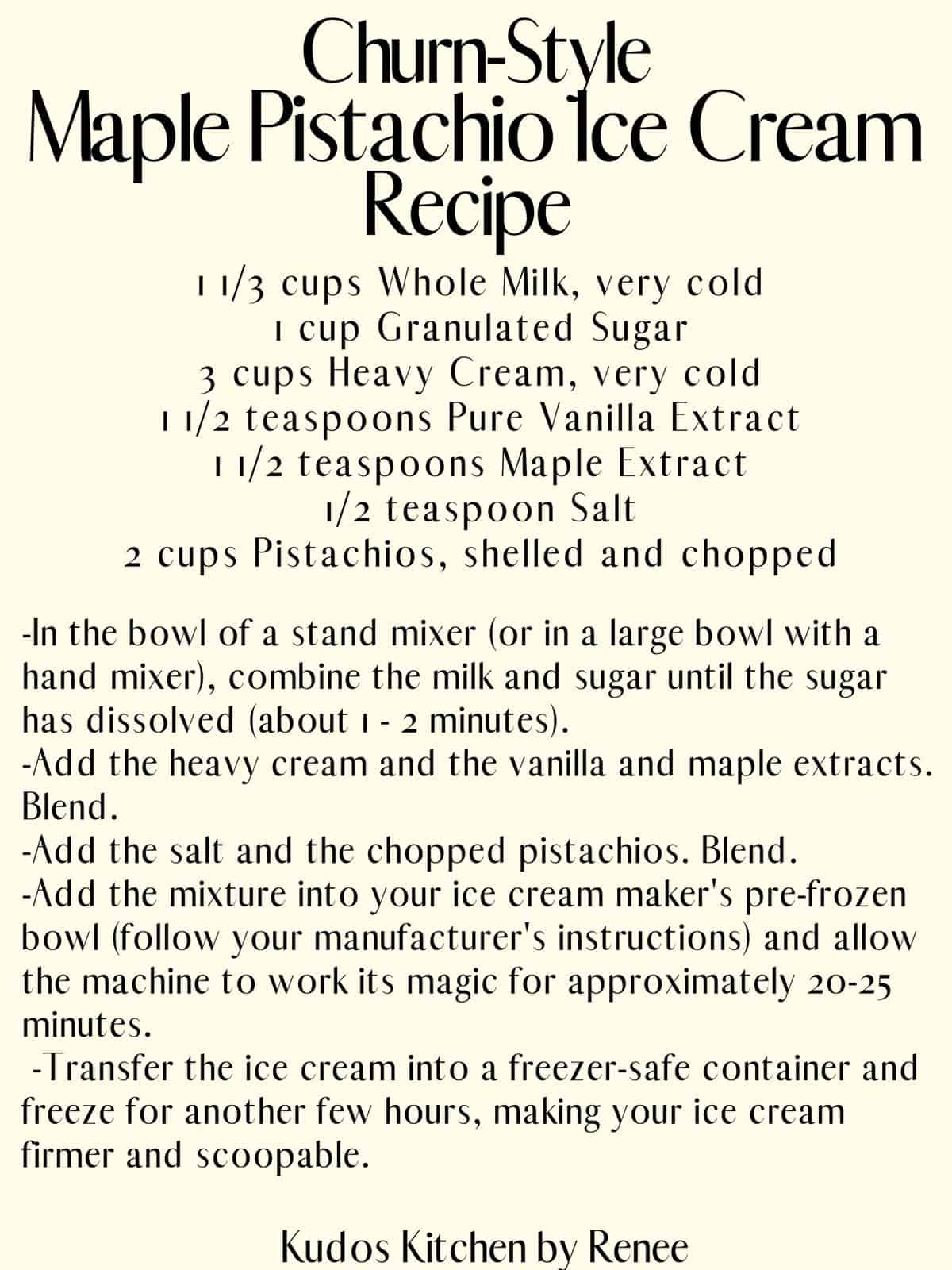 Note - The printable recipe card for No-Churn Maple Pistachio Ice Cream can be found further down below.
Top tips for success:
Always refrigerate the ingredients and the mixing bowl before making ice cream for easier and faster whipping.

Always start whipping on low speed, and as the cream begins to thicken, increase the speed to high to avoid splatter.

Gently fold in the nuts and additional extracts (if needed), making sure not to lose the volume of the whipped cream.

Taste the mixture before freezing; if more maple extract is needed, it is time to fold it in before freezing. Start slowly and add more as you need. Remember, you can always add more but can't remove it.

Store the ice cream in a shallow container instead of a tall one for faster freezing.
Cover the container well and freeze for at least 4 hours, but overnight is best.
Can other nuts be used besides pistachios?
Yes, of course. Chopped pecans would be amazing as would walnuts.
Can imitation maple syrup be used in place of pure maple syrup for the topping?
It can, but as stated above, the end product will run the risk of being overly sweet.
Please use it sparingly.
How much ice cream does this recipe make?
As written this recipe makes approximately 8 cups of ice cream. You can easily double or even triple the recipe by making it in batches.
Additional ice cream recipes:
If you're looking for a new frozen taste sensation that will knock your socks off, look no further. This unbelievably delicious No-Churn Roasted Sweet Corn Ice Cream will do just that!
Grab your spoon and get ready. This Root Beer Ice Cream tastes just like a root beer float, minus the straw and foam, which I know are a lot of fun, but this is serious business, people! We've got root beer-flavored ice cream to eat!!!
Chocolate and cherry lovers will go crazy for this creamy and delicious no-churn recipe for Chocolate Cherry Kahlua Ice Cream.
When you make this recipe, and I hope you do, I'd appreciate it if you'd take a moment to leave a star rating on the recipe card and briefly comment on why you rated it as you did. FYI - Google appreciates recipe ratings and, in turn, will share my recipes with more people. Thank you so much!!
Printable Recipe Card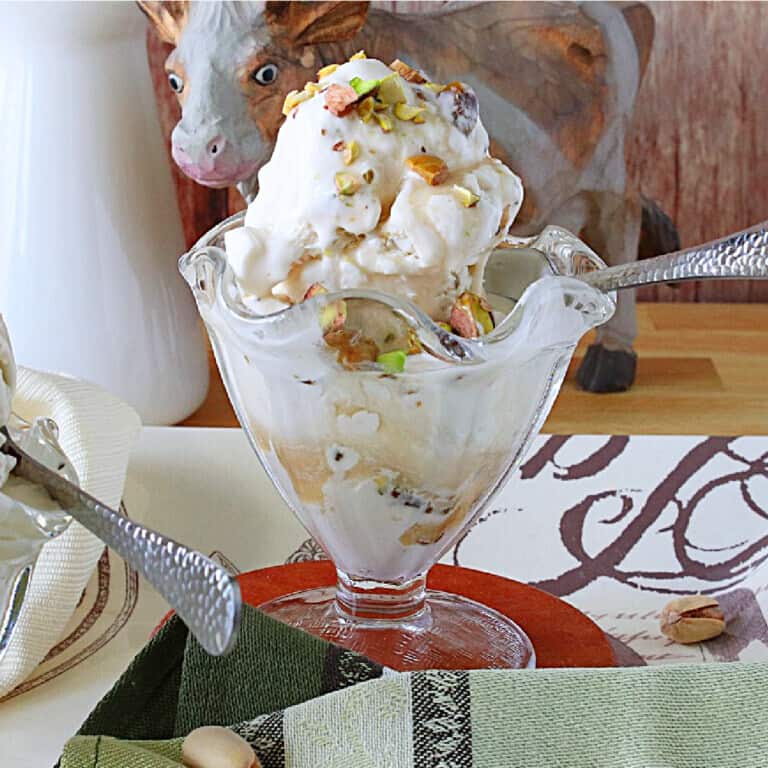 Maple Pistachio Ice Cream (churn and no churn)
OM Gosh! If you let another summer pass you by without making this Maple Pistachio Ice Cream..., what are you thinking?!! It's simply the best ice cream flavor there is! I promise every spoonful will make you swoon with delight!
Ingredients
4

cups

heavy whipping cream

well chilled

1

can (14 ounces)

sweetened condensed milk

well chilled

8

ounces

pistachios

shelled and chopped

1

teaspoon

pure vanilla extract

2

tablespoons

maple extract

⅛

teaspoon

kosher salt

¼

cup

pure maple syrup

optional, plus additional for serving
Instructions
Add the cold heavy whipping cream to a large bowl and use a stand mixer (or hand mixer) to whip the cream until double in volume. This will take approximately 2-3 minutes. *Note - start on low speed and increase the speed to high as the cream thickens to avoid splatter.

Once whipped, add the sweetened condensed milk, salt, maple, and vanilla extracts to the whipped cream and blend again until combined.

Gently fold in the chopped pistachios. Taste and adjust the maple flavor by adding additional maple extract if needed to suit your taste.

Pour the ice cream base evenly into a freezer container and drizzle with pure maple syrup.

Cover and freeze for at least 4 hours, but overnight is best.

Scoop, and drizzle with additional maple syrup and chopped pistachios before serving, if desired.
Video
Notes
Maple Pistachio Ice Cream can stay fresh in the freezer for up to 2 months if covered well or stored in an airtight freezer container.
Nutrition
Serving:
1
serving
Calories:
593
kcal
Carbohydrates:
18
g
Protein:
9
g
Fat:
56
g
Saturated Fat:
29
g
Polyunsaturated Fat:
6
g
Monounsaturated Fat:
18
g
Cholesterol:
135
mg
Sodium:
70
mg
Potassium:
427
mg
Fiber:
3
g
Sugar:
12
g
Vitamin A:
1867
IU
Vitamin C:
2
mg
Calcium:
120
mg
Iron:
1
mg
I sincerely hope you've enjoyed todays delicious homemade ice cream recipe as much as I've enjoyed bringing it to you!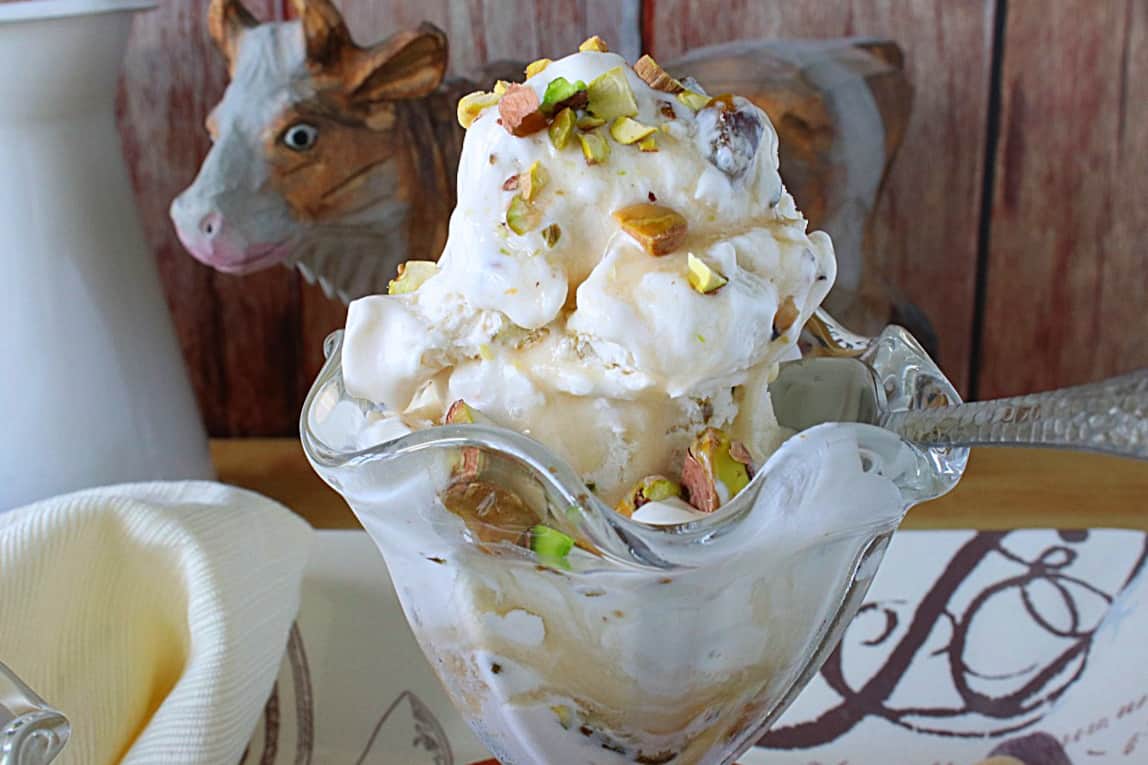 Follow me across my social media platforms and join in on the conversation: FACEBOOK, INSTAGRAM, PINTEREST, TIKTOK, AND YOUTUBE.
Thank you so much for visiting me today in my Kudos Kitchen. I hope you found something you'll love and that you'll come back and visit me often. There is always room for you around my table!
Should you have any questions or comments regarding anything you've seen here on my blog, please don't hesitate to reach out to me. It is always my distinct pleasure to respond to you just as soon as I possibly can.
Until we eat again, I hope you have a delicious day!!