These 5 Ingredient Root Beer Country Ribs for the Slow Cooker are perfect for those busy days when you want dinner ready (and without the fuss) after a long, hard day.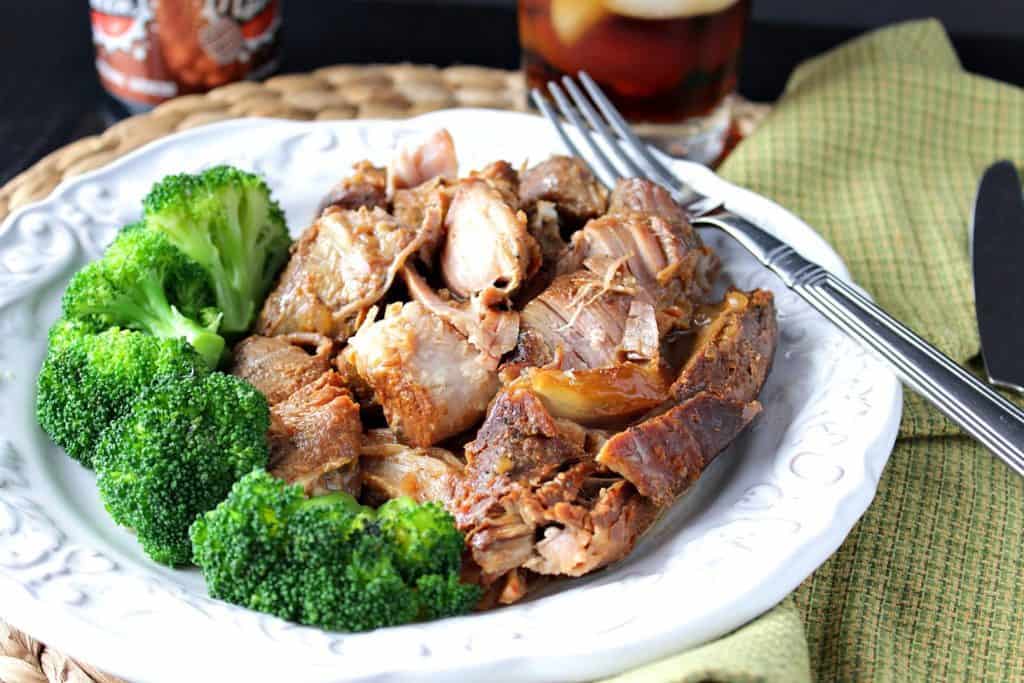 I've been noticing over the past several years that, in general, people want their food preparation to be as quick and easy as possible.
In response to that, I'm sharing with you my 5 Ingredient recipe for Root Beer Country Ribs made in the slow cooker. While they may not be quick (regarding cooking time), you simply can't get any easier!
Jump to:


Ingredients for making Root Beer Country Ribs:
pork country ribs

ketchup

bbq sauce

dehydrated minced onions

root beer

salt and pepper
How this recipe came to be:
This recipe for 5 Ingredient Root Beer Country Ribs for the Slow Cooker came about on a bit of a whim. It was one of those times when I needed to get to the grocery store for a few staples, but hadn't yet gone, and was dragging my feet.
Since I had taken pork country ribs out the freezer the night before and they were thawed and ready to cook, I decided to add them to the slow cooker along with a few items I already had on hand.
As a general rule, I like to add freshly chopped onions into just about everything savory I cook.
However, because I had run out of onions, (See? I told you I needed to get the store), I tossed in a few tablespoons of dehydrated onions along with some root beer, ketchup, and prepared BBQ sauce that I had in the fridge.
You see, you don't even need a knife to prepare this dinner, so it really couldn't be any easier to make.
And you have my word on it that anyone can do it, even the kids!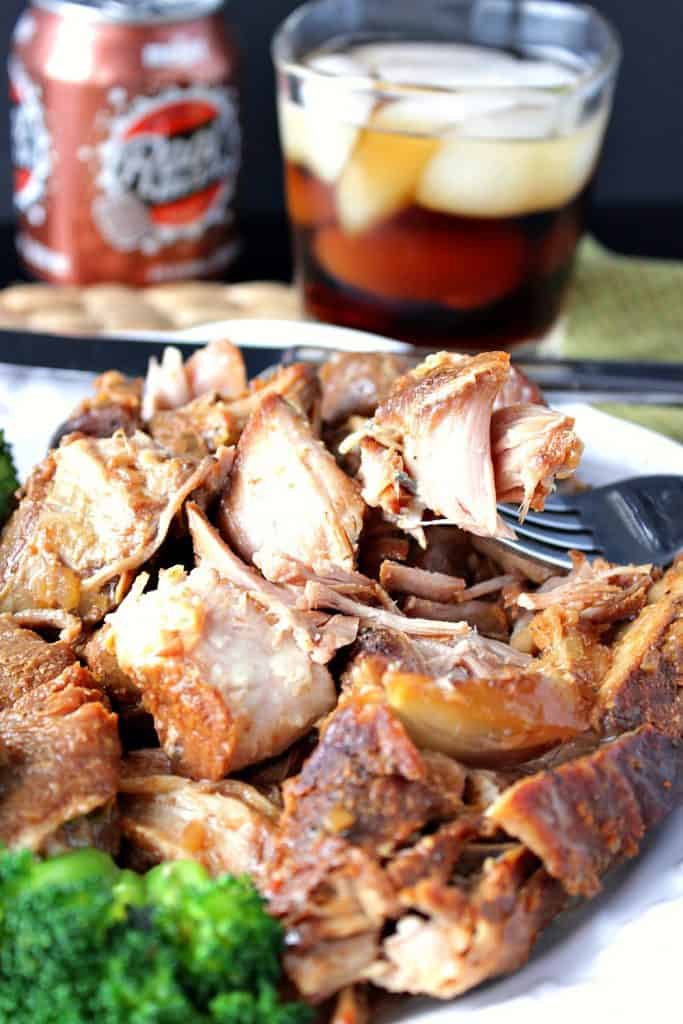 Being flexible:
Years ago, long before I had a blog (or there even was such a thing), I was a fully scheduled wife and mom. I would clean my house every Thursday (top to bottom), schedule my families meals on the calendar for the month, and every Friday, come hell or high water, I'd go grocery shopping in the morning.
I was so routine about my grocery shopping that it even got to be a running joke between some of my family and friends. No doubt about it, I was a Stepford wife!
Fast forward to today, even though I still enjoy my trips to the grocery store (I find some of my best inspiration there), I go (or don't go) according to how I feel, and how badly we need food in the house.
To say things have changed over the years is an understatement...and please don't even get me started about how my house cleaning routine has changed.
Dare I say...I cringe at the thought of it. LOL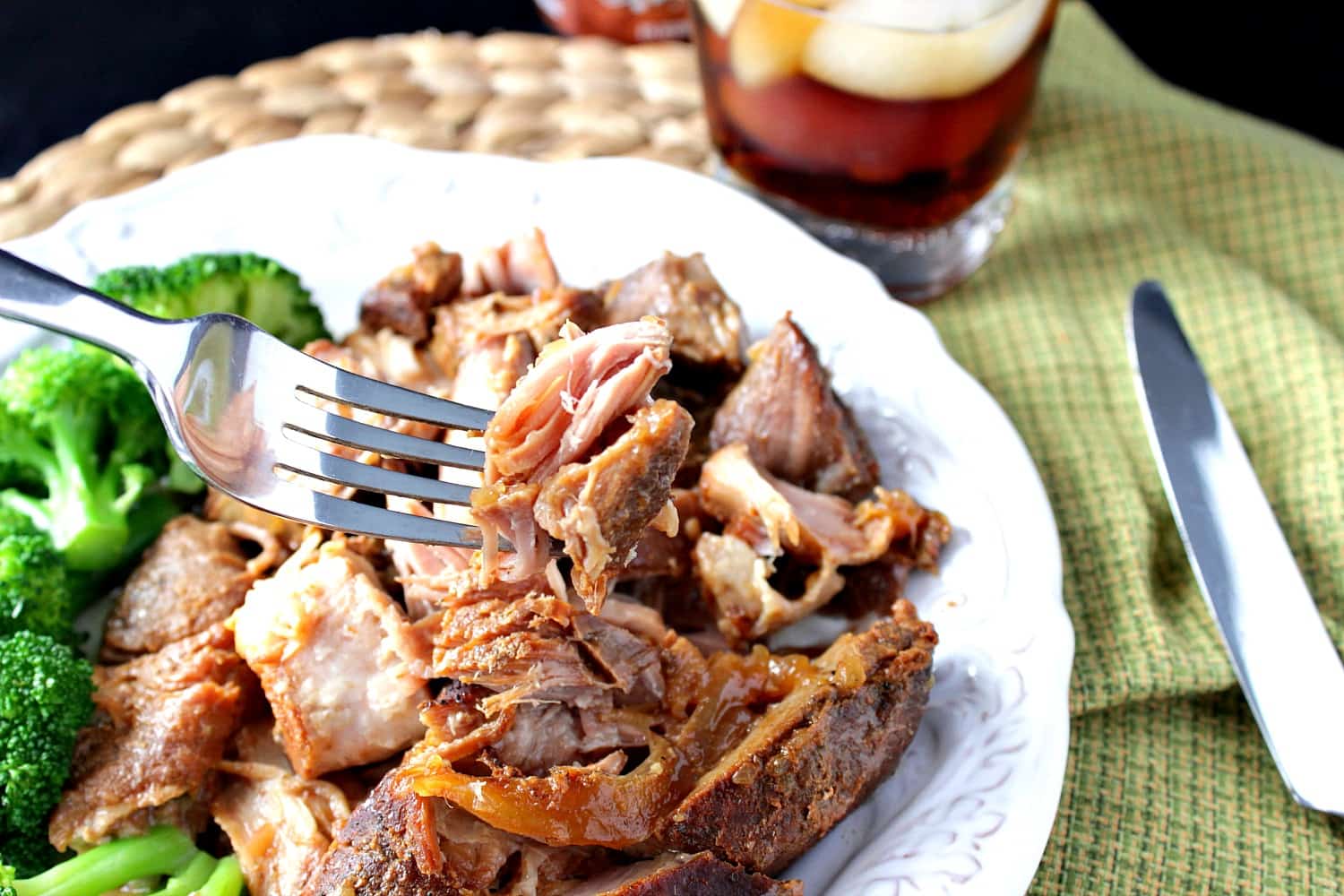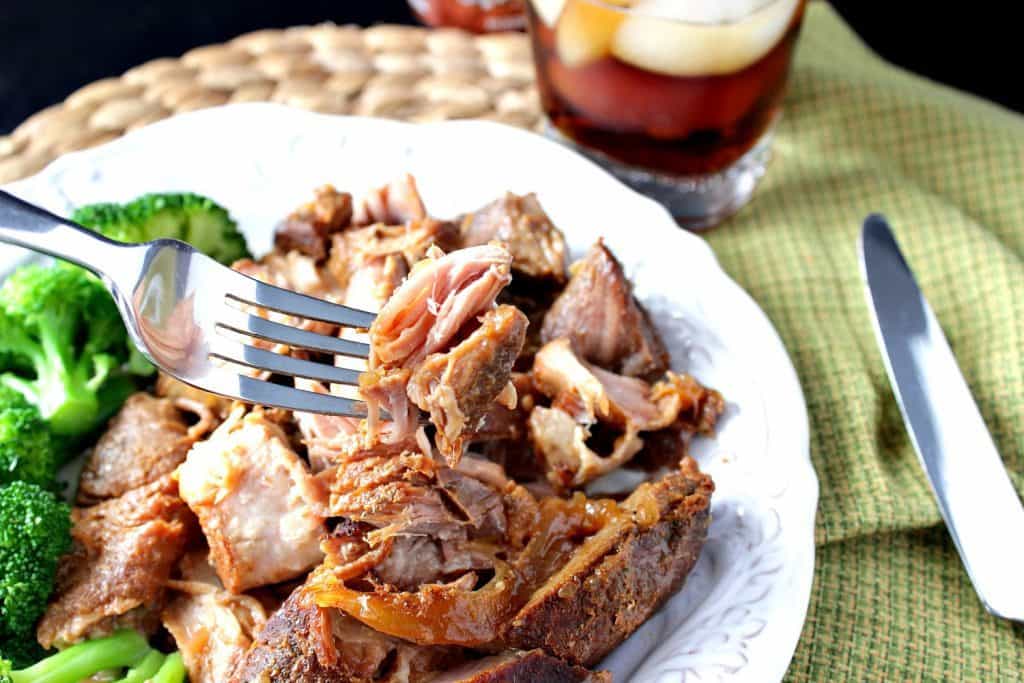 Don't sweat the small stuff:
If I had to pinpoint when the change in my routines started taking place, I'd say it was probably when our sons grew up and moved out of the house.
I find I floundered quite a bit (and still do) with not feeling as needed as I once did and with finding my own voice (not just my "mom voice").
Coming into my own, and feeling comfortable in my own skin is a process that takes time, understanding, and patience.
Personally, I finally know that it's totally okay to cut myself some slack and not be so regimented when it comes to things like daily chores and weekly grocery shopping trips.
Life is too short to be stressing over the dirty dishes in the sink or how full the pantry is!
What does all this have to do with 5-Ingredient Root Beer Country Ribs for the Slow Cooker, you ask?
Well, Since I still love to cook and bake as much as I always have, I now tend to gravitate a little more to the easier recipes. The dishes and dinners I can make with the ingredients I already have on hand so I don't need to be as tied to the grocery store as I once was.
And, in doing so, I'll be bringing you the recipes I know will resonate with all you busy women and men out there who want fresh, home-cooked meals, but don't want to spend a lot of time in the kitchen making them.
If you have the 5 easy ingredients, and 5 minutes of prep time available these root beer country ribs can be on your dinner table tonight.
Can these Root Beer Country Ribs be made in the Instant Pot?
Sure thing.
Follow the same preparation steps, but set the Instant Pot to pressure cook for 35-40 minutes before releasing pressure.
How to make Root Beer Country Ribs in the Slow Cooker:
Season the ribs (I used bone-in) with salt and pepper and place them into a slow cooker.

In a small bowl combine ketchup, BBQ sauce, and root beer.

Whisk the sauce ingredients together.

Add the dehydrated minced onions to the cooker, and pour the root beer sauce over the ribs.

Cover and set the slow cooker to high for 6 hours.

Serve and enjoy. They'll be fall-off-the-bone-tender!

There! You can get much easier than that!
Dig in! It's dinner time!!
And, don't forget to pour the sauce over the meat! It's delicious!!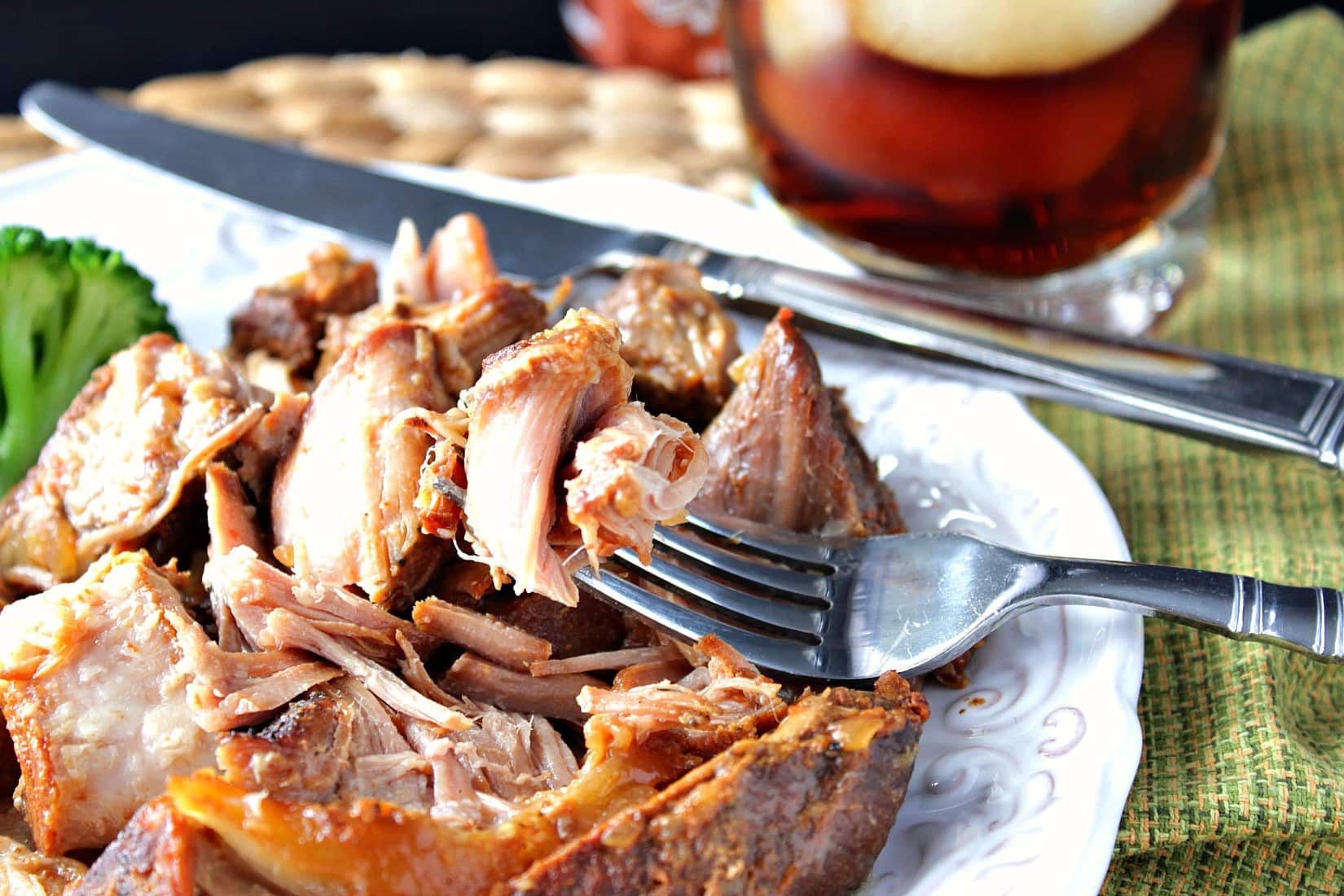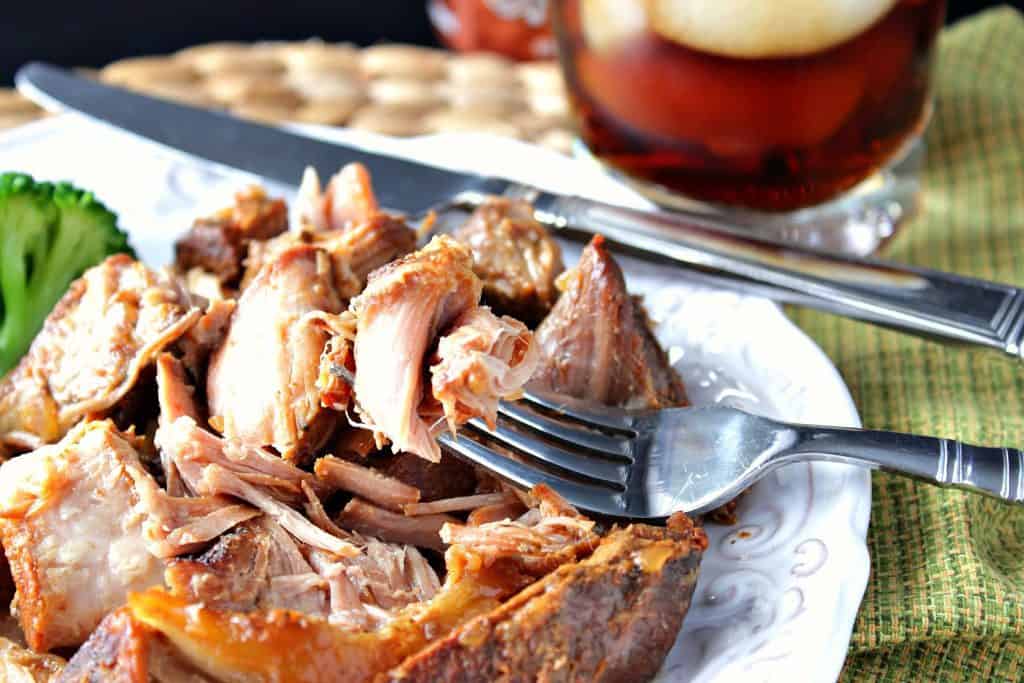 Delicious sides to accompany this slow cooker dinner:
Bacon Bourbon Green Beans Almondine is a delicious bourbon buttery update on a classic and will soon become your favorite way to eat green beans.
This retro-inspired Wedge Salad with Wasabi Peas is traditionally delicious, but with an updated twist.
Additional slow cooker meals: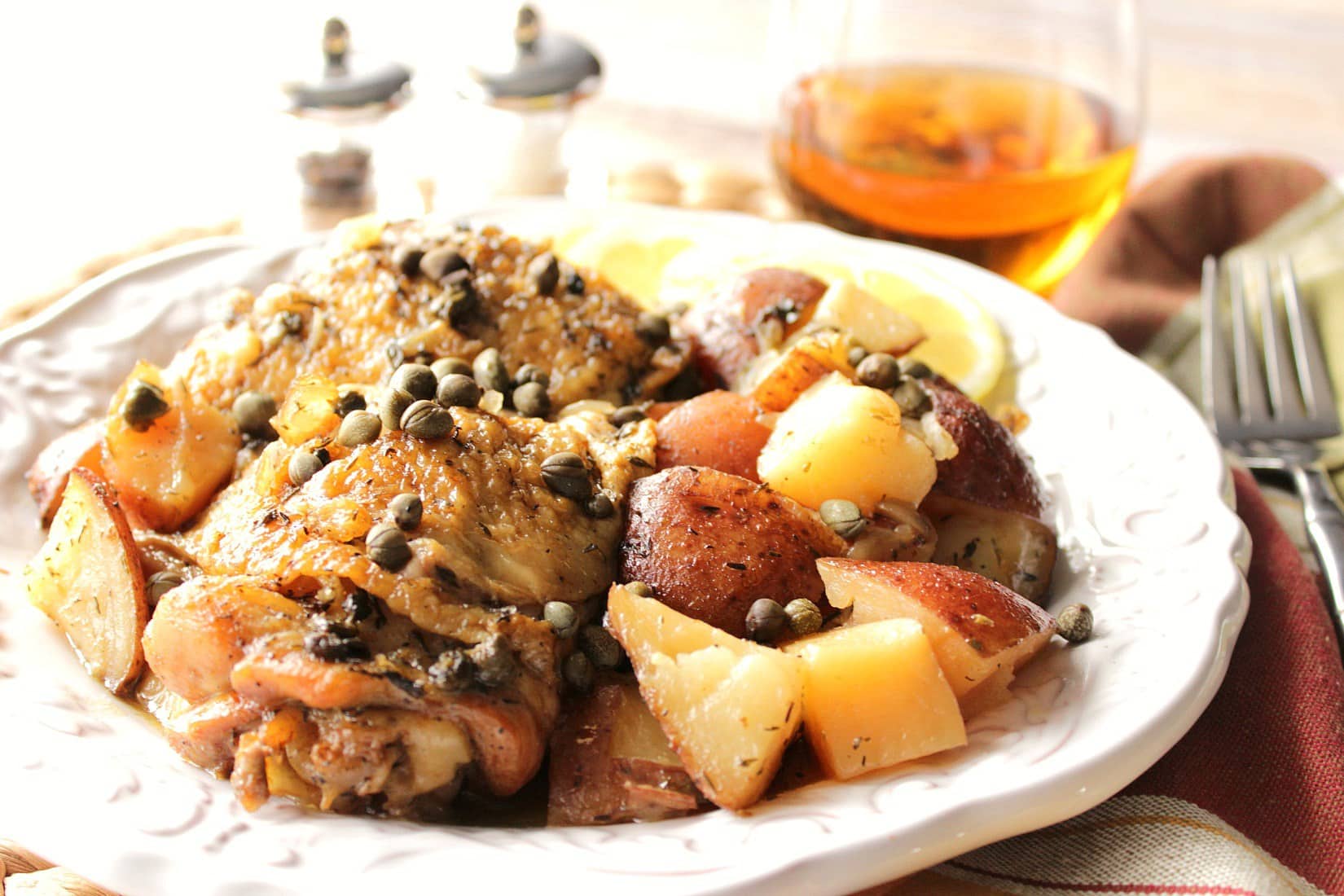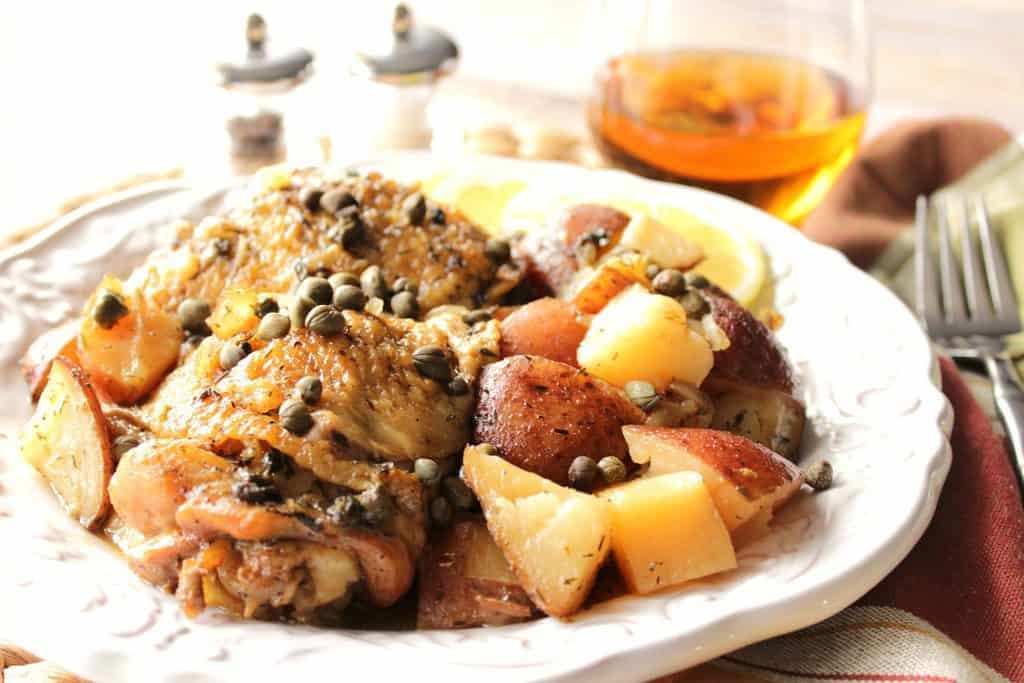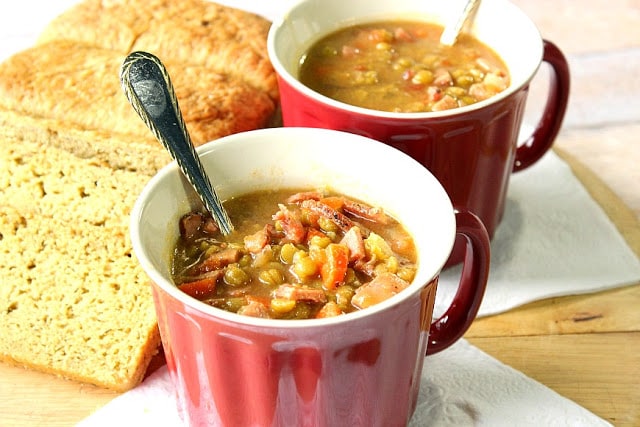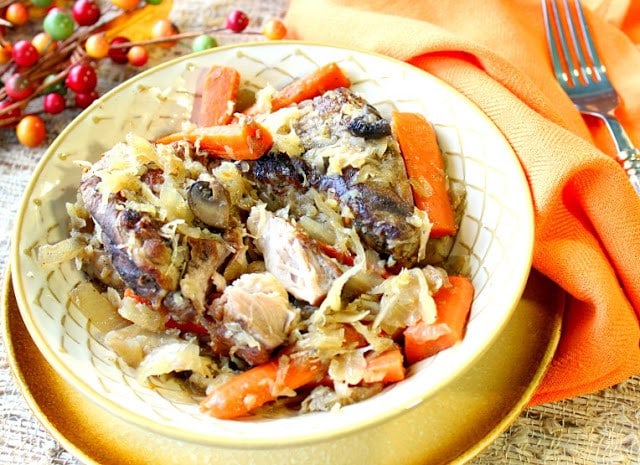 When you make this recipe, and I hope you do, I'd appreciate it if you'd take a moment to leave a star rating on the recipe card and briefly comment on why you rated it as you did. FYI - Google appreciates recipe ratings and, in turn, will share my recipes with more people. Thank you so much!!
Printable Recipe Card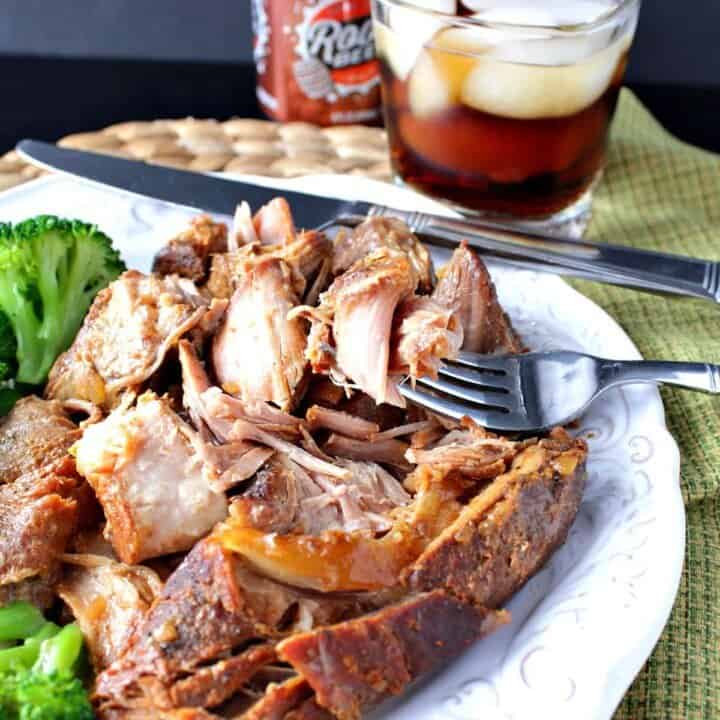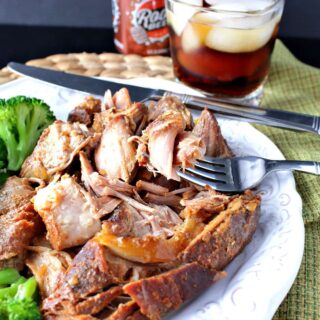 5 Ingredient Root Beer Country Ribs for the Slow Cooker
These 5 Ingredient Root Beer Country Ribs for the Slow Cooker are perfect for those busy days when you want dinner ready (and without fuss) after a long, hard day.
Ingredients
4-5

pounds

bone-in country ribs

boneless may also be used

salt and pepper

3

tablespoon

dehydrated minced onion

½

cup

ketchup

½

cup

BBQ sauce

8

ounces

root beer
Instructions
Season the ribs with salt and pepper.

Place the ribs into the slow cooker and top with the dehydrated onions.

Whisk the remaining ingredients together in a medium bowl and pour into the cooker.

Cover and set the cooker on high for 5 hours.

Remove the ribs from the cooker using a slotted spoon, and serve hot.
Notes
If using an Instant Pot, follow the same instructions but cook under pressure for 35-40 minutes before carefully releasing pressure.
Store leftovers, covered in the fridge for up to 5 days.
The pork may be shredded for sandwiches if desired.
Nutrition
Serving:
1
serving
Calories:
459
kcal
Carbohydrates:
21
g
Protein:
38
g
Fat:
23
g
Saturated Fat:
4
g
Cholesterol:
145
mg
Sodium:
555
mg
Potassium:
783
mg
Fiber:
0
g
Sugar:
17
g
Vitamin A:
170
IU
Vitamin C:
2.8
mg
Calcium:
63
mg
Iron:
1.9
mg
I sincerely hope you've enjoyed today's recipe for slow cooker root beer country ribs as much as I've enjoyed bringing it to you!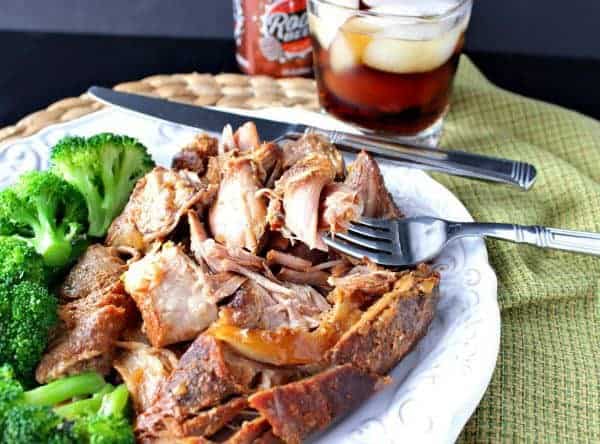 Follow me across my social media platforms and join in on the conversation: FACEBOOK, INSTAGRAM, PINTEREST, TIKTOK, AND YOUTUBE.
Thank you so much for visiting me today in my Kudos Kitchen. I hope you found something you'll love and that you'll come back and visit me often. There is always room for you around my table!
Should you have any questions or comments regarding anything you've seen here on my blog, please don't hesitate to reach out to me. It is always my distinct pleasure to respond to you just as soon as I possibly can.
Until we eat again, I hope you have a delicious day!!