If you're looking for a new frozen taste sensation that will knock your socks off, look no further. This unbelievably delicious No-Churn Roasted Sweet Corn Ice Cream will do just that!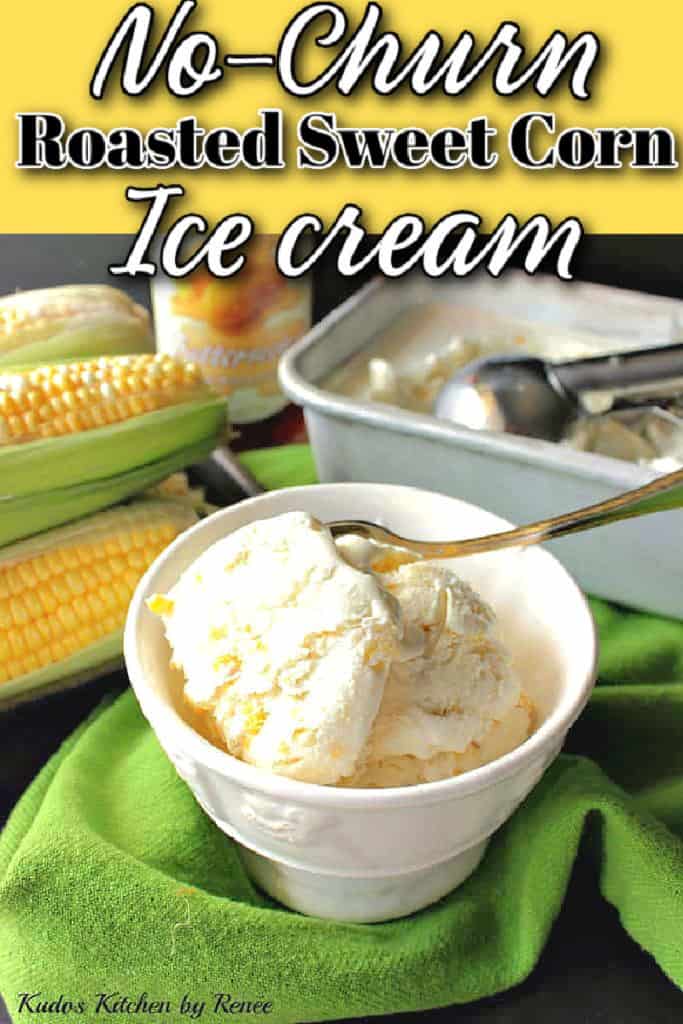 Are you rubbing your eyes in disbelief and trying to wrap your head around this ice cream flavor combination?
You'll just have to trust me on this one when I tell you this No-Churn Roasted Sweet Corn Ice Cream is simply the BEST ice cream I've ever made, (or even tasted) in a very long time!!!
**Please Note – The printable recipe card with detailed instructions, complete ingredient measurements, and nutritional information for making Roasted Sweet Corn Ice Cream is available at the end of this post. OR you can hit the "jump to recipe" button (found above) to be taken directly to the recipe.
CLICK ON THIS BOX TO LIKE AND SUBSCRIBE TO MY KUDOS KITCHEN YOUTUBE CHANNEL. SEE YOU THERE! 🙂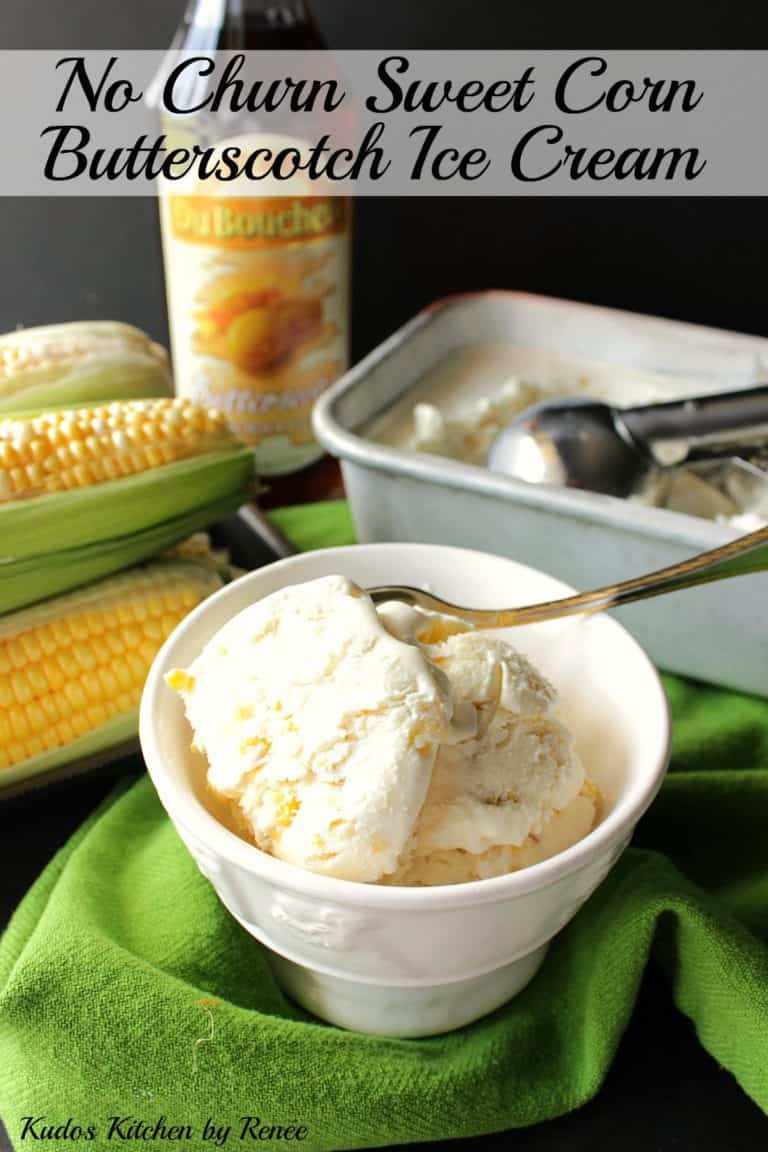 The ingredient list:
fresh corn on the cob, roasted
heavy cream
sweetened condensed milk
butternut schnapps
Kitchen tools and equipment needed:
This recipe was originally shared in 2016. This post has been updated with additional information, including a recipe card, but the recipe itself has remained completely unchanged.
How this recipe came to be:
As we all know, summertime is sweet corn time. I don't know anyone who doesn't enjoy digging into a roasted ear of corn that's dripping with butter!
Since sweet corn is naturally full of sugar, I thought it would be fun to roast a few ears and then pair it with some rich, heavy cream, a can of sweetened condensed milk, a splash (or two) of buttery butterscotch schnapps, and a touch of vanilla.
In the words of the great Ina Garten (The Barefoot Contessa) "How bad can that be?"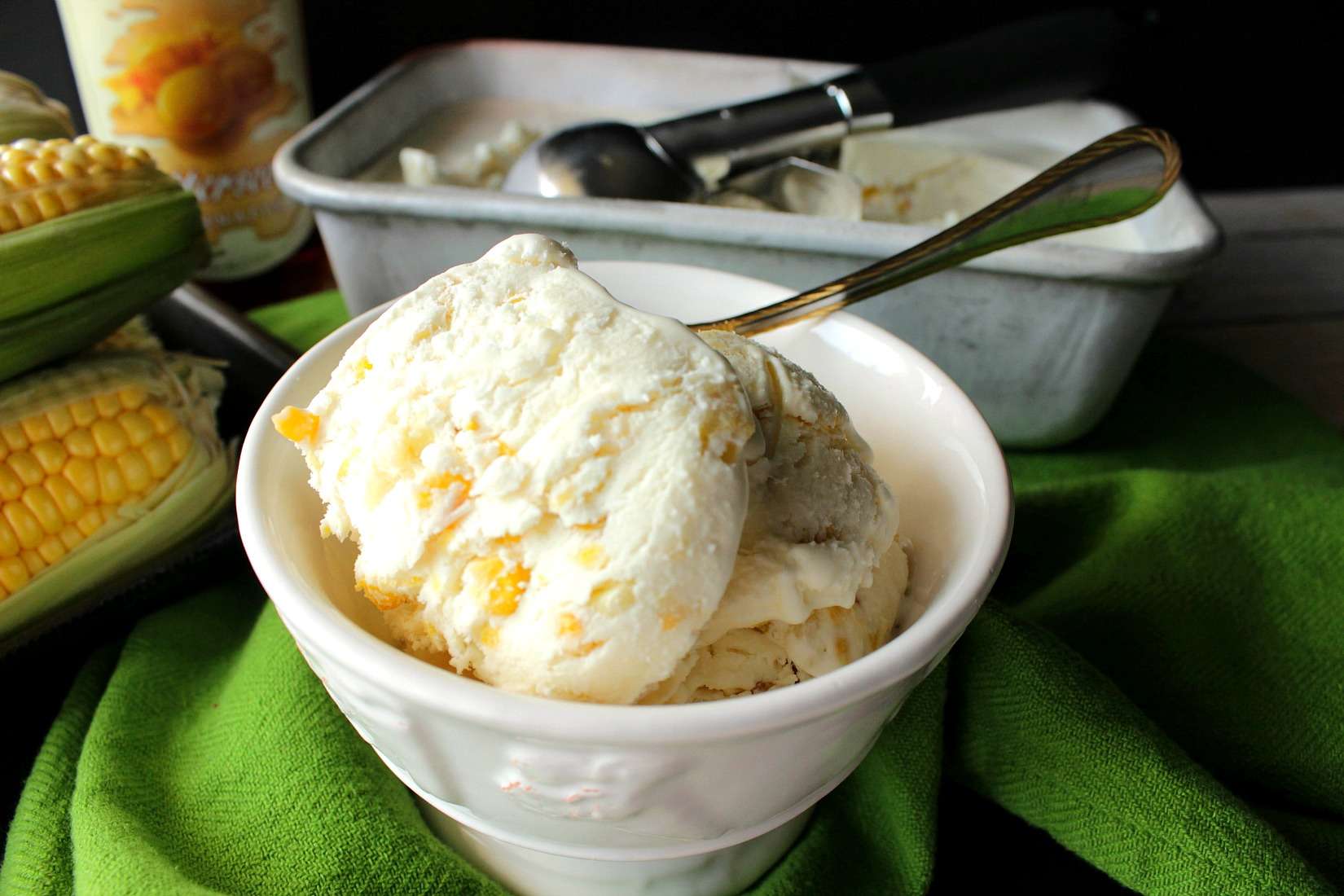 Why this recipe works?
No-Churn Sweet Corn Butterscotch Ice Cream is perfect to serve all during the summer months when sweet corn is at its peak of freshness.
And since making it doesn't require an ice cream maker, anyone at all can make and serve this delicious ice cream whenever the mood strikes, and the sweet corn is calling your name. I'm all ears! 🙂 Corny humor!
I served mine last night to family and friends that we had over for dinner. At first, you could see that they were all a bit leery about what I was trying to feed them, but after the first spoonful, I had everyone commenting that this may be their new favorite ice cream flavor! SCORE!
Plan ahead for success:
*Note – Making this ice cream is very easy and doesn't require any special skills.
However, it does take time to infuse the cream with the corn cobs, and it does take a good bit of time for the chilling of the ingredients, and the freezing of the ice cream until it's ready to serve.
It's best to plan on making this ice cream the day before you plan on serving it.
Is the butterscotch schnapps necessary for this recipe?
Yes, and no.
It definitely can be made without the butterscotch schnapps, if desired.
However, adding the butterscotch alcohol will make for a smoother ice cream with a sublet additional depth of flavor that takes this no-churn ice cream flavor from good to great!
Naturally, if you're making this ice cream for children, leave out the alcohol entirely! I guarantee the flavor will still be utterly delicious!
How long will it take to make this no-churn ice cream from start to finish:
Approximately 5 – 6 hours but most of this time is "hands-off" time.
Here is the breakdown:
The roasting of the corn will take about 45 minutes. Then there's the cooking time until the kernels can be stripped from the cob.
Infusing the heavy cream will take an additional 15 minutes, and then there's the cooling time for the cream before the ice cream can be made.
Once the ingredients are prepped and ready the process of making the ice cream will only take like 10 minutes, but it's not ready quite yet…
Pour the ice cream into the freezing container and freeze for a minimum of 4 hours and then you're ready to serve.
How to make no-churn sweet corn ice cream:
Shuck 4 ears of corn.
Place them on a baking sheet and roast in a 375-degree oven for 40-45 minutes.
Cool and remove the kernels to a bowl and add a pinch of salt.
Break two cobs in half, and discard the other two.

Place the two broken cobs into a medium saucepan along with heavy cream.
Bring the mixture to a very low simmer, over low heat (do not boil), and allow the corn cobs to steep in the heavy cream for approximately 15 minutes.
Remove from the heat and add butter.
Remove the corn cobs from the pot and discard them.
Cool the cream mixture and then refrigerate the cream and the corn kernels for at least 2 hours (or overnight).

When the the cream is fully cooled, whip with a stand mixer fitted with the whip attachment or hand mixer until stiff peaks form.

In a large bowl, stir together the sweetened condensed milk and butternut schnapps.
Add the whipped cream into the sweetened condensed milk and gently fold the ingredients until fully incorporated.

Gently stir the cooled corn kernels into the ice cream mixture.
Pour the ice cream mixture into a 9″ x 5″ loaf pan and freeze for at least 4 hours or until firm.
Serve and enjoy!

For more delicious no-churn ice cream recipes, check out these 18 No-Churn Ice Cream recipes for every celebration from Brit & Co.
OR visit this Incredible Ice Cream Recipe Roundup with over 100 delicious ice cream recipes you're sure to love.
Below is the printable recipe card along with the exact ingredient measurements and nutritional information for making today's easy no-churn ice cream recipe.
If you've made this recipe, or are excited to make this recipe, I'd appreciate it if you'd take a moment to leave it a star rating in the recipe card, along with a comment if you're so inclined. Thank you. 🙂
Yield: 8 servings
No-Churn Roasted Sweet Corn Ice Cream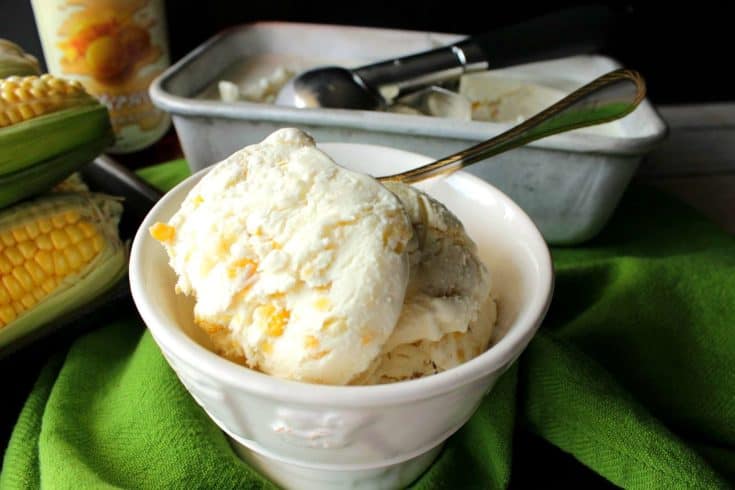 If you're looking for a new ice cream taste sensation that will knock your socks off, look no further. This unbelievably delicious No-Churn Roasted Sweet Corn Ice Cream will do just that!
Ingredients
4 ears sweet corn, shucked and silks removed
2 cups heavy cream
1 tablespoon butter
½ teaspoon salt
2 tablespoons butterscotch schnapps (optional)
1 teaspoon pure vanilla extract
1 can, 15 ounces sweetened condensed milk
Instructions
Preheat oven to 375 degrees.
Place the shucked ears of corn on a baking sheet and roast in a preheated oven for 40-45 minutes.
Remove the corn from the oven and cool until it's cool enough to handle.
Using a sharp knife or corn stripper to remove all the kernels from the corn and place in a bowl. Stir the salt into the kernels and place in the refrigerator to chill.
Break two of the corn cobs (kernels removed) in half and place them in a medium saucepan.
Add the heavy cream to the saucepan and bring the cream to a very low simmer over very low heat. Do NOT boil.
After about 15 minutes, remove the pan from the heat and add the butter to the pot.
Allow the cream to cool and remove the corn cobs. Discard the cobs.
Refrigerate the corn infused cream for at least 2 hours, or overnight is best.
Once chilled, whip the cold cream in the bowl of a stand mixer, or with a hand mixer on high speed until stiff peaks form (being careful not to overbeat the cream).
Meanwhile, add the sweetened condensed milk to a large bowl.
Stir the butterscotch schnapps (optional) and vanilla extract to the sweetened milk and stir to combine.
Gently fold the whipped corn cream into the sweetened milk mixture until thoroughly combined.
Gently stir in the corn kernels.
Spoon the ice cream mixture into a 9" x 5" loaf pan and freeze at least 4 hours.
Serve and enjoy!
Tools and equipment
sharp knife or corn kernel stripper (to remove corn kernels)
Baking sheet (for roasting corn)
medium saucepan (for infusing the cream with the corn cobs)
large bowl (for mixing the ice cream)
medium bowl (for the corn kernels)
stand mixer or hand mixer and another large bowl (for whipping the cream)
tongs (for removing the cobs from the warm cream)
wooden spoon or spatula (for stirring the ice cream)
9" x 5" loaf pan (for freezing the ice cream)
Notes
Plan ahead when making this ice cream. It's not at all difficult but for the best flavor roasting the corn is key, and making sure the cream mixture is completely chilled before whipping is really important for creamy, delicious ice cream.

Nutrition Information
Yield
8 servings
Serving Size
1 serving
Amount Per Serving
Calories

492
Total Fat

30g
Saturated Fat

19g
Trans Fat

1g
Unsaturated Fat

9g
Cholesterol

95mg
Sodium

251mg
Carbohydrates

50g
Fiber

1g
Sugar

44g
Protein

9g
The nutritional information and calorie count provided is intended as a guideline only and has been provided by third-party software.
Thank you so much for visiting me here today in my Kudos Kitchen!
I sincerely hope you've enjoyed today's no-churn ice cream dessert recipe as much as I've enjoyed bringing it to you!!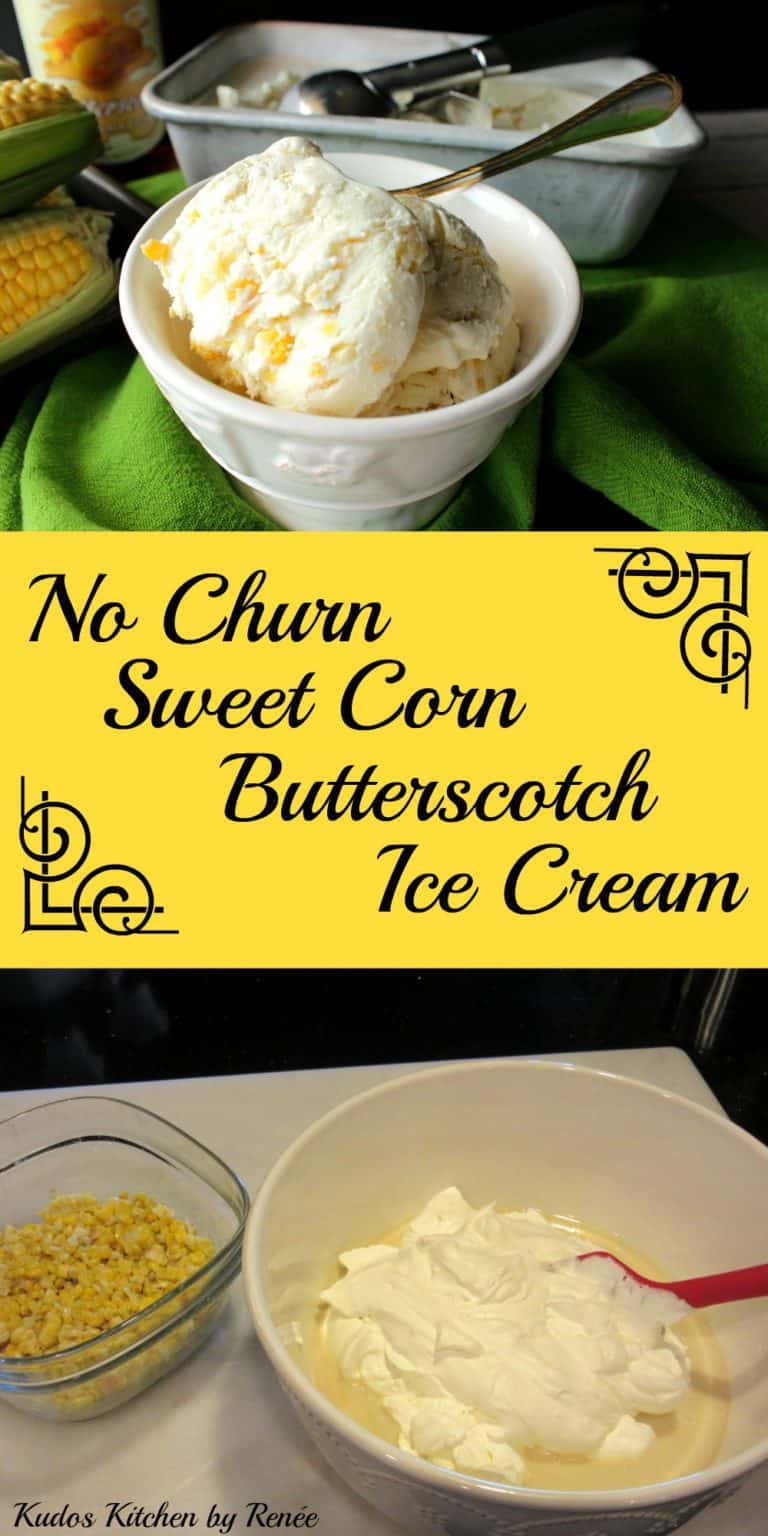 Should you have any questions or comments regarding this recipe or anything else you've seen on my site, please don't hesitate to reach out to me. It is always my distinct pleasure to get back with a reply just as soon as I possibly can!
For more Kudos Kitchen recipe information, please follow me on my social medial channels (listed below), and don't forget to TAG me @kudoskitchen with photos so I can view all your delicious recipe creations! It's exciting for me when you share them, so don't be shy!
Instagram, Pinterest, Facebook, and YouTube
Kudos Kitchen by Renee – BRINGING YOU EASY, ECONOMICAL, AND DELICIOUS DISHES TO FEED YOUR LOVED ONES!
Until we eat again, I hope you have a delicious day!
**Note – The post above includes affiliate links. As always, I truly thank you for your support!