Mashed Sweet Potato Donuts are crispy on the outside, and soft and pillowy on the inside. Not to mention they're completely coated with an irresistible cinnamon and sugar mixture which is sure to have you doing the happy donut dance!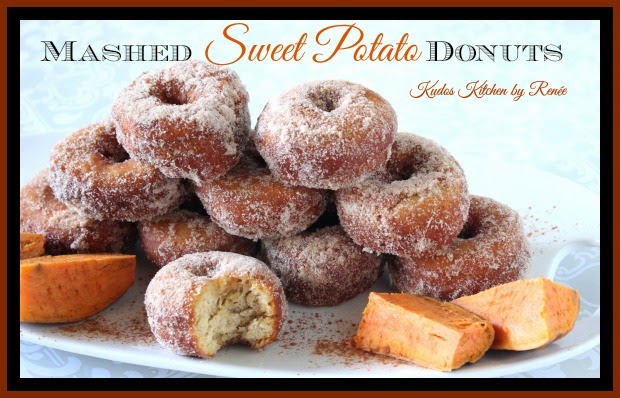 I originally shared this recipe in 2014. I've recently updated this post with additional information, including a recipe card complete with nutritional information, but the recipe itself has remained unchanged.
**Please Note - The printable recipe card with detailed instructions, complete ingredient measurements, and nutritional information for making Mashed Sweet Potato Donuts is available at the end of this post. OR you can hit the "jump to recipe" button (found above) to be taken directly to the recipe.
The ingredient list:
mashed sweet potatoes (leftovers work great for this recipe)
all-purpose flour
baking powder
baking soda
salt
ground cinnamon
freshly grated nutmeg
brown sugar
granulated sugar
shortening
eggs
milk
pure vanilla extract
light-colored oil for frying (I use peanut oil, but canola or vegetable oil is fine)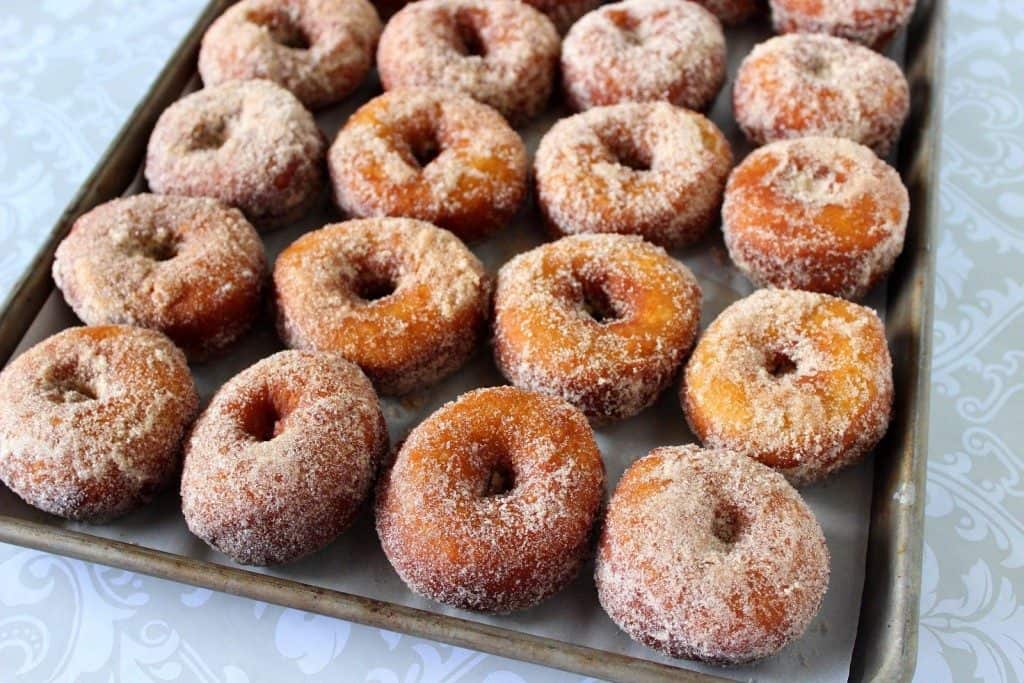 The gift of homemade donuts:
There is nothing as heartwarming and comforting as the gift of a homemade donut! If you're lucky enough to be the recipient of one (or a dozen), then you know what I'm talking about.
If you have someone you love with all your heart, make them a batch of Mashed Sweet Potato Donuts. No words needed. Feel the love!
The step-by-step photo instructions:
In a large bowl, whisk together the all-purpose flour, baking soda, baking powder, salt, cinnamon, and nutmeg.
In another large bowl, blend together the shortening, brown sugar, milk, mashed sweet potato, vanilla, and eggs.

Gradually add the dry ingredients into the wet ingredients, beating just until a soft dough is formed.

Turn the dough out on a counter and sprinkle with enough flour so the dough is still soft but not too sticky.
Roll the dough to an approximate ½" thickness.
Use a round cutter to cut out donuts (rerolling the scraps is recommended to make 24 donuts).
Use your thumb and press a hole in the center of each, stretching if needed.
Bring approximately 3" of oil to a temperature of 375-degrees, and carefully add the donuts (2 or 3 at a time) to the hot oil.
Fry the donuts on both sides until golden brown and puffed.


Carefully remove the fried donuts from the oil using a large slotted spoon and immediately toss the hot donuts in cinnamon sugar.
Serve warm or at room temperature.

Can sweet potato donuts be frozen?
These Mashed Sweet Potato Donuts freeze wonderfully well, so even though this recipe makes approximately 2 dozen, you don't have to eat them all at one time...unless of course, you have family and friends that will help you devour them within moments of placing them on a plate.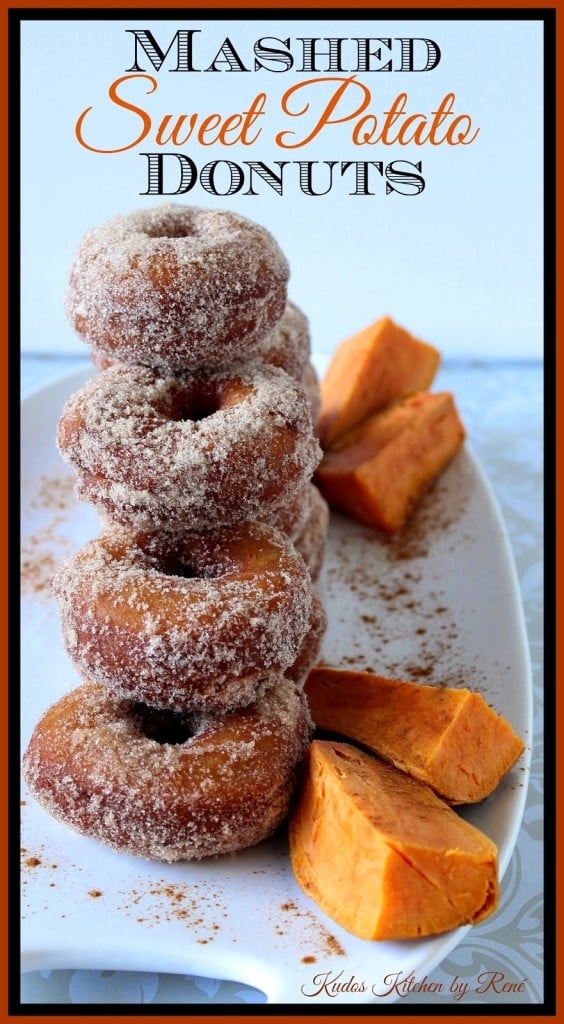 How do sweet potato donuts taste?
Once these Mashed Sweet Potato Donuts take a swim in the hot frying oil and become golden brown, they then take a dip in a cinnamon sugar bath which coats each donut with just the right amount of spicy sweetness. Ohhhh! Ahhhh!
If you're a little skeptical of how Mashed Sweet Potato Donuts will taste, don't be. You're going to absolutely love them! While they're a wonderful autumnal treat, they can be made and eaten any time of the year.
Watch out apple cider donuts! These Mashed Sweet Potato Donuts will give you a run for your money!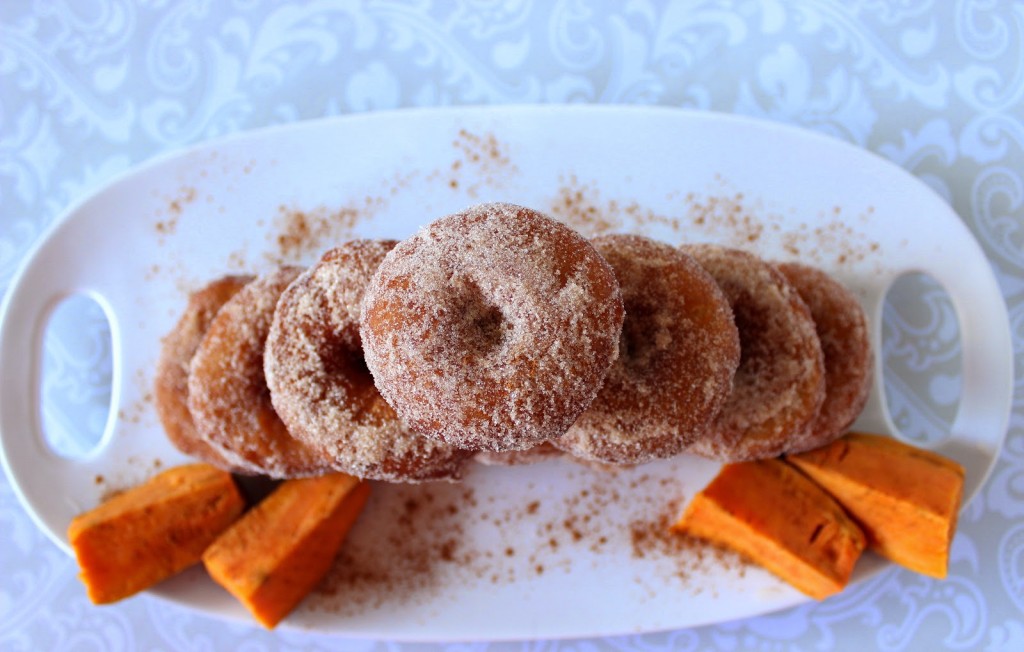 Aging and taste bud changes:
We brought my father-in-law a dozen of these Mashed Sweet Potato Donuts. As he's aged (he's 94 and under hospice care), his taste buds for sugary sweet treats have increased tremendously.
Even though he's mostly on a pureed diet (don't worry, I brought him plenty of pureed foods, too) I knew he'd be able to enjoy and appreciate these soft, sweet, cake-like treats.
Did you know that as we age our taste buds more acutely recognize sweet foods as opposed to any other type of food? We learned this fact from his day nurse, and I find it fascinating. Who knew? You can read more about how our sense of taste changes in this article from Bon Appetite.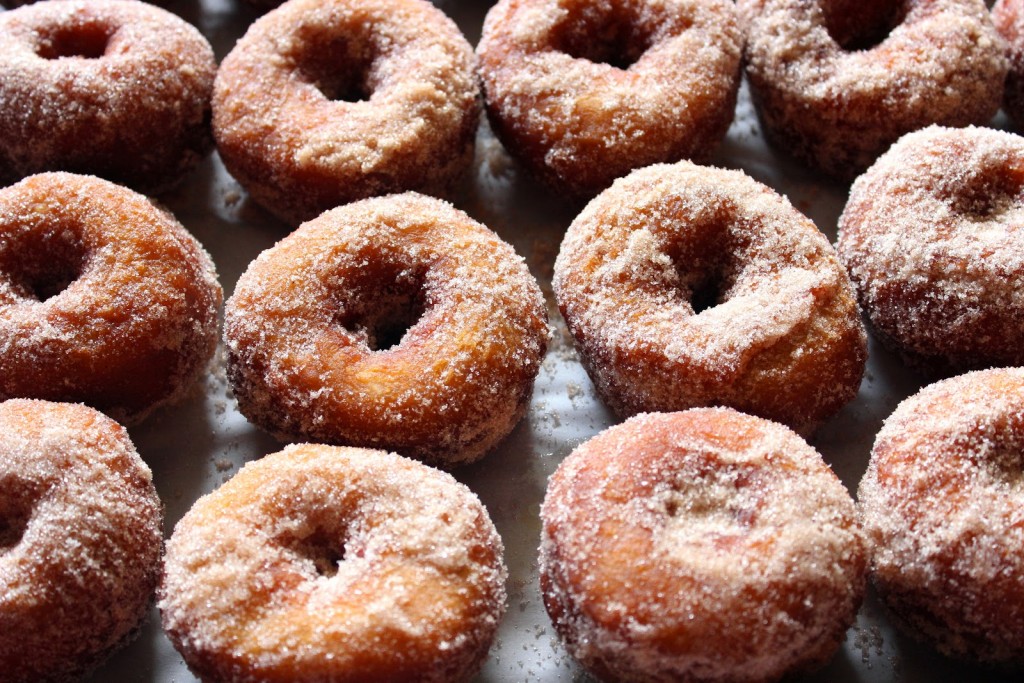 Additional breakfast sweets you'll also enjoy:
Below is the printable recipe card along with the exact ingredient measurements and nutritional information for making today's Sweet Potato Donuts with Cinnamon and Sugar.
If you've made this recipe, or are excited to make this recipe, I'd appreciate it if you'd take a moment to leave it a star rating in the recipe card, along with a comment if you're so inclined. Thank you. 🙂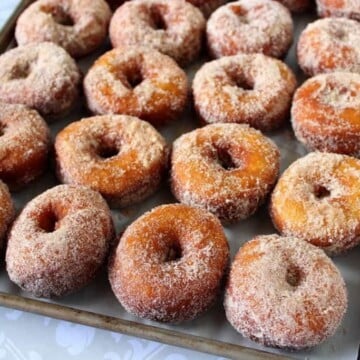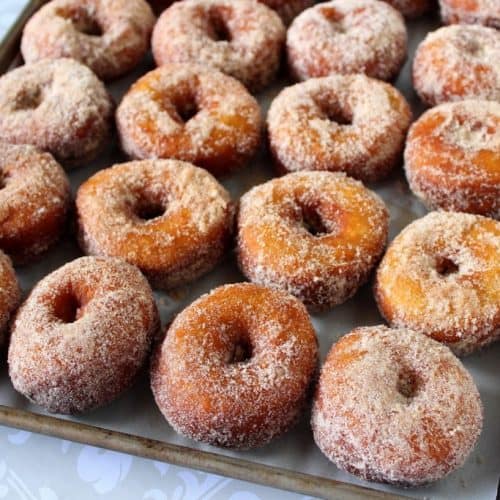 Mashed Sweet Potato Donuts with Cinnamon and Sugar
Mashed Sweet Potato Donuts are crispy on the outside, and soft and pillowy on the inside. Not to mention they're completely coated with an irresistible cinnamon and sugar mixture which is sure to have you doing the happy donut dance!
Ingredients
For the dough;
3½

cups

all-purpose flour,

plus more for rolling

¼

teaspoon

baking soda

½

teaspoon

salt

2

teaspoons

baking powder

1

teaspoon

ground cinnamon

⅛

teaspoon

freshly grated nutmeg

¼

cup

shortening,

I used butter flavor

1

cup

packed brown sugar,

light or dark

2

large

eggs

1

teaspoon

pure vanilla extract

2

cups

prepared mashed sweet potatoes

½

cup

milk

4-6

cups

peanut oil,

canola or vegetable may be substituted
For the cinnamon & sugar topping;
1

cup

granulated sugar

1½

tablespoon

ground cinnamon
Instructions
To make the donuts;
In a large, high sided pot, heat the oil to 375-degrees.

In a large bowl, whisk together the flour, baking soda, salt, baking powder, nutmeg, and cinnamon.

In a separate bowl cream together the shortening and brown sugar. Add in the eggs, vanilla, mashed potatoes, and milk. Blend until fully incorporated.

Add the flour mixture, ⅓'d at a time and on low speed into the creamed shortening mixture until all the flour is fully incorporated and the dough is soft and pliable.

Turn the dough out onto a lightly floured surface.

*Note - if the dough seems too sticky, knead in a little extra flour. You're looking for a soft dough but not an extremely sticky dough.

Roll the dough out to an approximately, uniformly ½" thickness.

Use a 3" round cookie cutter or biscuit cutter that has been dipped in flour and cut out as many circles as you can. Set them aside on a lightly floured surface.

*Note - You can re-roll the scraps and continue cutting circles from the remaining dough.

Use your thumb to poke holes into the center of the circles (more flour on your hands may be needed) and gently stretch the donuts into shape.

Use a large slotted spoon or spider strainer and carefully place about 4-5 donuts in the hot oil to fry about 3-4 minutes on each side or until deeply golden brown.*Note - if the oil is too hot, the donuts will brown quickly and still be raw in the middle. Try and keep your oil temperature as constant as possible to avoid this. Or, if it's not hot enough, the oil will saturate the dough making your donuts greasy.


Carefully removed the cooked donuts from the oil (using the strainer) and place them into a bowl with the cinnamon sugar. Toss to coat.

Serve warm or at room temperature.
Notes
These donuts freeze well for up to 3 weeks if wrapped well with parchment paper or wax paper in between each donut.
*Tip - to check if your oil is up to temperature without a thermometer, dip the handle of a wooden spoon in the hot oil, and if small bubbles form (think champagne bubbles), you're good to go.
Tools and equipment:
measuring spoons, measuring cups, stand mixer or hand mixer, whisk, large slotted spoon, rolling pin, baking sheets (optional), large high sided pot (for frying), 2 large bowls, 1 medium bowl, nutmeg grater (optional), 3" round cookie (or biscuit) cutter, thermometer.
Nutrition
Serving:
1
Calories:
204
kcal
Carbohydrates:
34
g
Protein:
2
g
Fat:
6
g
Saturated Fat:
1
g
Cholesterol:
15
mg
Sodium:
77
mg
Potassium:
117
mg
Fiber:
1
g
Sugar:
18
g
Vitamin A:
1600
IU
Vitamin C:
0.2
mg
Calcium:
42
mg
Iron:
1.1
mg
I sincerely hope you've enjoyed today's donut recipe as much as I've enjoyed bringing it to you!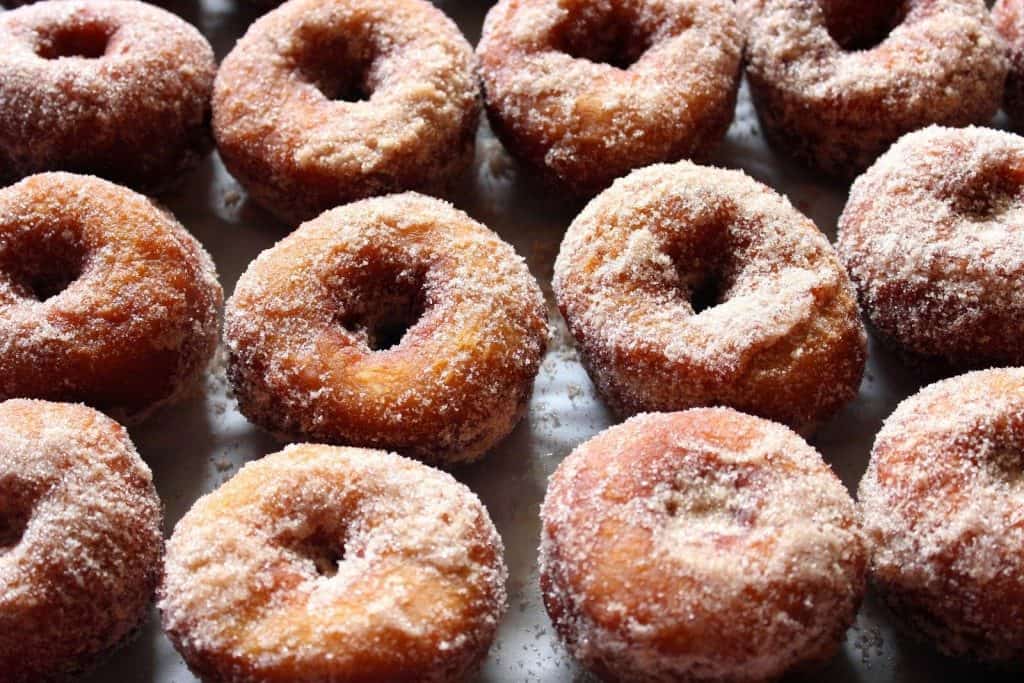 The pleasures of induction cooktop cooking:
What I love about the induction cooktop method of frying is that the oil temperature stays constant, no matter how many batches of Mashed Sweet Potato Donuts, French fries, or fritters you're making.
The induction cooktop is also portable, so as long as you have an outlet to plug into, you're good to go. One thing you will need to be aware of is that not all cookware is induction cooktop compatible. In order for cookware to be induction cooktop compatible, it must be made of magnetic-based metal, such as cast iron or magnetic stainless steel.
Once you have the proper cookware for induction cooktop cooking (which you may already have in your cabinets), you're ready to fry up these incredibly delicious Mashed Sweet Potato Donuts in a matter of minutes.
Thank you so much for visiting me today in my Kudos Kitchen. I hope you found something you'll love and that you'll come back and visit me often. There is always room for you around my table!
To see more, like and follow me across my social media platforms (buttons shown below), and don't forget to tag me (@kudoskitchen) with photos and comments on the recipes you've made. I'll see you there!
Should you have any questions or comments regarding this recipe or anything else you've seen on my site, please don't hesitate to reach out to me. It is always my distinct pleasure to get back with a reply just as soon as I possibly can!
Kudos Kitchen by Renee – Where I joyously bring you easy, economical, and delicious comfort food dishes to feed the people you love!
Until we eat again, I hope you have a delicious day!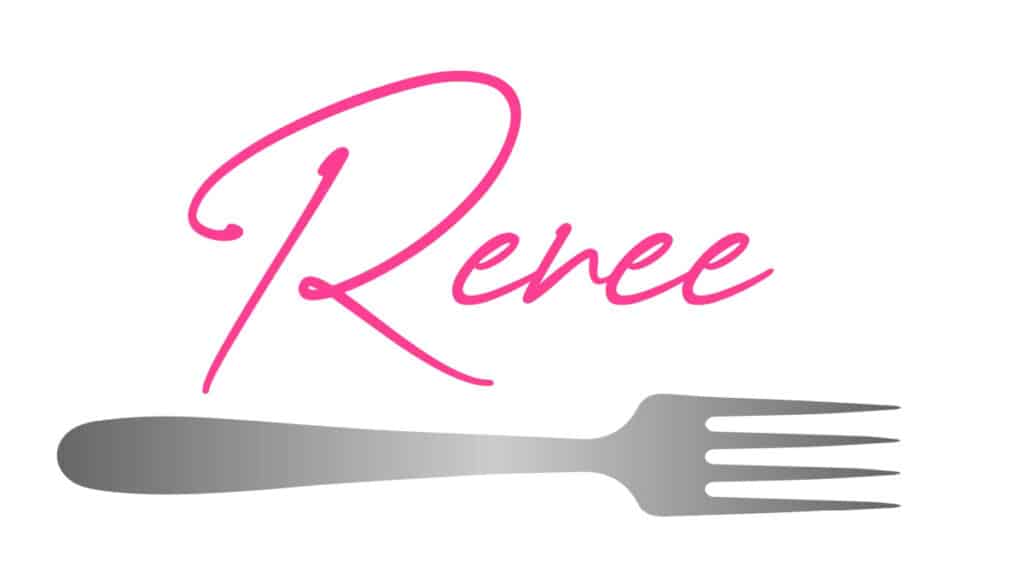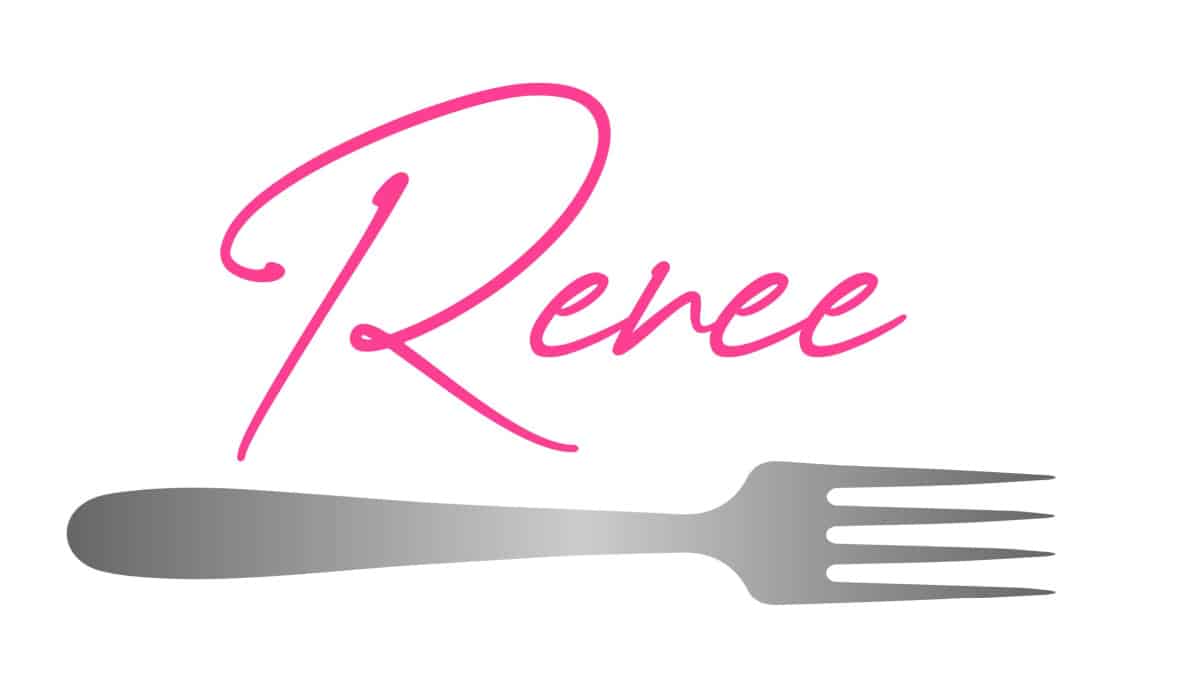 **Note - The post above includes affiliate links. As always, I truly thank you for your support!