No-Churn Lemon Blueberry Ice Cream is spiked with just a touch of Malibu Rum to keep it rich and creamy. It's the perfect adult treat with just the right amount of tart, and the right amount of sweet.
If you're a lemon lover (and even if you're not), this no-churn ice cream recipe is perfect for the summer months with its light, refreshing lemon flavor that isn't too tart and isn't too sweet. It's absolutely perfect if I do say so myself!
But, before you make this recipe, please make sure that if you're feeding it to the kiddos you either leave the Malibu rum out entirely, OR you can mix up two batches of this lemon ice cream, one with the Malibu rum, for the over 21 crowd, and one batch for the under 21 crowd.
**Please Note – The printable recipe card with detailed instructions, complete ingredient measurements, and nutritional information for making No-Churn Lemon Blueberry Ice Cream is available at the end of this post. OR click on the "jump to recipe" button (found above) to be taken directly to the printable recipe.
CLICK ON THIS BOX TO LIKE AND SUBSCRIBE TO MY KUDOS KITCHEN YOUTUBE CHANNEL. SEE YOU THERE! 🙂
The ingredient list:
Heavy Cream

Sweetened Condensed Milk

Lemon Curd (homemade or store-bought)

Malibu Rum (optional)

Fresh Blueberries
Why this recipe works?
Lately, I'm all about making ice cream the no-churn way.
I think when you see the ease in which no-churn ice cream is made, you'll agree that an ice cream maker (while it still has its place), is no longer a necessity when it comes to making delicious ice cream at home.
Looking for a good homemade lemon curd recipe?
Here are two lemon curd recipe that you're going to love from Jenni Field's Pastry Chef Online.
How well will store-bought lemon curd work in this recipe?
While homemade is always best, it's not always feasible.
If you're using store-bought lemon curd, I suggest you give it a taste first. If the lemon flavor isn't as bright and vibrant as you would like, stir in a teaspoon or two of fresh lemon zest. You'll be surprised at what a difference it makes!
Why add alcohol to no-churn ice cream?
One of the things I always do when I'm making no churn ice cream is I add a little bit of alcohol (no more than ¼ cup) into the whipped cream and sweetened condensed milk mixture.
I learned this trick from Martha Stewart. She was the one who taught me that a little bit of alcohol helps to keep the ice cream soft and creamy, and it helps to keep the ice crystals down.
As you'll notice in the title of this recipe, I've used Malibu rum as my alcohol of choice. I thought it would be a nice compliment to the lemon… and it is!!
Can I leave the alcohol out of this no-churn ice cream?
Yes! If you'd rather leave the alcohol out, by all means, do.
The only difference may be that small ice crystals form, but it won't be anything that would ruin the flavor or alter the consistency drastically of your homemade no-churn ice cream.
How long will it take to make no churn lemon ice cream?
Freezing time not included, this recipe will take approximately 15 minutes to make.
Freeze this ice cream, covered, for a minimum of 4 hours before serving.
The downside to making homemade no-churn lemon blueberry ice cream:
WARNING: I think it's important to mention that once you have this ice cream mixed and ready to freeze, it may be hard to stop yourself from sampling it before you actually get it into the freezer.
Well, maybe that was just me, but trust me, after only one taste you'll be hard-pressed to stop eating it!
Want additional no-churn ice cream recipes?
*No-Churn Pumpkin Ice Cream (pictured below)
Put those complicated desserts to bed! When it comes to holiday entertaining, WOW them with this easy, delicious, and completely fool-proof no-churn pumpkin ice cream!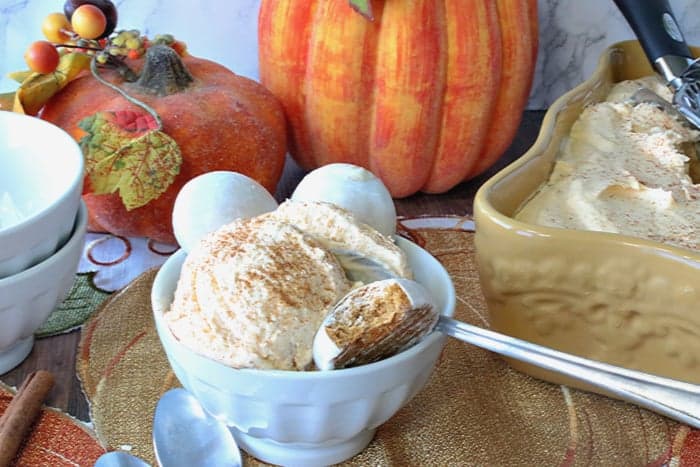 *No-Churn Banana Walnut Ice Cream (pictured below)
No-Churn Banana Walnut Ice Cream is a favorite for people who love bananas, toasted walnuts, caramel, and vanilla wafers. It's utterly delicious!!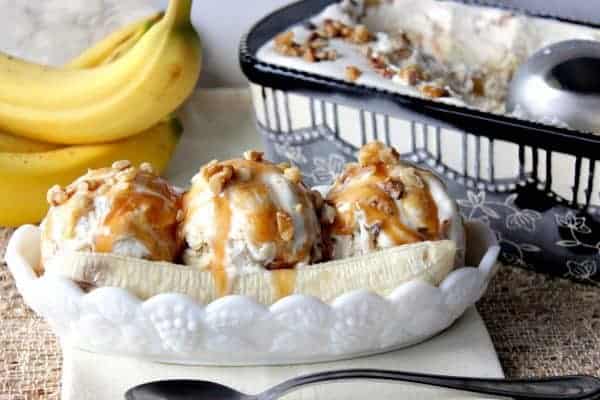 *No-Churn Cherry Chunk Amaretto Ice Cream (pictured below)
Smooth, creamy, and super flavorful! This no-churn Cherry Chunk Amaretto Ice Cream will soon become your new favorite ice cream flavor! I guarantee it!
*No-Churn Lemon Blueberry Ice Cream with Malibu Rum (pictured below) THIS IS THE PLACE!!
The easy instructions:
In a large bowl, whip 2 cups of heavy cream with a hand mixer until soft peaks form.

To the whipped cream, add the lemon curd and sweetened condensed milk.

Stir lightly, and then add the Malibu Rum and vanilla.

Stir lightly, and add the blueberries.

Stir gently and then pour the ice cream mixture into a loaf pan.

Freeze for at least 4 hours and then serve as desired.


Below is the printable recipe card along with the nutritional information for today's easy no-churn ice cream recipe.
No-Churn Lemon Blueberry Ice Cream with Malibu Rum (optional)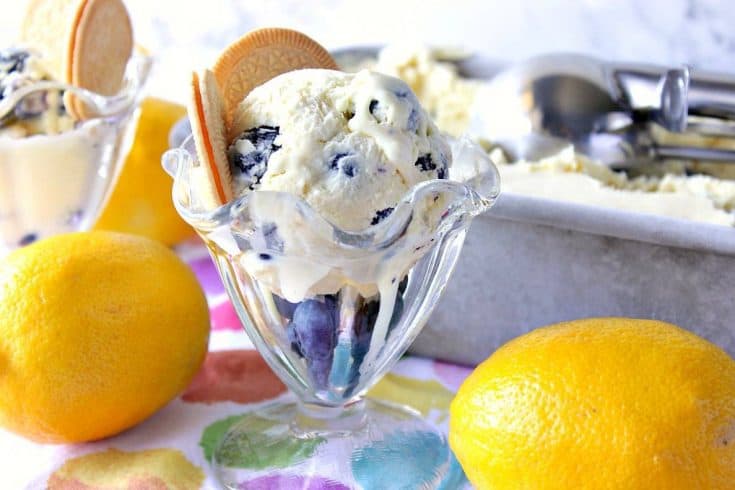 Here's a frozen lemon dessert that isn't a sherbet or sorbet. Luscious Lemon No Churn Ice Cream with Blueberries and Malibu Rum is rich and creamy with just the right amount of tart and sweet lemony flavor.
Total Time
4 hours
10 minutes
Ingredients
2 cups heavy cream
1½ cups lemon curd
1 can sweetened condensed milk
½ cup Malibu Rum, optional
1 teaspoon vanilla
pinch salt
1½ cups fresh blueberries
Instructions
In a large bowl, use a hand mixer on high speed (or stand mixer) to whip the heavy cream into soft peaks (will take approximately 4 minutes).
Switch to a wooden spoon or spatula and gently stir in the lemon curd, sweetened condensed milk, rum, vanilla, salt, and blueberries.
Pour the mixture into a covered freezer container and freeze for at least 4 hours before serving.
Notes
Tools and equipment:
large bowl, hand mixer, freezer container, spatula or wooden spoon
Nutrition Information
Yield
8
Serving Size
1 cup
Amount Per Serving
Calories

403
Total Fat

29g
Saturated Fat

18g
Trans Fat

1g
Unsaturated Fat

9g
Cholesterol

131mg
Sodium

123mg
Carbohydrates

30g
Fiber

1g
Sugar

29g
Protein

4g
The nutritional information and calorie count provided is intended as a guideline only and has been provided by third-party software.
Thank you so much for visiting me here today in my Kudos Kitchen!
I sincerely hope you've enjoyed today's recipe for homemade lemon ice cream as much as I've enjoyed bringing it to you!
Should you have any questions or comments regarding this recipe or anything else you've seen on my site, please don't hesitate to contact me directly or leave me a comment in the comment section below. It is always my distinct pleasure to get back to you with a reply just as soon as I possibly can!
For additional information regarding my Kudos Kitchen recipes, please follow me on;
FACEBOOK, PINTEREST, INSTAGRAM, TWITTER, and YOUTUBE
Kudos Kitchen by Renée ~ Cooking up artistically delicious family-friendly dishes from my Kudos Kitchen to yours!
Until we eat again, I hope you have a delicious day!
**Note – The post above includes affiliate links. As always, I truly thank you for your support!