I do believe the saying "eat the rainbow," came from this wonderfully Fresh Healthy Broccoli Salad which comes from Valerie Bertinelli's new cookbook, Valerie's Home Cooking!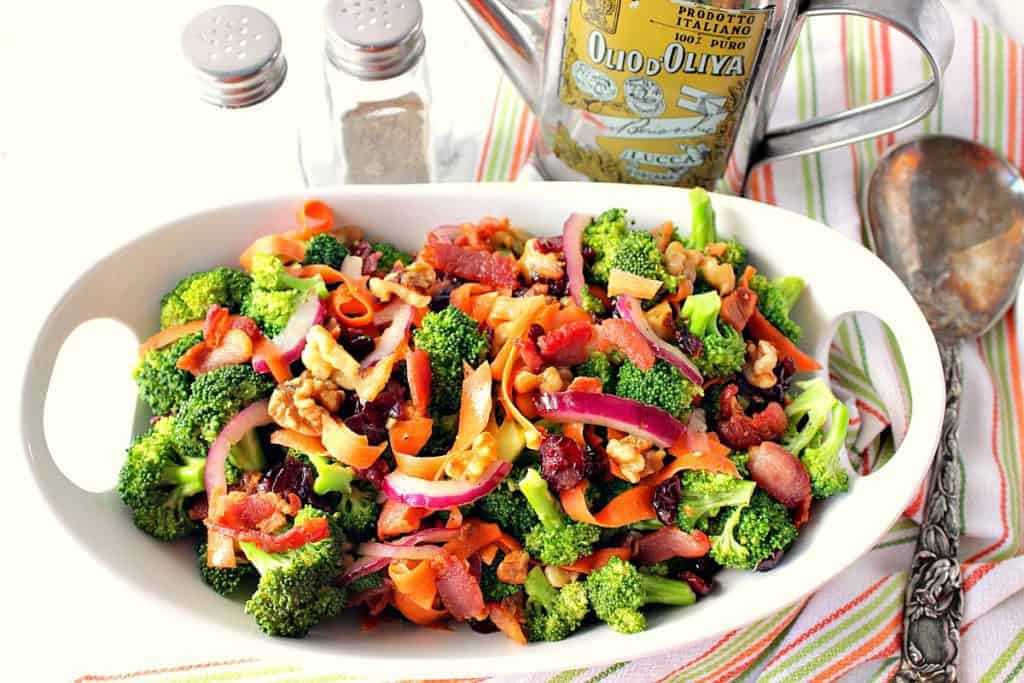 The majority of the recipes you'll find here on Kudos Kitchen are my own original creations. However, from time to time because of my blog I'm approached by publishing houses about doing cookbook reviews. This post (and the recipe for Healthy Broccoli Salad) is one such review. All the opinions I share are 100% my own.
I agreed to do this cookbook review for Valerie's cookbook because I've been a fan of hers, and her cooking show on The Food Network for a long time. Valerie has always seemed very approachable and down to earth, and the recipes she shares in Valerie's Home Cooking follows suit to her easy, non-fussy approach to life in the kitchen. I can highly recommend Valerie's cookbook. It's one I'm pleased to have in my own collection and it's one I'm looking forward to cooking from a whole lot more from in the coming months.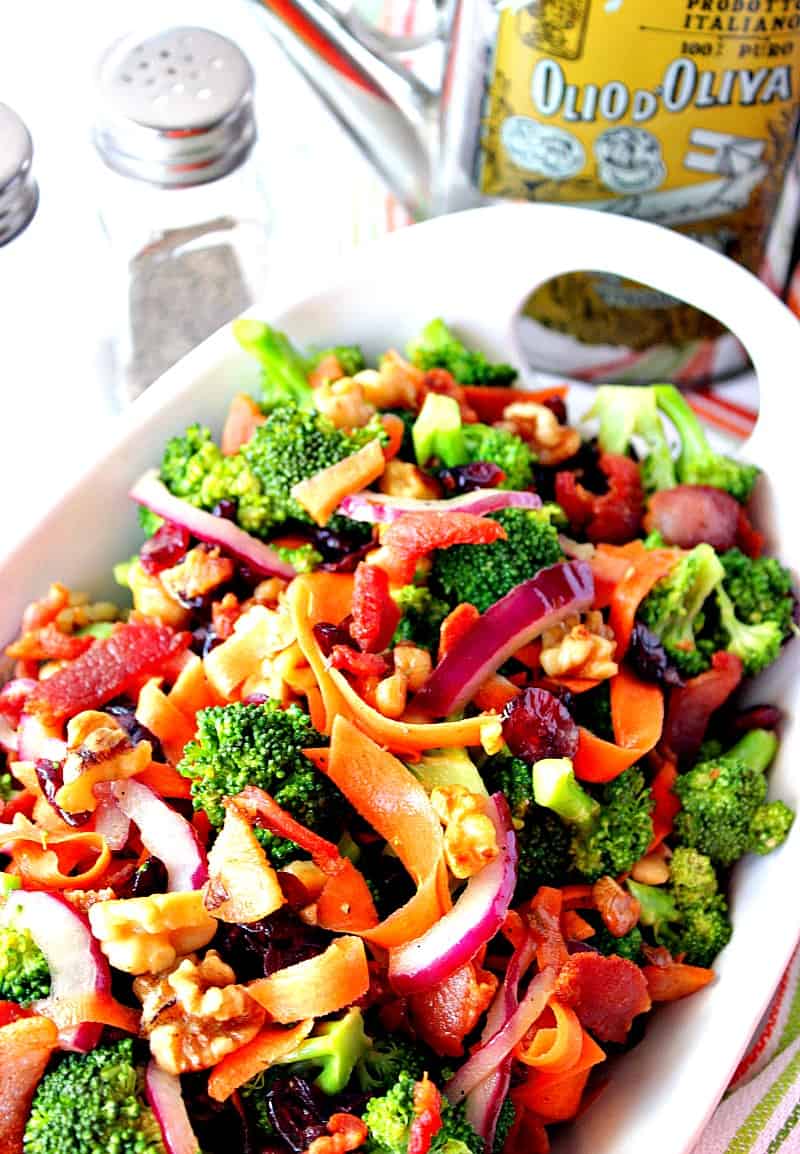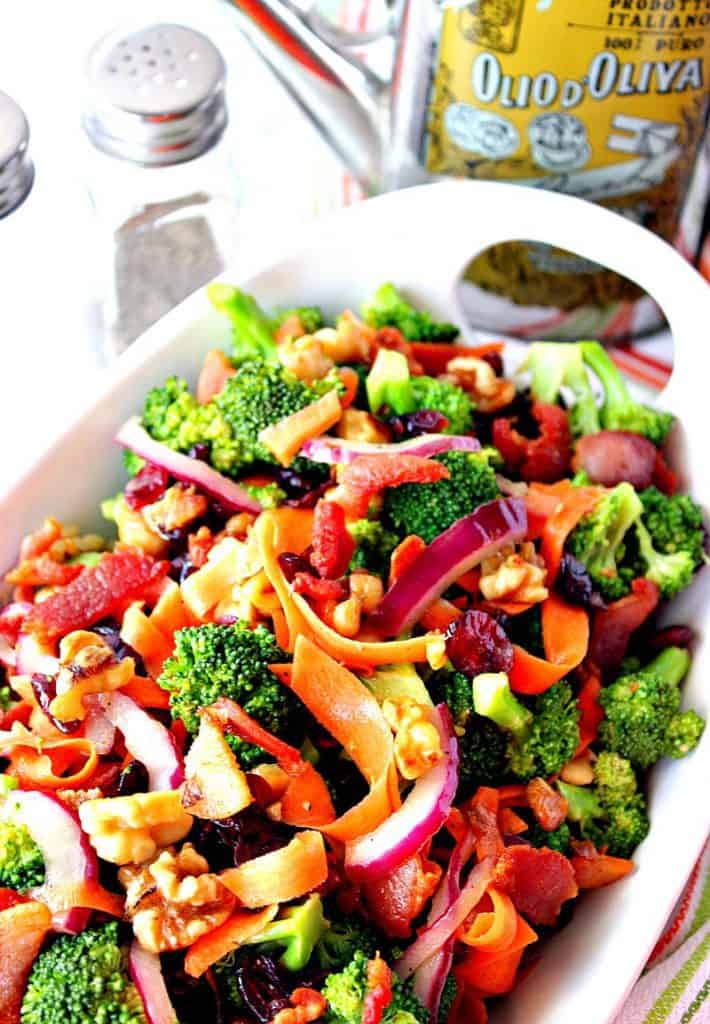 I give this cookbook and this Healthy Broccoli Salad a full two-thumbs up. I served this fresh and colorful salad as a side-dish to chili just last night for dinner, and my husband (who isn't nearly as big a vegetable lover as I am), wasn't going to have any...that is UNTIL I mentioned the recipe is from Valerie Bertinelli. The next thing I know, he's having seconds! His crush on Valerie goes way back, too! LOL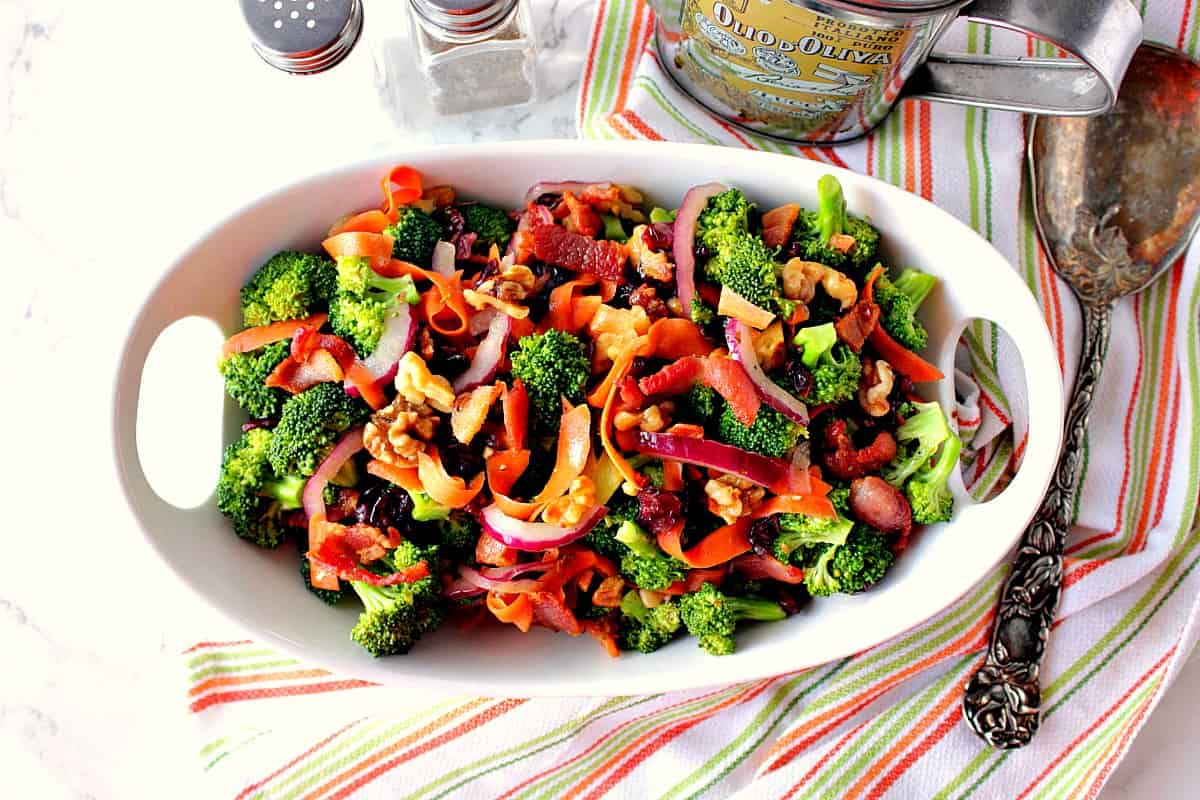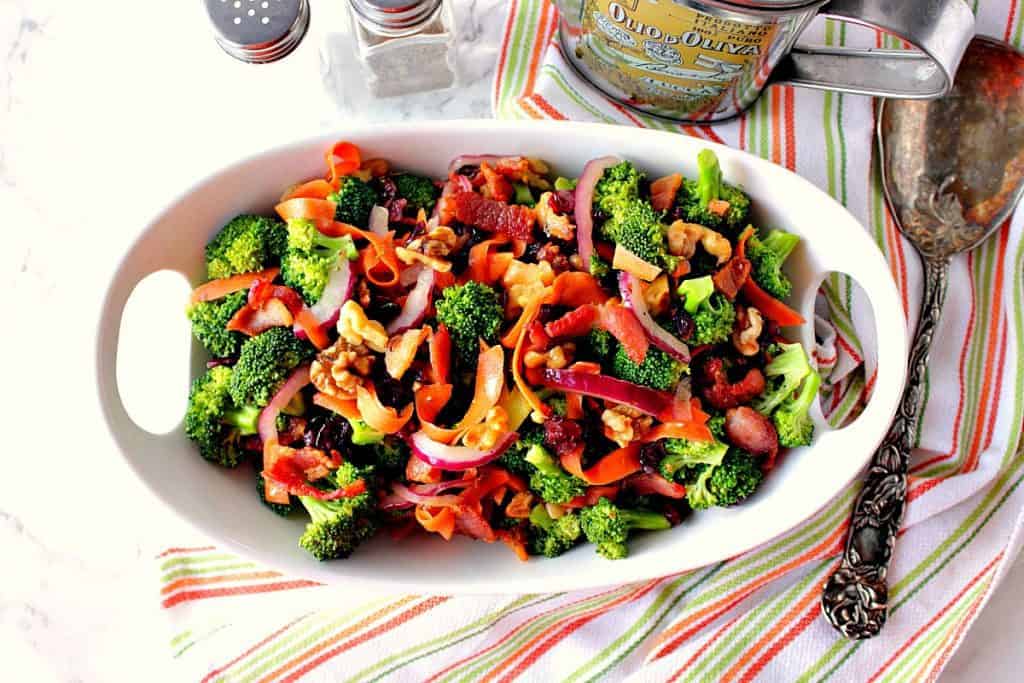 Have you ever seen a prettier, more colorful salad? Not only is this Healthy Broccoli Salad (found on page 199 of Valerie's Home Cooking) a feast for the eyes, but it's a delight for the taste buds as well. Valerie has combined fresh broccoli, carrots, red onion, dried cranberries, bacon and walnuts along with a lightly sweet homemade vinaigrette which elevates and unites these healthy ingredients into a wonderfully textured and flavorful salad, that just so happens to be good for you!
Here is a small sampling of some of the other recipe titles you'll find in Valerie's cookbook: Dutch Baby with Lemon Curd; Slow-Cooker Granola; Egg White Frittata with Arugula, Tomato, and Goat Cheese; Lobster BLT's; Turkey Meatloaf Burgers; Quinoa Salad with Cilantro-Lime Dressing; Ratatouille and Romaine Salad with Balsamic Vinaigrette; Spicy Margarita with Jalapeno and Ginger; Key Lime Martini; Rosemary and Pepper Crackers; Bloody Mary Tea Sandwiches; Peppered Beef Tenderloin; Marinated Lamb Chops; Chicken with Lemon-Wine Sauce; Four-Cheese Crab Mac 'n' Cheese; Bucatini with Wilted Spinach and Lemon Mascarpone Sauce (I'm making this next); Lemon Basil Granita; Salted Caramel Chocolate Chip Cookies; and Homemade Cannoli, just to name a few! If those recipe titles don't get you salivating, I don't know what will!
To purchase Valerie's Home Cooking, and to get the delicious recipes listed above, including this featured recipe for Healthy Broccoli Salad, please click on the cookbook photo below and you'll be taken directly to Amazon.com to do so.
As I always do, I took some photos during the process of putting together this recipe. Although I'm not sharing Valerie's recipe here on my blog, you can find a similar broccoli salad of Valerie's HERE on The Food Network.
The only tweaks I made to Valerie's recipe was that I partially cooked the broccoli in the microwave for a few minutes so the vinaigrette would better permeate the broccoli. And I used apple cider vinegar in place of the white wine vinegar Valerie used because, well, apple cider vinegar is so very good for you! The only other thing I did that the recipe didn't call for was I added pink Hymelian salt, and ground black pepper, to taste, before serving. This salad is a complete winner served chilled, at room temperature, or even warm.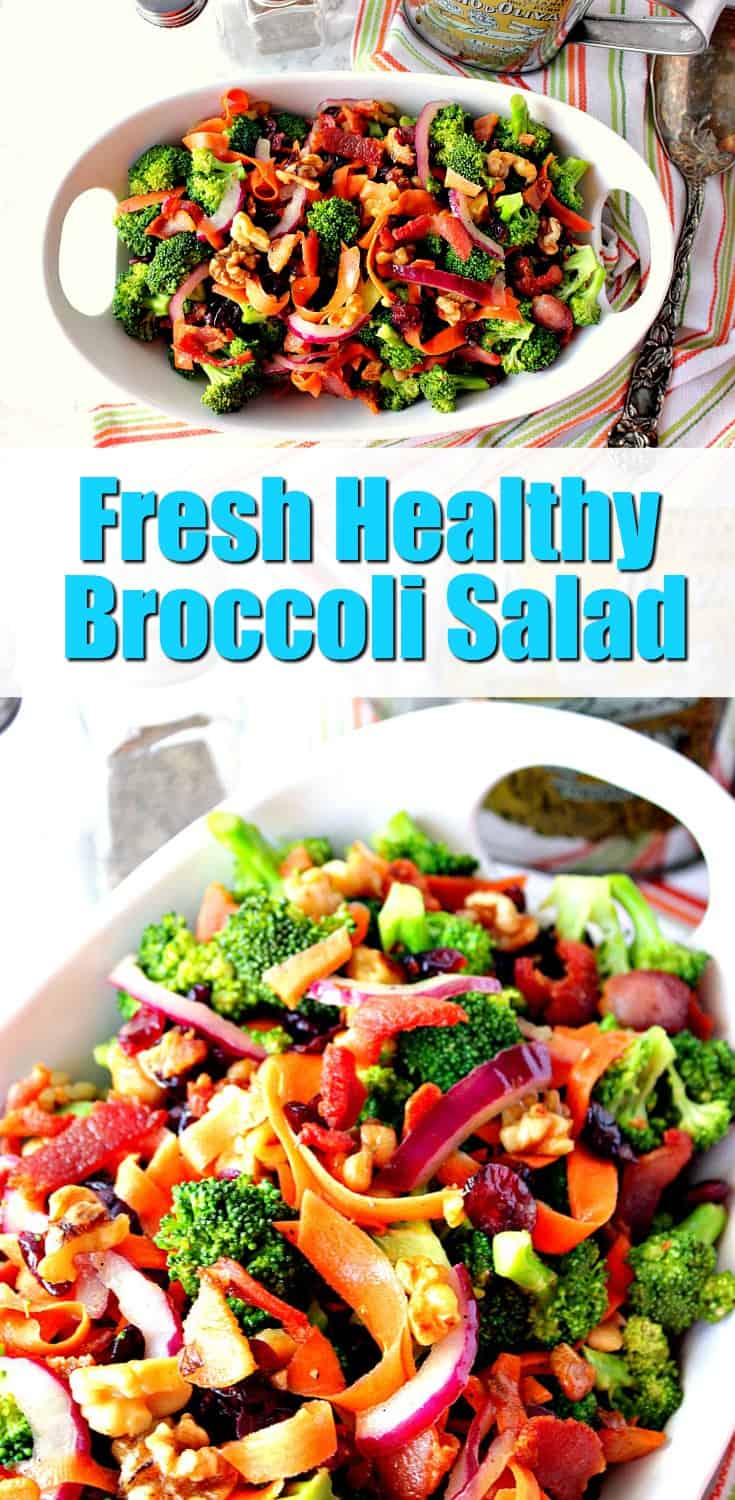 I hope you've enjoyed this recipe post for Healthy Broccoli Salad as much as I've enjoyed bringing it to you. If you know me, or follow me on my facebook page then you know that some of my very favorite food in the world is a big, healthy salad with loads of fresh veggies and fruits. I've shared several of my favorites over the years on my blog. The following are a few I know you'll enjoy. By clicking on the titles you'll be taken directly to the recipes for:
Avocado Mango Salad with Lime Poppy Seed Vinaigrette
Creamy Broccoli Blueberry Slaw with Bacon
Blood Orange and Blueberry Salad
Roasted Golden Beet and Broccoli Salad
If you should have any questions regarding this recipe for Healthy Broccoli Salad (from Valerie Bertinelli), or anything else you see on my site, please don't hesitate to contact me directly, or leave me a comment in the comment section below. It is always my distinct pleasure to get back to you with a reply just as soon as I possibly can!
For additional information regarding my Kudos Kitchen recipes, and/or my hand painted glassware or fabric items, please follow me on;
FACEBOOK, PINTEREST, INSTAGRAM, TWITTER, YOUTUBE and MY PAINT SHOP
Kudos Kitchen by Renée ~ Where food, art, and fun collide each and every day!
Until we eat again, I hope you have a delicious day!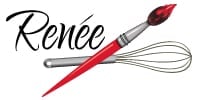 This post may contain affiliate links which won't change your price but will share some commission.