Ham, Macaroni with Cheese Appetizer Bites have all the flavors you crave in macaroni and cheese only they're in mini bite-sized appetizer form.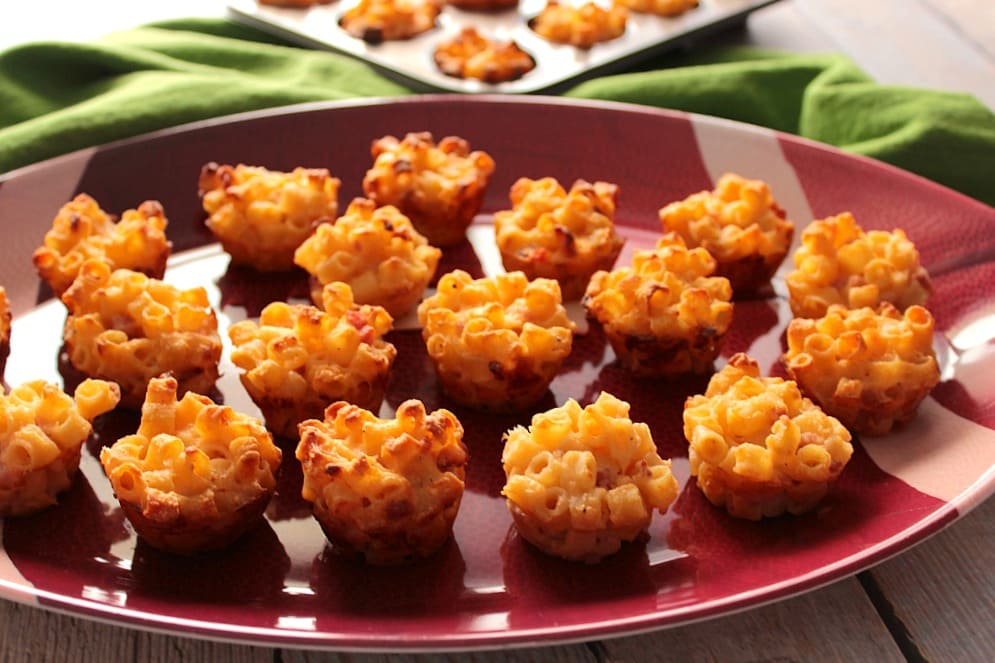 If you're looking to score big points at your super bowl party or next tailgating event, then make sure to serve these Ham and Macaroni and Cheese Appetizer Bites. The crowd will cheer, and the fans will roar, and then it's time to watch football. LOL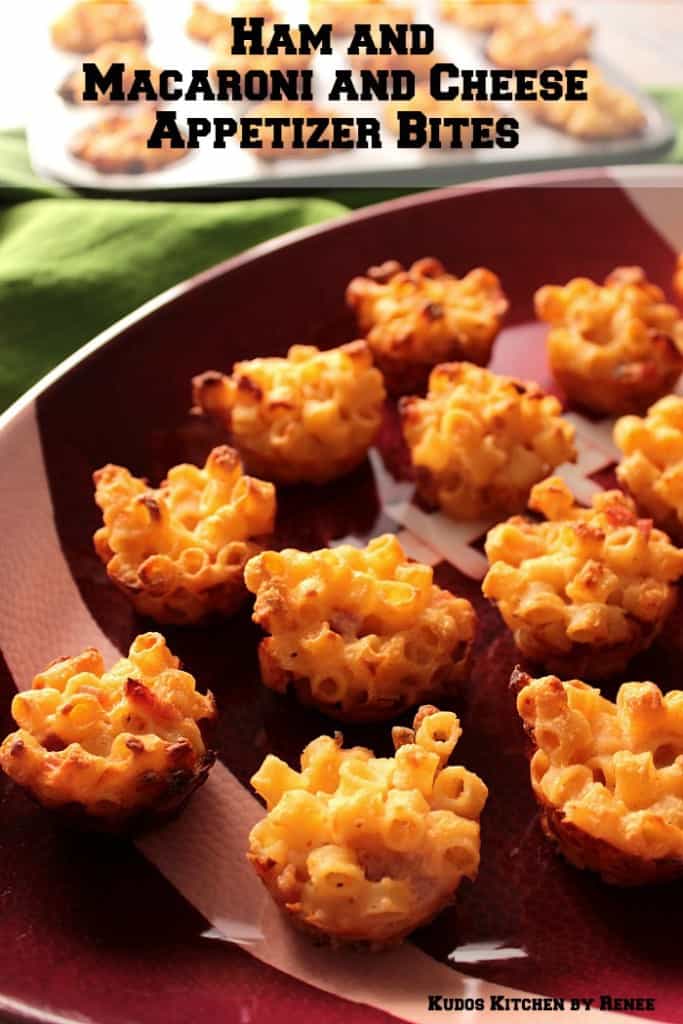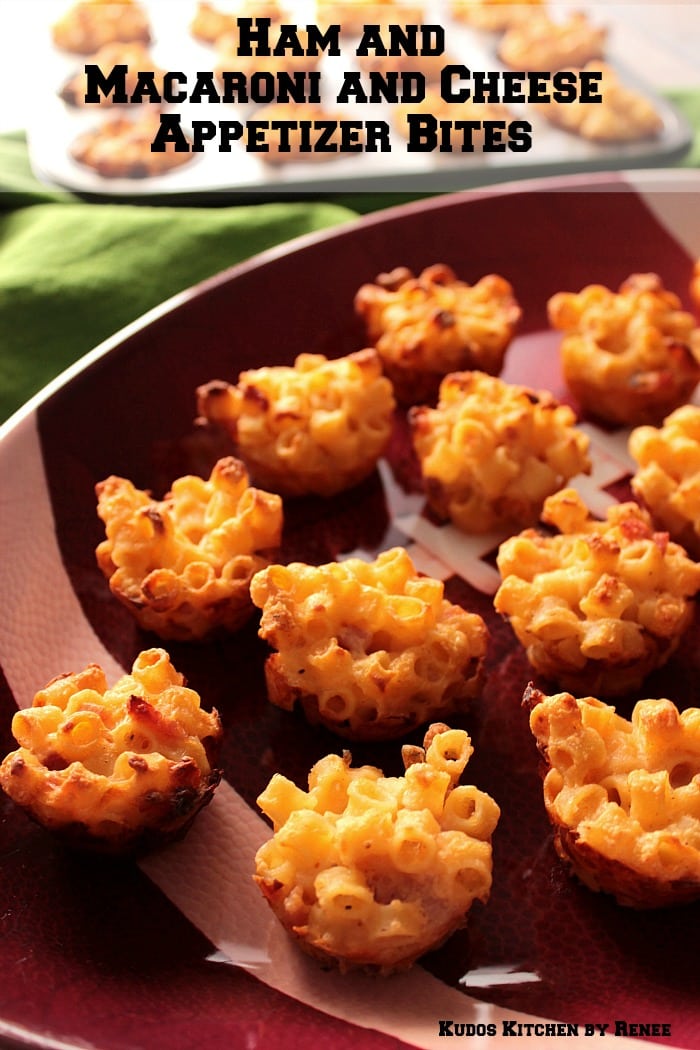 Since everybody loves finger food at a party, why not make everyone's favorite comfort food, only in snacking form? No fork needed…just fingers!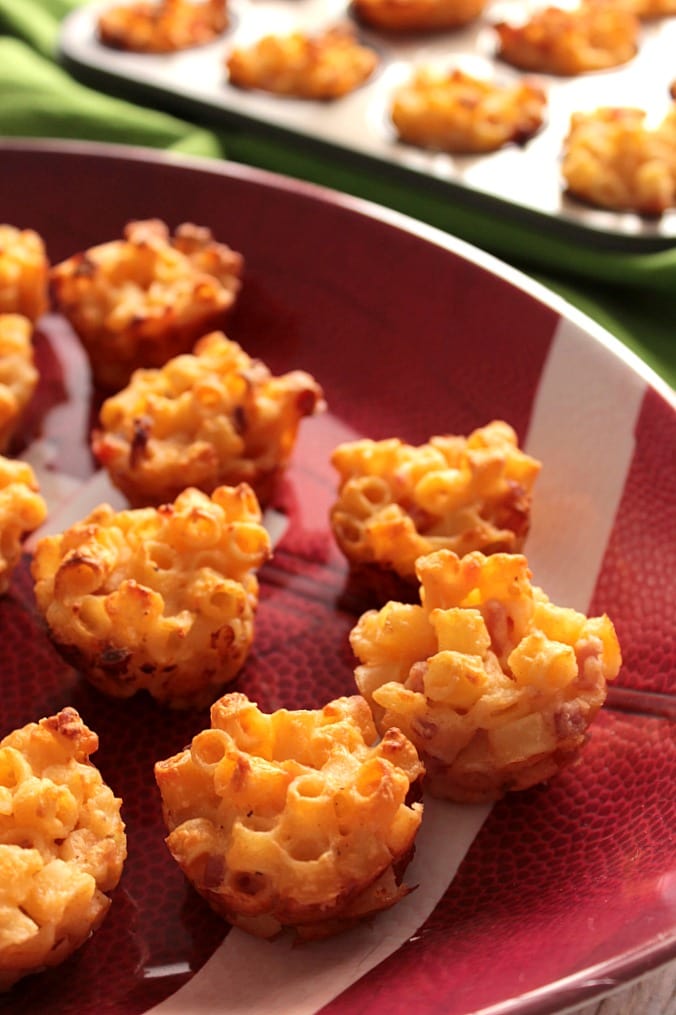 If you're thinking to yourself, "Boy, I'd like to make these but don't like ham and I don't have mini-muffin tins"… please don't let that stop you! The ham is totally optional (I just happened to have some leftover in the fridge), and you can use regular size muffin tins in place of the minis. The only thing you'll need to do is keep them in the oven a bit longer because they're larger in size. Other than that, carry on as usual.
If you've never made your own macaroni and cheese, it's really quite simple. Melt butter in a saucepan and whisk in all-purpose flour. Stir in warm milk, salt, pepper, nutmeg and dry mustard. Stir and cook until the sauce thickens.

Meanwhile cook and drain the mini pasta (I used ditalini) and add a bit of olive oil. Stir in the ham (if desired).

Stir grated cheddar, Swiss and cream cheese into the thickened sauce until completely melted.

Stir the cheese sauce into the cooked and drained pasta. Scoop the macaroni and cheese into prepared muffin tins and bake in the oven until golden brown and crisp on the edges.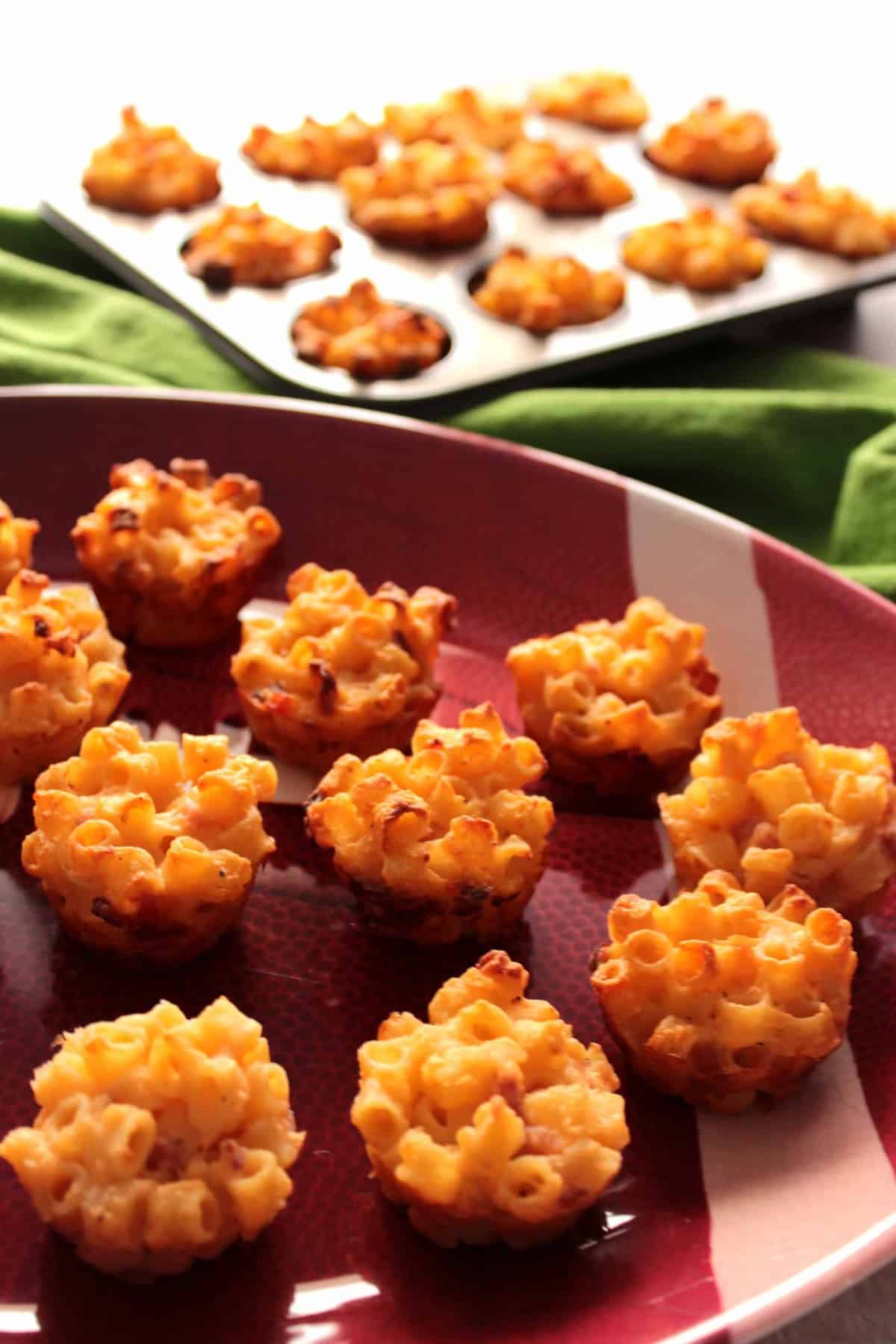 Ham and Cheese Macaroni and Cheese Appetizer Bites
Everyone's favorite comfort food is morphed into everyone's favorite appetizer.
Ingredients
3

tablespoons

butter

3

tablespoons

all-purpose flour

2

cups

milk

warmed slightly

2

cups

shredded sharp cheddar cheese

½

cup

shredded Swiss Cheese

4

ounces

cream cheese

at room temperature

½

teaspoon

salt

½

teaspoon

pepper

pinch

freshly grated nutmeg

or to taste

½

teaspoon

dry mustard

1

box ditallini pasta

cooked according to package directions, and drained

1

tablespoon

olive oil

2

cups

finely chopped ham

optional

cooking spray

mini muffin cups or regular size muffin cups
Instructions
Preheat oven to 350 degrees.

Cook the pasta according to package directions and drain. Stir in the olive oil. Keep warm and set aside.

In a saucepan over medium heat, melt the butter. Whisk in the flour and cook approximately 1-2 minutes.

Whisk in the warm milk and cook, stirring occasionally. The sauce will start to thicken as it heats.

Stir in the salt, pepper, nutmeg and dry mustard.

Switch to a wooden spoon and stir in the shredded cheeses and the cream cheese. Stir until smooth.

Add the cooked and drained pasta to the cheese sauce and stir until well combined.

Spray the inside of the muffin cups lightly with cooking spray.

Fill the muffin tins with the ham and macaroni and cheese mixture.

Bake in a preheated oven for 20 minutes.

Serve warm.
Notes
If using larger muffin tins, bake for approximately 10 minutes longer.
Come and get 'em! It's party time!!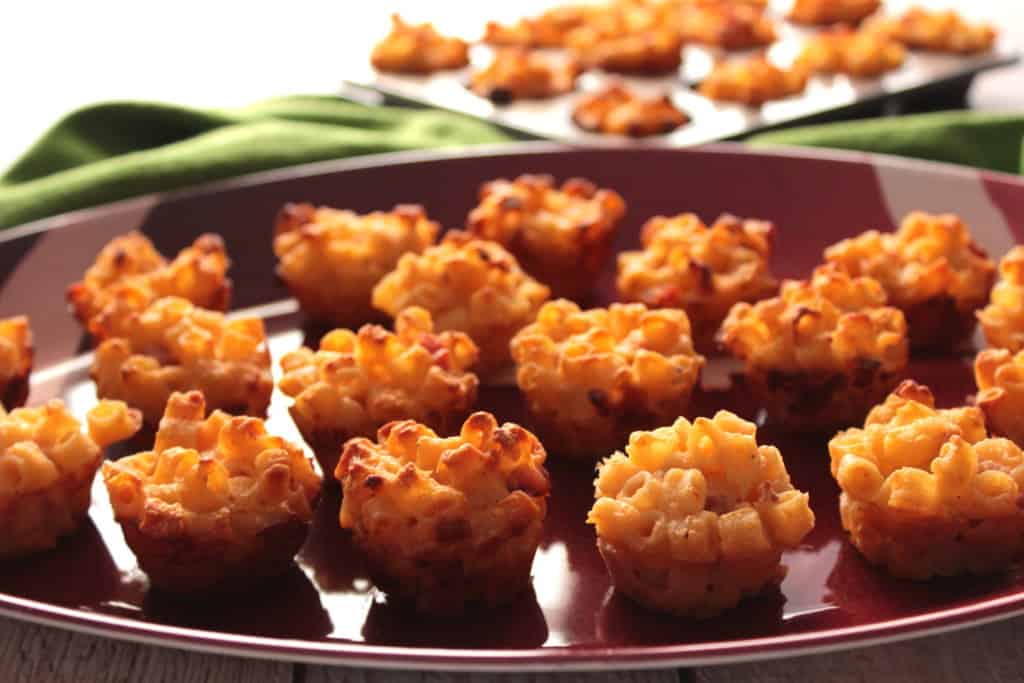 For more tasty appetizers and snacks that you might want to consider serving during the big game, how about the following suggestions: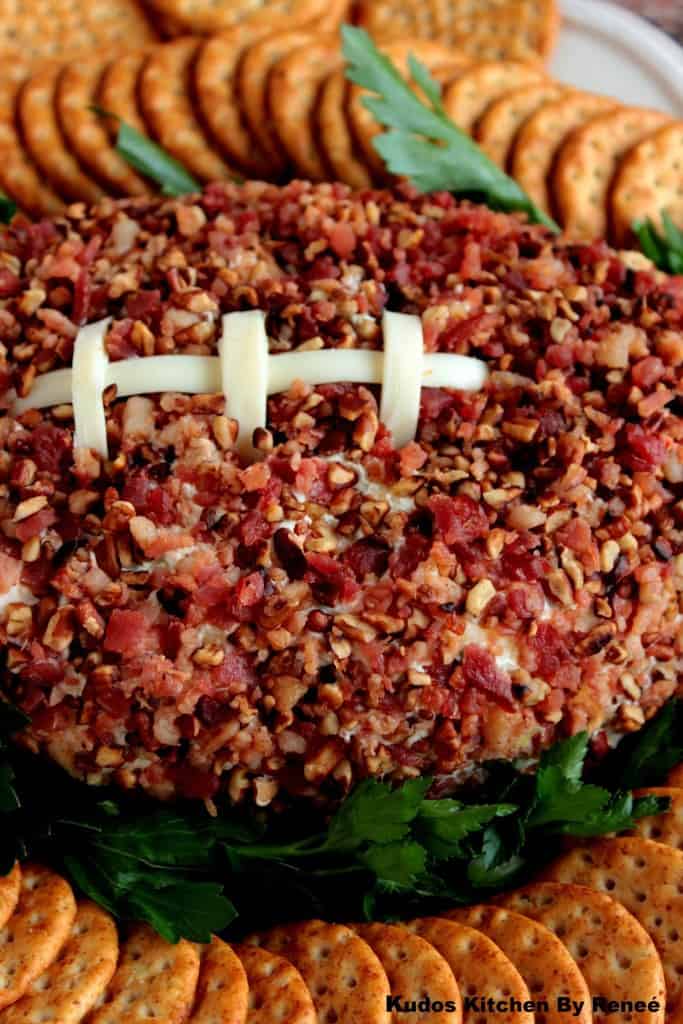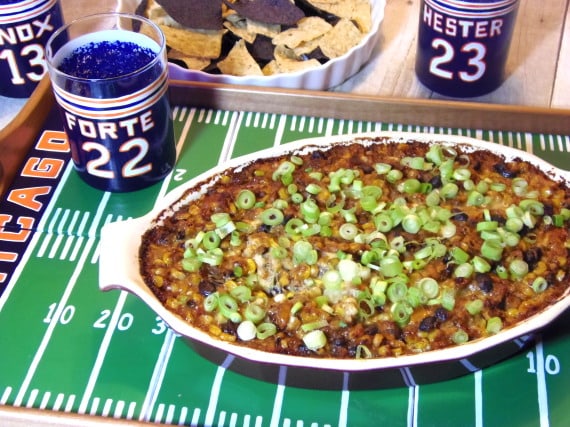 MINI FRENCH BREAD PIZZA APPETIZERS: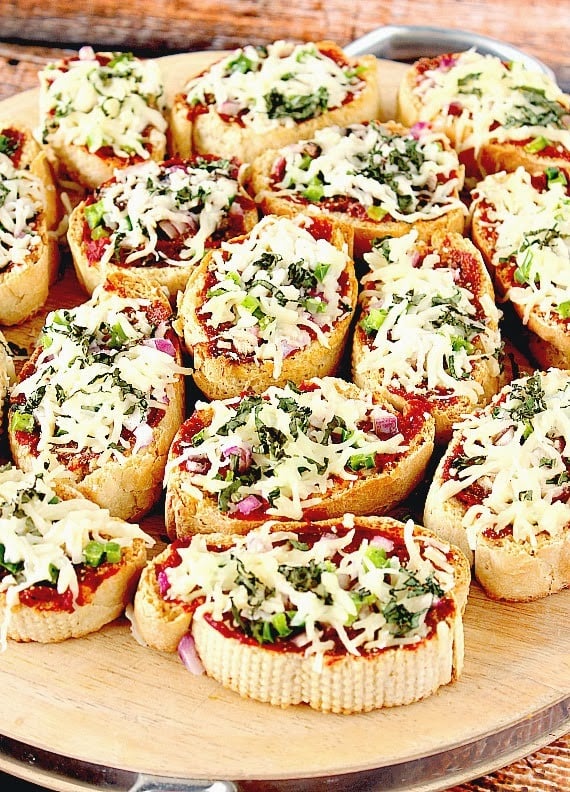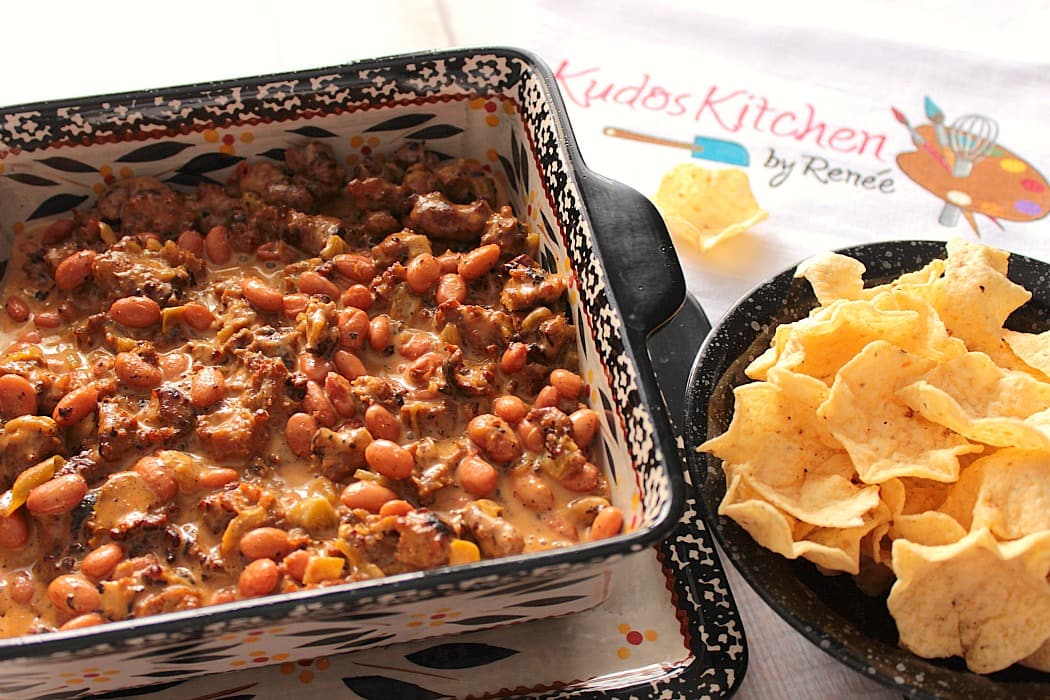 What team will you be cheering for? Do you know? Do you care? Me? I don't really care about the game. I'm more of a half-time watcher, and snack eater. The game just happens to be on between the commercials. LOL
My husband is a die-hard Chicago Bears fan and has been since he was a little boy. It's been a long time since the Bears were in the Super Bowl, and as of this year, and how they played, it seems it will be a looong time before they get there again. This tumbler and tile tray set is one I painted several years ago, as you can maybe tell by the players names and numbers. This set is still something we use for our game day snacks and drinks even though the team isn't really relevant to the ones on the field. Oh well. Cheers to a lot of fun, a good game, and some really good eats!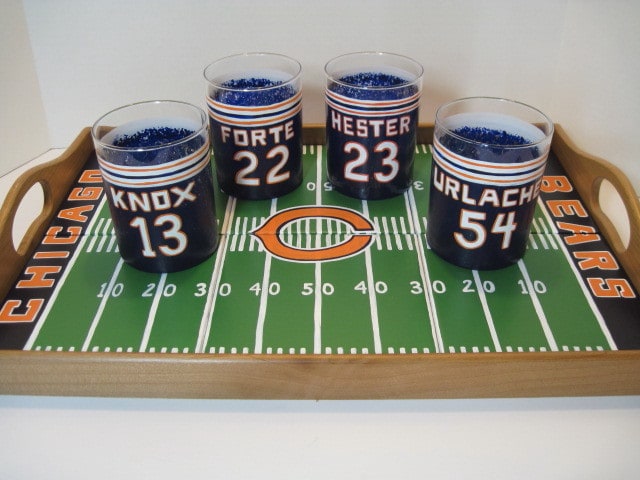 If there is ever anything I can paint for you, from glassware to fabrics, please don't hesitate to contact me by pressing the little envelope icon at the top of the page, or by visiting my shop on Etsy or Wazala. Custom orders are always welcome, and I will happily paint and design from any photo or description you send my way.
Kudos Kitchen by Renée ~ Where food, art, and fun collide each and every day!
Until we eat again, I hope you have a delicious day!