Mashed cauliflower is mixed with cream cheese, butter, cream, garlic and horseradish sauce for an extra zip of flavor! Even if you're not a huge cauliflower fan, I hope you'll give this recipe for cheesy Mashed Cauliflower Casserole a try because I believe it will make you (or someone you love) a cauliflower convert.
I adore how versatile cauliflower is. I almost always have it in my fridge.
Cauliflower is one of those magical vegetables that can be morphed into just about anything these days. However, my favorite way to eat it is in this Easy Cheesy Cauliflower Casserole.
Don't forget to like and subscribe to my Kudos Kitchen channel on YouTube!
**Please Note – The printable recipe card with detailed instructions and complete ingredient measurements for making today's low carb cauliflower casserole is available near the end of this post.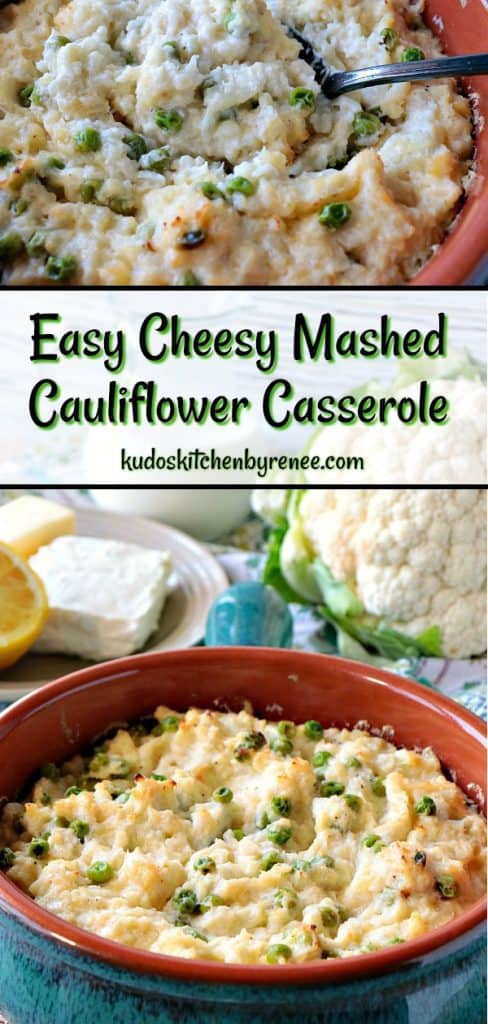 The ingredient list for making Mashed Cauliflower Casserole;
Fresh Cauliflower

Cream Cheese

Butter

Heavy Cream

Garlic

Parmesan Cheese

Prepared Horseradish

Fresh Lemon Juice

Frozen Peas

Salt and Pepper
Check out my latest Kudos Kitchen tasty BBQ side dishes recipe roundup.
I developed this recipe because we'd been following a keto eating plan in my household.
That said, I've served this dish to several people who aren't following a keto plan, and also to one person who doesn't enjoy cauliflower at all, and they all approved of this delicious and slightly zippy side dish. WIN!
Why this easy cauliflower recipe works?
The main reason is that it's super simple to make, and you can mash the cauliflower to your desired consistency.
For this recipe, I like to keep the cauliflower a little chunky, so it has more body than your typical mashed cauliflower side dish. But feel free to mash it to whatever fits your preference.
Since this dish is heavily laden with cheese, cream, and butter, the importance of the horseradish and fresh lemon juice at the end cannot be overstated!
The fresh lemon juice cuts through the richness of the other ingredients and balances the flavors of this mashed cauliflower casserole in a wonderfully delicious way, and the horseradish adds a little zip that wakes up the entire dish!
Can this cauliflower casserole be made in advance?
Yes! You can either make it and refrigerate it before baking, or make it, bake it, and refrigerate it.
How long will it keep in the refrigerator?
Cover it well, and this low carb cauliflower casserole will keep for up to 5 days in the refrigerator.
Can store-bought prepared cauliflower rice be used in this recipe?
Yes! For ease, it sure can.
If you're using frozen cauliflower rice, make sure it is completely thawed before using, and if needed, squeeze out any additional water (just as you would when using frozen spinach).
Actually, that sounds really good too. Why not add some thawed frozen spinach into the mix (maybe like 1 cup)? I think the combo would be a real winner! I think I'm going to make it that way next time myself! 😉
Can this casserole be frozen?
Yes! Wrap it well for the freezer and it can be kept frozen for up to 3 months.
Important: If freezing after baking, cool it completely before wrapping and freezing.
How do I bake the casserole after freezing?
You can either thaw it completely and then bake it, uncovered, at 350-degrees for 30 minutes.
If baking from frozen, bake in a preheated 350-degree oven for 60 minutes, uncover, and continue baking for an additional 15 minutes or until completely heated through.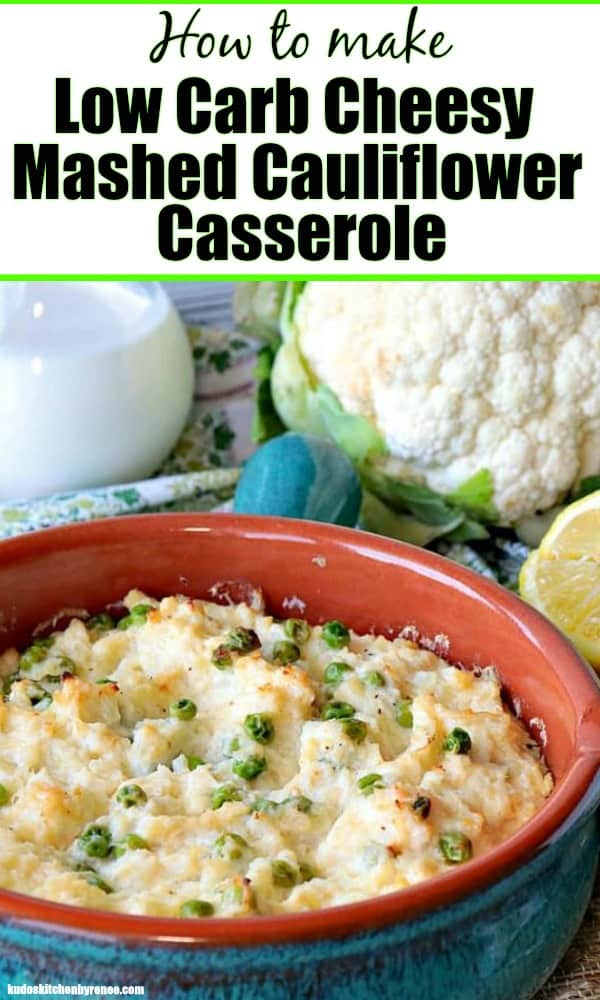 The easy instructions;
Cut or break the florets off the cauliflower head.

Discard the core and leaves.

Add the florets to a large bowl.

Cover with plastic wrap and microwave for 10 minutes until soft and tender.

Mash the florets to your desired consistency.

Add softened butter, cream cheese, garlic, and heavy cream.

Add fresh lemon juice, prepared horseradish, Parmesan cheese, salt, and pepper.

Stir well.

Add frozen peas and mix.

Add the mixture to a 1½ quart baking dish and bake in a preheated 350-degree oven for 25-30 minutes.

Serve hot.

Cauliflower has been enjoying a complete surge of popularity over the past few years! I don't know who cauliflower's publicist is, but whoever it is, they sure are doing things right! 😉
Additional Cauliflower Recipes
Below you'll find other delicious and creative recipes using cauliflower.
Below is the printable recipe card for today's cheesy mashed cauliflower casserole.
If you've enjoyed this recipe, and are anxious to give it a try, I'd appreciate if you'd take a moment to give this recipe some feedback by way of stars near the comment section at the end of this post.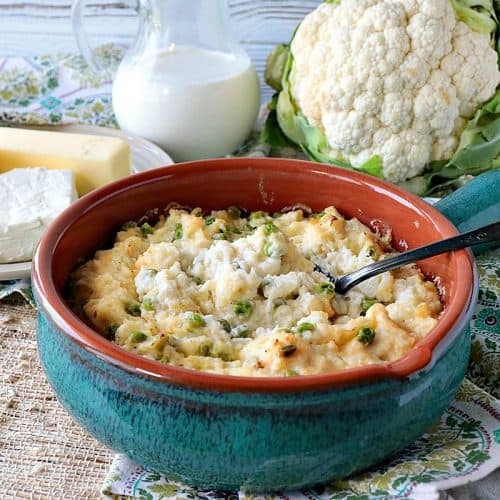 Best Easy Cheesy Mashed Cauliflower Casserole with Peas
Cheesy Mashed Cauliflower Casserole is mixed with cream cheese, butter, cream, garlic and horseradish sauce for an extra zip of flavor!
Ingredients
1

head

cauliflower,

florets removed

4

ounces

cream cheese,

softened

3

tablespoons

butter,

softened

¼

cup

heavy cream

2

cloves

garlic,

minced

2

tablespoons

prepared horseradish,

or to taste

½

cup

shredded Parmesan cheese

1

teaspoon

fresh lemon juice

1

cup

frozen peas

1

teaspoon

coarse salt,

or to taste

½

teaspoon

black pepper,

or to taste
Instructions
Preheat oven to 350 degrees.

Place the cauliflower florets in a large bowl. Cover the bowl with plastic wrap and microwave for 10 minutes on high, or until the florets are soft and tender.

Mash the florets with a potato masher. Add the remaining ingredients. Mash and mix to your desired consistency.

Spoon the mixture into a 1½ quart baking dish which has been sprayed with cooking spray.

Bake in a preheated oven for 20-25 minutes. Serve hot.
Notes
Tools and equipment:
Chef's knife, cutting board, large bowl, plastic wrap, microwave, potato masher, cooking spray, wooden spoon, measuring spoons, measuring cups, 1½ quart baking dish
Nutrition
Serving:
1
serving
Calories:
174
kcal
Carbohydrates:
8
g
Protein:
5
g
Fat:
13
g
Saturated Fat:
8
g
Cholesterol:
42
mg
Sodium:
510
mg
Potassium:
301
mg
Fiber:
2
g
Sugar:
3
g
Vitamin A:
625
IU
Vitamin C:
43.3
mg
Calcium:
113
mg
Iron:
0.7
mg
I sincerely hope you've enjoyed easy cauliflower recipe (which just happens to be keto and low carb) as much as I've enjoyed bringing it to you.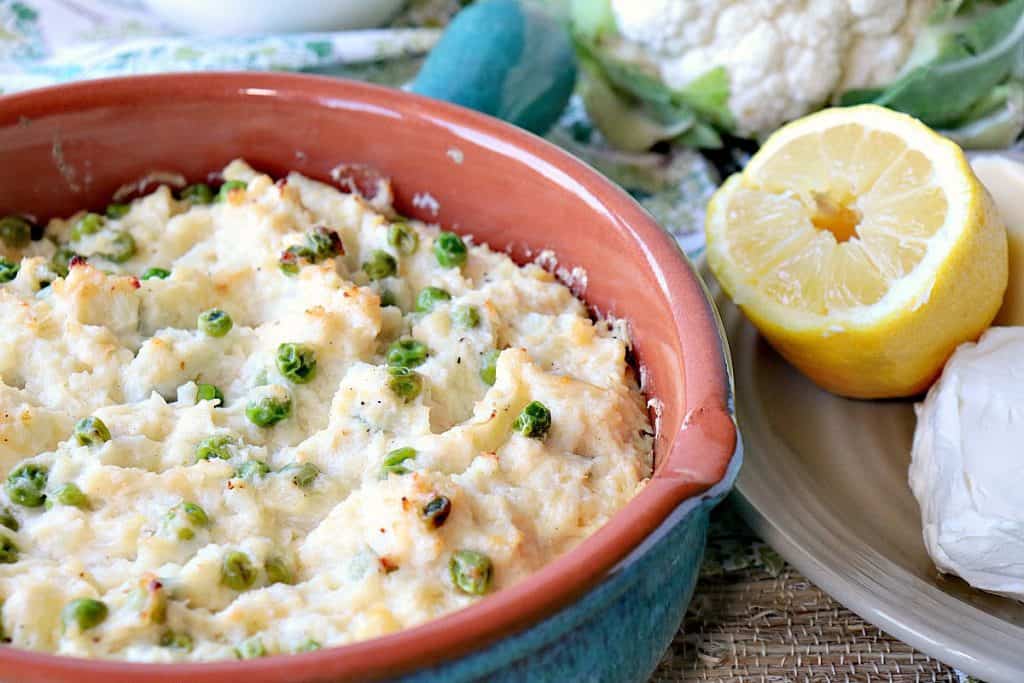 Should you have any questions or comments regarding today's recipe or anything else you've seen on my site, please don't hesitate to contact me directly or leave me a comment in the comment section below. It is always my distinct pleasure to get back to you with a reply just as soon as I possibly can!
For additional information regarding my Kudos Kitchen recipes, please follow me on;
FACEBOOK, PINTEREST, INSTAGRAM, TWITTER, YOUTUBE
Kudos Kitchen by Renée ~ Cooking up artistically delicious family-friendly dishes from my Kudos Kitchen to yours!
Until we eat again, I hope you have a delicious day!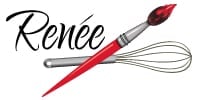 **Note – The post above includes affiliate links. As always, I truly thank you for your support!