Texas Tater Hash is a twist on a casserole I used to make when I was a new bride. In this updated version I've swapped new potatoes for long grain white rice. We like it every bit as much, if not more, than what I made some 30 (plus) years ago.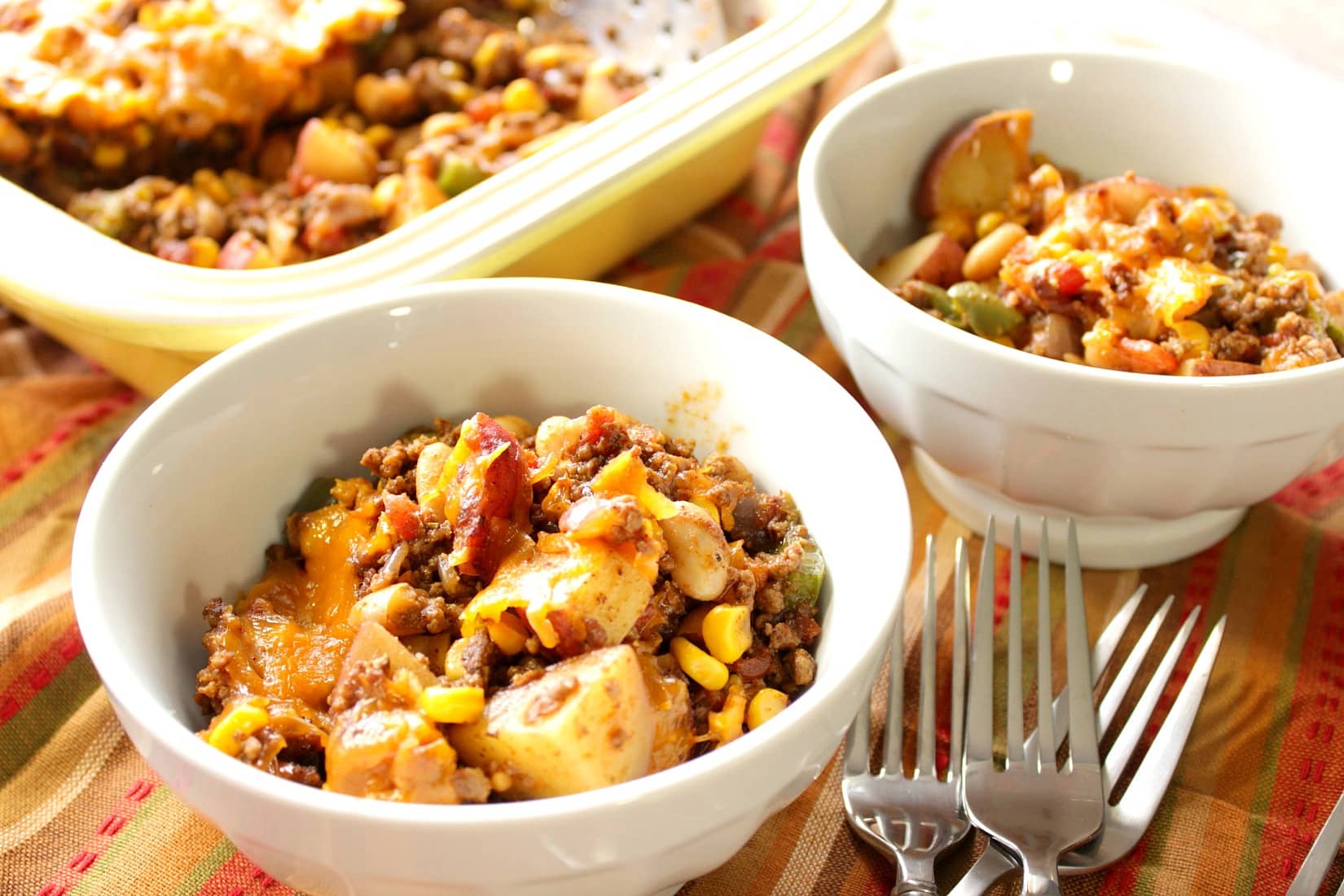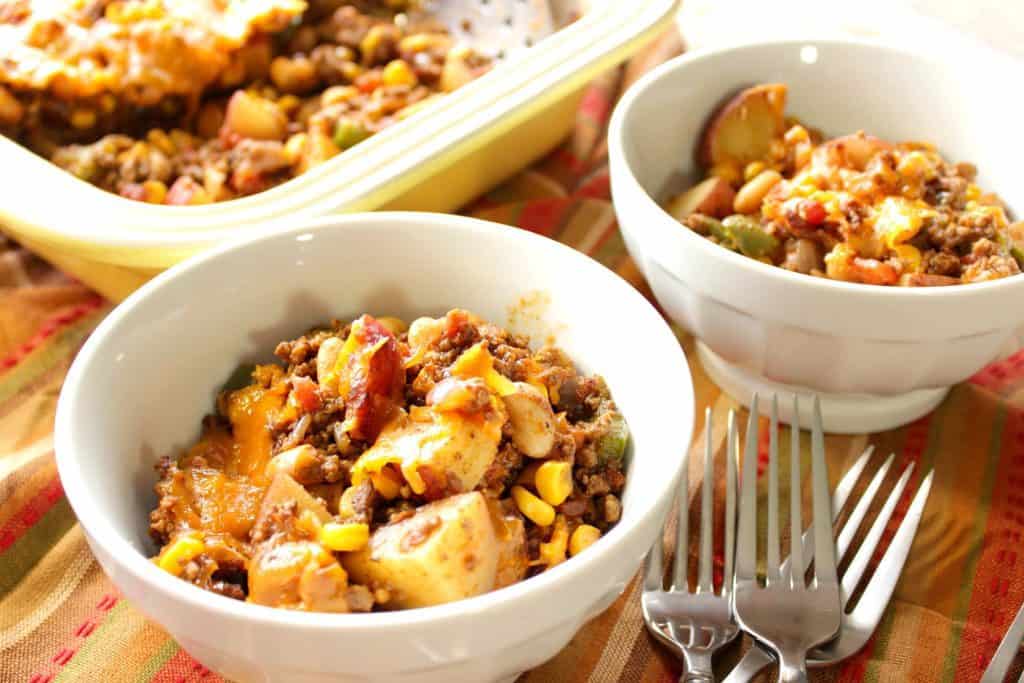 When I was first married, I didn't know how to cook. During my growing up years my mom did all the cooking, and I basically just slid my feet under the table at dinnertime and ate whatever she served. It's not that I wasn't interested in cooking, it's just that my mom seemed to have it covered. LOL, Can you say lazy?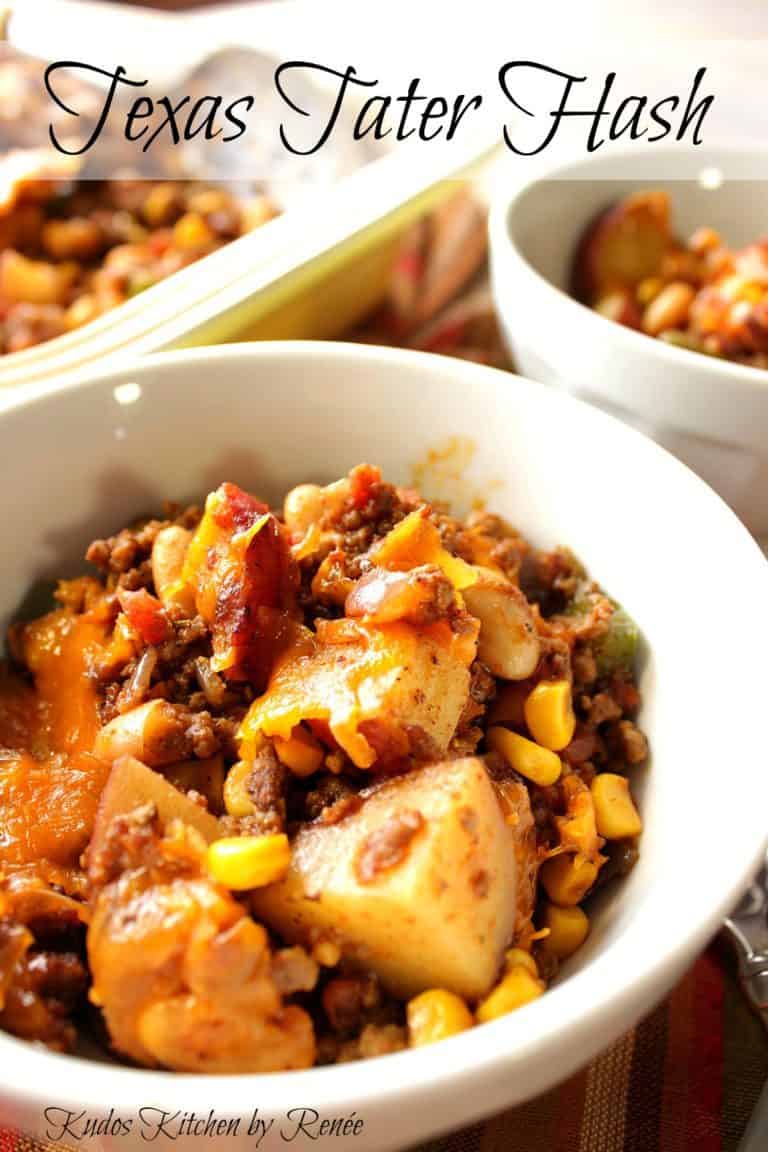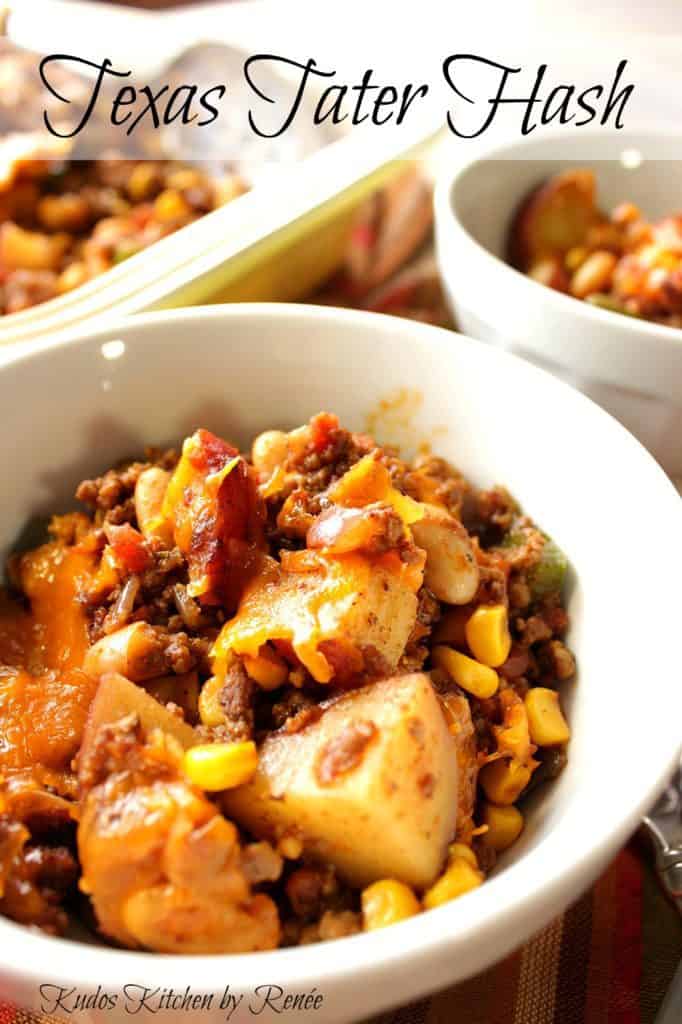 Growing up I watched all the cooking shows that Saturday afternoons on PBS had to offer. The French Chef was one of my all time favorites, along with The Frugal Gourmet, Yan Can Cook, The Galloping Gourmet, and occasionally Justin Wilson (but not too often because he tended to get on my nerves). I was young and naive, and as a girl it seemed to me that these chefs never followed a recipe nor did they measure our their ingredients unless of course they were baking.
So when I got married and started cooking on my own I realized that those cooking shows had a huge influence on my creativity in the kitchen, and I would jump into my cooking and baking with fearless abandon. And, because I never actually followed recipes, nothing ever came out the same way twice!! Except of course when I made the Texas Hash recipe that came in my, then treasured, and sadly no longer have, Betty Crocker olive green recipe box. Ah, the memories.
Fast forward to today, and my updated recipe for Texas Tater Hash: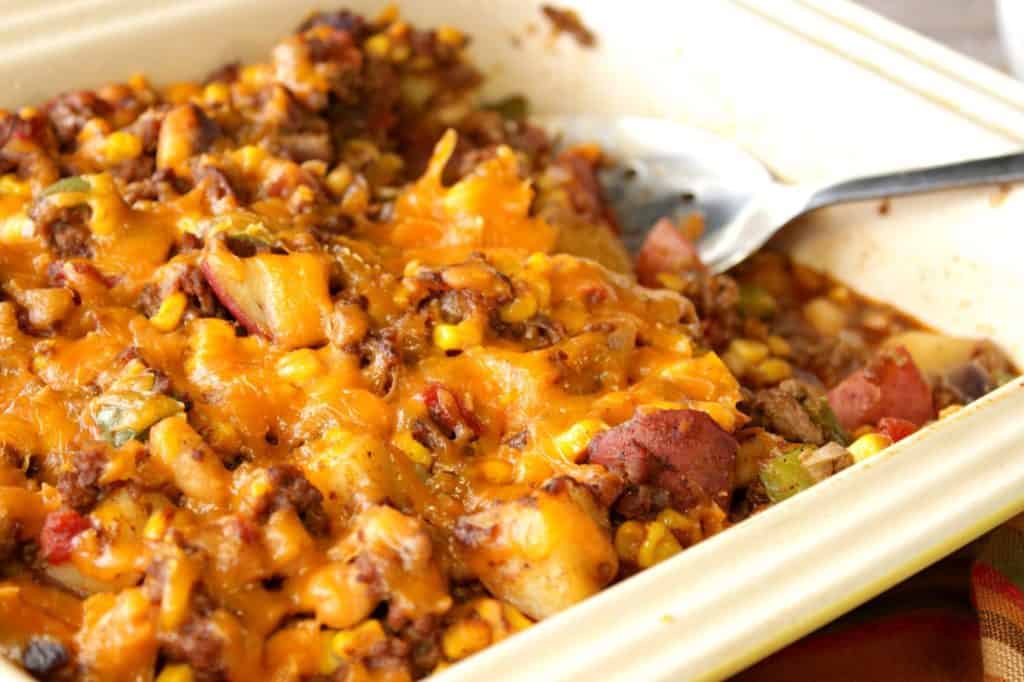 Brown the ground beef in a large skillet. Quarter 1 pound of red potatoes and add them into the skillet with the browned beef. Cook for 15 minutes.

Chop 1 large green pepper, and one large red onion. Add them to the beef and potatoes along with canned cannellini beans, corn and diced tomatoes.

Stir in ground cumin, chili powder, garlic powder, smoked paprika and dried oregano. Stir well and simmer for 5 minutes. Spoon the mixture into a large casserole dish.

Top with shredded cheddar cheese and bake for 30 minutes in a 350 degree oven. Serve and enjoy.
Printable Recipe Card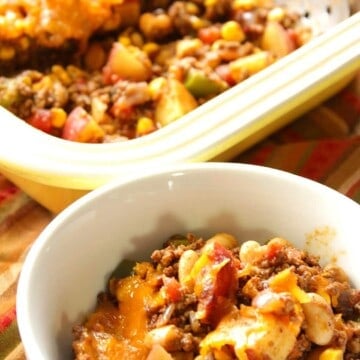 Texas Tater Hash
This hearty casserole is filled with big, bold Tex-Mex flavors and is super easy to make.
Ingredients
1

pound

ground beef

1

pound

small red potatoes

quartered

1

large red onion

chopped

1

green bell pepper

seeded and chopped

2½

teaspoons

kosher salt

½

teaspoon

black pepper

1

can

15 ounces cannellinni beans, rinsed and drained

1

can

11 ounces can corn, drained

1

can

14 ounces diced tomatoes, with their liquid

2

teaspoons

ground cumin

2

tablespoons

chili powder

2

teaspoons

garlic powder

2

teaspoons

smoked paprika

1

teaspoon

dried oregano

1

cup

shredded cheddar cheese
Tools
Large skillet

9

" x 13" baking dish

cooking spray

Large spoon
Instructions
Preheat oven to 350 degrees.

Brown the ground beef in a large skillet over medium heat.

Add the quartered potatoes to the ground beef and cook, stirring occasionally for 15 minutes.

Stir the chopped onions and bell pepper into the skillet along with the salt and pepper.

Add the cannellinni beans, corn, tomatoes (with their liquid), cumin, chili powder, garlic powder, smoked paprika, and dried oregano. Stir well to combine and heat through.

Spoon the mixture into a 9" x 13" baking dish that has been sprayed with cooking spray.

Top the casserole with the shredded cheddar cheese and bake in a preheated oven for 30 minutes.

Serve and enjoy!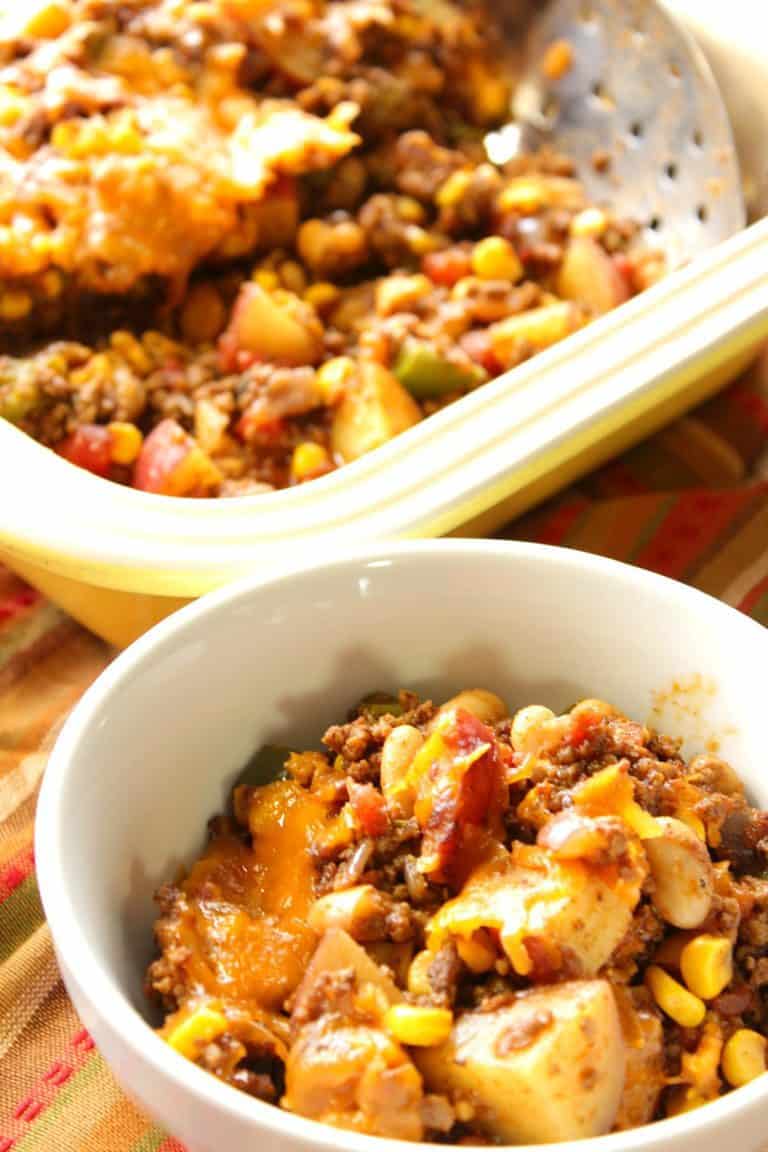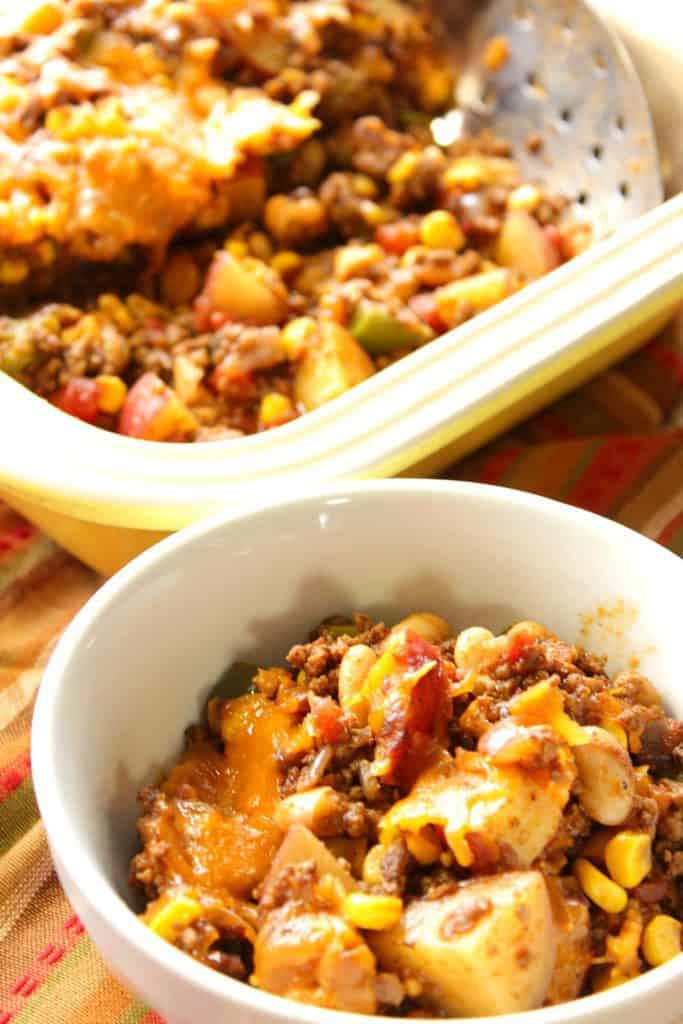 To me these cactus sunset wine glasses pair wonderfully well with this Texas Tater Hash. Also, if you remember, earlier I had mentioned The French Chef, Julia Child, and the influence she had on me. I simply couldn't close this post without also adding my fun Julia inspired apron. Bon Appetit, y'all!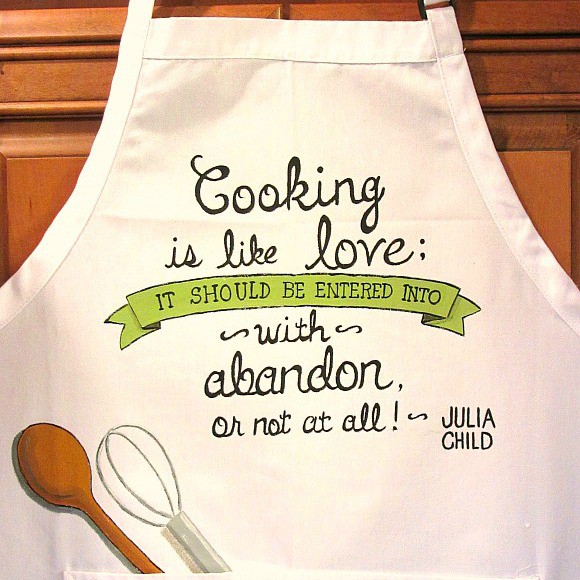 If there is ever anything I can paint for you, from glassware to fabrics, please don't hesitate to contact me or visit one of my shops, on Etsy, Wazala, and Kudos Kitchen Paints. Custom orders are always welcome, and I will happily paint and design from any photo, idea, or description you send my way. All my glassware items are dishwasher safe as well as being non-toxic, and all my painted fabrics are completely machine washable. Together we give the gifts that people remember!
Kudos Kitchen by Renée ~ Where food, art, and fun collide each and every day!
Until we eat again, I hope you have a delicious day!