This whole berry cranberry sauce brings together the warmth of cardamom and cinnamon and mixes it with the tangy sweetness of cranberries, pineapple juice, and orange.
It's the perfect holiday side that you'll want to serve year-round!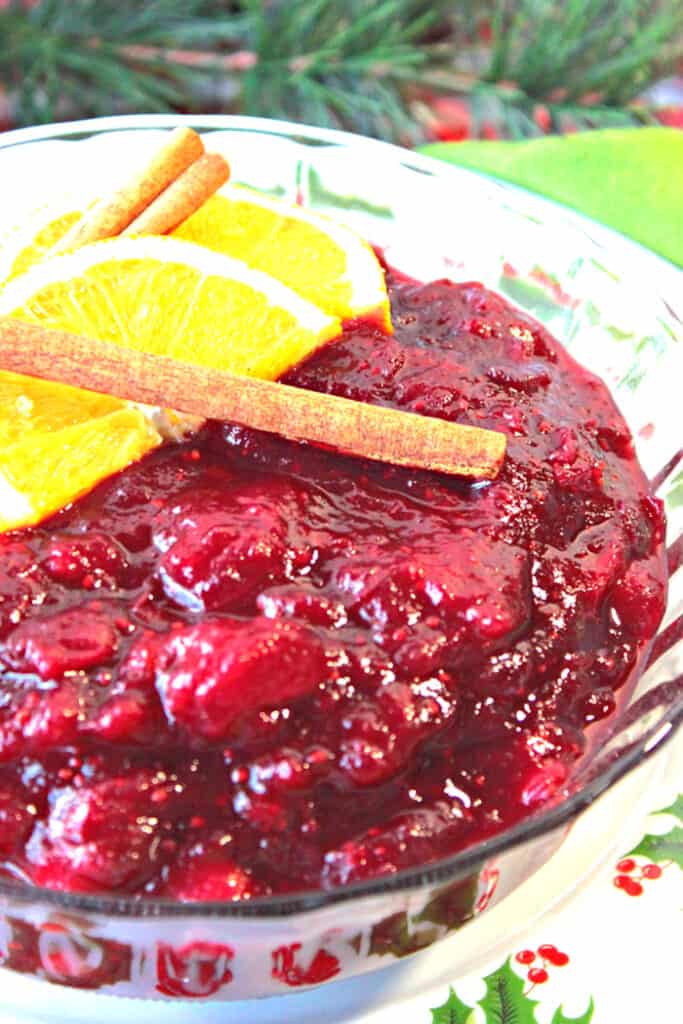 This easy and delicious chilled side dish takes only minutes to prepare and will hit all the right bells and whistles on your taste buds.
**Please Note - The printable recipe card with detailed instructions, complete ingredient measurements, and nutritional information for this easy holiday side dish is available at the end of this post. Or use the "jump to recipe" button (found above) to be taken directly to the recipe.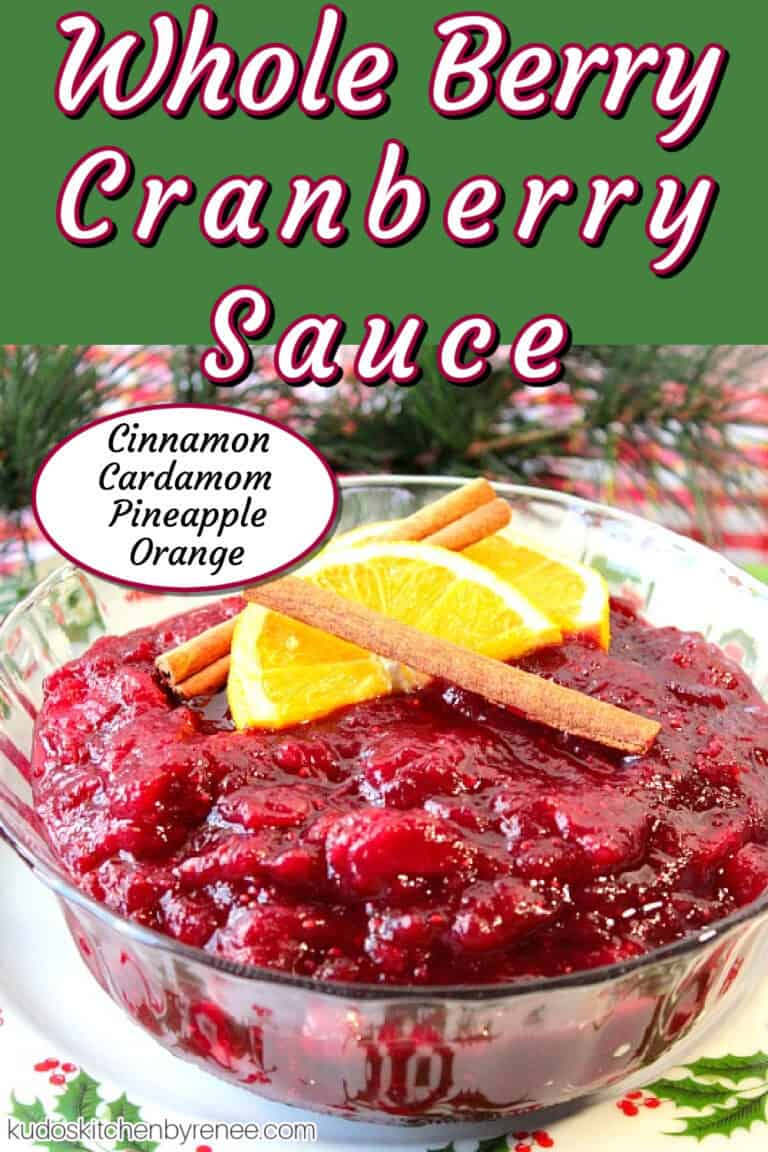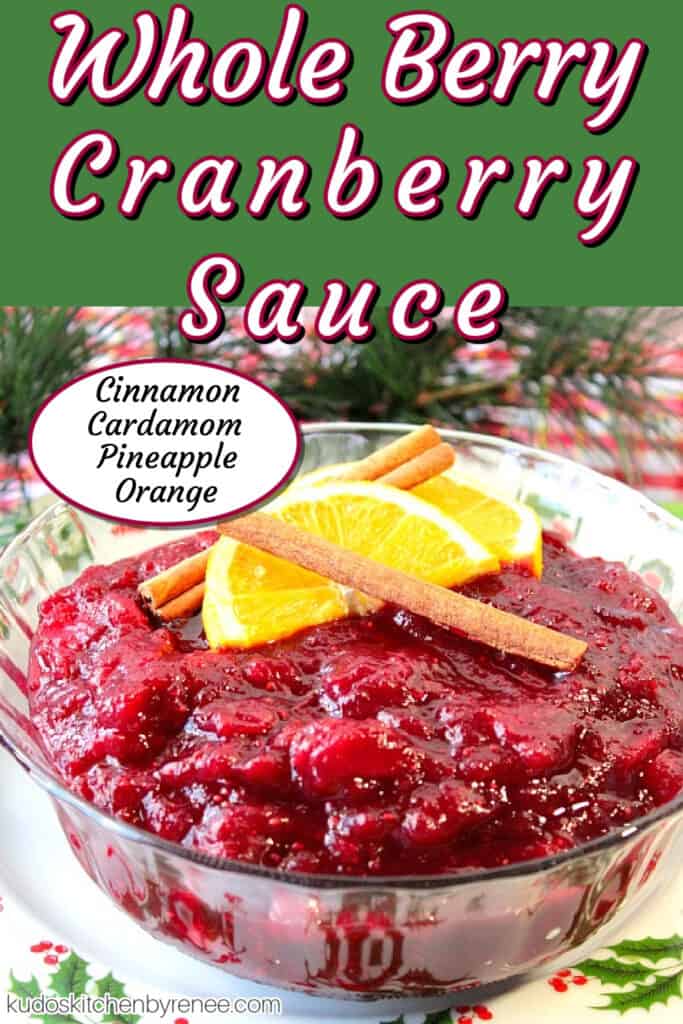 The ingredient list:
**Note - The following lists of ingredients plus kitchen tools and equipment contain affiliate links (highlighted in blue) for your consideration and shopping convenience. #CommissionsEarned
Whole Fresh Cranberries (frozen or canned may be substituted)
Pineapple Juice
Brown Sugar
Granulated Sugar
Orange Zest
Fresh Orange Juice
Kitchen tools and equipment needed:
Kick the can to the curb:
We all know that there are a million recipes out there for cranberry sauce, and they all beat the buttons off cranberry jelly sold in the cans on the grocery store shelves.
You know the ones.
The ones that come out like a log on a plate complete with that appetite-suppressing suctioned slosh sound. Plop. Jiggle. Jiggle.
Jellied cranberry sauce vs whole berry sauce:
Now, please don't take offense if you're one of those people who enjoy canned cranberry jelly.
My eldest son is one of those folks, and I love him, still.
So, if you happen to share your Thanksgiving or holiday table with people who enjoy the jellied cranberry sauce in the can, by all means, serve it and be happy and thankful.
But, might I suggest that you ALSO serve this whole berry pineapple cardamom cranberry sauce as an option?
It's a nice change of pace, and who knows? It may become a new family tradition, and you can leave that jiggly can on the grocery store shelf.
Can whole berry sauce in a can be used in place of the fresh cranberries?
Yes. If you're in a pinch, I'm all for taking a shortcut.
However, since it only takes a few moments to cook the fresh cranberries, I advocate for using fresh cranberries whenever possible and avoid the can.
IF you're using canned whole berry cranberry sauce, place all the ingredients in a saucepan and heat over medium/low heat until the mixture simmers for approximately 5 minutes in order to blend all the flavors.
Can frozen cranberries be used in this recipe instead of fresh?
I don't see why not.
Just make sure to thaw the cranberries thoroughly and to drain off any excess liquid that the thawed berries leave behind so the completed cranberry sauce isn't runny.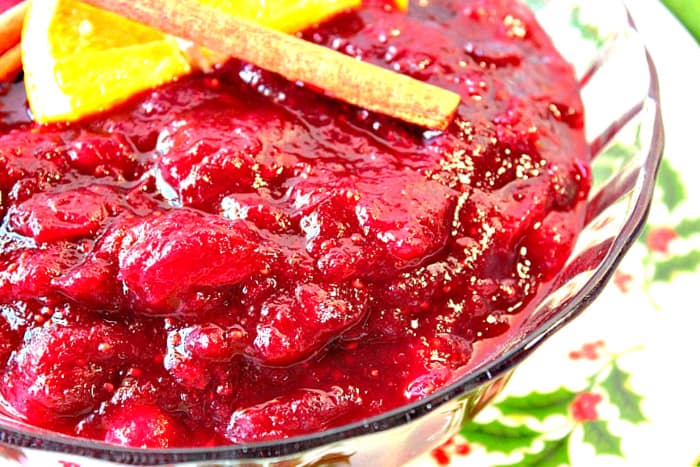 Can I make this holiday side dish in advance?
Yes!
In fact, I recommend making this cold holiday side dish at least one day (and even up to five days) before the date you plan on serving.
Cranberry sauce is best served chilled and the extra time in the refrigerator will only intensify all those awesome flavors!
How long will this Pineapple Cardamom Cranberry Sauce keep in the refrigerator?
Covered well, this colorful cold side dish will keep safely in the refrigerator for up to 6 days in an airtight container.
How to make this delicious and tangy sauce:
Add fresh cranberries to a heavy bottom saucepan.
Pour in pineapple juice, and orange juice, and bring to a low simmer.
Next add cardamom, orange zest, brown sugar, granulated sugar, maple syrup, vanilla extract, salt, and pepper.
Reduce the heat to medium-low and simmer (uncovered) for approximately 20 minutes, stirring occasionally until thickned.
Remove from the heat and cool completely before storing in the refrigerator in an airtight container for at least 90 minutes, or up to 6 days.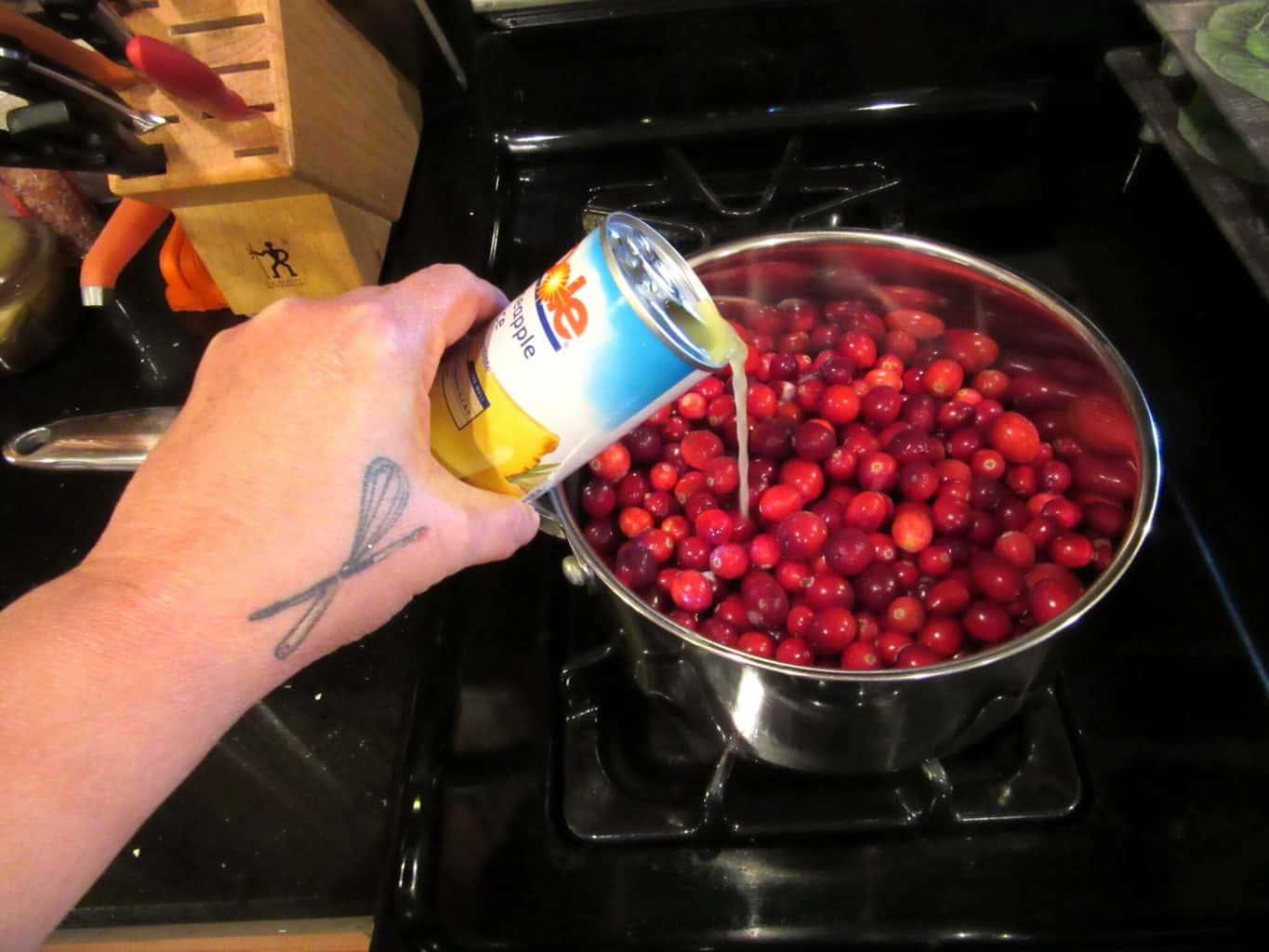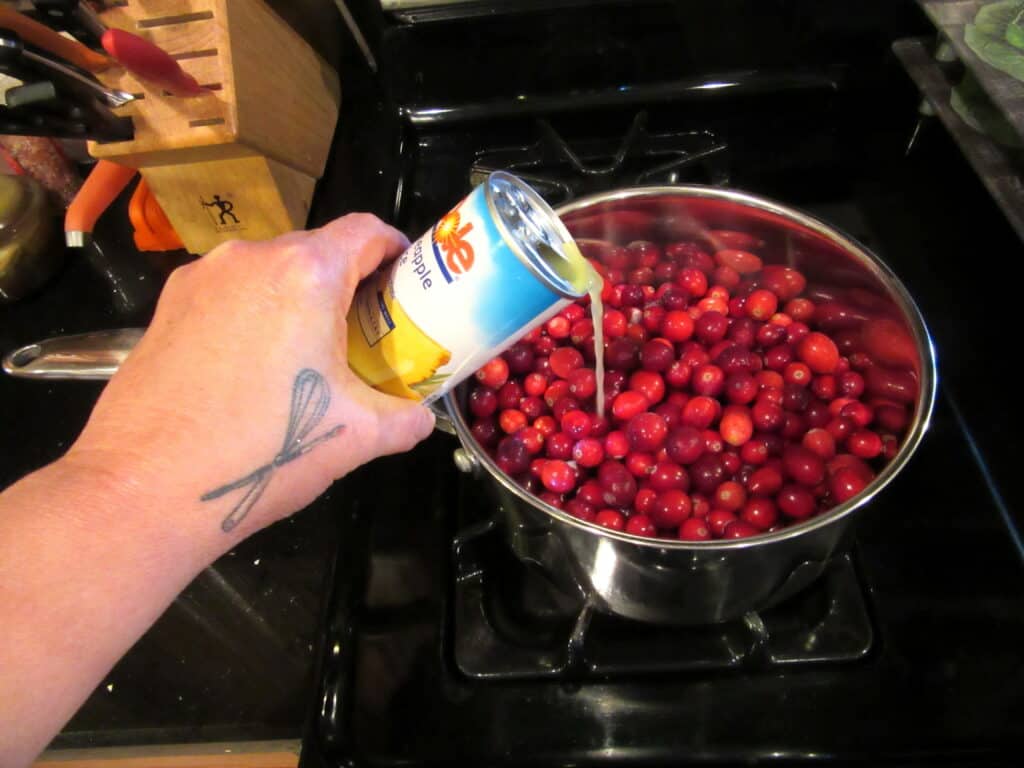 Recipes using cranberry sauce:
*Pork Roast with Cranberry Relish Glaze (pictured below) from (yours truly) Kudos Kitchen
"This Christmas Pork Roast with Cranberry Relish Glaze is festive enough to serve your family and friends over the holidays, but you'll never have to tell your guests just how easy it was to make. That can be our little secret!"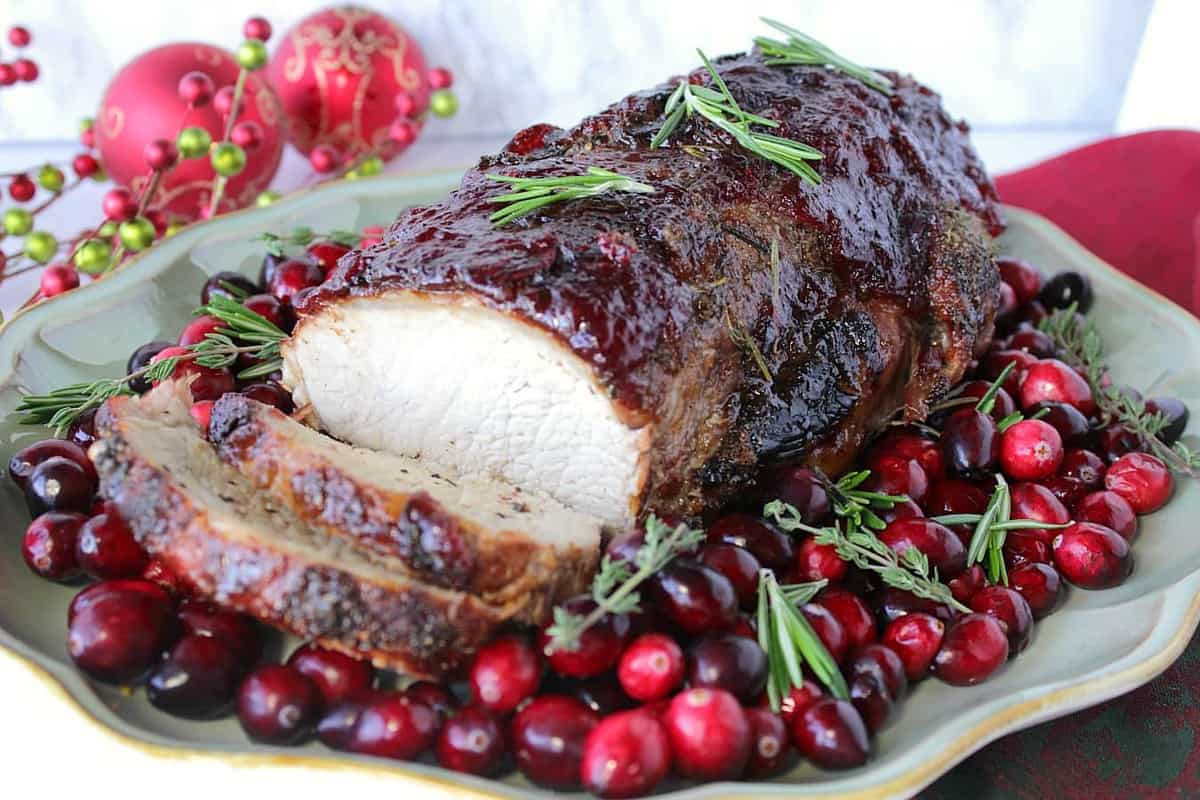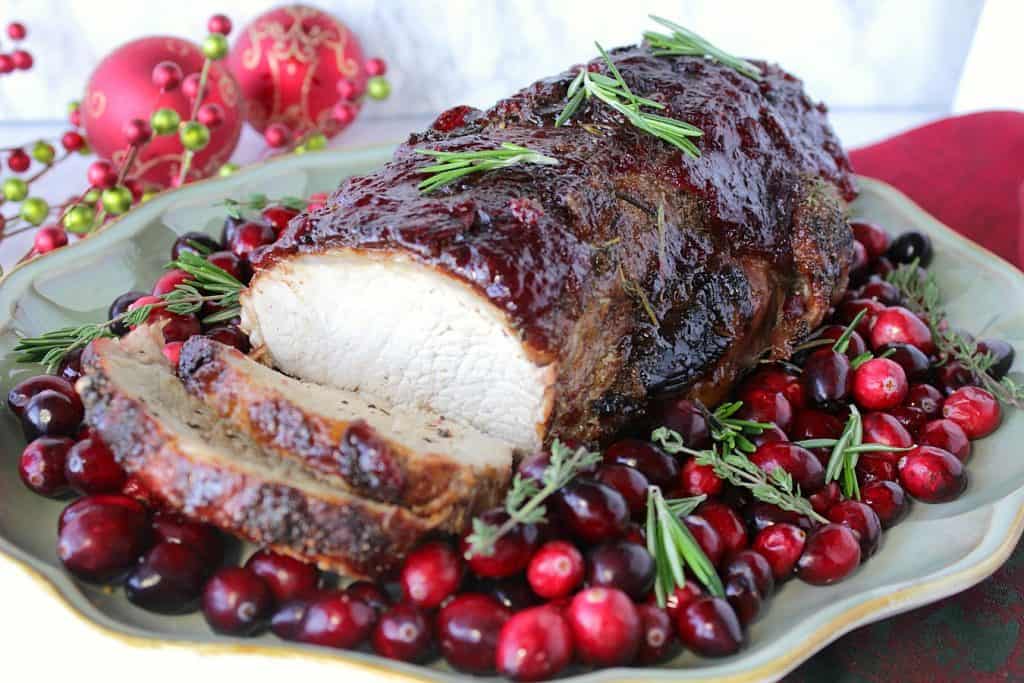 *Cranberry Kringles (pictured below) from (yours truly) Kudos Kitchen
"Nothing speaks more to a scrumptious holiday breakfast than Cranberry Kringles. Except maybe two! Kringles are perfect for breakfast and brunch celebrations and are stuffed with cranberries and white chocolate."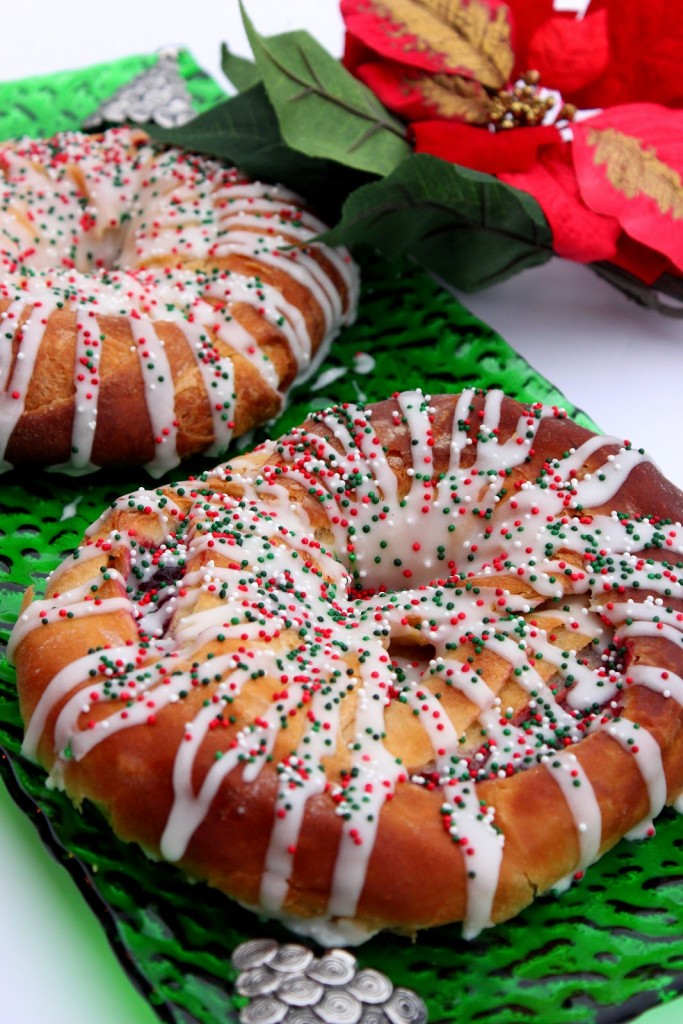 *Stuffing Stuffed Turkey Burger (pictured below) from (yours truly) Kudos Kitchen
"It's easy to have the flavor of the holidays year-round with this delicious recipe for stuffing stuffed turkey burgers. Now that's something to be thankful for!"

*Whole Berry Cranberry Sauce with Pineapple and Cardamom (pictured below) This is the place!!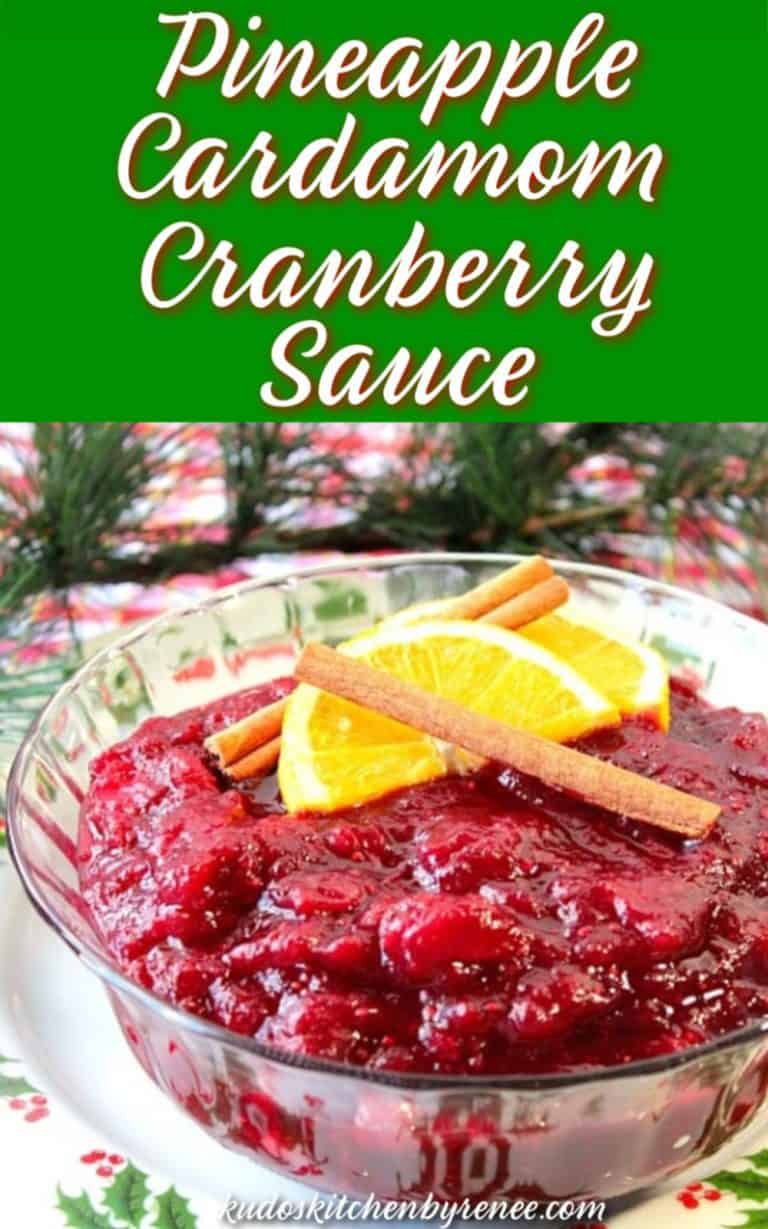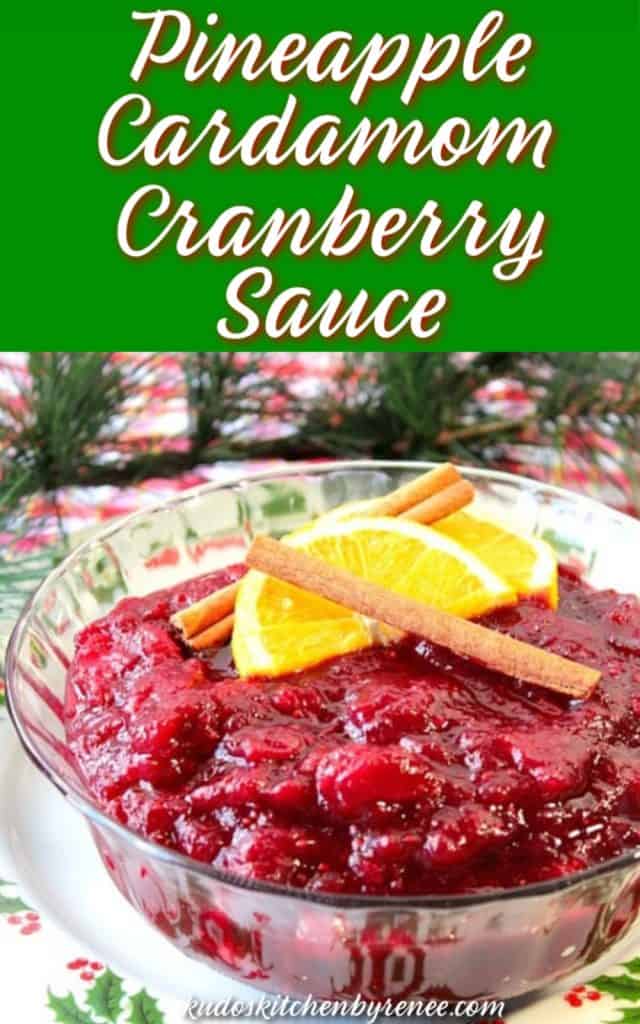 Below is the printable recipe card along with the nutritional information and instructions for making today's easy and colorful chilled holiday side dish.
If you've made this recipe, or are excited to make this recipe, I'd appreciate it if you'd take a moment to leave it a star rating in the recipe card, along with a comment if you're so inclined. I thank you most sincerely! 🙂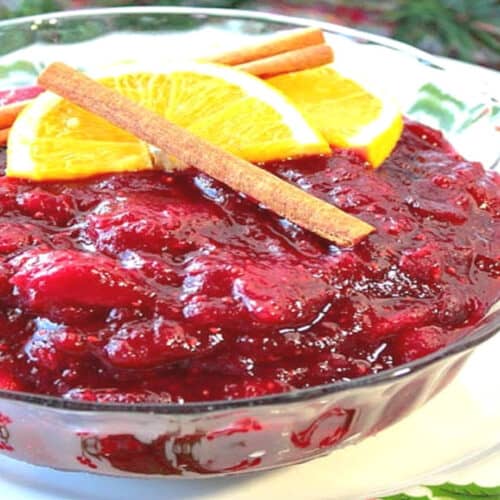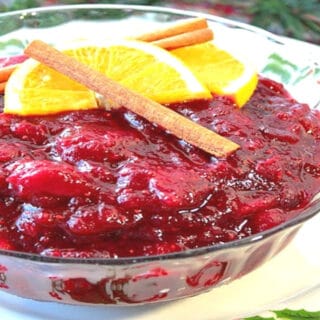 Whole Berry Cranberry Sauce
An easy and delicious cold side dish with the flavors of pineapple, and orange, plus notes of warm cardamom, and cinnamon.
Ingredients
2

cups

fresh cranberries

½

cup

pineapple juice

¼

cup

packed brown sugar

¼

cup

granulated sugar

¼

cup

pure maple syrup

¼

teaspoon

ground cardamom

½

teaspoon

ground cinnamon

1

tablespoon

orange zest

2

tablespoons

fresh orange juice

¼

teaspoon

coarse salt

¼

teaspoon

black pepper

1

teaspoon

pure vanilla extract
Instructions
Simmer the first 11 ingredients in a medium saucepan on low heat for
approximately 25 minutes, stirring occasionally. The berries will burst and the sauce will thicken.

Remove the saucepan from the heat and stir in the vanilla extract.

Allow the cranberry sauce to cool, and then place it in the refrigerator, covered, for at least 90 minutes, or up to 4 days.

Serve cold.




Notes
Frozen berries may be used. Thaw completely first, and drain if needed.
This sauce can be made up to 4-5 days prior to serving.
Cover well and refrigerate any leftovers.
Nutrition
I sincerely hope you've enjoyed today's easy holiday side dish for chilled whole berry cranberry sauce as much as I've enjoyed bringing it to you!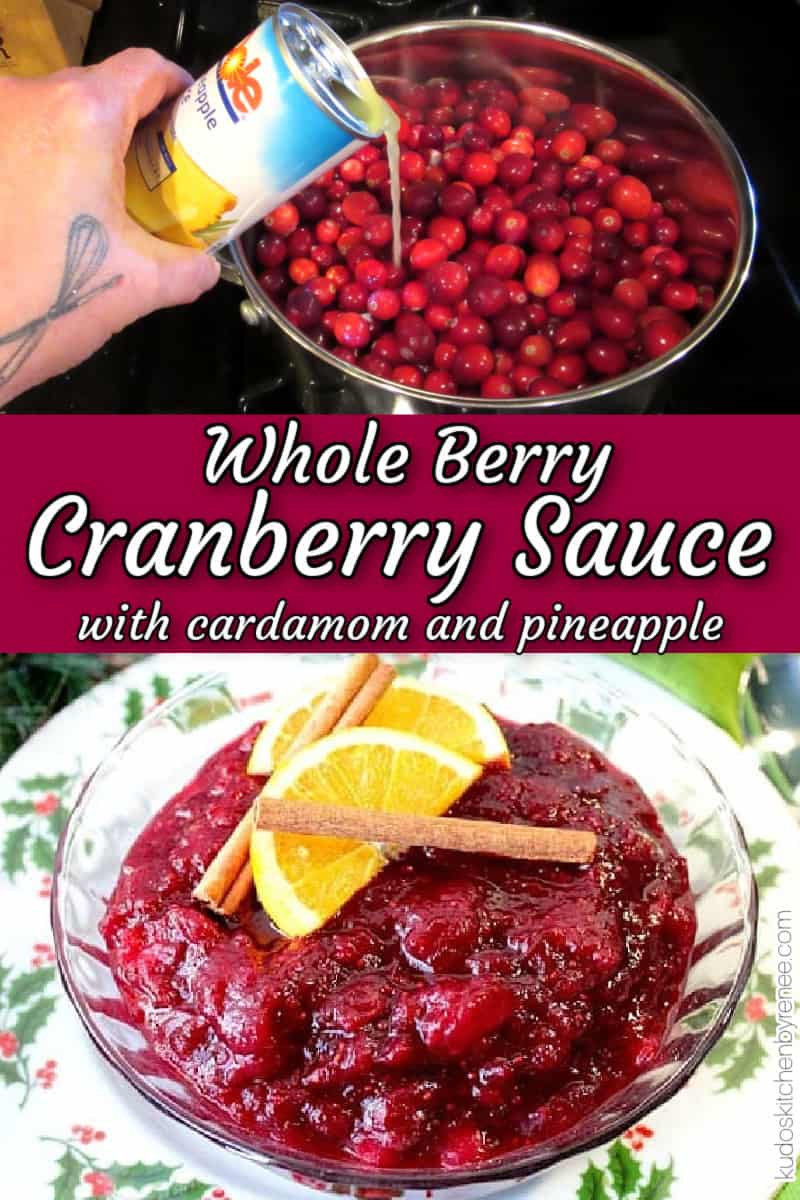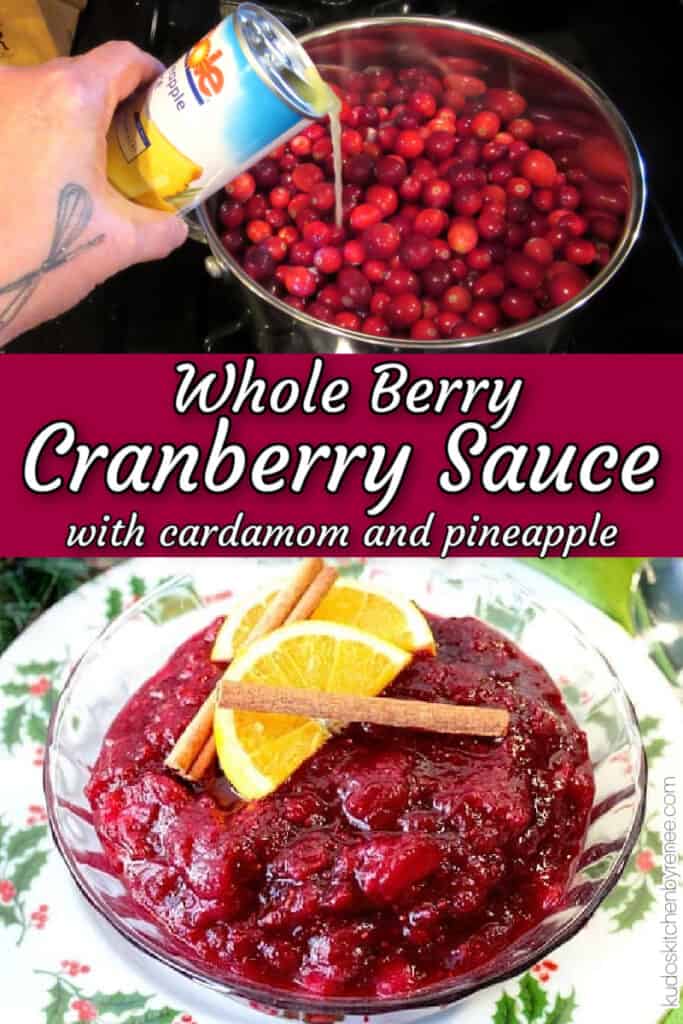 This post may contain affiliate links which won't change your price but will share some commission.