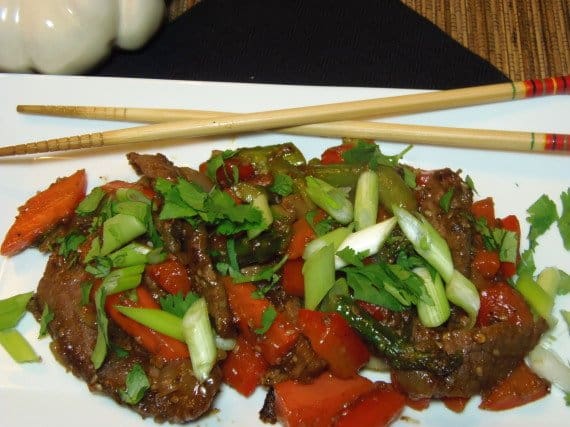 If you're like me and you like to make new and interesting meals for your family at dinner, I think you'll really enjoy this recipe. Don't let the fact that it has so many ingredients scare you away. They're pretty much all basic kitchen staples and if you should happen to be missing an ingredient or two, just do with out or replace it with something you do have. Remember, there are no rules in cooking, just have fun (and get somebody else to wash the dishes). LOL
MONGOLIAN BEEF {PRINT THIS RECIPE}

1 pound lean sirloin
1/4 cup cornstarch
3 tablespoons reduced sodium soy sauce
1 tablespoon sweet vermouth
2 tablespoons fresh lime juice
1/4 cup brown sugar
1 tablespoon molasses
3 cloves garlic, minced
1 teaspoon ground ginger (or 3/4 teaspoon freshly grated)
1/2 teaspoon red pepper flakes
2 teaspoons sesame oil (divided)
2 tablespoons canola oil (divided)
5 medium carrots, peeled and cut into large, diagonal pieces
2 red bell peppers, seeded and cut into large, diagonal pieces
1 large sweet onion, peeled and cut into large pieces
9-10 asparagus spears, cut into large, diagonal pieces
1 teaspoon salt (divided)
1/2 teaspoon pepper (divided)
1 tablespoon sesame seeds (save some for garnish)
4-5 scallions, sliced on the diagonal (for garnish)
1/4 cup fresh cilantro, chopped (for garnish)
-Slice the meat across the grain into very thin slices, approximately 1/4″ thick (to make this easier, place the meat in the freezer for 20 minutes prior to slicing).
-Pat the meat dry with paper towels.
-Place the sliced meat in a shallow dish and toss with the cornstarch to coat all the pieces.
-Place the meat aside while you prep the veggies and prepare the sauce.
-In a small saucepan over medium heat, add the next 8 ingredients and simmer until the sauce is thickened and reduced.
-In a wok, or large saute pan over medium high heat, add 1 tablespoon of the canola oil and the prepared carrots, bell peppers, onion and asparagus to the pan.
-Season with half the salt and pepper and drizzle with 1 teaspoon of the sesame oil.
-Add the sesame seeds (saving some for garnish).
-Stir and cook the veggies until they're slightly tender but not wilted.
-Remove the veggies to a bowl and set aside.
-Add 1 tablespoon of canola oil into the pan and add the meat.
-Cook over medium high heat until the meat is just browned and still pink in the middle (this will only take about 5 minutes because the meat is cut so thin).
-Season with the remaining salt and pepper.
-Add the veggies back into the pan with the meat and stir to combine.
-Add the thickened sauce to the meat and veggies and stir well to coat and just to warm through.
-Plate the Mongolian Beef and garnish with the scallions, chopped cilantro and additional sesame seeds.
I think this is one of the prettiest meals I've made in a long time. There is just something about the colors of all the veggies that sets my heart afire. In addition I've always wanted to own a cleaver and I just recently got one. I can't tell you how much fun I had chopping with my new cleaver. HA HA! I'm a simple girl and it doesn't take much to make me happy 🙂
You may wish to serve your Mongolian Beef over a bed of rice or maybe some Asian noodles. Because we're watching our carb intake, we (and when I say we, I actually mean me) opted to serve this just as is along with an additional side salad. Good and good for you!!!
Until we eat again, thanks for visiting me in my Kudos Kitchen.
I hope you've enjoyed this recipe!!!
Have a lovely day,