Braided and beautiful. James Beard's County Fair Bread recipe wins a self-proclaimed blue ribbon for excellence in all categories.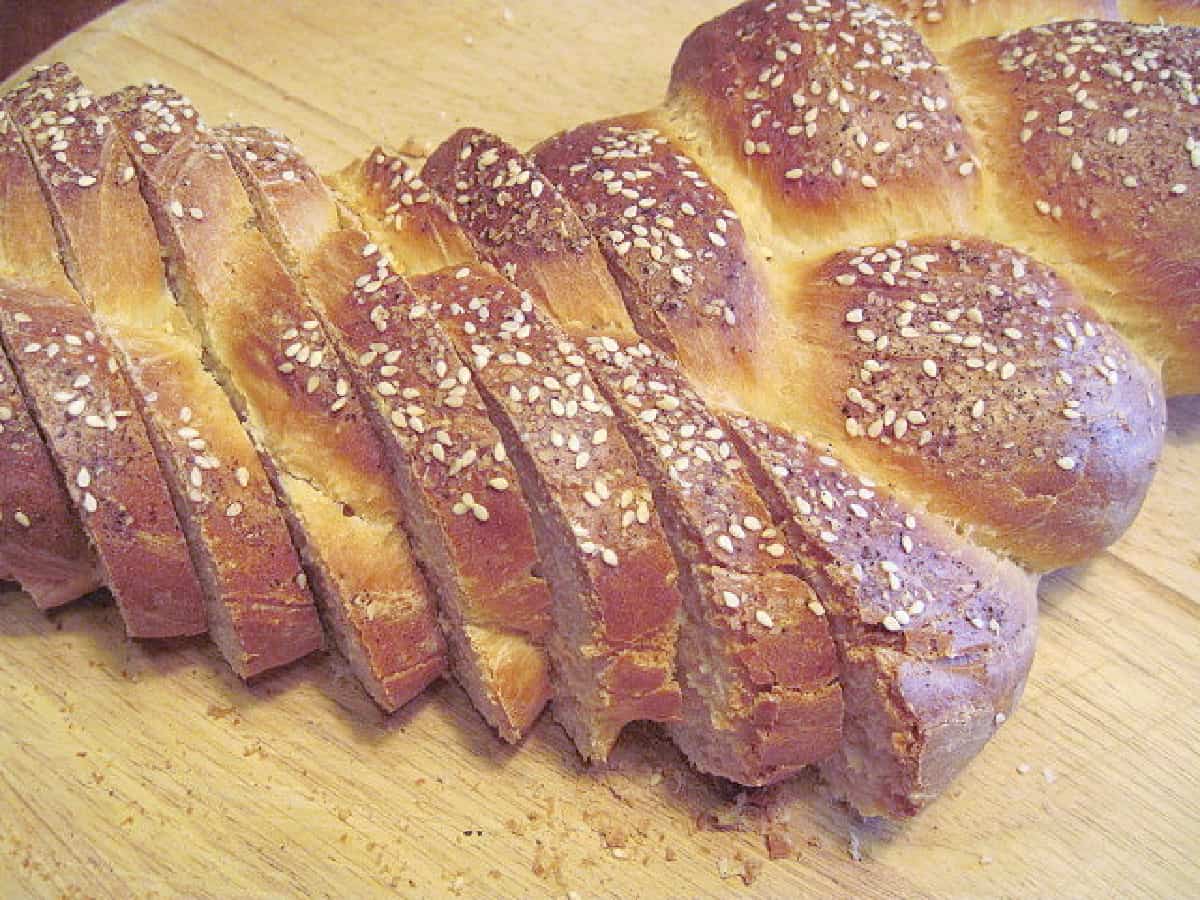 *Disclaimer - This recipe was originally published in 2010. I'm working hard to update all my older recipes with recipe cards, new photos, and additional recipe information. But, getting to all of them will take time. Please bear with me. In the meantime let me assure you that this recipe is still a winner and one I'm sure you'll be well pleased with when you make it at home.
I've had a love affair with making yeast bread since I was a teenager.
The first thing I'd ever attempted to cook in my mom's kitchen was a Betty Crocker recipe for white bread.
I remember that my mom and dad had been out somewhere that Sunday afternoon and I needed to borrow some ingredients from our next-door neighbor, Mrs. Rogers, to be able to complete my first culinary vision.
I don't remember specifically how my first two loaves turned out but I do remember bringing one of them to Mrs. Rogers as my way of saying thank you.
I sincerely doubt I would have been willing to share my white bread loaf had it been a gigantic failure. From that time on and for many years after, I always made my mom and dad loaves of white bread as their anniversary gift from me.
To this day, I still love to give homemade bread as a gift from my heart.
Having made this new recipe from James Beard's cookbook "Beard On Bread" I have found a wonderfully delicious new yeast bread that will be my new "go-to" bread.
Here is what James Beard has to say about this "County Fair Bread" in his book:

"When well made, this slightly sweet braided loaf looks exactly as if it would win first prize at the fair. The flavor is good and the texture is very light. This is a nice bread to give away for a holiday present." See? Told you!
James Beard Country Fair Bread
5 to 5 ½ cups of all-purpose flour
¼ cup granulated sugar
2 teaspoons salt
1 package of active dry yeast
1 ½ cups milk
½ stick of butter, cut into small pieces
2 eggs, lightly beaten
1 egg white, lightly beaten with 1 tablespoon of water
sesame seeds
* Kosher salt and pepper for the top (my addition)
In a large mixing bowl combine 1 cup of the flour, the sugar, salt, and dry yeast.
In a small saucepan, heat the milk and the butter, just until the milk is warm. The butter does not need to melt.
Add the eggs and the warm milk mixture to the flour mixture.
Mix very well until thoroughly moistened, and beat with a wooden spoon for about 5 minutes.
Stir in the remaining flour to form a stiff dough.
Turn out onto a floured board and knead the dough until it is smooth and elastic for about 5 more minutes.
Work into a ball, place into a buttered bowl, and turn to coat with butter on all sides.
Cover and let rise in a warm, draft-free place until light and doubled in bulk, 1 to 1 ½ hours.
Punch the dough down (see my fist?) and divide it into six equal portions.
Roll each of these portions into a thin cylinder about 8 to 10 inches long.
Take three strips and braid them together.
Place the braid on a parchment-lined baking sheet.
Brush with beaten egg white and sprinkle the tops of loaves with the sesame seeds and the kosher salt and pepper.
Let braided loaves rise in a warm, draft-free space until doubled in bulk, which will take another 1 ½ hours.
Bake in a preheated 375-degree oven for 35 to 40 minutes or until loaves sound hollow when tapped.
They should be a nice golden brown in color.
Cool and slice when you can't wait any longer.
The smell of this bread baking in your home will cause memories to stir in your heart. Be warned!