What do you do with all the leftover cake scraps and frosting you have from making a scary Halloween pumpkin cake? You make ghoulish Eye Candy Cake Balls of course 🙂 *insert spooky laughter here*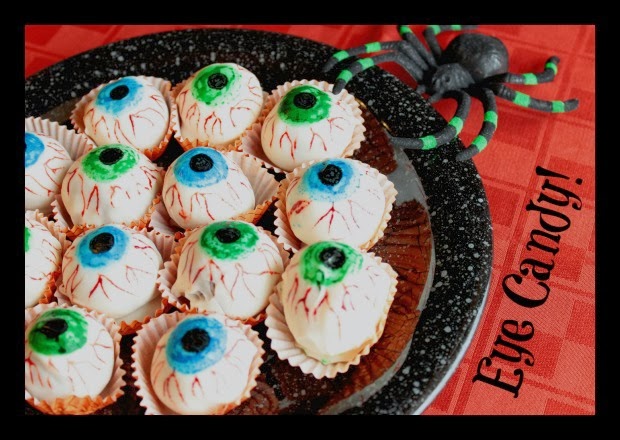 These were so easy to make. "Eye" will show you how…

"EYE CANDY" CAKE BALLS {PRINT THIS RECIPE}
Yield: 12 – 14 eyeballs


4-5 cups of cake scraps (1-2 8″ round cakes, crumbled) your choice of flavor
1-2 cups prepared frosting (your choice of flavor)
1 bag of white candy melt pieces (found a craft stores in the cake decorating section)
1 baking sheet
1 sheet of parchment paper
1 small microwave safe bowl
1 paper plate
gel food coloring (I used blue, green, black and red)
1 round tipped paint brush
1 long liner paint brush
napkins or paper towels
mini muffin cups
-Crumble the cake into a large bowl. Using your hands mix in enough frosting to the cake crumbles so that it holds together when you roll it into a ball.
-Shape the cake mixture into balls that are roughly the size of golf balls and place the balls onto a parchment lined baking sheet and place the balls into the freezer to firm (at least 1 hour).
-In a small microwave safe bowl, add the candy melt pieces and microwave them on medium power for about 40 seconds (this time will vary with each microwave). Stir them and place them back into the microwave for a few more seconds if needed. You're looking for a completely melted and smooth consistency.
-One at a time, drop the frozen cake balls into the melted candy and turn to completely coat. Remove the coated cake ball with a spoon and place them back onto the parchment lined baking sheet. Continue with the remaining cake balls.
-Once all the balls are coated, return them to the freezer for another 30 minutes.
-Using a small drop or two of the food color on a paper plate, paint a filled in circle (the iris) of either the blue or green in the center of each ball using the round tipped paint brush.
-Using the liner brush and a drop of red food color to the paper plate and make some squiggly lines to form the veins coming out from the painted circle.
*Note – At this point I needed to use some napkins to carefully dab off some of the food color that wasn't completely drying on the candy melt coating, making sure to use a clean spot on the napkin each time I dabbed and lightly pressed. I did NOT do this on the vein portion of the balls as it wasn't needed.

-Place each cake ball into a mini muffin cup when finished with the vein portion.
-Using a small dot of black and the round tipped brush add in the cornea portion of the eyeball over the iris.
-Place your eyeballs on a platter and serve! See (pun intended)? Eye told you they were easy!!!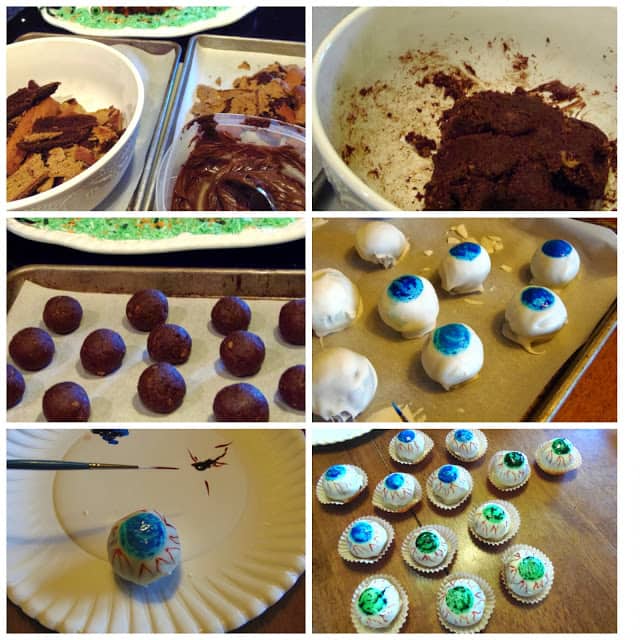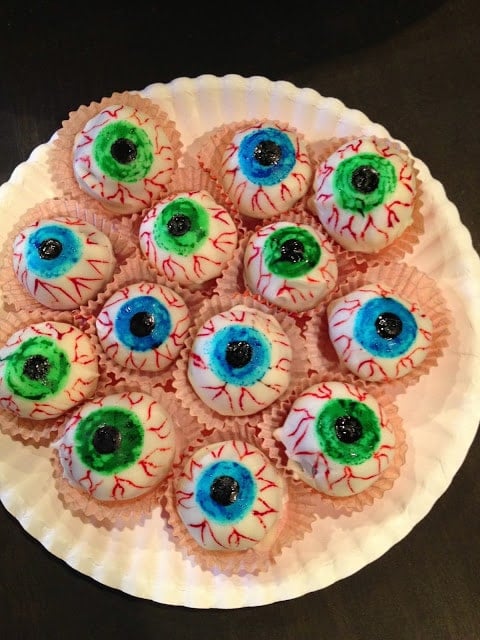 There, that was easy, right???
Now, since I have that all covered, let me show you the SCARY PUMPKIN FACE CAKE that I made last weekend with the help of my son's girlfriend, Karen. This guy where I got all my leftover cake scraps…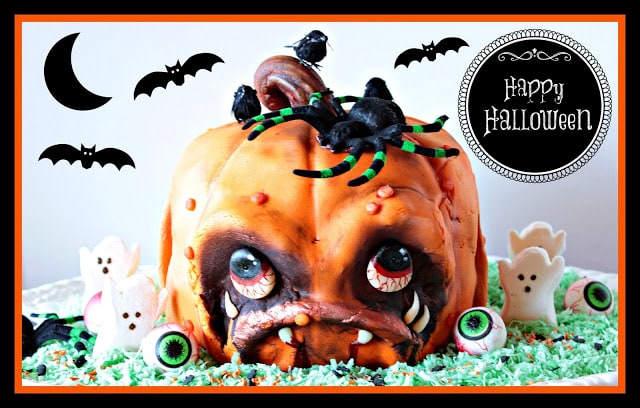 Neither Karen or myself had ever done anything like this before so the task we'd set before ourselves seemed a little daunting. That said, we were both up for the challenge (it was just for fun anyway) and we dove in with complete abandon. Heck, even if he didn't turn out, it was supposed to be scary so we figured that we had a whole lot of leeway! LOL
Now, I'm not here to teach you how to make this cake. I don't presume to know enough about this type of decorating for that. I just wanted to show you the process we went through and to say that if we could do it, then so can you! Maybe next year I'll be ready to do a whole tutorial for you, but that's a whole year away and after we've had A LOT more practice 🙂
Here are the ingredients we used: 3 boxes of cake mix, store bought fondant, powdered sugar, food coloring, frosting (some homemade and some store bought), fruit roll ups, marzipan, spray food coloring, toothpicks, paint brushes, coconut and various edible and non-edible adornments.
In the meantime, I hope you'll enjoy seeing the pictures and the final outcome of our SCARY PUMPKIN FACE CAKE…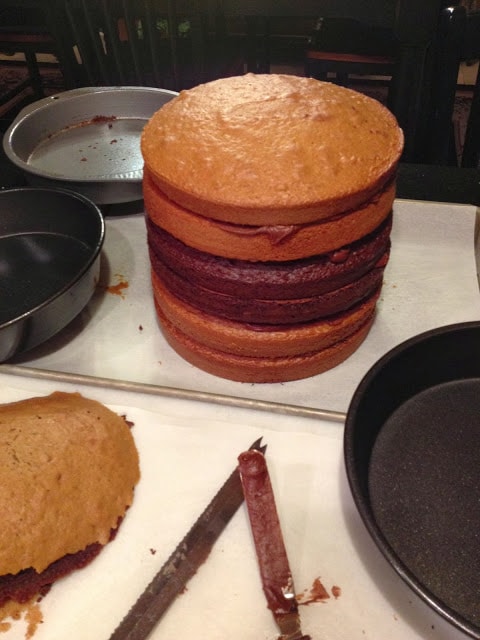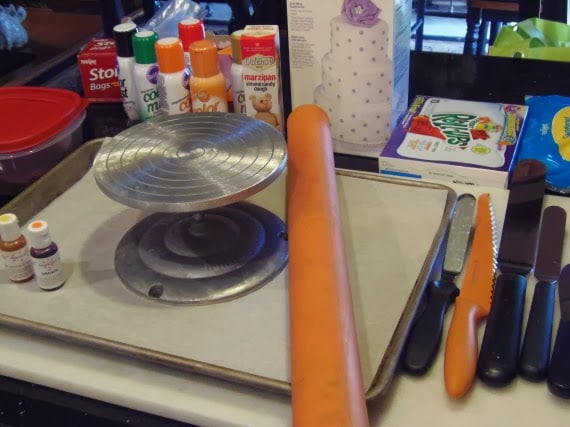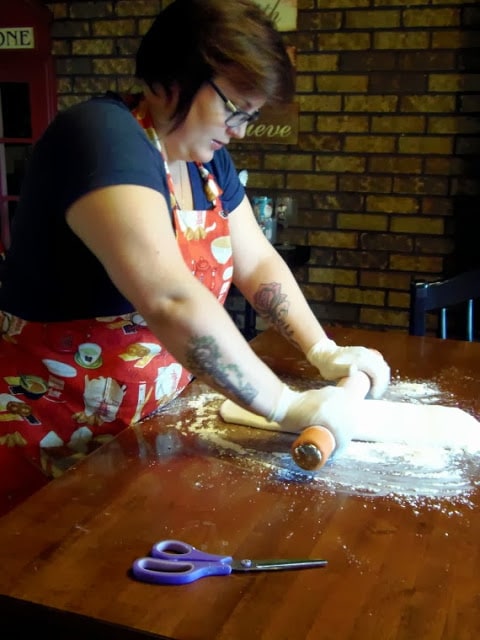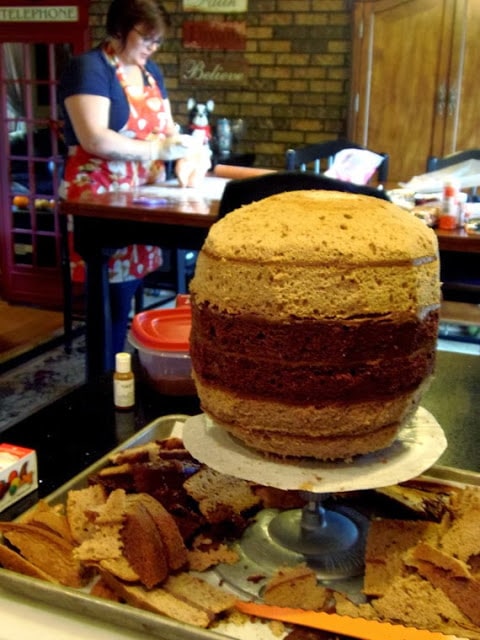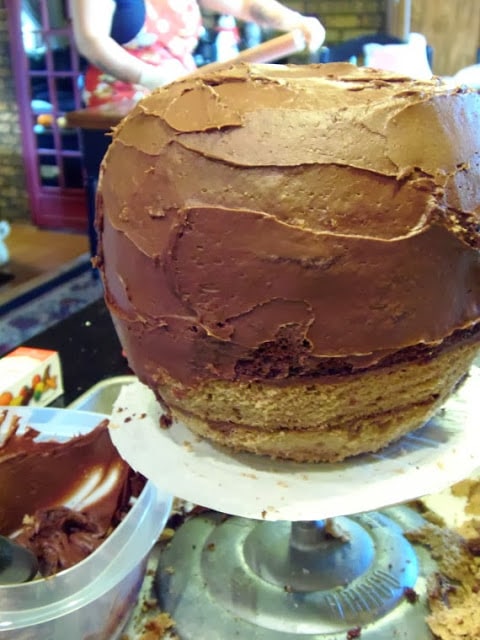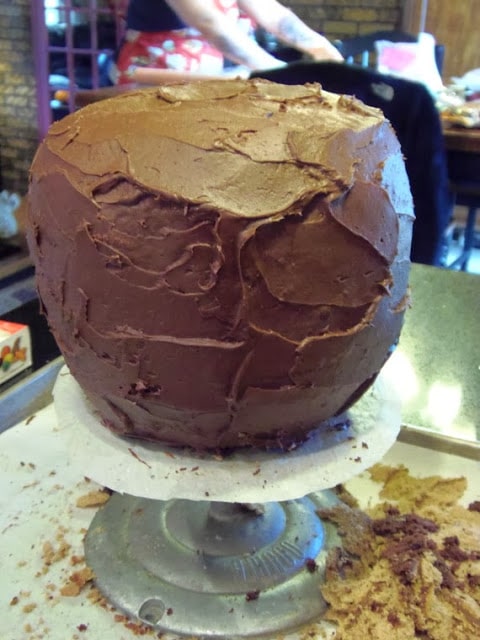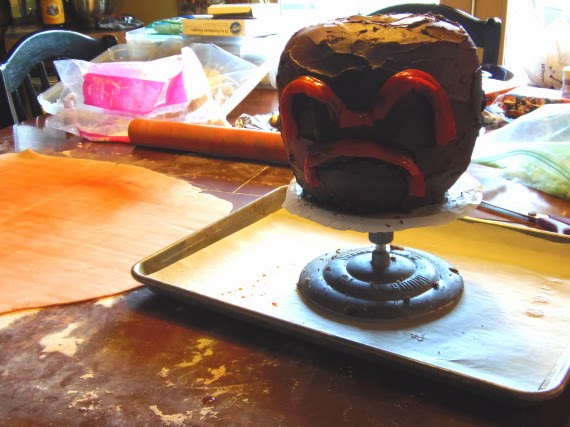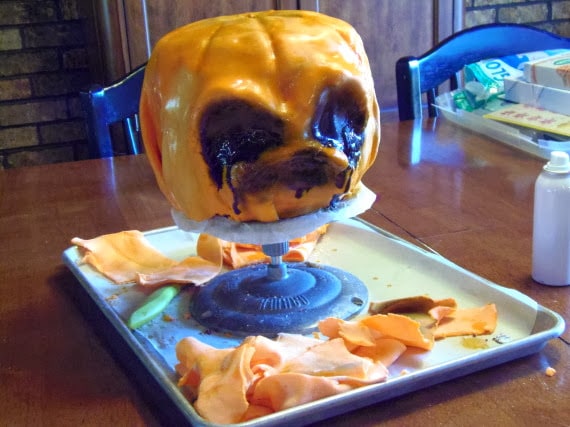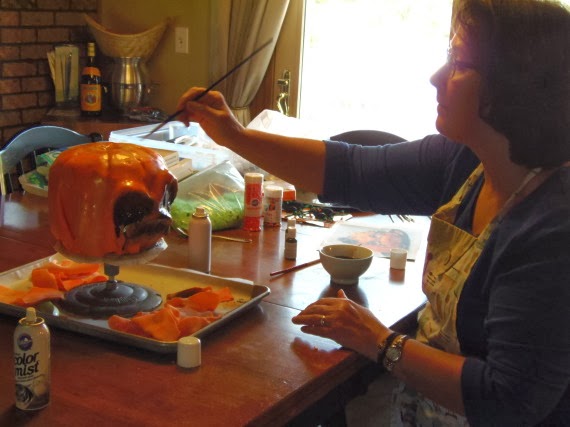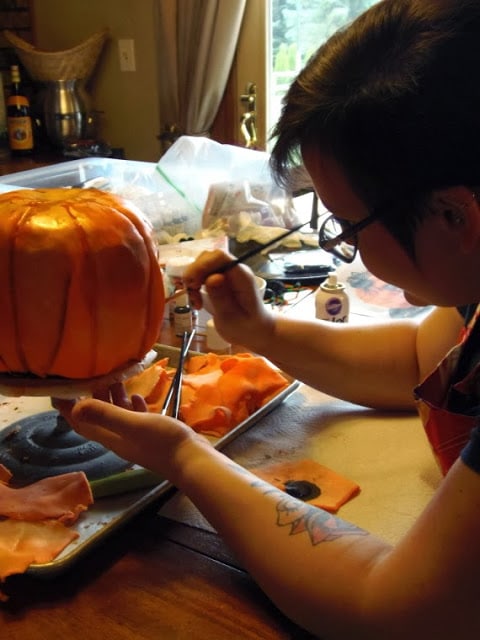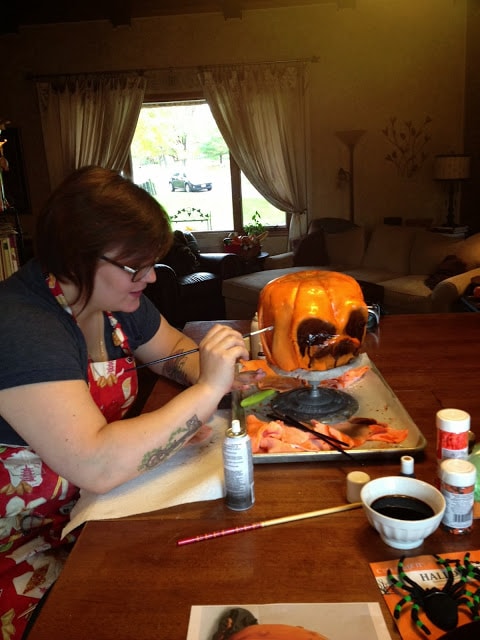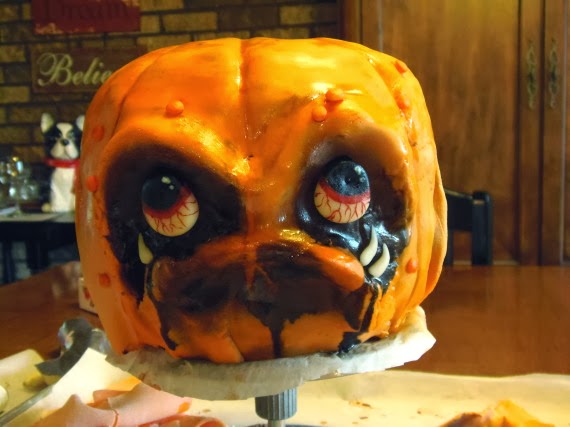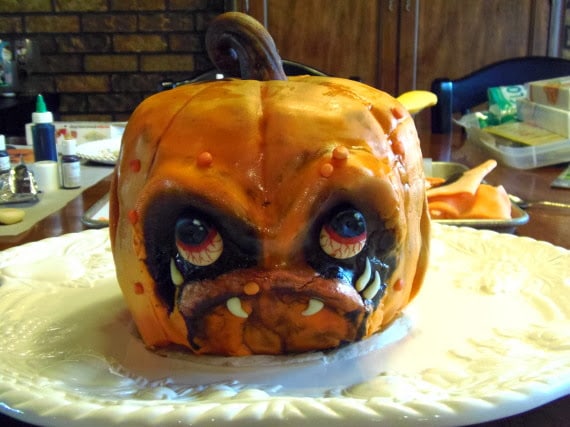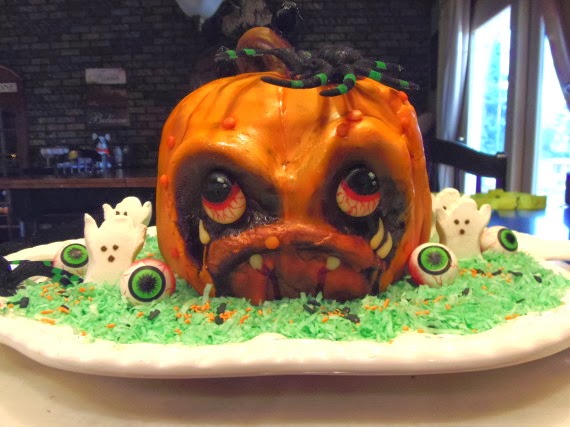 In case you couldn't tell, Karen and I had a scary good time working together on this guy.
Kudos Kitchen By Reneé ~ Where food and art collide on a regular basis!!!

Until we eat again, I hope you have a delicious day!