The crust on this buttermilk honey bread is chewy and firm, but not at all tough. The tender interior crumb is light and airy yet and had great substance and structure.
When sliced and toasted, you'll feel like you just bit off a little piece of heaven on earth. Can I get an Amen to that?!!
**Please Note – The printable recipe card with detailed instructions, complete ingredient measurements, and nutritional information for making Buttermilk Honey Bread is available near the end of this post.
The ingredient list;
Why use buttermilk in bread baking?
Using buttermilk in baked goods brings out a tanginess in flavor, and also makes for a more tender interior. Using buttermilk in bread baking specifically makes the dough rise faster, and gives it better body than regular milk would.
How long does buttermilk honey bread take to make?
From start to finish this bread will take approximately 3 hours, maybe a little more, maybe a little less (not including cooling time).

Approximately 15 minutes to prepare the dough.

60 minutes for the first rise.

Approximately 15 minutes to shape the dough.

60 minutes for the second rise.

Approximately 30-35 minutes to bake.

Cooling time will depend on how long your willpower holds out.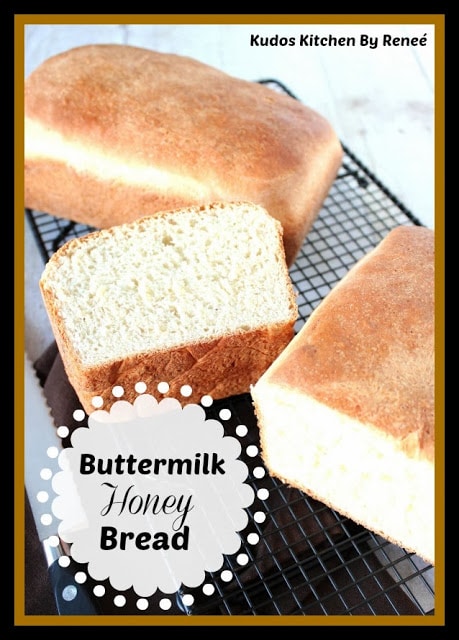 How can you tell if a loaf of bread is cooked in the center?
The easiest way is to remove the loaf from the pan (use oven mitts), turn it upside down, and tap on the bottom of the loaf. If it has a hollow sound, the loaf is cooked. If it has more of a dull thud, it needs more time in the oven.
Can I knead the dough by hand or do I need a stand mixer and dough hook?
By all means, if you'd prefer kneading the dough by hand, please do.
For instructions on the proper hand-kneading technique, here's a quick video for you to watch;
Hand Kneading versus Machine Kneading;
Additional Tip for kneading Buttermilk Honey Bread dough with a stand mixer;
When kneading bread with a stand mixer, always use the dough hook, and always knead the dough for longer than you think you need to.

For this Buttermilk Honey Bread, knead the dough at least 7 – 10 minutes.
For additional "Twelve Loaves" bread baker club recipes I've made and shared in the past, please click on the following titles for;
**The following affiliate links are some suggested products I've chosen that will aid you in the making and serving of this recipe for Buttermilk Honey Bread if desired.
Plus, I've added some additional items that are meant to make you smile, and because it's fun to shop! 😉
By clicking on the item photo, you'll be taken directly to Amazon.com if you're interested in purchasing any of these products. You are in no way required to do so, and you will not be charged in any way unless you decide to purchase one of these products through Amazon.com. As an Amazon Associate, I earn from qualifying purchases. For additional information please view my privacy policy.
Below is the printable recipe card for today's Buttermilk Honey Bread.
If you've enjoyed this recipe and look forward to making it (or have already made it), I'd appreciate if you'd take a moment to give it some feedback by way of stars near the comment section at the end of this post. Thank you so much!
There now…I'll bet that got a "rise" out of you! Bread humor! LOL
If you're a lover of baking bread and would like to join the #TwelveLoaves bakers, we'd enjoy having you bake along with us. Every month there is a new and different "theme" and you can be as creative as you wish with that "theme" in making your bread for the month. The bread can be in the category of quick or yeast and the "*rest* is up to you! We here at #TwelvesLoaves enjoy *rising* to the occasion each and every month (Bread Bakers Humor) and would love for you to join us!