Buttermilk Honey Bread slices beautifully and has a slight tang from the buttermilk and a sweetness from the honey that ordinary white bread doesn't have.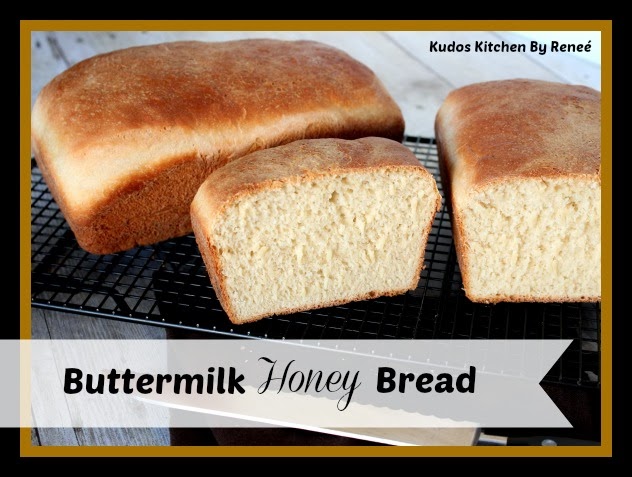 The crust on this buttermilk honey bread is chewy and firm, but not at all tough. The tender interior crumb is light and airy yet and had great substance and structure.
When sliced and toasted, you'll feel like you just bit off a little piece of heaven on earth. Can I get an Amen to that?!!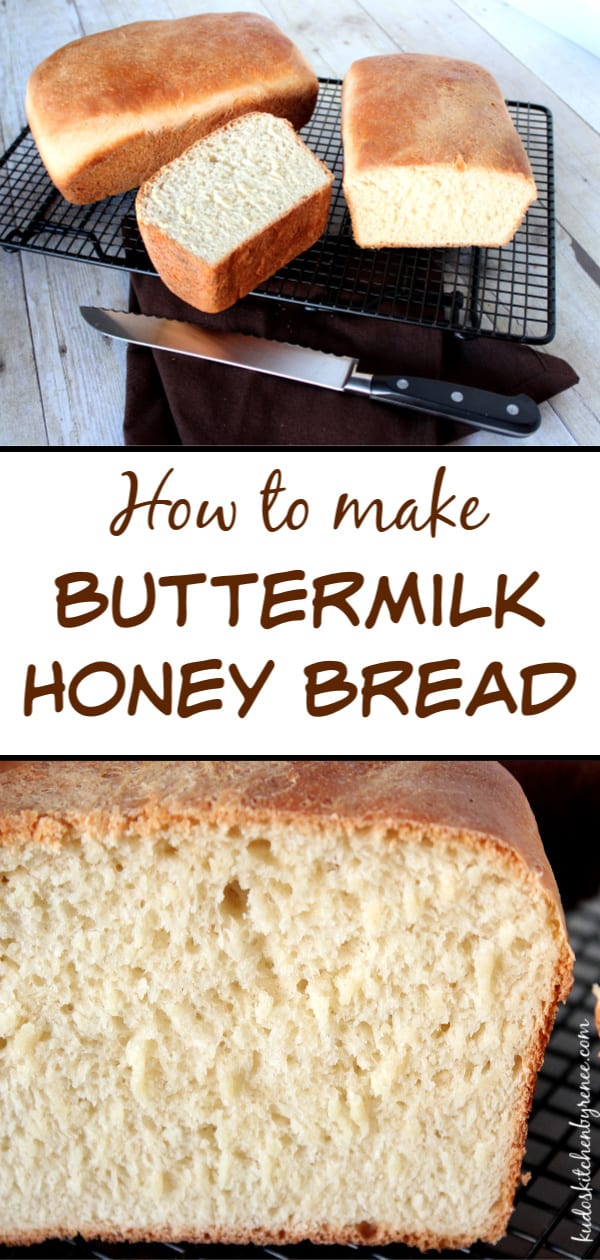 Jump to:
**This post is being updated from the original publish date of 2014 when I used to participate in a bread baking group called Twelve Loaves.
The ingredient list:
Why use buttermilk in bread baking?
Using buttermilk in baked goods brings out a tanginess in flavor, and also makes for a more tender interior. Using buttermilk in bread baking specifically makes the dough rise faster, and gives it better body than regular milk would.
How long does buttermilk honey bread take to make?
From start to finish this bread will take approximately 3 hours, maybe a little more, maybe a little less (not including cooling time).

Approximately 15 minutes to prepare the dough.

60 minutes for the first rise.

Approximately 15 minutes to shape the dough.

60 minutes for the second rise.

Approximately 30-35 minutes to bake.

Cooling time will depend on how long your willpower holds out.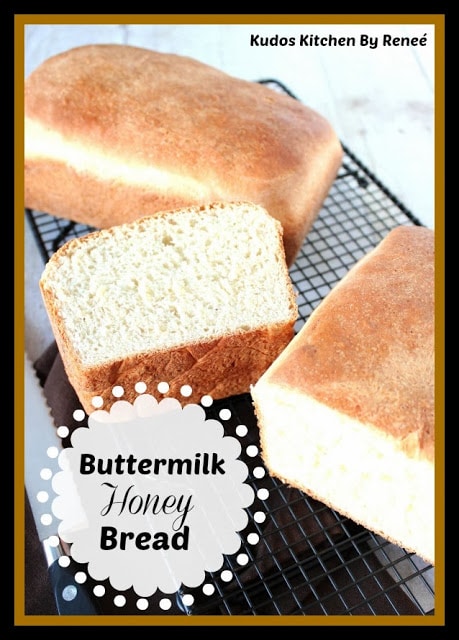 How can you tell if a loaf of bread is cooked in the center?
The easiest way is to remove the loaf from the pan (use oven mitts), turn it upside down, and tap on the bottom of the loaf. If it has a hollow sound, the loaf is cooked. If it has more of a dull thud, it needs more time in the oven.
Can I knead the dough by hand or do I need a stand mixer and dough hook?
By all means, if you'd prefer kneading the dough by hand, please do.
For instructions on the proper hand-kneading technique, here's a quick video for you to watch;
Hand Kneading versus Machine Kneading;
Additional Tip for kneading Buttermilk Honey Bread dough with a stand mixer:
When kneading bread with a stand mixer, always use the dough hook, and always knead the dough for longer than you think you need to.

For this Buttermilk Honey Bread, knead the dough at least 7 - 10 minutes.
For additional "Twelve Loaves" bread baker club recipes:
Apple Cinnamon Whole Wheat Bagels
Sadly, the Twelve Loaves group of bakers no longer bakes together, but I still have very fond memories of my time with them. I baked some pretty spectacular bread when I was involved with this group, and I love how the monthly themes helped encourage my bread baking creativity!
The step-by-step photo instructions: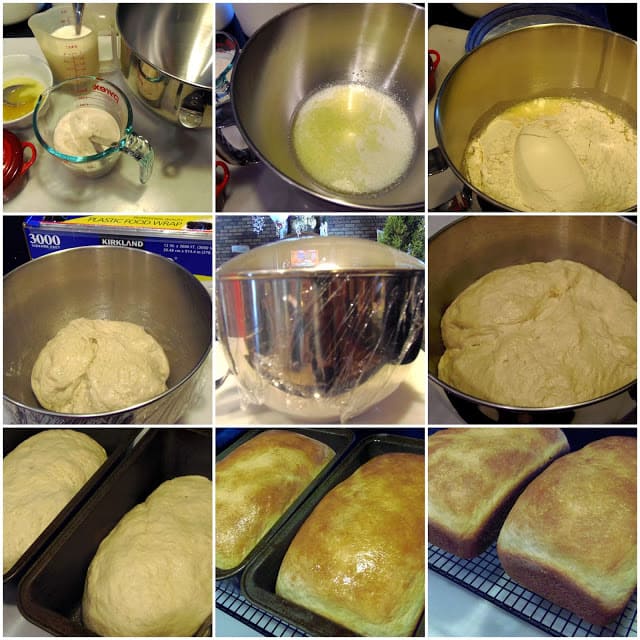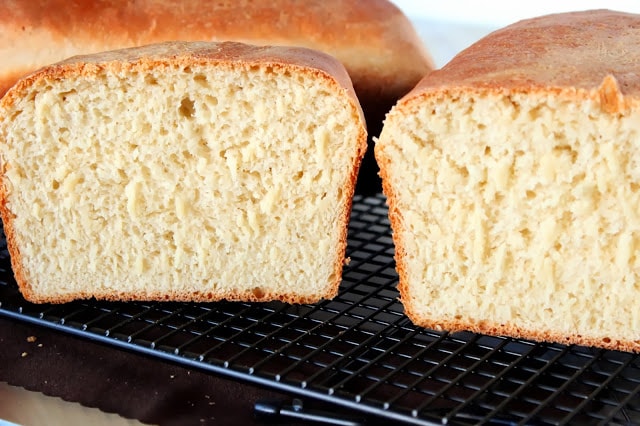 When you make this recipe, and I hope you do, I'd appreciate it if you'd take a moment to leave a star rating on the recipe card and briefly comment on why you rated it as you did. FYI - Google appreciates recipe ratings and, in turn, will share my recipes with more people. Thank you so much!!
Printable Recipe Card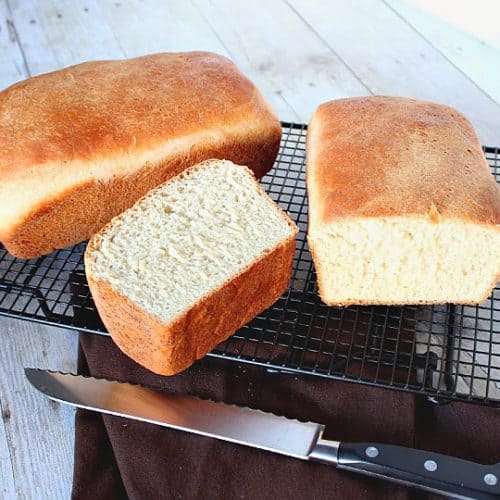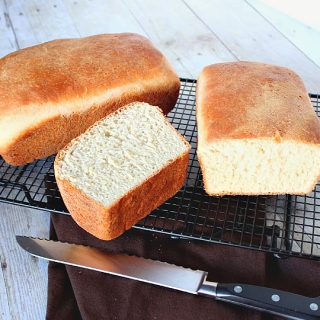 Buttermilk Honey Bread
Buttermilk Honey Bread slices beautifully and has a slight tang from the buttermilk and a sweetness from the honey that ordinary white bread doesn't have.


Ingredients
3½

teaspoons

active dry yeast

1

teaspoon

granulated sugar

¾

cup

warm water

warm to the touch, not hot

1½

cups

buttermilk

or buttermilk alternative

3

tablespoons

butter

melted

3

tablespoons

honey

1

tablespoon

salt

6½

cups

all-purpose flour

plus additional for kneading
Instructions
In a small bowl, dissolve the yeast in the warm water. Add the sugar and allow the mixture to sit and get foamy (about 5 minutes).

In the bowl of a stand mixer fitted with the dough hook, combine the buttermilk, honey, 2 tablespoons butter and the yeast mixture.

Add 2 cups of flour and the salt to the bowl. Blend with the dough hook until the mixture is sticky and wet

Add in the remaining flour and mix with the dough hook on medium speed for 7-10 minutes.

Remove the dough from the bowl and spray the bowl with cooking spray.

Put the dough back into the bowl and spray the top of the dough with cooking spray.

Cover the bowl with plastic wrap and place the bowl in a warm place (in the oven with the light turned on is perfect) until doubled in volume, about 1 hour.

Punch the dough down to deflate, and divide it into two equal pieces.

Roll and form each half by hand into an evenly shaped loaf and place each half into a 9x5 loaf pan that has been sprayed with cooking spray.


Allow the loaves to rise again in a warm, draft-free place until doubled in volume (about 50 minutes).

Preheat oven to 375 degrees.

Bake the loaves for about 30-35 minutes or until nicely golden and they sound hollow when tapped.

Once baked brush the tops of the loaves with the reserved 1 tablespoon butter.

Remove the loaves from the pans and allow to cool for about 30 minutes and then you're ready to slice and serve.
Nutrition
Serving:
1
slice
Calories:
119
kcal
Carbohydrates:
22
g
Protein:
3
g
Fat:
1
g
Saturated Fat:
0
g
Cholesterol:
4
mg
Sodium:
240
mg
Potassium:
54
mg
Fiber:
1
g
Sugar:
2
g
Vitamin A:
50
IU
Calcium:
17
mg
Iron:
1.2
mg
There now...I'll bet that got a "rise" out of you! Bread humor! LOL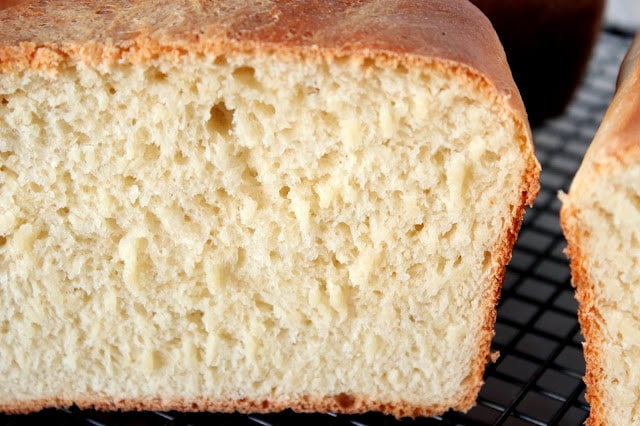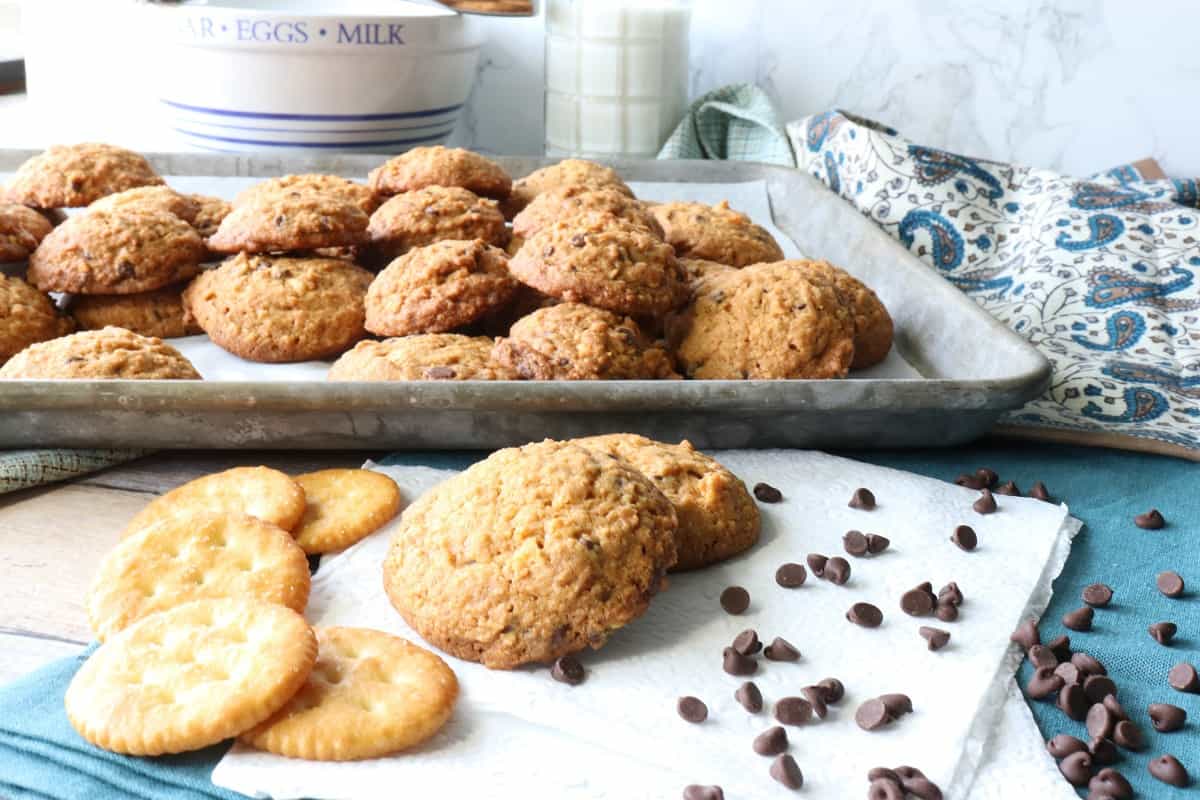 Follow me across my social media platforms and join in on the conversation: FACEBOOK, INSTAGRAM, PINTEREST, TIKTOK, AND YOUTUBE.
Thank you so much for visiting me today in my Kudos Kitchen. I hope you found something you'll love and that you'll come back and visit me often. There is always room for you around my table!
Should you have any questions or comments regarding anything you've seen here on my blog, please don't hesitate to reach out to me. It is always my distinct pleasure to respond to you just as soon as I possibly can.
Until we eat again, I hope you have a delicious day!!