Brie with Aged Cheddar Grilled Cheese sandwiches will wake up your adult senses from the boring kid-friendly grilled cheese sandwich of your childhood.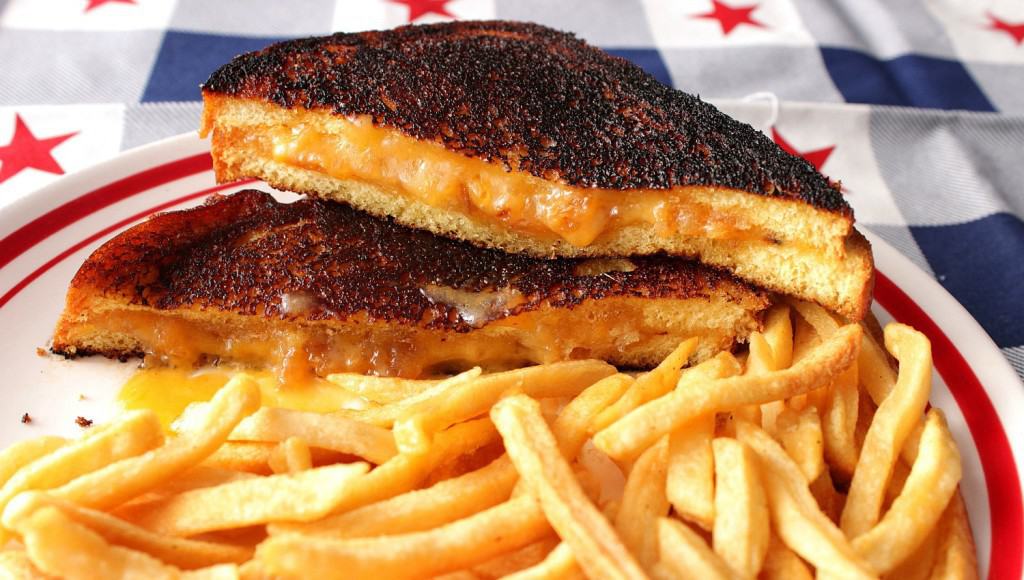 This is a sandwich recipe I found while watching America's Test Kitchen on Netflix, so I can't take full credit for it. However, I will take credit for the addition of the French fried onions that I on top of the cheese, and the honey that's added to the Dijon butter that's spread on the bread before grilling.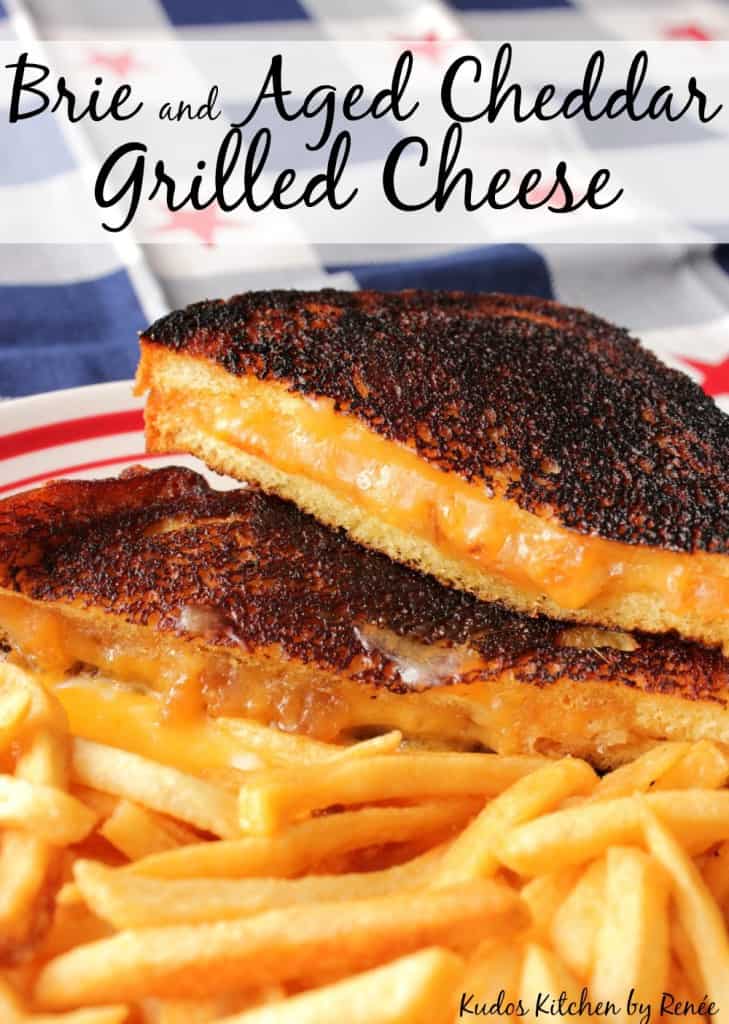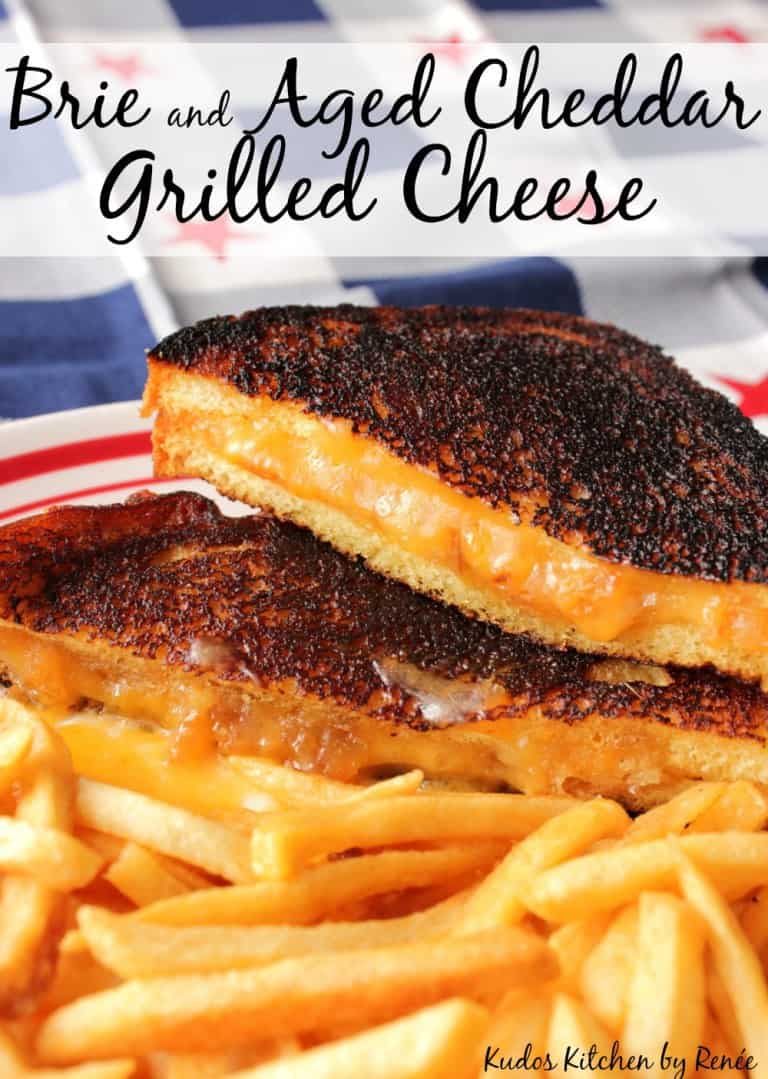 With ingredients like sharp aged cheddar cheeses, creamy, mild tasting brie, a splash of crisp white wine, crunchy French fried onions, a touch of tangy Dijon mustard, and some sweet creamery butter, this isn't your typical grilled cheese sandwich. I think you'll agree, it's more like a grilled cheese sandWISH. And I wish I had another one right about NOW!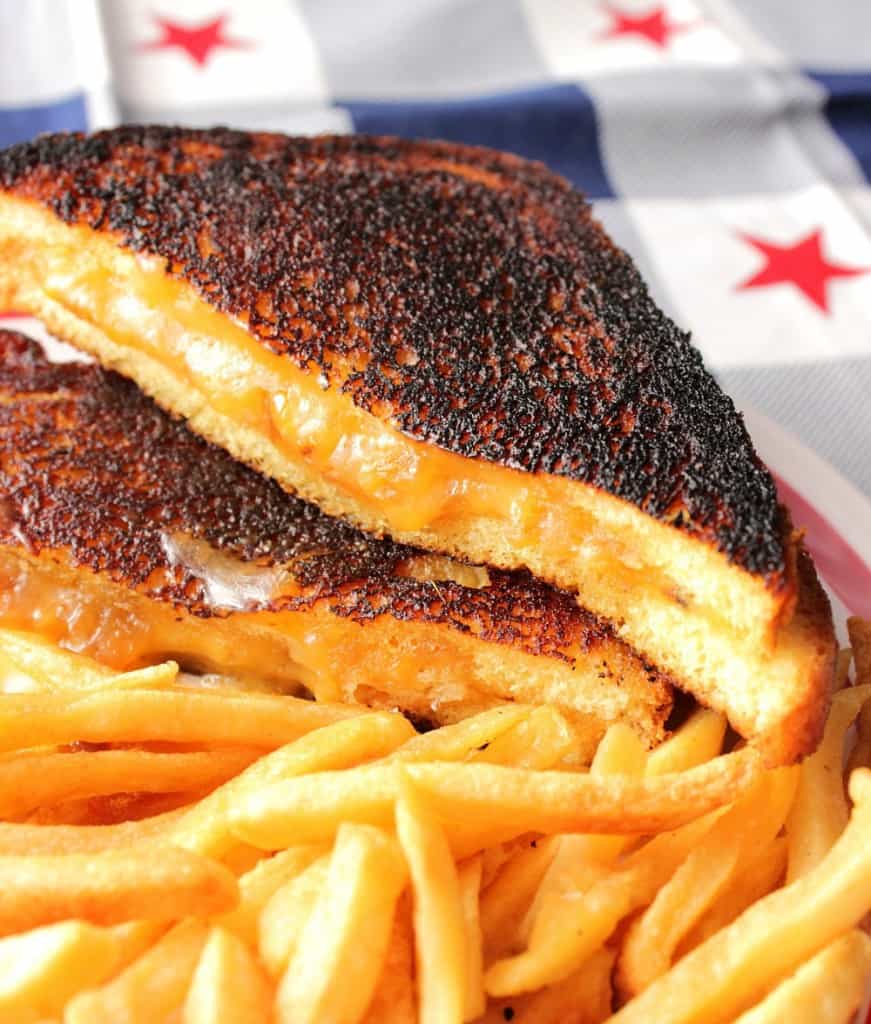 It may seem odd that I'm sharing step-by-step photos of making a grilled cheese sandwich, but since this brie and cheddar grilled cheese is a bit more than buttering the bread and slapping on a few pieces of American cheese, I thought it would be best to show you the process…
Cube the aged yellow cheddar and aged white cheddar and place them in a food processor. Pulse until the cheese forms crumble.

Slice off the rind from the brie cheese (front, back and sides) and cut the cheese into cubes.

Add the cubed brie into the crumbled aged cheddar in the food processor. Add a splash of white wine and pulse until the mixture packs lightly together, but don't go too far as you still want it a little loose.

Transfer the processed cheese into a bowl. In another bowl, use a spoon to stir together softened butter, Dijon mustard and honey.

Using the honey Dijon butter, liberally butter the outside of 12 slices of bread. Place the butter side down and liberally spread the cheese mixture on the bread. Top with some French fried onions and top with another slice of buttered bread, butter side up. Place the sandwiches in a preheated skillet and cook on medium/low heat until the bread is golden and the cheese is slightly melted. Flip the sandwich and cook on the other side, covering if needed, to thoroughly melt the cheese. Continue the same process with the additional sandwiches.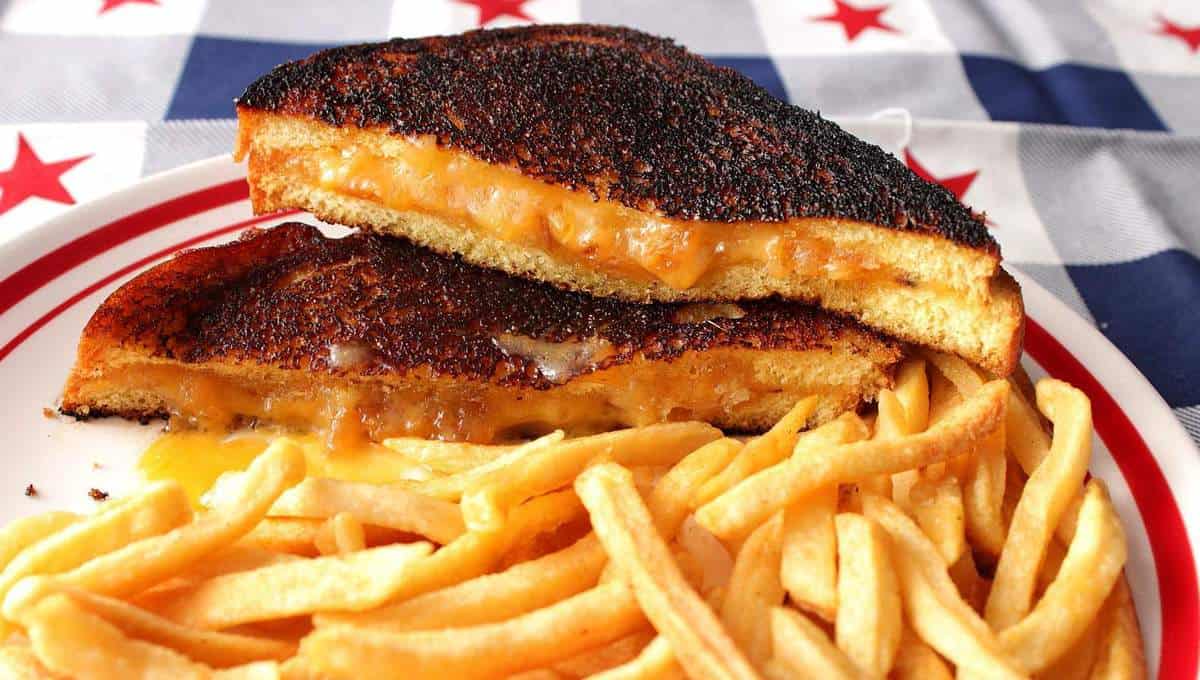 Brie and Aged Cheddar Grilled Cheese
A grilled cheese sandwich for grown up tastes.
Ingredients
12

slices

firm white bread

I used a farmhouse white

7

ounces

aged sharp white cheddar

7

ounces

aged sharp yellow cheddar

8

ounces

brie

rind removed

3

tablespoons

white wine

your favorite variety

1

stick butter

softened

3

tablespoons

honey

1

tablespoon

Dijon mustard

½

cup

French fried onions

Kitchen knife

Food processor

Large skillet

2

medium bowls

Spoon and Butter knife

Spatula

aluminum foil

optional
Instructions
Cube the cheddar cheeses and pulse them in a food processor until crumbled.

Add the cubed brie (rind removed) and the white wine. Pulse until combined but not packed tightly.

Transfer the cheese into a medium bowl and set aside.

In another medium bowl, stir together the softened butter, honey and Dijon mustard until combined.

Butter one side of each slice of bread.

Place 6 slices of bread, butter side down on a working surface.

Divide and spread the cheese evenly among the 6 slices of bread.

Top the cheese of each sandwich evenly with the French fried onions.

Place the remaining buttered bread, butter side up, on top of each sandwich.

Preheat a large skillet on a medium heat.

Place 2 sandwiches in the skillet and cook on the first side until golden and the cheese is just beginning to melt.

Use a spatula to flip the sandwiches, cover if needed (to completely melt the cheese) and continue cooking on the other side until golden.

Cut in half, and serve hot.
Notes
A box grater can be used in place of a food processor (if needed) to shred the cheese.
The aluminum foil can be used to cover the sandwiches as the cook on the second side.
Feel free to switch up the cheese on these if you like, but if you're using a dryer cheese (such as the aged cheddar) then I still recommend combining it with the brie and wine, which will act like a binder.
Depending on the size of your skillet, you may be able to cook more or less sandwiches at a time. Make sure not to over crowd the skillet to leave ample room for flipping.
Adapted from From America's Test Kitchen
All I need in life is a loaf of bread, a jug of wine, and a Brie and Aged Cheddar Grilled Cheese sandwish. Wait. You mean that's not how the saying goes? Well, if it doesn't, it certainly should! *wink*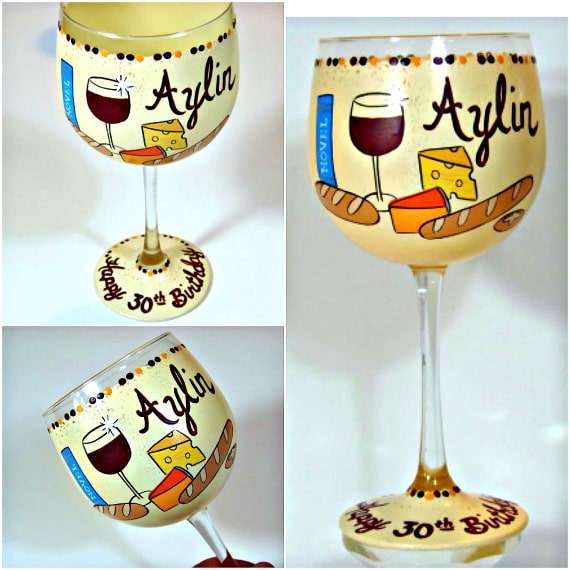 If there is ever anything I can paint for you, from glassware items to fabrics (aprons and tea towels), please don't hesitate to contact me by clicking on the little envelope icon at the top of my site, or by visiting my shop on Etsy and Wazala. Custom orders (like the one above), are always welcome and I will happily paint and design from any photo or description you send my way.
Kudos Kitchen by Renée ~ Where food, art, and fun collide each and every day!
Until we eat again, I hope you have a delicious day!