Bacon, Egg, and Cheddar Scones are loaded with chopped, hard-boiled eggs, lots of tasty bacon, and shredded sharp cheddar cheese packed into a tender, buttery biscuit.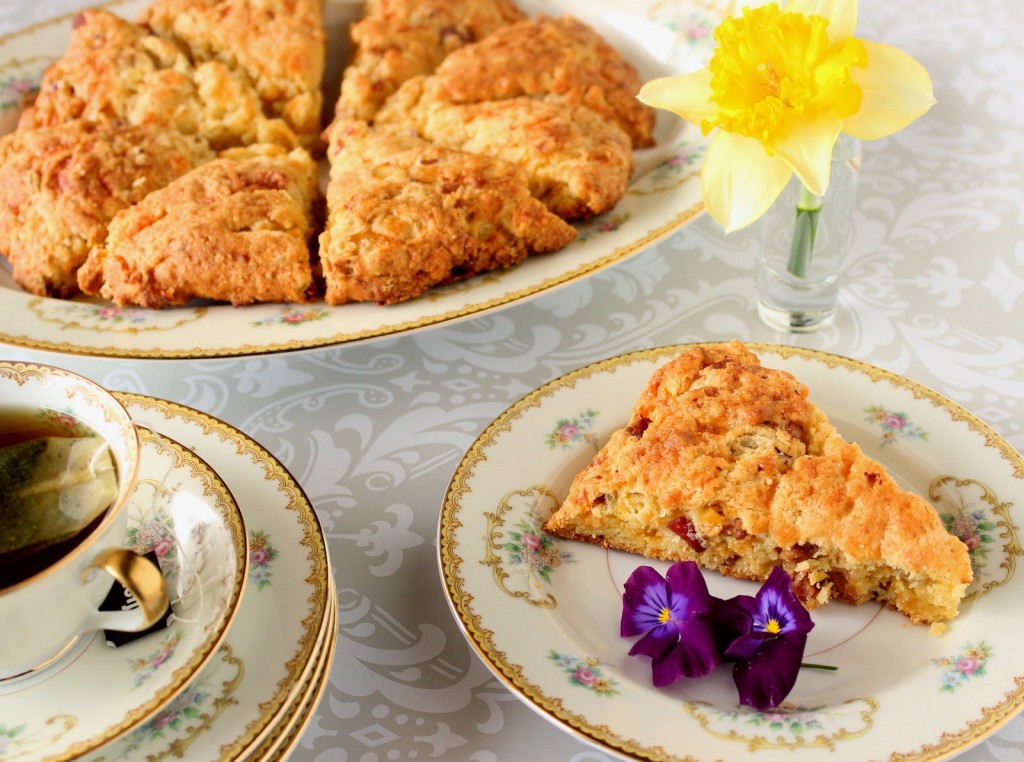 For Mother's Day, I wanted to come up with a complete breakfast meal that mom could, and should, easily eat in bed!
They may not be diet food, but on Mother's Day, calories don't count!
*Disclaimer – This recipe was originally published in 2014. I'm working hard to update all my older recipes with recipe cards, new photos, and additional recipe information. But, getting to all of them will take time. Please bear with me. In the meantime let me assure you that this recipe is still a winner and one I'm sure you'll be well pleased with when you make it at home.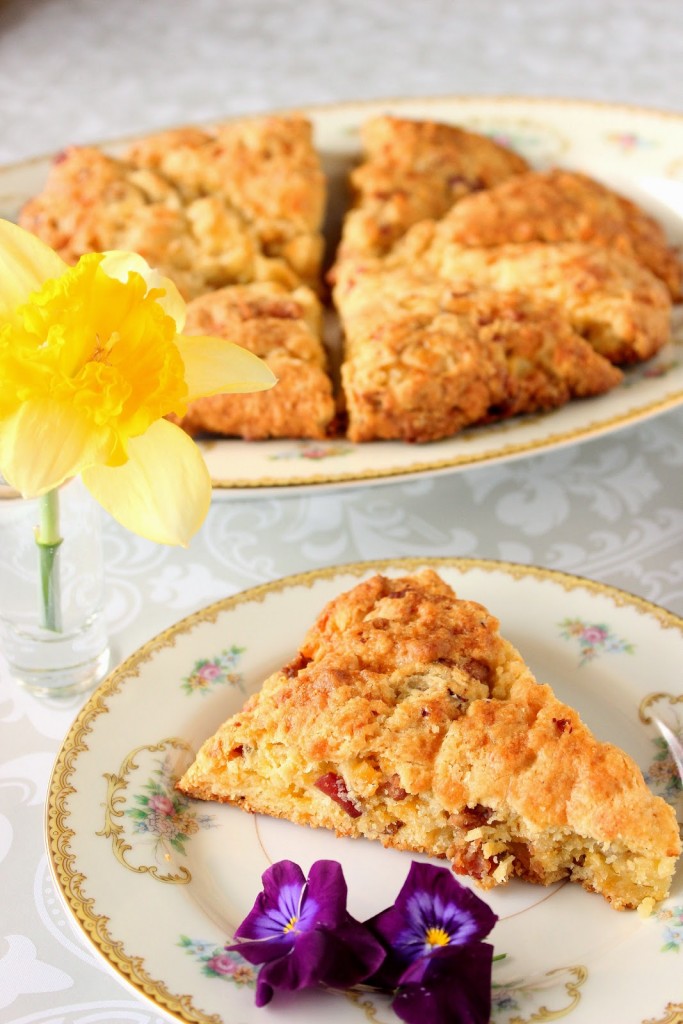 The only problem you may have with serving mom these for breakfast in bed is that when she smells them baking in the oven it's going to be nearly impossible to keep her from jumping out of bed to come and see what smells so darned good!
BACON, EGG AND CHEDDAR SCONES
Makes: 1 1/2 dozen Prep Time: 15 minutes Bake time: 60 minutes


1/2 cup sugar
2 cups all-purpose flour
2 cups cake flour
1 1/2 tablespoons baking powder
1 teaspoon salt
1 cup cold butter, cup up
1 pound bacon, cooked, drained and crumbled
5 hard boiled eggs, peeled and chopped
2 cups shredded sharp cheddar cheese
1 cup cold milk
2 large eggs
1/2 cup maple syrup, warmed
-Preheat oven to 450 degrees.
-Whisk together the sugar, all purpose flour, cake flour, baking powder and salt.
-Using a pastry blender, or working quickly with your hands, cut the butter into the flour mixture to form coarse crumbs.
-Stir in the bacon, eggs and cheese.
-In a small bowl, whisk together the milk and eggs.
-Pour the milk mixture into the flour and bacon mixture and use a wooden spoon to stir just until the dry ingredients are moistened and the ingredients form a dough. Divide the dough in half.
-Form each half of dough into an even thickness 10″ circle on two parchment lined baking sheets.
-Bake in a preheated oven for 20 minutes.
-Remove from the oven and cut the each disc into 8 wedges, separating them from each other slightly.
-Reduce the oven temperature to 350 degrees and continue baking the scones for approximately 40 minutes.
-Remove from the oven and brush the tops with the warmed maple syrup.
-Serve and enjoy!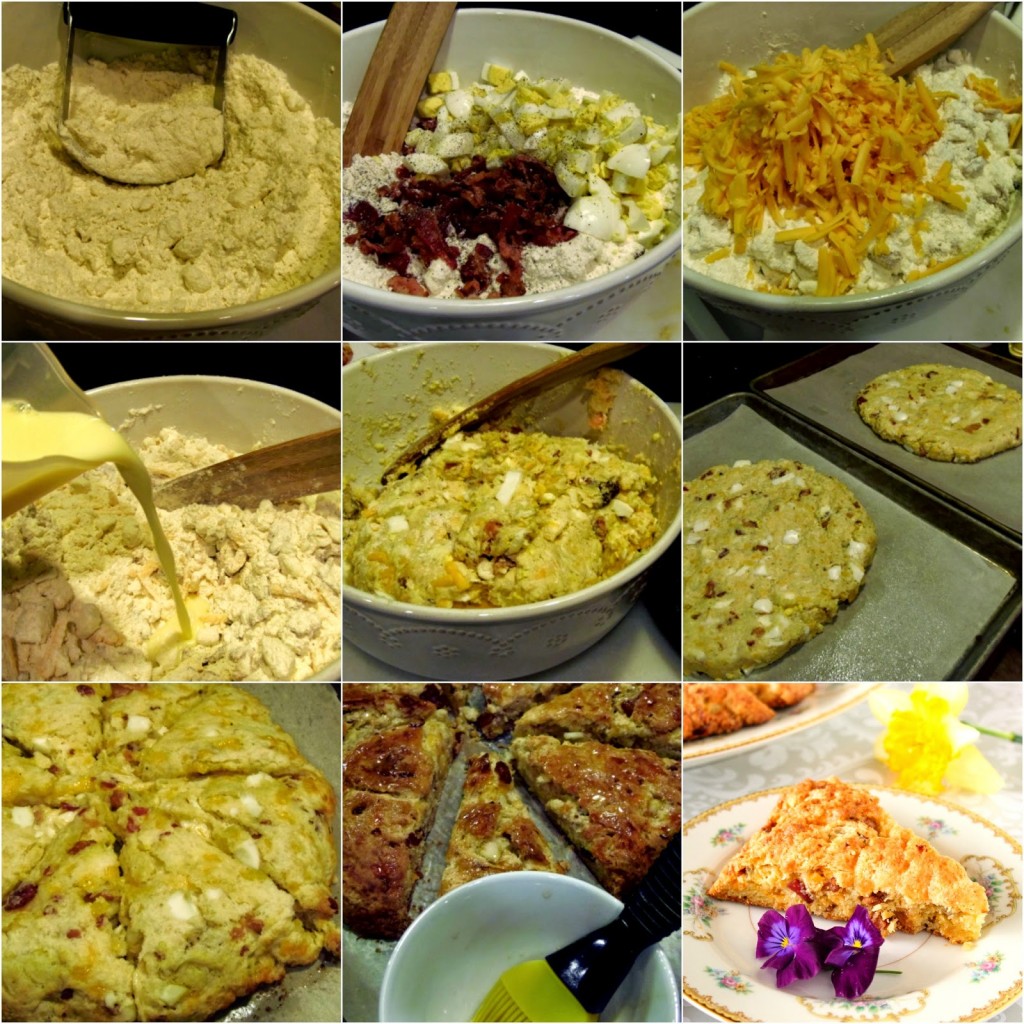 In my opinion, these Bacon, Egg, and Cheddar Scones are the best of all the breakfast foods put together into one neat little package. Savory with just the right amount of sweet. Just like mom herself! 🙂
Thank you so much for visiting me here today in my Kudos Kitchen!
Should you have any questions or comments regarding this recipe or anything else you've seen on my site, please don't hesitate to reach out to me. It is always my distinct pleasure to get back with a reply just as soon as I possibly can!
For more Kudos Kitchen recipe information, please follow me on my social medial channels (listed below), and don't forget to TAG me @kudoskitchen with photos so I can view all your delicious recipe creations! It's exciting for me when you share them, so don't be shy!
Instagram, Pinterest, Facebook, and YouTube
Instagram, Pinterest, Facebook, and YouTube
Kudos Kitchen by Renee – BRINGING YOU EASY, ECONOMICAL, AND DELICIOUS DISHES TO FEED YOUR LOVED ONES!
Until we eat again, I hope you have a delicious day!