Steak, Roasted Potatoes with Bourbon Butter Sauce is a manly meal that will please a woman too. Queue the sexy music, please. LOL
Disclaimer - This recipe was originally published in 2016. I'm working hard to update all my older recipes with recipe cards, new photos, and additional recipe information. But, getting to all of them will take time. Please bear with me. In the meantime let me assure you that this recipe is still a winner and one I'm sure you'll be well pleased with when you make it at home.
My husband loves a good steak. It makes him a happy camper. For me, I much prefer some chicken or pasta. However, sometimes a good steak hits the spot like nothing else could. Especially when covered in this creamy and savory bourbon butter sauce. Heck, an old shoe would even taste good with this amazing sauce!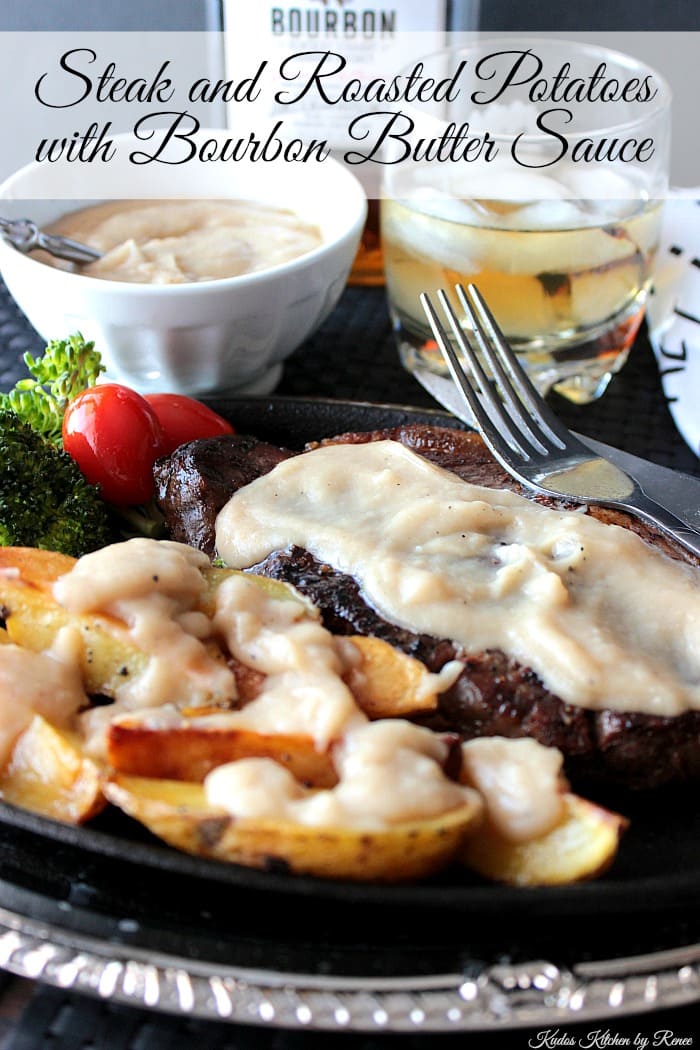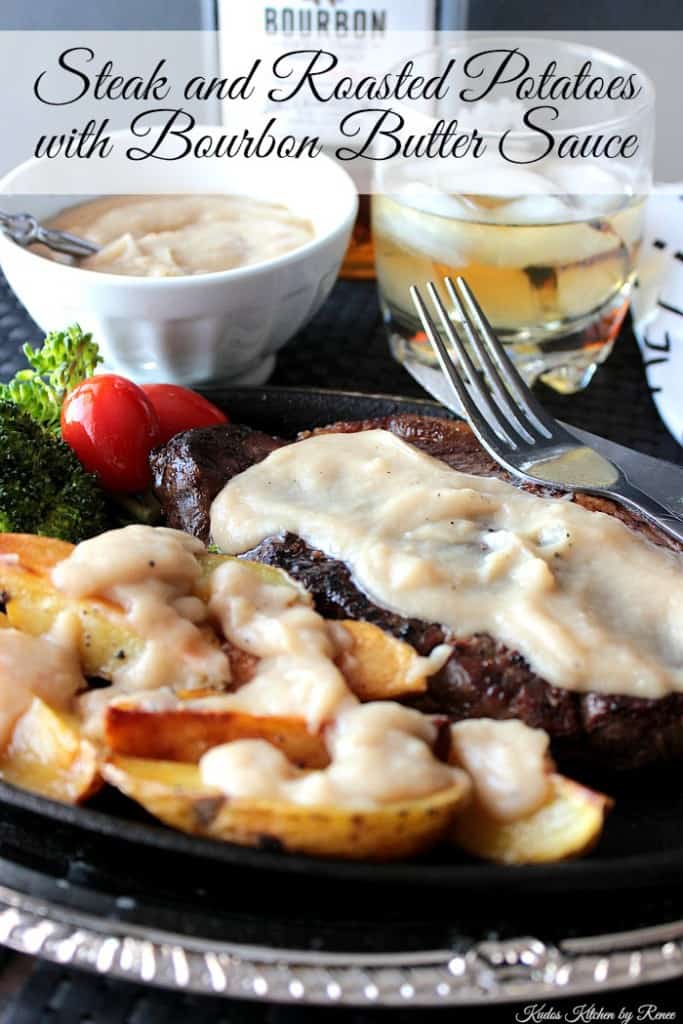 The key to this entire dish is the bourbon butter sauce. After that, you can choose your personal preference for your cut of steak, and your personal preference for potatoes.
For what I'm showing today, I used strip steaks and some small Yukon gold potatoes. The method of preparing the steak and potatoes will be the same no matter which steak or potatoes you choose to cook.
However, should you decide upon larger potatoes, please be aware that the roasting time in the oven will naturally be longer.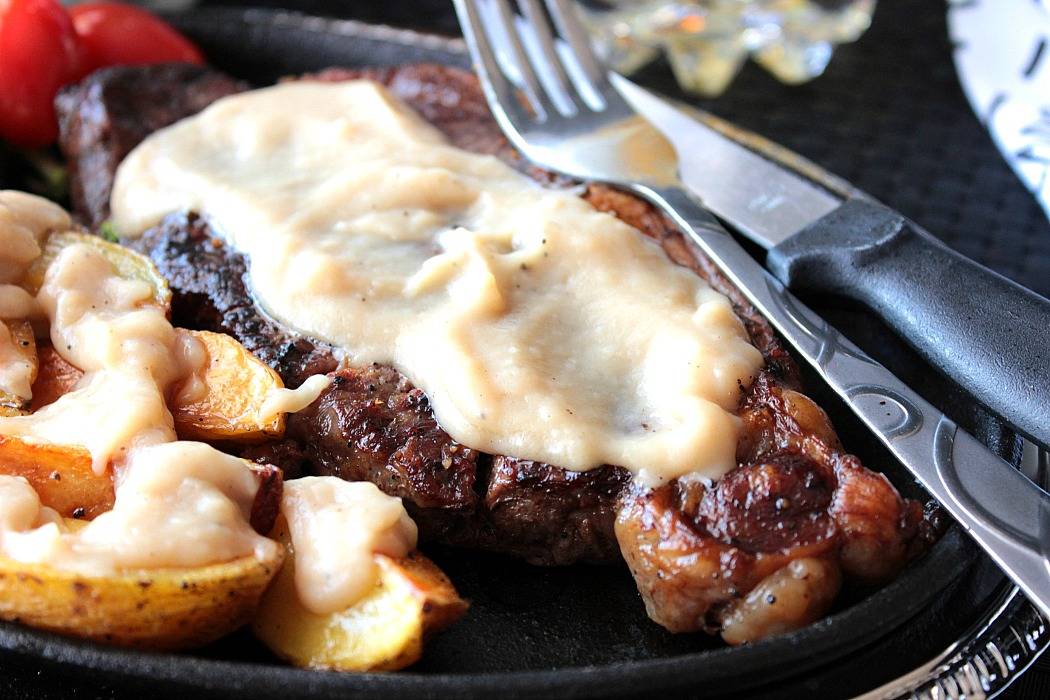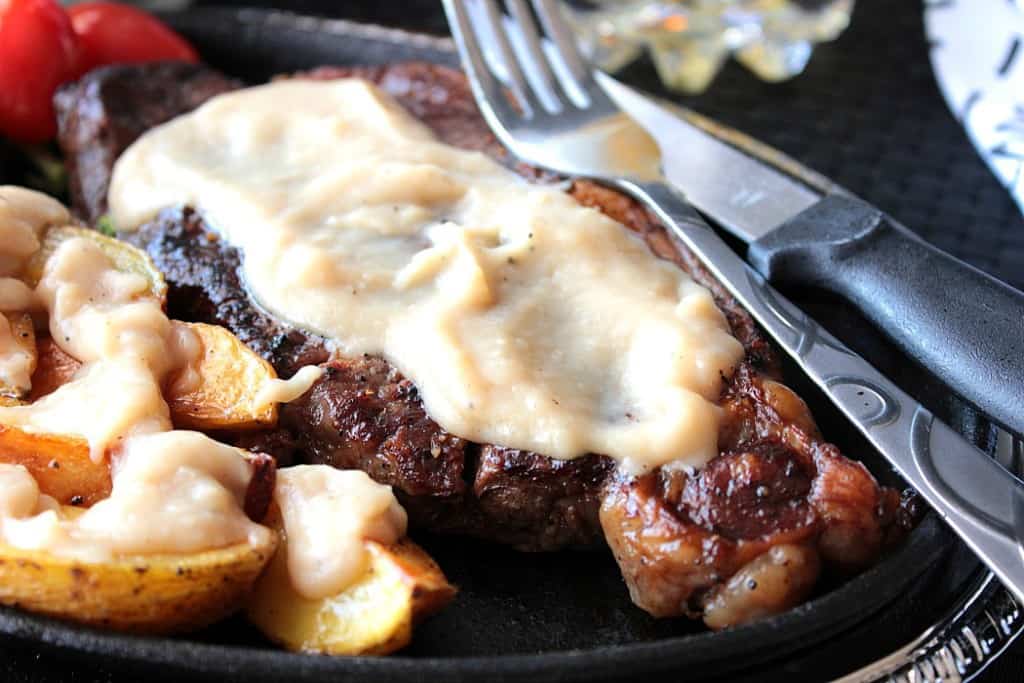 If you're worried you won't like the sauce because you're not a bourbon lover, let me assure you, you will. The bourbon flavor is only a slight whisper.
To me, the aroma of the completed sauce reminded me a little bit of light toffee or butterscotch. Must be all that butter combined with the heady aroma of caramelized beef. In the words of the great, Ina Garten "How bad can that be?"
The bourbon butter sauce is super easy to make, and I believe it would also be great with roasted chicken, pork, and even lamb.
Spoon it over mashed potatoes, baked potatoes, and even French fries.
As far as I'm concerned, the sky's the limit when it comes to this sauce, and I hope you'll think so too.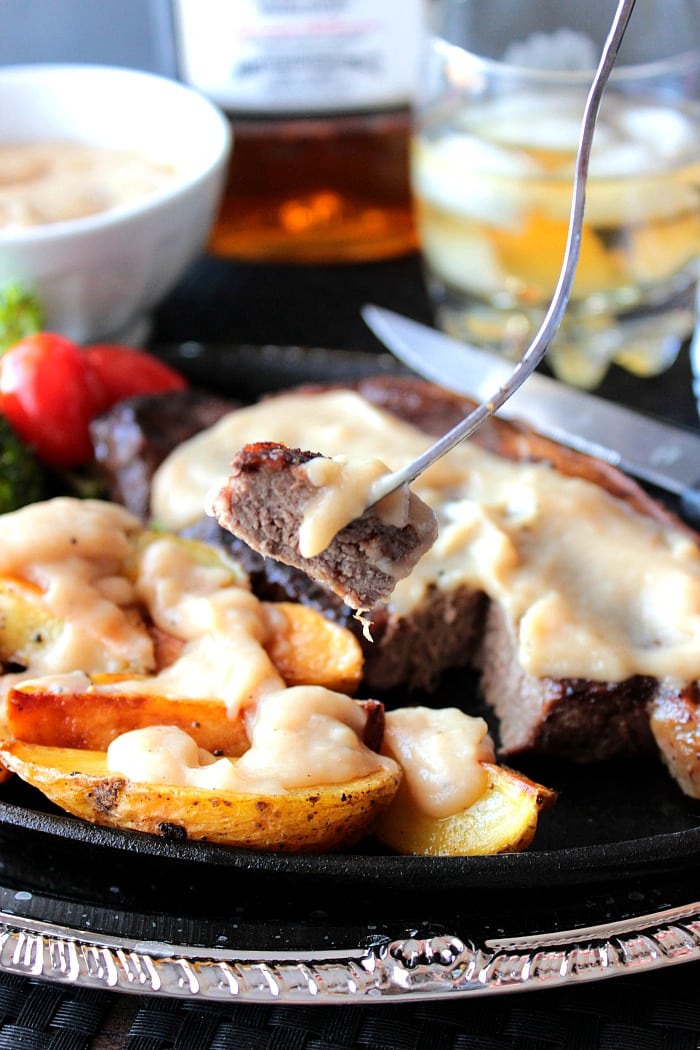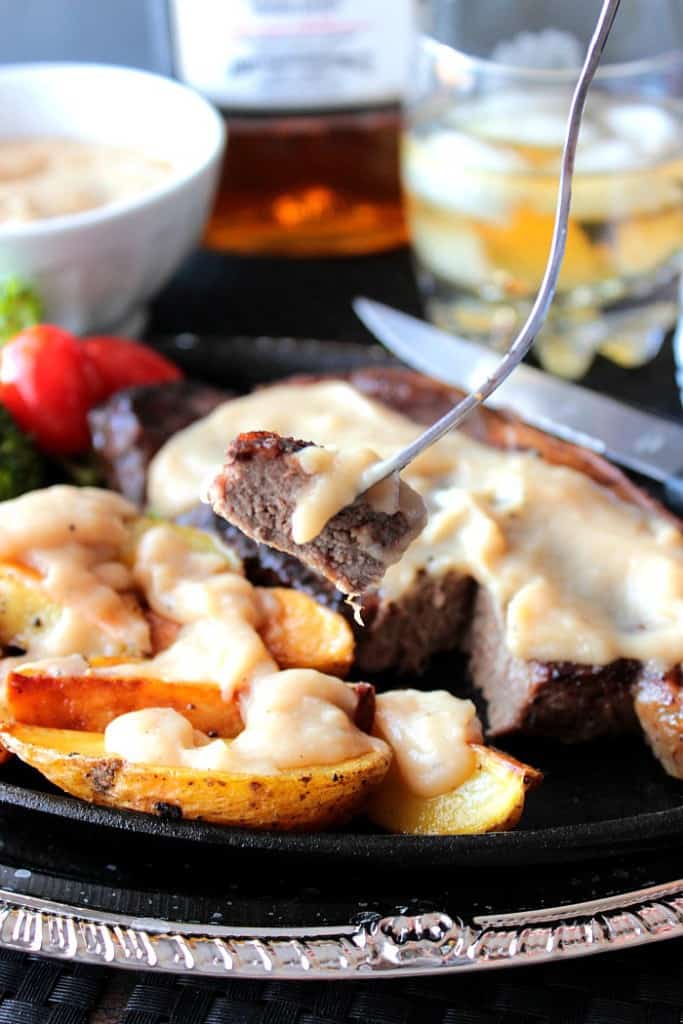 To make the sauce, start whisking equal portions of melted butter and flour to make a roux.
Slowly add beef stock or broth to the roux and whisk over medium heat until the sauce begins to thicken.
Remove the pan from the heat and add the bourbon.
Return the pan to the heat and continue cooking and whisking until the sauce has a thick, gravy consistency.

Cut the potatoes into wedges and coat them in olive oil.
Season them with salt and pepper and roast them in a preheated 425-degree oven until browned and crispy.
Meanwhile, season the steaks with salt and pepper and cook them in an oiled skillet over medium/high heat until your desired doneness.
Serve the steak and potatoes with the bourbon butter sauce and enjoy!

Printable Recipe Card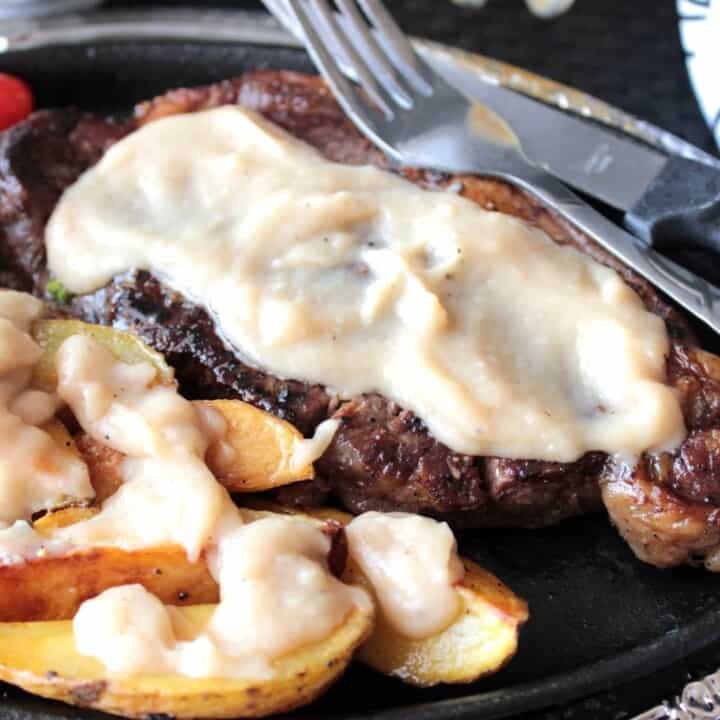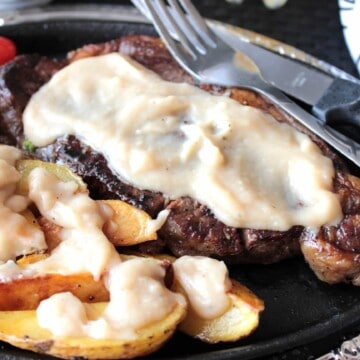 Steak and Roasted Potatoes with Bourbon Butter Sauce
Bourbon Butter Sauce will take steak and roasted potatoes from delicious, to out-of-this-world amazing!
Ingredients
4

strip steaks

3

pounds

of small golden potatoes

washed and quartered

2

tablespoons

olive oil

salt and pepper to taste

4

tablespoons

butter

4

tablespoons

all-purpose flour

1½

cups

beef stock or broth

¼

cup

bourbon

½

teaspoon

apple cider vinegar

large skillet

baking sheet

aluminum foil

optional

medium saucepan

whisk
Instructions
Preheat oven to 425 degrees.

Melt the butter in a medium saucepan over medium heat. Stir in the flour and whisk to combine, making a roux.

Cook and stir the roux for 1 minute and slowly whisk in the beef broth.

Continue to cook and stir the sauce until it begins to thicken.

Once thickened (approximately 4-5 minutes), remove the pan from the heat and stir in the bourbon.

Return the pan to the heat and continue cooking and whisking occasionally for a few more minutes.

Once the sauce has completely thickened, stir in the apple cider vinegar. Turn off the heat.

Cover the pan and keep the sauce warm until the potatoes and steaks are ready to serve (the sauce may be reheated over medium/low heat if needed when the steak and potatoes are complete).

Place the washed and cut potatoes on a baking sheet (covered with foil, optional).

Drizzle the potatoes with olive oil and toss to coat. Season the potatoes with salt and pepper.

Roast the potatoes in a preheated oven for 30 minutes, until fork tender and golden brown.

When the potatoes have cooked for 20 minutes, start the steaks.

Season the steaks with salt and pepper and place them in a large, preheated skillet.

Cook the steaks for approximately 5 minutes per side over medium/high heat (for medium rare), or until your desired level of doneness.

Place the steak and potatoes on a plate and serve with the bourbon butter sauce.

Enjoy.
Notes
You can make the sauce in advance and keep warm, or you can make the sauce while the potatoes are roasting in the oven.
Try the bourbon butter sauce on chicken, pork, lamb and meatloaf. Also try it on baked potatoes, French fries and mashed potatoes.
My husband doesn't usually like anyone messing with his steaks, so to say he was skeptical about what I was making him for dinner the night I made this dish, is an understatement.
Naturally, for me, it feels good (make that great) to say "I told you so," after he took his first bite and then continued to moan in ecstasy with each and every bite after that. Ha Ha! Too much information for you?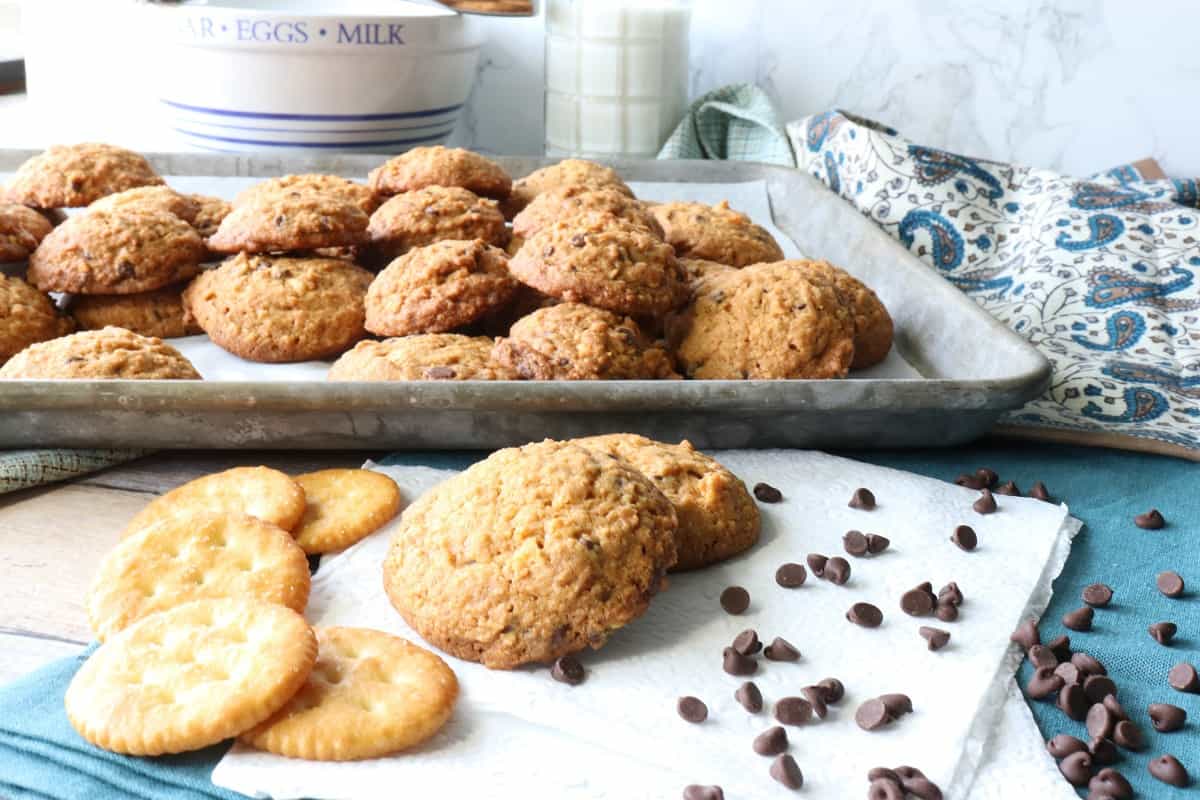 Follow me across my social media platforms and join in on the conversation: FACEBOOK, INSTAGRAM, PINTEREST, TIKTOK, AND YOUTUBE.
Thank you so much for visiting me today in my Kudos Kitchen. I hope you found something you'll love and that you'll come back and visit me often. There is always room for you around my table!
Should you have any questions or comments regarding anything you've seen here on my blog, please don't hesitate to reach out to me. It is always my distinct pleasure to respond to you just as soon as I possibly can.
Until we eat again, I hope you have a delicious day!!