Golden Pickled Beets and Onion is a deliciously sweet, sour, and earthy side dish! Golden beets are a joy to prepare because they're cleaner to work with than their red counterpart, but the flavor is very similar.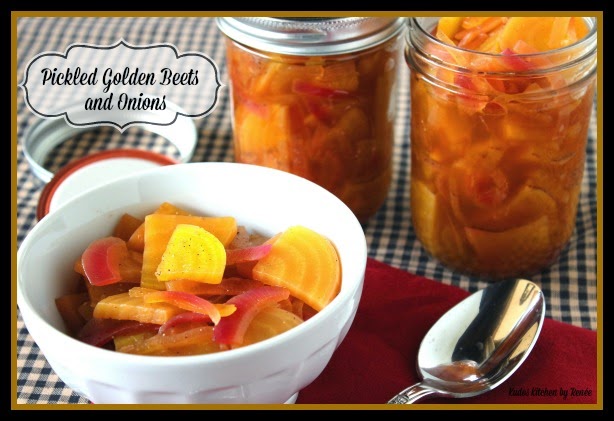 *Disclaimer - This recipe was originally published in 2014. I'm working hard to update all my older recipes with recipe cards and additional recipe information, but getting to all of them will take time. Please bear with me. In the meantime let me assure you that this recipe is still a winner and one I'm sure you'll be well pleased with when you make it at home.
I've only recently jumped onto the beet bandwagon. In the past, I stayed as far away from them as I could because, for me, I always thought they tasted a little too much like dirt for my liking.
Fortunately, with age comes wisdom, and now I consider them to have an "earthy" taste that, only in my mid 50's (there, I said it. LOL), I can truly appreciate and enjoy!
I chose to use the golden beet variety over the red beet variety for this recipe because they're cleaner to work with they and won't stain your hands and cutting boards with all that lovely ruby colored juice.
Plus I thought they'd be a nice color contrast to the red onions.
However, if you prefer the red beets over the golden, by all means, use the red...I'll never know! 😉
PICKLED GOLDEN BEETS AND ONIONS {PRINT THIS RECIPE}
Yield: 2 quarts Prep Time: 10 hours (including refrigeration time) Cook Time: 15 minutes

4 large golden beets, peeled and sliced thin
3 teaspoons salt, divided
2 medium red onions, sliced thin
½ cup apple cider vinegar (I use Bragg, organic raw)
4 tablespoons granulated sugar
½ teaspoon ground allspice
¼ cup honey
-Bring a large pot of water with 2 teaspoons salt to a rolling boil. Add in the sliced beets and reduce the heat and simmer the beet until tender (approximately 10 minutes).
-Drain the water and add the beets into a large non-reactive bowl. Set aside.
-In a medium sauce pan over medium heat, simmer the sliced onions, apple cider vinegar, sugar, allspice and honey (approximately 5 minutes).
-Stir in the remaining 1 teaspoon of salt.
-Pour the hot onion and apple cider mixture over the beets in the large bowl. Stir well to combine.
-Allow the mixture to cool to room temperature and once cooled, cover the bowl with plastic wrap.
-Refrigerate at least 8 hours.
-Spoon the beets and onion into jars and refrigerate until ready to serve.
-Enjoy their sweet and earthy flavor 🙂