This savory and healthy snack comes together in less than 15 minutes. With heart-healthy and anti-inflammatory ingredients, Roasted Cinnamon Walnuts are a snack you can feel good about eating!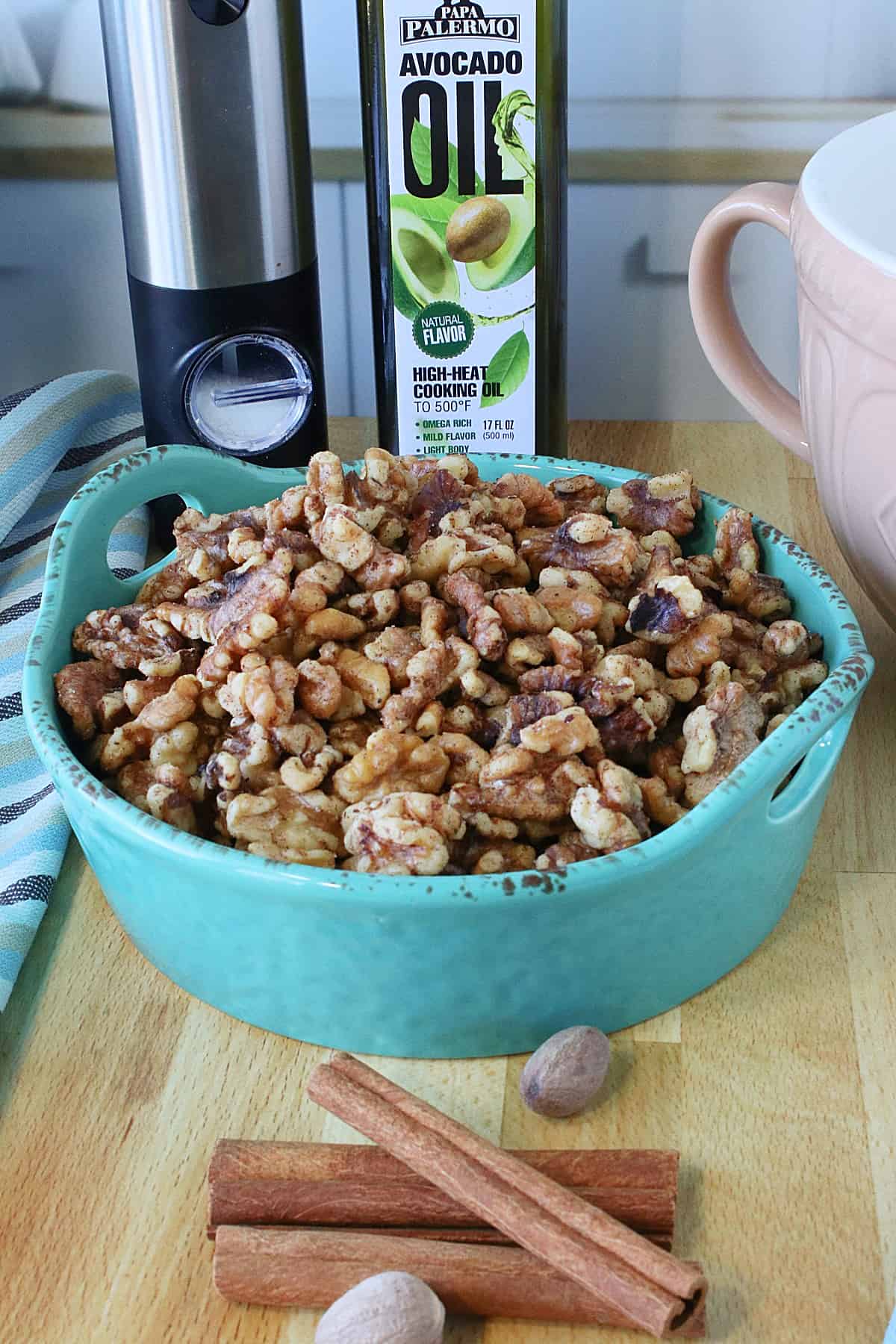 As we age, sooner rather than later, we may need snacks and recipes to help reduce inflammation in the body. That's where this simply delicious roasted walnut recipe comes into play!
**Note - The following recipe post or category contains affiliate links (highlighted in blue) for your consideration. By clicking on a link I may earn a small commission at no additional cost to you. Thank you!
Jump to:
*Please note that the exact measurements along with a new "shop the recipe" feature from Instacart is available in the printable recipe card.

The ingredient list: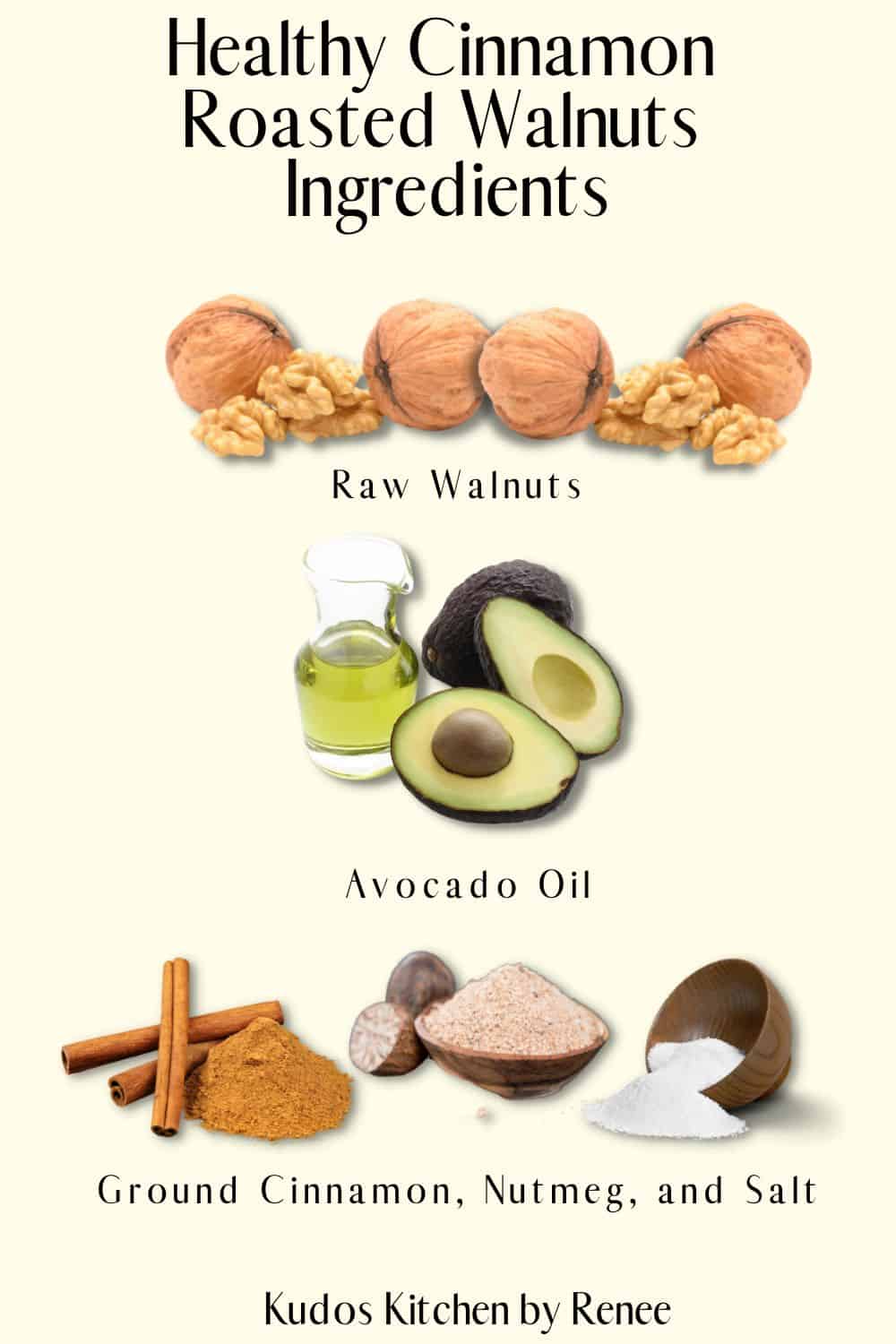 The above ingredient image was made using Canva Design. It's one of my very favorite design tools. You don't need to be a food blogger to use Canva. All you need to be is someone who loves designing graphics. Check them out if you're interested and a whole new world of artistic expression will be opened to you.
Ingredient savvy:
RAW UNSALTED WALNUTS (SHELLED) - Walnuts are one of the world's best superfoods! Walnuts provide significantly higher amounts of plant-based omega-3 fat (in a one-ounce serving) than any other type of nut. Which means walnuts may help reduce the risk of heart disease. Walnuts also contain several plant compounds that reduce inflammation, one of the root causes of many chronic diseases.
AVOCADO OIL - Avocado oil is a healthy fat food that feeds the brain. This high-heat cooking oil is also good for the eyes because it is rich in lutein, naturally found in the eyes, but the body does not make it on its own. Avocado oil may also benefit heart health by reducing blood pressure and cholesterol levels.
KOSHER SALT - This is the salt I use for all my cooking and baking. I love the coarse grain that kosher salt provides, and, to me, it has a milder and less "bitter" flavor than regular table salt. Feel free to use table salt if you like, but cut back on the amount called for in this recipe and season again (if needed) after the walnuts come out of the oven.
GROUND CINNAMON - Did you know that cinnamon is not only delicious, but it's also really, really good for you? Cinnamon contains powerful antioxidants that slow the aging process and strengthen the immune system. How great is this for all you cinnamon lovers (me included)?!!
GRATED NUTMEG - This ingredient is optional in this recipe, but I love using a light sprinkling of nutmeg whenever and wherever I can. Nutmeg also has excellent health benefits you may have yet to learn. It is rich in antioxidants and essential oils that are known to prevent cellular damage in the body and can protect against chronic disease. Amazing!!
Cinnamon roasted walnut serving size:
One serving of toasted cinnamon walnuts equals ½ cup of walnuts.
While it's easy to go overboard with eating these nuts because they're so delicious, the calorie count (although healthy) is relatively high.
Serving suggestions:
I like adding these toasted walnuts to my morning Greek yogurt, along with fresh berries.
A few other great ways to serve these is as a topping for oatmeal, or you can blend into smoothies, mix them into muffin or cake batters, top pancakes or waffles with them along with a little bit of pure maple syrup, and I also like to add them to vegetables for added texture and crunch.
Of course, last but not least is to nibble on a handful of them anytime during the day because they'll fill you up quickly with an incredible 6 grams of protein per serving.
Substitutions and additions:
Olive oil can be used in place of the avocado oil if desired. Olive oil is another very heart healthy oil that you can feel good about using.
If you like things hot and spicy, I suggest adding a little sprinkle of cayenne red pepper, or red pepper flakes, to the skillet before adding the nuts.
OR if you like things with a Tex-Mex flavor, a ¼ teaspoon of cumin and a slight pinch of ground coriander would be delicious in place of the cinnamon and nutmeg.
Top tip for success:
Because of their high-fat content, walnuts are prone to burning quickly, so keep a close eye on them while in the oven. Setting a reliable kitchen timer for (4-5 minutes) is a good idea if you don't have time to babysit the oven.
Can these savory cinnamon walnuts be made in an air fryer?
They sure can.
Start the recipe in the skillet (as the directions indicate), and then once they're ready to be roasted, add the walnuts to the try of an air fryer and cook the walnuts at 325 degrees for approximately 5 - 7 minutes, watching them carefully, so they don't burn.
Can a sweetener be used to make these walnuts?
I suggest adding a light touch of an all-natural sweetener like honey or pure maple syrup to the pan before adding the nuts into the oven. Don't add much; 2-3 tablespoons should be sufficient, and then stir them well. Then add the nuts to the oven (or air fryer) and continue cooking as instructed.
What about drizzling the roasted walnuts with chocolate?
Yeah, I've thought of that many times but have yet to do it.
That said, if you'd like to, I suggest using a high-quality dark chocolate (70 - 85% cacao). Slowly melt an ounce or two (finely chopped) over a double boiler and drizzle the melted chocolate lightly over the cinnamon-roasted walnuts.
Now you have an additional health benefit that the dark chocolate provides, plus a tiny bit of sweetness, making these roasted nuts more "candy-like."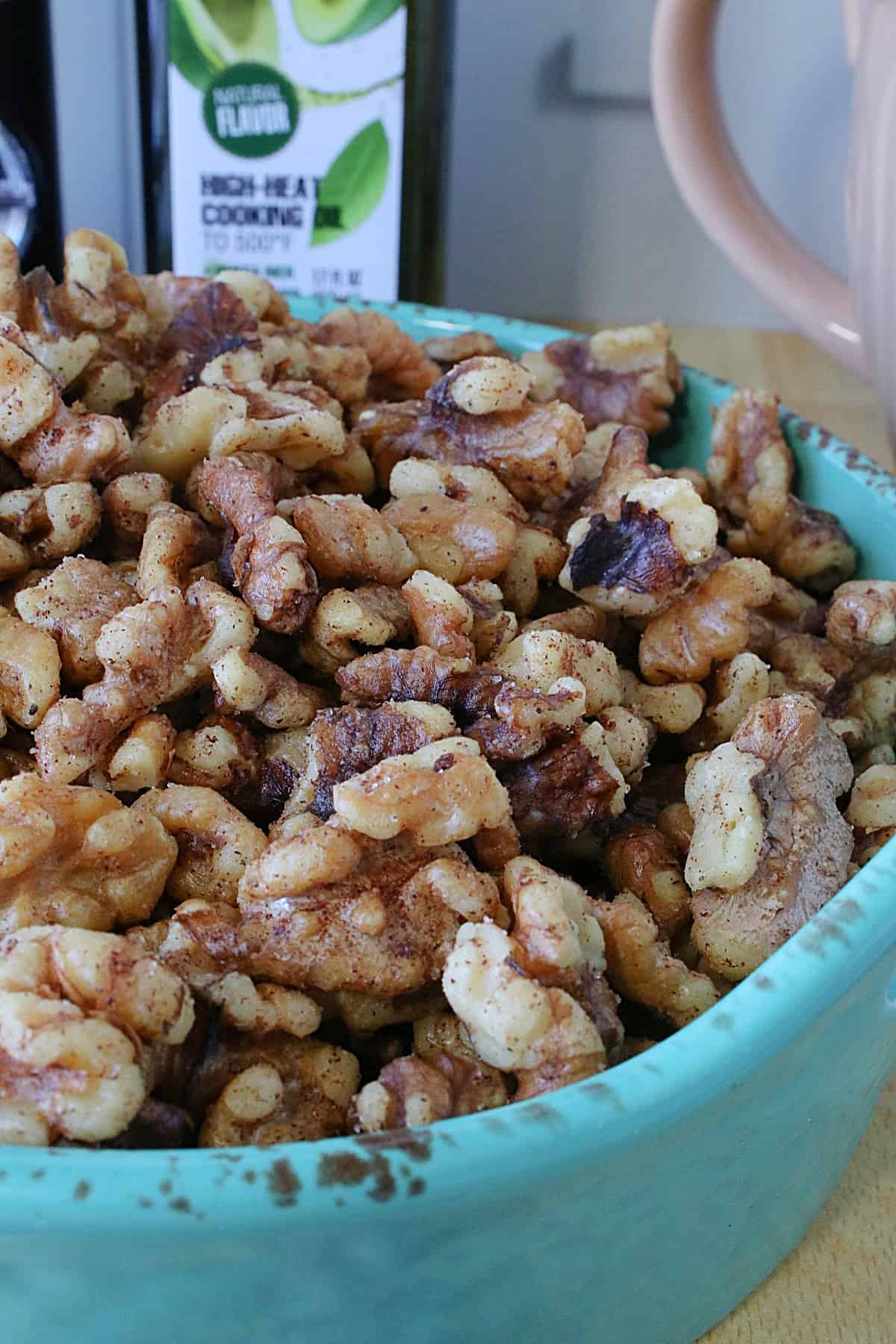 ⭐If you've made this recipe, or are excited to make this recipe, I'd appreciate it if you'd take a moment to leave it a star rating on the recipe card, along with a comment if you're so inclined. Thank you. 🙂
Printable Recipe Card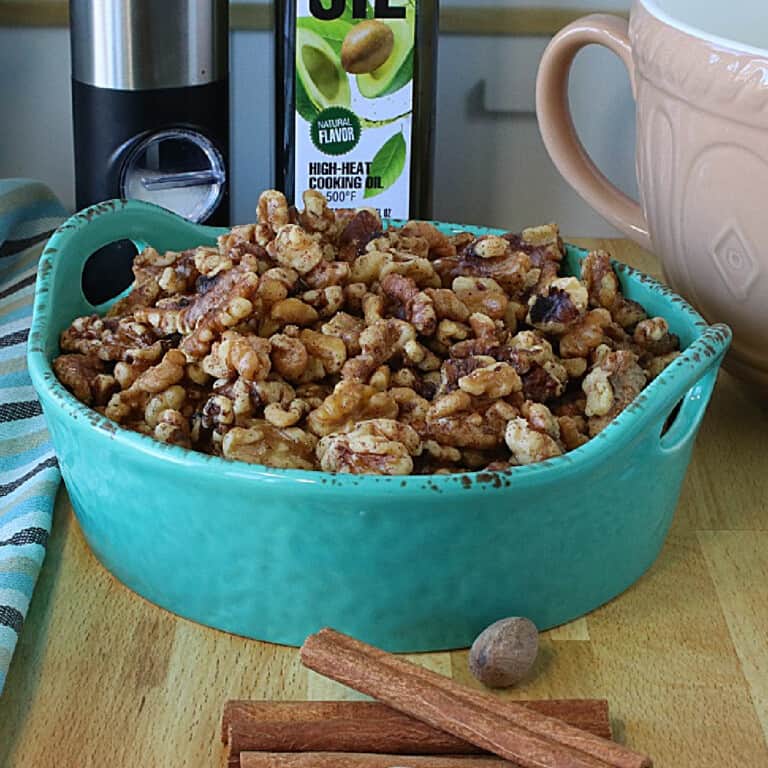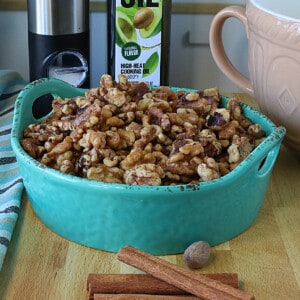 Healthy Roasted Cinnamon Walnuts
This savory and healthy snack comes together in less than 15 minutes. With heart-healthy ingredients, Roasted Cinnamon Walnuts are a snack you can feel good about eating!
Ingredients
4

cups

raw walnuts

shells removed

2

tablespoons

avocado oil

¾

teaspoon

kosher salt

½

teaspoon

ground cinnamon

⅛

teaspoon

grated nutmeg

optional
Instructions
Preheat oven to 375 degrees Fahrenheit (190 Celsius, or 325 degrees for an air fryer).

Add the oil to the skillet over medium heat and allow to heat (about 1-2 minutes).

Add the salt and cinnamon to the skillet with the oil and stir well to combine.

Add the walnuts to the pan and stir well to coat the walnuts with the oil and seasonings.

Place the skillet into the preheated oven (or, if using an air fryer add the walnuts to a tray of an air fryer) and cook for 7-10 minutes (5-7 minutes air fryer), or until the walnuts become very fragrant. **Note - Keep a close eye on them while they cook so they don't burn as all ovens and air fryers cook differently.

Remove from the oven and spill the nuts out onto a paper towel lined baking sheet to absorb any potential excess oil. Cool completely and enjoy!
Notes
1 serving = ½ cup of toasted walnuts
Store the toasted walnuts in an airtight container at room temperature for up to 7-10 days.
Roasted Cinnamon Walnuts may be refrigerated if desired in an airtight container.
Roasted Cinnamon Walnuts may also be frozen. Store them in an airtight freezer container for up to 2 months. Thaw at room temperature.
Nutrition
Serving:
1
serving
Calories:
414
kcal
Carbohydrates:
8
g
Protein:
9
g
Fat:
42
g
Saturated Fat:
4
g
Polyunsaturated Fat:
28
g
Monounsaturated Fat:
8
g
Sodium:
219
mg
Potassium:
259
mg
Fiber:
4
g
Sugar:
2
g
Vitamin A:
12
IU
Vitamin C:
1
mg
Calcium:
59
mg
Iron:
2
mg
Follow me across my social media platforms and join in on the conversation: FACEBOOK, INSTAGRAM, PINTEREST, TIKTOK, AND YOUTUBE.
I hope you've enjoyed today's heart-healthy anti-inflammatory snack recipe as much as I've enjoyed bringing it to you!!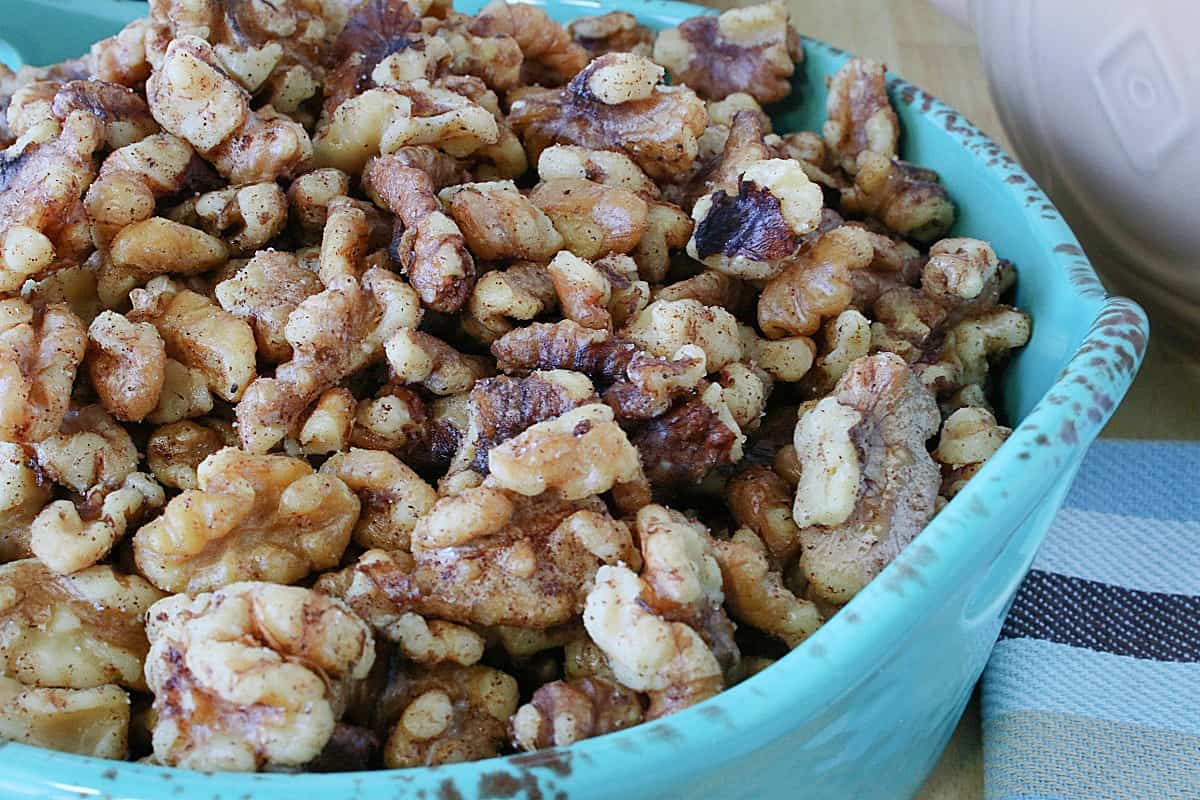 Thank you so much for visiting me today in my Kudos Kitchen. I hope you found something you'll love and that you'll come back and visit me often. There is always room for you around my table!
Should you have any questions or comments regarding anything you've seen here on my blog, please don't hesitate to reach out to me. It is always my distinct pleasure to respond to you just as soon as I possibly can.