Chocolate Espresso Peppermint Fudge is rich, creamy, and not overly sweet. It makes the perfect homemade food gift which will show the people on your gift list just how much you care!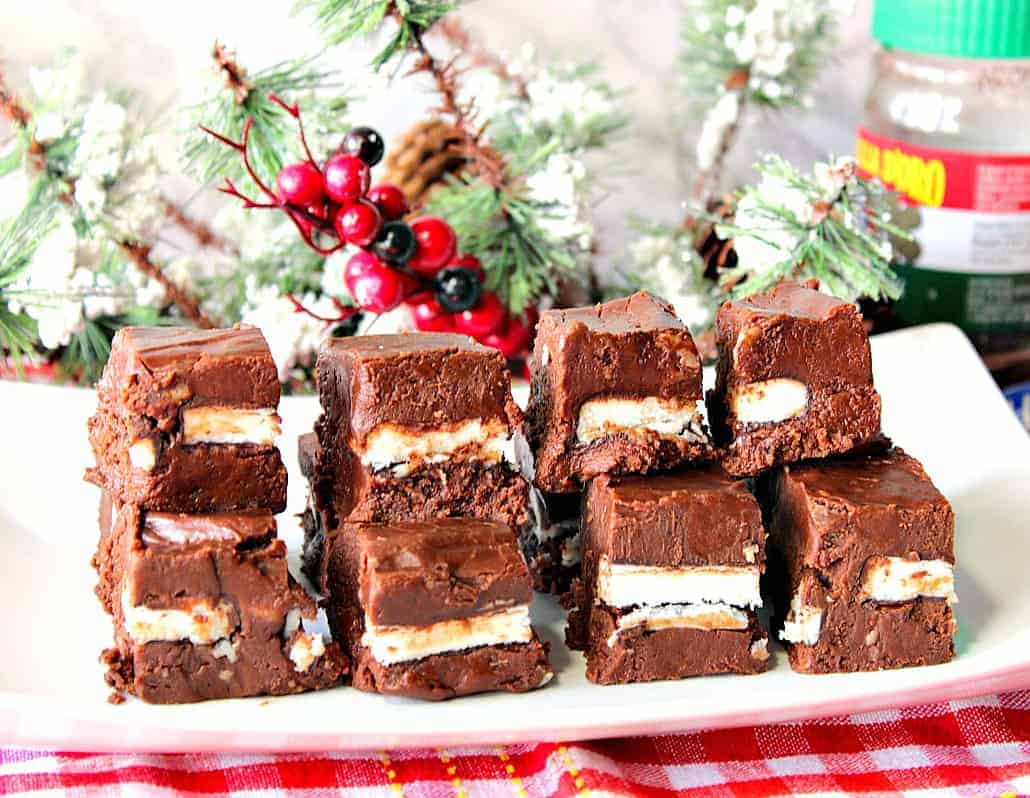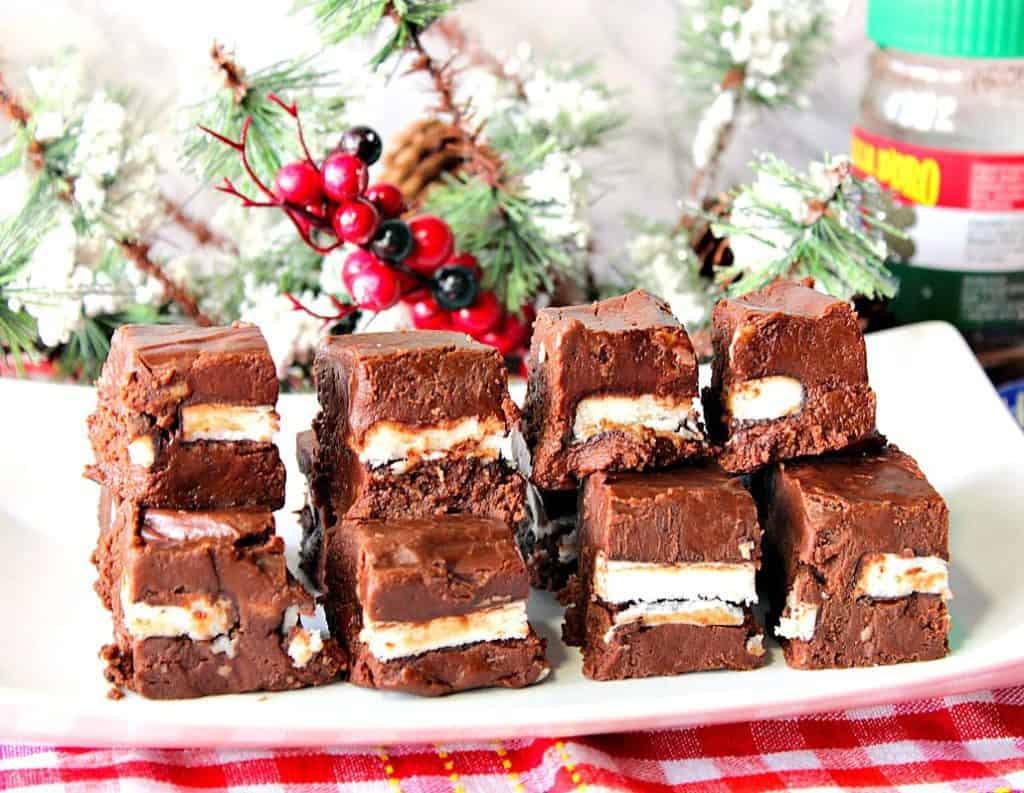 Chocolate lovers, you're going to go crazy for the flavor of this Espresso Peppermint Fudge. It's the addition of the espresso powder that kicks up the flavor of the chocolate to a whole new level!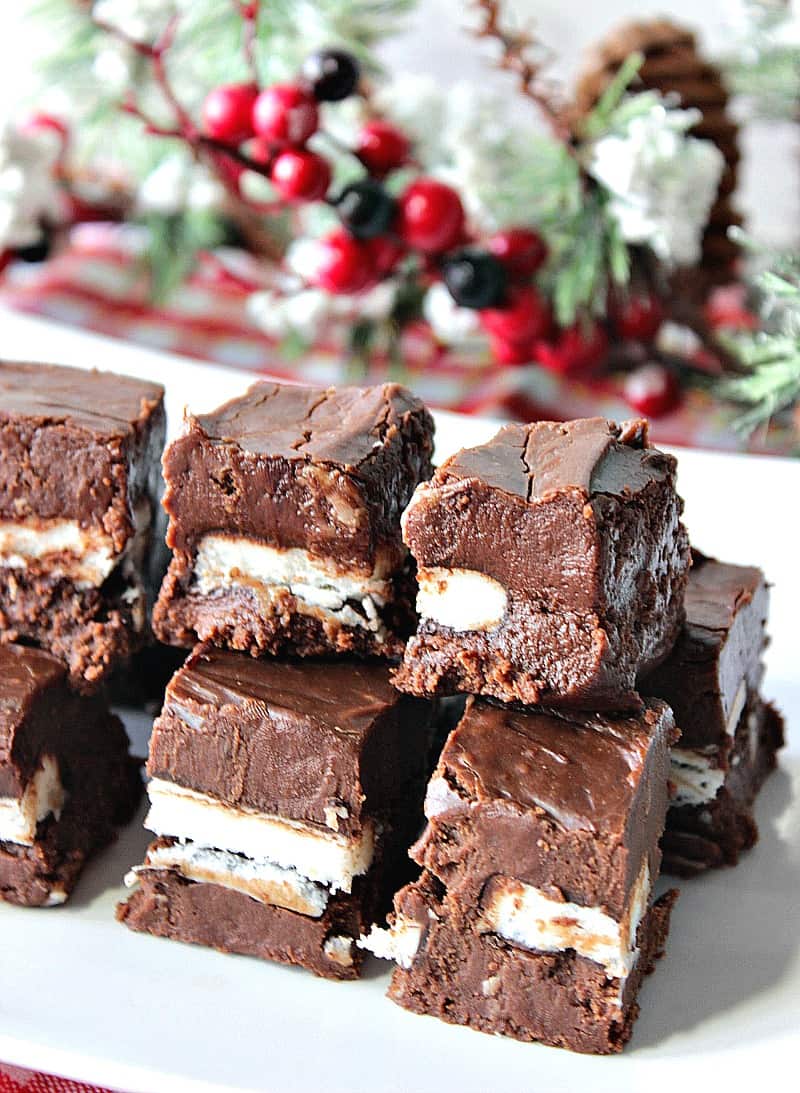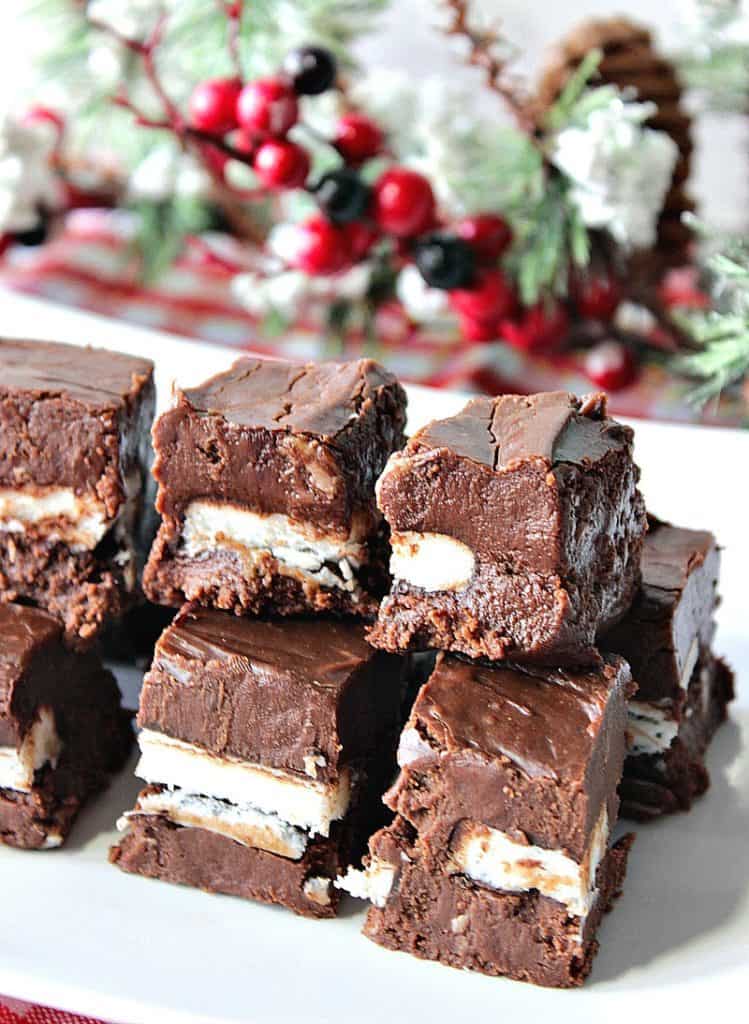 The ingredient list for making Chocolate Espresso Peppermint Fudge is relatively short. You'll need; 12-15 peppermint patty candies, sugar, vanilla, a 12-ounce package of semi-sweet chocolate chips, 5 ounces of evaporated milk, butter, 1 jar of marshmallow fluff, and espresso powder. I'll make sure to leave an Amazon affiliate link down below if you're unable to purchase the espresso powder in your local market.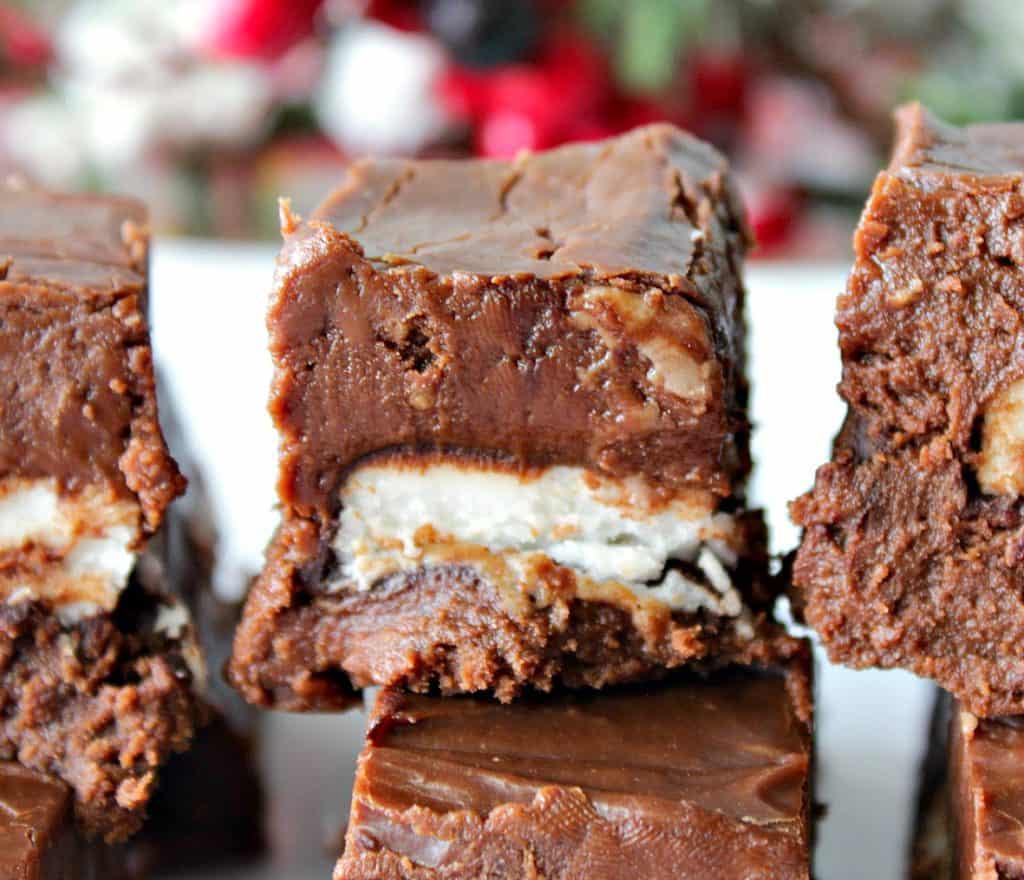 I happen to love the flavor of peppermint during the holidays. However, neither of my sons are in favor of the flavor of peppermint. But, since I do all of the cooking and baking in the family, I get to choose what ingredients I add to my recipes. LOL Sorry, boys!
Having said that, both my boys enjoyed the flavor of this Chocolate Espresso Peppermint Fudge. I think it's the subtlety of the peppermint flavored candy which is sandwiched between two creamy layers of espresso chocolate fudge. What can be wrong about that, I ask you?
I've made you a short little video for you about the process of making Espresso Peppermint Fudge. I hope you'll take a moment to watch. If you enjoy the video below, please subscribe to my channel on Youtube.
The recipe for Chocolate Espresso Peppermint Fudge goes together quickly, and even a novice candy maker will be successful making it. The only one very important tip I have for you is to make sure your saucepan isn't too hot when you melt the butter and add the sugar. If it is too hot, the sugar will crystalize and not melt. If that happens, there is no way to rescue it, and you'll need to start all over from scratch. Trust me. Been there. Done that.


As promised above, here is the affiliate link for the espresso powder. Not every store carries it (including mine), and it's an integral part of this espresso peppermint fudge recipe (hence the name). LOL Of course, you can choose to omit the espresso powder if you decide it's not for you, but it's the espresso powder that intensifies the chocolate flavor and makes this fudge something really special!
By clicking on the photo of the espresso powder below you'll be taken directly to Amazon.com to purchase the jar of espresso powder, should you choose to do so. You are, of course, under no obligation, but if you do I'll receive a small commission through Amazon for your purchase, but at no extra charge to you.
If you're saying to yourself, hey, once I purchase espresso powder for this recipe, what in the world am I going to do with the rest of the jar? Well, I like to add a ½ teaspoon into my morning coffee for that extra jolt of caffeine that helps me to start my day. Or, I also like to add a little to my hot chocolate, because why not? Or, go really crazy and rub some onto a steak next time you're ready to grill. You'll be amazed at what a little espresso powder can do to add extra depth and flavor to grilled beef! YUM!!!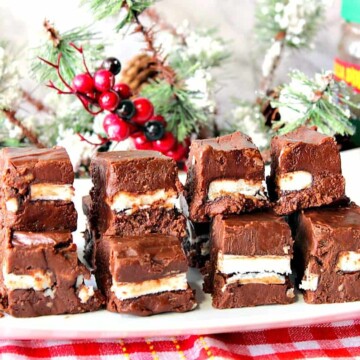 Creamy Chocolate Espresso Peppermint Fudge
Chocolate Espresso Peppermint Fudge is rich, creamy, and not overly sweet. It makes the perfect homemade food gift which will show the people on your gift list just how much you care!
Ingredients
4

tablespoons

butter

¾

cup

evaporated milk

2½

cups

granulated sugar

⅛

teaspoon

salt

2

teaspoons

espresso powder

1

jar

7 ounces marshmallow fluff

1

teaspoon

vanilla extract

1

package

12 ounces semi-sweet chocolate chips

12 - 15

peppermint patty candy

unwrapped
Instructions
Prepare an 8x8 pan by lining it with aluminum foil and spray it liberally with baking spray. Set aside.

In a medium saucepan, over medium/low heat, melt the butter and add the evaporated milk.

Add the granulated sugar and stir frequently until the sugar dissolves.

Increase the heat to medium and stir in the salt, espresso powder, and marshmallow fluff.

Slowly bring the mixture up to a boil, stirring frequently.

Once the mixture boils, remove from heat and stir in the vanilla and semi-sweet chocolate chips.

Stir well until the chips are completely melted.

Carefully pour half of the chocolate fudge mixture into the prepared 8x8 pan.

Layer the peppermint patty candy evenly over the bottom fudge layer and then carefully pour the remaining fudge over top of the peppermint candy.

Chill to set (at least 1 hour, but longer is better).

Lift the fudge out of the pan using the foil to lift..

Peel the foil away from the fudge, and slice fudge into squares.

Serve and enjoy!
Notes
Tools and equipment:
8x8 pan
aluminum foil
baking spray
medium saucepan
whisk or spatula
measuring spoons
measuring cups
Nutrition
Serving:
0
Calories:
0
kcal
Carbohydrates:
0
g
Protein:
0
g
Fat:
0
g
Saturated Fat:
0
g
Polyunsaturated Fat:
0
g
Monounsaturated Fat:
0
g
Trans Fat:
0
g
Cholesterol:
0
mg
Sodium:
0
mg
Potassium:
0
mg
Fiber:
0
g
Sugar:
0
g
Vitamin A:
0
IU
Vitamin C:
0
mg
Calcium:
0
mg
Iron:
0
mg
Fudge is one of the easiest food gifts you can give to someone with a sweet tooth. I've made many different flavors of fudge over the years and have shared two of my previous favorites (until now) on the blog. They are both winners in my book!
Old Fashioned Chocolate Caramel Turtle Fudge and Sweet and Spicy Cinnamon Fudge
Creamy Chocolate Espresso Peppermint Fudge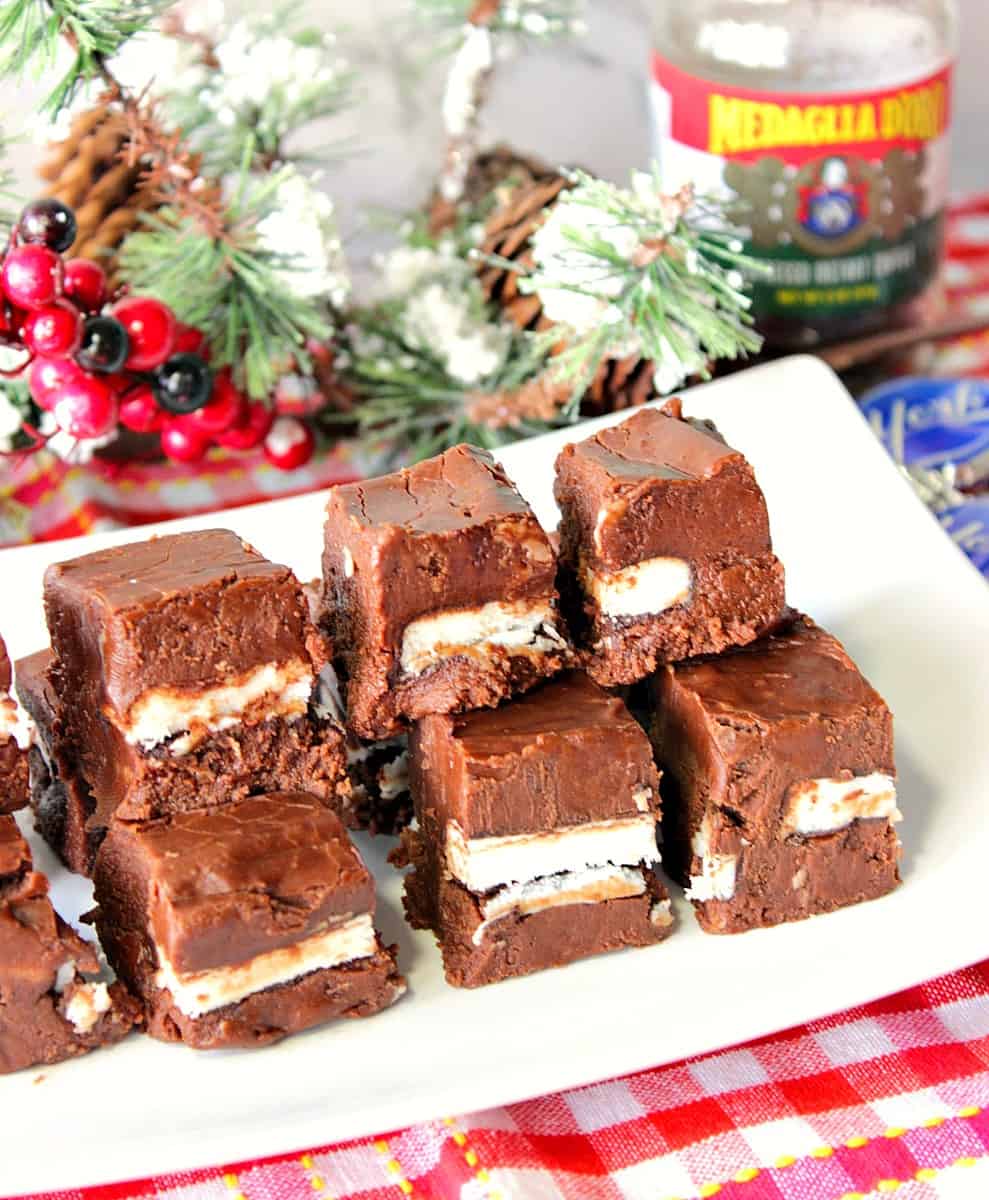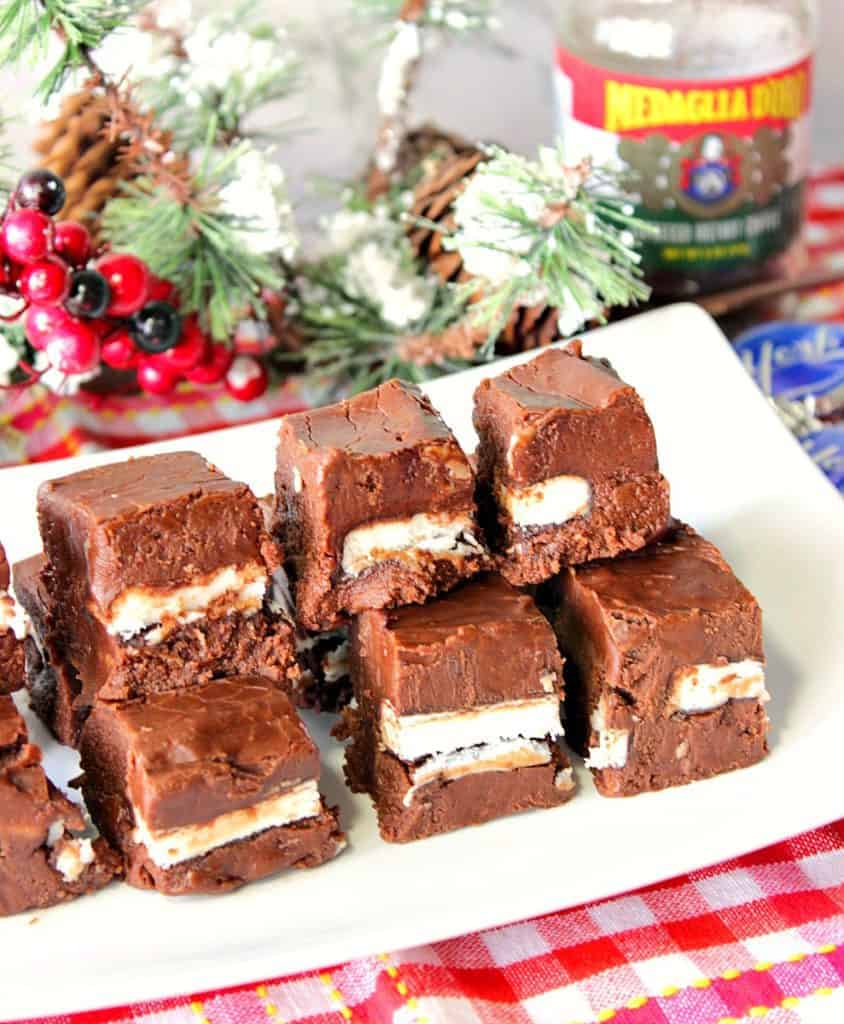 I hope you've enjoyed this recipe for Creamy Chocolate Espresso Peppermint Fudge as much as I've enjoyed bringing it to you. Should you have any questions regarding this recipe, or anything else you see on my site, please don't hesitate to contact me directly or leave me a comment in the comment section below. It is always my pleasure to get back to you with my reply just as soon as I possibly can.
For additional information regarding my Kudos Kitchen recipes, or my hand painted glassware and/or fabric items, please follow me on:
FACEBOOK, PINTEREST, INSTAGRAM, TWITTER, YOUTUBE and MY PAINT SHOP
Until we eat again, I hope you have a delicious day!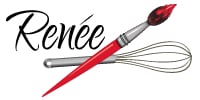 This post may contain affiliate links which won't change your price but will share some commission.