Sweet, savory, crunchy, and totally addicting. These homemade Chicago mix inspired popcorn balls have it ALL going on. Make some today. I'll show you how!
A mere two days ago I brought you a nice, healthy smoothie recipe, and today…it's popcorn balls!!! Not just any popcorn balls, mind you…CHICAGO MIX Popcorn Balls!

You know the kind. Sweet, buttery caramel corn that's mixed with salty, cheesy cheddar popcorn. It's that salty-sweet thing that keeps your hand going from the bowl to your mouth like it's on auto-pilot!
What I like about these Chicago Mix popcorn balls is that they can be considered portion control (I know it's a stretch, but play along), for when you're looking for a little something sweet but don't want to ruin your entire day of eating healthy my chowing down on a big bowl of ice cream or huge slice of cake. Of course, that all depends on how big you make your balls…and yes, in this application, size does matter! LOL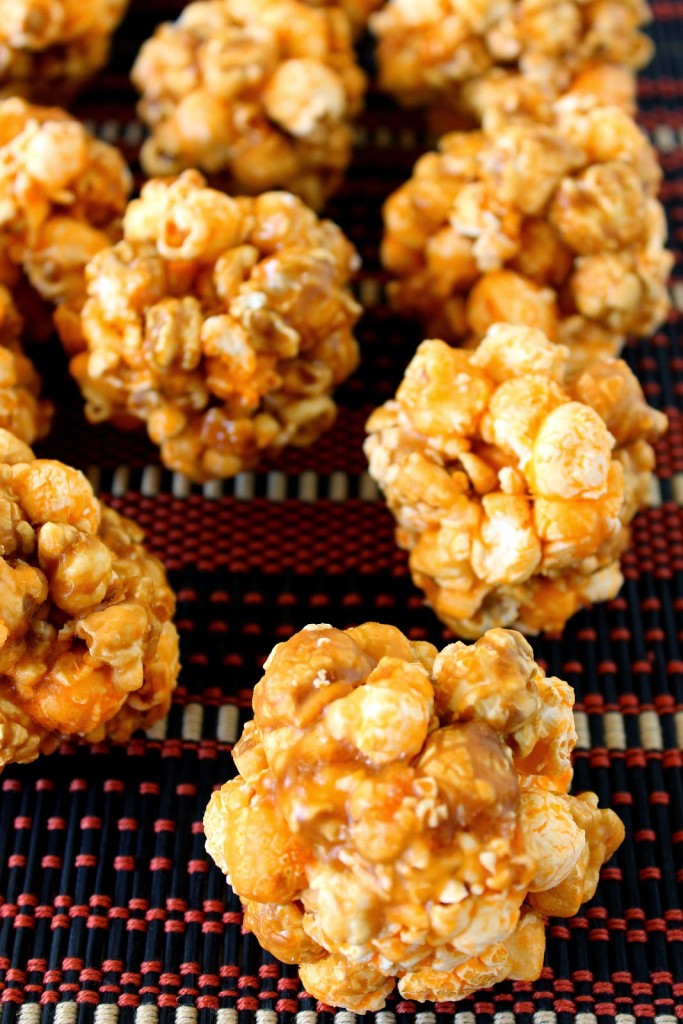 Now, you'd think with me living fairly close to the city of Chicago that I would have purchased my Chicago Mix popcorn from Garrett's Popcorn Shops, (the originator and manufacturer of THE best Chicago Mix popcorn in all the world). But, sadly I didn't. I purchased my knock-off Chicago Mix at Costco while I was there shopping there for something else entirely. Go figure.
It was only on my way to the register (to pay my always mega bill) that I spotted the giant bag of Costco's Chicago Mix popcorn (manufactured by G.H. Cretors).
I stopped and pondered for only a moment. Within seconds, I'd tossed the enormous bag of Chicago Mix popcorn into my cart, shrugged my shoulders and chalked it up to "yummy food blogging potential." Doesn't everyone? LOL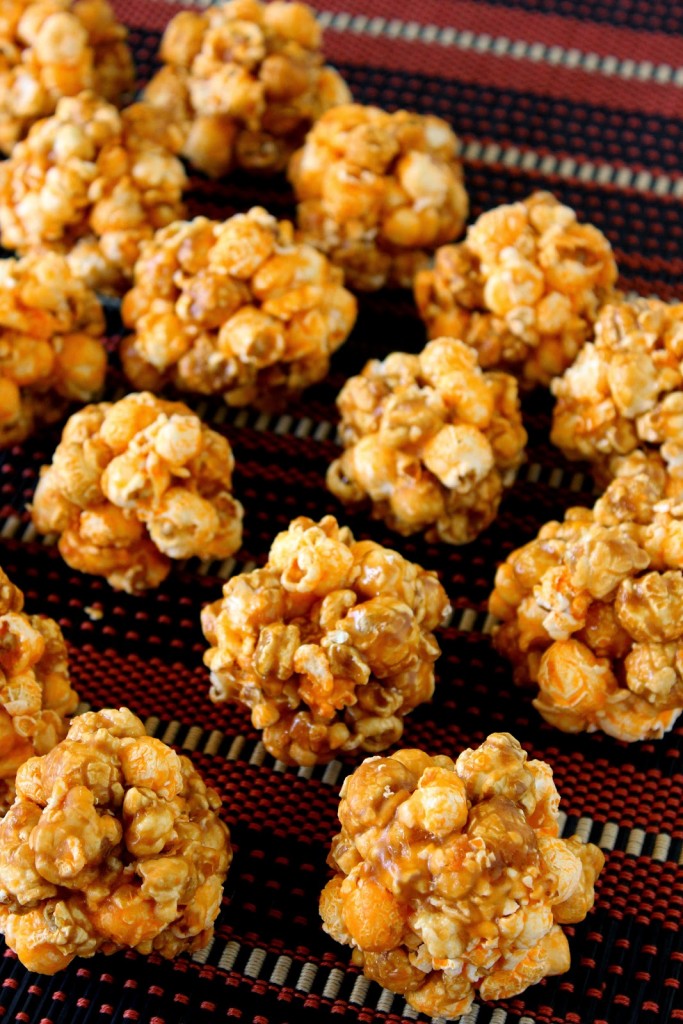 Yield: 20-24 3″ balls Prep Time: 20 minutes


20-22 cups Chicago Mix Popcorn
1 ½ cups granulated sugar
1 ½ cups light corn syrup
½ cup water
½ teaspoon salt
5 tablespoons butter
1 ½ teaspoons vanilla extract
-Preheat oven to 200 degrees.
-Place the popcorn in a large oven-safe container and place in the preheated oven while you prepare the syrup.
-In a large saucepan, combine the sugar, corn syrup, water, and salt. Cook over medium heat until a candy thermometer reaches 235 degrees (soft-ball stage).
-Place some ice cubes in a large bowl and fill with water. Set aside.
-Remove the syrup from the heat and stir in the butter and vanilla extract.
-Remove the popcorn from the oven and pour the hot syrup over the popcorn.
-Using a wooden spoon, quickly stir the popcorn and syrup together.
-Dip your hands in the ice water and quickly shape the popcorn into 3″ balls. *Note – this is not something for kids to do as the mixture is extremely hot and sticky. The ice water will help cool your hands and also prevent sticking.
-Once cooled, they can be wrapped for individual gift giving or set out in a bowl.
-Serve and enjoy!
——————————————————————————————————————————————
Place the Chicago Mix popcorn into a large ovenproof pan. Place it in a preheated oven while making the syrup.
Heat the sugar, corn syrup, water and salt to 235 degrees on a candy thermometer (stirring occasionally). Once the syrup reaches soft ball stage (235) remove it from the heat and stir in the butter and vanilla.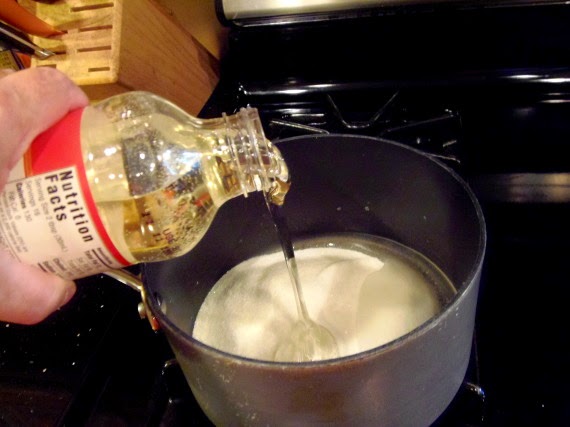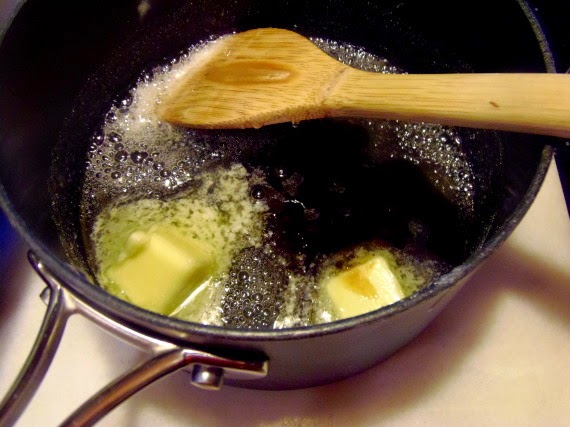 Carefully pour the hot syrup over the warm popcorn and quickly stir it so all the popcorn is coated in the syrup. Have a large bowl of ice water nearby to use on your hands to prevent burning and sticking and quickly roll the popcorn into 3″ balls.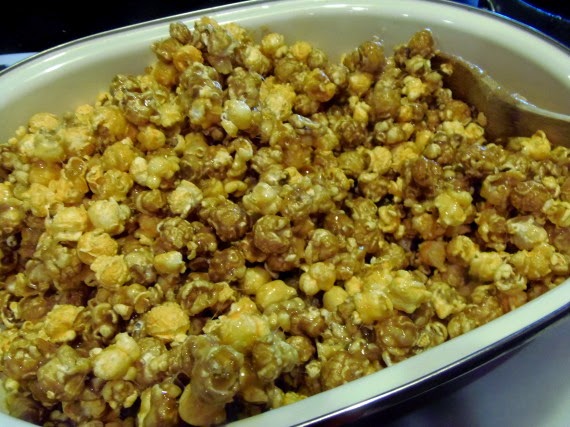 There you have it. That was easy, don't you think?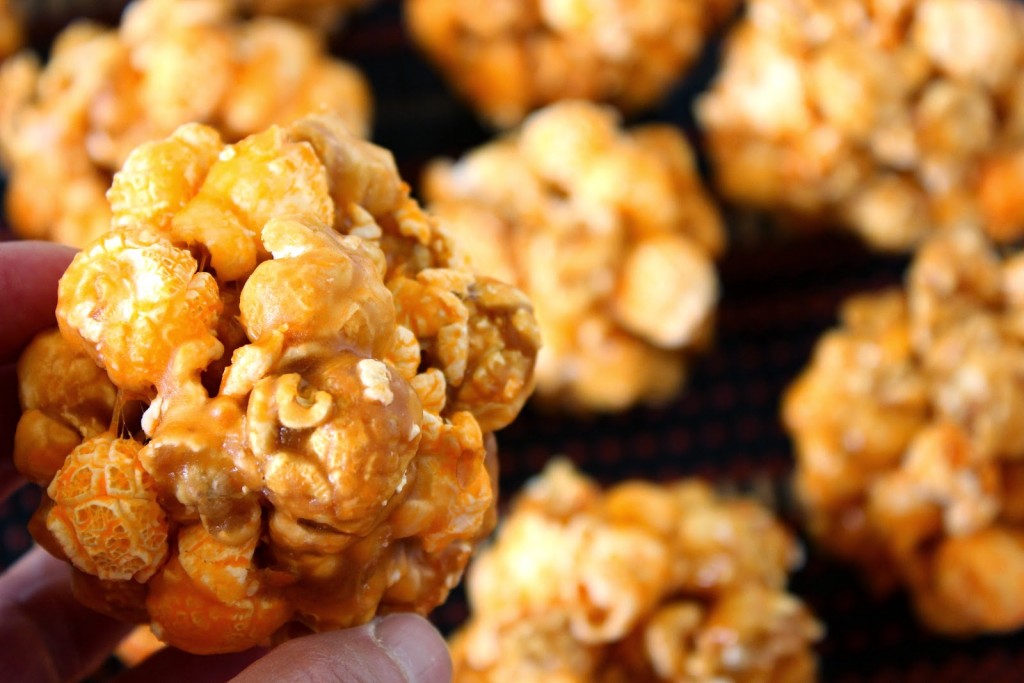 These will make terrific treats for your little ones at Halloween and as a fun lunchbox snack beyond that. Wrap these balls tightly in some cellophane bags or plastic wrap and they should keep fresh for 7-10 days.
Here's something else that's been popping in my Kudos Kitchen. These bowls have been very "pop"ular as a wedding, anniversary and even housewarming gift. For anyone who loves to munch on popcorn, these bowls have your name painted all over them 😉
Kudos Kitchen by Renée ~ Where food, art and fun collide on a regular basis.
Thanks for visiting me in my Kudos Kitchen. I sincerely hope you've enjoyed your stay.
Until we eat again,