Boston Cream Cupcakes with vanilla pudding centers are mini, individual servings of Boston Cream Pie. These easy-to-make cupcakes are decadent, delicious, and always a crowd-pleaser!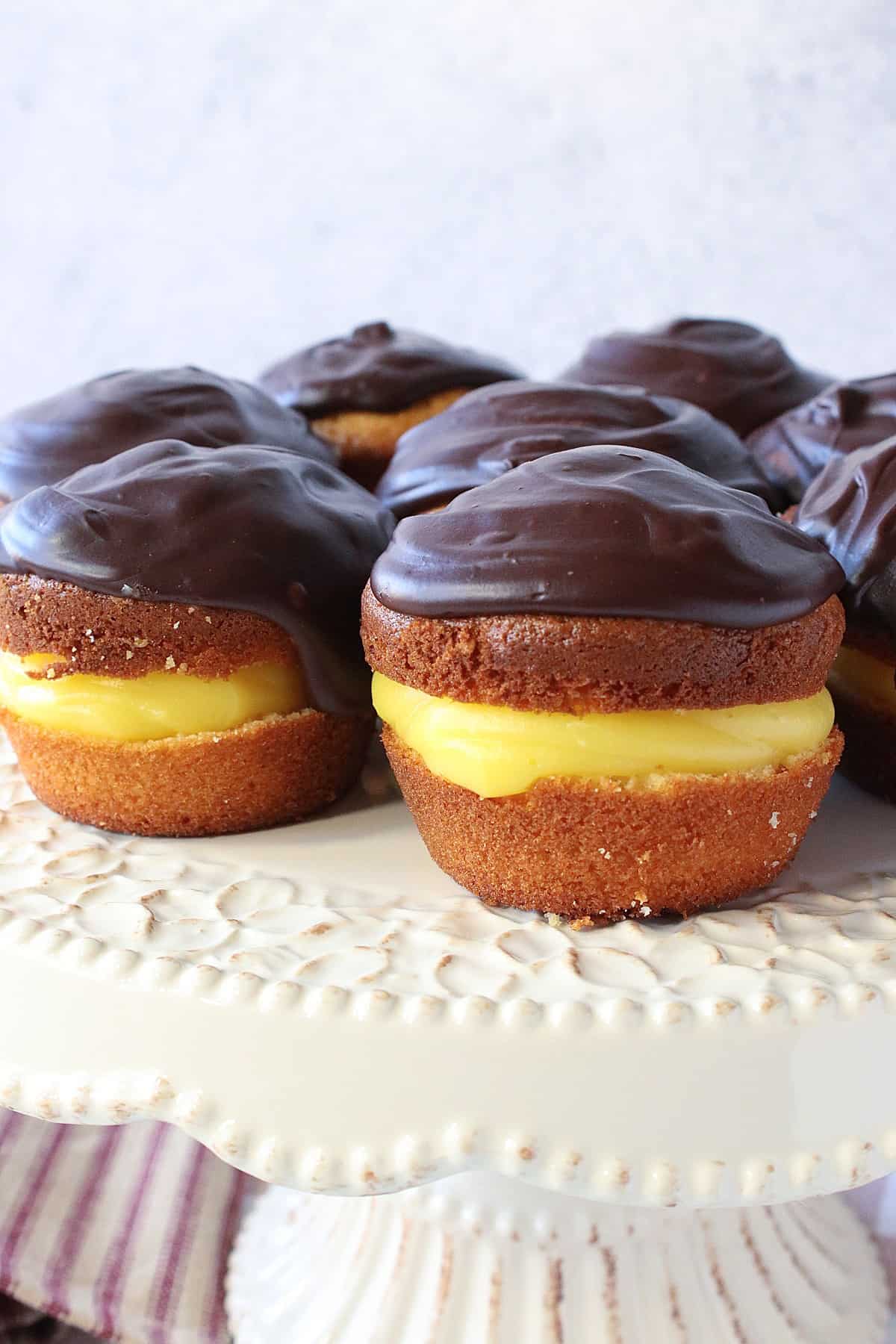 These mini Boston cream pies are filled with a thicker than normal instant pudding and pie filling, as opposed to a traditional pastry cream. You're going to appreciate how quickly these cupcakes are to make, and how much everyone loves them!
I originally shared this recipe in 2014. I've recently updated this post with additional information, including a recipe card (complete with nutritional information), and a video of how these individual mini Boston cream pies are made.
I've changed this recipe only slightly with the addition of a vanilla pudding center, and not a pastry cream, as originally shared in 2014.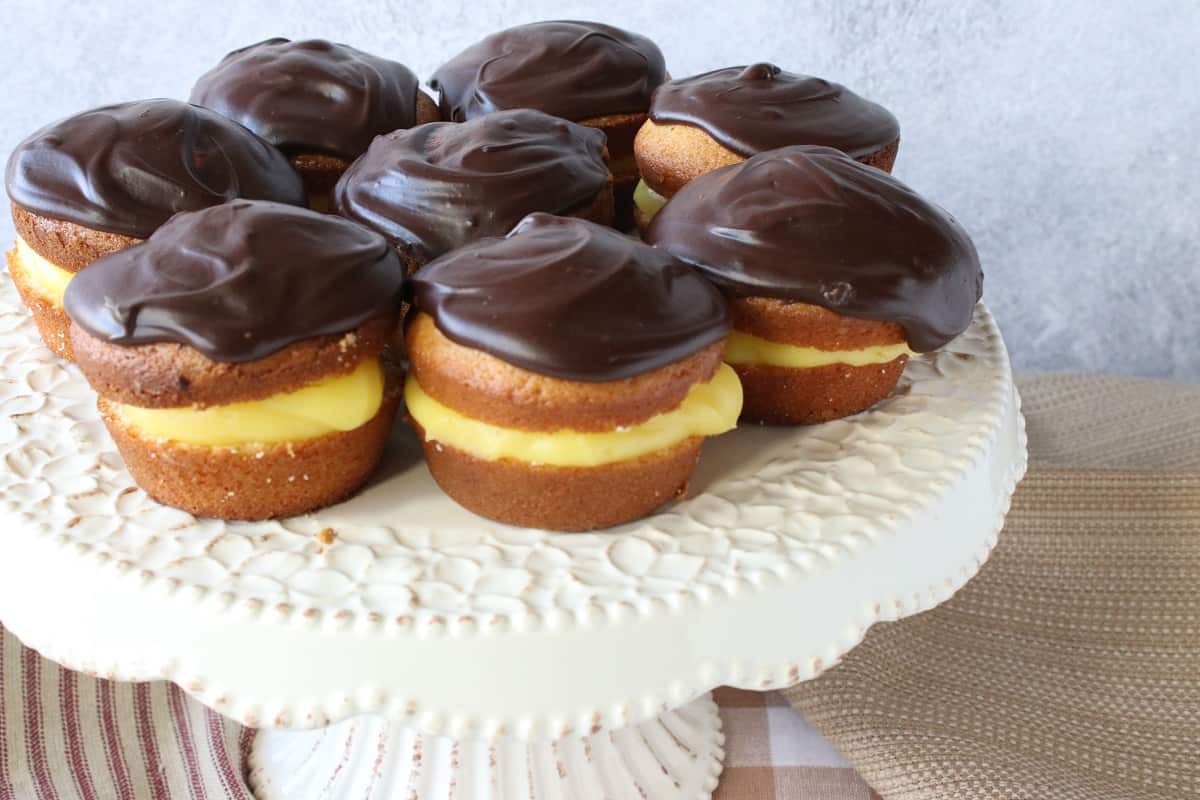 Jump to:
🛒The ingredient list:
💡How this recipe came to be (excerpt from 2014):
I had the idea several months ago to make a Boston Cream Pie and it swirled around and around in my head for all that time before I actually got my ingredients together, and was ready to roll.
After months and months of thought, my idea for Boston Cream Pie had magically morphed into Boston Cream Cupcakes, with the same great taste but in a new mini-self-serve size!
The recipe guide I decided to use was a Martha Stewart recipe I'd found on the web for Boston Cream Pie. After all, who better to go to than Martha, when it comes to baking, right?
Well....at least that's what I had hoped for, but I needed to adjust!
The recipe I'm sharing with you today is my adaptation of Martha's recipe in which I had to play with her ingredient quantities for successful results.
My experience with Martha's written recipe was disappointing for me, but I know that if you follow my changes and adaptions, you'll be highly successful, and that you'll have delicious Boston Cream Cupcakes you'll be proud to serve (not that I'm dissing Martha, mind you).
❓How many cream filled cupcakes does this recipe make?
As written this recipe makes 18 large cream filled Boston Cream Cupcakes so be advised that you'll need two standard-sized muffin tins. That said, one will still work, but you'll have to bake the cupcakes in two batches.
🧊 Can these cupcakes be frozen?
They can, but I would recommend freezing the baked cupcake portion only, and before filling and frosting.
Since the pudding center and the ganache topping only take moments to make this recipe will still be quite speedy to make should you decided to freeze the baked cupcakes in advance as a time-saver.
☑️ Kitchen equipment needed:
These cupcakes don't especially require any special baking equipment. As long as you have mixing bowls of all sizes, measuring cups and spoons, a hand mixer or stand mixer, a whisk and a spatula you're off to a good start.
Two standard-size muffin tins will also come in handy, but one will work in a pinch. I like to use the microwave-safe bowl to heat the heavy cream for making the chocolate ganache frosting, and you'll also require a small saucepan (or a second microwave-safe bowl) for heating the butter and milk for the cupcake batter.
A kitchen timer is always a baking essential, as is a cooling rack, toothpicks or a cake tester, and pot holders or oven mitts for retrieving the baked cupcakes from the oven.
You'll appreciate having a serrated knife on hand for when it's time to cut the cupcakes in half, and lastly a piping bag or large zip-top bag works well for adding the pudding filling neatly onto the cupcakes.
⏲️ Conventional vs Convection Oven Baking Times:
If you're baking in a conventional oven, go with the time that is written in the recipe card. 25-30 minutes at 350-degrees Fahrenheit.
If you're baking in a convection oven, cut the bake time down by approximately 5 minutes.
You're looking for the cupcakes to be golden brown in color and for a toothpick or cake tester to come out clean when inserted into the center of a baked cupcake.
🔔 Modifications and substitutions:
The day I remade this recipe and decided to go with a pudding center instead of the standard pastry cream, I also realized that I didn't have any heavy cream in the refrigerator for making the chocolate ganache frosting.
Instead of running out to the store for heavy cream I decided to swap out some flavored coffee creamer I'd been using (it was Almond Joy flavor), and the result was an especially delicious chocolate ganache with very light hint of coconut.
Of course you could potentially use whatever flavor of liquid coffee creamer you happen to have (if you're looking to flavor your ganache), or use the heavy cream as stated in the recipe.
In that same vein, the choice of an instant pudding flavor for the filling can also be swapped for your favorite.
The only thing you'll want to make certain of is that you use less milk than what the large box (5.1 ounces) of instant pudding instruction calls for. You'll only use 2 cups of milk. This way the filling will get nice and thick so it will stay in the center of the cupcakes without oozing out all over the place.
🧈 Unsalted or salted butter in baked goods:
I definitely go against the norm on this as I always use salted butter in my baking.
My feelings are that unless you know for a fact that your store-bought salted butter is unusually salty, you'll never detect an overly salty flavor in your baked good by using salted butter.
However, if you're one of the people to profess "I want to control how much salt is in my baked goods!" feel free to use unsalted butter. It's completely a personal preference.
📷 The step-by-step photo instructions:
Add 2 egg yolks and 2 whole eggs to a bowl. Save the whites for another purpose.
Add the eggs and sugar to a large bowl.
Blend until the sugar dissolves.
Continue blending until the egg and sugar mixture turn a pale yellow.
Meanwhile, heat milk and butter to a low simmer. Remove from heat.
Pour in the vanilla and stir well. Slowly pour the warm milk, butter, and vanilla mixture into the egg and sugar. Blend on low until fully combined (not shown).
In a large bowl whisk together the flour, salt, and baking powder.
Gradually add the flour mixture into the wet batter, scraping the sides of the bowl occasionally until thoroughly blended.
Transfer the batter to a bowl with a pour spout to make filling the cupcake tins easier.
Spray the cupcake tins with baking spray and pour each well ¾'s full of batter.
Bake in a preheated 350-degree Fahrenheit oven for 22-30 minutes. Cool completely on a wire rack after baking.
Once cooled, use a serrated knife to cut each cupcake in half lengthwise.
To make the vanilla pudding filling add a large box of instant pudding mix to a bowl with two cups of cold milk.
Stir with a whisk to combine and until the pudding is thick, and easily holds onto the whisk.
Add the pudding into a piping bag or zip top bag and pipe roughly 1-1½ tablespoons of pudding onto the top of each cut cupcake. Gently press the top portion of each cupcake onto each pudding-filled cupcake. Refrigerate.
Meanwhile, heat heavy cream until just shy of boiling and pour it over the prepared semi-sweet chocolate.
Stir well until the chocolate is melted and glossy.
Spoon the chocolate ganache frosting over each cupcake and you're ready to serve or refrigerate until serving.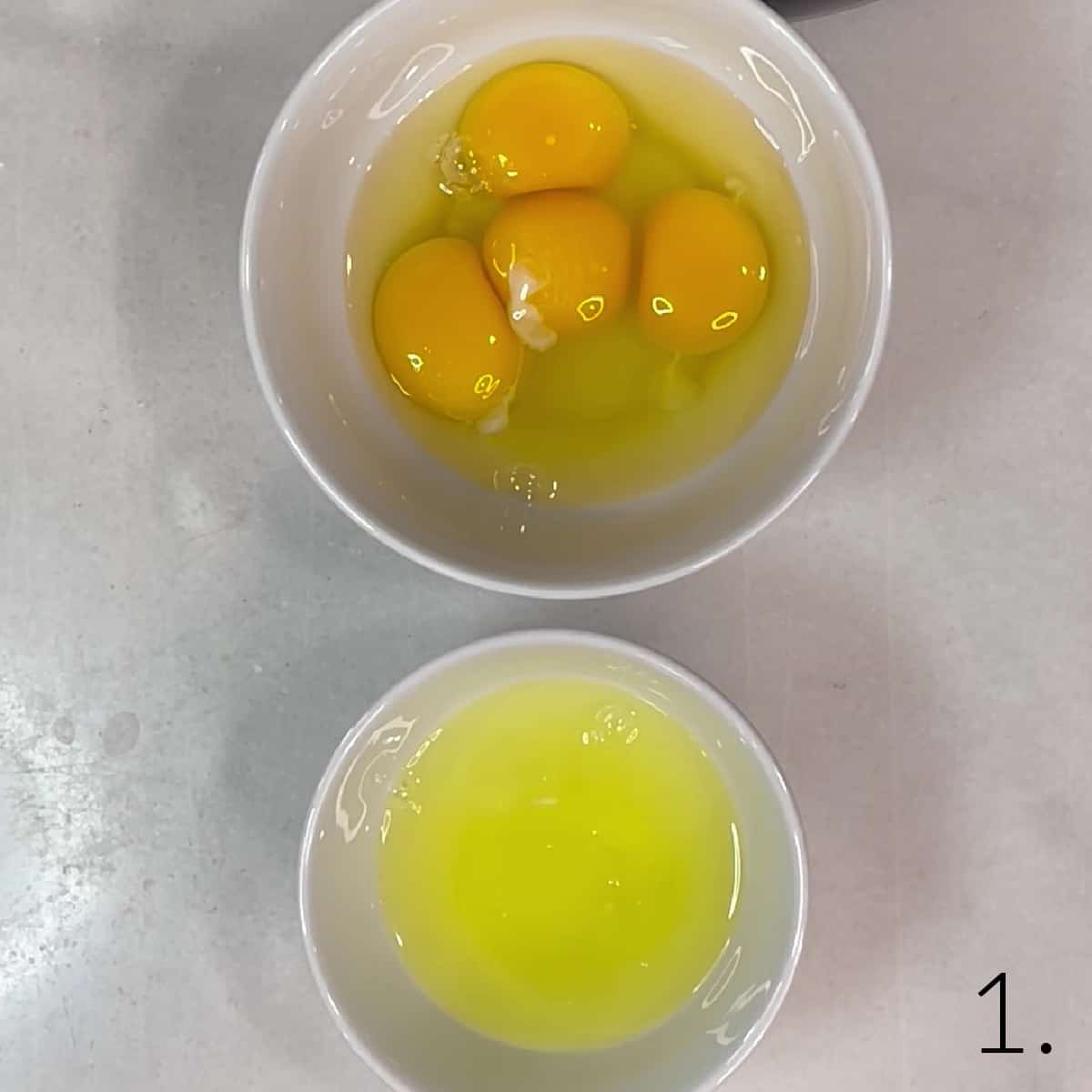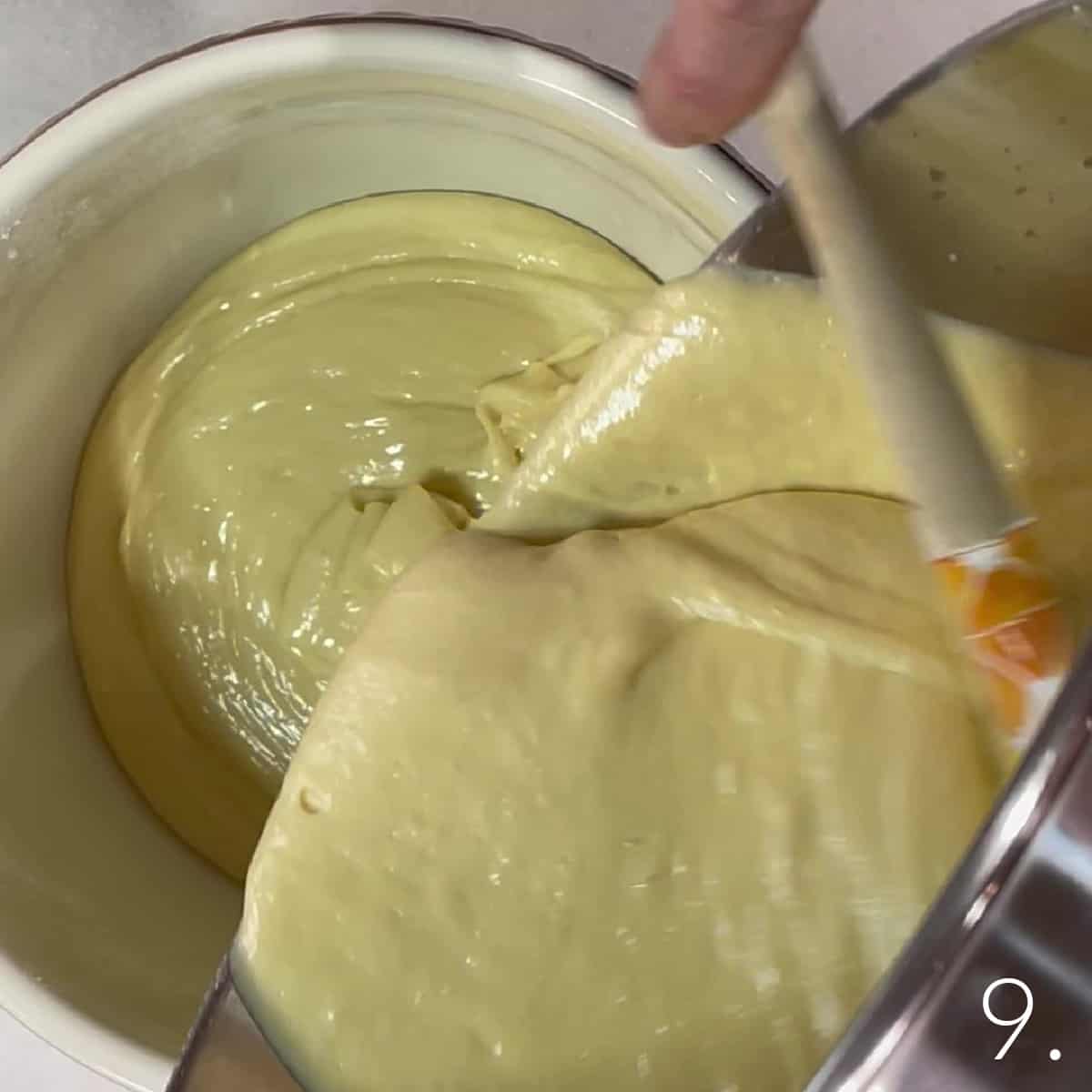 📌 Additional Cupcake Recipes you'll also enjoy:
📇The printable recipe card:
When you make this recipe, and I hope you do, I'd appreciate it if you'd take a moment to leave a star rating on the recipe card and briefly comment on why you rated it as you did. FYI - Google appreciates recipe ratings and, in turn, will share my recipes with more people. Thank you so much!!
Printable Recipe Card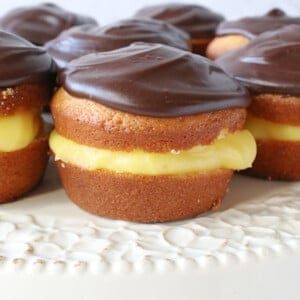 Boston Cream Cupcakes
Boston Cream Cupcakes with vanilla pudding centers are mini, individual servings of Boston Cream Pie. These easy-to-make cupcakes are decadent, delicious, and always a crowd-pleaser!
Ingredients
For the cupcakes:
1¼

cup

granulated sugar

2

egg yolks

2

eggs

¾

cup

milk

2

tablespoons

butter

2

teaspoons

pure vanilla extract

2

cups

all-purpose flour

1¼

teaspoons

baking powder

1

teaspoon

salt
For the filling:
1

box (5.1 ounces)

instant vanilla pudding and pie filling

2

cups

milk
For the chocolate ganache:
8

ounces

chopped semi-sweet chocolate

1

tablespoon

butter

½

cup

heavy cream
Instructions
To make the cupcakes:
Preheat oven to 350° Fahrenheit

Spray cupcake tins (18 wells) with baking spray. Set aside.

Blend together the 2 egg yolks, 2 whole eggs, and the sugar in a large bowl until very pale yellow in color. This will take approximately 4-5 minutes.

In a separate bowl, whisk together the flour, baking powder, and salt. Set aside.

Meanwhile, in a saucepan heat the milk and butter to a low simmer to melt the butter, but do not boil. Remove from heat and stir in the vanilla extract. Cool slightly if the mixture is more than warm to the touch.

Very slowly pour a stream of the warm (not hot) milk mixture into the mixing bowl with the eggs and sugar while beating continually.

In increments, add the ⅓ of the flour mixture at a time to the mixing bowl beating lightly after each addition. Scrape down the sides of the bowl with a spatula as needed.

Once the batter is thoroughly blended, fill 18 cupcake wells ¾'s full with the batter.

Bake in a preheated oven for 25-30 minutes or until golden and a cake tester (or toothpick) inserted into the center of the cupcakes comes out clean.

Remove to a cooling rack and cool completely.

Once completely cooled, remove the baked cupcakes from the tin and use a serrated knife to slice each cupcake in half horizontally.
To make the vanilla pudding filling:
Add 2 cups of cold milk to a medium-size bowl. Add the pudding mix packet to the milk and whisk until the pudding is thick, and doesn't drip off the whisk. This will take approximately 3-4 minutes. Cover and chill until ready to use.

When ready to use, use a spatula to transfer the pudding to a large piping bag or gallon-sized zip-top bag. If using a zip-top bag, use scissors to snip a hole in the bottom corner of the bag for piping.
To make the chocolate ganache frosting:
Add the chopped chocolate (chocolate chips will also work) to a medium-size bowl. Heat the heavy cream and butter in a microwave until hot but not boiling.

Pour half of the hot cream over the chocolate and stir continually until the chocolate melts. Pour in additional cream (as needed) until you come to the desired consistency. Thick, and not too drippy.
To assemble the Boston Cream Cupcakes:
Pipe approximately 1-1½ tablespoons of pudding filling on to the bottom half of each cupcake. Replace the tops to the cupcakes, pressing lightly.

Spoon the prepared chocolate ganache over each cupcake and serve immediately, or refrigerate until ready to serve.
Video
Notes
For best results, preheat oven for at least 20 minutes before baking.
If baking in a convection oven, reduce the bake time by about 4-5 minutes and test for doneness with a cake tester or toothpick.
You can store the finished Boston Cream Cupcakes in the refrigerator (loosely covered) for up to 2 days.
I recommend freezing the cupcakes without filling or frosting, for best results. Store the cupcakes in an air-tight freezer container for up to 2 months. Thaw thoroughly and then fill, frost, and enjoy.
Nutrition
Serving:
1
serving
Calories:
249
kcal
Carbohydrates:
33
g
Protein:
5
g
Fat:
11
g
Saturated Fat:
6
g
Polyunsaturated Fat:
1
g
Monounsaturated Fat:
3
g
Trans Fat:
0.1
g
Cholesterol:
56
mg
Sodium:
173
mg
Potassium:
182
mg
Fiber:
1
g
Sugar:
21
g
Vitamin A:
254
IU
Vitamin C:
0.1
mg
Calcium:
76
mg
Iron:
2
mg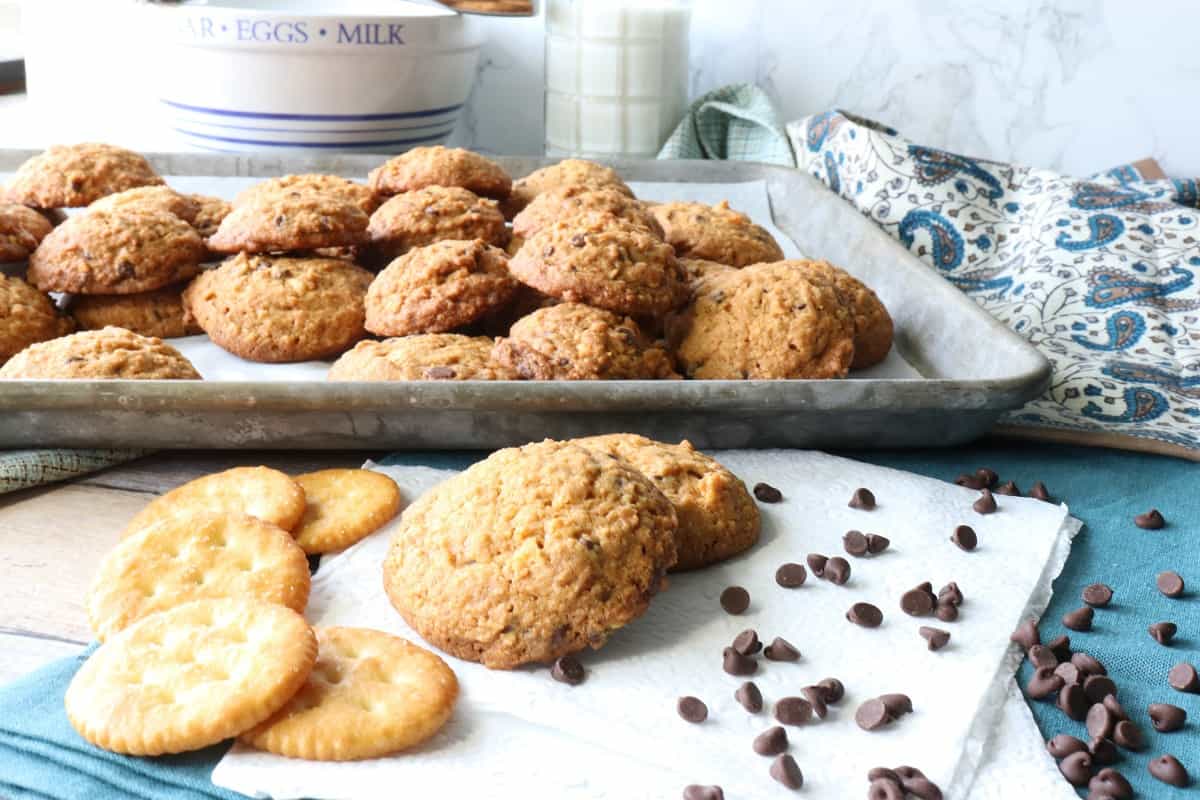 Follow me across my social media platforms and join in on the conversation: FACEBOOK, INSTAGRAM, PINTEREST, TIKTOK, AND YOUTUBE.
Thank you so much for visiting me today in my Kudos Kitchen. I hope you found something you'll love and that you'll come back and visit me often. There is always room for you around my table!
Should you have any questions or comments regarding anything you've seen here on my blog, please don't hesitate to reach out to me. It is always my distinct pleasure to respond to you just as soon as I possibly can.
Until we eat again, I hope you have a delicious day!!