Making Beef Broccoli with Bok Choy requires a bit of time as far as preparation goes, but once that's done the cooking time happens quickly.
Chinese cuisine is my all-time favorite. Next comes, Italian, and then German. That said, Chinese cuisine is not something I cook all that often because it seems that the flavors I'm able to achieve in my own kitchen can never quite compete with what we get from our local take-out establishment or favorite Chinese sit-down restaurant. However, that doesn't stop me from trying, and this one gets a full two thumbs up!
This year, the Chinese New Year falls on Monday, February 8th, and within the Chinese zodiac 2016 is the year of the red monkey. Other monkey years are 1920, 1932, 1944, 1956, 1968, 1980, 1992, 2004.
My birth year is 1959 making me a pig (no comment). If you'd like to find out more about the Chinese zodiac, what animal sign you're born under, and what 2016 holds for you, I'll add a link at the bottom of this post. I find it most fascinating, and take what I read with a grain of salt. Naturally, I suggest you do that you do the same.
Speaking of seasoning, let's get back to the recipe of Beef, Broccoli and Bok Choy, shall we?
As I stated earlier, assembling and preparing all the ingredients in advance is key when cooking Chinese cuisine. Once you have all your components washed, peeled, chopped, trimmed, mixed, and sliced, your ready to heat your pan and get cooking, because dinner is now only moments away.
Prepare the bok choy by washing it thoroughly and chopping it into bite sized pieces (including the green tops). Prepare the broccoli by separating it into florets.
Peel the carrots and line them up to cut them into julienne slices. Stacking them on top of each other is key to slicing them properly. However, this doesn't need to be done perfectly. As long as all the vegetables are similar in size (carrots, bok choy, broccoli, etc), they'll cook in the same amount of time which is what you're looking for when stir frying vegetables.
Place the prepared veggies (including the onion) into bowls and set aside while preparing the sauce and beef. In a medium size bowl, whisk together soy sauce, hoisin sauce, teriyaki sauce, rice wine vinegar, garlic, and grated ginger. Set aside. Slice the partially frozen beef, across the grain, into thin slices.
In a shallow bowl, toss the sliced beef with corn starch, salt, pepper, and red pepper flakes. Heat a wok or very large skillet on high with a bit of peanut or canola oil. Add the broccoli, carrots, onions, and garlic to the pan and stir frequently to cook the vegetables lightly (approximately 5 minutes) making sure not to make them too soft and mushy.
Remove the cooked carrot and broccoli mixture to a bowl and set aside. Add additional oil to the wok and add the bok choy and drained water chestnuts. Cook, stirring occasionally for 2-3 minutes or until the bok choy is wilted but not soggy. Remove from the wok and set aside.
Add additional oil to the wok and add the prepared beef. Cook, stirring occasionally for 3-4 minutes. Add all the precooked vegetables back into the wok and stir in the prepared soy and teriyaki sauce mixture. Heat everything through, stirring occasionally for an additional 1-2 minutes. To serve, spoon the beef and vegetable mixture over prepared brown rice and serve immediately.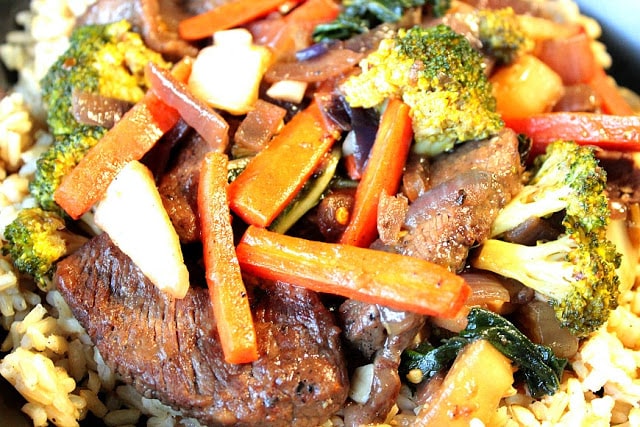 I hope this is a recipe you'll try for yourself. As you can see, it's not all that difficult to make, and you'll be pleasantly surprised when you set an Asian inspired meal on the dinner table that didn't require ordering out or tipping. And one that will give you a great deal of satisfaction bite after delicious bite!
To find out more about Chinese zodiac signs, there are all sorts of great sites online that you can visit. Here is just one that I think you will find interesting: Travel Channel Guide, Chinese Zodiac.
Also, for additional Chinese inspired recipes, and some fun party planning ideas, please check out my following posts: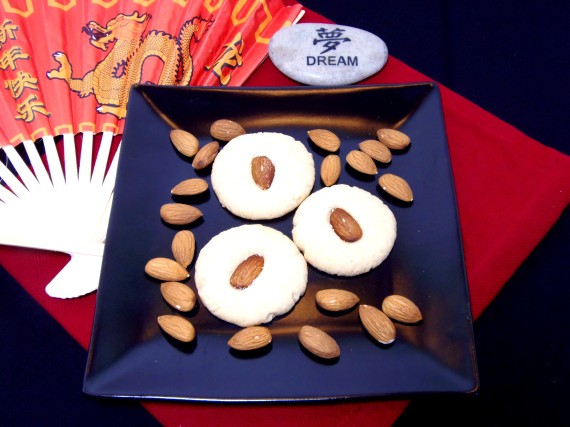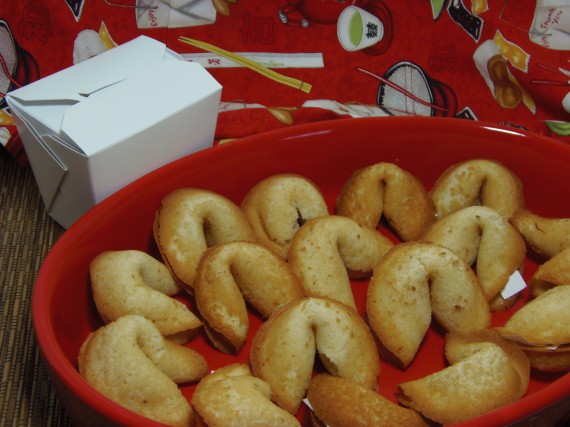 Everybody Wang Chung Tonight Family Party: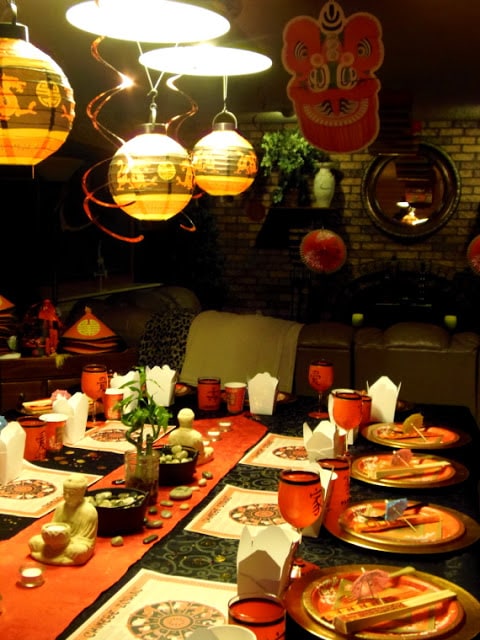 Of course, if you're looking for cute, Asian-inspired hand painted tea towels or glassware items (along with this tasty recipe), then you know you've come to the right place, and I see great things in your future! LOL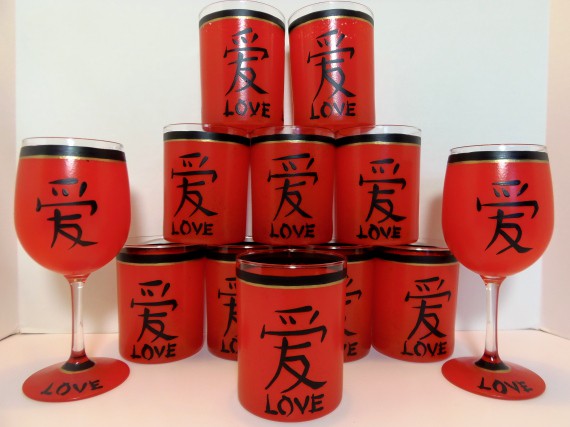 If there is ever anything I can paint for you, from glassware to fabrics (aprons – tea towels), please don't hesitate to contact me by clicking on the envelope icon at the top of this site, or by visiting my shop on Etsy or Wazala. Custom orders are always welcome, and I will happily design and paint from any photo or description you send my way.
Kudos Kitchen by Renée ~ Where food, art, and fun collide each and every day!
Until we eat again, I hope you have a delicious day!