Baked Pretzel Pecan Coated Chicken Tenders can be served as a main course or an appetizer. They're moist and meaty, and their crunchy coating is like a party for your mouth!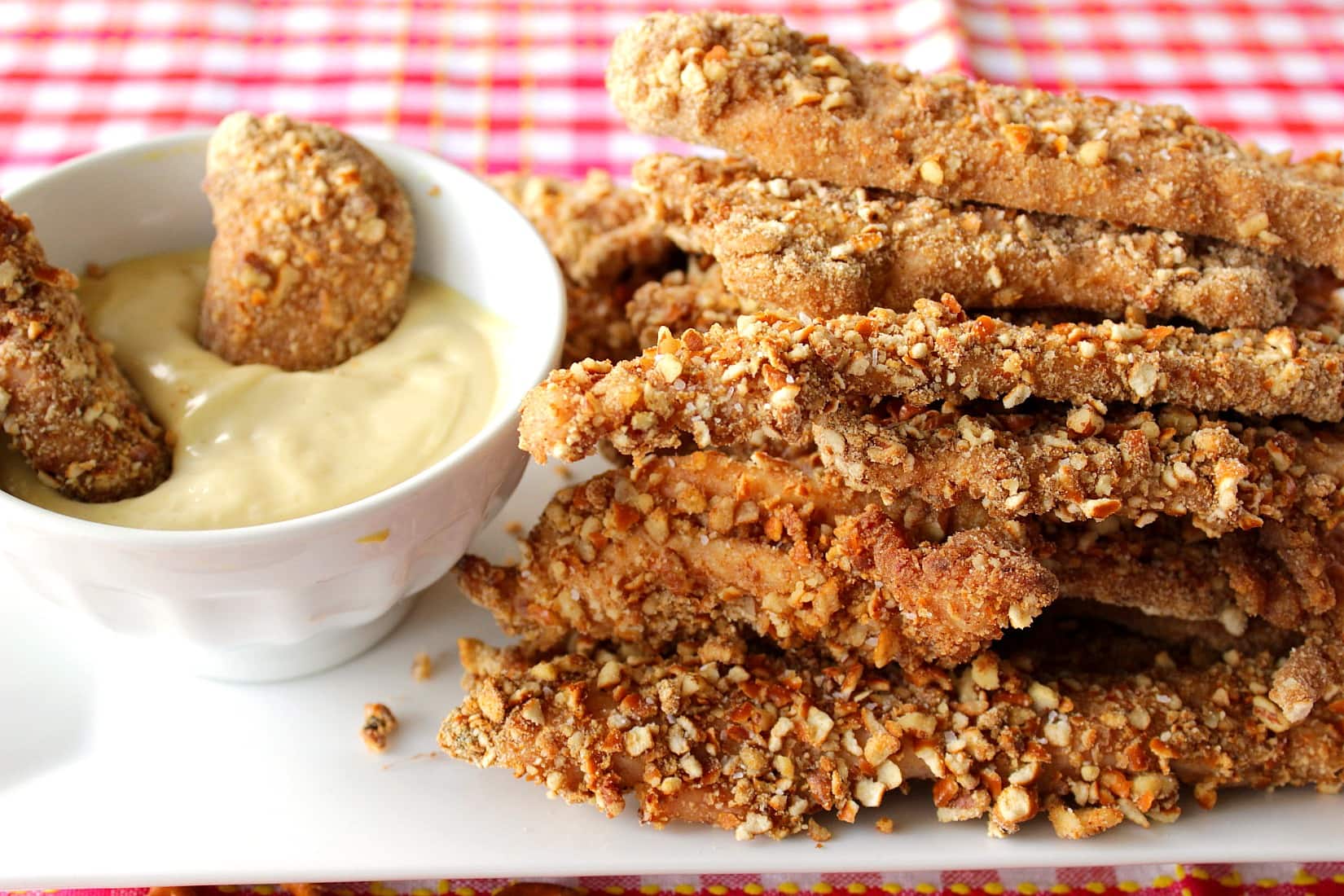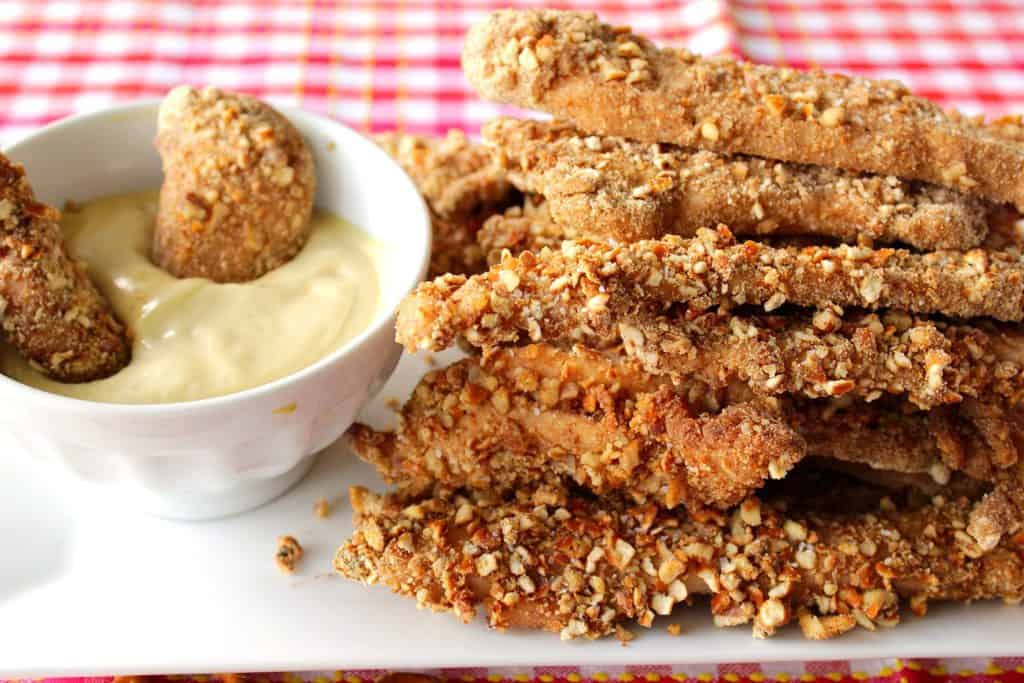 Wondering what to do with all the crumbs and broken pretzel pieces at the bottom of the bag? Or, do you have party pretzel leftovers that you don't want to put back in the pantry? Making these Baked Pretzel Pecan Coated Chicken Tenders is a tasty solution to either of those problems and will also turn simple crumbs into something spectacular!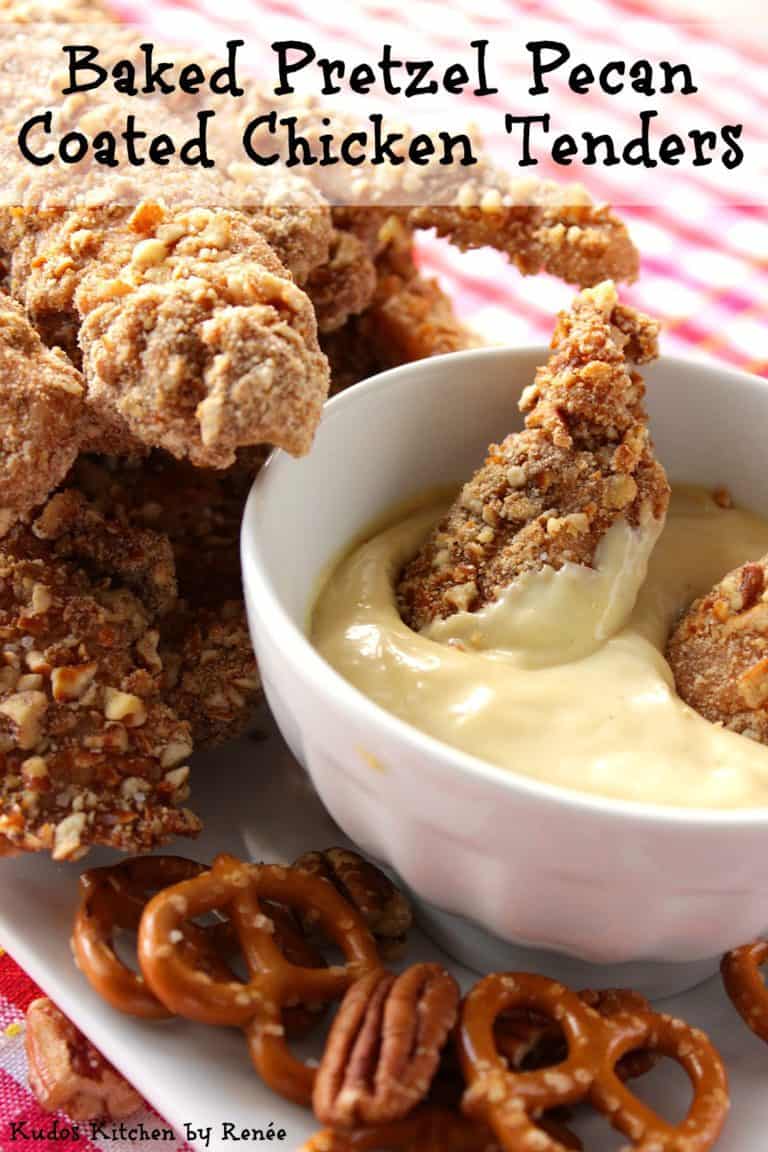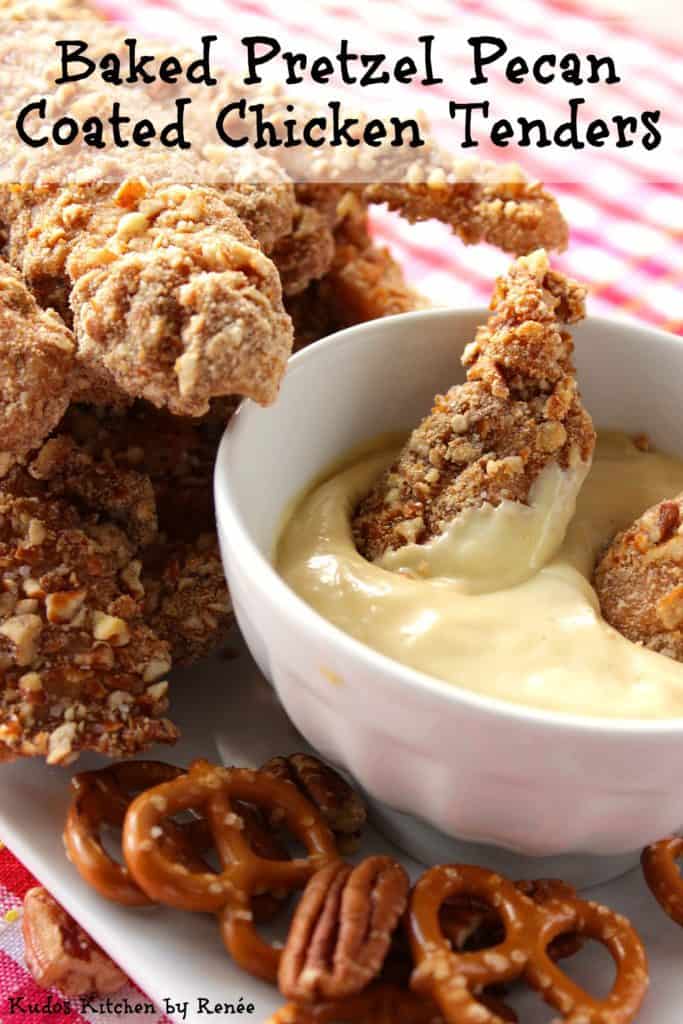 One of the things that make these Baked Pretzel Pecan Chicken Tenders so moist and flavorful is marinade of Dijon mustard, honey, and white wine the chicken bathes in before it's tossed and coated with the pretzel and pecan crumbs. If you're in a hurry, it may seem like a step you'd like to skip, but I urge you to take the extra time (30 minutes to be exact) to let the chicken soak in all the sticky, sweet goodness. Trust me; you'll be happy you did.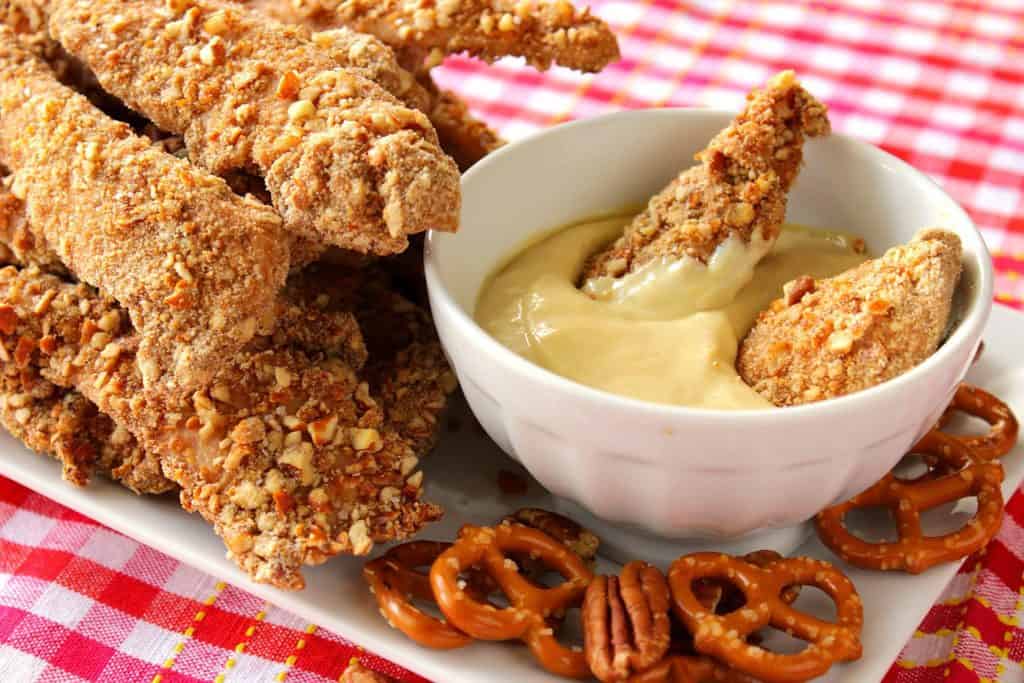 The following step-by-step photos demonstrate how easy it is to make Baked Pretzel Pecan Coated Chicken Tenders:
Pulse pretzels and pecans together in a food processor to form coarse crumbs.

Transfer the crumbs into a zip top bag and set aside. Place the chicken tenders in a large bowl. Pour the marinade (Dijon mustard, honey and white wine) over the chicken. Mix well, and allow the chicken to marinate for 30 minutes.

Add salt and pepper to the chicken and use tongs to add the marinated chicken into the bag with the pretzel pecan crumbs. Close the bag and toss to coat the tenders evenly.

Line a baking sheet with a baking rack and lay the coated chicken tenders in a single layer. Bake the tenders in a preheated 350 degree oven. Serve with honey mustard dipping sauce.

Printable Recipe Card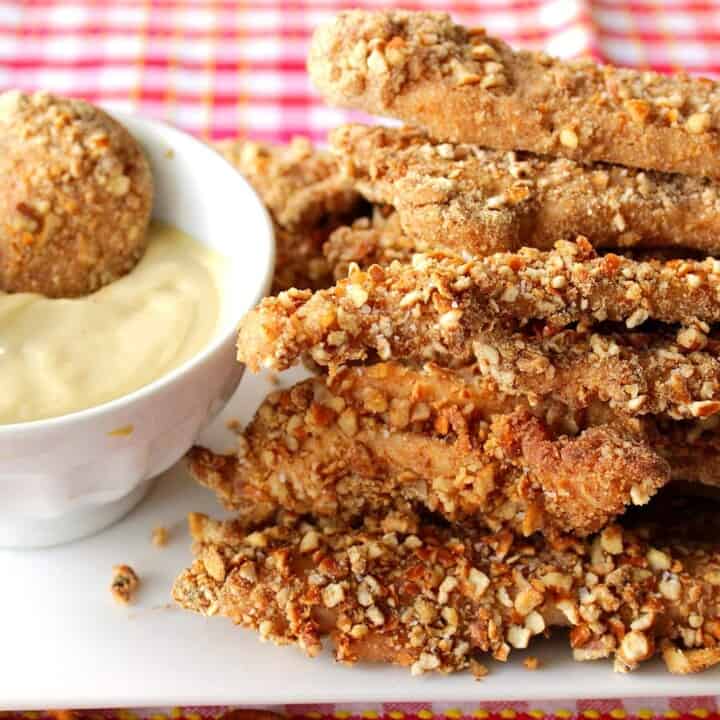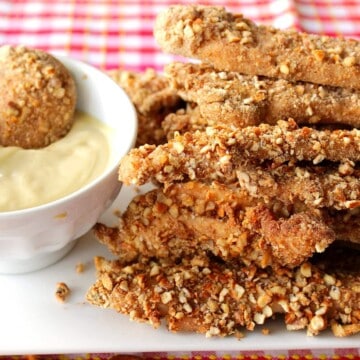 Baked Pretzel Pecan Coated Chicken Tenders
These deliciously crunchy tenders can serve double duty as an appetizer or main course.
Ingredients
For the chicken tenders
2

pounds

chicken tenders

2

tablespoons

Dijon mustard

2

tablespoons

honey

1

tablespoon

white wine

3

cups

pretzel twists

1

cup

pecan halves

½

teaspoon

salt

½

teaspoon

pepper
For the dipping sauce
½

cup

mayonnaise

1½

tablespoons

Dijon mustard

1½

tablespoons

honey
Tools and equipment
food processor

large bowl

tongs

small bowl

baking sheet

baking rack

large zip top bag

cooking spray
Instructions
Place the chicken tenders in a large bowl.

In a small bowl, mix together 2 tablespoons Dijon, 2 tablespoons honey, and the white wine.

Pour the mustard mixture over the chicken tenders and allow to marinate for 30 minutes.

Meanwhile, add the pretzels and pecans to the food processor and pulse until coarse crumbs form.

Preheat oven to 350 degrees.

Pour the crumbs into a large zip top bag along with the salt and pepper. Close the bag and shake well.

Add the marinated chicken tenders to the crumbs in the bag, close and shake to coat the chicken with the crumbs.

Add a baking rack into a baking sheet.

Lay the coated chicken tenders in an even layer on the baking rack that has been sprayed with cooking spary.

Bake in a preheated oven for 30-35 minutes.

While the chicken bakes, mix together the dipping sauce ingredients and serve with the cooked pretzel pecan chicken tenders.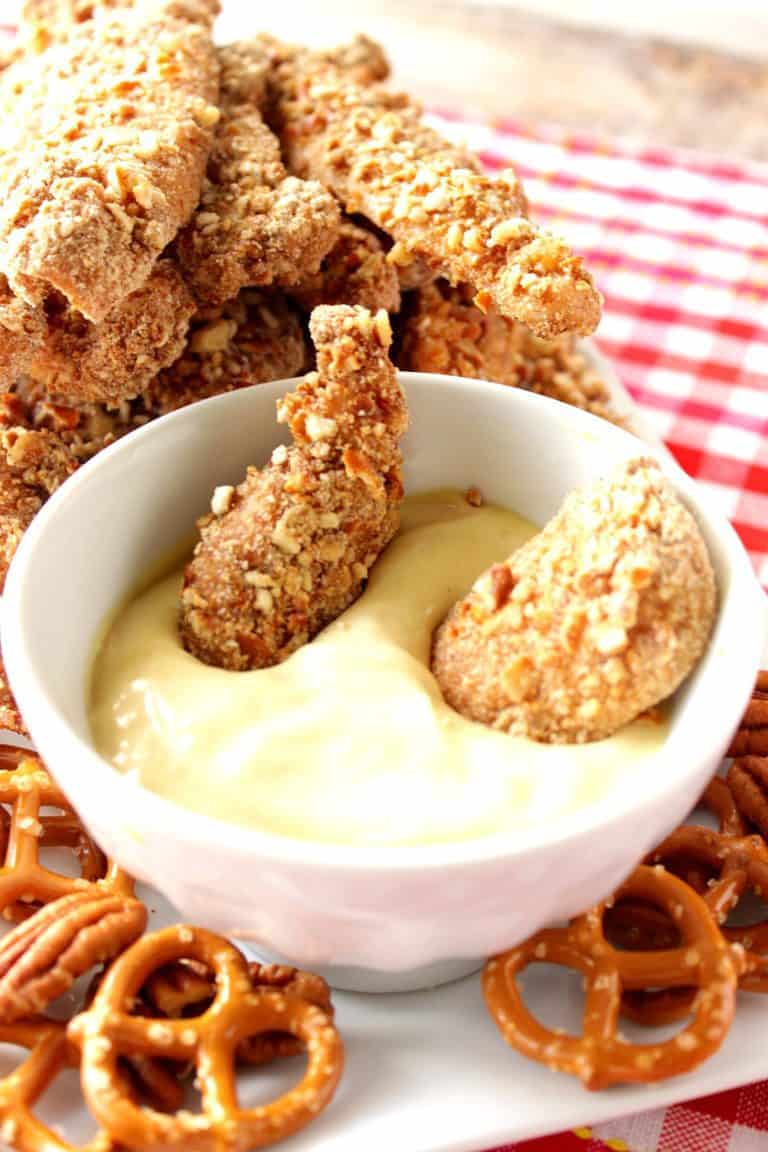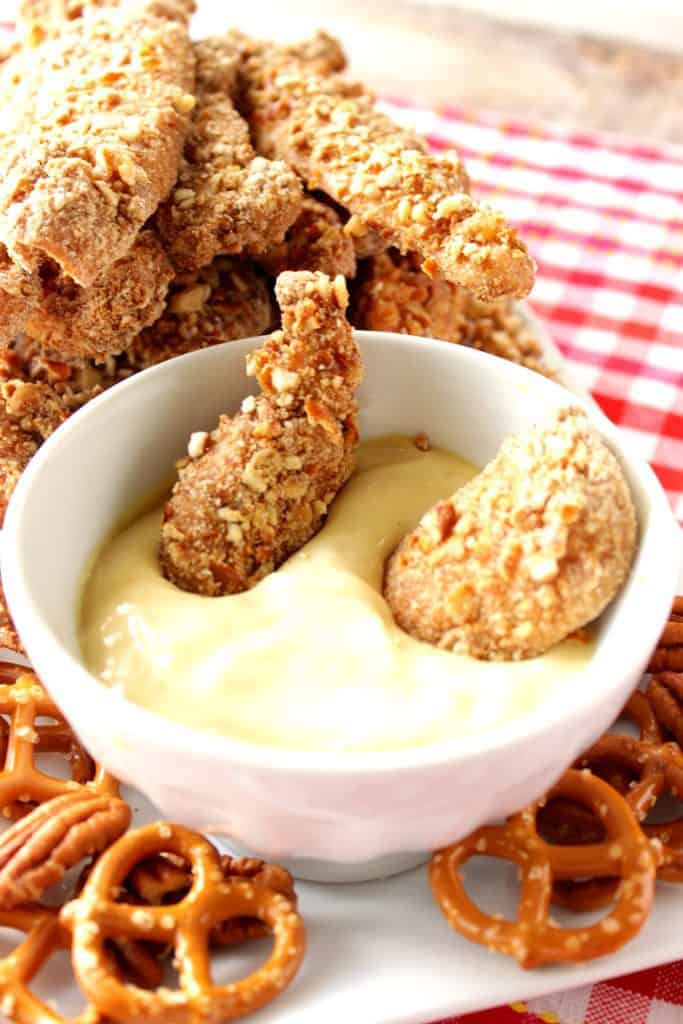 People of any age will enjoy these chicken tenders. However, if you wish to partake in a glass of wine you must be "Aged to Perfection." I painted this wine glass to represent a wooden wine barrel. It's a fun and whimsical wine glass that makes a perfect birthday gift for any wine lover who's celebrating those all too familiar milestone birthdays. 😉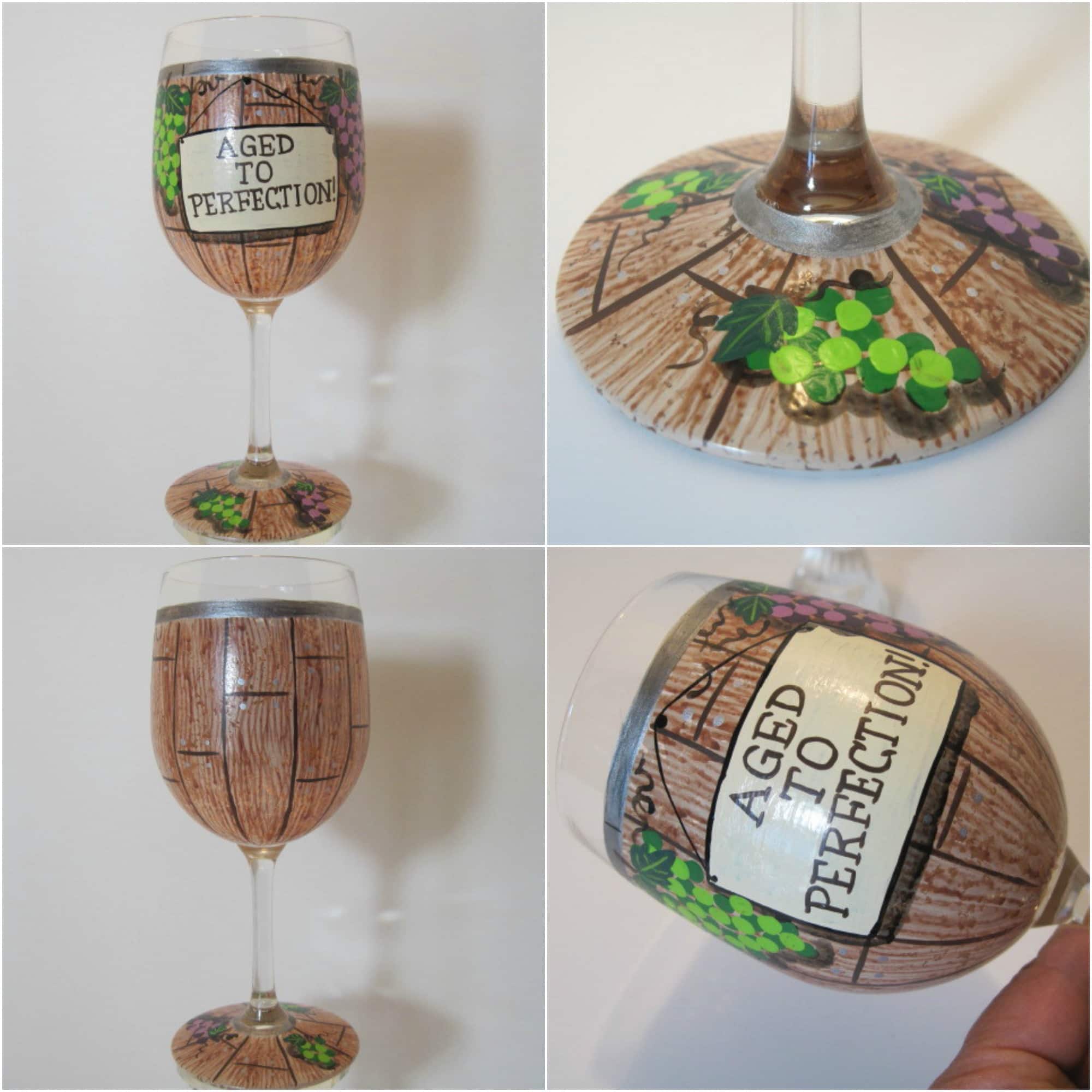 Each and every glassware item I ship is painted to order and unique. Personalization is always free. All of my glassware items are dishwasher safe as well as being non-toxic. If you're looking for something custom and unique, I can paint that for you. Please contact me with your idea and we can work together to design a one of a kind glassware item you won't find anywhere else. All prices are dependent on design detail. To view additional items, please feel free to visit my shops: Etsy, Wazala, and Kudos Kitchen Paints. From glassware to fabrics...What can I paint for you?
Kudos Kitchen by Renée ~ Where food, art, and fun collide each and every day!
Until we eat again, I hope you have a delicious day!