Gluten Free Maple Bacon Oatmeal Cookies are plump and chewy, sweet and savory, crunchy and creamy. They're quite literally the best cookie I've ever eaten!
The idea for these Gluten Free Maple Bacon Oatmeal Cookies came to me while I was walking down the breakfast aisle of the grocery store. At the time I needed to replenish my stock of quick cooking oats. As I grabbed the oats and tossed them into my cart, I glanced at the maple syrup that was directly across the aisle. Right then and there I had my light bulb moment!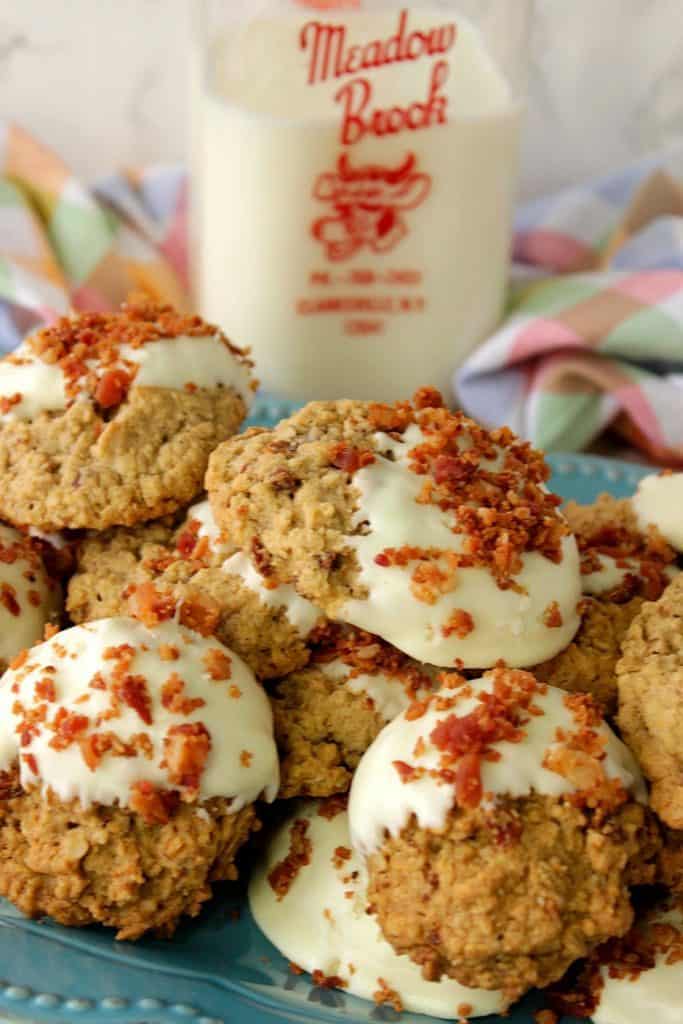 I get super excited when I come up with recipe ideas out of the clear blue. I know it seems crazy, but since I love to cook and bake as much as I do, it's a real thrill for me when I'm inspired by something as simple as a routine trip to the grocery store.
The idea of adding the bacon to these cookies also came to me while standing in the breakfast aisle of the grocery store. Can you tell I like to ponder and brainstorm as I shop? Seriously, though. It can sometimes be a problem when I lose myself in my "food induced coma thought process," and it can sometimes take me forever to get out of the store.
But back to the bacon, and how I came to add it to these cookies...
When I think of maple syrup, I almost always think of those few glorious slices of bacon that accidentally luxuriate in the maple syrup that has cascaded down from a lovely stack of pancakes. To me, those sweet and savory slices of bacon are always the finest of the bunch. It was in that split second of thought that I turned and headed for the bacon.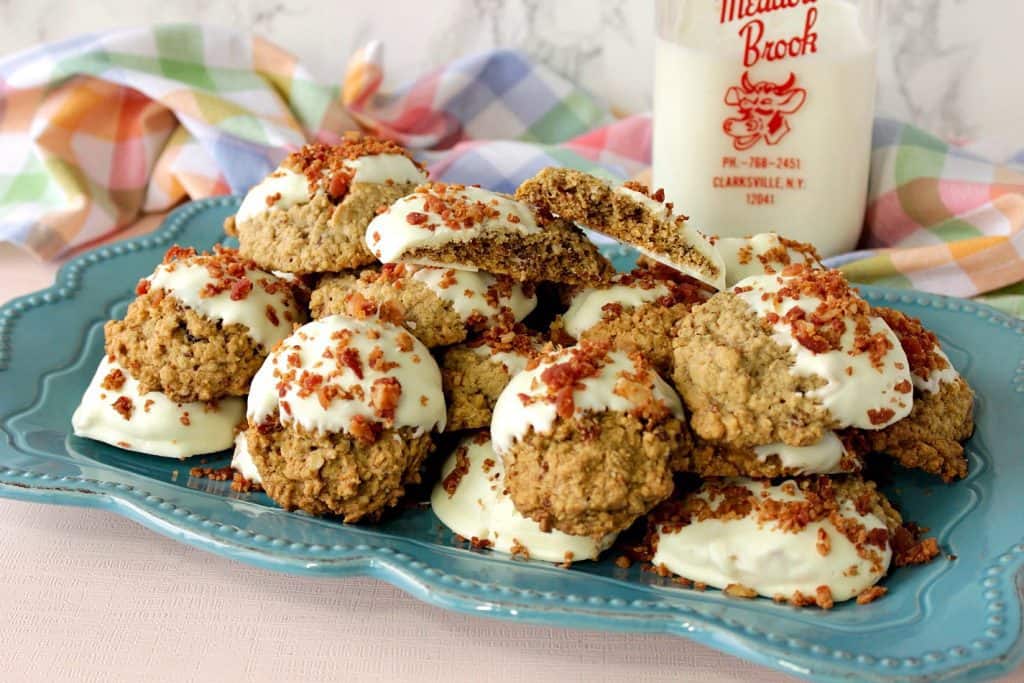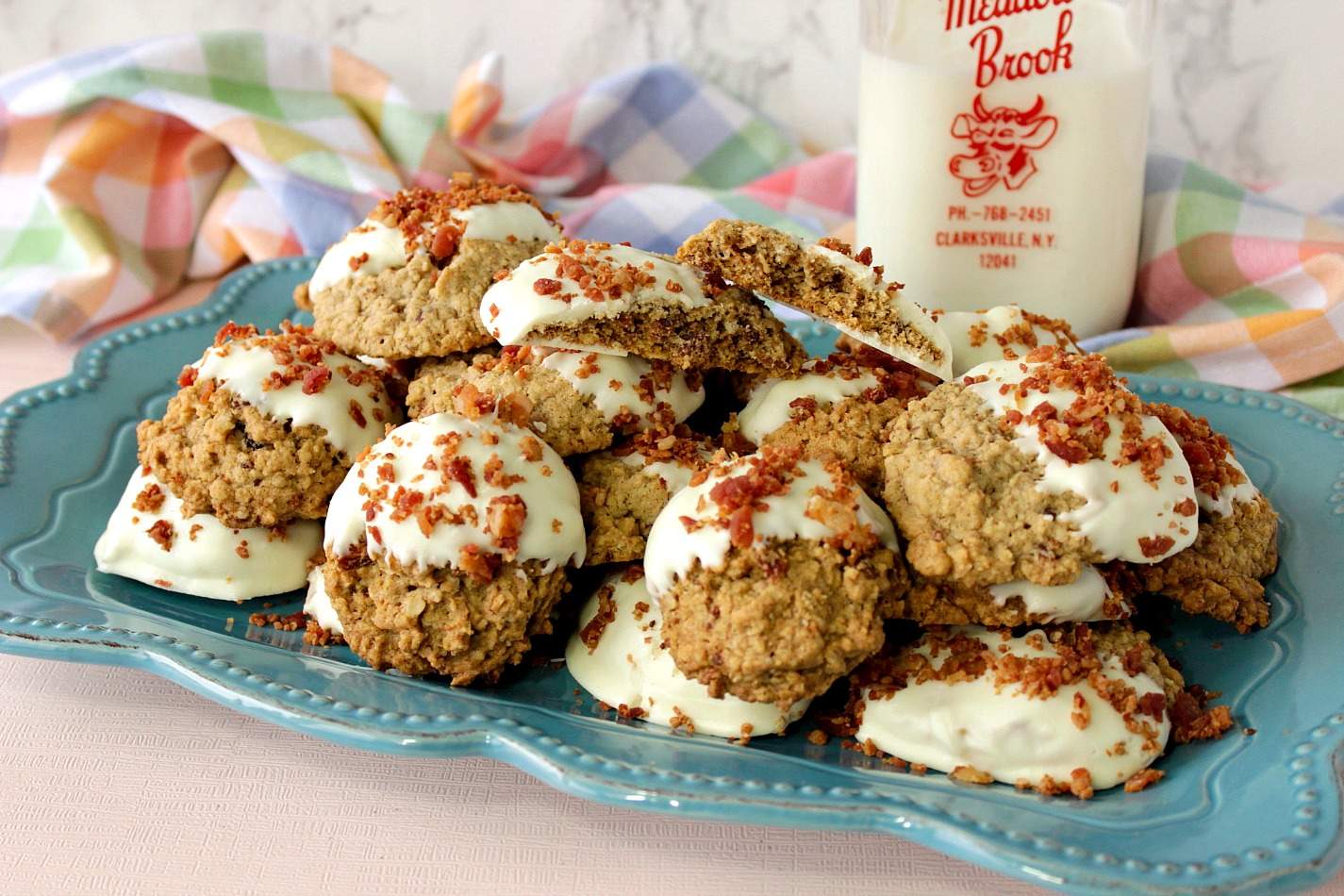 The idea of the making the cookies gluten free and adding the white chocolate dip didn't happen until a few days later when I was at home and assembling my ingredients, getting ready to bake.


At first, I took the all-purpose flour out of the pantry to make these cookies. However, before starting, I changed my mind and went with the gluten free flour that I have stashed in the back of the pantry, but don't use all that very often. Luckily nobody in my family suffers from gluten intolerance, so gluten free recipes aren't something I make (or share) all that often. This time, however, I decided to rock the gluten free ingredients and see if anyone in my family could tell a difference. Much to my delight my family gobbled these cookies right up. And, oddly enough the only thing they were skeptical about was the bacon on top. HaHa! Go figure! If you're also skeptical about bacon in your cookies, all I can do is encourage you to try them. I promise I would never steer you wrong.
Once I'd taken these Gluten Free Maple Bacon Oatmeal Cookies out of the oven, I thought they could use a little extra pizzazz. That's when I decided that I'd give each cookie a decadent white chocolate dip along with a little sprinkling of extra bacon. The result took these cookies from nothing special to look at, to over-the-moon fabulous!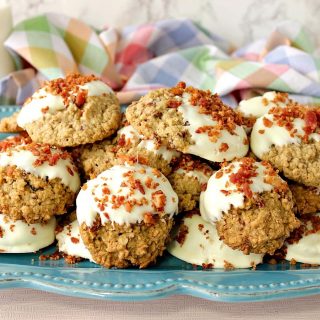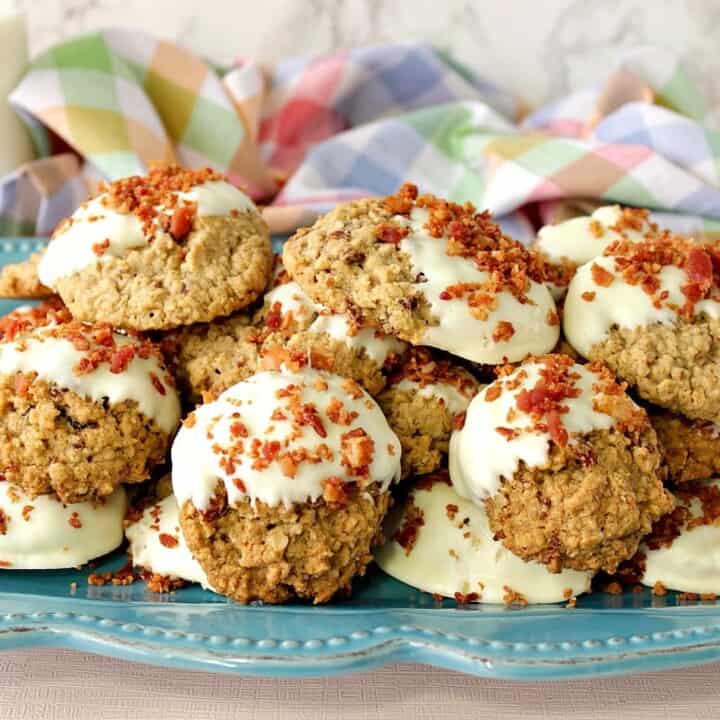 Best Ever Gluten Free Maple Bacon Oatmeal Cookies Dipped in White Chocolate
Gluten Free Maple Bacon Oatmeal Cookies are plump and chewy, sweet and savory, crunchy and creamy.
Ingredients
2½

sticks butter

softened (I use salted)

½

cup

packed brown sugar

½

cup

granulated sugar

1

egg

½

cup

pure maple syrup

1

teaspoon

pure vanilla extract

½

teaspoon

maple extract

1½

cups

gluten free flour

all-purpose flour may be substituted

1

teaspoon

baking soda

1

teaspoon

ground cinnamon

1

teaspoon

kosher salt

3

cups

quick oats

1¼

cups

cooked and crumbled bacon

divided

1

bag

12 ounces white chocolate chips
Instructions
In the bowl of a stand mixer, or a large bowl with a hand mixer, blend the butter, brown sugar, and granulated sugar until creamy.

Add the egg, maple syrup, vanilla extract, maple extract: beat well.

In a separate bowl, whisk the flour, baking soda, cinnamon, salt, and oats to combine.

Slowly incorporate the flour/oat mixture into the butter mixture (in thirds), blending until just combined after each addition of the flour/oat mixture.

Once the mixture is fully combined, add 1 cup of the bacon and blend again until fully mixed, scraping down the sides of the bowl as needed.

Drop the dough by rounded tablespoons onto parchment lined baking sheets and bake for 12-15 minutes in a preheated 350 degree oven.

Remove the cookies to a baking rack to cool completely.

Melt the white chocolate chips in a microwave safe bowl on medium/low power (stirring frequently) until melted and creamy.

Dip half of each cookie in the melted chocolate and sprinkle with the remaining crumbled bacon.
Notes
Tools and equipment:
blender or stand mixer
large bowl
spatula
tablespoons or melon baller
baking sheets and parchment paper (optional)
Nutrition
Serving:
0
Calories:
0
kcal
Carbohydrates:
0
g
Protein:
0
g
Fat:
0
g
Saturated Fat:
0
g
Polyunsaturated Fat:
0
g
Monounsaturated Fat:
0
g
Trans Fat:
0
g
Cholesterol:
0
mg
Sodium:
0
mg
Potassium:
0
mg
Fiber:
0
g
Sugar:
0
g
Vitamin A:
0
IU
Vitamin C:
0
mg
Calcium:
0
mg
Iron:
0
mg
There are many different schools of thought when it comes to butter for baking. Most will tell you to use the unsalted variety so you can control the amount of salt in your baked good. I, however, feel that salted butter is always better for baking. Since salt brings out the flavor of all foods (sweets included), unless you're using a butter that is heavily salted (I've not found one that has ever tasted overly salty), I feel that the small amount of salt in a salted butter will only enhance the flavor of all of your bakes. But, you be the judge and use whatever you feel most comfortable using.
The following Amazon.com items are some suggested products I've chosen that will aid you in the making of this recipe for Gluten Free Maple Bacon Oatmeal Cookies, if needed. By clicking on the item, you'll be taken directly to Amazon.com if you're interested in purchasing any of these products. You are in no way required to do so, and you will not be charged in any way unless you decide to purchase a product through Amazon.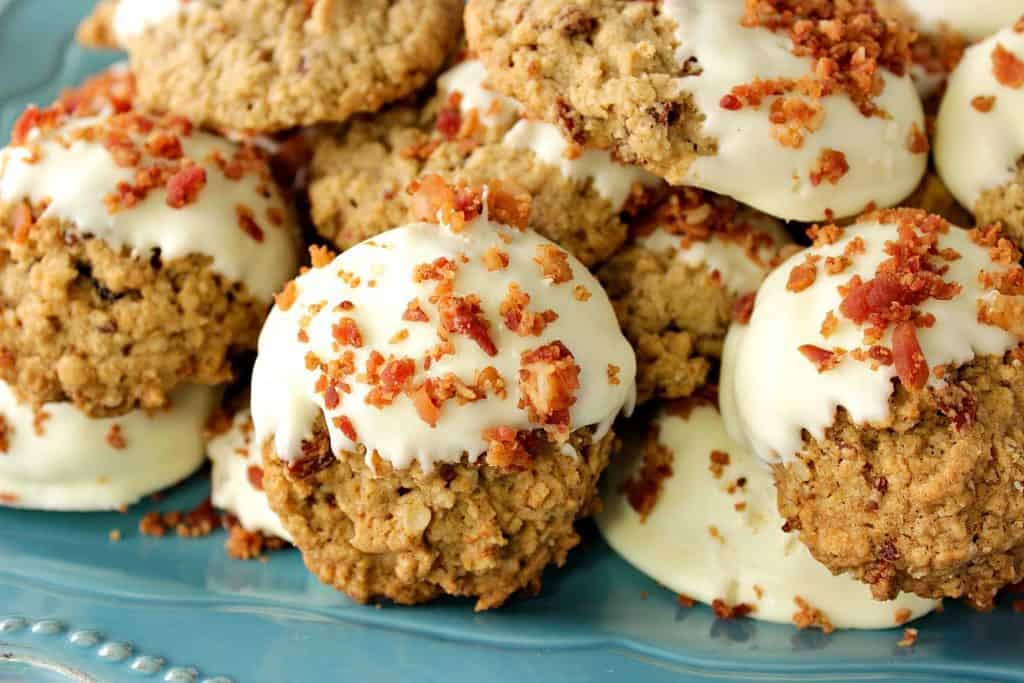 And, since we're talking about baked goods...here is a fun custom mug I painted for a client a little while back. She sent me the picture in an email, and I painted and replicated the design on the coffee mug as per her request.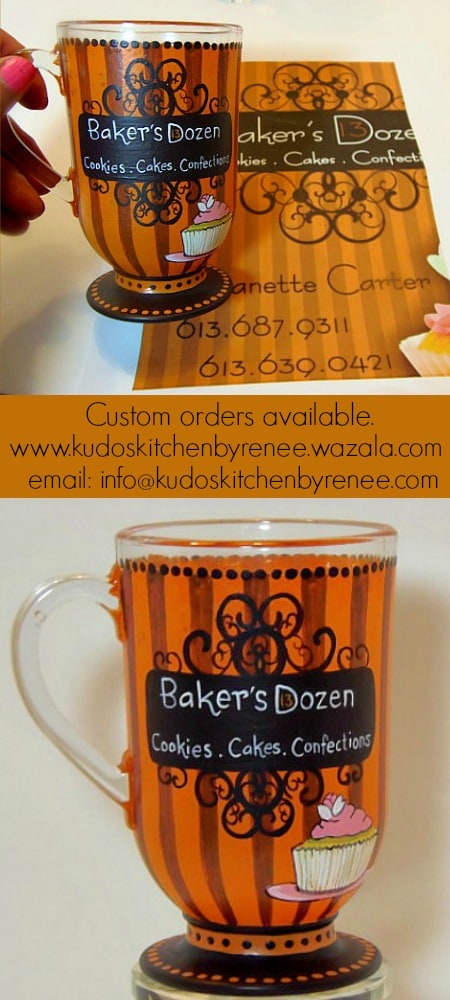 If there is ever anything I can paint for you, from glassware items to fabrics, please don't hesitate to contact me or visit my shop. Custom orders are always welcome and I will happily paint and design from any photo, idea, or description you send my way.
Kudos Kitchen by Renée ~ Where food, art, and fun collide each and every day!
Until we eat again, I hope you have a delicious day!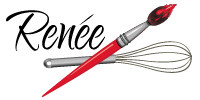 The post above includes affiliate links. When I find a great product or service, I like to share it with my readers. Sometimes I use affiliate links so I can earn commission for my recommendations. As always, I thank you for your support!