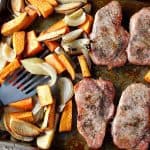 One Pan Ponzu Pork Chop Dinner ensures moist and juicy chops while marinating the sweet potatoes, apples, and onions in the citrus sauce.
4

boneless pork chops

approximately 1" thick

2

medium sweet potatoes

peeled and chopped into 2" slices

2

Gala apples

or your favorite variety, peeled, seeded and chopped into 2" slices

1

large

sweet onion, peeled and sliced into large slices

¼

cup

ponzu sauce

1

navel orange

zested and juiced

3

tablespoon

grapeseed oil

or your favorite light flavored oil

Salt and Pepper to taste
Preheat oven to 425 degrees.

Place the chops on a non-stick baking sheet.

Place the chopped sweet potatoes, apples and onions in a large bowl.

In a medium bowl, mix together the ponzu sauce, orange juice, orange zest, and grapeseed oil.

Spoon some of the sauce over each chop. Season with salt and pepper, flip and repeat on the other side.

Pour the remaining sauce over the vegetables in the bowl. Season with salt and pepper, and toss well to coat.

Add the seasoned vegetables to the baking sheet in an even layer.

Roast in a preheated oven for 35-40 minutes until the vegetables are caramelized and the pork chops are cooked through.
Tools and equipment:
vegetable peeler
cutting board
large bowl
medium bowl
chef's knife
microplane or rasp
non-stick baking sheet