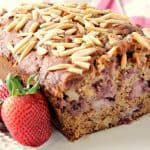 With only one bowl and a few simple ingredients, you can have this Strawberry Banana Bread with Almond's baking in the oven in no time flat!
Course:
Breakfast or Dessert
Preheat oven to 350 degrees.

In a large bowl, mash the bananas.

Stir in the melted butter, beaten egg, and almond extract.

Stir in the brown sugar, salt, baking soda and flour until combined.

Stir in almost all of the toasted nuts (reserving 2 tablespoons for topping).

Gently stir in the diced strawberries.

Spoon the batter evenly into a standard size loaf pan (8.5" x 4.5")

Top the batter with the remaining almonds.

Bake in a preheated oven for 60 minutes or until a toothpick inserted in the center comes out clean.

Remove the pan to a cooling rack for 15 minutes. Remove the loaf from the pan after 15 minutes and allow the loaf to cool on a wire rack until completely cooled.

Slice and serve.
Tools and equipment:
large bowl
wooden spoon
pastry blender for forks (for mashing the bananas)
paring knife (for dicing strawberries)
loaf pan
baking spray
cooking rack