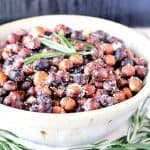 Move over popcorn; there's a new snack kid in town! Roasted Rosemary Hazelnuts (a.k.a. filberts) are as addicting as popcorn. And they're good for you too.
Course:
Snacks and Munchies
Heat the coconut oil in a large skillet over medium heat.

Add the fresh rosemary sprigs. Stir and cook for 2 -3 minutes. Remove the sprigs and discard.

Add the raw nuts to the skillet and stir well to coat the the infused rosemary oil.

Season with salt, pepper, and the chopped rosemary.

Continue cooking and stirring for 5 minutes until the nuts are browned.

Remove to paper towels to drain and cool.

Serve warm or at room temperature.
Store the nuts in an airtight container for up to 2 weeks.