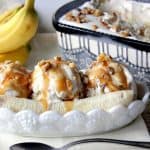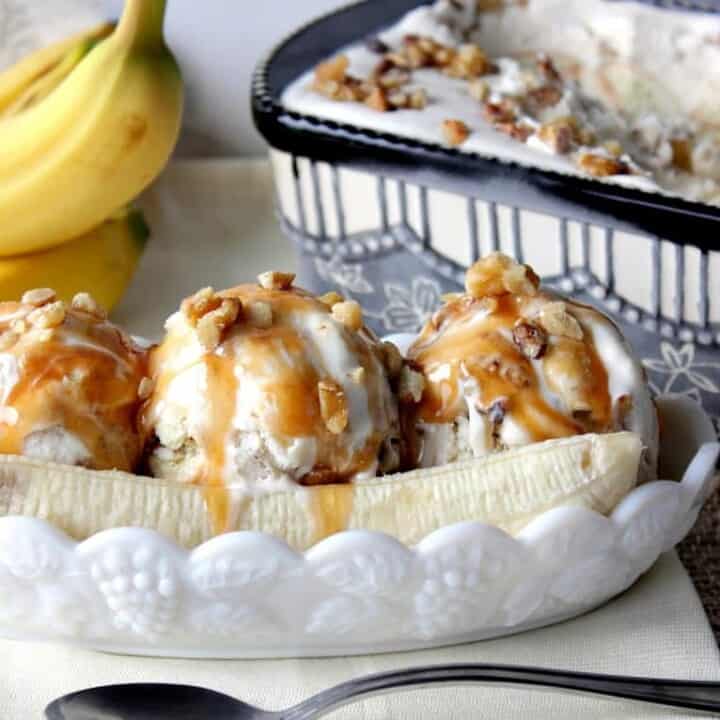 No Churn Banana Walnut Ice Cream is a favorite for people who love bananas, the crunch of toasted walnuts, a hint of Rum Chata, and vanilla wafer cookies.
Course:
Dessert - Ice Cream
In a large bowl with a hand mixer, blend the heavy cream on high until soft peaks form. Set aside.

In a medium bowl, mash the bananas with the vanilla extract and salt.

Stir the Rum Chata, sweetened condensed milk and ¼ cup of the caramel syrup into the mashed bananas. Mix well.

Gently fold the masked banana mixture into the whipped cream mixture until thoroughly combined.

Fill half of a loaf pan with the ice cream mixture, top with half the walnuts and the remaining caramel syrup.

Lay the vanilla wafers evenly over the caramel and gently top with the remaining ice cream mixture. *Note - you may need to push the cookies back down under the ice cream if they float to the top.

Sprinkle the remaining walnuts over the ice cream and freeze for at least 4 hours before serving.

To serve, drizzle additional caramel sauce over the ice cream if desired and top with toasted walnut pieces.

Enjoy!
Tools and equipment:
1 large bowl
1 medium bowl
hand mixer
spatula or wooden spoon
small skillet (for toasting walnuts)
potato masher (for mashing bananas)